Japan was one of the first few countries to have confirmed coronavirus/COVID-19 cases, but their handling of this pandemic, often criticised as slow or inefficient, led to an outbreak that was arguably avoidable had they taken action quicker. We are going to talk about everything related to the coronavirus/COVID-19 pandemic situation in Japan, including COVID-19 related events, the current situation in Japan, events affected by COVID-19, the support from government and companies, lockdown in Japan and State of Emergency in Japan.
Check out what do people think about coronavirus/COVID-19 in Japan here.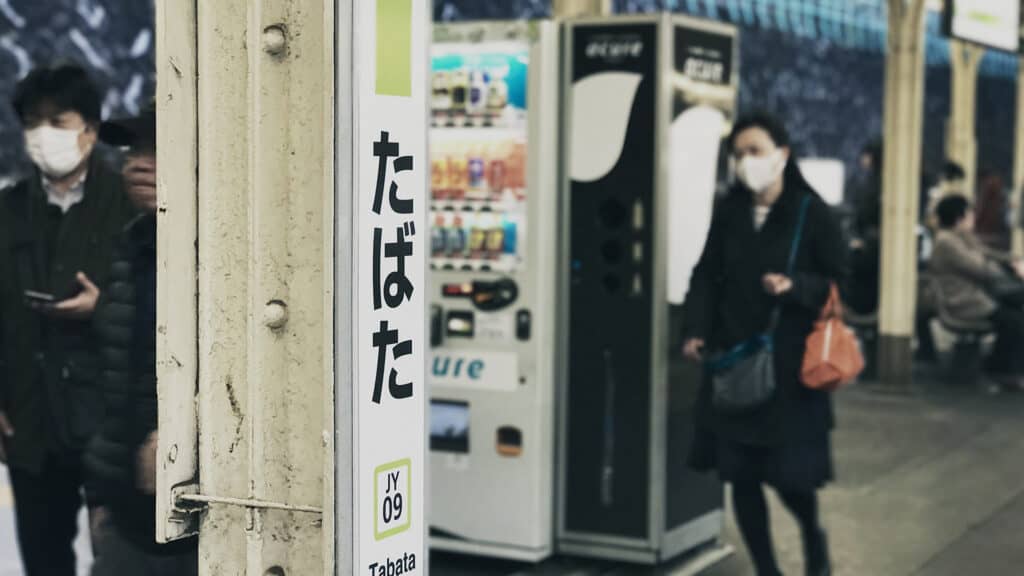 Now, like everywhere else in the world, masks and hand sanitisers are sold out nationwide; toilet paper, wet wipes and other household items are in short supply; the streets are largely empty; many establishments have shortened their opening hours or closed their doors temporarily; many schools are closed or conducting online classes, and perhaps most outstanding of all: the 2020 Tokyo Olympics has been postponed by a year. State of emergency in Japan was called.
Brief Timeline of Coronavirus/COVID-19 in Japan Infographics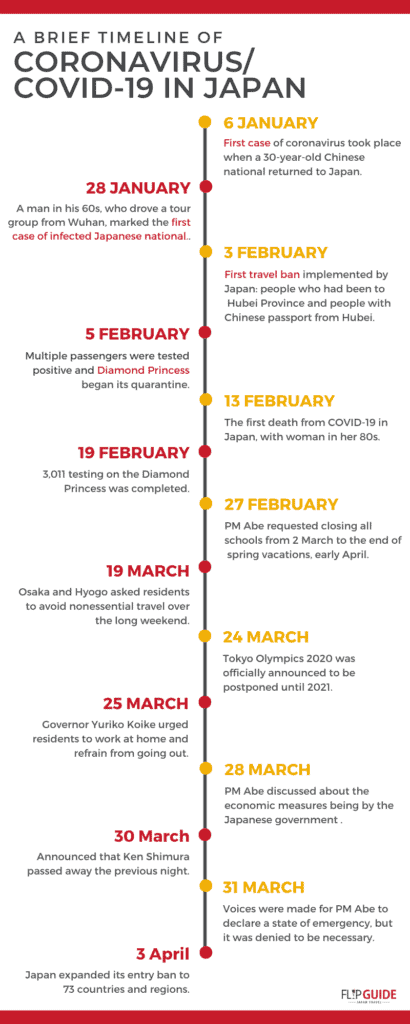 The first official case of coronavirus in Japan was a 30-year-old Chinese national who developed a fever on 3 January and then traveled to Japan on 6 January.
The first case of a Japanese national infected with COVID-19 was a tour bus driver in his 70s who had driven a tour group from Wuhan a few weeks earlier. He was diagnosed on 28 January. Two weeks later on 13 February, his mother-in-law, in her 80s, contracted the virus and passed in Kanagawa Prefecture. This marked the first coronavirus/COVID-19 death in Japan.
Diamond Princess Cruise Ship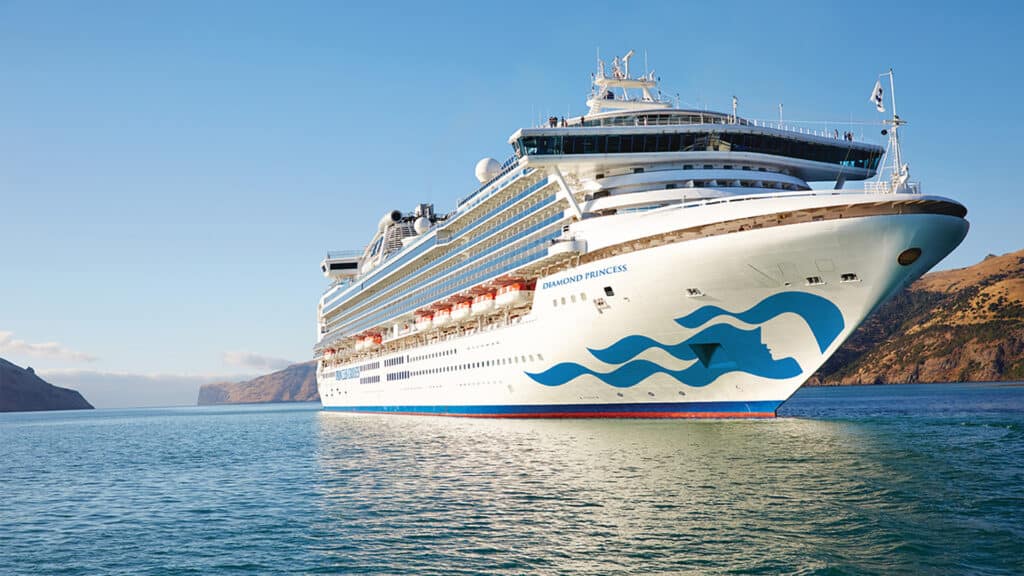 On 20 January, the Diamond Princess cruise ship set sail from the ports of Yokohama. On 25 January, a passenger in his 80s disembarked in Hong Kong and later tested positive for coronavirus/COVID-19. The cruise ship then returned to Yokohama on 3rd February but the Japanese government requested that no passengers or crew members disembark. Over the next two days, health checks were conducted, and after multiple passengers on the cruise ship started to get tested positive for COVID-19, the entire ship was quarantined for 14 days from 5th February.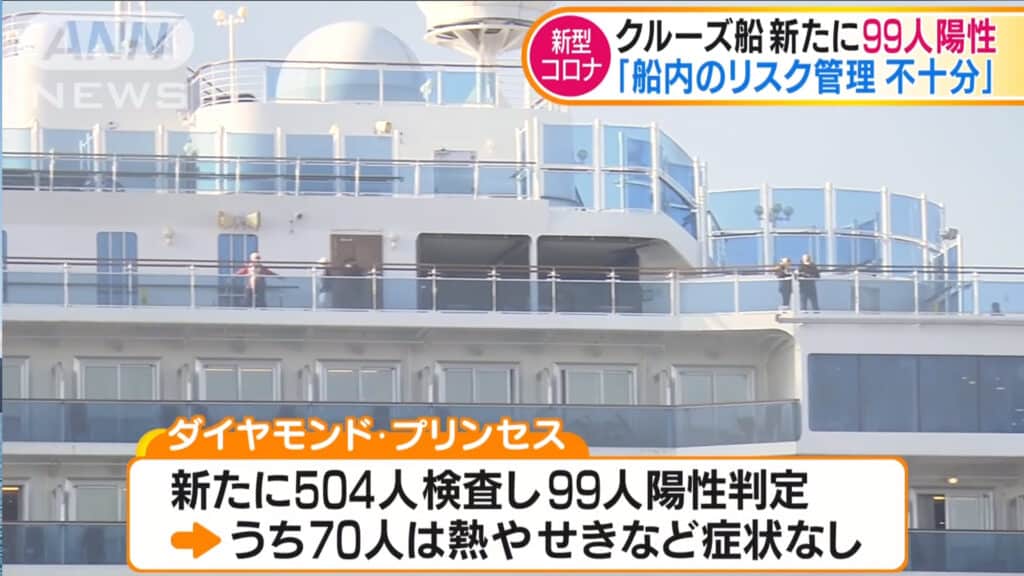 Passengers were requested to stay in their cabins and were only allowed to walk around on deck for a few minutes everyday, whilst wearing masks. Their meals were brought to their rooms, along with movies, newspapers and games.
Crew members continued to sleep in small cabins and eat with each other, and also came into contact with those who had tested positive. Both passengers and crew members were given thermometers so they could self-monitor their body temperature.
Initially, only symptomatic cases and close contacts were officially tested but the expansion of laboratory capacity on 11 February allowed quarantine officers to test every passenger. Those that tested positive were taken to health facilities on land.
More than 700 people were infected and eight people died.
Experts have criticised the decision to keep people on the ship with poor hygiene conditions and practices onboard. Those with personal health conditions weren't able to get their prescription medication and were left confused and clueless.
"They've basically trapped a bunch of people in a large container with [the] virus," David Fisman, an epidemiology professor at the University of Toronto, told Vox. "So [I'm] assuming 'quarantine' is generating active transmission."
What is the current situation in Japan?
*As of 8th April, 2020
Testing for Coronavirus/COVID-19
Japan, with a population of 127 million people, has more than 4,250 cases of coronavirus and over 90 deaths. Japan has tested about 55,300 people which comes to roughly 437 tests per million people. This is significantly low compared to South Korea which runs 8,996 tests per million, and the United States which runs 5,841 per million.
Travel bans
Entry from over 70 countries and regions into Japan is currently being refused due to coronavirus. Some of these places include the United States, most of Europe, Canada, Australia, Singapore, Malaysia, Indonesia and China. Visa applications are also suspended for the time being.
Attractions
Various attractions and popular destinations are closed. Most of them have been closed since the end of February, with others followeding from March. These include the observation decks at the famous Tokyo Government Building, Tokyo Disneyland, Tokyo DisneySea, Tokyo Skytree, teamLab Borderless and Planets, Shinjuku Gyoen Park, various museums and aquariums, and some distilleries, breweries and wineries.
Hanami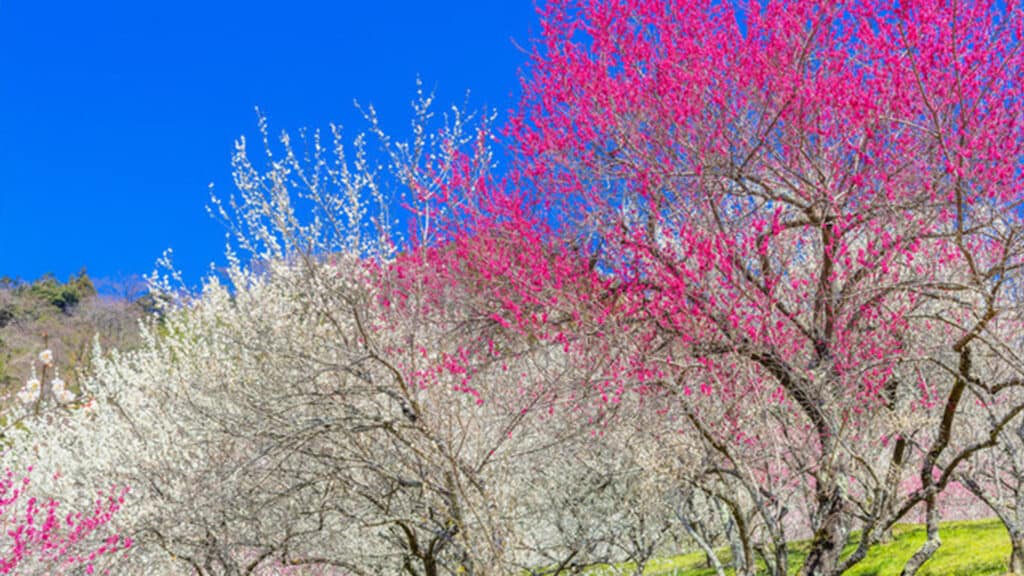 Hanami, cherry blossom viewing, is a popular activity during this time. It's where locals visit parks in hordes and have picnics beneath the cherry blossom trees. Hanami gathers hundreds of people together and essentially breaks all the rules of social distancing. As such, the Japanese government has repeatedly advised people to refrain from participating this year to avoid the spread of coronavirus, but few have complied. As a result, the Japanese government has had to place security guards in parks such as Ueno Park or Yoyogi Park to stop people from entering
Schools
Prime Minister Shinzo Abe requested that all elementary, junior high and high schools close, but until he officially declares a state of emergency, he cannot enforce these closures and the final decisions rest with the schools and their prefectures. Some have complied and others have decided to delay closures by a few days. These places include Ehime Prefecture, Izumo in Shimane Prefecture, Ishigaki in Okinawa Prefecture, and Kanazawa in Ishikawa Prefecture.
Businesses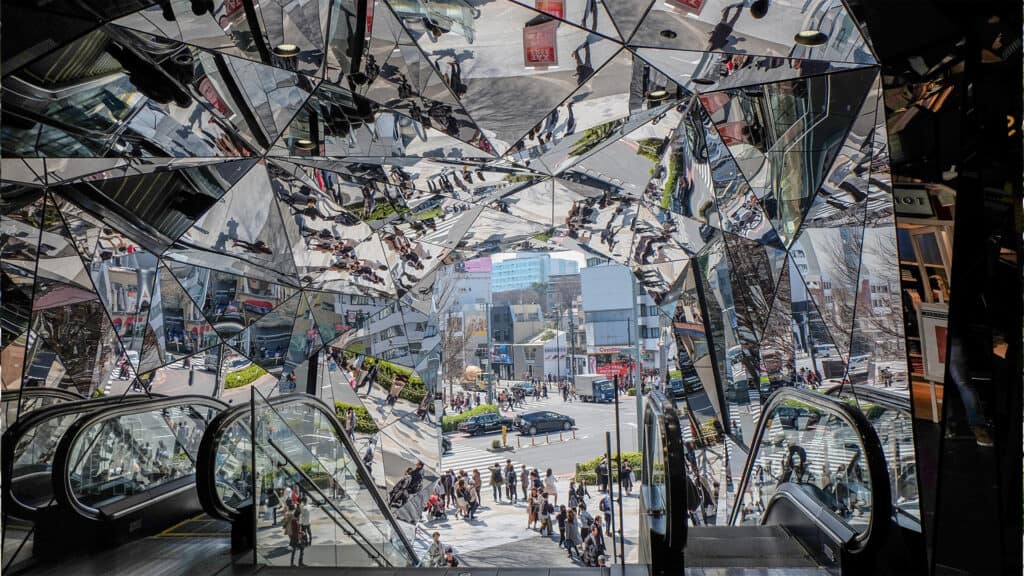 As locals are advised to stay at home, restaurants, shops, karaoke joints and other entertainment facilities are suffering. Especially during these months of April and May when students graduate university and new students enroll, and when fresh graduates enter their new companies, many farewell and celebratory events that are usually held in restaurants or entertainment facilities are cancelled, so these places are taking an especially big hit during this time than they would've in other months.
Work
According to a study done with 20,000 full-time workers in Japan, just above 13% of them are working remotely as of mid-March, due to the start of the coronavirus outbreak. Nearly half of these people said it was the first time their companies were trying "telework". These include major Japanese companies such as Honda, Toyota and Nissan. Other businessmen are still commuting to work via the trains and subways which become especially dangerous during rush hour.
Events affected by Coronaviurs/COVID-19
The government has called for large-scale events such as festivals, concerts or graduation ceremonies to be postponed or cancelled due to the coronavirus/COVID-19. In spite of this request, some events went on as planned, albeit with some precautionary measures.
The Grand Sumo Tournament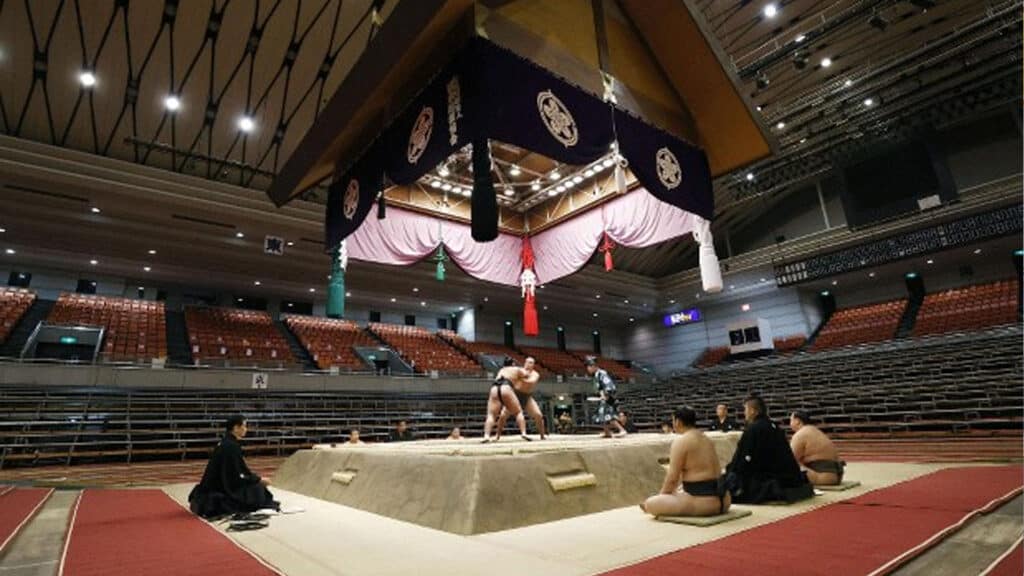 The Grand Sumo Tournament took place as scheduled from 8 to 22 March, but special measures were taken to reduce the risk of transmission. In an unprecedented move, audiences were barred. Instead, the matches were streamed online for fans to watch. There are talks about whether upholding the sanctity of this traditional sport and ceremony was worth putting the health of its wrestlers and judges at risk.
Olympic Torch event
On 21 March, the Japan Olympic Torch event in Sendai, part of the Flame of Recovery tour, continued as planned. Despite calls to the public not to attend, the event gathered more than 52,000 people, the largest audience this event has seen thus far. The audience members formed a line of around 500 meters for several hours, making it a hotbed for transmitting the virus. The Flame of Recovery tour has since been cancelled following the postponement of the 2020 Olympics.
K1 World GP 2020
K1 World GP is a popular martial arts competition that gathers 10,000 people every year, and was held in Saitama Super Arena this year on 22 March. Government officials had warned the organisers of the dangers of continuing as planned and advised for the event to be cancelled. Instead of cancelling the event altogether, the organisers instead decided to implement certain measures such as reducing the number of seats to 6,500, conducting temperature checks, and distributing masks and hand sanitisers.
Tokyo Marathon 2020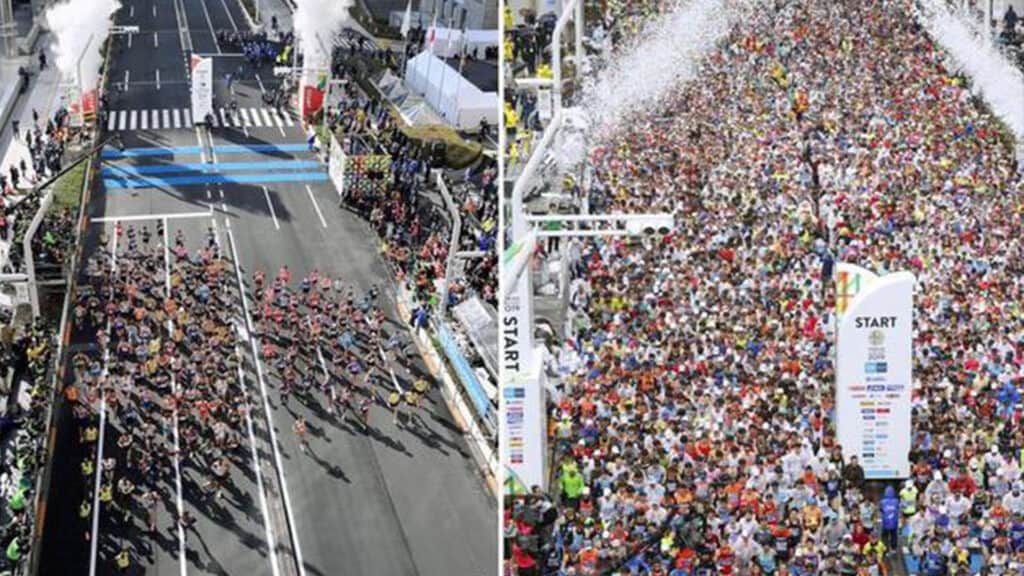 38,000 runners from around the world were set to participate in the Tokyo Marathon 2020, but the organisers announced that leisure runners were now disallowed from running, and only elite runners and wheelchair athletes were allowed to participate, reducing the number of participants to just 200.
It costs 16,200 yen (USD$148.50) for locals to participate and 18,200 (USD$167) for overseas participants who also booked flights and accommodations in Tokyo. No refunds were given to runners who were no longer allowed to participate.
Support for the coronavirus/COVID-19 pandemic in Japan
Support from the government
The Japanese government has continued to adapt and provide different kinds of support for people that are affected by the COVID-19 pandemic.
For individuals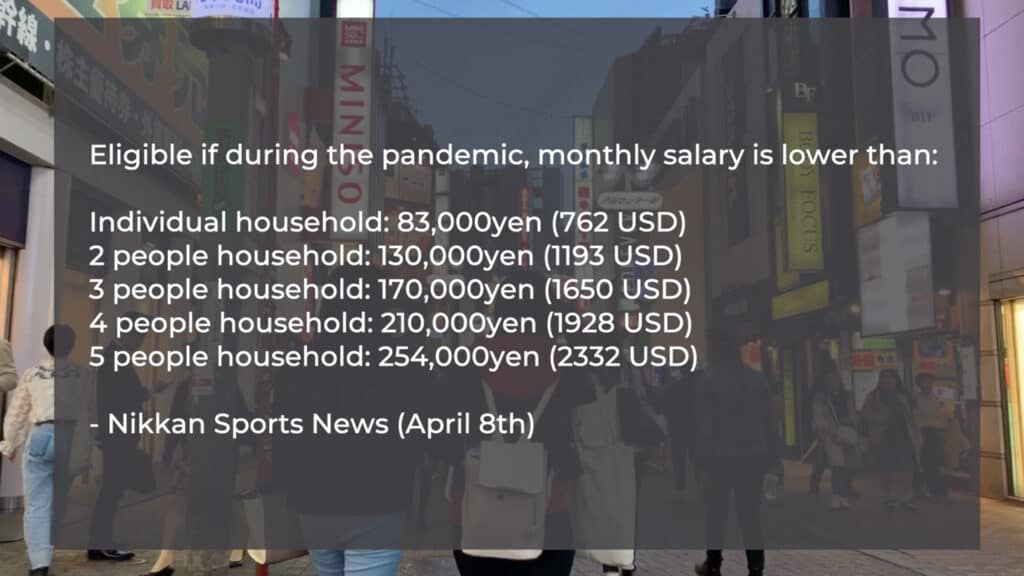 Households whose incomes declined sharply for reasons related to the COVID-19 pandemic can receive a relief package drafted by the government. The value of this relief package is unclear but was estimated to be worth around 200,000 yen (USD$1,834) per household, and is expected to include cash payments.
On 3 March, Prime Minister Abe decided that more drastic support was needed to help those affected by coronavirus and increased the estimated value of the relief package to 300,000 yen (USD$2,753). Although there are currently no official limits set, the government is considering excluding households whose monthly incomes are above a certain amount after the decline.
For companies and businesses
The government previously announced that 204 billion yen (around USD$1.9 billion) would be allocated to companies affected by COVID-19, most of which are small- and medium-sized enterprises. That number was increased to 5 trillion yen (around USD$46 billion). Government-affiliated banks such as the Development Bank of Japan are also now allowed to lend funds to businesses during this time of emergency.
These measures are part of new economic measures to be put together on 7 April. In conjunction with these new economic measures is a supplementary budget for FY2020, yet to be formulated. These policies are expected to be completed within the month, and cash payments are to begin in May.
For tourism
Due to coronavirus, the number of visitors has drastically decreased. The government has decided to allocate one trillion yen (almost USD$9.2 billion) to the tourism industry. With the spread of COVID-19 and the implementation of various travel bans around the world, the number of tourists to Japan plummeted by 60% in March and tourist destinations in various regions have been hit hard.
The one trillion yen is meant to stimulate travel demand by subsidising domestic travel fares and accommodation fees of up to 20,000 yen (USD$183.5) per night. To encourage spending, the one trillion yen will also go into distributing coupons for souvenir shops, restaurants and tourist facilities.
The government has announced that, once the pandemic has ended, it will provide support for the re-organisation of events that were cancelled or postponed, and will support the resumption of suspended air routes. They will also dispatch translators to accommodation facilities with full governmental support.
For support for families with children that can't go to school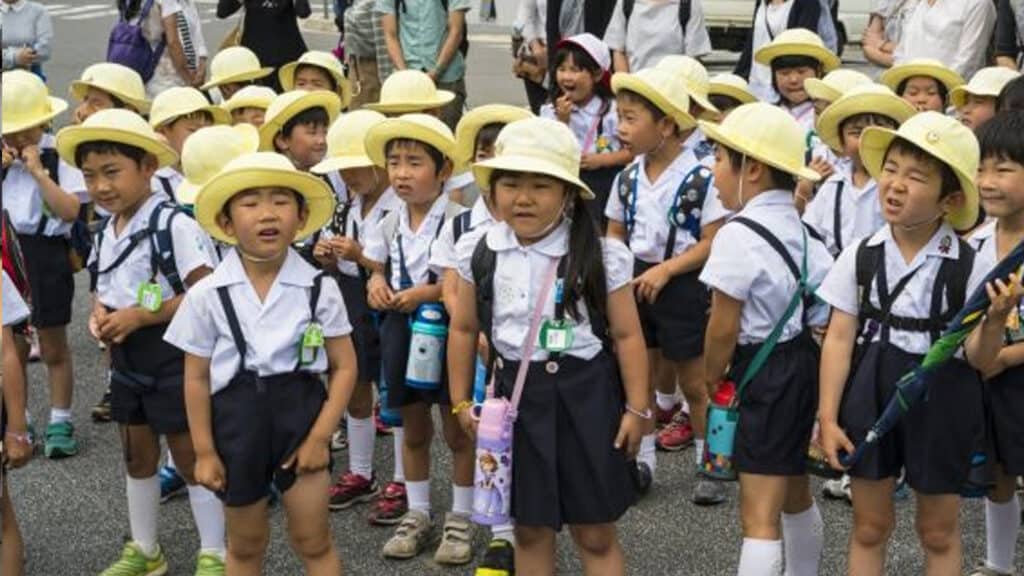 With the sudden announcement of school cancellations in order to protect the safety of students against coronavirus, many Japanese employees have had to take a leave of absence from work to care for their children at home. The Ministry of Health, Labor and Welfare established policies such as creating subsidies for these employees, both regular and non-regular. The government has announced that this support will continue until 30 June.
The first draft of these policies were controversial as it excluded workers in entertainment restaurants and bars such as host clubs and hostess clubs, and adult entertainers. After some voiced their beliefs that this constituted occupational discrimination, Japan's Chief Cabinet Secretary Yoshihide Suga announced on 6 April that they would reconsider the exclusion (The Mainichi, 2020).
Prefectural policies
Various prefectural governments and wards have also launched support for their own residents during this coronavirus pandemic. For example, Minato ward, an area with many foreign residents, has expanded the number of households eligible for loans to non-low-income households. Households that are affected by the new coronavirus infection, have lost income due to leave of absence, etc., and need urgent and temporary loans to maintain their lives are eligible for a loan of 200,000yen (USD$1,834).
Other organisations and companies have also created different support
Rakuten
On 3 April, Osaka announced that there might be an insufficient number of hospital beds for potential COVID-19 cases. In response, the president of Rakuten, Hiroshi Mikitani, posted on Twitter that he would offer around 600 rooms at his hotel in Osaka to be used as temporary facilities for those with mild symptoms.
Paralympic Support Center
To help with the lack of hospital beds for patients, the chairman of the Nippon Foundation's Paralympic Support Center, Yohei Sasakawa, announced that it would provide temporary facilities for 1,200 people with mild symptoms, and hopes to increase that number to 10,000 in July. The temporary facility will be the gymnasium Para-Arena, on the site of the Museum for Maritime Science, where paralympic athletes train. That, along with the parking lot, would amount to around 14,000 square meters (NHK, 2020).
Campfire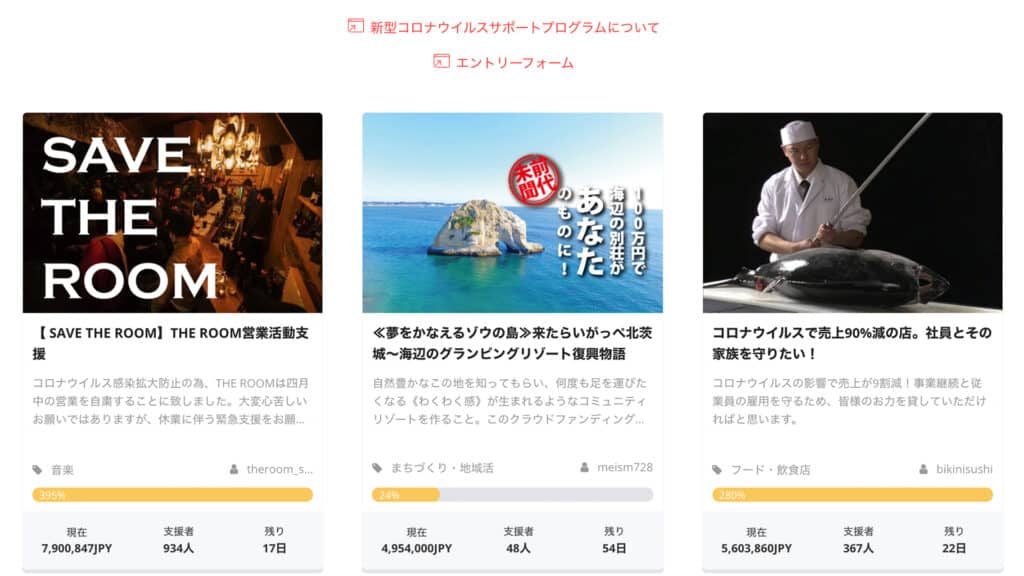 Small businesses, independent artists, event companies, restaurants and lodging facilities are seeing a significant decrease in customers due to event and booking cancellations. Campfire, a crowdfunding platform, has launched crowdfunding support for them, and each company has since received millions of yen in donations, in exchange for small gifts or services.
What can Japan do?
Can Japan go into lockdown?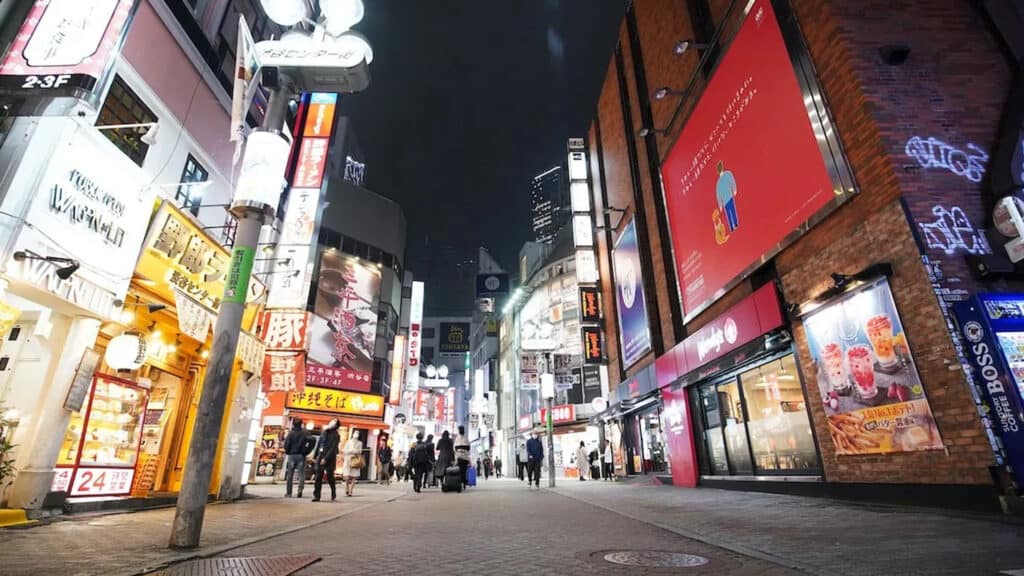 It's unclear what a lockdown in Japan would entail. It could mean that incoming and outgoing flights are banned, or that residents are confined to their homes, or both, during the coronavirus pandemic. In countries such as France, Italy and the United Kingdom, it's a combination of both and to varying extents. However, one thing they all have in common is that violators are fined or punished for violating their governments' enforced lockdown in Japan.
Such proceedings cannot be carried out in Japan as Japan's Special Measures Law states that confinement cannot be legally enforced, only requested. This means that even during a lockdown, or even during a state of emergency (which we will discuss later on), violators cannot be legally punished. Here is an interview from NHK to explain Japan's Special Measures Law.
Q: If a state of emergency is declared, will going out be prohibited?
A: Under the Special Measures Law, [the government] cannot prohibit residents from going outdoors. Article 45 states that [the government] can only request for self-restraint [from residents]. It is just a request.
[Article 45] The prefectural governor can request that people do not leave their homes except where necessary to sustain themselves, and can request other forms of cooperation necessary for the spread of infection.
Q: France, Italy, the United Kingdom and other countries have strict legal restrictions on going out, and violators are fined. What are the penalties for going out in Japan?
A: There is no penalty for not complying.
Additionally, the government cannot force establishments to close their doors, they cannot force schools to close, and they cannot even halt or downsize public transportation. This means that even if Japan were to go into lockdown because of coronavirus, its success would depend largely on the people. Even during the Fukushima nuclear disaster in 2011, residents in the vicinity of the reactors were encouraged to stay in their towns, but it wasn't and couldn't be enforced.
All the government can do is ask. The rest depends on Japan's residents.
What does it mean now a state of emergency has been called?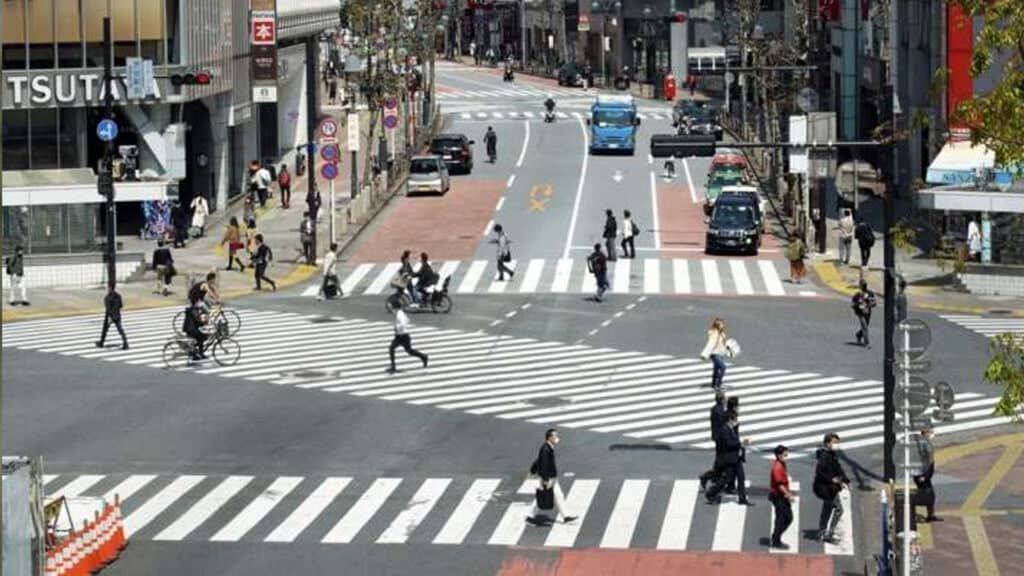 A state of emergency, which can only be declared if the disease is "rampant", spreading rapidly, and considered impactful on lives and the economy (Japan Times, 2020), would give prefectural governors more power than if Japan was just in a lockdown (discussed above). They would be able to "request" that residents stay home. However, many Japanese words can have more than one meaning, and the word 'request' in Japan ('要請'), while often translated as 'request' is mostly understood as 'demand'. While there would be no legal penalties if residents leave their homes (as discussed above), these "demands" are likely to be met with large-scale compliance from a concerned population.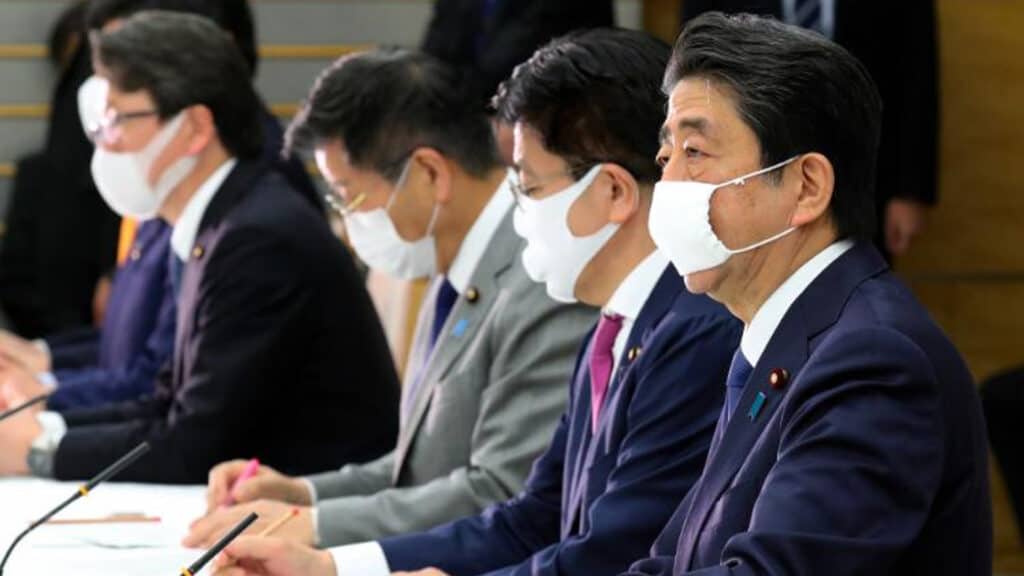 Additionally, governors would then be able to "request"—again, understood as "demand"—that "schools, childcare facilities, movie theaters and other public facilities be temporarily closed. As for offices, the prefectural government would demand that they "thoroughly implement infection control measures (Sugiyama, 2020)."" While there are no official legal or monetary penalties, establishments, facilities and offices that disobey will be at risk of being forcibly closed and then outed publicly.
After weeks of mounting pressure on the prime minister to declare a state of emergency, Prime Minister Shinzo Abe finally did on 7 April. The new measures cover a total of seven prefectures: Tokyo, Osaka, Chiba, Hyogo, Saitama, Kanagawa and Fukuoka (NHK, 2020). As discussed above, the governors of these prefectures will wield more say over what stays open and what stays close.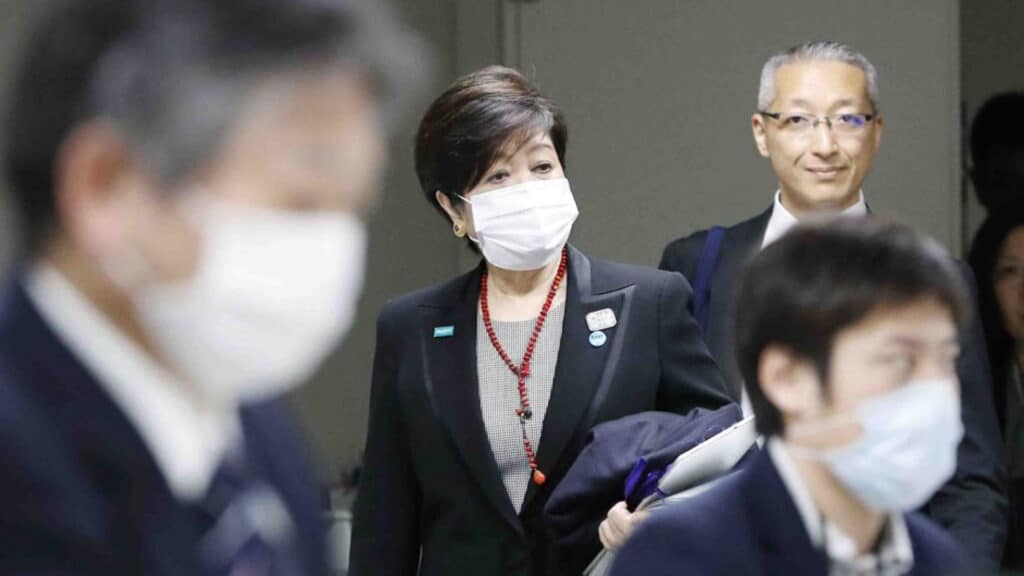 In the weeks leading up to the declaration, Tokyo Governor Koike Yuriko, had repeatedly asked residents to stay home. On 7 April, she reiterated her statements and added, "I would like to end this fight in the shortest possible time. I'm asking for cooperation from all citizens (NHK, 2020)."
She announced that residents will still be able to leave home for food, medicine and visits to the hospital; public transportation will keep running, and that non-essential businesses will be categorised into two groups: ones to close and ones asked to close (NHK, 2020).
Governor Koike Yuriko said on Friday that the requests are issued to:
amusement facilities
universities
cram schools
sports and recreation facilities
theaters
event and exhibition venues
commercial facilities
Starting from April 11th, Restaurants, including izakaya, or Japanese-style pubs, will be asked to operate only between 5am and 8pm and stop serving alcohol at 7pm.
Can people work from home?
According to 2019 government data, 80% of companies in Japan do not have the ability to implement remote work. Even during this pandemic, only 13.2% of full-time workers have begun working remotely, with half of those companies doing it for the first time and presumably with bumps in the road (Persol Group, 2020).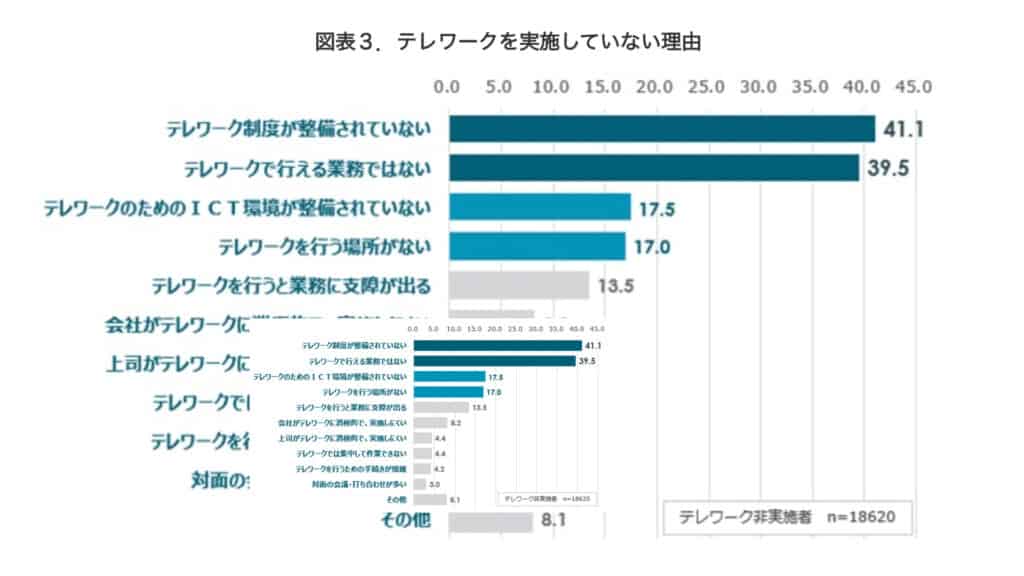 When asked why they were not implementing remote work procedures, especially during the coronavirus pandemic, 41.4% of respondents answered that they had not established remote work systems. The second most common answer at 39.5% was that the company did work that could not be done remotely (Persol Group, 2020).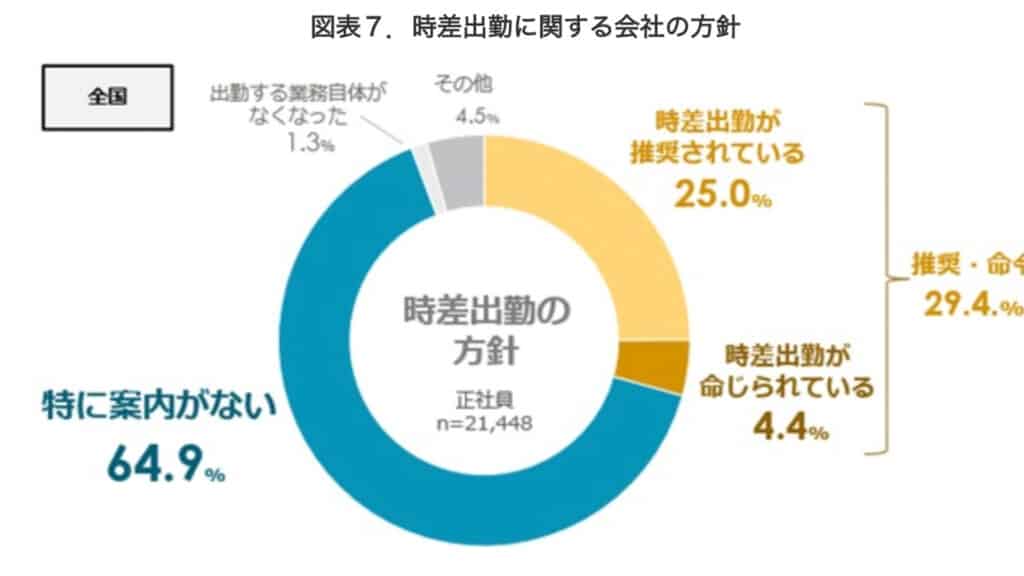 Another measure that can be taken is to change working hours so that employees can avoid being caught on crowded trains during rush hour, but 64.9% of employees said they didn't receive any specific instructions or saw any changes within the company, and 67.8% responded that face-to-face company meetings were still held as usual (Persol Group, 2020).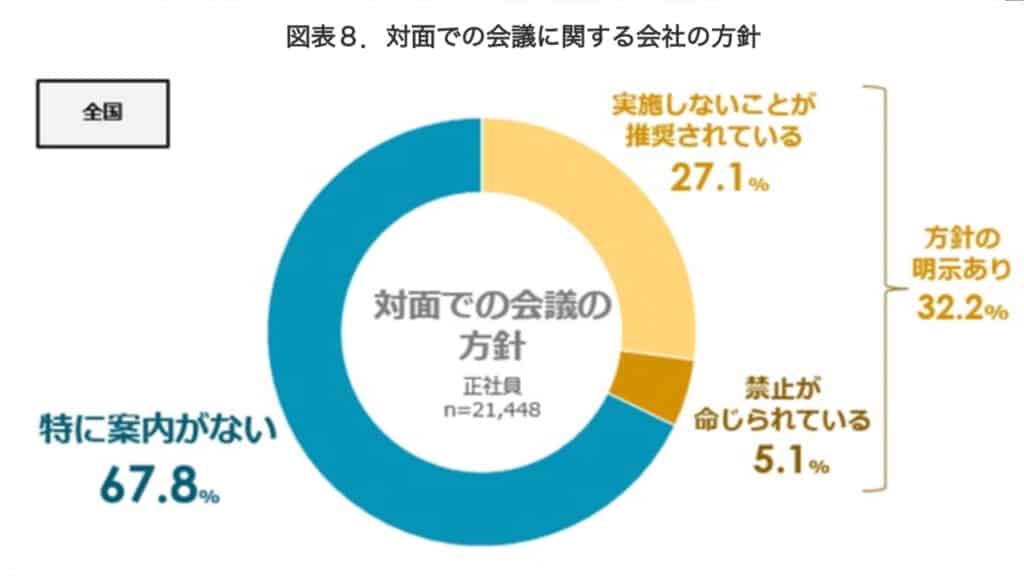 This is due to Japan's working environment. For one, there is a very strong group mentality as compared to other countries, and decisions within the company (even small ones) have to be made together; Japanese employees have very little autonomy even within their own department. Japanese companies are also accustomed to old practices such as using fax machines and having their employees do work on company computers and tablets instead of their own. All of this makes transitioning to remote work very difficult.
The numbers are worrisome—all of them: there are more than a hundred new cases daily, the death toll is rising, and economic numbers aren't looking good either; even before the outbreak, Japan was already on the brink of a recession and it seems the pandemic has sealed their fate.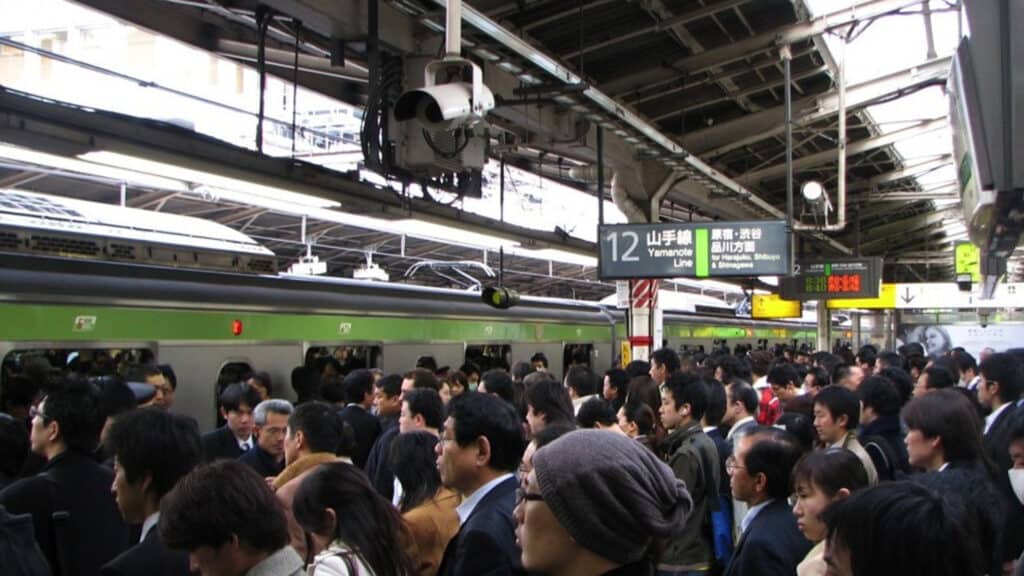 While a state of emergency doesn't stop people from leaving their homes (as discussed above), it does give people less incentive/reason to do so as more establishments will be closed.
Want to find out more about Japan travel and explore the ins and outs of Japan?
Check out the free resources here!
State of emergency in Japan is coming far later as compared to other nations that have been in lockdowns for weeks, some for more than a month now. Is Japan too late to the game? Has the coronavirus/COVID-19 pandemic already done irreparable damage to the economy? How much worse will things get before they get better? Time will tell, and we will bring you updates as soon as we get them!
Want to find out more about Japan? check out How to travel to Japan from home: 12 ways to travel virtually and Japanese books, movies, TV shows!