Japan Group Trip
Fall 2023
Immerse in Japanese culture from major attractions to hidden gems surrounded by Fall colours
with your local friends!
Japan has always been a popular tourist destination for travellers for its great blend of culture, tradition, and modernity. There are many things that make Japan an ideal tourist destination, including its beautiful nature, historical sites, food & drink and more.
No matter if you're new to Japan, a regular visitor or a resident of Japan, there's always something new to explore in this ever-changing country. Perfect for solo travellers, couples, friends or family, joining an experience is a great way to dive into Japan.
📅 November 20th-30th, 2023
 👯 Luxury small group of
8-15 guests
🤓 Accompanied by Local Experts & Transportation
🤩 Countless New Experiences!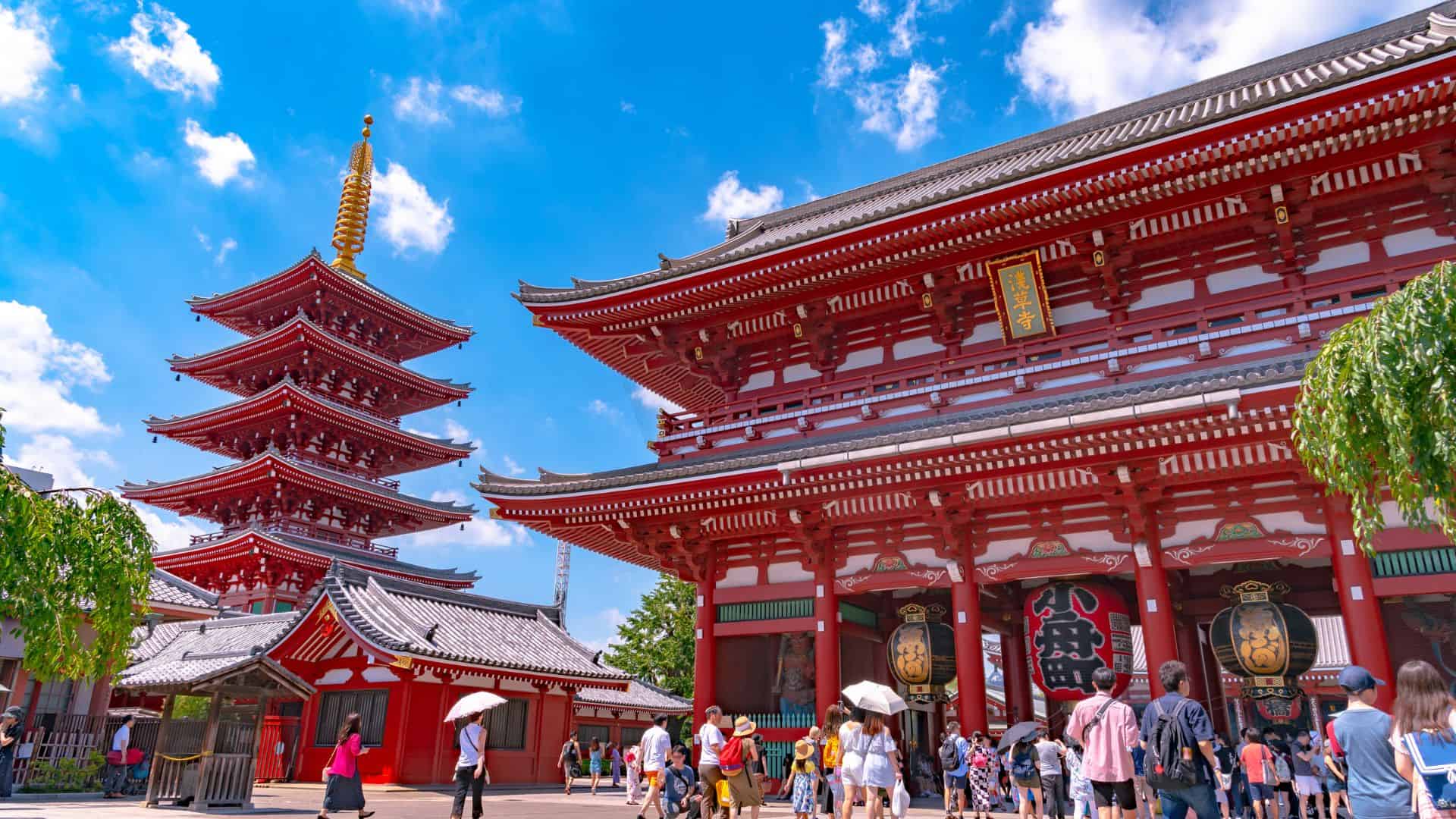 Spend this fall in Japan!
You will have the opportunity to immerse yourself in diverse experiences, including exploring vibrant city centers, indulging in delicious local cuisine, discovering traditional temples and shrines, witnessing breathtaking natural beauty, shopping in famous districts, and even enjoying a relaxing spa and hot spring experience.
Overall, this tour aims to showcase the rich cultural heritage, scenic beauty, and vibrant city life of Japan, providing a well-rounded experience for travelers interested in experiencing the country's unique blend of tradition and modernity.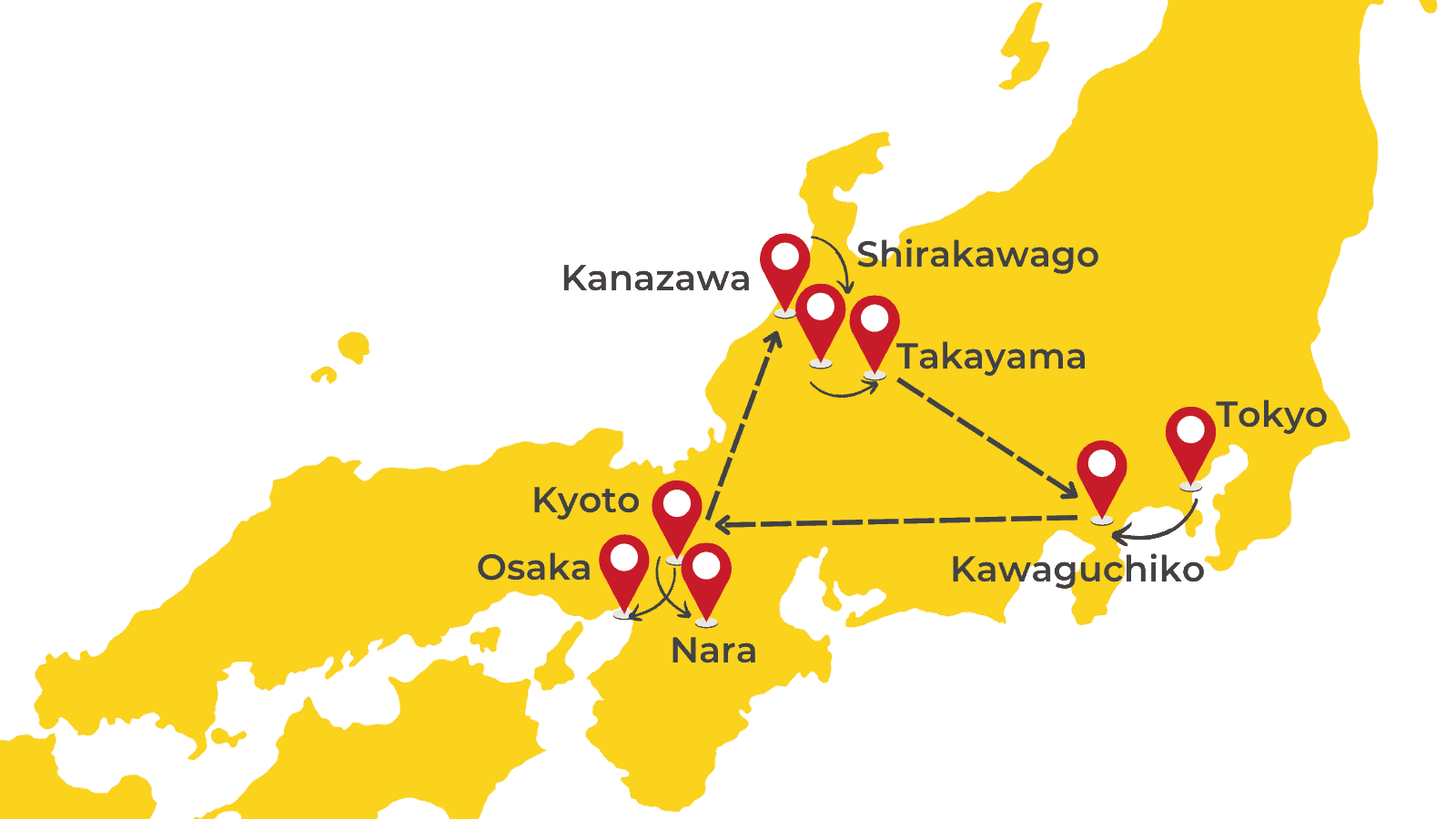 🐠 Tsukiji Market in Tokyo, offering a wide variety of fresh seafood, local produce, and Japanese culinary delights.
⛩ Explore the historic charm of Asakusa with its iconic Senso-ji Temple and vibrant Nakamise Shopping Street.
🌃 Experience the energetic atmosphere of Shibuya, home to the famous Scramble Crossing and a hub of shopping, entertainment, and nightlife.
🚶🏻Immerse in Harajuku's vibrant youth culture, street art, and fashionable boutiques on Takeshita Street.
🌇 Discover the bustling district of Shinjuku with its towering skyscrapers, vibrant nightlife, and lively entertainment options.
🌱 Marvel at the serene beauty of the Imperial Palace Gardens in Tokyo, with its picturesque landscapes and historical importance.
🎮 Explore the enchanting world of anime, manga, and gaming in Akihabara, Tokyo's center for otaku culture.
⛩ Visit the iconic Fushimi-inari Shrine in Kyoto, famous for its stunning pathway of thousands of vermilion torii gates.
🎋 Experience the tranquil beauty of the Arashiyama Bamboo Forest in Kyoto, with its towering bamboo groves.
🐲 Wander through the traditional streets of Gion in Kyoto, known for its geisha culture and charming tea houses.
🏯 Discover the historical treasures of Nijo Castle in Kyoto, with its stunning architecture and beautiful gardens.
🦌 Feed friendly deer and visit ancient temples in Nara Park, including the impressive Todai-ji Temple and Kasuga Taisha Shrine.
🛖 Explore the traditional village of Shirakawa-go, with its UNESCO World Heritage-listed thatched-roof farmhouses.
🥷🏼 Experience the rich cultural heritage of Kanazawa, including the stunning Kenrokuen Garden and the historic Nagamachi Samurai District.
🎆 Immerse in the traditional atmosphere of Takayama, known for its beautifully preserved old town, local festivals, and traditional crafts.
Tokyo: Experience the vibrant fusion of tradition and modernity in Tokyo, where ancient temples and serene gardens coexist with neon-lit streets, bustling markets, and a dazzling array of culinary delights.
Kyoto: Step into a living postcard as you explore Kyoto, a city of timeless beauty, where ancient shrines, majestic temples, and enchanting geisha culture evoke the grace and elegance of Japan's past.
Kawaguchiko: Discover the awe-inspiring beauty of Kawaguchiko, nestled in the embrace of nature, offering breathtaking views of Mount Fuji, serene lakes, and the opportunity to immerse yourself in the tranquility of Japan's iconic landscapes.
Nara: Transport yourself back in time in Nara, where deer roam freely and UNESCO World Heritage sites, including the majestic Todaiji Temple and its colossal Buddha, showcase the grandeur of Japan's ancient capital.
Osaka: Get ready for a city that never fails to entertain with its vibrant street food scene, towering skyscrapers, and historic landmarks like Osaka Castle, all infused with the energetic spirit of Kansai hospitality.
Kanazawa: Delve into the rich cultural heritage of Kanazawa, a city that captivates with its beautifully preserved geisha district, stunning gardens like Kenroku-en, and a thriving culinary scene that celebrates local delicacies.
Shirakawago & Ainokura: Journey into the heart of rural Japan as you explore these traditional villages, where steep thatched roofs, rustic charm, and the majestic beauty of the Gassho-zukuri farmhouses create a serene escape from the modern world.
Takayama: Discover the old-world charm of Takayama, known for its quaint streets lined with traditional wooden houses, a thriving morning market, and a rich cultural heritage that transports you to a bygone era.
Where will you be staying?
We understand the importance of a good night's rest and the desire to immerse oneself in traditional Japanese hospitality.
That's why we have carefully curated a selection of 3/4-star hotels and at least one Ryokan, ensuring a blend of modern comforts and authentic cultural experiences.
We offer two types of room options, single rooms and twin rooms. If you'd like to pay a lower fee and don't mind sharing room with a fellow traveller, that is also an option for you!
Day 1- Welcome to Japan!
You're here, welcome to Japan!
Prepare yourself for an unforgettable journey filled with rich cultural experiences and breathtaking landscapes.
Immerse yourself in the vibrant cityscapes of Tokyo, explore the historic temples of Kyoto, and indulge in the tranquil cultural spots of Kanazawa and Takayama.
Get ready to savour the delectable flavours of Japanese food while embracing the warmth and hospitality of the Japanese people.
You will be welcomed at the airport and taken to the hotel to settle in. Along with the welcome dinner, get to know your fellow travel companions! Your journey starts here!
Day 2- Deep Dive into Tokyo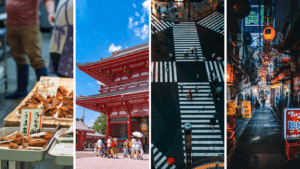 From the moment you step foot in the vibrant city, you'll be immersed in a whirlwind of sights, sounds, and flavors. Start your day visiting Tsukiji Market, where you'll be greeted by a cornucopia of Japanese delicacies and retail treasures. Sample fresh seafood, savour local treats, and browse through the array of goods on offer.
Afterwards, hop on the Asakusa line and make your way to Asakusa, a neighborhood steeped in history and tradition. Lose yourself in the enchanting atmosphere as you explore the iconic Asakusa Temple and its surroundings. Immerse yourself in the rich cultural heritage and take in the scenic views.
Continuing your Tokyo adventure, you head to Shibuya, a bustling hub renowned for its lively energy and iconic Scramble Crossing. Feel the pulse of the city as you navigate through the vibrant streets, filled with trendy shops, lively cafes, and bustling nightlife. Capture the perfect photo at the famous Hachiko statue and soak in the youthful atmosphere that permeates the district.
Next, venture to Harajuku, a haven for fashion enthusiasts and cultural aficionados. Wander through the colorful streets adorned with unique boutiques, quirky cafes, and street art. Embrace the spirit of Harajuku's youth culture and discover the latest trends in fashion and style.
As the day progresses, make your way to Shinjuku, a district that truly never sleeps. Explore the bustling train station, marvel at the towering department stores, and lose yourself in the labyrinth of small bars and eateries that make up the vibrant nightlife scene.
Day 3- Historical & Modern part of Tokyo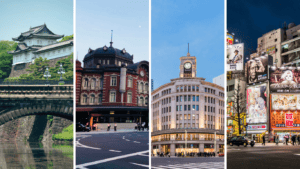 Prepare for another exciting day of exploration as you delve deeper into the heart of Tokyo. Your journey begins with a visit to the Imperial Palace Gardens, where you can appreciate the grandeur and tranquility of the royal residence. 
Next, make your way to Tokyo Station, a cultural landmark known for its architectural beauty. Marvel at the stunning exterior and step inside to discover a bustling hub of restaurants, souvenir shops, and various retail outlets. 
After working up an appetite, indulge in a delectable sushi lunch.
In the afternoon, venture into Ginza, Tokyo's iconic high-class shopping district. Marvel at the luxury stores and prestigious boutiques that line the streets, offering an array of high-end fashion and luxury goods. 
As the day unfolds, make your way to Akihabara, Tokyo's mecca for gaming, anime, and manga enthusiasts. Immerse yourself in the unique blend of subcultures as you visit Kanda Myojin Shrine, a shrine with a distinct anime influence. 
Concluding your day, head to Ueno, a district known for its rich cultural offerings. Explore the vast Ueno Park, home to a zoo, museums, and picturesque scenery. Immerse yourself in the artistic and intellectual atmosphere, browse through the shopping area, and discover the diverse attractions this neighborhood has to offer.
Day 4- Get close to Mt Fuji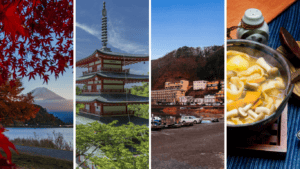 On day 3, prepare for a scenic escape from the bustling city as you embark on a journey to Kawaguchiko, a gateway to the majestic Mount Fuji. Begin your day with a picturesque ride, soaking in the beauty of the surrounding landscapes as you travel to Kawaguchiko Station.
Upon arrival, take a moment to explore the Kawaguchiko Station area, which offers stunning views of the iconic mountain. To fully appreciate the awe-inspiring beauty of Mount Fuji, come to Arakurayama Sengen Park, a popular tourist destination. The park offers stunning views of Mount Fuji, one of Japan's most iconic landmarks. It is particularly famous for its picturesque view of Chureito Pagoda, which stands on a hilltop overlooking the city and provides a stunning backdrop of Mount Fuji.
We will visit Oshino Hakkai, a collection of eight pristine ponds known as "Oshino Eight Ponds" (Oshino Hakkai) that are fed by the waters of Mount Fuji. The ponds are revered for their crystal-clear water, which comes from snowmelt and underground springs.
After enjoying the breathtaking views, head to a local eatery for a delightful lunch experience. Funatsuya awaits, offering a taste of regional cuisine with their specialty, Hoto noodles. These flat udon noodles served in miso soup, accompanied by a medley of vegetables, provide a unique and flavorful experience that is sure to please your taste buds.
With lunch finished, embark on an exploration of the mystical underground wonders of the Fugaku Wind Cave and the Narusawa Ice Cave. Marvel at the natural formations and unique atmospheres as you traverse these captivating caves, providing a sense of adventure and a chance to appreciate the wonders of nature.
Day 5- Surround in History & Culture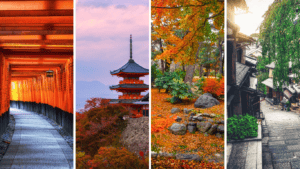 On day 4, you bid farewell to Tokyo and embark on a journey to Kyoto. After checking out of your accommodation, you make your way to Tokyo Station to catch a train to Kyoto Station. The train ride offers scenic views as you transition from the bustling capital to the culturally rich city of Kyoto.
The first stop is Fushimi-inari Shrine, famous for its vibrant red torii gates that create a mesmerizing pathway. Spend time exploring this iconic shrine and its serene surroundings.
Afterward, you travel to Kiyomizu-dera, a picturesque temple nestled on the side of a hill. Marvel at the stunning architecture and panoramic views of Kyoto from the temple's elevated location. Take a stroll through the neighbouring areas of Sanneizaka and Nineizaka, known for their traditional streets and charming shops. 
As the day progresses, head to Maruyama Park, the oldest public park in Kyoto and a renowned cherry blossom viewing spot. Enjoy the tranquil atmosphere and the beauty of the cherry blossoms if they happen to be in bloom. Afterward, make your way to Yasaka Shrine, a famous shrine located in Kyoto's Gion district, where you can immerse yourself in the traditional ambiance.
In the evening, embrace the allure of Gion, Kyoto's geisha district. Wander through the charming streets and soak in the traditional atmosphere.
Day 6- Surround yourself with Nature in Kyoto
Wake up refreshed and ready to explore Kyoto's treasures on day 5. Start your day with a trip to Arashiyama, known for its enchanting Bamboo Forest. Wander through the serene bamboo grove and soak in the tranquility of this natural wonder. Visit the nearby Tenryu-ji Temple, a UNESCO World Heritage site, and admire its exquisite gardens. Cross the iconic Togetsu-kyo Bridge, offering picturesque views of the surrounding scenery.
Next, take a taxi to the Golden Pavilion Temple, officially known as Kinkaku-ji. Marvel at the stunning golden facade reflected in the tranquil pond, creating a postcard-perfect scene. Take time to absorb the serenity of the temple and explore the beautifully manicured grounds.
For lunch, savor the flavors of traditional Japanese cuisine at Sabo Kinkaku-an, a restaurant located nearby, known for its delightful offerings. Indulge in a meal that complements the serene ambiance of the surroundings.
Afterward, embark on a journey to Nijo Castle, a UNESCO World Heritage site known for its historical significance and architectural beauty. Explore the castle's intricate design, admire the stunning gardens, and learn about its rich history. If you're interested in hands-on experiences, consider participating in a sushi-making class or a zen meditation and tea ceremony session to deepen your understanding of Japanese culture.
You will get to indulge in a gorgeous kaiseki dinner tonight. Kaiseki dinner is a multi-course meal featuring a meticulously prepared and beautifully presented selection of seasonal dishes. It is considered the pinnacle of Japanese haute cuisine.
Day 7- Meet your new deer friends in Nara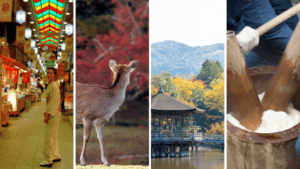 Begin your day at Nishiki Market, a lively and bustling market in Kyoto. Known as "Kyoto's Kitchen," it offers a wide array of fresh produce, local delicacies, and culinary delights. Immerse yourself in the vibrant atmosphere as you explore the stalls and sample delicious treats.
Afterward, you travel to Nara, a city known for its historical treasures and friendly deer. Start your Nara adventure at Nara Park, where you can interact with the friendly deer that roam freely throughout the park. 
Visit Todaiji, a temple housing Japan's largest bronze Buddha statue. Marvel at the immense size and beauty of the statue, and explore the temple complex that surrounds it. Afterward, make your way to Kofuku-ji, a Buddhist temple renowned for its pagoda and museum. Immerse yourself in the rich cultural heritage of Nara as you explore the temple grounds.
Before you conclude your visit to Nara, take a stroll through Higashimuki Shopping Street, a lively shopping street offering various Japanese shops and boutiques. Enjoy the local ambiance and perhaps find some unique souvenirs to take home.
Day 8- Indulge in the Food Capital of Japan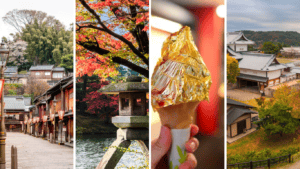 On day 7, it's time to venture to Osaka to explore its iconic landmarks and vibrant atmosphere. Start your day at Osaka Castle, where you can marvel at the castle tower and explore the secondary citadels, gates, turrets, and moats. Enjoy the cherry blossoms if they are in bloom and soak in the scenic beauty of Nishinomaru Garden, a lawn garden within the castle grounds.
Afterward, travel to Tenma, a neighborhood in Osaka's Kita area. Discover the vibrant Tenjinbashi-suji Shopping Street, a covered arcade offering a wide variety of shops and culinary delights. Immerse yourself in the lively atmosphere as you explore the street, and don't miss the captivating Chouchin Street, lined with lanterns that create a picturesque sight.
As the day progresses, make your way to Namba, one of Osaka's main citycores. Explore Shinsaibashi, a covered shopping street that connects to Amerika-mura, a district with an American motif and a hub of Osaka's youth culture. Delight in the vibrant retail scene and explore the trendy shops that line the streets.
To conclude the day on a relaxing note, unwind at Solaniwa Onsen, a rejuvenating spa and hot spring facility. Indulge in a soothing soak and enjoy the therapeutic benefits of the hot springs. Don't forget to savor the flavors of Japanese cuisine at the on-site Japanese restaurant.
Day 9- Explore the extravagant Kanazawa
Kanazawa is a city renowned for its rich cultural heritage and historical sites. Begin your day at Tsuzumi-mon Gate, a symbolic entrance located at Kanazawa Station. Admire the unique architectural design with two large drum-shaped ornaments, reminiscent of traditional tsuzumi drums.
From there, venture to Ōmichō Market, a bustling historic market known for its wide variety of fresh seafood, local produce, and traditional Japanese snacks. Immerse yourself in the lively atmosphere as you explore the market and indulge in the flavours of Kanazawa.
Afterward, take a leisurely walk to Higashi Chaya District, a well-preserved geisha district. Wander through the charming streets adorned with beautifully preserved wooden teahouses, exuding a traditional ambiance. Experience the refined world of Japanese hospitality and entertainment with a visit to Geisha House Shima, where you can interact with geisha and enjoy traditional performances.
After lunch, continue your journey by visiting Kenroku-en Garden, one of the Three Great Gardens of Japan. Stroll through the meticulously landscaped gardens, admire the tranquil water features, and enjoy the beauty of nature in this serene setting.
Next, make your way to Kanazawa Shrine, a beautiful shrine dedicated to the deities of the Maeda clan. Appreciate the elegant architecture and peaceful surroundings as you explore this historic site.
Day 10- UNESCO Gassho Houses & Historical town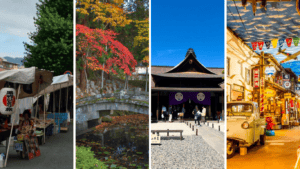 On day 9, embark on a scenic adventure to Shirakawago and Ainokura, two historic villages renowned for their traditional Gassho-zukuri houses. Begin your day with a visit to Shirakawago, located in Gifu Prefecture. Explore the village, known for its unique farmhouses with steep thatched roofs designed to withstand heavy snowfall. Marvel at the architectural beauty and immerse yourself in the charm of rural life.
One of the highlights of your visit is the Wada House, a designated Important Cultural Property. Step inside this well-preserved traditional house and gain insight into the daily lives of the Wada family, former wealthy landowners in Shirakawago.
Afterward, travel to Ainokura Gassho-zukuri Village, a picturesque village featuring more traditional Gassho-zukuri farmhouses. These houses, recognized as a UNESCO World Heritage site, offer a glimpse into the rural, traditional way of life in Japan. Take your time to wander through the village, appreciating the architectural beauty and the tranquil atmosphere.
Day 11- Time to relax and wind down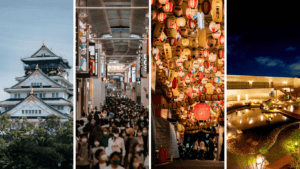 Take the opportunity to explore the cultural treasures of Takayama. Begin your day at the Takayama Morning Market, a bustling attraction where you can find fresh produce, local crafts, and street food. Immerse yourself in the vibrant atmosphere and savor regional specialties like Hida beef skewers, mitarashi dango (grilled rice dumplings), and various pickles.
Next, visit Takayama Jinya, a historic government house that served as the local government office during the Edo period. Now transformed into a museum, it provides insights into the region's history and administration. Explore the various rooms and exhibits, including the courtroom, offices, and living quarters.
After your visit, take some time for independent exploration, perhaps exploring more of Takayama's charming streets or finding a local eatery to savor the flavors of the region.
As your time in Takayama comes to a close, make your way back to Tokyo, reflecting on the wonderful memories you've created throughout your 10-day journey in Japan.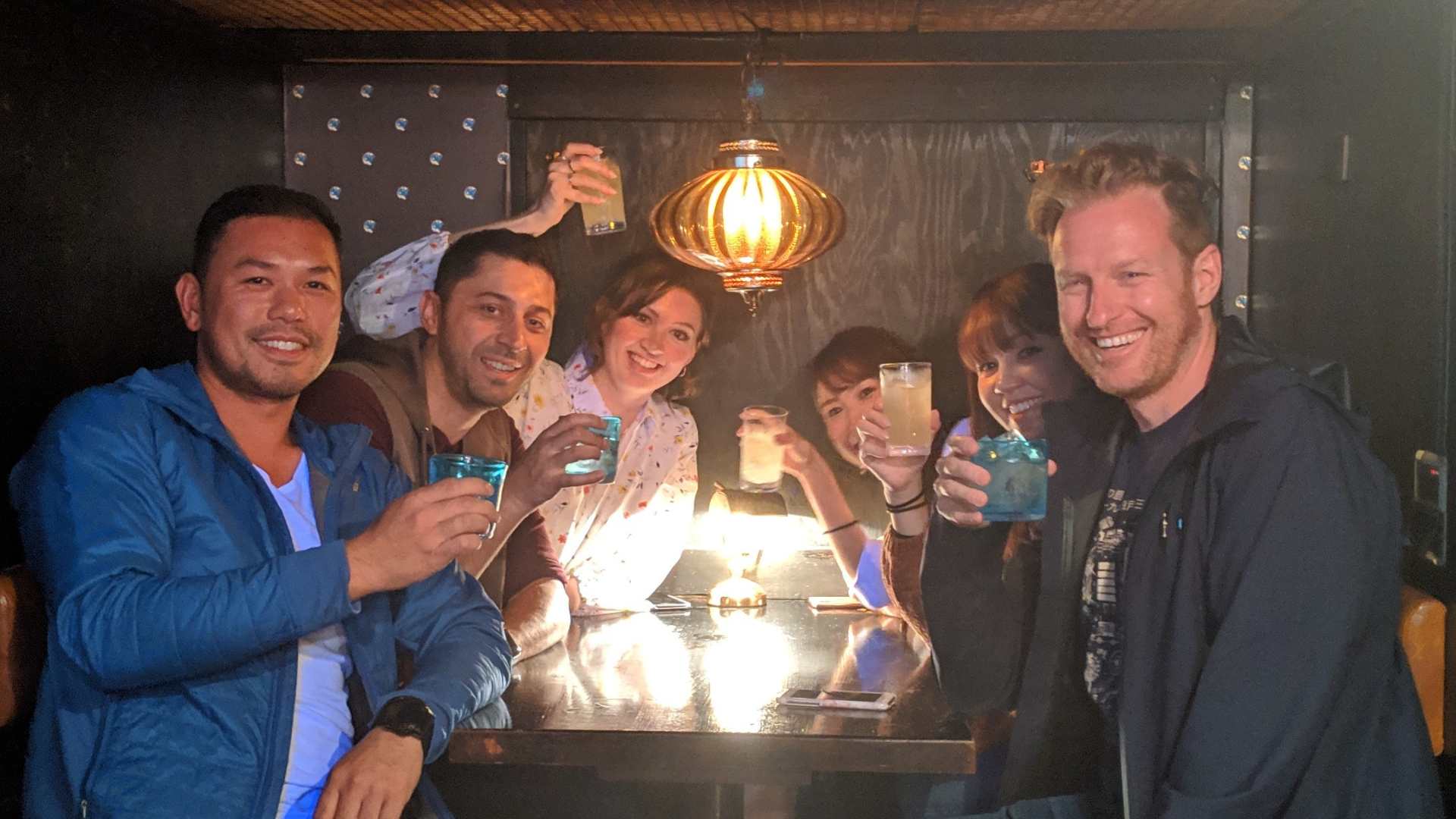 Who is this tour for?
This tour is designed for travellers who are eager to explore the rich cultural heritage, vibrant city life, and natural beauty of Japan. It is perfect for individuals, friends or couples who have a keen interest in immersing themselves in Japanese traditions, visiting iconic landmarks, and experiencing the unique blend of old and modern Japan.
Whether you are a history enthusiast, a food lover, a nature admirer, or simply curious about Japanese culture, this tour offers a comprehensive and diverse experience that caters to a wide range of interests. It is suitable for both first-time visitors to Japan and those who have already fallen in love with the country and wish to delve deeper into its fascinating attractions.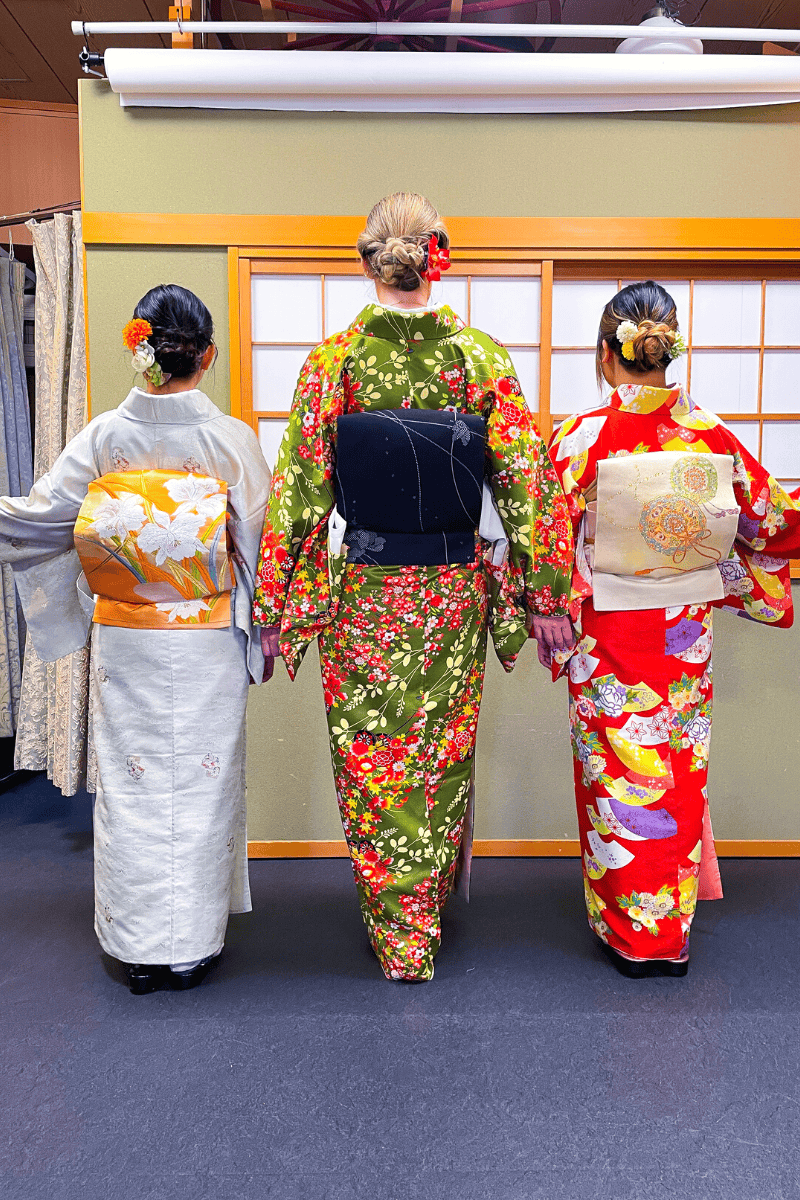 Who is this tour not for?
This tour may not be suitable for travellers that have seen all the major sights in Japan; prefer remote nature experiences; or don't like a mix of big city and countryside.
Also, individuals with mobility limitations may find it challenging to navigate some of the tour's itinerary, which involves visiting multiple (outdoor, rural) locations and using public transportation.
What's included?
👉 Accommodation at safe, clean and comfortable 3/4-star hotels
👉  A special night in a Ryokan, serving you traditional breakfast and dinner
👉 A welcome dinner with the whole group
👉 Daily lunch
👉 Special Japanese kaiseki dinner
👉 Public transportation such as Shinkansen, trains, subways and private coaches on certain days
👉 Airport Pick-up 
👉 Fully escorted and accompanied by a professional, English speaking tour guide, along with some surprise appearances
👉 Entrance fees of all listed activities, experiences and sights in the itinerary
👉 Various Traditional Japanese Cultural Activities 
👉 Depending on what everyone wants, we might be able to add and modify experiences, so you have the ideal trip in Japan!
Please check the following link for Flip Japan Guide Group Trip Terms and Conditions. 
What's not included?
👉 Flights from and to Japan
👉 Other meals
👉 Personal expenditure
👉 Travel insurance (Compulsory)
5% off Early-bird Pricing Now!
Twin Room: 2,886usd 2,786usd
Single Room: 3,426usd 3,326usd
To get started, pay only 200usd today to secure your spot and discounted price!
– Featured on & Guided for 4xEmmy Award Winning TV show, Global Passport!
– Travel agency, events & marketing company founded in 2016
– Partnered with 300+ Local Businesses
– Welcomed 3500+ Guests from 25+ countries
In a city like Tokyo that gathers so many people from all walks of life, it's incredibly fun meeting new people, and it's even more fun to explore Tokyo together with them.
Working closely in the industry of tourism and events, my colleagues and I have explored so many awesome popular as well as local places all over the city and I thought, why keep these amazing places to ourselves?
Come and join us on an amazing time around the city and uncover a different side of Tokyo!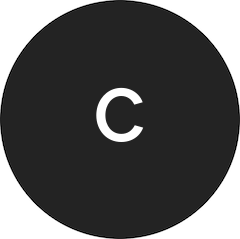 My boyfriend and I had a wonderful time, this experience ended up being our favourite night in Tokyo! Alex was a wonderful guide that was friendly and engaging. We would definitely recommend it.
Es ist eine schöne Nachtleben Tour. Unser Guide Alex war sehr bemüht und hilfsbereit, ging außerdem auf die Wünsche jedes einzelnen ein! Ich habe 3 Bars besucht die ich alleine nie gefunden hätte. Die anderen sind noch in eine weitere Bar gegangen. Beim Abschied waren alle zufrieden.
This was a nice, grown-up bar crawl. Average age of the 12 people in our group was maybe mid-30s. The dinner at the izakaya was really good, and a fun informal way to meet others who signed up. We then went to a few bars that were all interesting and unique. They were places I may not have gone into on my own, but I was glad we had a guide to take us in. Part of our group continued on to the club after the bars; part of our group went home. Everyone had Pocari Sweat in the morning... fun times!
You will spend an awesome time. Be ready to eat, drink, and party. I would highly recommend to book it, even if you are by yourself. Our guide Alex, was also very friendly and welcoming and made sure we were okay the entire night.
This tour is intimate and fun. Everyone on the tour were friendly and outgoing. We stay way past the tour time slot with our new mates
This was one of the best experiences I've had on Airbnb. Alex was a super host that made our experience super memorable. He was attentive to everyone in the group and had great knowledge about the nightlife scene of Japan. He made sure each person was comfortable and having fun. I would recommend this experience to anyone looking for epic night out in Japan.
10/10 recommend. The experience is worthwhile. The food is excellent, and the different locations each offer a unique vibe that gives you a glimpse of the wide variety of nightlife the city has to offer.
Venese was AMAZING! We had so much fun! The food was so yummy and the places we went to were super cool. I would do this again!
What a great night out in Shibuya! Venese was an excellent guide and great conversationalist! Being a solo traveller, I wouldn't have the confidence to go to bars by myself so this was a great way to meet people and explore the night life! If the conversation ever lagged, Venese was able to easily ask questions to make us all feel at ease. Also, the rock bar was SO cool!
Great food and drinks tour. Tried the best Gyozas at this hard to find spot and met the most coolest people on this tour. Venese was a great guide.