Have you heard of the Japan go-to travel campaign? Are you wondering how to use the latest Japan Domestic Travel Subsidy Program and want some inspiration for your next domestic travel?
Here is everything you need to know about Japan Domestic Subsidy Program and Japan Go-To Travel Campaign!
Japan Domestic Travel Subsidy campaign overview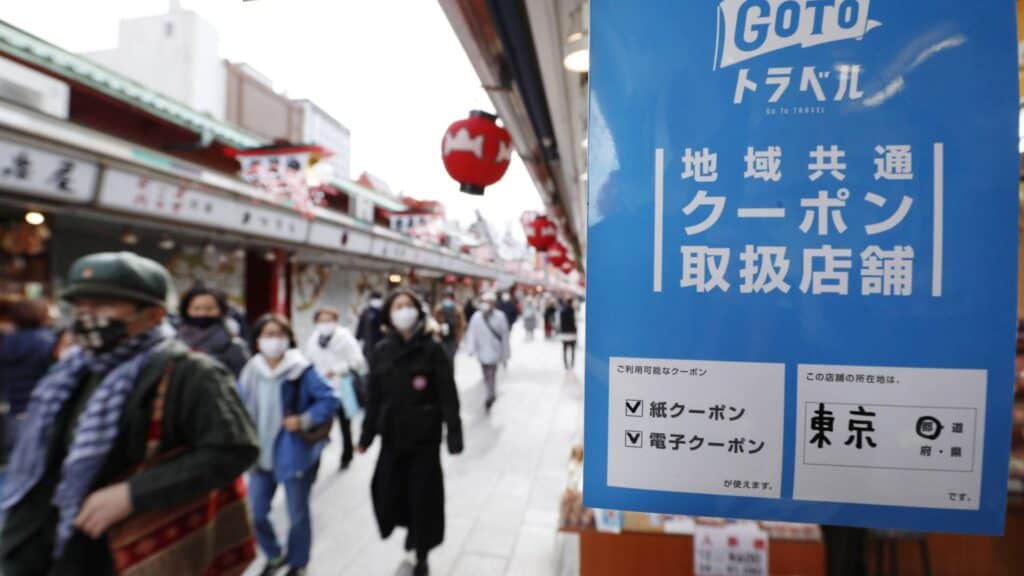 The Japan Domestic Travel Subsidy Program is a "nationwide tourism demand stimulation measure" that offers discounts on travel prices and grants regional vouchers.
Unlike GoTo Travel, which was a national collective initiative, the Japan Domestic Travel Subsity is organised on a prefecture-by-prefecture basis.
Therefore, the start date can also be after 11 October, starting with those prefectures that are ready.
The end date is also set for the end of December (most prefectures have set to end on 20 December), but it is up to each prefecture to decide whether or not to extend the date.
Please note that some of the contents may differ from prefecture to prefecture.
Japan Domestic Travel Subsidy campaign discounts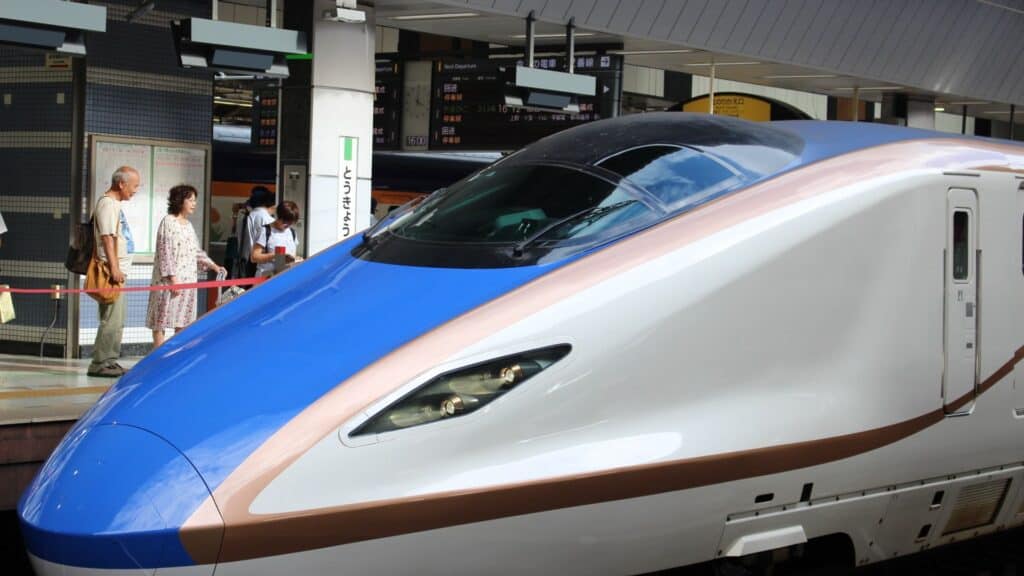 The discount is 40% off the price of a trip (maximum per person per night: 8,000 yen for overnight travel with transport, 5,000 yen for others).
Along with this, you will receive a regional voucher worth 3,000yen for weekday use and 1,000yen for holiday use. These regional vouchers can be used at restaurants and other local businesses in the travel destination.
For day trips, you can get 40% off with maximum 5,000 yen support per person, along with regional voucher for 3,000yen for weekdays and 1,000yen for weekends.
The discount is valid for up to seven consecutive nights per trip, with no limit on the number of times the campaign can be used.
Duration of Go-to Travel Campaign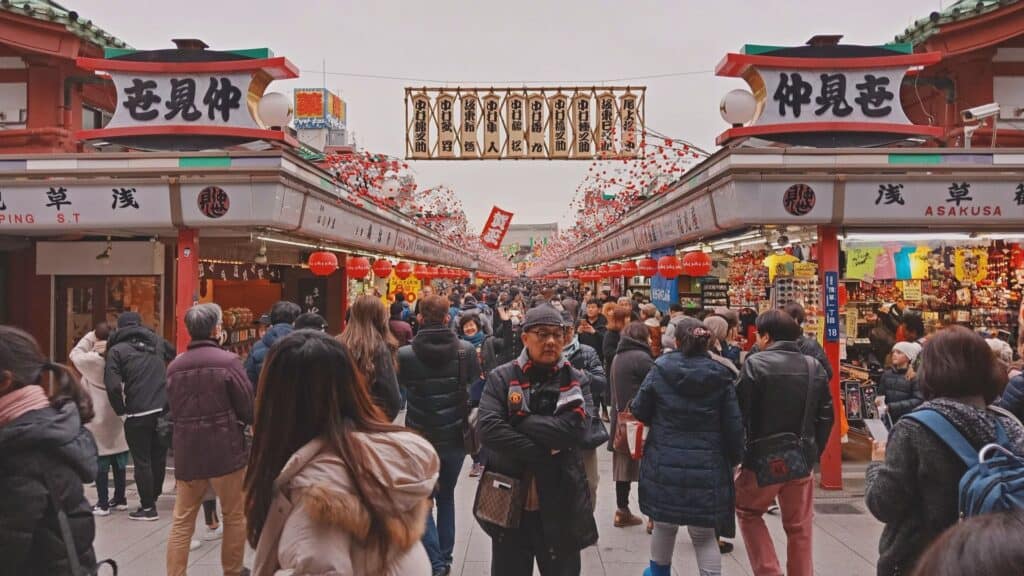 The programme will be implemented from 11th October to 20th December 2022 (starting 20 October for Tokyo). After the new year, the decision on whether or not it will be continued will be based on the infection situation and demand trends.
Holiday vs Weekday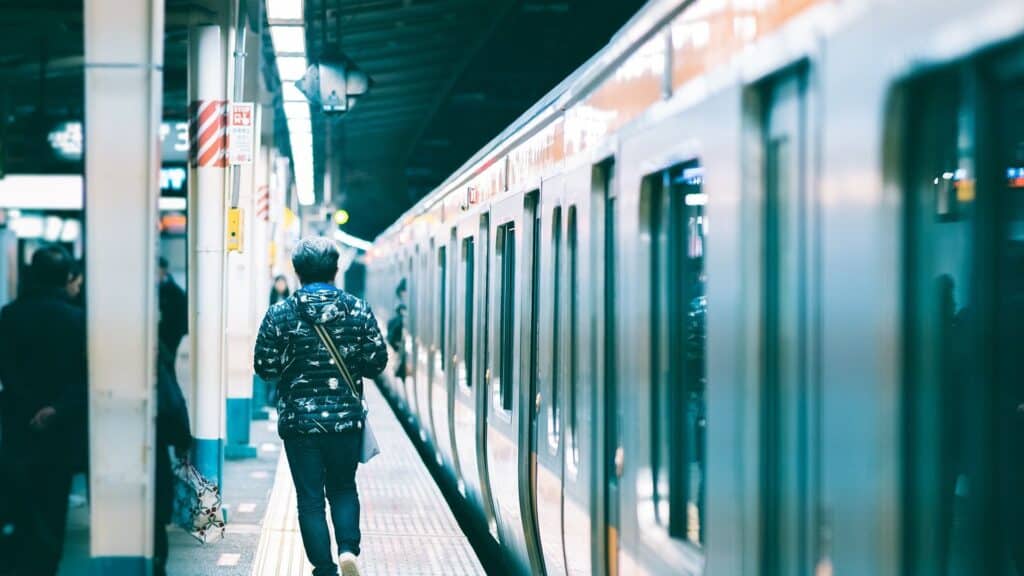 "Holiday" applies to overnight trips where both the day of the overnight stay and the following day are Saturday, Sunday or public holiday. Holidays for day trips are Saturdays, Sundays and public holidays. Other days are treated as 'weekdays'.
What do I need to bring for Go-to Travel Campaign?
In order to qualify for the discount, make sure to bring your identification documents such as a driver's licence. You also need to present proof of three previous vaccinations (an image or a photocopy is acceptable) or a negative result of a PCR test or similar test is required.
How do I make a reservation for Go-to Travel Campaign?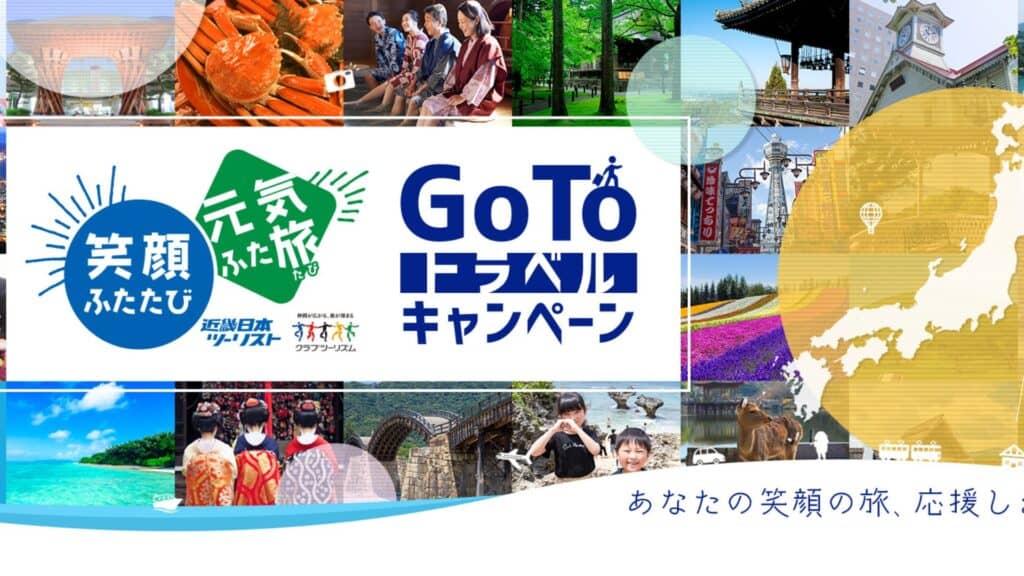 To use the campaign and make a reservation, apply for a trip at a discount price through one of the following travel booking websites participating in the campaign, such as Rakuten Travel, a travel agency, or an accommodation facility.
Upon presentation of identification documents and proof of vaccination at the time of accommodation, the customer will receive a regional voucher.
Here are the websites where you can make reservations. Please note that this is subject to change. Please refer to the following websites for the most up-to-date information.
Old vs New Go-to Travel Campaign
In the past, for Go-To Travel, half of the trip price was subsidised up to JPY 20,000 per person per night (35% travel discount + 15% common regional voucher), and the high discount limit made it popular with expensive accommodation.
It was also pointed out that tourist attractions were crowded on weekends and consecutive holidays. There were talks that the increased human traffic may have contributed to the spread of infection.
Because of these issues, even before taking office, Prime Minister Kishida had launched Go-To 2.0, an evolved approach to infectious disease control, and decided to utilise the vaccine and testing package. The new system was based on the premise of safety and security, with a difference in discount rates between holidays and weekdays to disperse travel demand.
The discount rate and maximum discount amount have also been reduced to avoid concentration on luxury accommodation, and discounts are more generous when using transport operators, to support the recovery of tourism demand from transport operators and rural areas.
5 Most popular holiday destinations in 2022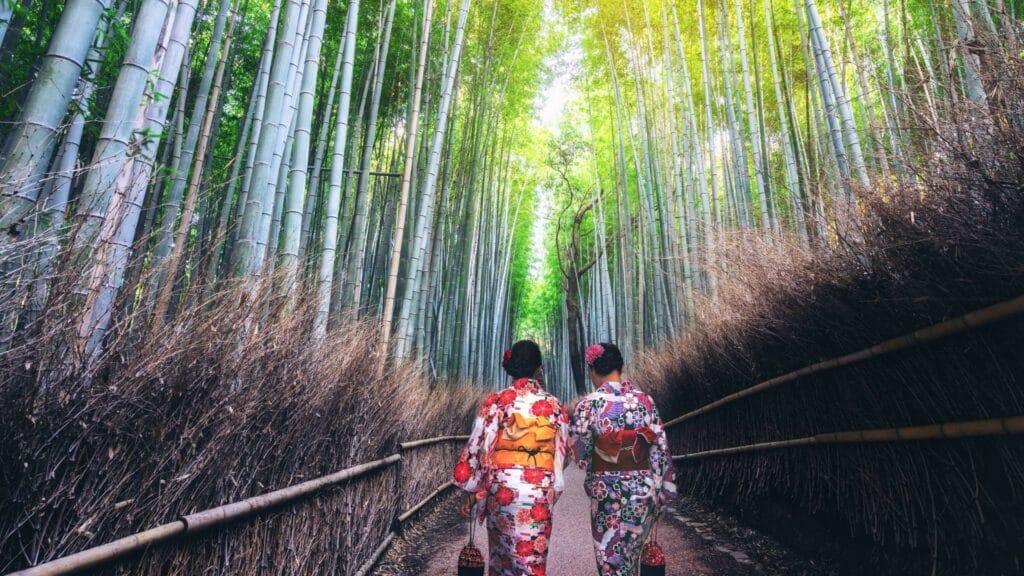 So now the question is, where should you go with the Japan Domestic Travel Subsidy?
You might want to make use of this discount to visit places that you haven't had a chance to check out yet or discover places that you have never heard of. Maybe some places might have been a little out of your budget and now with the discount, you want to make use of this opportunity.
To help you figure out where to go, here are the 5 most popular holiday spots in 2021 to give you some inspiration for your domestic travel! The statics you can find here are taken from Rakuten Travel.
Nara
The first place was Nara prefecture travel became popular with + 235.6% compared to the previous year. In particular, the "Yoshino / Totsukawa / Tenkawa / Gojo area", which is rich in nature and allows you to enjoy outdoor leisure activities that avoid dense mountains and rivers, increased by + 536.8% (about 6.4 times).
In addition, as a sacred place for the popular manga "Kimetsu no Yaiba", "Katsuraki Nii Honoikazuchi Shrine <Fuefuki Shrine>" in Katsuragi City is a new tourist spot.
Nara Prefecture is the ancient centre of Japan and was the ancient capital of Heijokyo during the Nara period. Therefore, there are many buildings and Buddhist statues designated as national treasures and world cultural heritage, and there are various attractions.
The deer in Nara Park is also known nationwide. Some of the most spectacular spots are the Tanize Suspension Bridge and the Mitarai Valley, which are one of the longest in Japan.
Tokushima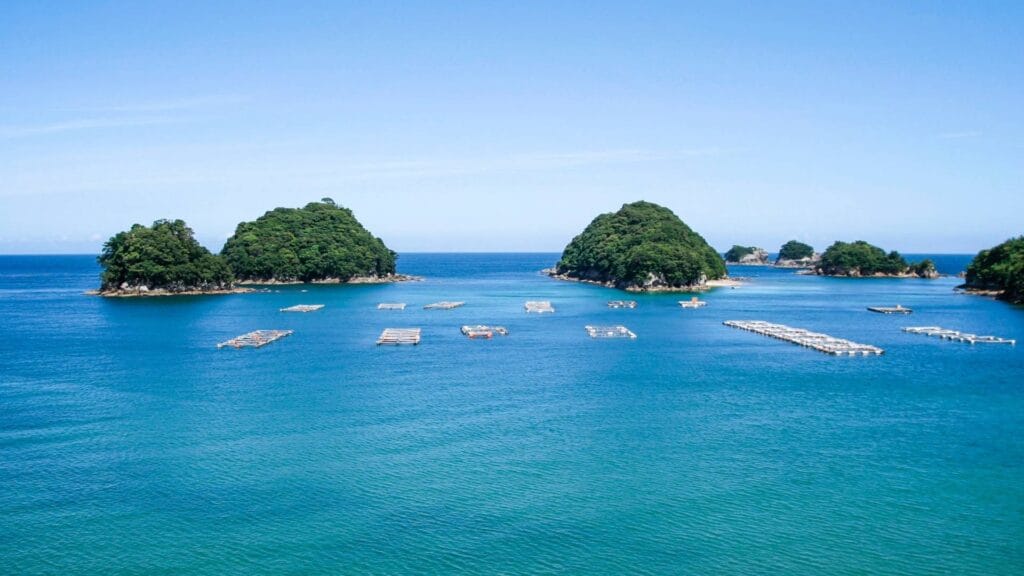 Tokushima Prefecture is in second place with a year-on-year increase of 151.3%. By age group, the number of people in their 20s to 30s has increased to + 194.7% (about 2.9 times), and the demand for travel within the prefecture among young people is increasing.
Tokushima Prefecture is full of individuality, with more than a quarter of the 88 sacred sites "Shikoku 88 places" scattered throughout Shikoku, such as "Naruto Whirlpools" and "Awaodori Kaikan". The highlights are complete.
If you climb the mountaintop from the 5th floor of the Awaodori Kaikan on the "Mt. If you want to experience a mysterious sight, we also recommend the "Abashi / Unkai Observatory", which is more likely to appear in the early morning of March-April and October-December.
From the observatory, you can overlook Oboke and the Yoshino River, which are known for their beauty in the valley, when there is no sea of ​​clouds.
Akita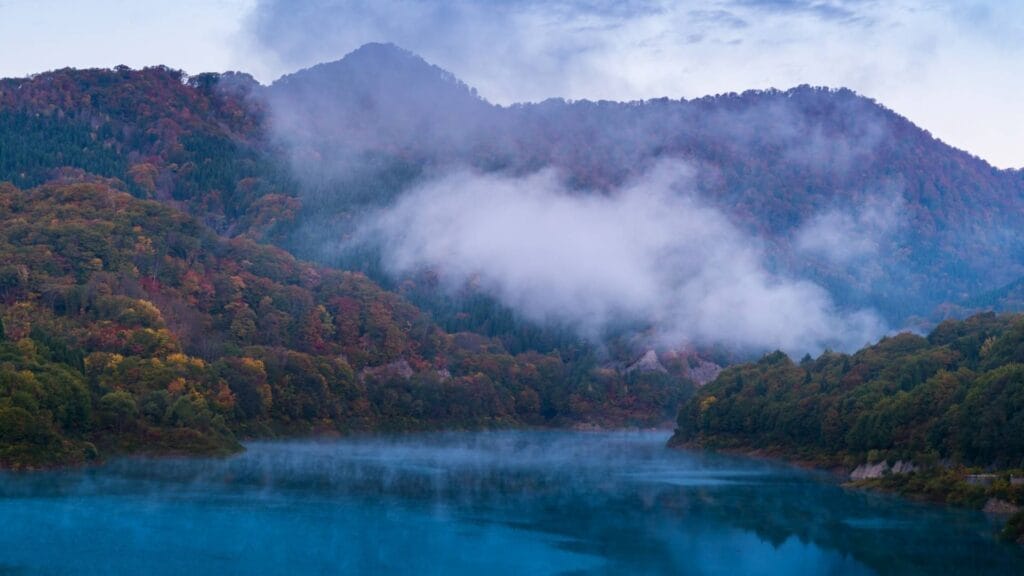 Akita Prefecture is in third place with a year-on-year increase of 105.5%. By accommodation composition, "Children" travel increased the most at + 411.2% (about 5.1 times), and the number of nights for families increased.
Akita Prefecture has many important intangible folk cultural properties such as the Oga Peninsula's quirky "Namahage" and the Three Great Festivals of Tohoku, the Kanto Festival.
Events that colour the four seasons are also famous, such as the "Kakukan Sakura Festival" in the spring, the "Omagari Fireworks (National Fireworks Festival)" in the summer, and the "Yokote Kamakura" in the winter.
At Lake Tazawa, the deepest lake in Japan, the legend of Princess Tatsuko remains, and there is Gozanoishi Shrine, which is also known as a power spot, and is dotted with activities and sightseeing spots. In addition, Akita's famous "Oyu Stone Circles" and "Isedōtai Site", which are included in the "Hokkaido / Northeastern Jomon Archaeological Sites" are expected to be registered as World Cultural Heritage in July. Isedotai Seki) "is also attracting attention.
Gunma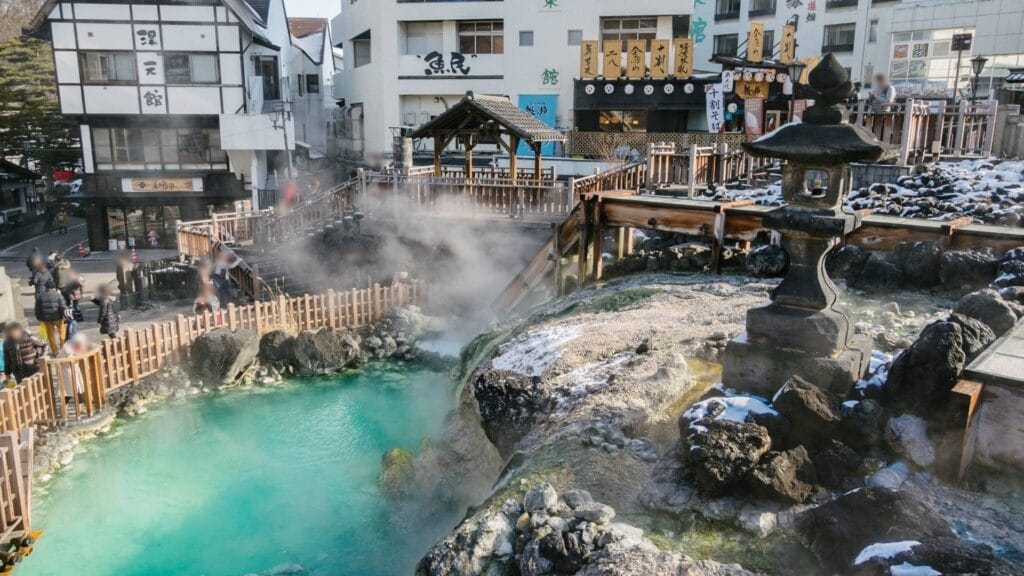 Gunma Prefecture is in fourth place with a year-on-year increase of 98.2%. There are scenic spots such as "Oze", "Fukiwari Waterfall" and "Tone River", and it is an area where you can enjoy many high-quality hot springs such as "Kusatsu", "Ikaho", "Minakami" and "Shiman" as one of Japan's leading hot spring kingdoms.
There are historical and railway fans' must-see tourist spots such as the world heritage "Tomioka Thread Mill", the "Megane Bridge" which is the site of the Abt system railway, and the "Watarase Valley Railway" where the trolley train runs, and it is one of the best power spots in the Kanto region.
There are many attractions such as the famous "Haruna Shrine". In October 2020, leisure spots that make full use of the latest video technology, such as the experience-based edutainment facility "ENNICHI by 1 → 10 AQERU Maebashi," were born.
Okinawa
The fifth place is Okinawa Prefecture (+ 95.3% compared to the previous year) where you can enjoy a tropical vacation with many spectacular beaches. Many hotels have plenty of sea activities and a variety of pools. In recent years, large resort hotels, villas, and condominium inns have opened one after another. Some luxury inns have private beaches and private pools.
The "Okinawa Churaumi Aquarium" is famous nationwide, including the Ryukyu Kingdom-related ruins such as the world heritage sites "Shuri Castle" and "Nakagusuku Castle Ruins". "Mihama Town Resort American Village" is dotted with wall art and fashionable cafes that you will want to upload to SNS, so you can enjoy it in a different way. In addition, remote islands such as Miyakojima and Ishigakijima are not to be missed and are tourist attractions.
Japan go-to travel campaign 2020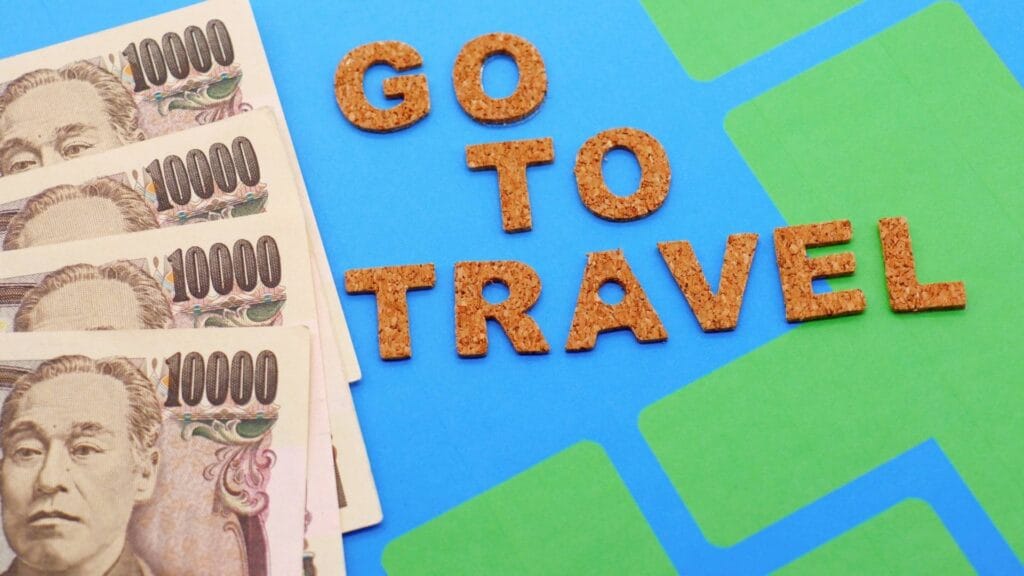 The Japanese government has proposed a number of steps under the name of a nationwide 'Go To' campaign aimed at increasing travel within Japan and supporting local businesses in reaction to COVID-19's unprecedented impact on tourism.
The Japan Go-To Travel Campaign began on July 22nd, 2020, and offers Japanese citizens and international residents discounts and subsidies of up to 50% on travel within Japan. Discounts are given in the form of subsidised lodging and 'common coupons,' which can be used at participating retailers, restaurants, and other locations.
Japan Go-To Travel Campaign is a travel campaign that aims to promote and encourage travel and tourism in Japan. Japan Go-To Travel is a government campaign that aims to increase the number of tourists visiting Japan by increasing awareness of the country through social media, such as Twitter and Instagram.
Japan's Go-To Travel campaign was started in 2018 by the Ministry of Land, Infrastructure, Transport and Tourism (MLIT) Japan with the aim of increasing tourist visits to Japan. The Japanese Prime Minister, Fumio Kishida announced in March 2022 that the government is planning to relaunch the "Go-To Travel" campaign "when the opportune moment comes."
According to Kishida, the government is looking into the COVID-19 infection situation and meeting with specialists to determine when the campaign should resume. This page will be updated as soon as an announcement is made. Until then, we'll go over the last COVID-19 campaign to see what's in store for the months ahead.
From July 22nd, 2020, the government will cover up to half of the cost of accommodation and transportation for 1-day trips up to JPY10,000 per person and 2. overnight trips up to JPY20,000 per person. Trips of up to seven days in length had been covered. The amount you are entitled to on an overnight trip is based on the cost of your lodging, with a maximum claim of JPY20,000 per person. This is what that support looks like:
70% will be provided through reduced accommodation; 30% will be made available through the usage of 'common vouchers.'
News on Japan Go-To Travel Campaign 2020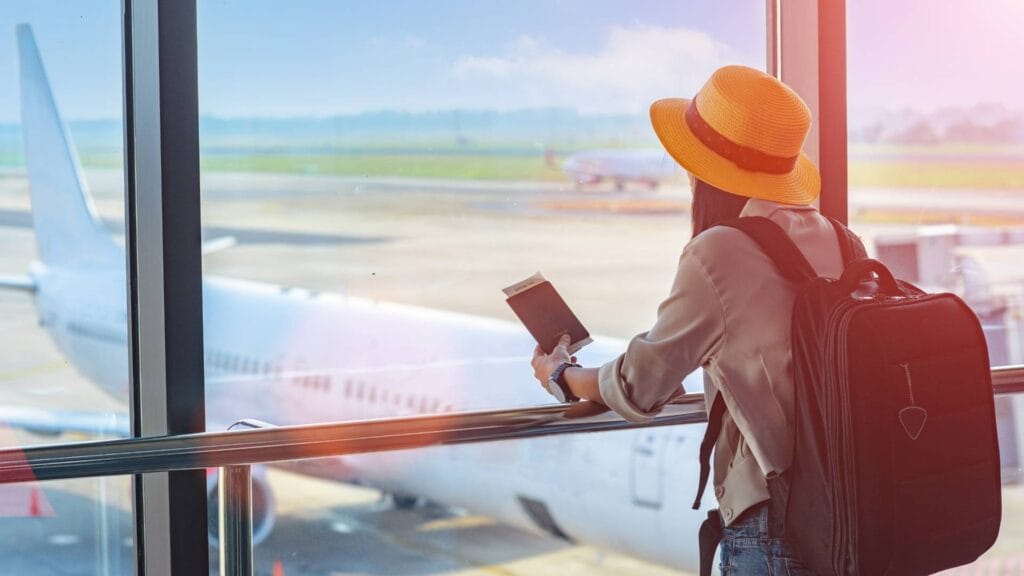 As of this, the Japan Go-To Travel Campaign will not proceed until the level of Corona is safe enough to travel with minimal spread. The tourism minister Tetsuo Saito stated, "We're not at a point where we can announce a specific date for resuming the campaign, we're in a situation where we should assume that the spread of (the coronavirus) will proceed rapidly."
However, some travel companies and booking sites are considering resuming the Japan Japan Go-To Travel Campaign, and are planning to offer discounts for currently booked and newly booked vacations after the decision are made.
When it is agreed to restart the Japan Go-To Travel Campaign, for example, JTB and HIS will contact the target passengers individually via email, and if they agree to the participation criteria, the discount will be applied as is. Similarly, Rakuten Travel, Ikyu.com, and others have stated that the discount will be applied later without the need to rebook the trip.
How does the Japan Go-To Travel Campaign work?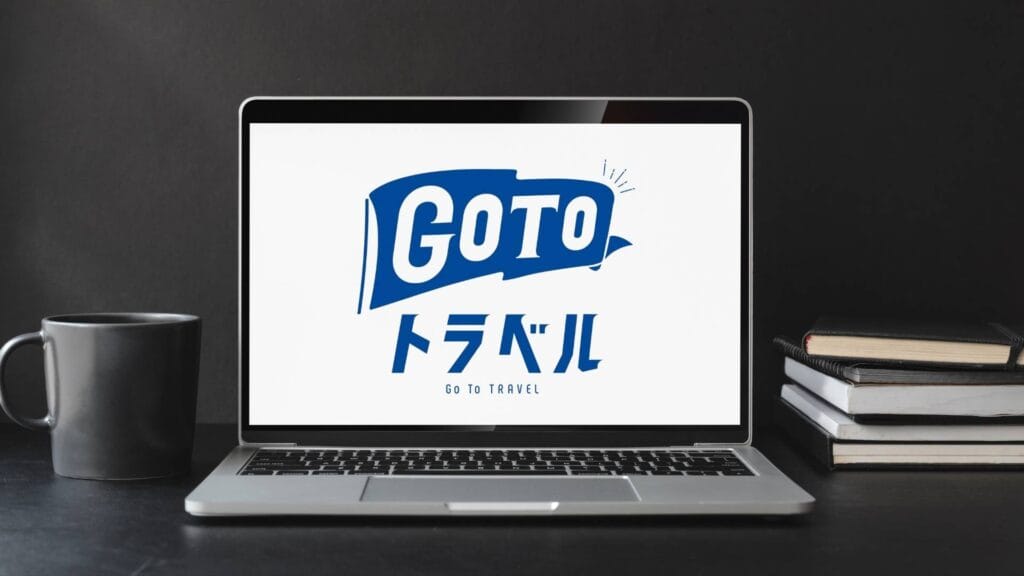 Travellers can apply through participating travel agents, online reservation sites, and lodging companies. Up to 30% of the travel fee will be decreased, and a "regional common coupon" (3,000 yen on weekdays and 1,000 yen on holidays) will be issued that may be used at registered member stores of travel destinations, as well as the entire tourist destination.
For Go To travel, the "Regional Common Coupon" will provide 15% off the ticket price. Paper coupons and electronic coupons are the two types of coupons available. Each voucher is issued in 1,000 yen increments and cannot be changed. The method of distribution is determined by the operator who booked the trip.
What kinds of trips are eligible for the Japan Go-To Travel Campaign?
All sorts of trips from long weekends to day trips.
What does the Japan Go-To Travel Campaign cover?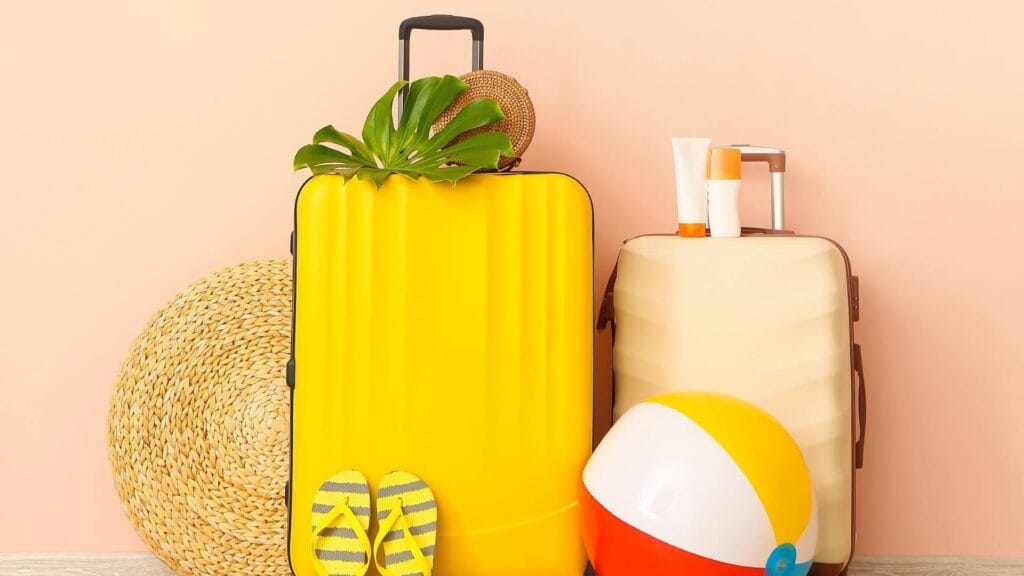 The Go-To-Travel Campaign covers all forms of trips including accommodation, transportation, food and goods and services which include excursions.
How to use Japan Go-To Travel Campaign
The official Japan Go-To Travel information states that the campaign is available for all residents of Japan, both Japanese citizens and foreign residents with valid visas.
Overnight stays at registered lodgings, trip arrangements made through registered travel agencies are all eligible for discounts, and the vast majority of hotels and travel agents across the country are registered.
The official website of the Japan Go-To Travel campaign has a list of associated businesses. The campaign is active in all of Japan's regions. Depending on the development of the virus, some places may be temporarily excluded from participating in the campaign. Only if they are part of a trip package are they eligible for the discount.
The discount, for example, cannot be used on standard purchases of flights or rental cars; however, it can be used on flights or rental cars that are part of a vacation package booked through an authorised travel agent.
How to apply for the Go-To Travel Campaign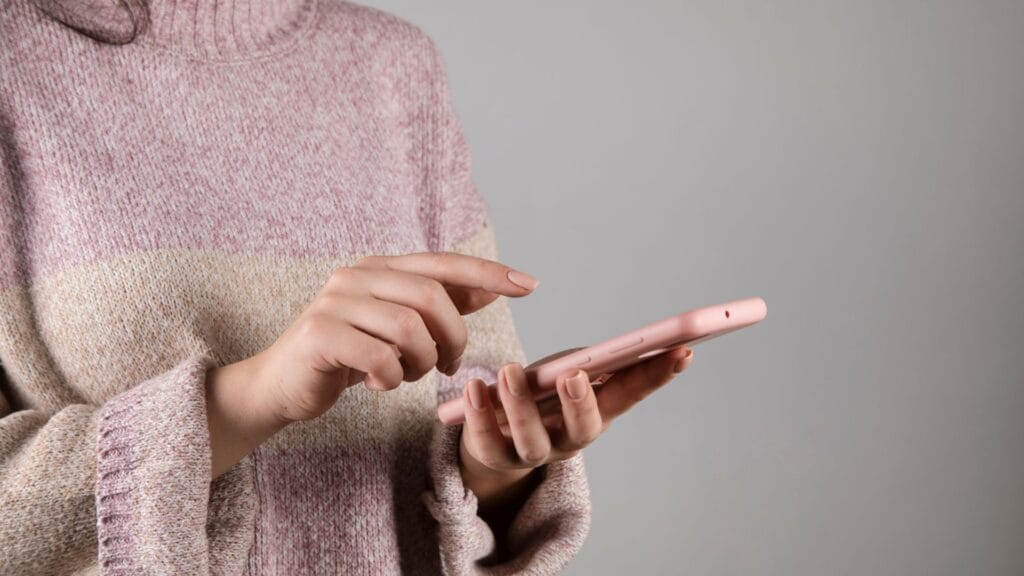 In order to apply for the campaign, you have to reserve your desired trip through a campaign-registered hotel using the hotel, a travel agent, or a reservation website. On the other hand, you can purchase a vacation package from a registered travel agent.
You pay 65 percent of the total cost of the lodging or package at the time of booking, with the remaining 15 percent in coupons supplied by the travel agent or hotel.
On the campaign's official website, a list of registered hotels and travel brokers may be seen in Japanese. Many hotel reservation companies, such as Booking.com and Agoda, are also participating in the Japan Go-To Travel campaign.
The discount is not only good for lodging, but also for overnight transportation such as a cruise ship, an overnight ferry, or a sleeper train, for which you might receive a discount. The campaign will pay for your transportation, meals, and activities if you choose to go on a day trip.
How to use Go To Travel Coupons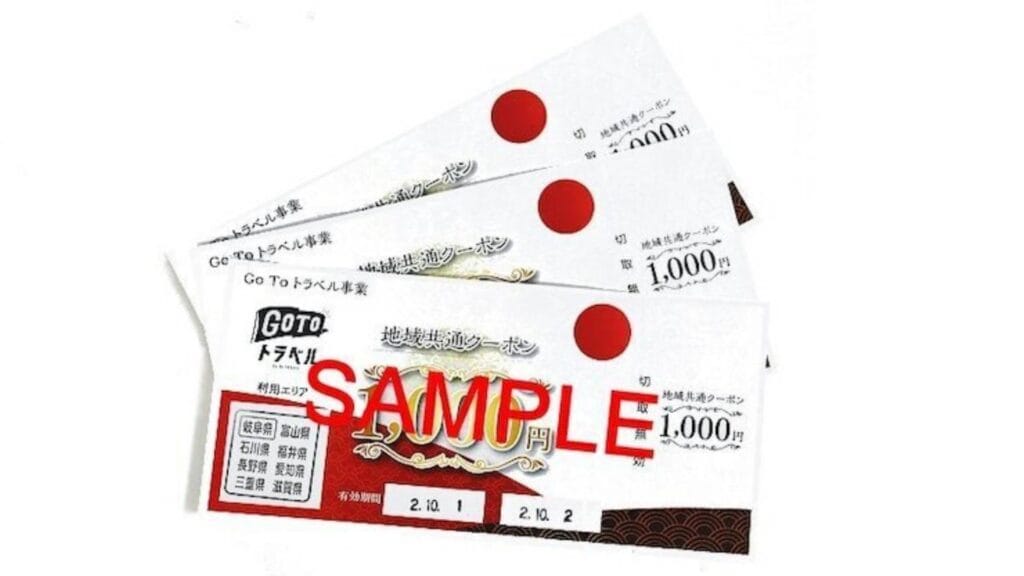 During the day(s) of your journey, coupons can be used to pay for goods and services at registered stores and restaurants, as well as transportation and other travel services in the prefecture visited and nearby prefectures. Please note that they are non-refundable. The campaign's official website includes a list of registered businesses.
Coupons are issued in either paper or electronic form, depending on the issuing agent (to be used with a mobile device). Coupons are provided in 1000 yen increments, with the amount adjusted up or down to the closest 1000 yen (500 and more is rounded up; less than 500 is rounded down).
—
What do you think about the Japan go-to travel campaign? Hope you find this guide helpful to help you figure out exactly what is Japan go-to travel campaign, how to use it and some inspiration on where to go!