With a picturesque view of the mesmerising Osaka Castle surrounded by a lush green Japanese garden, you are in for a royal treatment at the New Otani Osaka. This luxurious, five-star accommodation provides high-ceilinged rooms overlooking some of Osaka's landmarks, indoor and outdoor pools, an on-site gym, and a wide array of dining options with different specialties. You can stay up to date on all your emails and catch up with family and friends during your stay as free-wifi is available flowing throughout the property.
Check-in begins at 2 pm, and check-out closes at noon. Moreover, children under the age of 6 can stay for free in the provided beds.
The hotel is easily accessible from Osaka Station, just a 10-minute train ride. If you are travelling by air, the journey from Kansai International Airport is 75-minutes by train and 60-minutes by train from Itami Airport. One of the many perks of staying in this hotel is that you can take day trips to other popular destinations such as Kyoto and Nara, which can be reached within 1-hour by train.
A Room with a View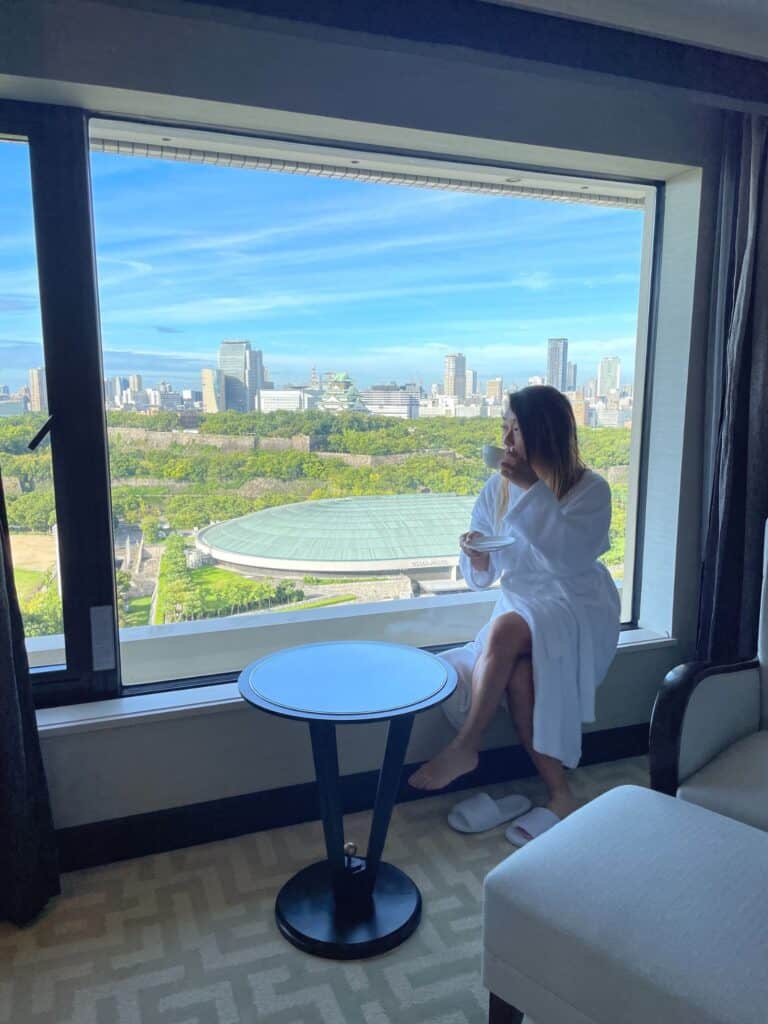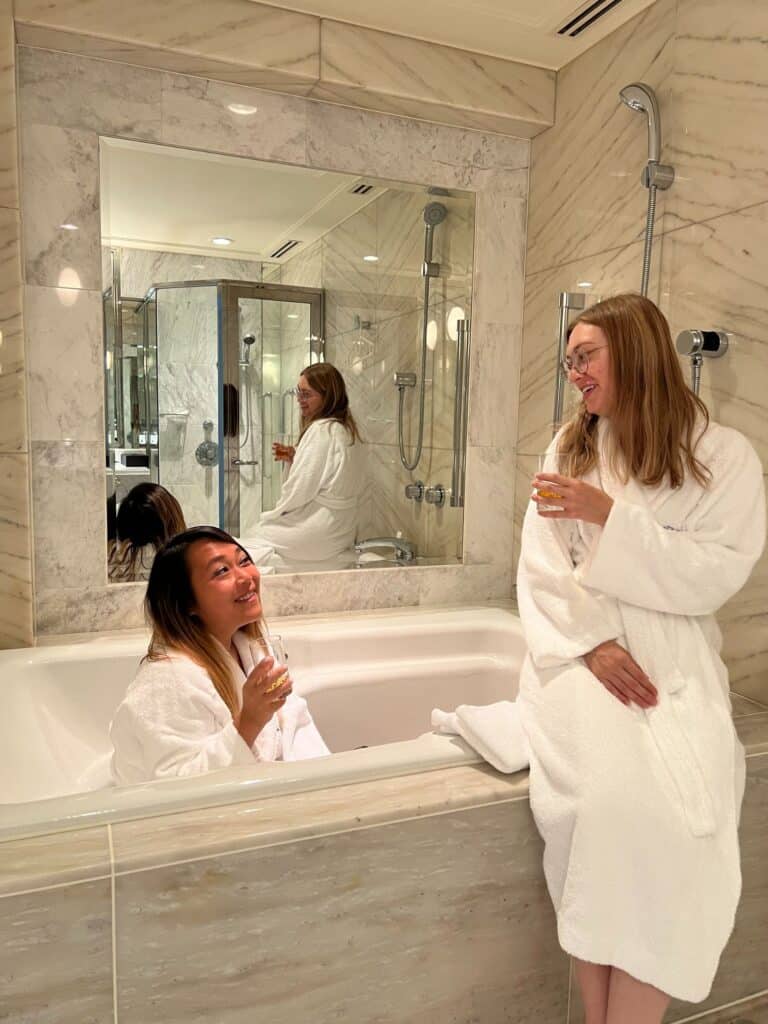 During our stay, we were treated to one of the hotel's spacious and glamorous suites facing Osaka Castle. The room had a comfortable bed and was equipped with all the essentials for business or leisure. That includes air conditioning, a flat-screen TV, a DVD player, a mini-bar, some workspace, a tea table, and a large closet, among other amenities. The spacious suite also had a private toilet, smooth bathrobes, toiletries, and double wash basins.
Facilities at New Otani Osaka
Since you will be staying just a couple of steps away from Osaka Castle, you can purchase your entry tickets to visit this beautiful landmark right here at the hotel. If you need to exchange your currencies, you can do so at the hotel on one of the available machines.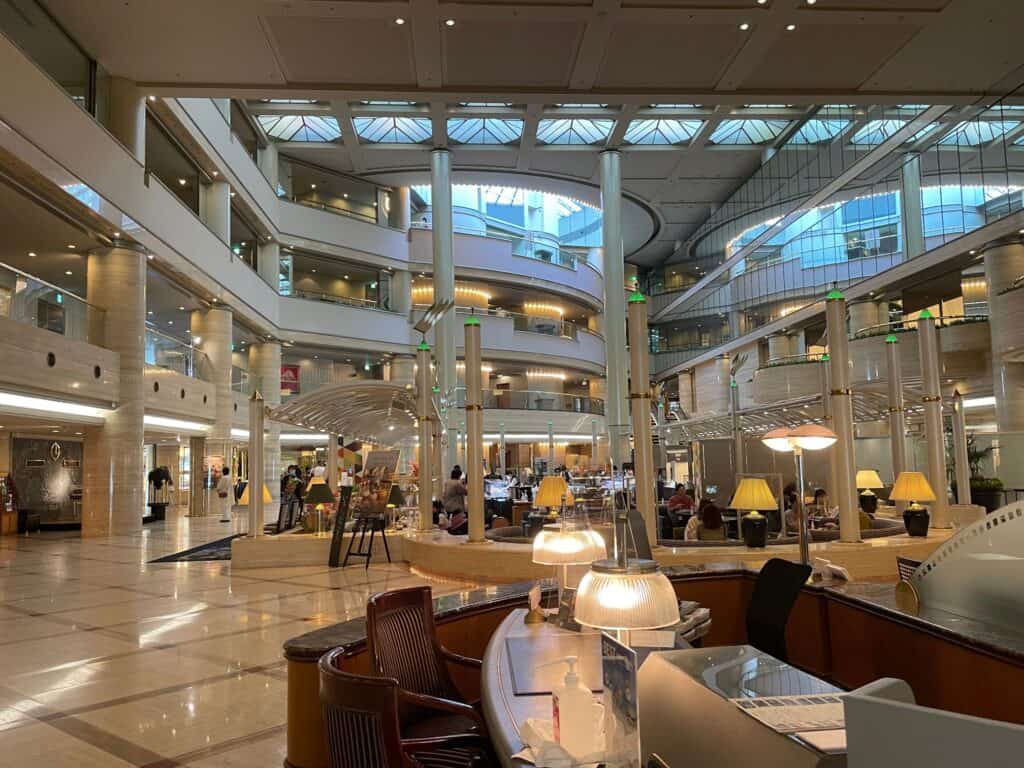 Apart from this convenience, the hotel offers several facilities for a comfortable, luxurious, and memorable vacation. The hotel's Fitness Club has a quality on-site gym and a wellness program whereby you can continue or start your fitness journey with the help of personal trainers. If you prefer playing sports, check out the hotel's outdoor tennis courts for a game with your family, colleagues, or friends. Relax at the hotel's saunas, hot tub, or 20 metre long indoor swimming pool, or maybe treat yourself to a massage or a trip to an aesthetic salon for an additional fee. Go shopping for some souvenirs at the hotel's gift store.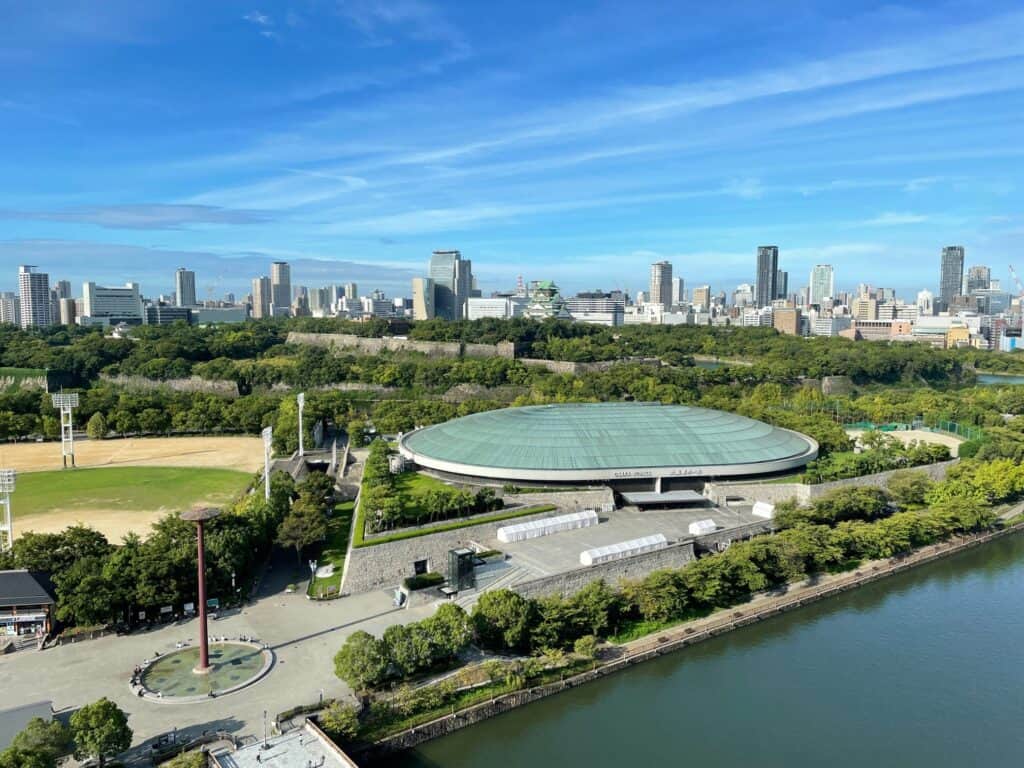 Another facility is the hotel's seasonal outdoor pool, the "Jo-POOL," which overlooks the verdant Osaka Castle Park and transforms at nightfall into "THE WATER TERRACE," whereby "night lights and DJ performances invite you to the coolest summer experience in Osaka!" Visitors can enjoy this large pool for JPY 5,000 and staying guests for JPY 4, 000/3, 850.
In addition, the hotel offers a shuttle service to and from Kyoto for you to continue your adventure in Japan. Likewise, you can explore Osaka by the Osaka Wonder Loop Sightseeing bus, which picks you up and drops you back at your accommodation.
Last but not least, Hotel New Otani Osaka has a superior selection of ballrooms, meeting venues, and event facilities, enabling guests to choose the one that best fits their needs and expectations.
Dining at New Otani Osaka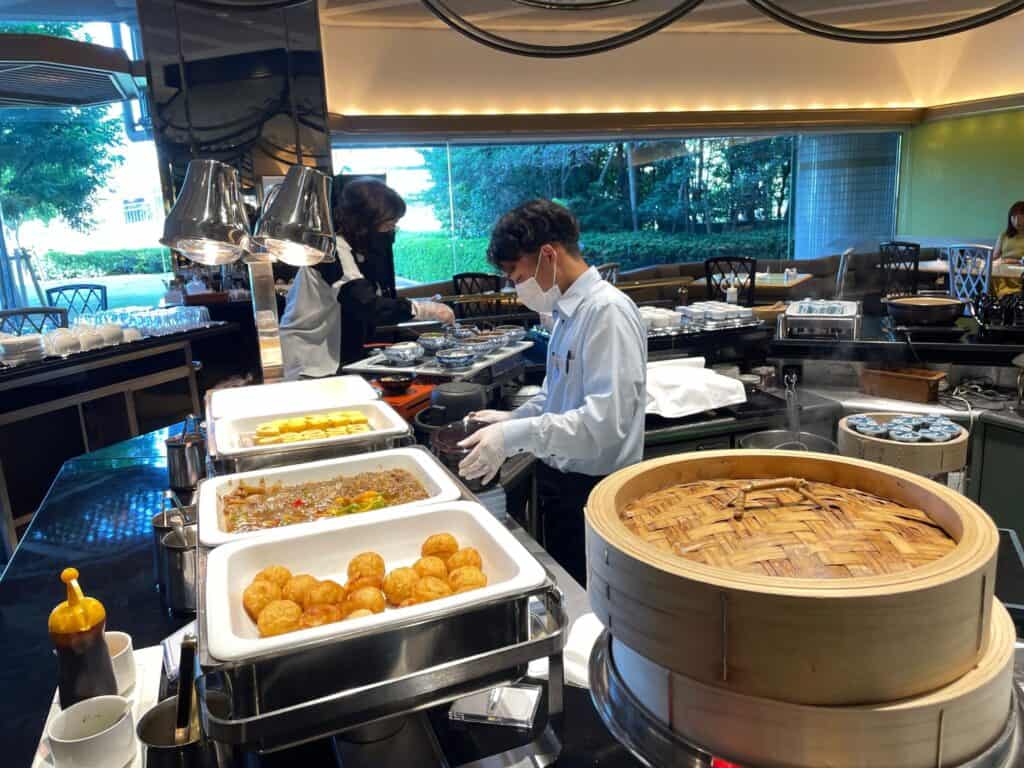 The dining at New Otani Osaka is nothing less than fabulous, with numerous cuisines and specialties for you to indulge in. You can have French dishes, Japanese or International foods.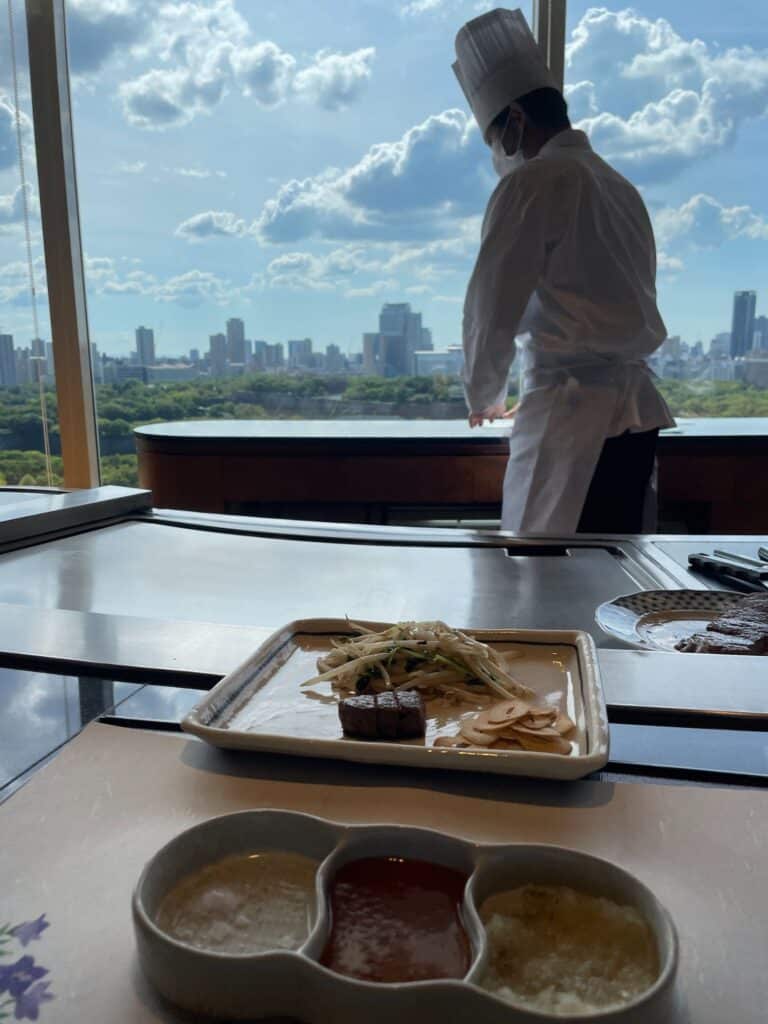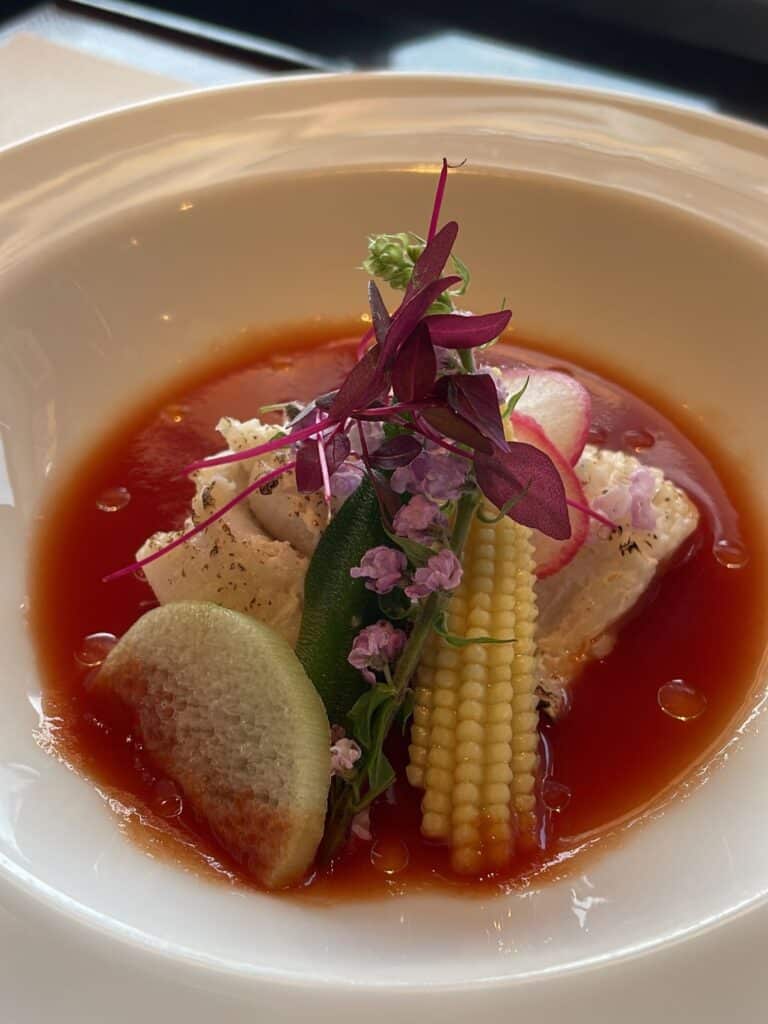 During our stay, we chose to dine at "Keyaki," a teppanyaki specialty restaurant serving delicious grilled foods and breathtaking views of the Osaka skyline and the historical Osaka Castle. You will savour the sight and aroma of the finest Japanese beef, including Kobe beef, considered one of the best among the various "Wagyu" brands, and the freshest seafood and vegetables. Your meal is prepared right in front of you by the skilled with precise and agile movements. The restaurant is open for lunch from 11:30 am to 2:30 pm and dinner from 5 pm to 9 pm.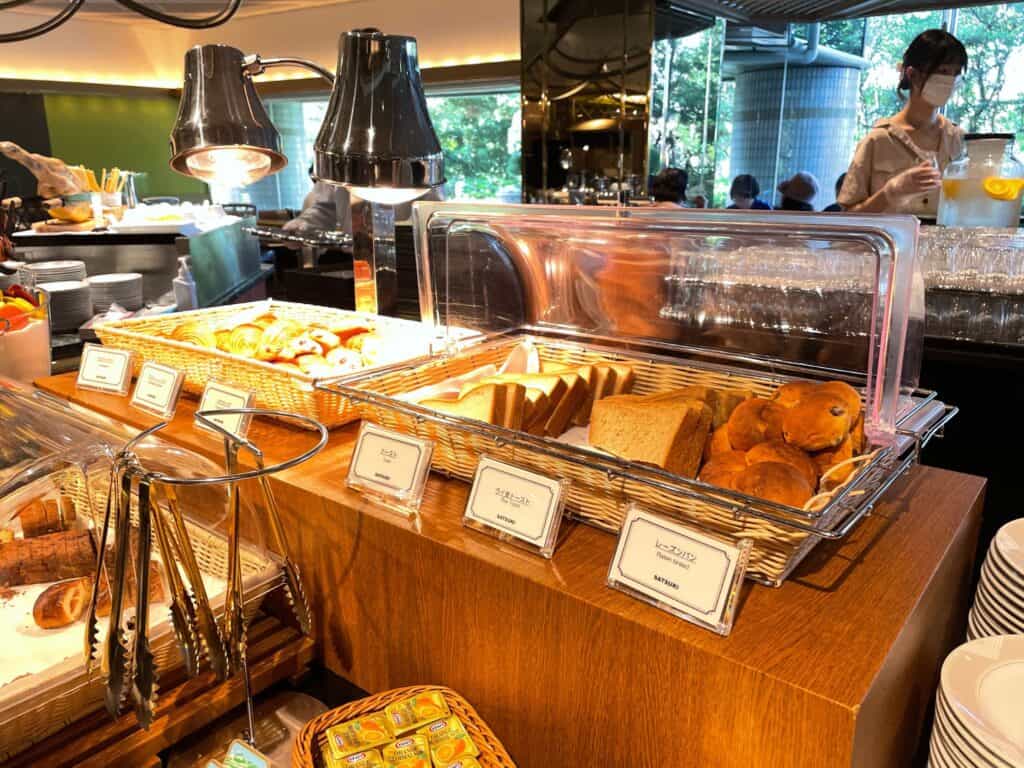 As for breakfast, you can enjoy a grand buffet at the Satsuki restaurant, among other options, which are all open from 7 am to 10 am on weekdays and until 11 am on weekends and holidays. You can start your day off with a Western, Chinese, or Japanese-style breakfast, with hot dishes such as omelettes and pancakes prepared on the spot for you by talented chefs. Children under the age of 4 can have breakfast for free.
Accessibility and nearby attractions
The property's location is perfect for sightseeing and exploring nearby cities. Apart from Osaka Castle, you will be close to Universal Studios Japan, Osaka Aquarium, JO-Terrace OSAKA shopping complex, Mint Museum, and Kuromon Ichiba Market, among other local attractions.
Overall, you will not get less than world-class service and care at this hotel facing ancient royal grounds.