Planning to spend your weekend away in Kyoto and looking for a place to stay? Whether you are travelling as a family, tourist, or for business, stay tuned as we have guaranteed the perfect, centrally located accommodation for you. This place offers all the necessary comforts to have a fulfilling hotel life while maintaining the traditions of a brand that has proudly hosted royalty.
Achieving a four stars rating for its excellence and having been newly renovated in the fall of 2016, RIHGA Royal Hotel Kyoto is a gem of a place, just a 7-minute walk west of JR Kyoto Train Station. The hotel provides essential facilities, including a newly refurbished indoor pool and sauna, a premium fitness centre with quality equipment, and eight marvellous restaurants, one with a panoramic view of Kyoto city.
Check-in time at the hotel begins at 2 pm, while check-out is at 11 am. Complimentary parking and WiFi access is provided throughout the property, and a concierge is available upon request. The free shuttle between the hotel and JR Kyoto Station is also at your service.
Guest Rooms at Rihga Royal Hotel Kyoto
Featuring a modern interior aesthetic with Japanese touches, all rooms come with a satellite TV and minibar. You will also find at your disposition air humidifiers and purifiers, a hairdryer, and an electric kettle. For a glamourous experience, all en-suite bathrooms are stocked/supplied with Laura Ashley bath amenities and toothbrushes.
Facilities at Rihga Royal Hotel Kyoto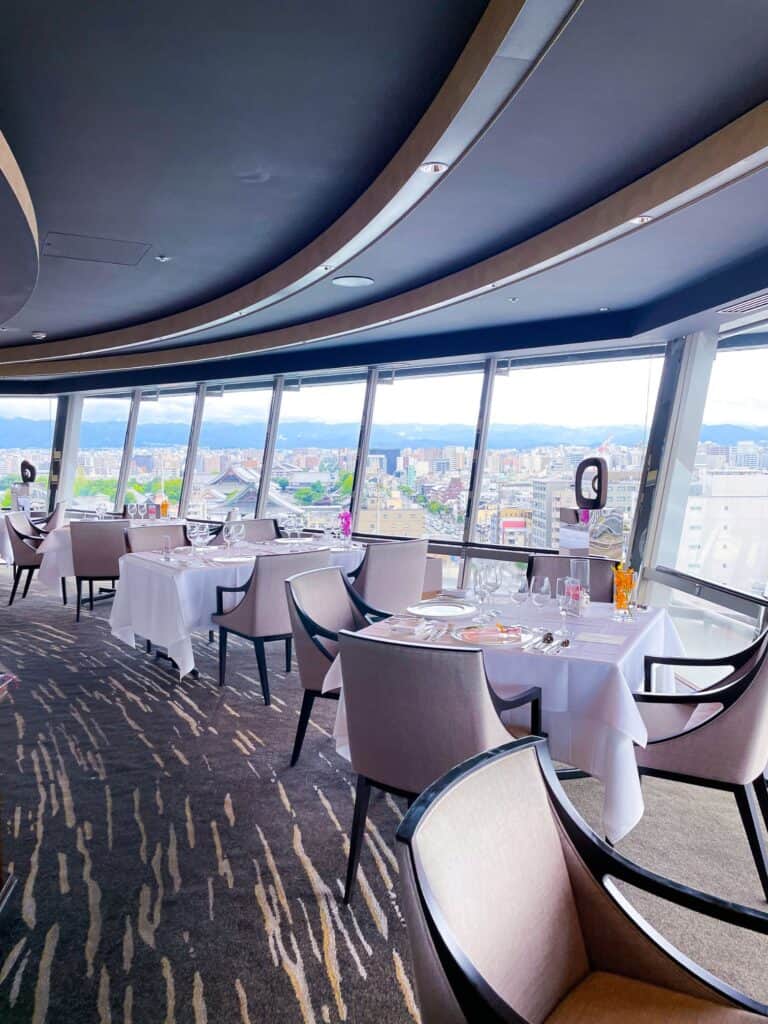 As hinted at beforehand, RIHGA Royal Hotel Kyoto provides brand new facilities, including eight diverse restaurants, a bar and lounge area, free internet access, a glamorous bar, a heated indoor pool and sauna (to be enjoyed all year round), a nursing room for infants, fitness gym and a 24-hours business centre featuring PC, copier, and currency exchange machines. If you wish to gift your loved ones with 'omiyage' (souvenirs) from Kyoto or need something to relive your memories from Kyoto, then make sure to browse through the hotel's unique souvenir boutique.
Dining at Rihga Royal Hotel Kyoto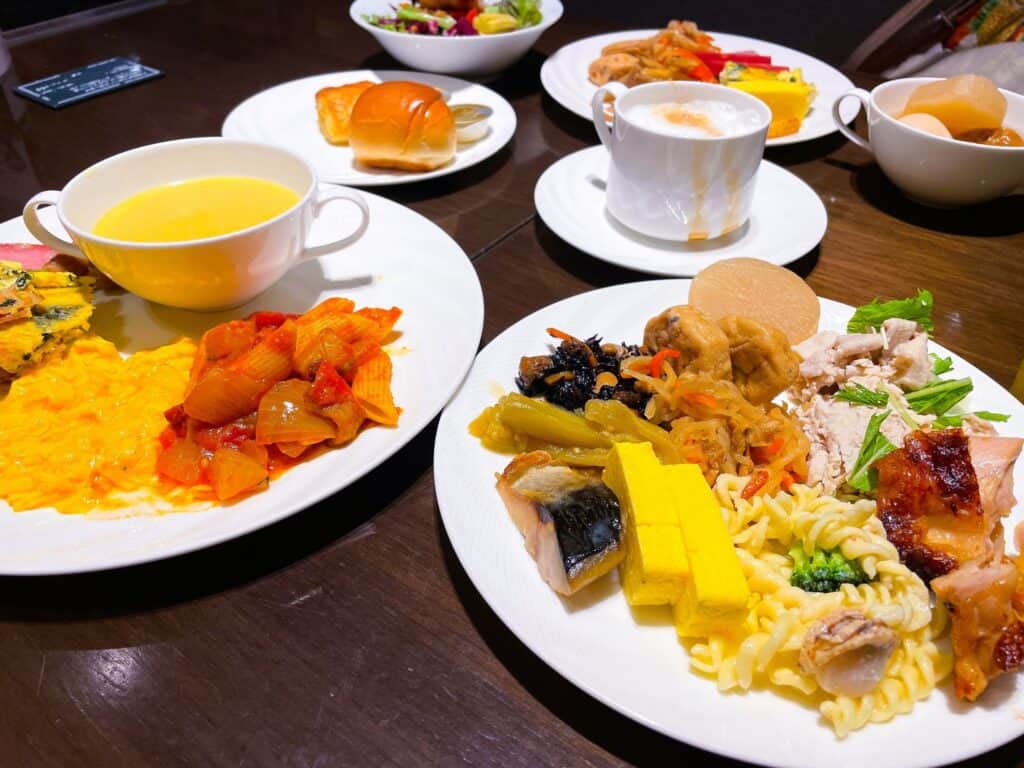 It is guaranteed that this hotel will not disappoint your taste buds at any of its eight restaurants with unique specialties, offering you creative dishes by chefs and other culinary wonders.
During our stay, we got to dine at the hotel's famous rotating restaurant on the 14th floor, Top of Kyoto, which serves authentic French delicacies. It is Kyoto's sole revolving restaurant, providing a one-of-a-kind dining experience and fabulous 360-degree panoramic views of Japan's ancient capital. From its elegant bespoke chargers to its exquisite wine list, this Kyoto French restaurant offers an elegant and highly original spin on the city. You would be thrilled to know that you can enjoy this place for breakfast, lunch, and dinner.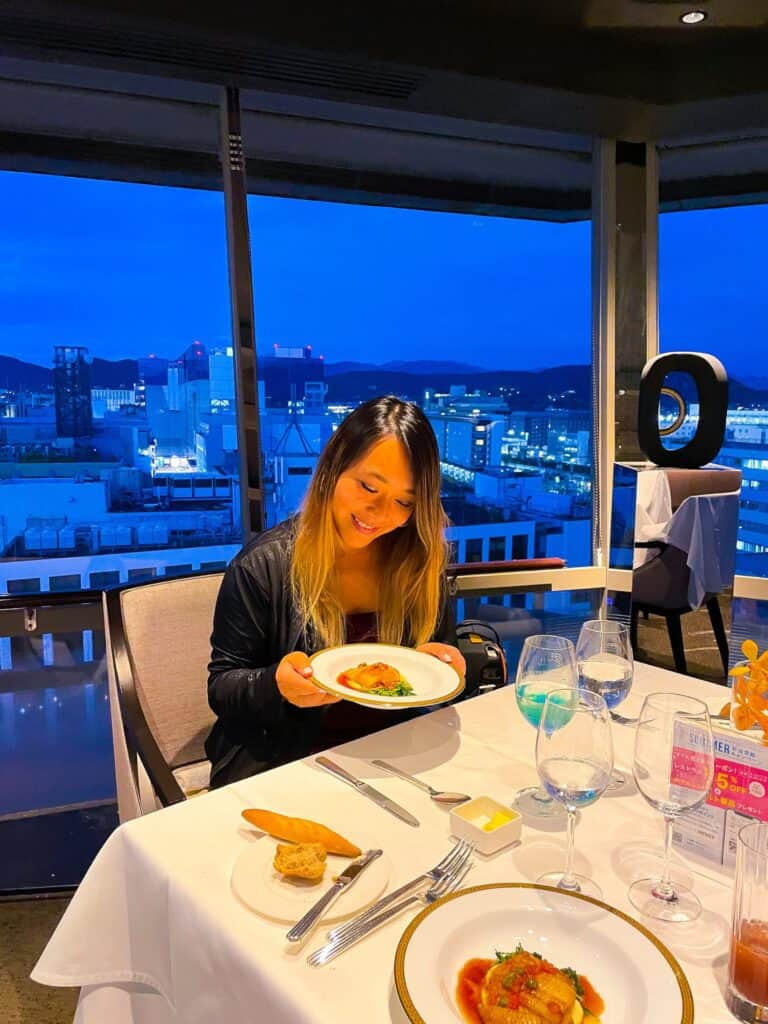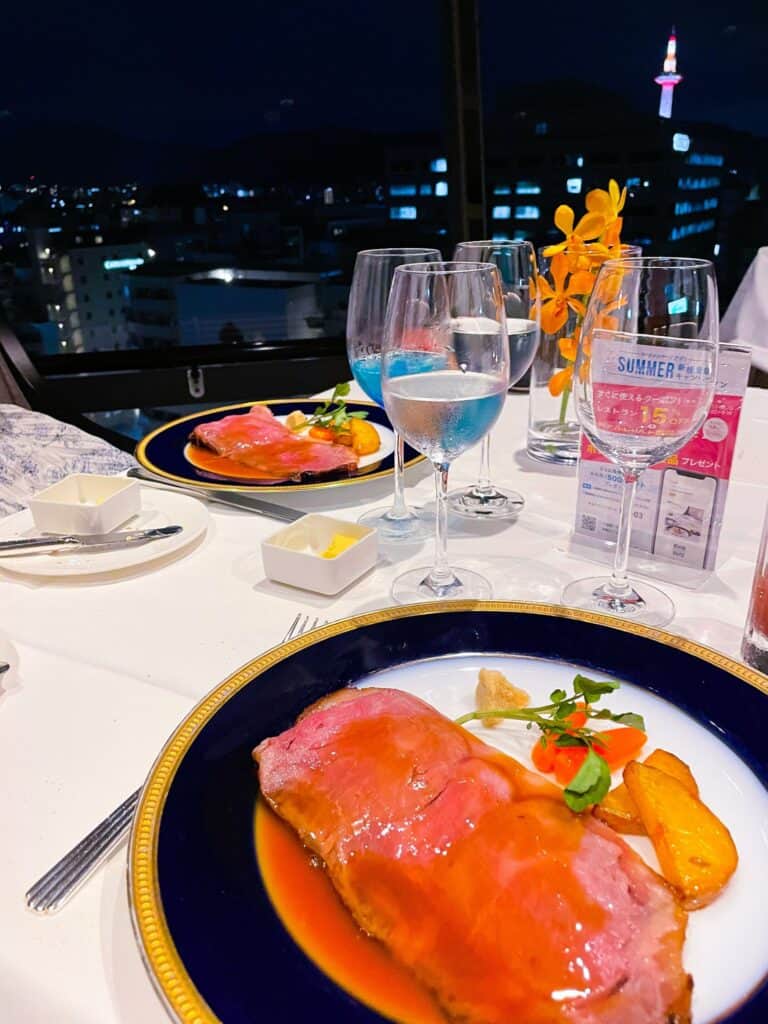 The breakfast served here is elegant, to say the least; it is a feast for the eyes as much as the stomach. Enjoy a healthy arrangement of fresh fruit, freshly-baked pastries, a salad, two kinds of juice, local dairy milk, and coffee or tea. Remember to sit back and relax, observing Kyoto's historic skyline and distant mountains and temples, all waiting for you to explore.
The hotel also provides an all-day dining restaurant, KAZA, where chefs will prepare and plate creative delicacies to your desire. KAZA serves an extensive and seasonally perfect breakfast, lunch, and dinner buffet, but an à la carte menu is also available. Guests participating in the buffet can flow through five service stations: hot foods, cold dishes, fresh breads, beverages, and desserts.
Accessibility and nearby attractions
Last but not least, this hotel does not only provide excellent facilities and rooms but is also strategically located near the hub of transportation, Kyoto Station, making it easy to travel from Kansai International Airport or nearby tourist cities. You will have access and proximity to local attractions such as Nishi Hongan-Ji Temple, Kyoto Aquarium, and Kyoto Railway Museum, including several shopping malls and World Heritage sites.
Address: 1-Taimatsu-cho, Shiokoji-sagaru, HigashiHorikawa-dori, Shimogyo-ku, Kyoto 600-8237, JAPAN
Phone: +81-75-341-1121