Do you love sushi? What about get all-you-can-eat sushi?
Enjoy delicious sushi as much as you want here with all-you-can-eat plans at Sushi Sakaba Fujiyama Akihabara Honten!
Sushi Bar Fujiyama Akihabara is a dream-like restaurant that will make your wish come true. Not only is the sushi photogenic, you can also enjoy high-end items, such as meat sushi topped with sea urchin and zuwai crab meat.
Sushi Sakaba Fujiyama Akihabara Honten offers different menus, from courses to individual dishes, satisfying your every need. In addition to sushi from 99 yen per piece, you can get a wide range side dishes, such as cheek steak made from rare tuna and melt-in-your-mouth oyako salmon yukke.
Our Experience at Sushi Sakaba Fujiyama Akihabara Honten
Once inside, the restaurant has a modern Japanese atmosphere with lanterns and kites on display. There are 60 seats in total, including tatami room seats, table seats and counter seats. Each floor is a cozy space, so you will feel right at home.
The restaurant's signature menu is the 'all-you-can-eat sushi', including high-end items.
You can get two plans here: 50 kinds at 3,999 yen that is only available on weekends and 60 kinds at 4,999 yen.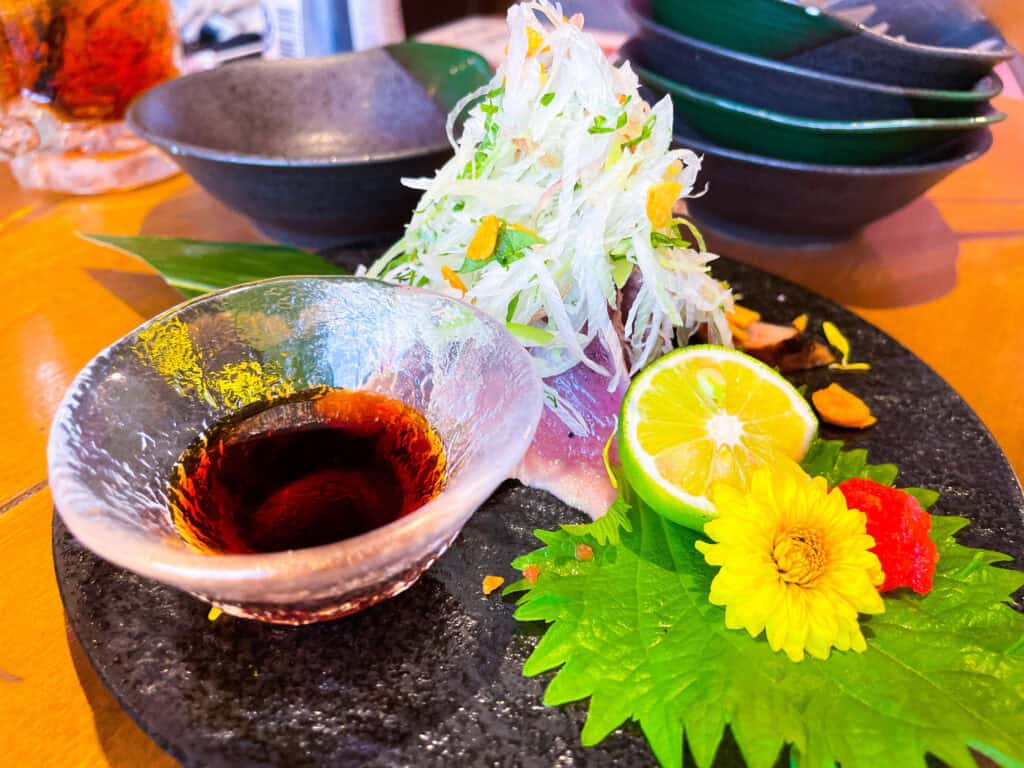 Their plans are perfect to enjoy a lively time with friends, colleagues and other friends. The great thing about the all-you-can-eat is that you can eat as much as you like, but the price you will end up paying is clear from the beginning.
Everything your order will be done on a tablet installed at your table. Orders start at two pieces per type. The time limit is two hours. The last order is 30 minutes before the end. If you have leftovers, you will be charged an additional fee, so make sure not to order too much.
To start off the all-you-can-eat, you are served with a neta dish, where each piece of fish is over 20cm long!
There are so many distinct items on the menu, your pallets will be entertained with all kinds of flavours. 
Sushi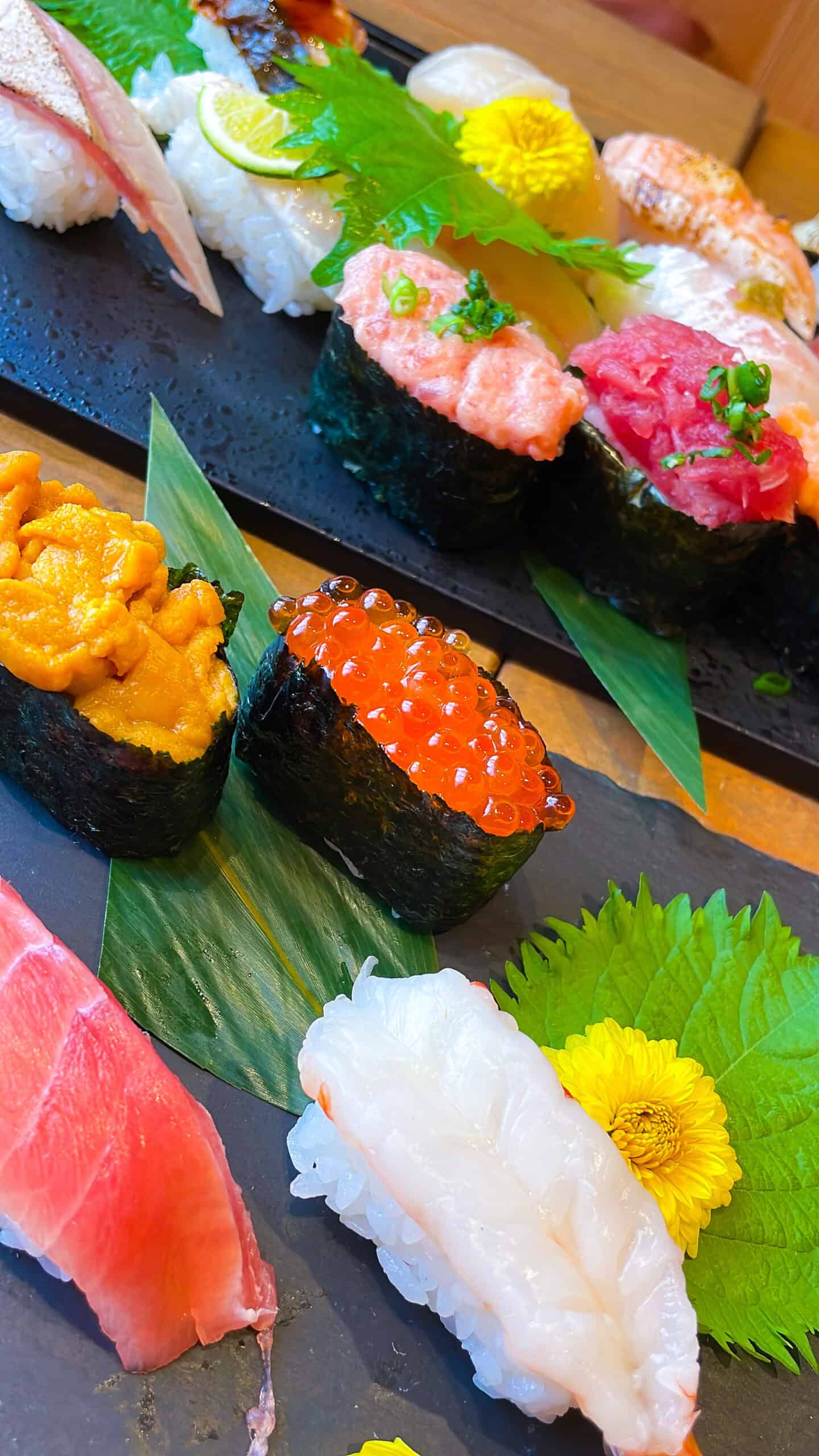 Here are a few honorable mentions.
The anago is soft and fluffy in the mouth and the sweetness of the sauce is exquisite. The taste when it becomes one with the rice in your mouth is beyond your imagination. The fish is so large that you can eat it rolled up on one side and eat the rest of the fish on the side.
The sea urchin has an aroma of sea urchin and a rich sweetness that will make you want to eat it again and again.
Don't forget to order the chutoro. The chutorohas a good balance of lean and fatty meat. Besides that, try out the salmon roe, meat nigiri, tongue nigiri and zuwai crab meat. There are so many original dishes here, you can enjoy so much during the entire time.
In addition to 60 types of sushi, you can also order fried chicken, miso soup of the day, traditional potato salad, fried potatoes with skin, ice cream and more, so your pallets will be entertained well.
The miso soup, which changes daily and is filled with fish. It is a delicious treat. The fried chicken is also made in the restaurant and is a popular menu item.
The dishes introduced here are just a small selection of what you can get with the all-you-can-drink. The selection changes depending on the season and availability, but there are also other items such as pickled tuna, crab miso, seared vinegared mackerel, Engawa yukke, squid cod roe, vinegared yellowfin tuna, etc.
Drinks are not included, but you can order all-you-can-drink alcohol for 999 yen and all-you-can-drink soft drinks for 500 yen, which is also highly cost-effective.
Sake
You can sample carefully selected brands of sake from all over the country to match your meal. Every Monday, Sushi Sakaba Fujiyama Akihabara Honten holds a sake event. To thank their customers, every customer that visits on Mondays gets a free sake drink.
All-you-can-eat sushi menu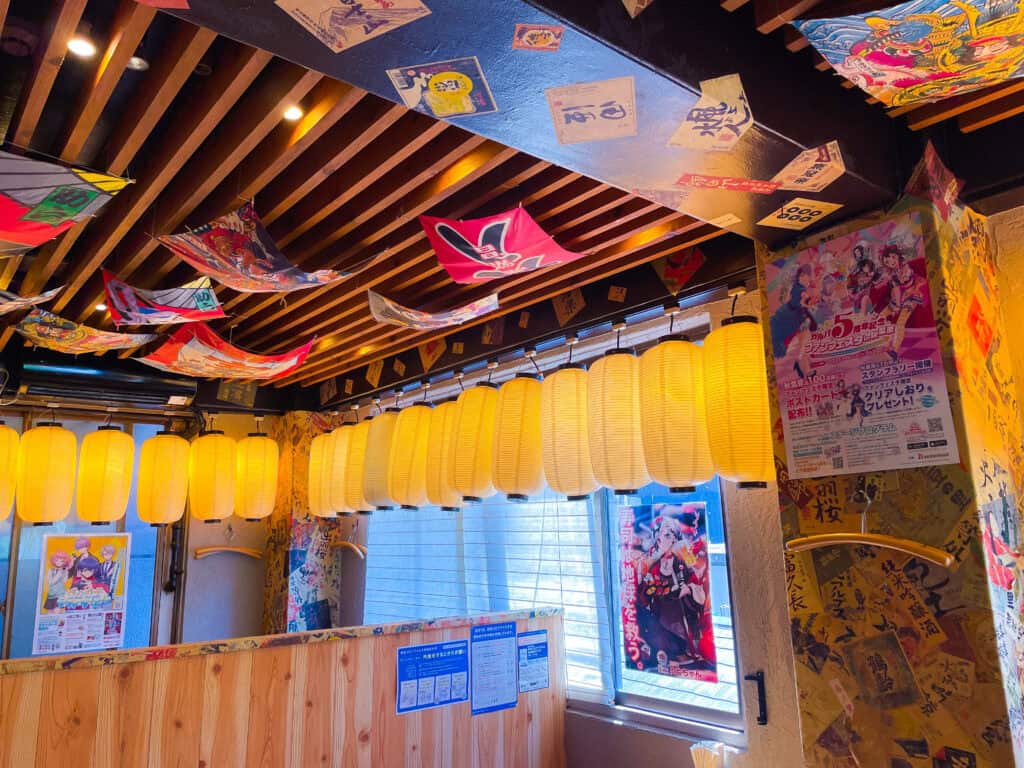 Tuna, marinated tuna, tuna with salt and spring onions, bottlenose tuna, seared bottlenose tuna, sea bream, wild flounder, meat nigiri, seared duck, red prawns, sweet prawns, steamed prawns, salmon, seared salmon, seared cheese salmon, Caesar onion salmon, sea bream, seared sea bream with grated ponzu, cold yellowtail, seared cold yellowtail with grated Ponzu sauce ,Kanpachi,Pickled white fish of the day,White fish of the day with yuzu kosho,White fish of the day with sesame sauce,Horse mackerel,Fresh sardines,Kohada,Mackerel,Seared horse mackerel,Seared sardines,Kohada,Mackerel,Ponzu sauce with grated radish,Scallops,Tubular shells,Hokki clams,Eel,Anago,Engawa,Salt roasted squid,octopus,egg,squid,octopus,egg,negi toro gunkan,salt negi toro gunkan,torotaku gunkan,crab miso gunkan,amaebi gunkan,kinmedai gunkan,shirasu gunkan,natto gunkan,salmon tataki gunkan,negi salt salmon tataki
すし酒場 フジヤマ 秋葉原店
Sushi bar Fujiyama Akihabara
URL : https://tabelog.com/tokyo/A1310/A131001/13134270/
Location: 1-20 Kandasakumacho, Chiyoda-ku, Tokyo (東京都千代田区神田佐久間町1-20)
Phone: 03-5577-5352
Closed: Unscheduled holidays
Follow @fujiyamaakihabara