If you've ever looked up online language classes, you'll probably have come across Preply, an online language learning platform that gives you a personal tutor. It covers almost 50 languages and costs between USD$1 and $40 per hour, covering all levels of proficiency. Whether you're starting at the beginner, intermediate or advanced level, you'll find the right tutor. Find out more about Preply through this honest review to learn the Japanese language on Preply.

One of the best ways to explore Tokyo is to visit the local areas and immerse yourself in the local culture. If you want to explore local areas, we have created scavenger hunt adventures personalised to your interests, filled with fun facts, clues and puzzles. If you're curious, you can check out the games here!

Check out the Flip Japan Games here!

If you are learning Japanese phrases or want to grasp the Japanese language quickly and easily, check out our FREE Japanese language 5-day challenge! You will be able to master simple casual Japanese conversation in just 5 days!
Want to find out more about Japan language? Check out:
Preply review
How does Preply work?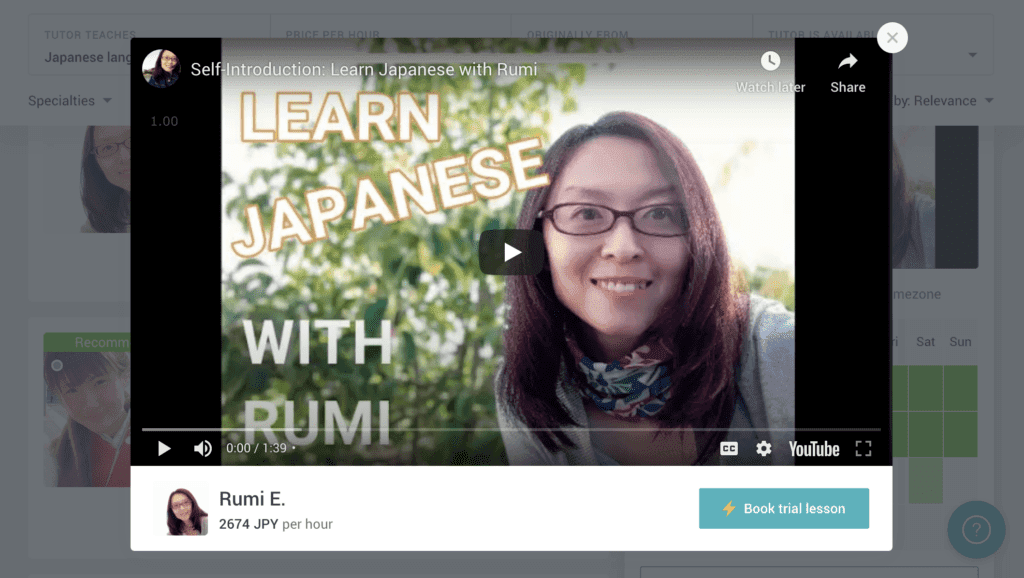 Type in the language you want to learn in the search box and you will be brought to a list of tutors to choose from.
By default, the website recommends top tutors based on reviews. Many of these recommended tutors will be more expensive and will have fewer available slots. To avoid this, I recommend adjusting the filters on the search bar to reflect your budget and schedule.
Preply offers a free trial lesson, sends messages to tutors and adds tutors to your list of favourites. When you've decided on a tutor, Preply will direct you to a page to sign up.
To reach this point without having to sign up gave me some trust and comfort. Some other platforms like to make sure they have your information so they can spam your inbox daily, even if you aren't interested. I personally prefer chatting before wasting anyone's time. I decided to send a message to a tutor so I signed up.
Tutors on Preply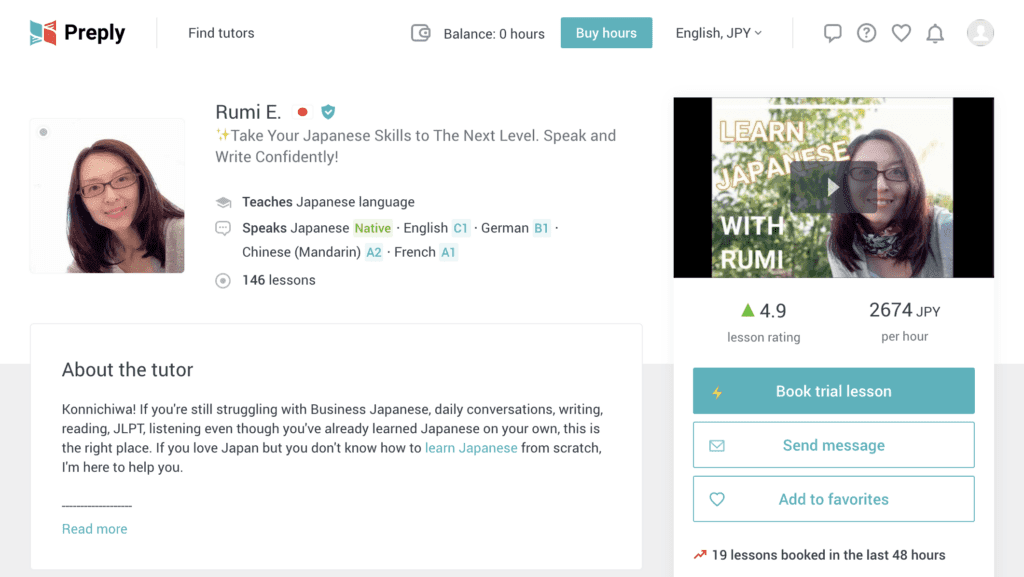 The question that comes to most students' minds is, how are good Preply tutors? Unfortunately, nobody knows for sure.
When looking for a tutor, especially online, you can't tell for sure if the tutor's experiences are real. You can easily lie about your identity and background on the Internet. You have to figure that out for yourself.
A great thing is that Preply minimises that risk by using reviews.
Each tutor has a rating, given by students after each lesson or lesson package. A lot of the ratings come with comments and reviews. Preply also verifies the account of the tutors and tries to minimise the risks by making sure that the information they provide is real.
After each lesson, Preply will get the payment through to the tutor once you leave a review. It is a good way to confirm that the lesson was taught and that the review is as authentic as possible. It can be a bit annoying having to review every single lesson, but it's good to know that the payment can be auto-confirmed without providing a review after 72 hours if you have that option enabled.
Since most of the tutors on Preply are native speakers, it is a great way to learn conversational skills, especially commonly-used phrases.
Packages on Preply
Preply offers many lesson packages to make it easier for a student to pre-schedule payments and classes. A student can choose from 5,10,15, or 20 hours (which will change later on in this review!).
These packages clearly show that Preply offers a range of options for you, with as little as 5 hours commitment. But with the low commitment options, it might not be a long-term learning tool for people.
Preply consists of tutors teaching students with no other tools included, whereas other online platforms include audio lessons, video lessons and other forms of teaching methods.
The good thing is you have the option to try out a tutor before committing to them. You can take up to two free lessons per tutor to find the right tutor for yourself.
I would personally recommend setting goals and sharing them with the tutor to get a clear and detailed understanding. That can help clarify everything with your tutor and enhance your learning experiences.
Final Thoughts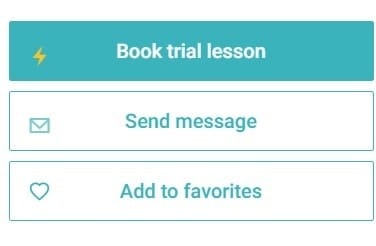 As an online platform, I would say it is a brilliant idea to learn from local native speakers and tutors.
If you have some foundation with the language and want to take it to the next level, practise with native speakers, learn more conversational skills and useful phrases, and expand your vocabulary, then I would recommend Preply for you.
However, if you are a little shy from practising, have zero knowledge in the language you want to learn, want to build a solid foundation or want to be more formal in your learnings, then you might want to check out Udemy courses, or Genki textbooks instead.
I would also recommend Rocket Languages if you want to learn with more fundamental step-by-step lessons, and Japanese Pod 101, which has a lot of amazing bite-sized audio and video lessons for you to learn from.
Have you tried using Preply to study Japanese language? Let us know what you think in the comment section below! I
If you are learning Japanese phrases or want to grasp the Japanese language quickly and easily, check out our FREE Japanese language 5-day challenge! You will be able to master simple casual Japanese conversation in just 5 days!
Want to find out more about Japan language? Check out: