There are a lot of events in Japan happening all year round and while some of them are traditional cultural matsuri, there are also many different Japanese festivals that involve fun activities and performances. From lanterns, fireworks, parades, street food, ceremonies and more, there are incredible things to do for all kinds of celebrations, holidays and festivities. If you're looking for what to do in December in Japan, then look no further. Here are some of the biggest December events in Japan that you definitely shouldn't miss!
December events in Japan
Hyuga Province Ichinomiya Tohno Shrine Winter Festival
日向国一之宮都農神社冬祭り
Sun 4 Dec 2022, Mon 5 Dec, 2022
Tsuno Shrine, 都農神社
13294 Kawakita, Tsuno, Koyu District, Miyazaki 889-1201
Winter festival held at the Tsuno Shrine, with a night kagura performance on the first day and an archery competition on the second day. Free zenzai (sweet bean soup), amazake (sweet sake), shochu (distilled spirit) and pork miso soup are served to worshippers.
Find out more: https://tunojinjya6.webnode.jp/
Ikenoue Misogi Festival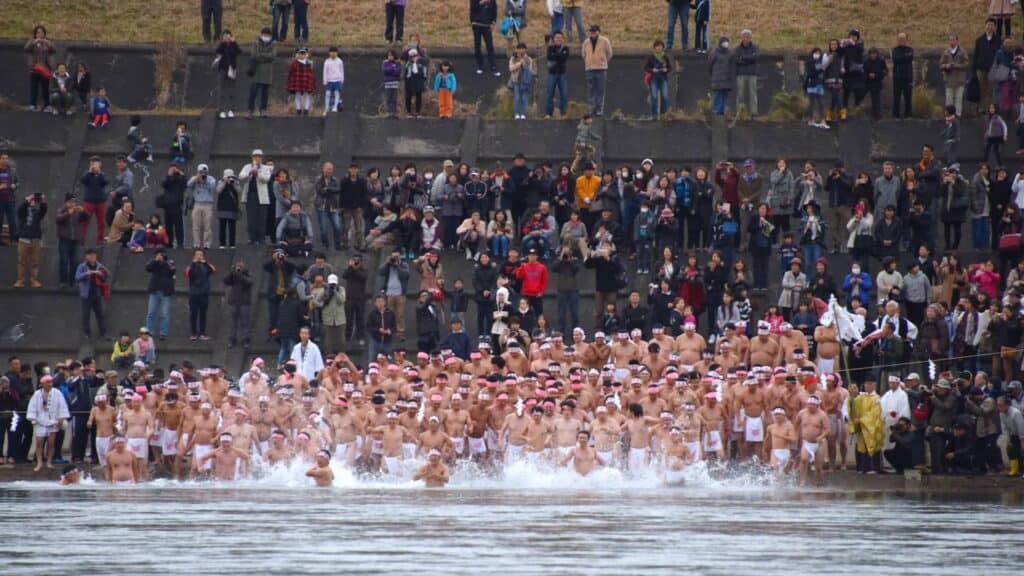 池ノ上みそぎ祭
10 Dec (Sat), 2022
Katsuragake Shrine, 葛懸神社
3-47 Ikenoue-cho, Gifu City, Gifu Prefecture
Men wearing hachimaki and loincloths enter the Nagara River in midwinter to perform the Misogi, washing away the sins of the year and praying for the fulfilment of their wishes.
Find out more: https://www.city.gifu.lg.jp/kankoubunka/event/1005304/1005312.html
Yamashina Yoshishi Festival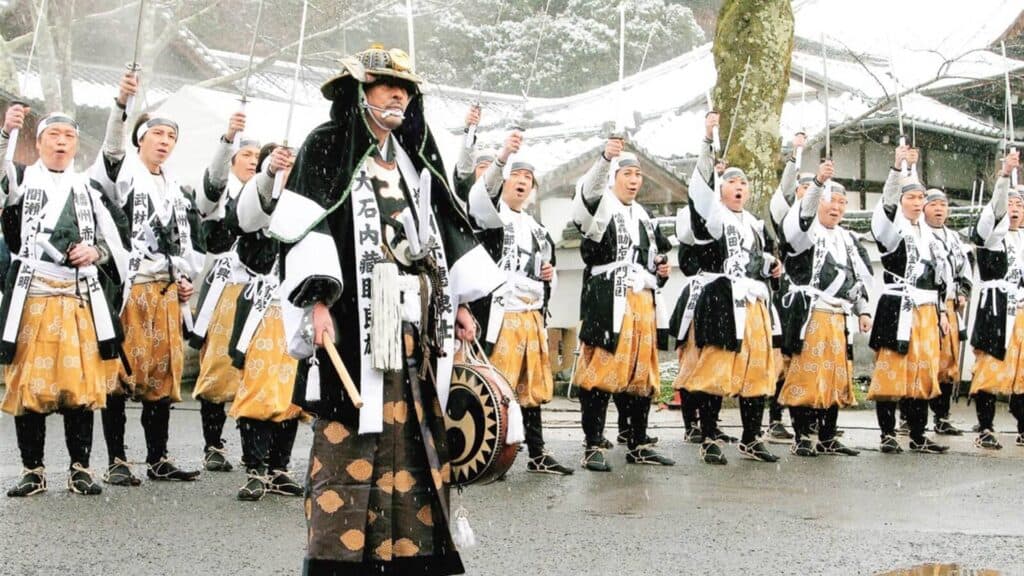 山科義士祭
14 Dec (Wed), 2022
Bishamon-dō, Iwaya-ji, Oishi Shrine 毘沙門堂, 岩屋寺, 大石神社
116 Nishinoyama Sakuranobaba-cho, Yamashina-ku, Kyoto
A festival that is held annually on the 14th of December in Yamashina, which is associated with Oishi Kuranosuke and the other 47 warriors. The Gikyoudaisai is held in the precincts of Oishi Shrine, and the 47 warriors dressed as uchiiriri march to Oishi Shrine.
Find out more: http://www.gishimatsuri.com/news/
Ako Yoshishi Festival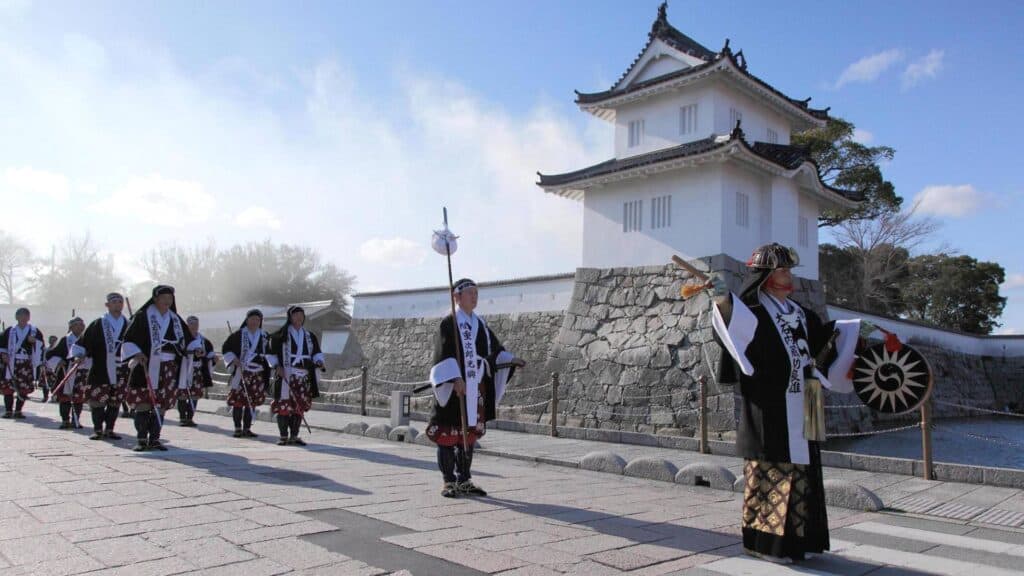 赤穂義士祭
14 Dec (Wed), 2022
Ruins of Ako Castle, Castle Street, around Ikitsugi Square, etc. 赤穂城跡、お城通り、いきつぎ広場周辺など
Ako, Hyogo
The main event is the Chushingura Parade. For five hours, a procession of daimyo (feudal lords) reminiscent of the daimyo's visit to Ako. A procession of loyal warriors who have achieved their true love and are heading for Sengakuji Temple, where their lord is laid to rest, will be paraded in a spectacular manner.
Find out more: https://www.city.ako.lg.jp/kensetsu/kankou/matsuri/akogishisai119.html
Kasuga Wakamiya Onmatsuri
春日若宮おん祭
15 Dec (Thu) – 18 Dec (Sun) 2022
Kasuga-taisha 春日大社
Kasugano-cho, Nara City, Nara Prefecture
The highlight of the festival is the 'Owatari Ceremony', in which people dressed in period costumes from the Heian to Edo periods, parade through the streets in a spectacular manner. Don't miss the 'Otabisho Matsuri', where a number of Shinto rituals and performing arts are dedicated.
Find out more: https://www.kasugataisha.or.jp/onmatsuri/
Akiha Fire Festival
清水秋葉山大祭
15th-16th Dec (Fri), 2022
Akihasan 秋葉山
841 Ryoke, Haruno-cho, Tenryu-ku, Hamamatsu City, Shizuoka Prefecture
A festival to thank the deity Akiba Sanshakubo Daigongen, a guardian deity of fire prevention who appeared 1,300 years ago. Various traditional events are held, including a torchlight procession, fire-walking and a secret 75-zen offering ceremony.
Find out more: https://www.kasuisai.or.jp/wp/p23
Nomefuda Oyake Shibaoto Grand Gomaku Ceremony
納め札お焚き上げ柴灯大護摩供
28th Dec (Wed), 2022
1, Narita, Narita, Chiba
While monks dressed as mountain priests chant sutras, some 50,000 votive tablets are returned in the flames of Fudo Myoo's wisdom. This is a solemn ceremony in which a blazing flame scorches the winter sky along with people's prayers of thanksgiving.
Find out more: https://www.naritasan.or.jp/2018/12/28/13140/
Atami Marine Fireworks Display
熱海海上花火大会
Sunday 4th December 2022, Sunday 18 December 2022
Nagisa-cho, Atami, Shizuoka Prefecture
A historical fireworks display that began in 1952.
This Atami speciality is held more than 10 times throughout the year, not just in summer.
The venue, Atami Bay, is surrounded on three sides by mountains and has a 'mortar' shape, so the sound of fireworks over the sea reverberates, creating an acoustic effect similar to that of a large stadium. This makes it the best place in Japan for fireworks displays, which is highly praised by pyrotechnicians.
The beauty of the fireworks in the night sky, the reflections on the water and the finale, the 'Great Aerial Niagara', is impressive.
Find out more: https://www.ataminews.gr.jp/event/8/
Chichibu Night Festival
秩父夜祭
2nd -3rd Dec 2022
1-3 Banba-cho, Chichibu, Saitama.
During the festival, four yatai and two kasaboko floats appear with rhythmic Chichibu yatai music. The parade of the floats is a sight to behold as they weave their way through the crowds along the streets in their glittering costumes.
Find out more: http://www.chichibuji.gr.jp/event/yomatsuri/
Festival of Kanto: Koga Lantern Pole Fir Festival
第162回 関東の奇祭 古河提灯竿もみまつり
Saturday, 3 December 2022
Nogi Shrine 野木神社
Honmachi, Koga City, Ibaraki Prefecture
A fierce festival in which participants struggle to extinguish each other's fires while holding lanterns attached to the ends of nearly 20-metre-long bamboo poles. Each organisation has its own lanterns and candles to ensure that the fire is not easily extinguished.
Find out more: https://www.kogakanko.jp/chochin
Morote-bune ritual
諸手船神事
Saturday, 3 December 2022
Miho Shrine 美保神社
Mihonoseki, Mihonoseki Town, Matsue City, Shimane Prefecture
Nine members of the shrine's clergy, chosen by lot, board two boats and row three times between the harbour in front of the shrine and the Kyakushinsha shrine on the other side of the river. The sight of the rowers violently splashing water at each other as they row along is a sight to behold.
Find out more: https://www.mihonoseki-kankou.jp/sinji/sinji_morotabune/
—
There you have it, some of the biggest and best December events in Japan you shouldn't miss! Do you have any other Japanese festivals and events you want to add to this list? Let us know by leaving a comment below! If you attend any of these Japanse events, make sure to tag us @flipjapanguide on Instagram and let us travel vicariously through you!