Nestled amidst the tranquil mountains of Wakayama Prefecture, Japan, lies a mystical destination that beckons seekers of spirituality and cultural richness – Koyasan. This captivating enclave is home to ancient temples, lush landscapes, and an unmistakable connection to the divine. Join us on a virtual journey to unravel the captivating allure of Koyasan and its sacred sites.
What is Koyasan?
Koyasan is more than a destination; it's an odyssey of the spirit. Here, where the mystical meets the culture, pilgrims and travellers alike discover the profound essence of Japan's heritage. Our exploration will reveal the treasures of Koyasan and the spiritual tapestry that awaits.
It is the headquarters of Shingon Buddhism, a school of Japanese Esoteric Buddhism, and is considered one of the most important spiritual sites in the country. Koyasan was founded by the monk Kukai, also known as Kobo Daishi, in the early 9th century. The mountain is known for its serene and mystical atmosphere, with numerous temples, lush forests, and ancient tombstones.
What to do in Koyasan
奥之院 Okunoin: A Sanctuary of Spiritual Reflection
At the heart of Koyasan stands 奥之院 (Okunoin), a mesmerizing mausoleum that encapsulates centuries of devotion and reverence. It serves as not just a final resting place but as a profound spiritual destination, honouring Kobo Daishi, the revered founder of Shingon Buddhism.
Experience Okunoin: A mystical atmosphere envelopes you as you step into Okunoin. Towering cedar trees line winding stone paths, guiding you through this sacred realm. Thousands of stone lanterns stand as solemn memorials to departed souls, creating an ethereal spectacle when illuminated at night. Beyond its religious significance, Okunoin is a living testament to history, with preserved structures and graves of historical figures that invite visitors to explore its rich heritage.
金剛峯寺 Kongōbu-ji: Where Tranquility Meets Enlightenment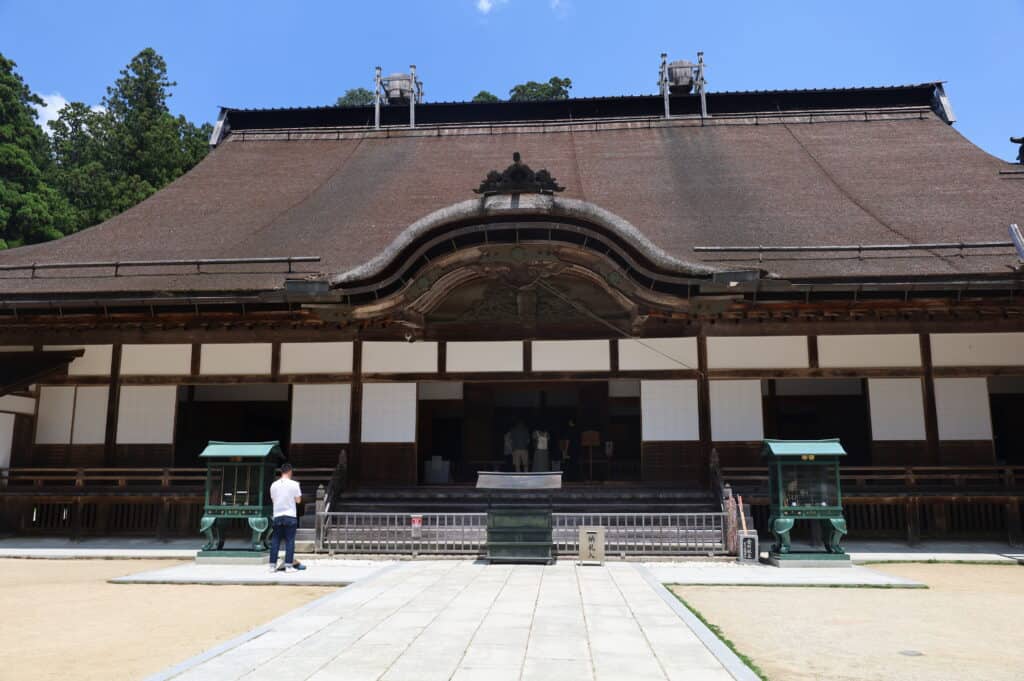 Kongōbu-ji, the head temple of the Shingon sect of Buddhism, is a sanctuary of spiritual teachings and serene landscapes. Founded by Kobo Daishi in the 9th century, the temple's beautifully landscaped gardens exude harmony, providing an ideal backdrop for meditation.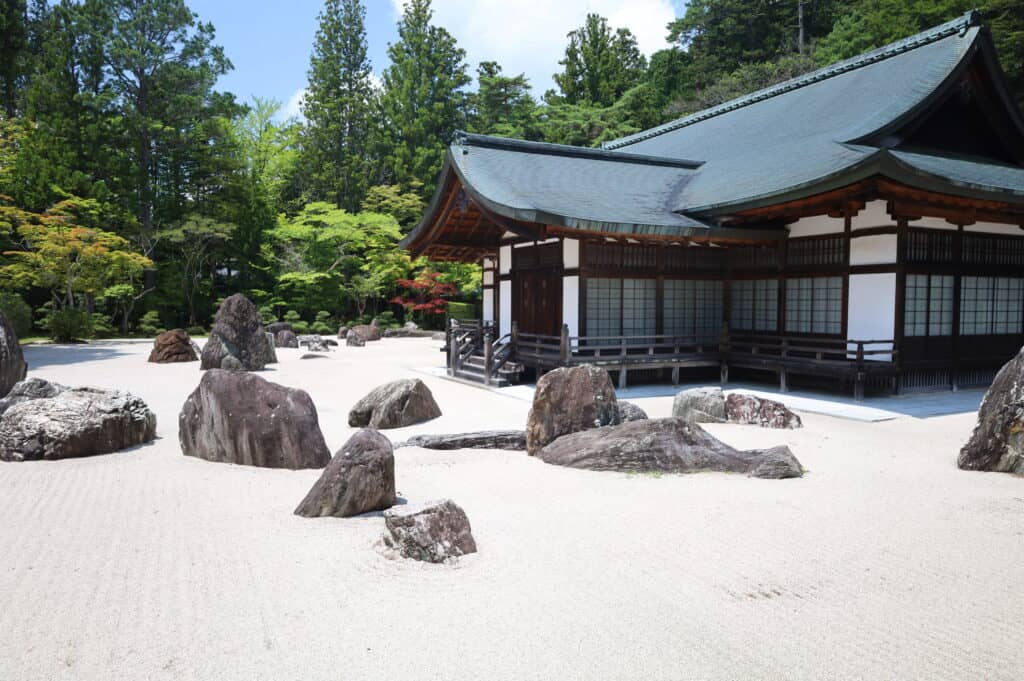 The Banryutei Rock Garden: Within Kongōbu-ji, the Banryutei Rock Garden stands as a testament to Zen landscaping, symbolizing harmony and enlightenment amidst life's turbulence. Engage in traditional rituals and practices, including an overnight stay (shukubo) in the temple lodgings, offering a glimpse into monks' austere lifestyle and a chance to partake in morning prayers and shojin ryori.
壇上伽藍 Danjo Garan: A Sanctuary of Spirituality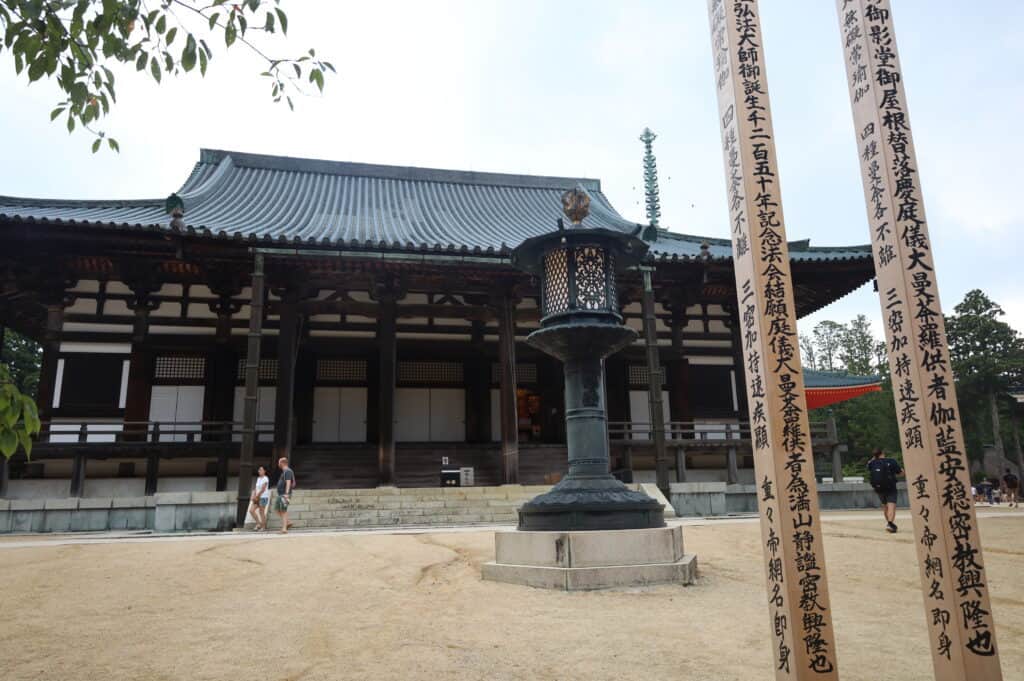 Founded by Kobo Daishi, 壇上伽藍 (Danjo Garan) is a temple complex steeped in the traditions of Shingon Buddhism. The Konpon Daito Pagoda, a majestic structure, captures the essence of Koyasan's spiritual journey. Ascending its heights is said to lead to enlightenment and transformation.
Explore Danjo Garan: Delve into Danjo Garan's serene atmosphere and witness practitioners immersed in their spiritual rituals. As a UNESCO World Heritage Site, it stands as a testament to Japan's cultural and religious heritage.
Tempu Terrace: Fusion of Culture and Relaxation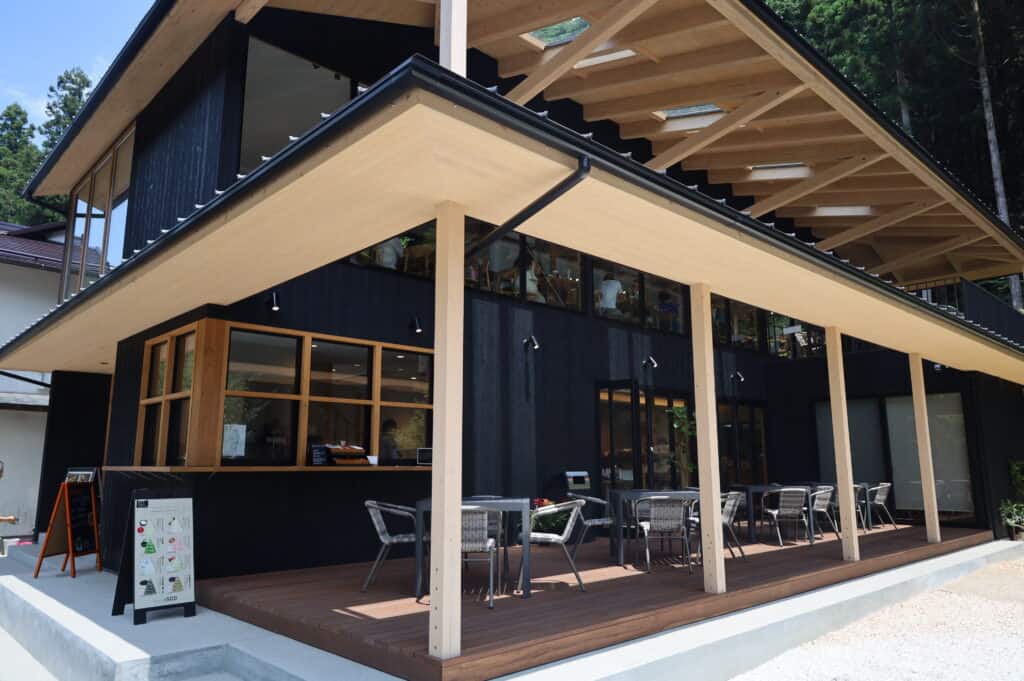 Tempu Terrace, known as the "holy land of the sky," is a unique complex offering relaxation, shopping, and cultural immersion. The cafe space, with picturesque views, provides a tranquil setting to savor delights like the Vegan Curry and the signature Tempu Terrace Vegetarian Latte.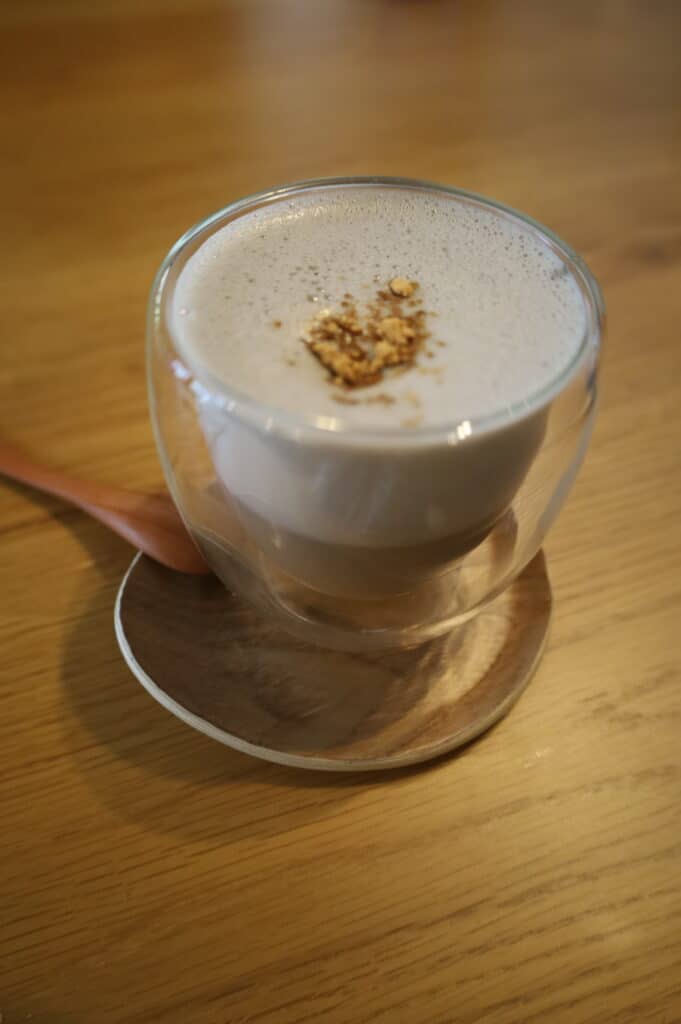 Discover Tempu Terrace: Explore the select shop showcasing local specialty products, truly embodying the essence of Koyasan, offering an experience that blends relaxation, cultural exploration, and an appreciation for the local region.
Koyasan Reihokan Museum: Guardians of Spiritual Treasures
The Koyasan Reihokan Museum safeguards cultural treasures from Koyasan's revered temples. Showcasing Buddhist statues and paintings, it preserves Japan's spiritual and historical legacy.
Highlights of the Museum; Sango Shiki Scrolls: The museum houses a remarkable collection of Sango Shiki scrolls, which were authored by Kobo Daishi himself. These scrolls contain important teachings and insights from the founder of Shingon Buddhism, providing a unique opportunity to connect with his wisdom and spiritual guidance.Furthermore the museum holds rare Buddhist Statues; Inside the museum, you'll find a diverse array of Buddhist statues from different time periods and styles. These statues offer a glimpse into the evolution of Buddhist art and iconography in Japan, showcasing the intricate craftsmanship and spiritual significance of each piece.
Women's Pilgrimage: An Empowering Spiritual Journey
The Women's Pilgrimage embraces a historical shift, allowing female devotees to connect with Koyasan's spiritual essence. This revered journey weaves through temples and rituals, empowering women to find inner peace and a deeper sense of community.
Empowering Spirituality: Honoring inclusivity and spirituality, the Women's Pilgrimage reflects the evolving nature of traditions, offering a transformative experience for modern-day seekers.
高野山奥之院ナイトツアー Night Tour: An Enchanted Experience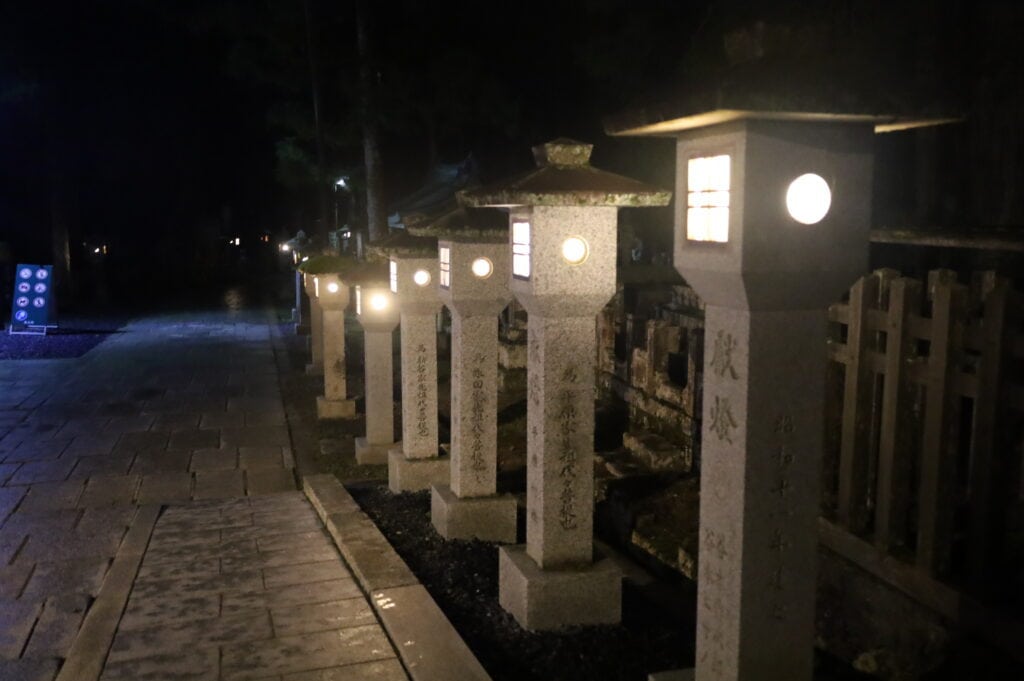 The 高野山奥之院ナイトツアー (Koyasan Okunoin Night Tour) unveils a different realm of Koyasan's spirituality after sunset. Walk among thousands of lanterns illuminating the Okunoin cemetery、 creating a realm of reverence and wonder.
Nighttime Mystique: As darkness envelops Koyasan, the Night Tour creates a sensory and spiritual journey, immersing visitors in the mystique of the illuminated lanterns.
Where to stay in Koyasan
常喜院 Temple Lodging: A Spiritual Retreat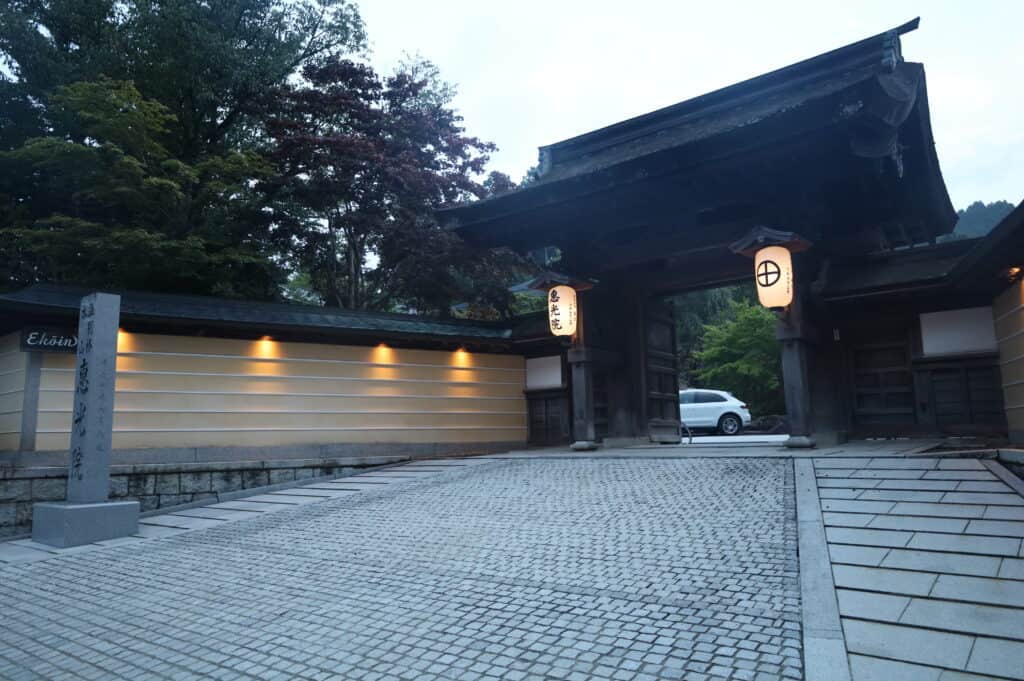 常喜院 (Jokiin) Temple Lodging invites visitors to reside amidst Koyasan's tranquility. With English-speaking head monks, cultural exchange flourishes. Engage in the morning chanting service, immersing in ancient rituals that span generations.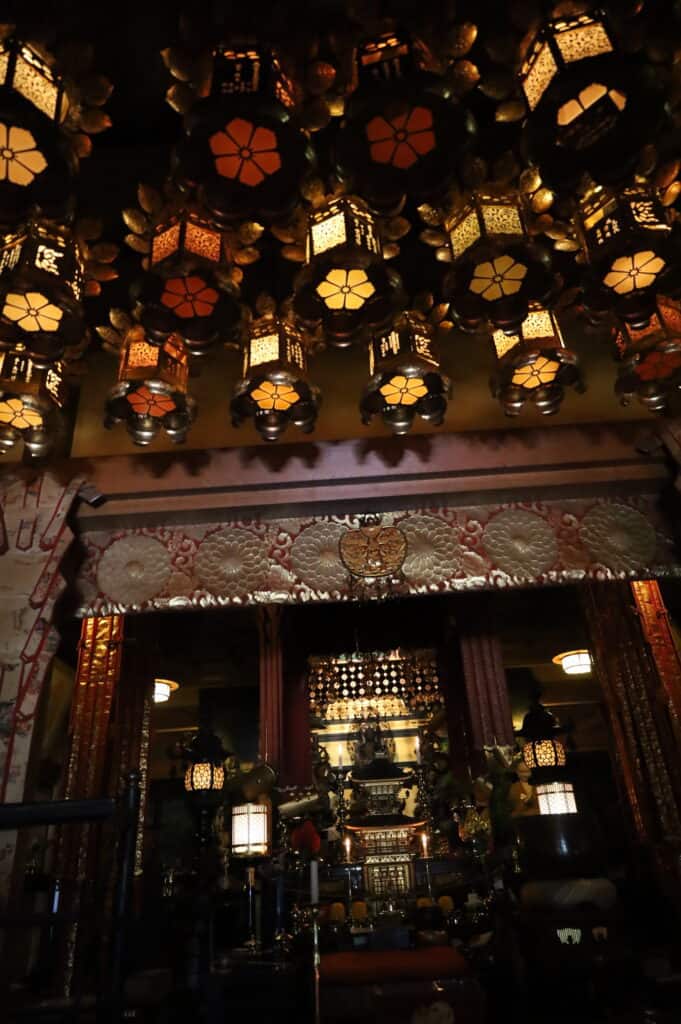 Jokiin Temple Lodging: Combines hospitality, spirituality, and cultural exchange, fostering a connection to Koyasan's enduring traditions.
Sample itinerary Koyasan
Day 1: Arrival and Spiritual Immersion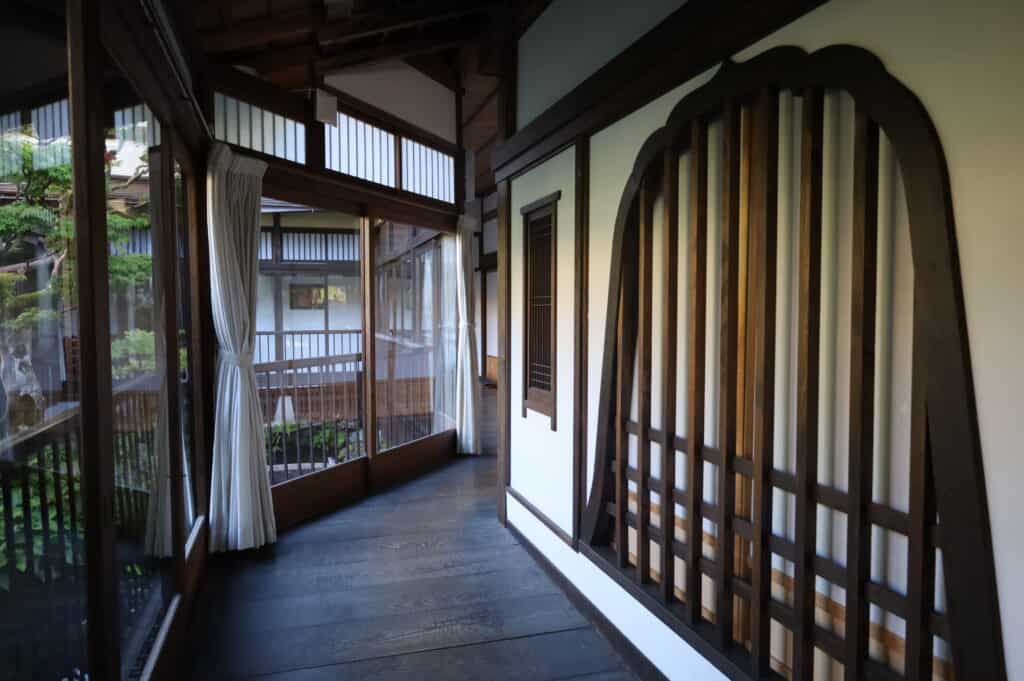 Morning: As you arrive at Koyasan, the tranquil mountainous haven, you'll check in to your temple lodging, setting the stage for an enriching journey ahead. To begin your day, savor a traditional Japanese breakfast at your temple lodging, immersing yourself in the local culture and cuisine.
Afternoon: Your spiritual journey unfolds as you visit Kongōbu-ji, the esteemed head temple of the Shingon sect of Buddhism. Explore the temple's lush gardens, where nature and spirituality harmonize. Find serenity in the atmosphere and perhaps engage in moments of meditation.
Evening: For a profound spiritual encounter, take part in a shukubo experience, offering you the unique opportunity to stay overnight at the temple lodgings. As night descends, witness the monks' rituals and engage in evening prayers. The temple becomes a sanctuary for personal reflection and meditation.
Day 2: Enlightenment and Cultural Exploration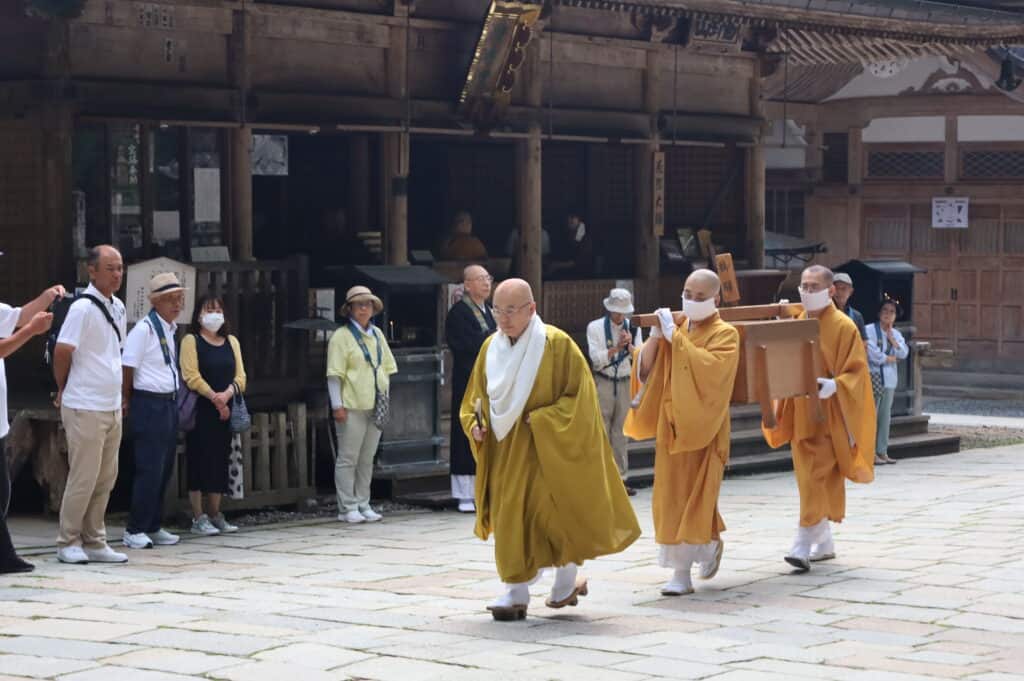 Morning: Embrace the tranquility of early morning as you participate in the chanting service alongside the monks. This intimate experience allows you to connect deeply with the spiritual energy of Koyasan. Following the service, enjoy a wholesome temple breakfast before embarking on your day's adventures.
Late Morning: Your journey continues with a visit to Danjo Garan, a temple complex steeped in Shingon Buddhist traditions. Explore the grandeur of the Konpon Daito Pagoda and its surroundings, delving into the significance of each architectural masterpiece. Here, you'll be immersed in the spiritual ambience and witness practitioners engaged in their sacred rituals.
Afternoon: Satisfy your appetite with a delectable vegan lunch at the cafe within Tempu Terrace. While you dine, relish breathtaking views that offer a glimpse into Koyasan's natural beauty. The complex's select shop beckons, featuring local specialties and unique souvenirs. Take your time to soak in the cultural fusion that Tempu Terrace embodies.
Evening: Dive deeper into Koyasan's spiritual heritage at the Koyasan Reihokan Museum. Here, you'll explore an impressive collection of Buddhist statues, paintings, and cultural treasures. Gain insights into Koyasan's history and its pivotal role in preserving Japan's spiritual legacy.
Day 3: Empowerment and Night Tour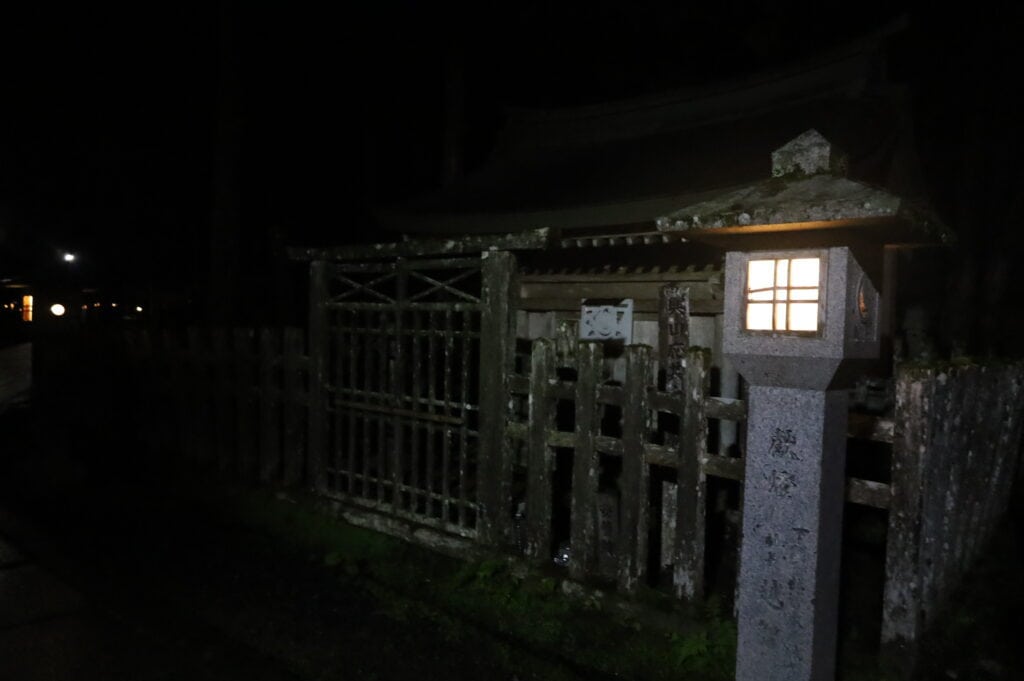 Morning: Embark on a unique journey as you join the Women's Pilgrimage, an empowering experience for female devotees. Engage in rituals and ceremonies that allow you to connect deeply with Koyasan's spiritual essence.
Afternoon: Venture to 奥之院 (Okunoin), the awe-inspiring mausoleum nestled in the heart of Koyasan. As you walk along cedar-lined paths, you'll marvel at the thousands of illuminated stone lanterns, creating a surreal atmosphere of reverence and mystique.
Evening: As the sun sets、 the 高野山奥之院ナイトツアー (Koyasan Okunoin Night Tour) awaits. This enchanting experience allows you to explore the spiritual realm of Koyasan amidst the soft glow of illuminated lanterns. Feel the mystique and reverence of this night tour, creating lasting memories.
Day 4: Departure
Morning: Take a moment to reflect on the transformative journey through Koyasan's sacred sites as you enjoy a leisurely breakfast at your temple lodging. Spend some quiet moments in meditation or reflection, savoring the profound experiences you've encountered.
Afternoon: If time permits, you can revisit any sites you might have missed or explore the local area for souvenirs, a perfect opportunity to take a piece of Koyasan's spiritual essence with you.
Departure: With cherished memories and a heart enriched by spiritual and cultural encounters, it's time to check out from your accommodation and begin your journey to your onward destination. As you leave Koyasan, you carry with you the deep spiritual and cultural experiences that have defined your pilgrimage.
This itinerary offers a blend of spirituality, culture, and relaxation, ensuring you fully embrace the essence of Koyasan and its rich history. Please note that schedules and preferences may vary, allowing you the flexibility to tailor the itinerary to your unique interests and available time during your visit.
—
Koyasan transcends the ordinary, offering a profound spiritual and cultural passage. From the tranquility of Okunoin to the enlightenment of Kongōbu-ji and the empowerment of the Women's Pilgrimage, each facet enriches your soul. As you explore Danjo Garan, Tempu Terrace, and more, you'll discover that Koyasan is not just a destination—it's a transformative passage into the sacred essence of Japan.