Nihonbashi, which directly translates to 'Japan Bridge,' is located in central Tokyo and is a busy business district. The development of Nihonbashi is largely credited to the Mitsui family in the Edo Period who created Japan's first department store where they sold wholesale goods. Since then, Nihonbashi has become a renowned cosmopolitan city with good commercial districts and cultural cuisine and arts.

One of the best ways to explore Tokyo is to visit the local areas and immerse yourself in the local culture. If you want to explore local areas, we have created scavenger hunt adventures personalised to your interests, filled with fun facts, clues and puzzles. If you're curious, you can check out the games here!

Check out the Flip Japan Games here!

Things to do in Nihonbashi
Nihonbashi Kirin Statues 日本橋麒麟像
Nihonbashi, which crosses the Nihonbashi River, has been active as an important infrastructure for people since the days of Keicho long ago! Today, the Metropolitan Expressway runs on the bridge, and its role has not changed even today.
It is a powerful spot where you can feel the weight of history.
There is a lion statue in the corner of the bridge. These statues of guardian dog-like beings at the shrine seem to protect Tokyo! It has a very strong presence.
It is a perfect mix of Japanese and Western styles as it is accompanied by Western-style lamps. It's as if you've been watching the transition of Tokyo for a long time ♡ It's one of the new attractions of Tokyo that you didn't know much about until now!
In the middle of the bridge is the famous "Kirin Statue". Since it was the subject of a novel or movie, many people may have heard it once.
Its powerful appearance will take your breath away. The sound of "giraffe" tends to be associated with that long-necked animal, but "Kirin" is the name of a fantasy creature. The "Kirin statue" is a bronze statue of a feathered figure with such a Kirin as a motif.
It was made to pray for the prosperity of Tokyo so that it could take off with its wings!
There are many spots where you can fully explore Nihonbashi, such as a tour that cruises the Nihonbashi River!
When you visit Nihonbashi, it is a recommended spot that you definitely want to visit ♪ Please carefully observe the historical spots of Nihonbashi ◎
Find out more about Nihonbashi Kirin Statues here on Google maps.
Fukutoku Shrine 日本橋福徳神社
This shrine is located at the end of the commercial facility COREDO Muromachi. It was enshrined here during the Jōgan era (859-867), and even Ieyasu Tokugawa visited this shrine. The clean and beautiful shrine area is impressive. It's a shrine with a long history, but it's a hybrid shrine with a very modern and modern atmosphere. It is lit up at night and is very beautiful, so you can enjoy it while visiting.
Find out more about Fukutoku Shrine here on Google maps.
Bank of Japan Head Office 日本銀行本店
The Bank of Japan opened in 1882 at the foot of the Eitaibashi Bridge over the Sumida River. After that, a new store was planned to be built on the site of Kinza in Nihonbashi, and the current main building of the Bank of Japan Head Office was completed in 1896, taking seven years to complete. The architectural design was directed by Kingo Tatsuno, the father of modern architecture, who is also known for designing Tokyo Station, which features red bricks. The main building of the Bank of Japan was designated as a national important cultural property in 1974.
If you make a reservation in advance, you can tour the inside of the main building, which retains the remnants of the time, such as the underground safe and the guest room. In addition, the online head office tour "Home, Nichigin" (https://www.boj.or.jp/announcements/education/ouchi.htm/) is open to the public.
Find out more about Bank of Japan Head Office here on Google maps.
Mitsui Memorial Museum 三井記念美術館術館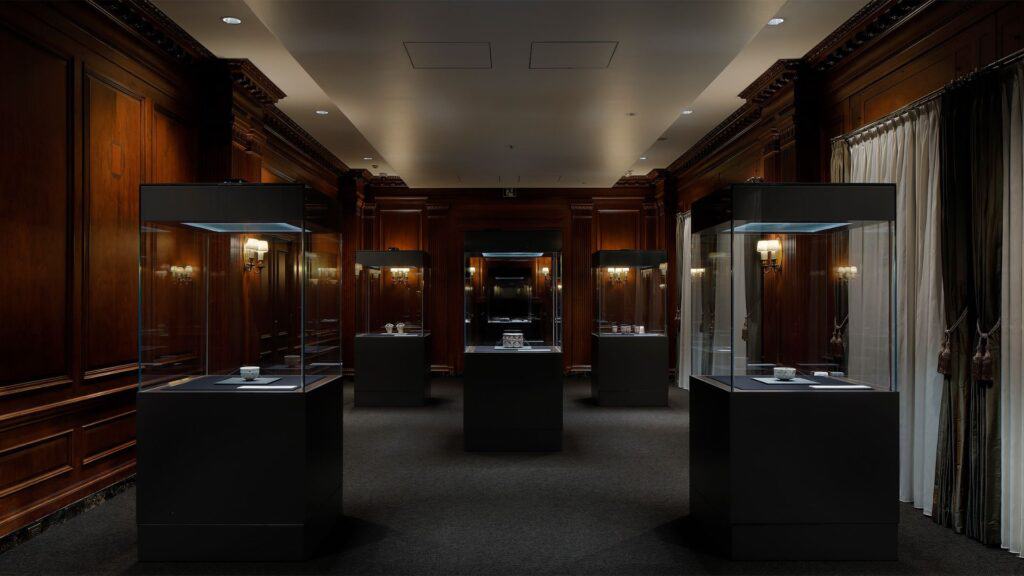 The Mitsui Memorial Museum is a museum that exhibits and preserves the excellent works of art from Japan and the Orient that the Mitsui family has collected for over 350 years since the Edo period. Its predecessor was the annexe of Mitsui Bunko in Nakano Ward and was relocated and opened in 2005 in Nihonbashi, which is closely related to the Mitsui family and Mitsui Group. The Mitsui Main Building, where the museum is located, is a heavy Western-style building that represents Japan in the early Showa period and is designated as an important cultural property of Japan. In the exhibition room, we are trying to rediscover the traditional "beauty of modelling" through Japanese and Western styles, such as recreating the interior of the national treasure tea room "Nyoan" while taking advantage of the magnificent atmosphere at the time of construction.
Find out more about Mitsui Memorial Museum here on Google maps.
COREDO Nihonbashi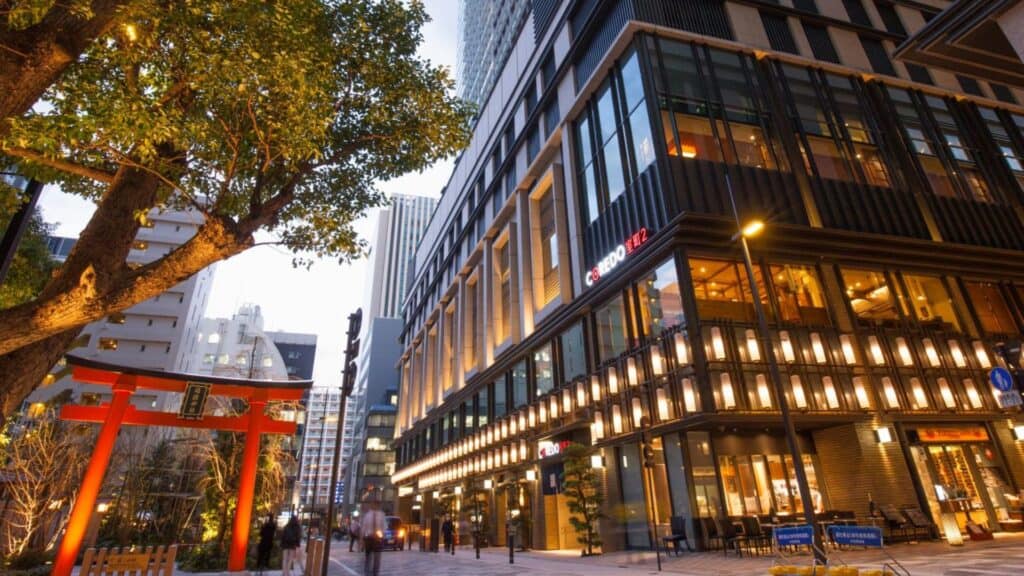 COREDO is a shopping centre filled with different shops from retail stores to restaurants and salons. There is even a cooking school here! If you are unsure of what to eat, there is an amazing selection of restaurants including Thai, Japanese, Italian and Korean. For the ladies, there is a floor dedicated to women to feel and look their best. From nail shops to skin care shops, you can come here to rejuvenate yourself whilst looking your very best. It is definitely a place to come if you ever need to kill time or want a shopping day. If you become a regular shopper here, there is an opportunity to get your hands on a Mitsui Shopping Park card where you can collect points every time you shop. 1 point is equivalent to 1 Yen and once accumulated, you are able to use these points to treat yourself even further.
Find out more about COREDO Nihonbashi here on Google maps.
ART AQUARIUM MUSEUM アートアクアリウム美術館 (will be reopened later this year)
ART AQUARIUM MUSEUM is a unique aquarium that mainly focuses on the beauty of goldfish. The art museum artist, Hidetomo Kimura has stated that he was infatuated by the natural simplicity of goldfishes and wanted to create his work around them. The fish tanks are so mesmerising to look at as they are shaped in all different shapes and sizes and are lit up in different colours. The tanks and the surrounding artwork also represent elements of Japanese culture which are placed in order to show tourists the beauty of Japan through the fusion of natural beauty placed in high technological tanks. There are many restaurants around the area, so we recommend visiting the museum before or after a quick bite to eat!
Find out more about ART AQUARIUM MUSEUM here on Google maps.
Bank of Japan Currency Museum 日本銀行金融研究所 貨幣博物館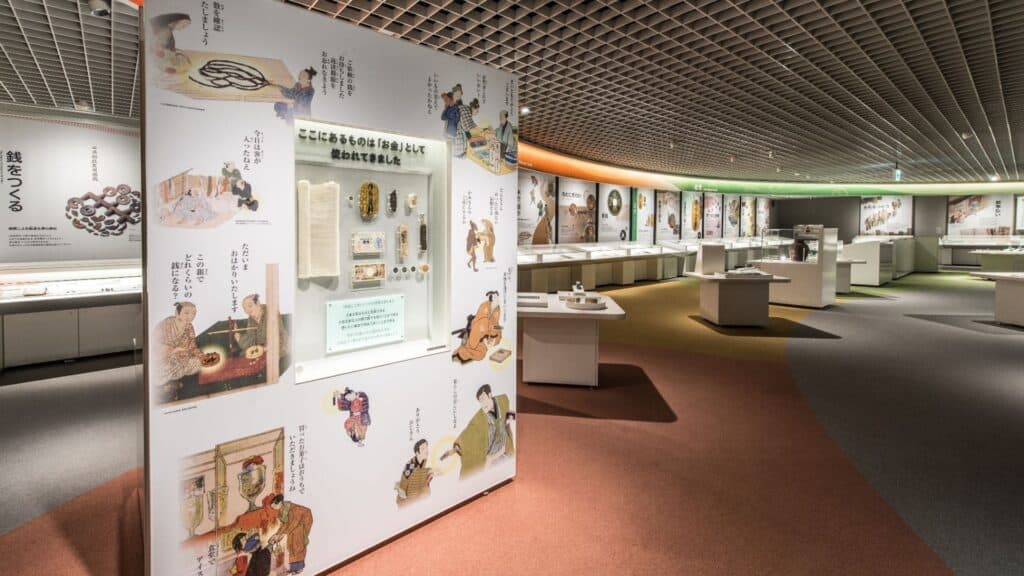 The Bank of Japan Currency Museum collects and preserves money and historical and cultural materials related to money.
The permanent exhibition at the Bank of Japan Currency Museum is an easy-to-understand display of the history of Japanese money, based on research and research on the materials in its possession. You can see what was selected as "money" and how it was used through genuine materials. After seeing the actual gold coins (large format) made by Toyotomi Hideyoshi and Tokugawa Ieyasu, you can experience the weight of the gold coins, and after seeing the first Bank of Japan notes issued in the Meiji era, the current Bank of Japan notes You can experience and enjoy learning about anti-counterfeiting technology. You can also learn about the money spent in your life through the prices of things at that time, such as what you could buy at Wadokaichin and Kanei Tsuho.
Find out more about Bank of Japan Currency Museum here on Google maps.
Koami-jinja Shrine 小網神社
Koami Shrine is a shrine that has the benefits of warding off evil and improving your fortune. The Kagura-den is pentagonal and has a very unusual structure. The sculptural dragons on the left and right of the shrine are paired with a figure rising to heaven and a figure descending from heaven. This dragon is worshipped as a "rising dragon" and "descending dragon" for the sake of good luck and evil, in honour of the shrine. At this shrine, the "Mayutama Mikuji" is popular, and the Omikuji is put into a real Mayutama. Mayu is spun with a single thread, and it seems that it is given to worshipers with the wish that "the connection with the god of Koami Shrine should be tied as thin and long as a single thread".
Find out more about Koami-jinja Shrine here on Google maps.
Haibara榛原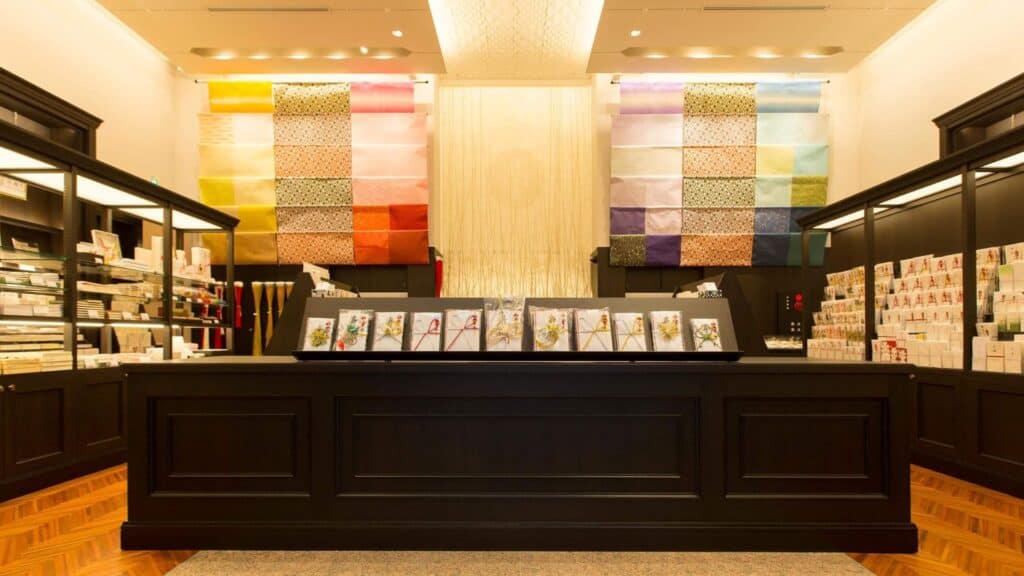 Haibara is a Japanese paper shop located in Nihonbashi that has been in operation for over 200 years. Since its founding, it has been proposing a lifestyle with Japanese paper, from familiar items such as "postcards" and "fans" to rare items such as "rolling paper" and "printable rolls", and colourful colours such as "hexagonal brush cylinder" and "red stamp book". A variety of paper-related products are available, including small items. You can feel the beauty of handicrafts and Japanese culture. It is also a nice point to have good access to the location inside the Tokyo Nihonbashi Tower, which is directly connected to the B6 exit of Nihonbashi Station.
Find out more about Haibara here on Google maps.
Tako no Hakubutsukan (Kite Museum) 凧の博物館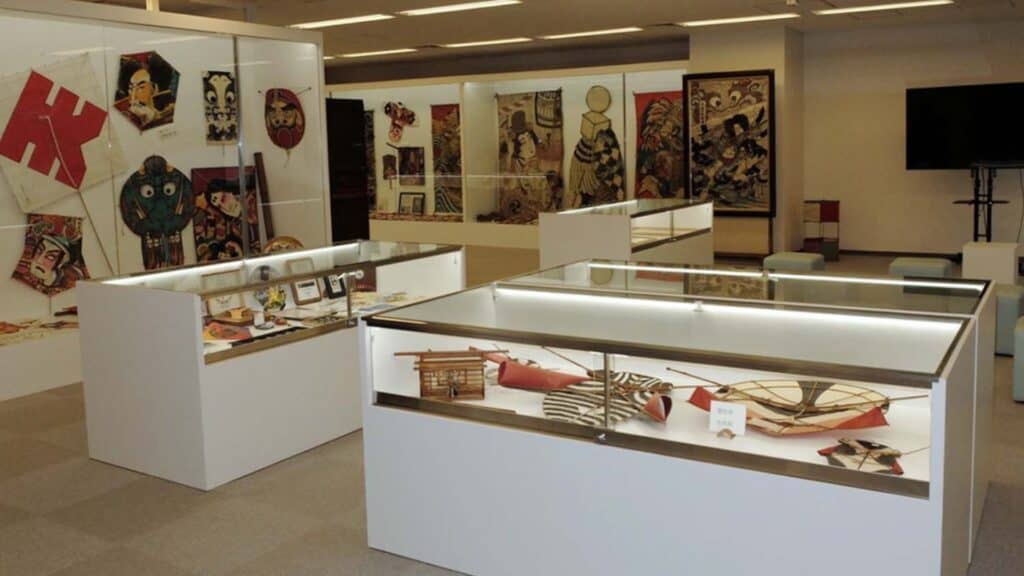 Taimeiken is a very famous restaurant in Nihonbashi and was founded in 1931. Its founder, Mr. Motegi, founded the "Kite Museum" in 1977 because he loved kites. In the kite museum in "Taimeiken", about 3,000 kites collected from all over Japan are exhibited. Not only in Japan but also in a wide variety of kites and kite paintings around the world. All the kites on display are original Edo kites. Edo kites were born from the common people and samurai who were isolated and the culture unique to Japan blossomed. The Edo kite seen here was drawn by kite painter Sadazo Hashimoto. This museum is recommended for those who want to know the history of old-fashioned kites.
Find out more about Tako no Hakubutsukan here on Google maps.
Restaurants in Nihonbashi
Nihonbashi Brewery
Nihonbashi Brewery is a craft beer speciality store where you can enjoy 13 types of beer, including original beer.
The inside of the store is spacious and has a great sense of openness. It is a space where you can feel the warmth of wood. There is a dining table where you can enjoy lively meals, a relaxing counter seat, and a small tatami mat seat, which is rare in the Western-style restaurant, making it easy to use in any situation.
The lunch menu offers great prices for pasta and pizza. Vegetable smoothies and salads from contract farmers with free refills are also included, so you will be completely satisfied!
Find out more about Nihonbashi Brewery here on Google maps.
Tsujihan つじ半 日本橋本店
Tsujihan is a seafood donburi restaurant, all the seats face the chef so it is very intimate and a great place to go if you are craving fresh fish. The Kaisendon, which is a donburi with a mix of seafood on top, is very popular and you can even get an ochazuke service afterwards for free!
Ochazuke is a soup that you can eat with rice and the flavours are very light and tasty. The restaurant is very popular so you may have to wait in line for a while, if you want to avoid this, we recommend going during off-peak hours.
Find out more about Tsujihan here on Google maps.
Jiji Baba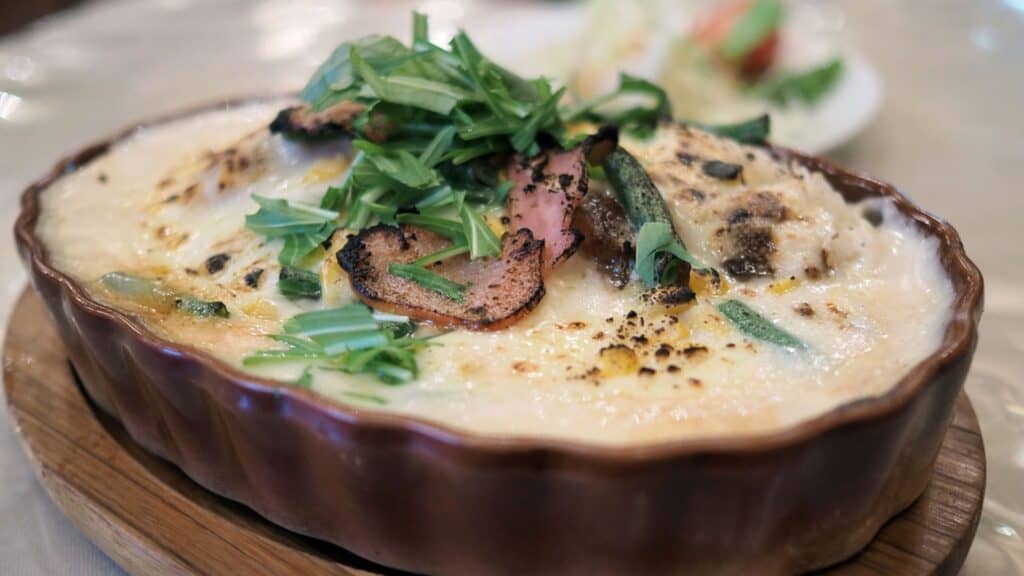 Popular for its Western-styled comfort food, Jiji Baba is an authentic restaurant that imports its ingredients from the hometown where Jiji (Grandpa) and Baba (Grandma) were born which is Yamagata and Yamanashi prefecture.
This family-run business offers big portion sizes for their customers so there is no way you are leaving here without your trouser bottom undone! The Doria's are very popular among customers so be sure to check this place out, but remember to come on a very empty stomach.
Find out more about Jiji Baba here on Google maps.
Torifuji
Torifuji specialises in their Oyakodon, a Japanese cuisine which consists of chicken, egg and rice but it is a light gravy consistency. It is extremely tasty and Torifuji has been awarded for having the best Oyakodon in Hyogo prefecture! Go and taste Japan in the heart of the capital city, you won't regret it.
Find out more about Torifuji here on Google maps.
Malay Kampung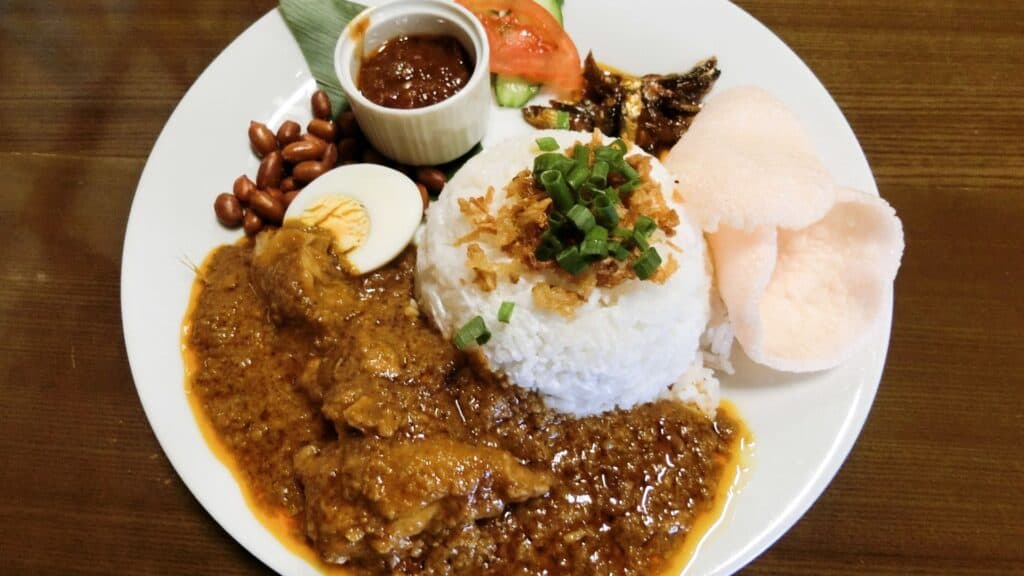 Enjoy a variety of dishes such as satay, chicken rice, roast chicken, curry & roti at the authentic Malaysian restaurant, Malay Kampung. The restaurant is aesthetically pleasing with lots of Malaysian posters on the wall, make sure to try the Nasi Goreng which is Malaysian fried rice, and it is so yummy! The food is reasonably priced and has set menus that you can choose from.
Find out more about Malay Kampung here on Google maps.
Benihana Annex 
Said to have one of the best curries in Tokyo, Benihana has been around since pre-World War 2 but was sadly destroyed due to the bombing. However, after the war had finished, the owner's wife found a Benihana (red flower) which was found in the remains of the old business and was their motivation to open a new store. Originally a cafe, Benihana has then expanded to be home to the most delicious SriLanken curry, where all the different spices can be tasted. It is definitely worth trying if you can handle spicy food!
Find out more about Benihana Annex here on Google maps.
Vino el IL raccolta 
Found in the heart of Nihonbashi is this delicious Italian restaurant. Renowned for their fresh and chewy pasta, which is commonly described as 'mochi mochi,' the pasta is complemented with a variety of different sauces. You can upgrade your dish to a larger size for only 200 Yen extra, so if you are especially hungry, this restaurant will not fail to satisfy your hunger. There is a good selection of wine you can choose from to go with your meal!
Find out more about Vino el IL raccolta here on Google maps.
Caveman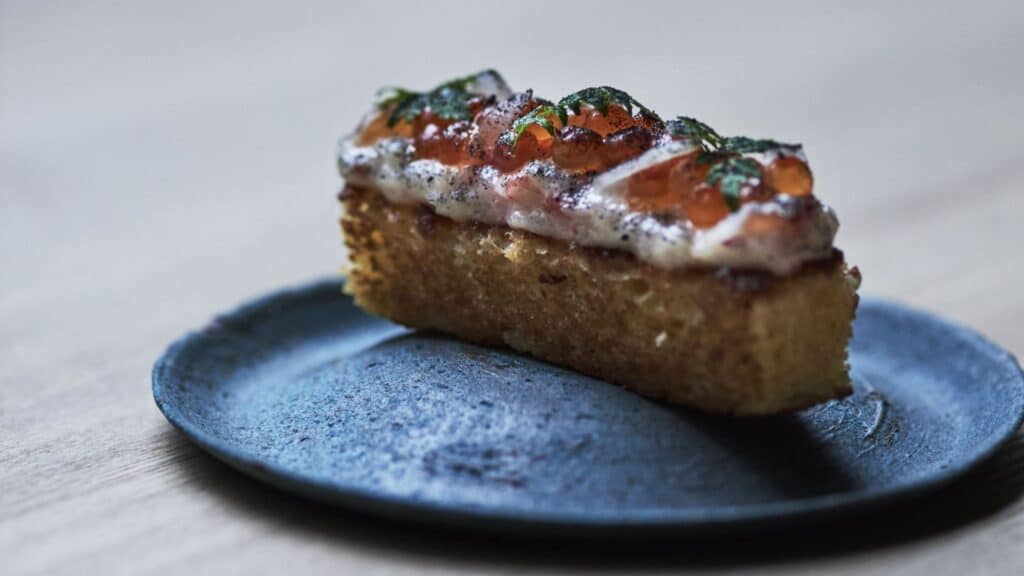 Caveman has a very botanical atmosphere, with plants in every corner the aesthetic is very pretty and calming whilst eating your food. You can get a set dinner with a wine pairing which is very popular among customers. It is more on the pricey side, but you get your money's worth with how delicious the food is. Depending on the season, the menu changes so be sure to take pictures of your seasonal food!
Find out more about Caveman here on Google maps.
Mie Terrace 
As the name states, all the ingredients come from Mie prefecture and the food is truly stunning from the presentation to the taste. The food is very reasonably priced considering the high-class produce used to make the dishes. The ​​Matsuzaka beef is very popular and we recommend that you try it.
Find out more about Mie Terrace here on Google maps.
Dashi Inari Kaiboku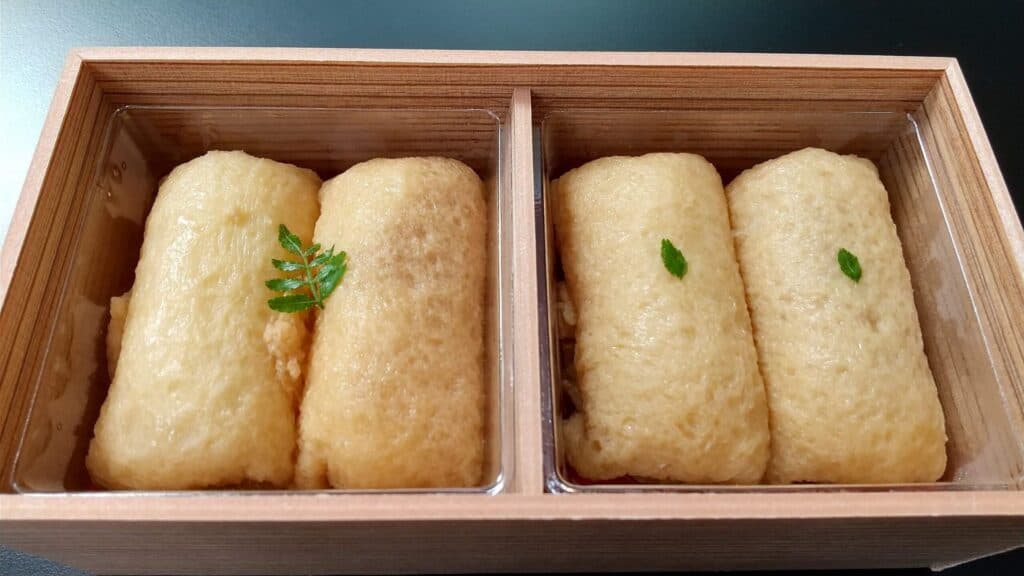 If you are a fan of Inari Sushi, then this is a must-go place! If you have never tried it then we can guarantee you will love it. It is sushi rice that is stuffed inside seasoned deep-fried tofu that has been cooked in dashi (broth.) The broth used here is sweet yet very light and delicious. It is more of a light snack to have before or after a meal. Just as a warning, the store is extremely popular and can be sold out by 14:00!
Find out more about Dashi Inari Kaiboku here on Google maps.
Imoya Kinjiro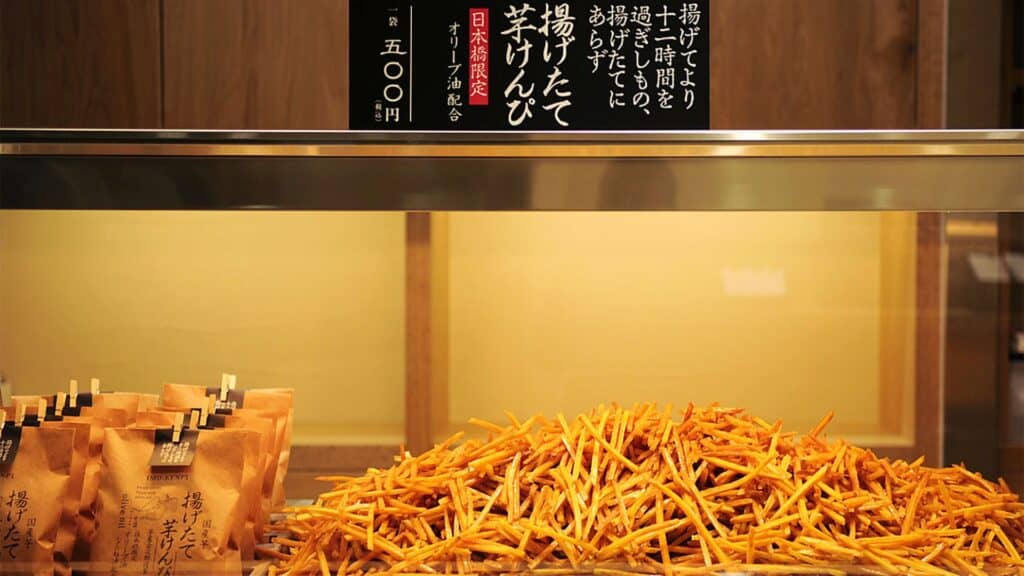 Imoya Kinjiro is another very popular snack shop that sells potato kempi. It is a confectionery store where you can see the kempi being made in front of you through a horizontal window. They have a variety of different kempi that are sold for a very good price and you can even buy little takeaway bags of freshly made kempi on that day! It is so good you might eat it in one sitting.
Find out more about Imoya Kinjiro here on Google maps.
Accommodation in Nihonbashi
Hotel K5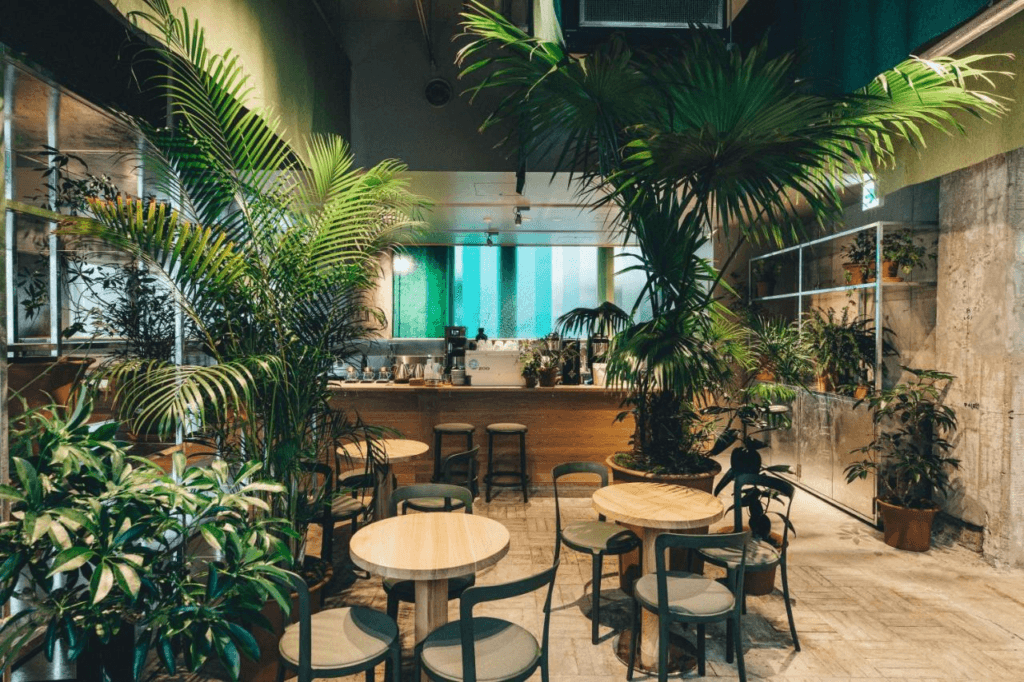 Just a 5-minute walk from Nihombashi Station, Hotel K5 offers accommodation in a renovated
historical building that is built in 1924. The hotel provides restaurants, cafes and room service. Free WiFi is available throughout the property.
All rooms are air-conditioned and come with a seating area, desk, soundproofing and private bathroom. A record player with vinyl record collection is featured in each room. For guests' comfort, Hotel K5 provides a minibar, complimentary toiletries, slippers and pajamas. Some suites include a dining area, seating area and stand-alone bathtub.
The 24-hour front desk offers concierge service and free luggage storage.
Address: 103-0026 Tokyo-to, Chuo-Ku Nihonbashikabuto-Cho3-5, Japan
Belken Hotel Tokyo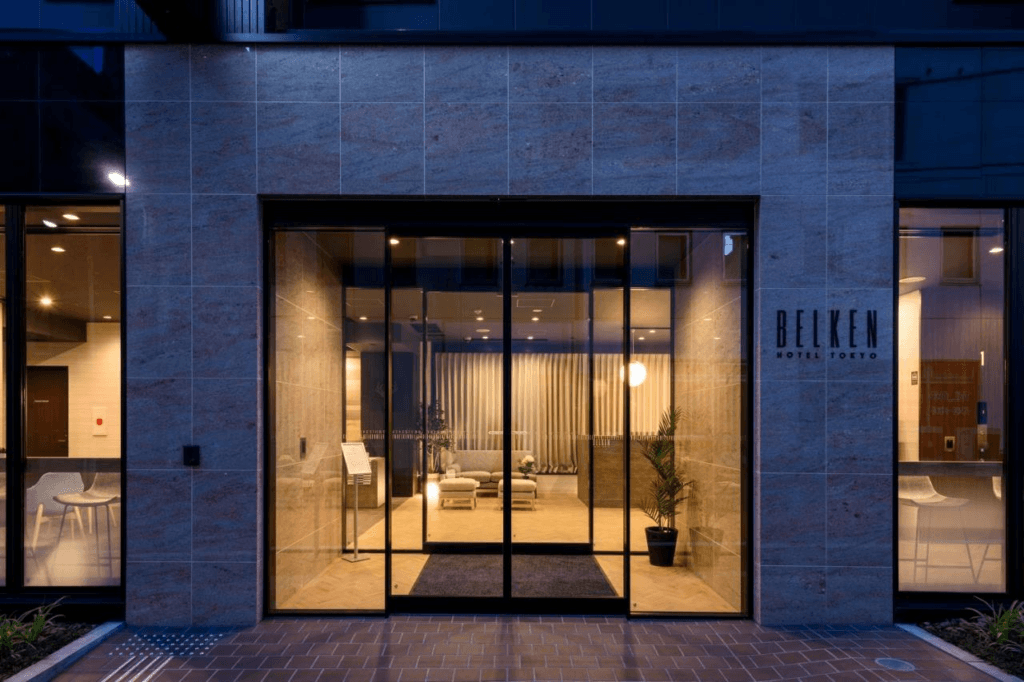 In a prime location in the Chuo Ward district of Tokyo, Belken Hotel Tokyo is located 400 m from War Disaster Memorial Service Monument, 500 m from Yasube Taketsune Horibe Monument and 500 m from Tokyo Shoken Building Inc.. Among the facilities at this property are a 24-hour front desk and luggage storage space, along with free WiFi throughout the property. The property is close to popular attractions like Congress Square Nihonbashi, Bellesalle Yaesu and Kyobashi Edogrand.
All units are equipped with air conditioning, a flat-screen TV with satellite channels, a fridge, a kettle, a bidet, slippers and a desk. The rooms include a private bathroom, a hairdryer and bed linen.
Popular points of interest near the hotel include Monument of Armor Tribute Site, Kyoka Square and Sakuragawa Monument. The nearest airport is Tokyo Haneda International Airport, 26 km from Belken Hotel Tokyo.
Address: 103-0026 Tokyo-to, Chuo-ku Nihonbashi Kabuto-cho 18-3, Japan
Daiwa Roynet Hotel Tokyo Kyobashi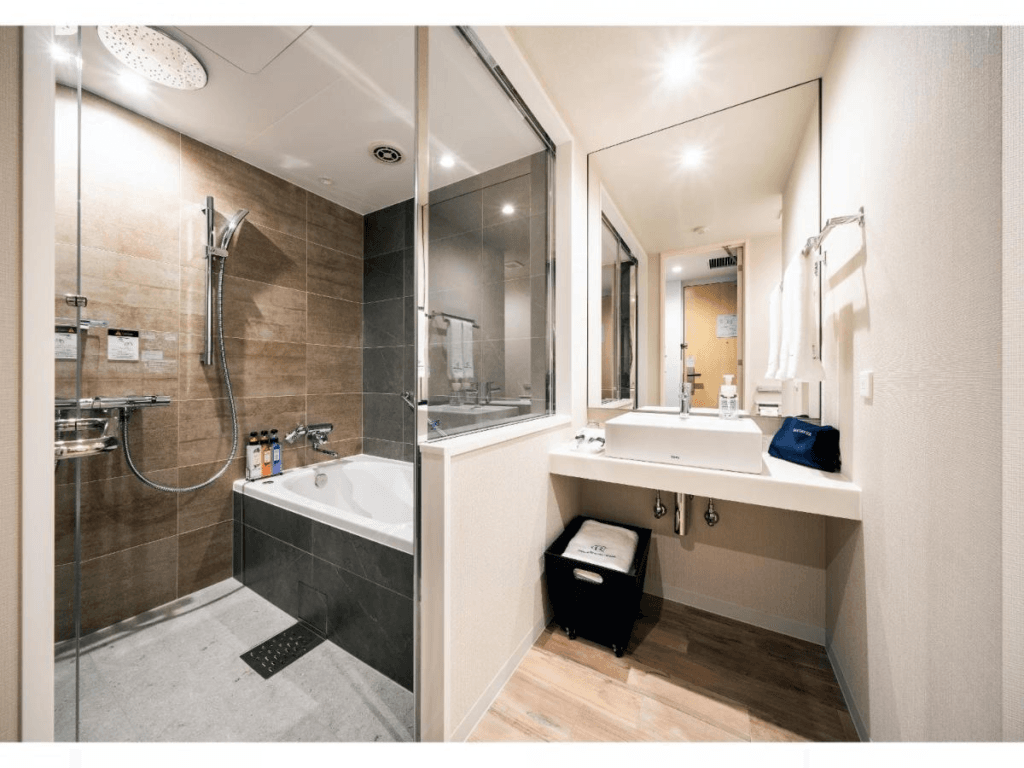 Attractively situated in the Chuo Ward district of Tokyo, Daiwa Roynet Hotel Tokyo Kyobashi is situated 300 m from National Film Archive of Japan, 400 m from Tokyo Convention Hall and 500 m from Kyobashi Edogrand. The property is around 800 m from Edo Kabuki Birthplace, less than 1 km from Antique Mall Ginza and an 11-minute walk from Pola Museum Annex. The accommodation features a 24-hour front desk and luggage storage space for guests.
The rooms are fitted with air conditioning, a flat-screen TV with satellite channels, a fridge, a kettle, a bidet, a hairdryer and a desk. At the hotel rooms have a wardrobe and a private bathroom.
Popular points of interest near the accommodation include Kyobashi no Oyabashira, Daimaru Tokyo and Kyoka Square. The nearest airport is Tokyo Haneda International Airport, 26 km from Daiwa Roynet Hotel Tokyo Kyobashi.
Address: 104-0031 Tokyo-to, Chuo-ku Kyobashi 2-8-20, Japan
—
Nihonbashi has so much to offer that it would be impossible to visit everywhere in a few days. Hope you get to check out the museums and restaurants for yourself and like them as much as we do. Refer to this blog anytime for more ideas and activities to do in the Meguro ward. If you have any questions, feel free to reach out to us anytime.