There's so much hype right now about Squid Game. It has set so many records, including being the most-watched original series with 111 million viewers tuning into at least a part of the show. It is especially amazing for a non-English show on Netflix. Here are 8 best Japanese movies and TV shows you might like if you're trying to figure out what to watch after Squid Game.
I'm not here to tell you about Squid Game or what I think about it. There won't be any spoilers, in case you haven't finished it. But if you enjoyed Squid Game, if you want to look for a movie or TV show that has similar concepts with escape games, game shows, mind games, thrills, maybe a bit of horror, here are 8 Japanese movies and TV shows you might enjoy. You can find some of them on streaming services like Netflix, and some of them, you can find on YouTube. 

One of the best ways to explore Tokyo is to visit the local areas and immerse yourself in the local culture. If you want to explore local areas, we have created scavenger hunt adventures personalised to your interests, filled with fun facts, clues and puzzles. If you're curious, you can check out the games here!

Check out the Flip Japan Games here!

If you're interested, you can also find out more about Japanese movies, TV shows and books, Anime, Manga and Video Games, Japanese food and drinks at home you can make.
Stay tuned for more information about Japan travel, Japanese culture, moving to Japan, living in Japan, Japanese language and more.
Japanese movies and TV shows to watch after Squid Game
1. Takeshi's Castle
Honestly, when I first saw the trailer for Squid Game, Takeshi's Castle immediately popped into my head. Takeshi's Castle was a Japanese game that aired between 1986 and 1990. The Japanese comedian, Takeshi Kitano, sets up difficult challenges for the players. The players have to try to pass through all the challenges to get to Takeshi.
The original show had between 86 to 142 contestants. They have to participate in a series of physical challenges. It's similar to an obstacle course, but massive and they tend to be quite extravagant. There are all kinds of challenges, like paper rings, laser guns, water guns, mazes and more. The players that make it to the "Final Showdown" win a million yen.
This TV show became viral globally and there are many interpretations in a lot of different countries, including Australia, United States, the Philippines, France and other countries. This show was a part of many people's childhoods. Takeshi's Castle is hilarious and thrilling, if you haven't seen it, I would highly recommend you check it out.
2. Assassination classroom
Assassination Classroom is a Japanese managa series that is then made into a TV series. This series is about a powerful creature that claims that within a year, he will destroy the earth. But he offers humans a chance by working as a junior high school teacher and teaching them how to kill him. The students dedicate their time to try to assassinate him
A powerful creature claims that within a year, Earth will be destroyed by him, but he offers mankind a chance to avert this fate by becoming a homeroom teacher where he teaches his students regular classes as well as ways to kill him. The series is narrated by Nagisa Shiota, one of the students. At first, Nagisa appears to be one of the weaker students, but he later becomes as one of the most skillful assassins in the class.
3. Alice in borderland
Alice in Borderland is another TV series that was produced by Netflix, similar to Squid Game. It was originally a Japanese manga series and the TV series was released in 2020.
The TV show follows the main character Arisu. Along with his high school classmates Karube and Chōta, they are bored with their current lives and the three of them are transported into a somewhat post-apocalyptic-like parallel world. Although in the beginning, they seem to love the idea of enjoying this world with no one around, they soon realise that they have to play games in this world to survive.
The show goes into the backstories of the characters and really plays with emotions. The characters are forced to play mind games, physical games, brain teasers and there is a lot of suspense through the series. If you love Japan, you might be surprised by all the incredible CGI. Since most of the film is based in the Tokyo area, I certainly had a lot of fun noticing different landmarks and establishments around.
4. Danganronpa
Danganronpa is an animated TV series based on the video game. There are thirteen episodes in this series and was released in 2013. The TV series follows a group of high school students who are locked inside their high school, Hope's Peak Academy. The students are threatened by a robotic bear, Monokuma, and they are given one way to leave the Academy, which is to murder another student and get away with it. If the other classmates manage to find the identity of the killer, the killer is the only one that's executed. But, if they fail to catch the killer, only the killer gets to graduate.
It is a murder mystery where everyone's lives are on the line. Weirdly, this TV series reminds me of the game, among us, where the players that are aliens have to kill the humans and when a body is discovered, there is a discussion to figure out who the alien might be. There is a lot of suspense in this TV series. Although death is a big theme, there are a lot of strong character developments and not just a mindless murder show.
5. Battle Royale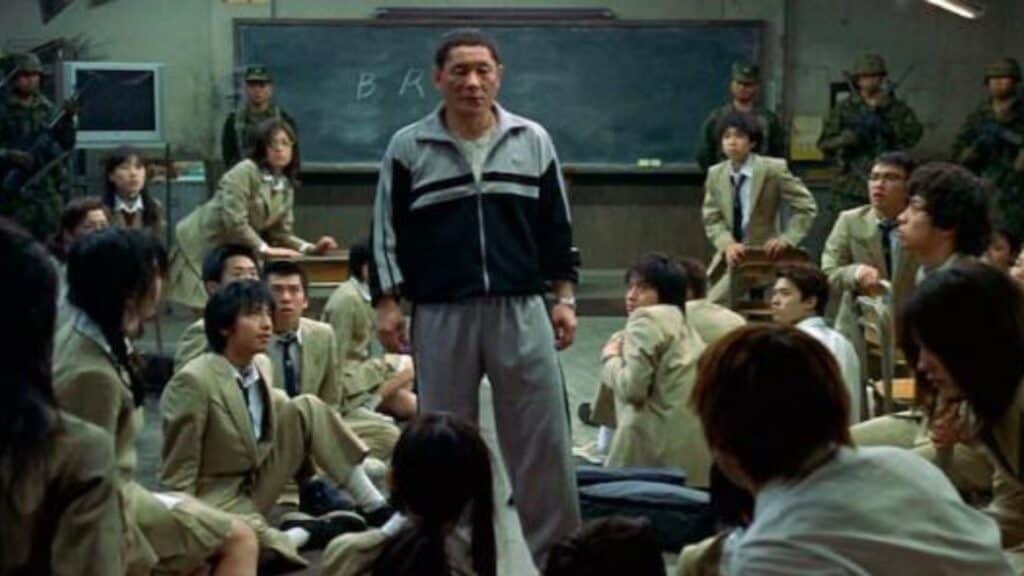 Battle Royale is a popular movie that was released in 2000. It is quite similar to Squid Game, because it follows a group of high school students that are taken to an uninhabited island and forced to participate in a horrifying game under the guidance of their former homeroom teacher. The students have to survive and kill until there is only one person standing.
Battle Royale is quite dark and gruesome, but most of the violent actions aren't too distributing. It's very fast-paced as well and filled with action. Similar to Squid Game, there are flashbacks, allowing you to look into the past and backgrounds of the characters.
6. As the Gods Will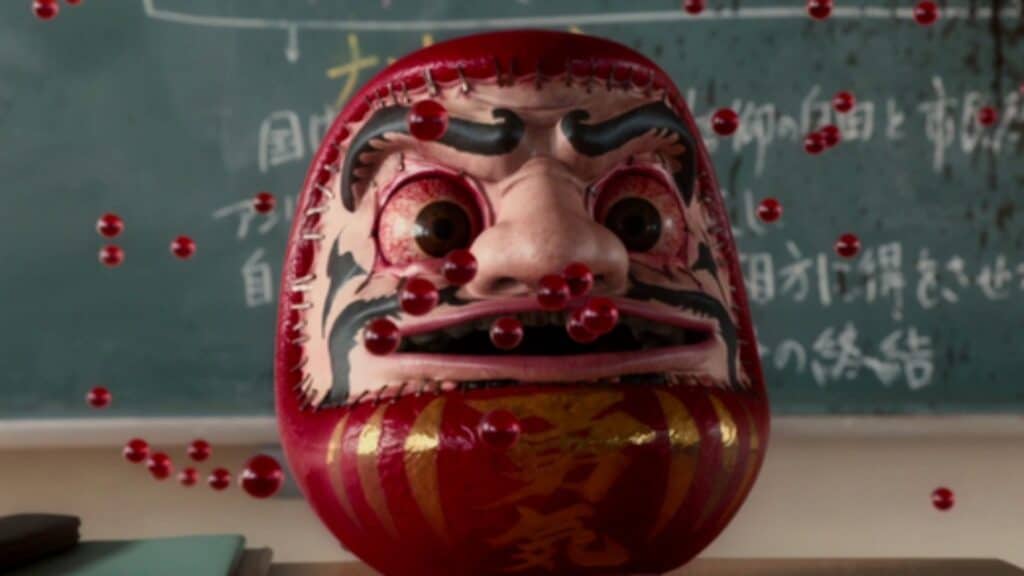 As the Gods Will is similar to Squid Games in many ways. It is a Japanese manga series that is then turned into a film. Takahata Shun is the main character and he spends a lot of his time playing violent video games. One day, along with his classmates, he finds himself being forced to play children's games, like Daruma-san ga koronda. This game is basically Red Light, Green Light. If they fail, they will die. As more and more games are being held, there are more and more casualties. The main character also finds more alliances and build relationships with his fellow classmates.
This film is filled with mysteries and thrills. It is a horror film but it's not too gory. The puzzles and games in this film are very engaging and in a similar way as Squid Game, shows you the childhood games played in a different culture.
7. Kaiji: The Ultimate Gambler
Kaiji: The Ultimate Gambler is a film released in 2009. It talks about the life-threatening gambling games that the main character, Kaiji Fujiwara, takes part in.
Kaiji is a part-time worker and he lives self-deprecating days without a regular job. He has a huge amount of debt because he became a guarantor of a friend's debt. Kaiji was approached by the president of a financial company, Endo, who offered him a chance to get rid of all his debts overnight. Kaiji follows Endo's instructions to board a large luxury cruise ship, where he is challenged with all kinds of games.
This film is quite similar to the concept of Squid Game with the hopelessness of the main characters with the huge amount of debts and the different life-or-death games that are played.
8. The Werewolf Game
The Werewolf Game is a movie series, based around the game "The Werewolf Game". If you're not familiar with the game, Contestants in "The Werewolf Game" have to kill each other to win. If you're not familiar with this game, basically the participants are divided into villagers and werewolves. The werewolves kill the villagers every night and the villagers have to try to figure out who the werewolf is.
In the movie series, characters are abducted and forced to play the game. There are currently eight movies and they follow the emotions and strategies of the characters as they try to survive in this game. Unlike Squid Game, The Werewolf Game focuses on just one game, but you can truly see the character developments and the way their minds work.
—
What do you think about these films? Some of them are movies, some are TV shows, some are based on manga series, some are based on video games. If you liked Squid Game, I hope you will find at least one of these movies and TV shows worthy to get on your to-watch list. 
If you're interested, you can also find out more about Japanese movies, TV shows and books, Anime, Manga and Video Games, Japanese food and drinks at home you can make.
Stay tuned for more information about Japan travel, Japanese culture, moving to Japan, living in Japan, Japanese language and more.