Do you know about the Suginami Ward in Tokyo? It is one of the 23 wards of Tokyo, with various unique neighbourhoods and areas, along with different things to do and sights to see. If you are wondering what is Suginami ward, the different areas inside Suginami, best things to do, history, accommodation and more, check out this ultimate Suginami ward area guide.
What is Suginami City Ward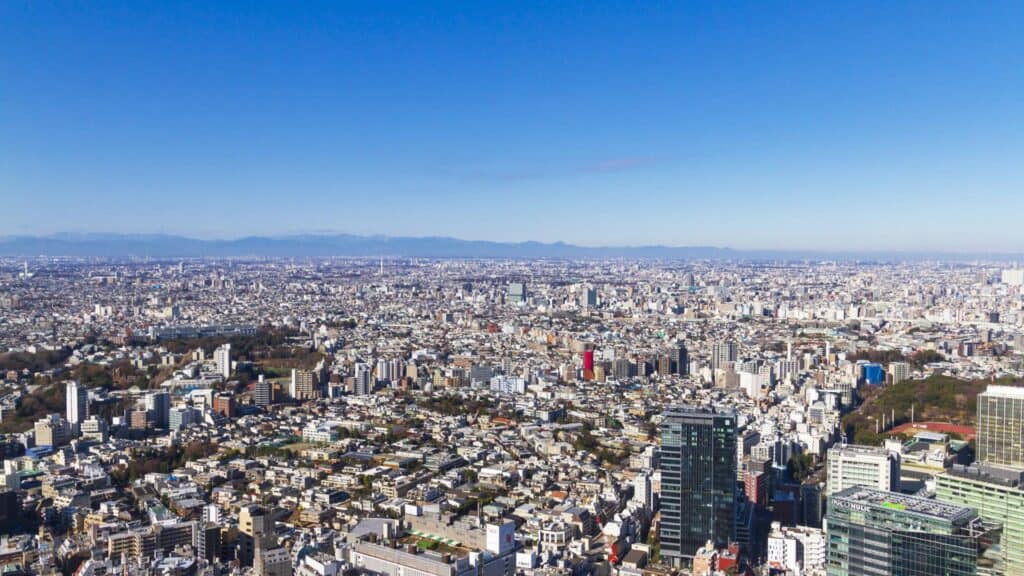 Suginami-ku is located just a short ride from Shinjuku on the Chuo Line, and is home to four of the most popular residential areas in the western part of Tokyo: Koenji, Asagaya, Ogikubo, and Nishi Ogikubo.
The three stations, with the exception of Ogikubo, which is a rapid transit station on weekends and holidays, are all cities where different subcultures of people like to live, each with the "smell of Chuo Line culture".
Although it is easy to forget, the areas of Honancho on the Marunouchi Subway Line, Shimoigusa, Iogi, and Kami-igusa on the Seibu Shinjuku Line, and Eifukucho to Kugayama on the Keio Inokashira Line also fall within Suginami Ward.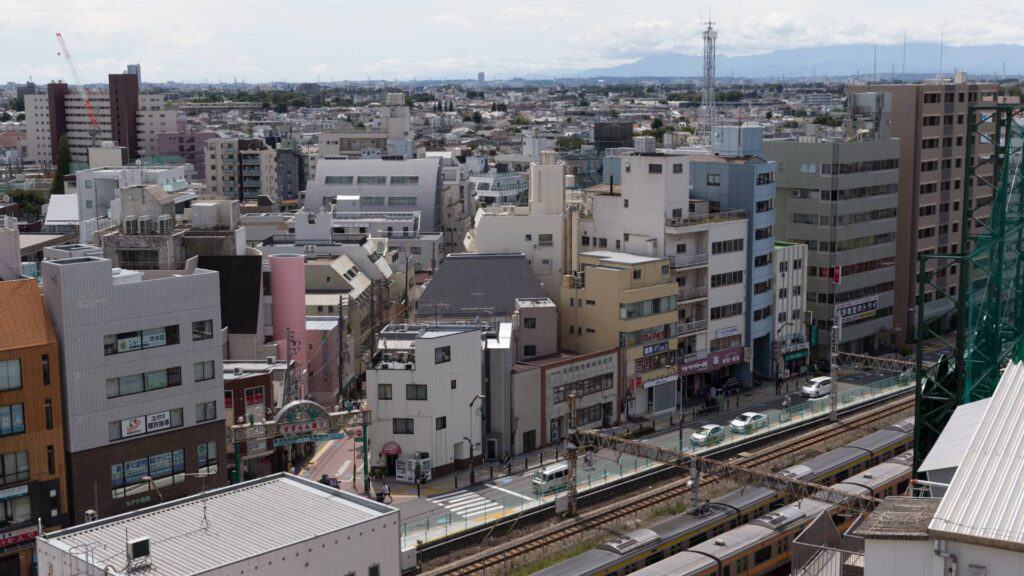 Many areas were converted to residential land after the Great Kanto Earthquake before World War II, and Ogikubo in particular was once regarded as a high-class residential area on par with Kamakura, as famous people such as Fumimaro Konoe and Akiko Yosano moved into the Ogikubo area.
Today, the area is home to rich people and poor people alike, and as the name Suginami implies, it has an "ordinary" atmosphere. Zempukuji, the area farthest from the center of Tokyo, is a quasi-luxury residential area, while the areas near Koenji and Daitabashi, the nearest neighborhoods, are poor towns.
Living in Suginami City Ward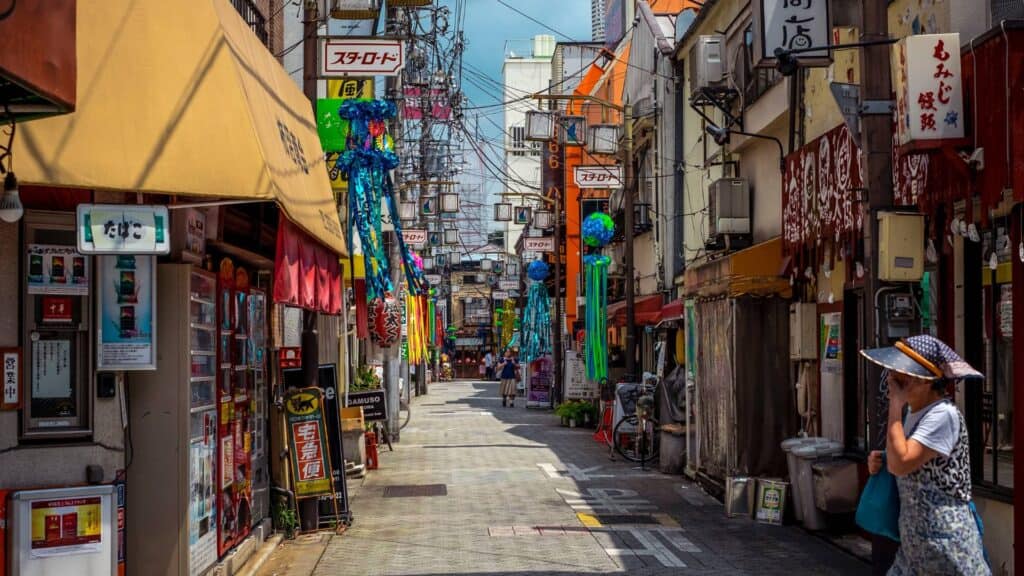 The average Suginami resident has a strong sense of pride, feeling that Suginami is better than Nakano and Nerima, and Setagaya is our rival. In November 2014, a long-sought "Suginami license plate" was introduced, and many residents are relieved to be rid of the Nerima license plate.
The residents of the ward have a very high level of awareness, but on the other hand, there are also many professional citizens and leftists. The ward is blessed with private schools with high deviation values and good results.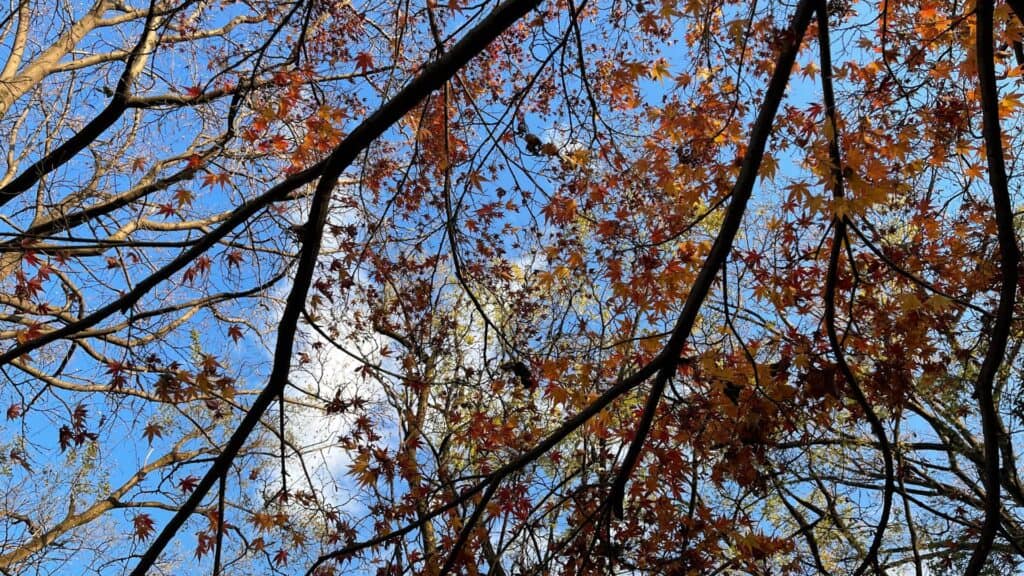 Along the Chuo Line, which is a popular residential area, there are many young people living in Suginami Ward, and they are rapidly being replaced by the older generation. Along the Inokashira line, there are many elderly people who own land and are sitting on it. The elderly who have lived in Suginami Ward for many years have a strong sense of entitlement and have experienced the student movement of the past, so they are even worse off.
In Fujimigaoka, there was an opposition movement against the construction of a licensed nursery school, and an old man from the Zenkyoto generation even threw a Molotov cocktail and hanged himself in outrage at the sound of a samba festival.
Areas of Suginami City Ward
JR Chuo Line
Koenji 高円寺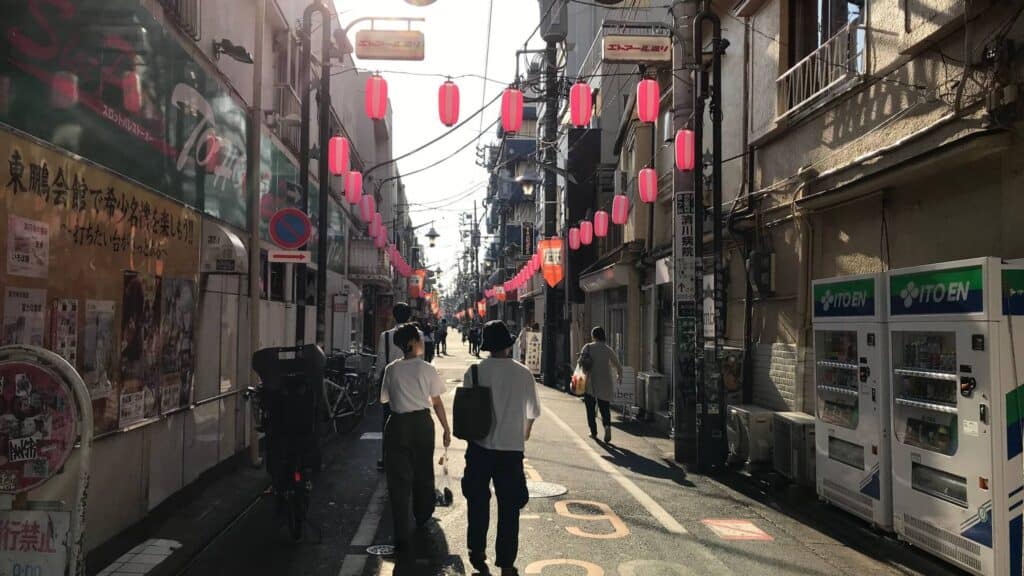 Koenji is a representative of a subculture town. Many culturally impoverished people and hippies live here. There is an abundance of Asian food and shabby apartments with no bathrooms, and not a few elitist types sink in this town. Here, you can find Awaodori dance, a Koenji festival.
Asagaya 阿佐ケ谷
A town of jazz and Tanabata Festival, with an older population than Koenji. It boasts the Pearl Center shopping street and the tree-lined Nakasugi Street in front of the Suginami Ward Office, and for some reason, the long-established fishing pond in front of the station is also a popular backstage attraction.
Ogikubo 荻窪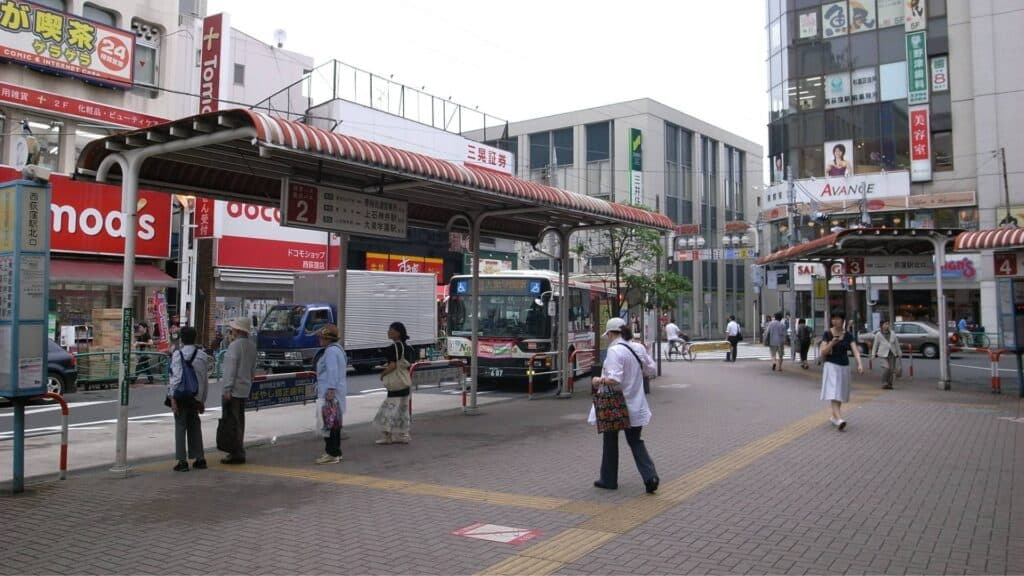 Ogikubo is a town chosen for its convenience to commute to work without the subculture stench characteristic of the Chuo Line. The rapid train stops on Saturdays and Sundays, and commuters can take the Marunouchi Line on the first train. Before the war, it was a high-class residential area comparable to Kamakura, but after the war it became popular. The black market restaurant district at the north exit of the station was the birthplace of Ogikubo Ramen.
Nishi Ogikubo 西荻窪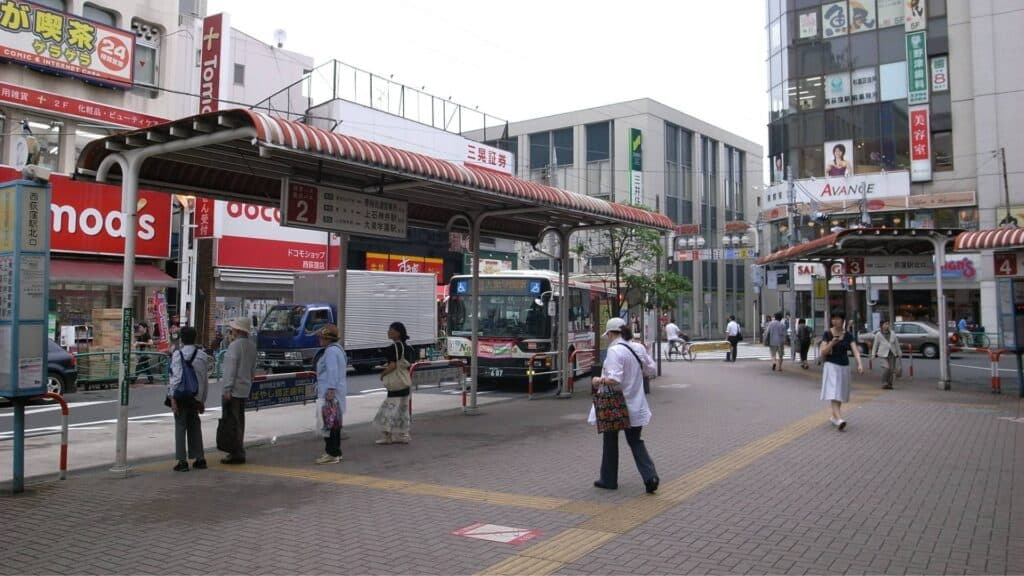 Right next to Kichijoji, Nishi Ogikubo has a unique subculture atmosphere with pink elephants hanging in the arcades. In front of the station is the birthplace of Happy Science, World Mate and Hobbit Village. It is a spiritual town and a antique town with many antique shops. The area around Zempukuji Pond near Ome Kaido is one of the highest income areas in the ward.
Marunouchi Line
Higashi-Koenji 東高円寺
The area inside Kannana is mostly Nakano. In front of the station is Silkworm Forest Park, where Suginami's famous pro-citizen demonstrations are held. You can get to the south exit of Nakano station through Nico Nico Road shopping street.
Shin-Koenji 新高円寺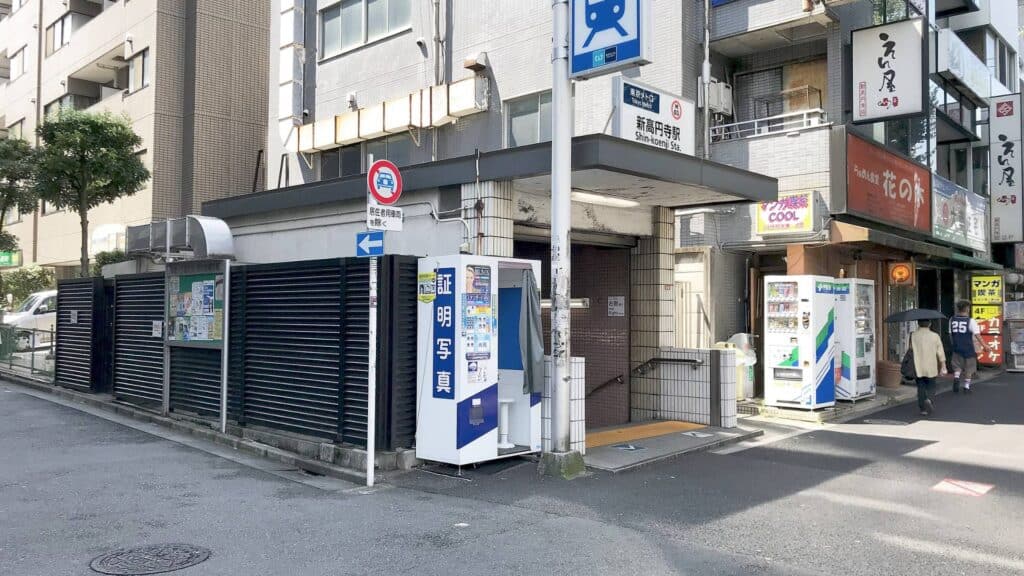 The southern end of Koenji Look shopping street borders Ome Kaido. Horinouchi Myohoji Temple here is famous. Horinouchi, Omiya, and Matsunoki in Suginami Ward are far from the station and are called Suginami's Tibet or Nepal.
Minami Asagaya 南阿佐ヶ谷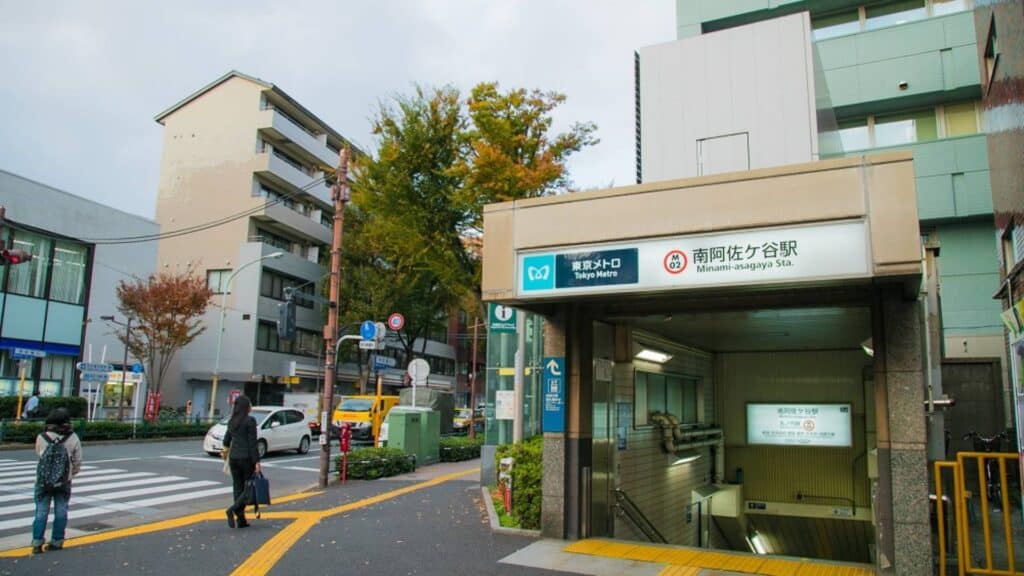 Suginami Ward Office rises in front of the station at the southern end of Asagaya Pearl Center and Nakasugi Street. The retro Asagaya Danchi used to be located along the Zempukuji River, but it disappeared when it was rebuilt.
Honancho 方南町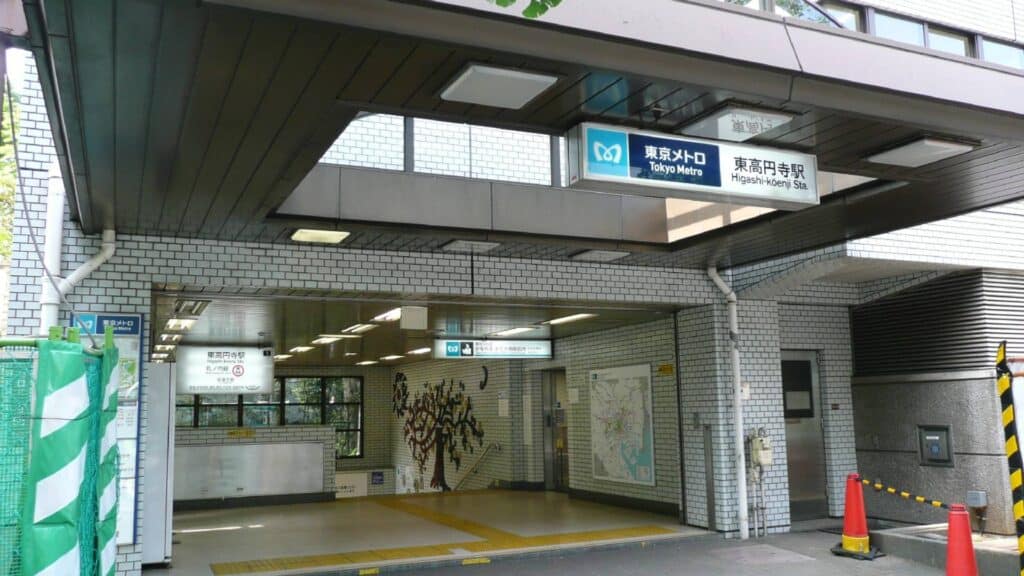 Terminal station of the Marunouchi Line branch line. The station was built in the Showa period without even an elevator, so the local stroller-loading squadron, "Baby Stroller Oorozerunger," is on standby to help mothers with children. The huge Rissho Koseikai Cathedral is also here. The shopping street in front of the station is a bizarre sight with a row of Soka Gakkai tricolor flags on November 18.
Keio Line and Inokashira Line
Daitabashi 代田橋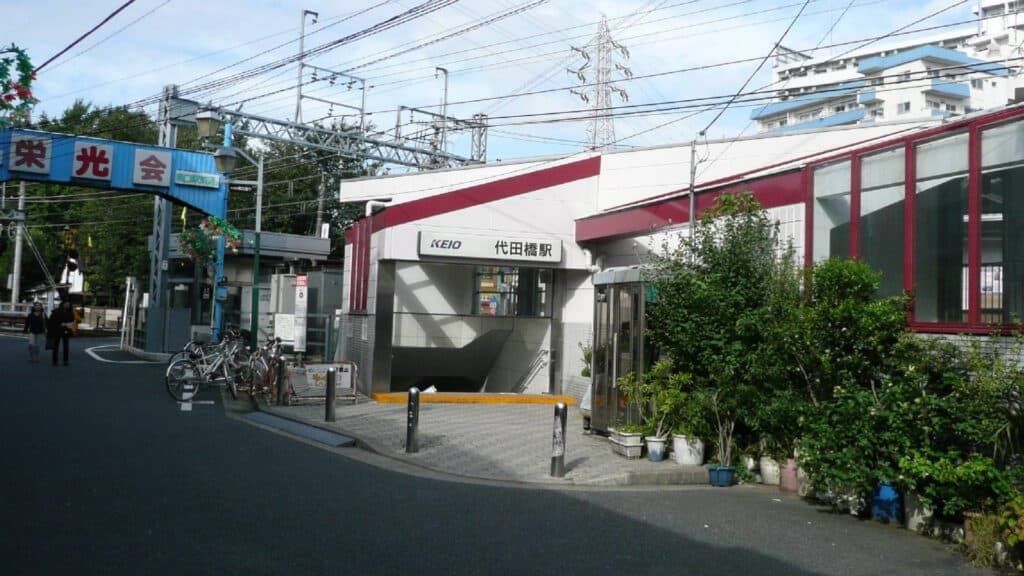 The area in front of the station is in Setagaya Ward, but the area north of Koshu Kaido is in Suginami Ward. The Okinawa Town Suginami Izumi Meitengai is an unscrupulous but rather cool little Okinawan town that was converted into an Okinawan town as an afterthought to revitalise a desolate shopping district.
Meidaimae 明大前
The area in front of the station is also in Setagaya Ward, but the area north of Koshu Kaido is in Suginami Ward. As the station name suggests, this is a student town with Meiji University's Izumi Campus. The Tsukiji Hongan-ji Wadabori Cemetery is a famous landmark behind the station.
Shimotakaido, Sakurajosui, Kamikitazawa 下高井戸・桜上水・上北沢: The north side of the station is in Shimotakaido, Suginami-ku.
Hachimanyama & Roka Koen 八幡山・芦花公園: The north side of the station is Kamitakaido, Suginami-ku. The boundary with Kamikitazawa, Setagaya-ku is intricate.
Eifukucho 永福町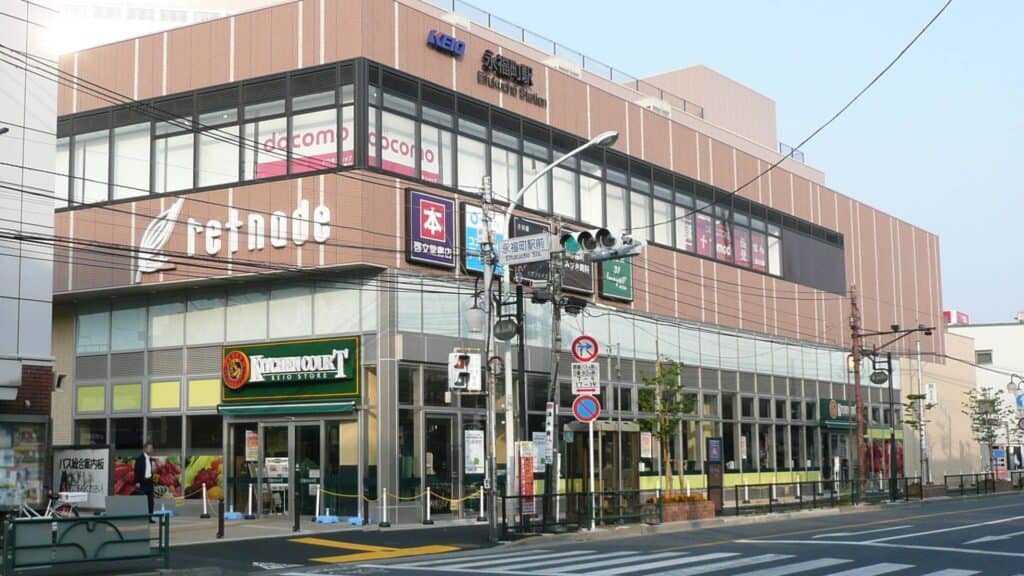 Express train stop on the Inokashira Line. It is like Little Italy. It's famous for its authentic pizzeria and Eifukucho Daishouken.
Nishi-Eifuku 西永福
The nearest station to Matsunoki and Omiya in the remote Suginami area. Musashino-en, a fishing pond in Wadabori Park, is an oasis for locals in the know.
Hamadayama 浜田山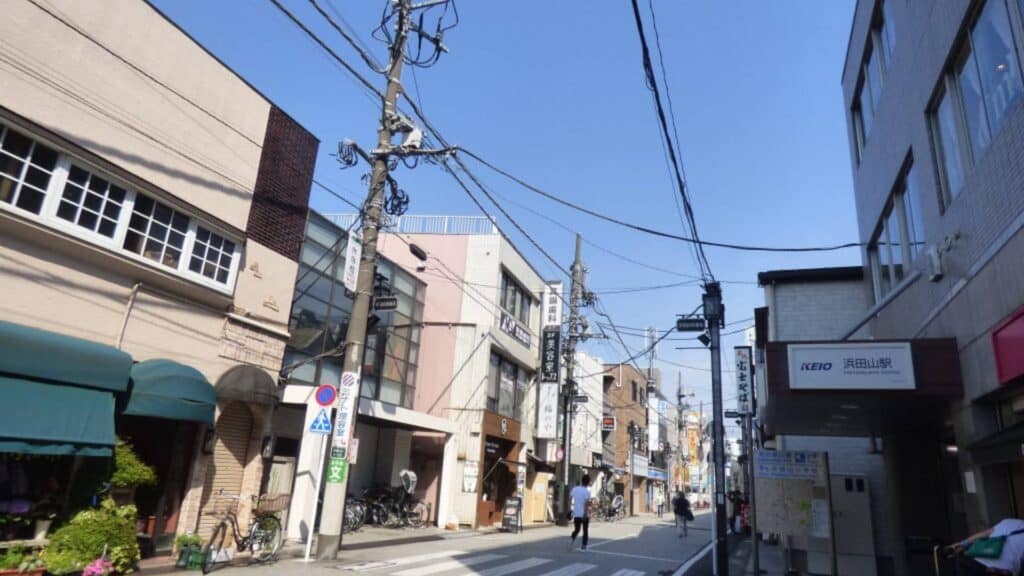 One of Suginami's most expensive areas, lined with luxury foreign car dealers along Inokashira-dori Avenue. The shopping district in front of the station is one of the more prosperous along the line. Park City Hamadayama, a group of luxury condominiums that are a status symbol, has a different atmosphere.
Takaido 高井戸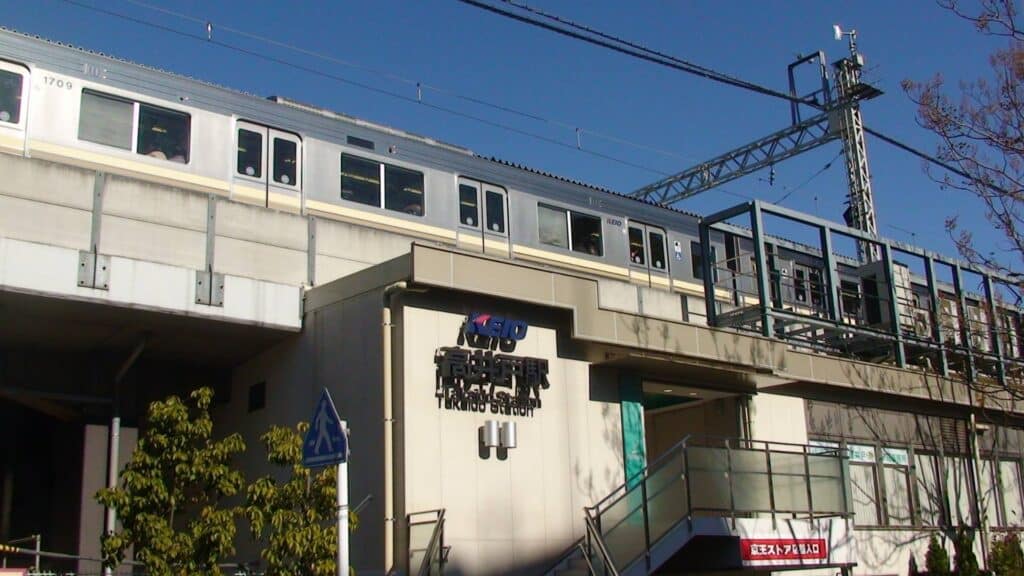 The famous traffic jam of Kanpachi, which can be seen from the station platform, is an interesting sight. It would have been a little better if there had been no opposition to the construction of the Chuo highway interchange. The garbage disposal plant built after the Tokyo Garbage War is a landmark of the city.
Fujimigaoka 富士見ヶ丘
Along with Takaido, this town has a strong opposition movement among residents. A funeral home in front of the station was also built despite opposition from residents, and now the plan for a licensed nursery school has been abandoned due to opposition.
Kugayama 久我山
The home of Kokugakuin University and Iwasaki Tsushinki. In front of the station, there is a ramen shop Kai with a barracks-style appearance. The narrow store is full of student customers. The Higashi-Hachi Road is not yet developed.
Seibu Shinjuku Line
Shimoigusa 下井草: A station with an airy presence. Only Seiyu is in the vicinity. Myoshoji Park, within walking distance, is the source of the Myoshoji River, which submerges Saginomiya and Numabukuro.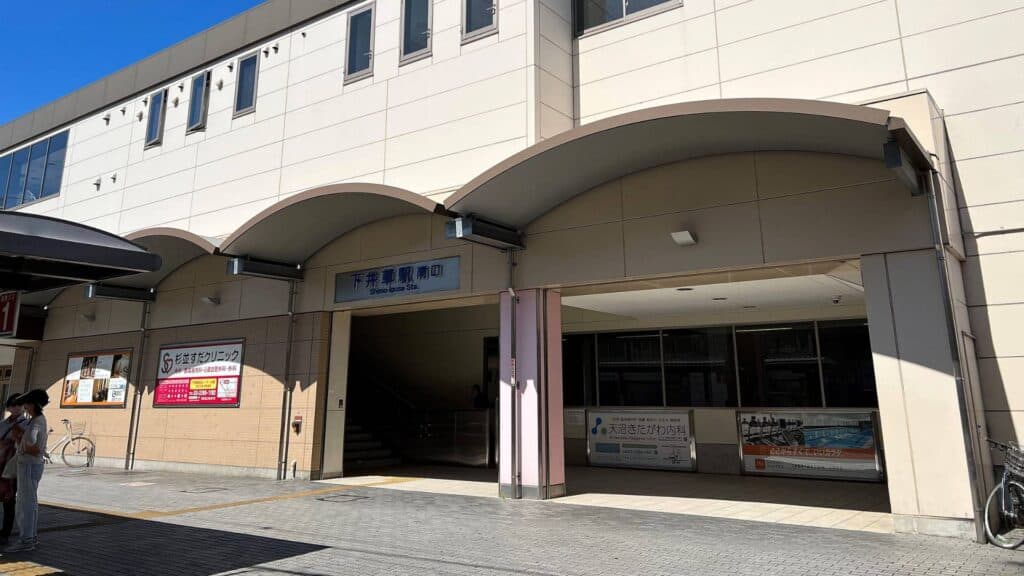 Igi 井荻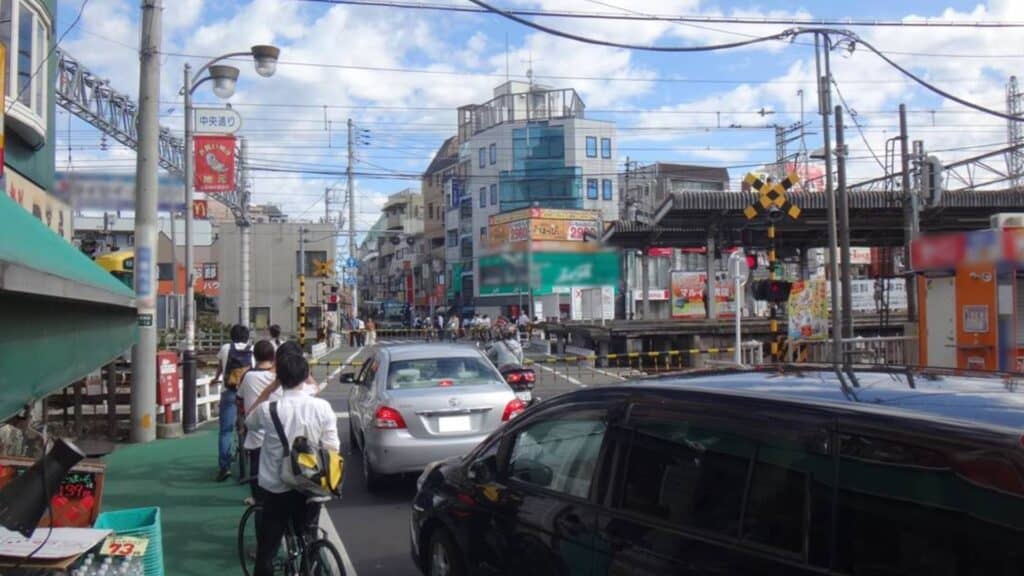 Before the construction of the Ring Road Igi Tunnel, it was a hellish traffic jam spot. There are large luxury condominiums that call themselves "Suginami" even though they are almost on the Nerima Ward side of the city.
Kami-igusa 上井草
Gundam is the name of a Gundam animation production company, so the area in front of the station is covered with Gundams.
Characteristics of Suginami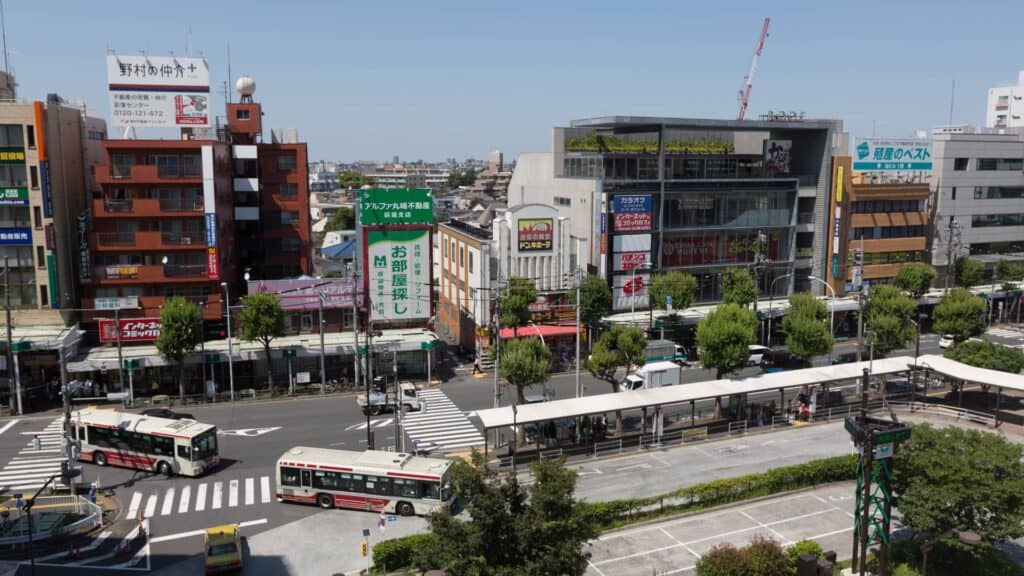 Suginami Ward is an area with easy access to the city centre, yet it is also an easy area to live in, with calm residential areas. Suginami Ward also offers unique administrative services.
Suginami Ward has easy access to the city centre and has the advantages of the suburbs.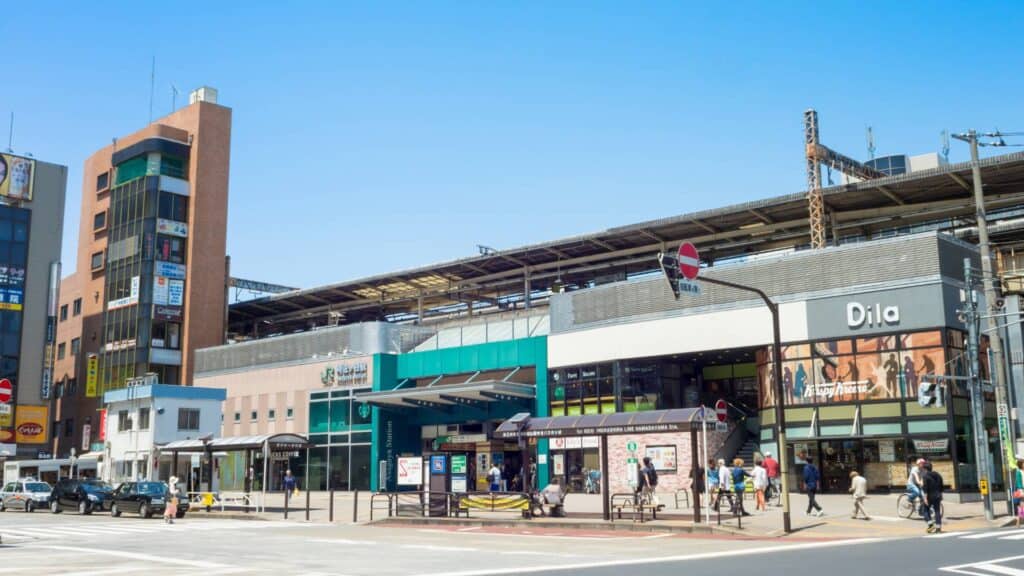 Suginami Ward is located in the western part of Tokyo's 23 wards, an area known as Josai. It is adjacent to Shibuya Ward, Nakano Ward, Setagaya Ward, Nerima Ward, Musashino City, and Mitaka City.
Suginami-ku offers easy access to Shinjuku and Shibuya, and easy commuting to central Tokyo, Otemachi, and Ginza. On the other hand, Suginami-ku is also an area with suburban advantages such as calm residential areas such as Ogikubo, Nishi Ogikubo, Koenji, and Asagaya, and lush greenery with many parks.
A variety of unique administrative services
Suginami City is known for its innovative and unique administrative services. Childcare services are excellent, and in April 2020, Suginami Ward will achieve zero children on waiting lists for the third consecutive year and is also working to improve the quality of its childcare services. With the ageing of the population, the municipality is implementing the "Anshin Otasha Visit" program for the elderly who are not receiving services provided by long-term care insurance.
In addition, to combat the new coronavirus, the ward has established its own Suginami Ward Fever Outpatient Clinic at a flagship hospital and provides subsidies to medical institutions.
What to do in Suginami City Ward
Omiya Hachiman Shrine 大宮八幡宮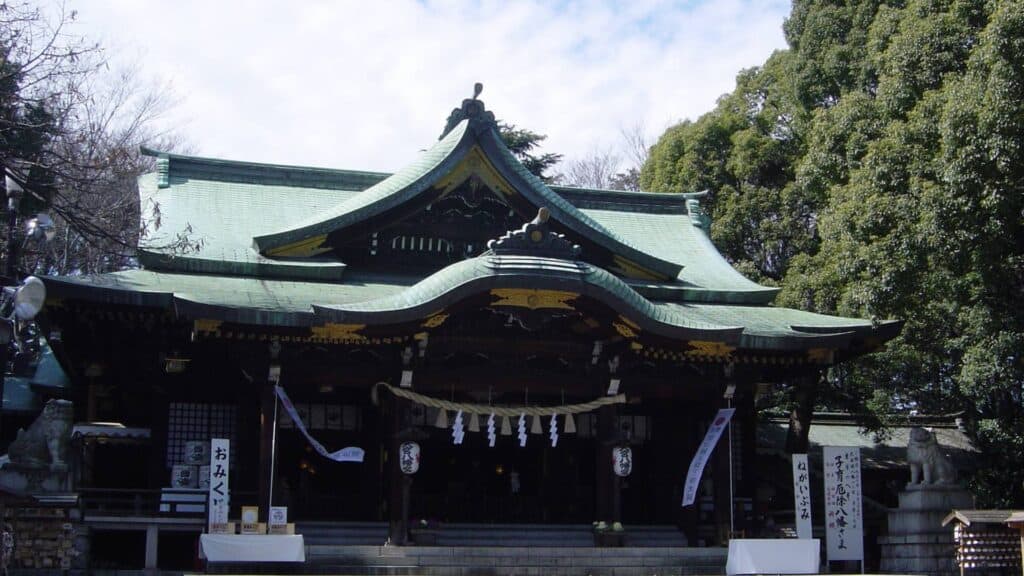 Omiya Hachiman Shrine was founded in 1063 by Minamoto no Yoriyoshi. The shrine enshrines Emperor Ojin, his father and mother, Emperor Nakai and Empress Jingu, and many visitors come to pray for easy childbirth, child-rearing, and match-making, as there are many stories that tell of the deep parent-child bond.
There are also a number of other shrines on the grounds, including Omiya Tenmangu Shrine, which enshrines Sugawara no Michizane, and Ontake Haruna Shrine, which is believed to be the god of agriculture and sericulture.
Find out more about Omiya Hachiman Shrine here on Google maps.
Wadabori Park 東京都立和田堀公園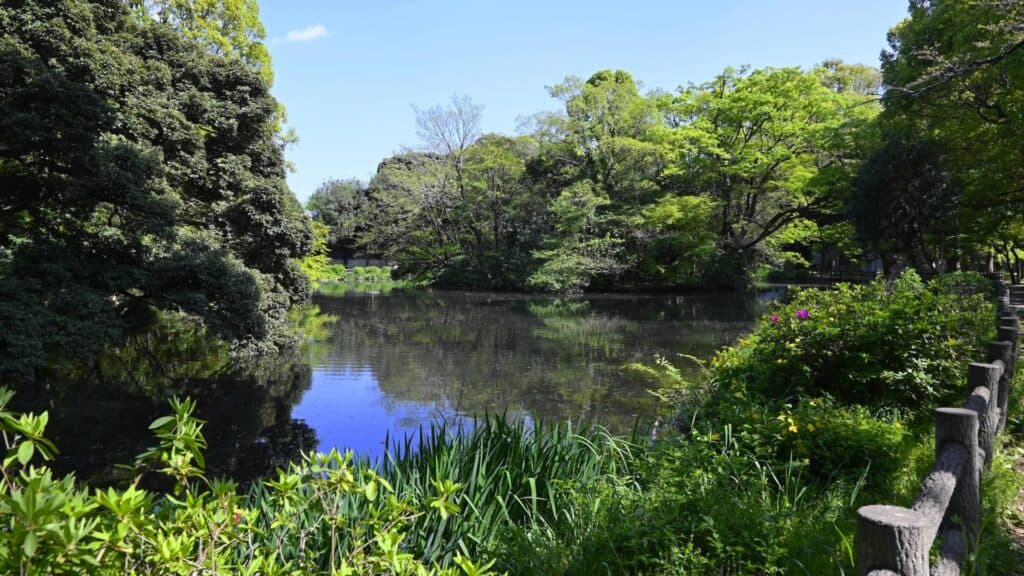 Wadabori Park is surrounded by deep greenery in a residential area of Suginami, Tokyo, creating a quiet atmosphere. The park was originally developed in the 1950s on a site where the ground was low and a pond naturally formed due to the flooding of the Zempukuji River and other factors.
The park, which includes two stadiums, a barbecue plaza, and a baseball field, covers a vast area of approximately 260,000 square meters and spans 12 bridges from the Hakusan-mae Bridge to the Musashino Bridge downstream. The park is also famous as a habitat for kingfishers, a rare waterfowl in central Tokyo, and many people enjoy birdwatching around the wooded area, mainly kunugi and konara oak trees.
Find out more about Wadabori Park here on Google maps.
Nanatsumori 珈琲亭 七つ森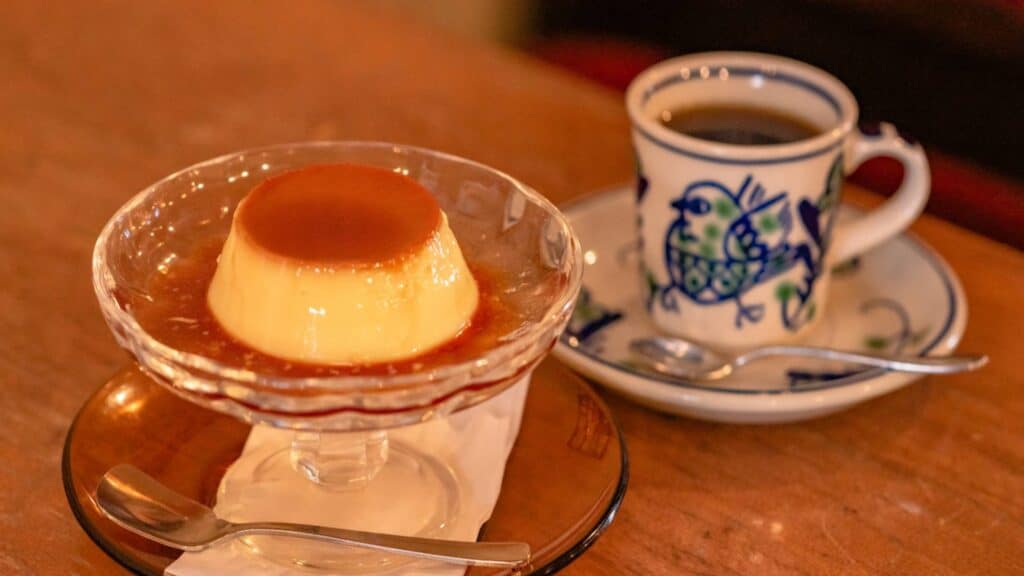 Nanatsumori is a Showa-era retro coffee shop in Koenji. It is a long-established business that has been loved by locals for many years, maintaining the atmosphere of the time when it was founded, and is frequented by many fans of cultural figures.
Most of the menu items are homemade, especially the curry, which includes vegetable curry, keema curry, coconut curry, and a wide variety of others. Other items on the menu, from rice omelettes, Neapolitan, and other meals to cakes and desserts, are made with carefully prepared ingredients. The tea and coffee, which are brewed to order, are also of high quality. The restaurant is open until late at night, 24 hours a day, seven days a week.
Find out more about Nanatsumori here on Google maps.
Mabashi Inari Shrine 馬橋稲荷神社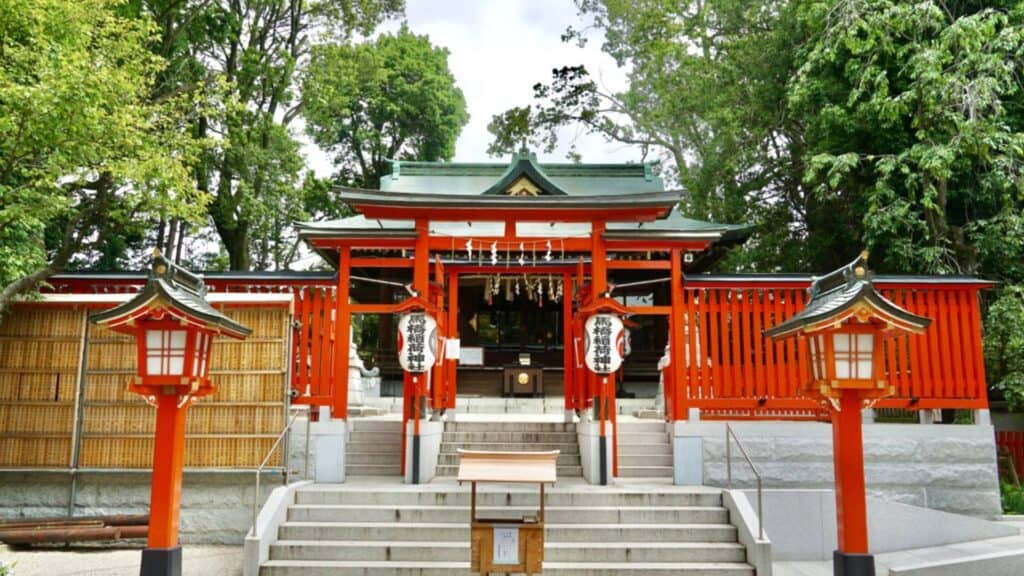 Mabashi Inari Shrine is located in Asagaya Minami, Suginami-ku, Tokyo. During the Hatsuuma Festival in February, a rice-cake pounding ceremony is held in which shrine parishioners pound rice cakes while singing a rice-cake pounding song.
Find out more about Mabashi Inari Shrine here on Google maps.
Utsukushi-no-yu美しの湯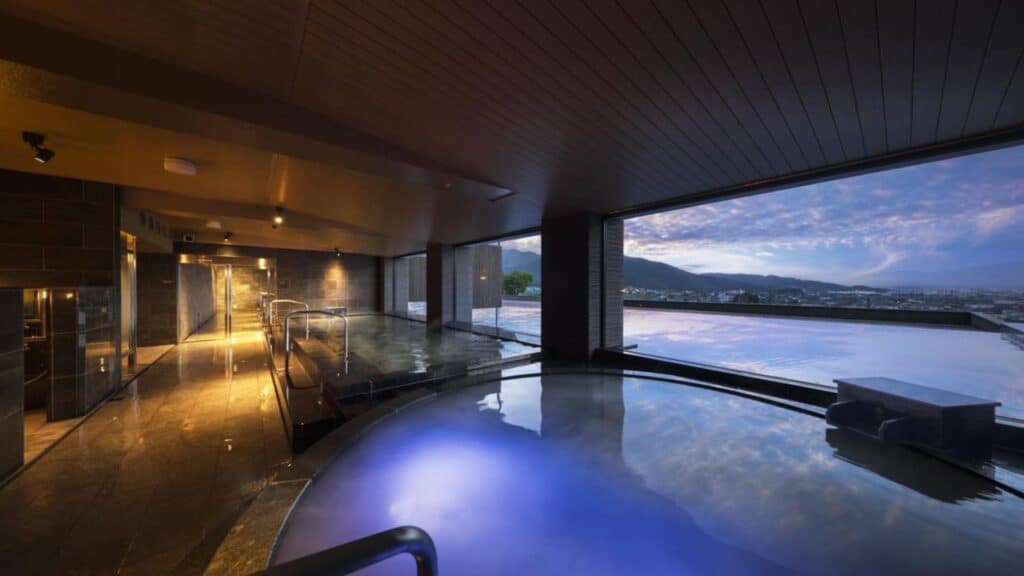 A two-minute walk from Takaido Station on the Keio Inokashira Line, this one-day hot spring is located along Loop Route 8 in the heart of the city, but still allows visitors to feel the seasonal changes in the air.
The hot spring water gushes out from 1,600 meters underground and is an amber-coloured source of sodium chloride high salt hot spring. The hot spring is effective for treating nervous disorders, muscular pains, joint pains, and chronic women's diseases. 
The building is also equipped with a restaurant, which features pesticide-free vegetables grown in an indoor vegetable garden that uses LED lights. The vegetables, which are completely pesticide-free and rich in ingredients, have gained a reputation for their strong flavour and robust richness.
Find out more about Utsukushi-no-yu here on Google maps.
Suginami Animation Museum 東京工芸大学 杉並アニメーションミュージアム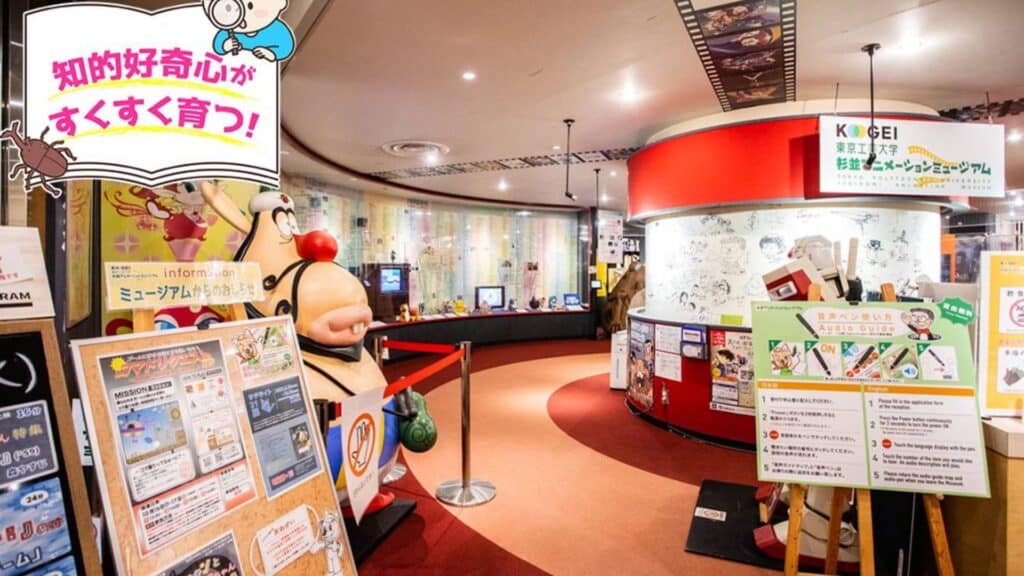 Suginami Animation Museum is a facility where visitors can enjoy learning, experiencing, and understanding Japanese animation as a whole for all generations. It is the first facility of its kind in Japan that comprehensively introduces the entire range of Japanese animation, from its history to its future.
The museum, which offers free admission, screens a wide range of animation, from historical works and art animation to popular works, and also holds special exhibitions that incorporate the latest information on animation. The museum also holds monthly "picture-story shows" and "para para anime" workshops where visitors can learn how animation is made, attracting many families, especially on weekends.
Find out more about Suginami Animation Museum here on Google maps.
Accommodation in Suginami City Ward
Hotel Route-Inn Tokyo Asagaya (3*)
Guests at Hotel Route-Inn Tokyo Asagaya enjoy free in-room internet, a daily breakfast buffet and a 2-minute walk to Minami-Asagaya Subway Station. JR Asagaya Train Station is a 10-minute walk from the hotel. From this station, Kichijoji is a 7-minute train ride From nearby Minami-Asagaya Station, Shinjuku is a 14-minute subway ride. On-site parking is available at a surcharge.
Smile Hotel Tokyo Asagaya (3*)
Smile Hotel Tokyo Asagaya is conveniently located next to JR Asagaya Train Station. From JR Asagaya Train Station, it is a 6-minute ride to Kichijoji Station and a 9-minute ride to Shinjuku Station. Tokyo Station, Harajuku and Shibuya are all within a 25-minute train ride from Asagaya.
Delafino(Adult Only) (2*)
In a prime location in the Suginami Ward district of Tokyo, Delafino(Adult Only) is located 1.9 km from Ogikubo Town Seven Shopping Centre, 2.2 km from Gessoji Temple and 2.4 km from Tekigaiso Park. The property is 2.5 km from Kichijōji Art Museum, 2.6 km from Otaguro Park and 2.9 km from Kirarina Keio Kichijoji Shopping Centre. Amanuma Benten-ike Park is 2.9 km from the hotel, while Tateno Park is 3.6 km away. The nearest airport is Tokyo Haneda International Airport, 40 km from Delafino(Adult Only).
Koenji Junjo Hotel (2*)
In a prime location in the Suginami Ward district of Tokyo, Koenji Junjo Hotel is located 500 m from Takahara Park, less than 1 km from Keimei Park and a 15-minute walk from Sanshi-no-mori Park. The 2-star guest house has air-conditioned rooms with a shared bathroom and free WiFi. Local points of interest like Sanshi no Mori Sports Field and Mabashi Park are reachable within 1.5 km and 1.8 km, respectively. Popular points of interest near the guest house include Nakano Sun Mall Shopping Street, Yamato Park and Nakano Shiki no Mori Park. The nearest airport is Tokyo Haneda International Airport, 34 km from Koenji Junjo Hotel.
TOP EDGE HOSTEL Koenji (1*)
TOP EDGE HOSTEL Koenji in Tokyo provides adults-only accommodation with a bar and a terrace. Around 1.2 km from Sanshi-no-mori Park, the property is also 1.4 km away from Takahara Park and offers free WiFi. Popular points of interest near the accommodation include Sanshi no Mori Sports Field, Mabashi Park and Asagay Central Park. The nearest airport is Tokyo Haneda International Airport, 32 km from TOP EDGE HOSTEL Koenji.
—
What do you think about Suginami Ward in Tokyo? Do you like finding out about the history and culture of this interesting area of Tokyo? There is so much history and unique things to do in this local neighbourhood of Tokyo, if you're interested in coming for yourself, make sure to refer back to this blog.