Have you ever heard of the Tokyo neighbourhood, Tsukishima? Are you thinking about visiting this unique area of Tokyo or even staying in Tsukishima, and wondering what are some things to do, places to visit and restaurants to check out?
There are so many neighbourhoods and areas in Tokyo. Besides the famous towns like Shinjuku, Shibuya and Harajuku, there are many incredible places and spots in Tokyo that are worth a visit. If you're looking to visit a local neighbourhood and check out some hidden gems, Tsukishima might be a great place to check out. In this Tsukishima area guide, let's have a look at what to do in Tsukishima, where to eat and drink in Tsukishima, where to stay in Tsukishima and some hidden gems in the area.

One of the best ways to explore Tokyo is to visit the local areas and immerse yourself in the local culture. If you want to explore local areas, we have created scavenger hunt adventures personalised to your interests, filled with fun facts, clues and puzzles. If you're curious, you can check out the games here!

Check out the Flip Japan Games here!

What is Tsukishima?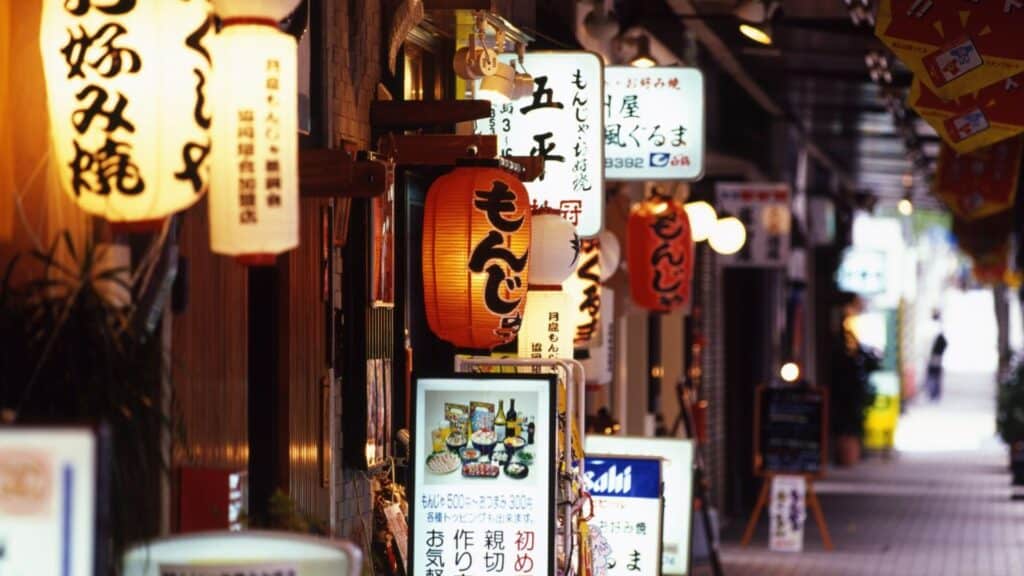 Many people know tsukishima for the monjyayaki that originated from here, but besides monjyayaki, there are actually quite a few activities that are popular in this area. Tsukishima offers stunning cityscapes with beautiful nature and night views, making it a great day trip spot in Tokyo. 
Things to do in Tsukishima
Tsukuda Monjya Street 月島もんじゃストリート
If you come to Tsukishima, you should probably try out monjyayaki. Along Tsukishima Monja Street, you will be able to find all kinds of interesting restaurants and taste the authentic flavours of the Monjyayaki that was born here.
Because this Tsukishima Monja Street" is lined with monja shops, it's a good idea to stop by a few places and compare the tastes of different shops. Besides eating here, there are different shops that make up this street. Take your time and stroll through this area and indulge in the deliciousness of monjya.
Find out more about Tsukuda Monjya Street here on Google maps.
Sumiyoshi Shrine 住吉神社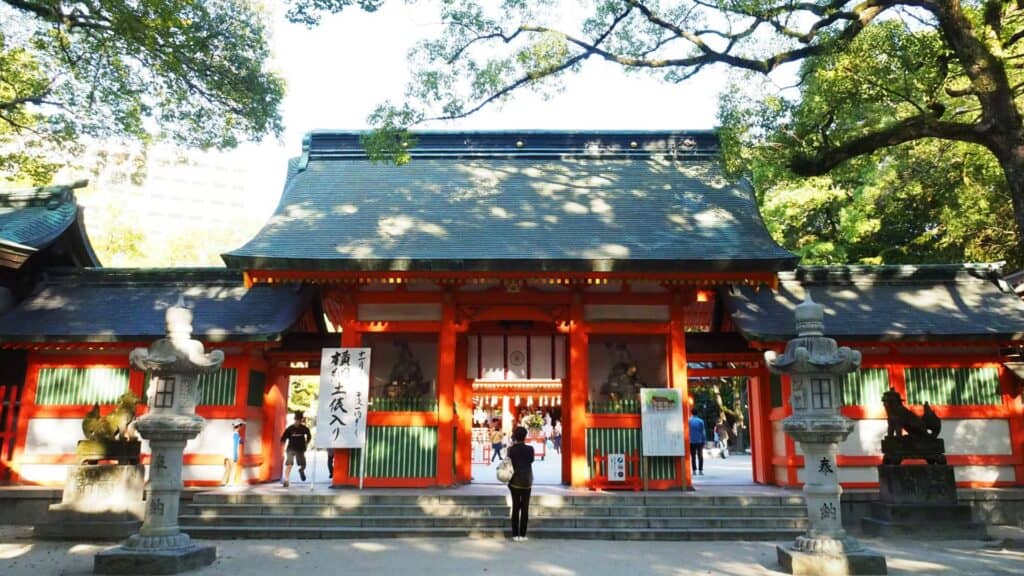 Sumiyoshi Shrine is a shrine that has been worshipped by many people for a long time, including the shipping industry and wholesaler associations. People come here to wish for safety in the sea and travel safety. Even now, it is a famous shrine that is revered as a deity in the four regions of Tsukishima, Kachidoki, Toyomi, and Harumi. It is a calm shrine with a very quiet atmosphere that makes you forget the hustle and bustle of the city.
At Sumiyoshi Shrine, the Kage Matsuri is held on August 6th and 7th every year, and the main festival of the shrine is held once every three years. At the main festival, the octagonal "Hakaku Mikoshi", the evil spirit "Shishigashira", and the "Obori" with a height of about 18 meters are on display. It's an incredible sight to see.
Find out more about Sumiyoshi Shrine here on Google maps.
Tsukudakobashi Bridge 佃小橋
Tsukuda Kobashi has a bright red colour. You can enjoy the contrast between the skyscraper apartments in the background and the scenery of the houses in the downtown area. Apparently, this local peaceful scenery is often used in Japanese dramas.
Find out more about Tsukudakobashi Bridge here on Google maps.
Tsukuda Park 中央区立佃公園
Tsukuda Park is a park that people of all ages can enjoy because it is fully equipped with different facilities and equipment. They even have a Kenko Komichi, a foot massage. The recommended spot in the park is around the terrace along the Sumida River. You can enjoy a relaxing time by watching the people fishing and the sightseeing boat passing through the Sumida River.
Besides that, the area around this terrace where cherry blossom trees are planted is also a popular spot for cherry blossom viewing, so make sure to visit during the cherry blossom season!
Find out more about Tsukuda Park here on Google maps.
Ishikawajima Museum 石川島資料館
Ishikawajima Museum showcases the history and culture of Tsukudajima and Ishikawajima, the birthplace of the modern shipbuilding industry in Japan. It is free to enter and visit this museum and, you can see valuable materials and a diorama model that reproduces the shipyard at that time. If you are interested in history and culture, definitely come and check out this museum!
Note that the museum is open only on Wednesdays and Saturdays, so please be careful when visiting.
Find out more about Ishikawajima Museum here on Google maps.
Kachidoki Bridge 勝鬨橋
Kachidoki Bridge is a historical building in Tokyo that is famous as a "jumping bridge" that opens and closes when large ships pass by. Since this bridge is now closed and no longer in operation since 1970, unfortunately, we are not able to witness this magnificent view. However, if you go to the nearby Kachidoki Bridge Museum, you can different information about this bridge.
You can even see the huge generator used to open and close this bridge and all kinds of materials about how the Kachidoki Bridge was operated at that time. When it gets dark, it will be lit up and you can enjoy another view.
Find out more about Kachidoki Bridge here on Google maps.
Harumi Wharf 晴海埠頭
Harumi Wharf has a beautiful night view. It is a popular date spot for couples, with a view of the famous Tokyo night view with countless skyscrapers, along with Tokyo Tower and Rainbow Bridge. Beautiful luxury cruise ships from Japan and overseas come and park at Harumi Wharf, which is the entrance of the sea in Tokyo. Come and enjoy the stunning night views here.
The recommended photo spot in Harumi Pier is the stainless steel object "Fuyu Ginran" in the Harumi Passenger Terminal. The cubical mirror is blown by the sea breeze and rotates. It's a unique futuristic-looking object.
What do you think about Tsukijima? Are you surprised by the things that you can do here? We have introduced different sightseeing spots in Tsukishima here and hopefully, you will get to come and visit Tsukishima for yourself. Tsukishima is a great city for you to take a day trip to, a place where you can relax and enjoy nature and the night view.
Find out more about Harumi Wharf here on Google maps.
Tsukuda Tendai Jizō-son 佃天台地蔵尊
Tsukuda Tendai Jizō-son is a unique shrine in Tsukishima. As soon as you set foot in this narrow alley, you'll feel like you've stepped back in time. Tsukuda Tendai Jizō-son is in the middle of the alley. The highlight of the place is a large ginkgo tree that grows through the roof of the building. This tree is said to be around 300 years old, and many people come here to feel its energy.
Tsukuda Tendai Jizoson is a small shrine to Jizo, the Buddhist guardian deity of small children.
The Buddhist chief priest, Suu-toku-in, resided at Ueno Kan-ei-ji Temple between 1715 and 1738. The priest is conveyed here with wishing stones in his left hand and a cane in his right. It is believed that the jizo depicted here on the stone is one of 84,000 Jizos that were being built at the time. This jizo provided a critical icon to members of the Buddhist faith throughout the nation.
The Jizo is believed to possess the power to guard children against danger, promote longevity, and deliver prosperity and health. The Jizo has long been worshipped by the local people of Tsukuda as well as many other Buddhist followers from other regions.
Find out more about Tsukuda Tendai Jizō-son here on Google maps.
Monja Restaurants in Tsukishima
Seafood Monja Moheji head office 月島もんじゃ もへじ 本店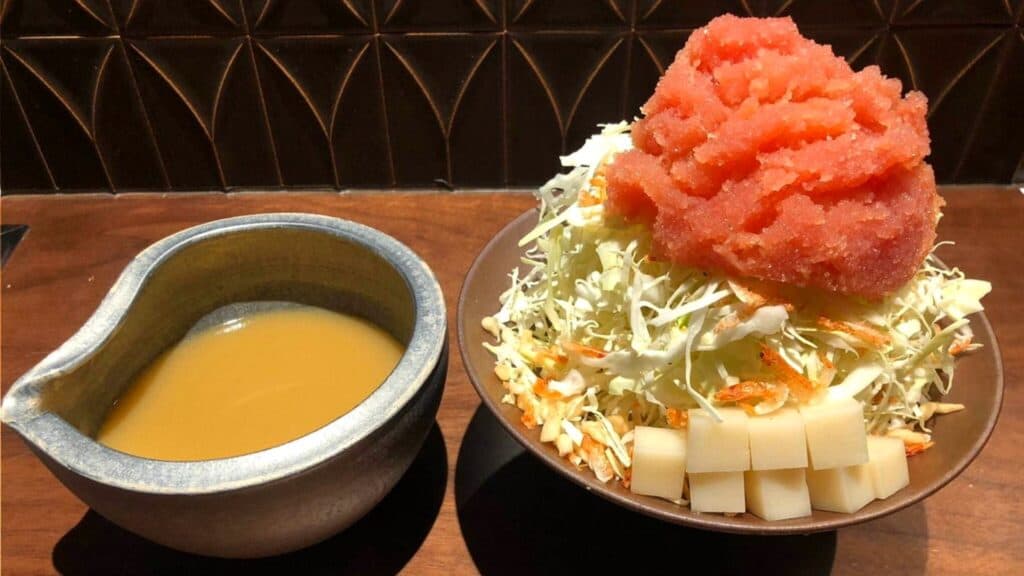 Seafood Monja Moheji is a famous monjayaki restaurant in Tsukishima. Founded 150 years ago, it has long been a favourite of the locals. The monja broth is made from eight kinds of seafood, so the flavour is concentrated.
We recommend the Mentaiko Mochi Monja topped with a generous portion of mentaiko (cod roe), which is brought in fresh from Tsukiji every morning, and cheese! The stickiness of the mochi and the melted cheese are the perfect combination, and when mixed with the mashed mentaiko and the flavor of the mentaiko, it is nothing short of delicious!
One of the most popular stores here is Tsukishima Monja Moheji Main Store. It is open from 11:00 to 23:00, so you can enjoy delicious monja throughout the day. The lines for this restaurant tend to get quite long. If you want to avoid having to wait for a long time, we would recommend you come here outside of the peak lunch and dinner times.
Find out more about Seafood Monja Moheji head office here on Google maps.
Kurumi 来る実
Kurumi is an at-home restaurant run by a father and son. In addition to monjayaki, the restaurant offers a popular dessert called a Japanese crepe, which is filled with red bean paste and other ingredients.
The specialty of this restaurant is the "amaebi monja" (amaebi monja). It contains several whole amaebi, and the flavour of the shrimp is condensed into the monja in this exquisite monjayaki. The miso from the meat and head is used in the monja, giving it a sweet and rich, deep flavour.
Find out more about Kurumi here on Google maps.
Zaichi在市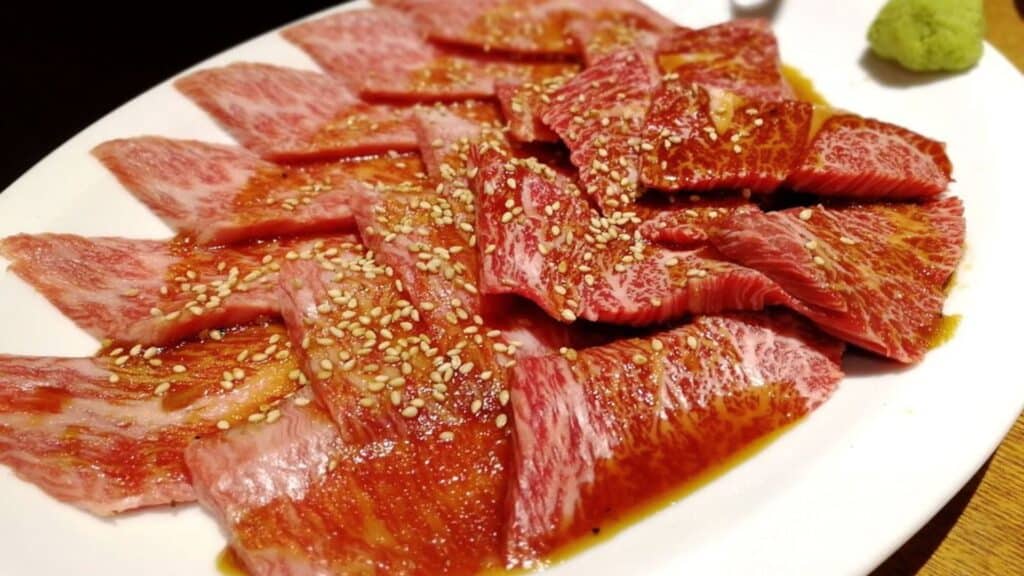 At Zaichi Tsukishima Honten, you can enjoy the highest quality Hida beef with a good amount of fat. The interior of the restaurant is a simple space with a mature atmosphere.
We recommend trying the Kujo-negi Horumon Set with Kujo-negi (Japanese leeks). It is simple, seasoned only with salt and pepper, but the flavour of the meat is brought out and it is excellent.
Another speciality of this restaurant is the "Gocha-maze-yaki. The combination of the various meats and the secret sauce is so excellent that many repeat customers keep coming back for more.
Find out more about Zaichi here on Google maps.
Koboreya Honten 月島もんじゃ こぼれや 本店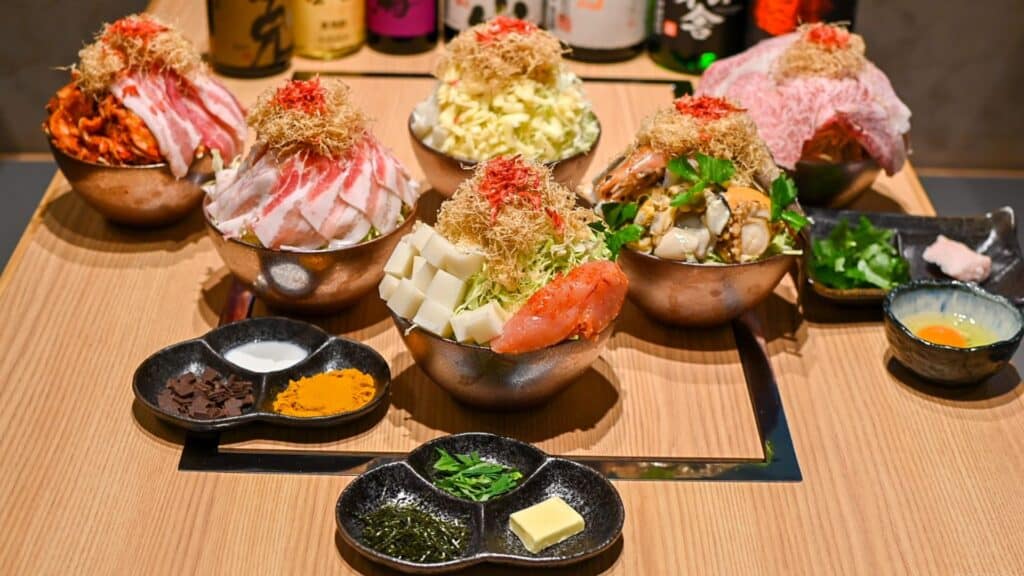 Koboreya Honten is a modern and chic restaurant that is a bit different from the atmosphere of Tsukishima, and the atmosphere inside is calm, making it a good place for a date.
The monja-yaki menu offers a wide variety of dishes. In particular, the monja with several whole oysters filled with plump meat is hard to find anywhere else. The oysters topped with as many as possible are all fresh and oyster lovers will not be able to resist.
Find out more about Koboreya Honten here on Google maps.
Tsukishima Maruta もんじゃ まるた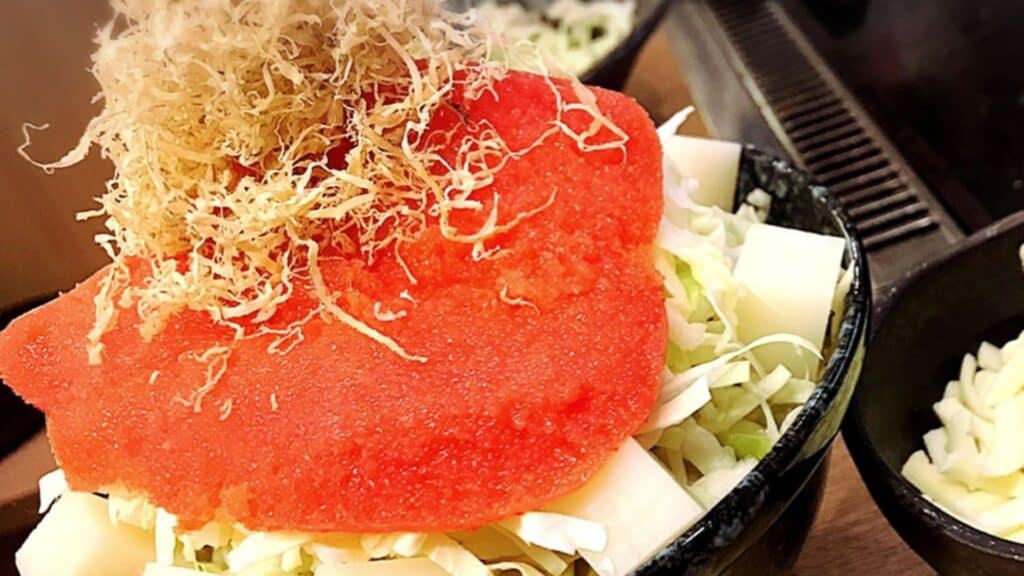 The monja of Tsukishima Maruta is characterised by the motto "enjoy making and eating monja even more," and the monja here is full of originality.
Not only are the monja dishes hearty and satisfying, but they are also visually impressive. The monja is served with great care, and the restaurant attracts many tourists from all over the country.
Find out more about Tsukishima Maruta here on Google maps.
Shinanoya もんじゃ しなのや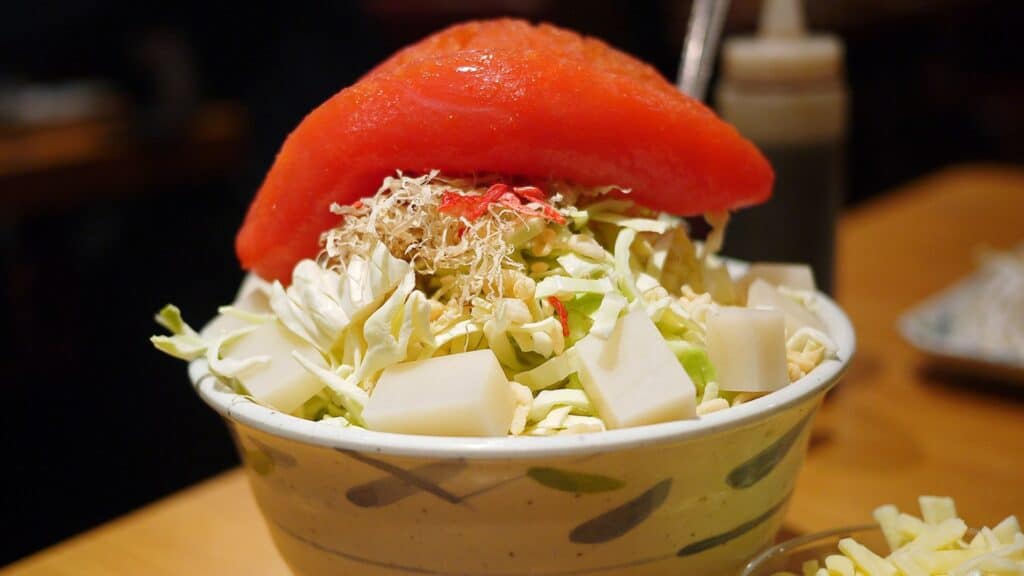 Monja Shinanoya is particular about the dashi broth, which is the key to the flavour of monja, and uses carefully selected dried bonito flakes, kelp, and other ingredients to create a light, yet Japanese-flavored broth with a deep flavour that spreads in the mouth.
The restaurant's speciality is a large "mentaiko monja" that contains half a whole fillet of mentaiko. Compared to other restaurants, the most eye-catching thing about this monja is the size of the mentaiko! The price is a bargain for a mentaiko of this size. If you like monja, you must try this at least once.
Find out more about Shinanoya here on Google maps.
Restaurants in Tsukishima that are not Monja
Tsunematsu Kyuzo つねまつ久蔵商店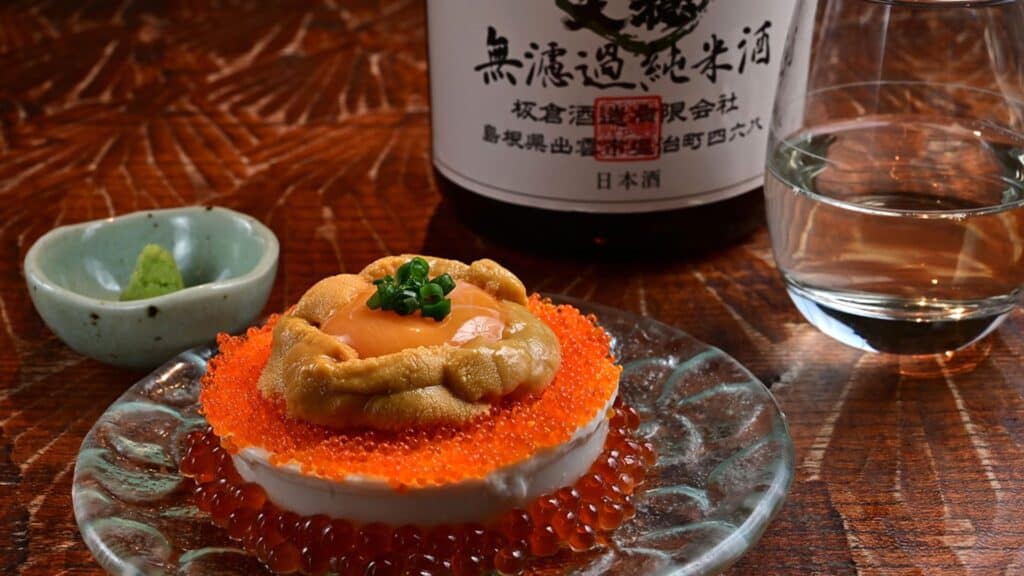 Shimane Prefecture is a sake-producing region. There are many sake breweries, and apparently, the amount of sake consumed per capita is one of the top three in Japan. The owner's family has been a sake brewer in Shimane since the Meiji era, and he has been involved in the sake business for many years.
While loving his hometown and serving as Shimane's tourism ambassador, he opened a standing izakaya in Tsukishima to spread awareness of Shimane's sake. It offers about 20 kinds of sake, from famous ones such as Li Bai and Gassan to breweries that are rarely seen in Tokyo. The fresh fish directly shipped from Shimane will become more flavorful as the weather gets colder. It is also fun to taste the sake and fish that Shimane is so proud of in downtown Tokyo.
Find out more about Tsunematsu Kyuzo here on Google maps.
Yamagatayama 山形山 月島店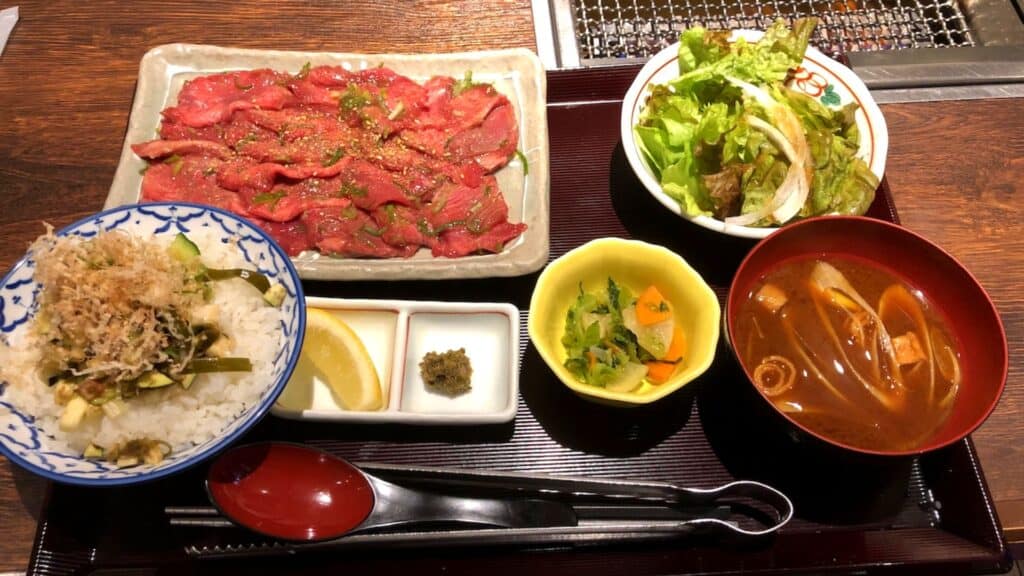 In addition to the standard yakiniku set menus, there are more than 20 different kinds for lunch alone, including roast beef, beef cutlet, yukke-don, kamameshi, and meat soba. Yamagata Prefecture is a treasure trove of ingredients.
The authentic kamameshi, which is rare among yakiniku restaurants, was designed to maximize the taste of Yamagata Prefecture's "Tsuyahime" rice. The menu of Yamagata beef, which is purchased from a whole cow, is also very reasonably priced.
The set menus of offcuts of beef, including sirloin and other top cuts, and the generous spread of roast beef show the spirit of the owner. The interior, built in the image of an old private house, is also comfortable.
Find out more about Yamagatayama here on Google maps.
—
Tsukishima is most famous for its monjayaki. No matter if you like this dish or not, you will want to visit Tsukishima to experience the local areas and underground spots. It is a place that has a slower pace of living so you will feel relaxed here. Come to Tsukishima for a day and check out neighbouring places for more fun activities. Enjoy your adventure around Tsukishima, and refer back to this guide whenever you need to! If you have any questions, feel free to reach out anytime!