Conveniently located just a 30-second walk from JR Osaki Station, Tongue & Lemon Sour Yakiniku Jyutan is a hole-in-the-wall yakiniku restaurant in Osaki, serving delicious meat that arrives fresh daily.
Tucked away in a building that you might easily overlook, you will find this restaurant serving some signature dishes that will take your pallets on a journey!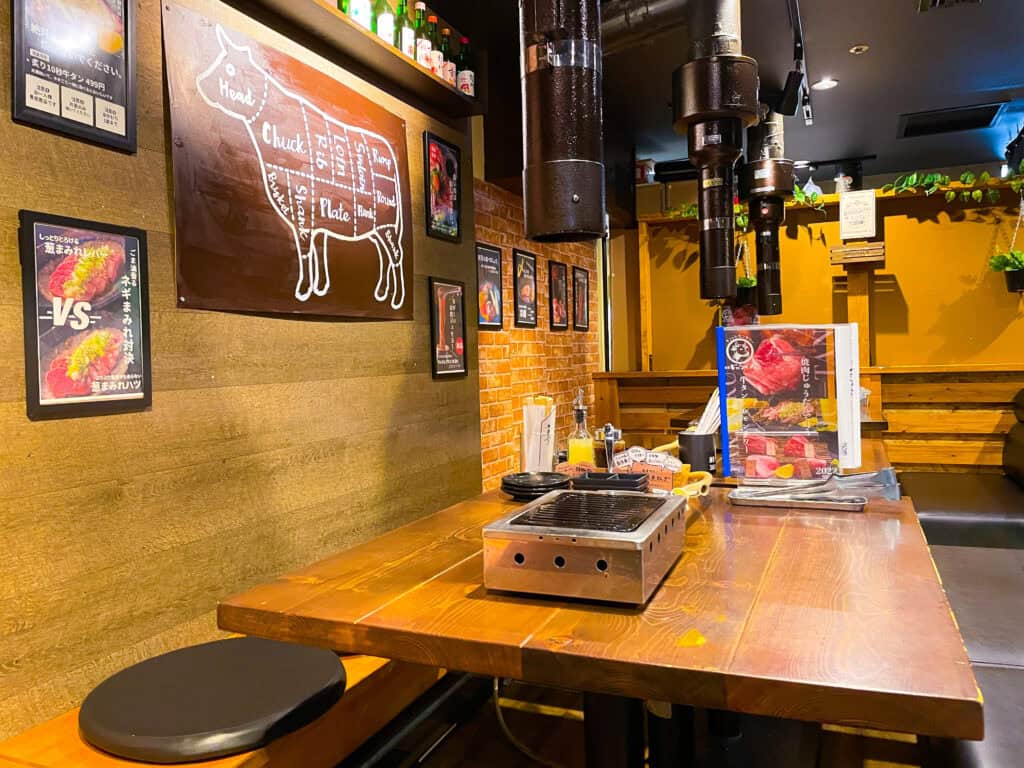 You can try out the famous 'seared 10-second beef tongue' and the signature 'beef tongue sashimi', as well as specially selected wagyu beef and jarred harami.
Paired with their various lemon sours, this restaurant is able to satisfy your every need. Depending on the season, the menu changes and you will find some interesting deals and menus. Stay tuned on special campaigns through their Instagram page.
Here are some of the dishes that we recommend you try out when you visit tongue & lemon sour yakiniku Jutan!
The seared 10-second beef tongue
The restaurant's speciality, Seared 10-second Beef Tongue, which is also derived from the name of the restaurant, has a shelf life of 10 seconds and is served in its most delicious '10-second seared' state.
It is a dish that the owner is particular about, serving one plate per person as a "one-person-only product" so that everyone can enjoy it to their heart's content without worrying about the number of slices.
Simply sear one side of the beef tongue topped with spring onions for 10 seconds. And that's it. No more, no less. You might be tempted to grill the other side of the meat, but they don't advise you to do so.
Seared beef tongue for 10 seconds ¥499 (tax included)
Tongue Sashimi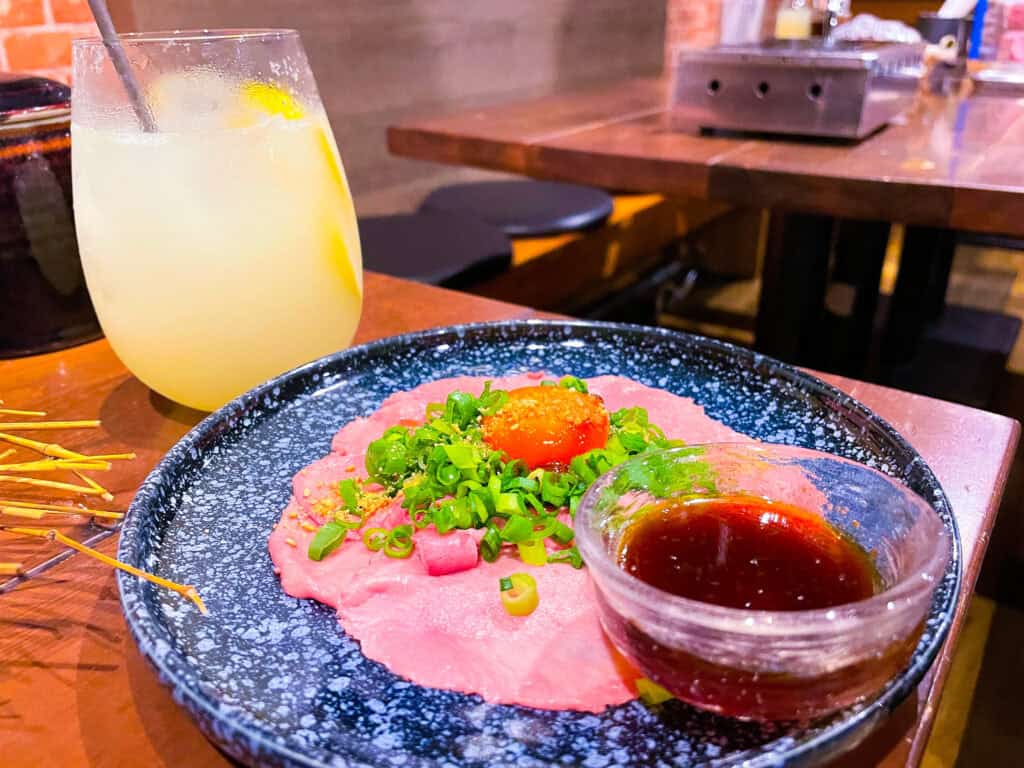 This restaurant's fresh meat is carefully cooked at low temperature for each part of the meat and served as sashimi.
Tongue sashimi: ¥799 (incl. tax), with additional spring onions ¥99 (incl. tax).
Beef sushi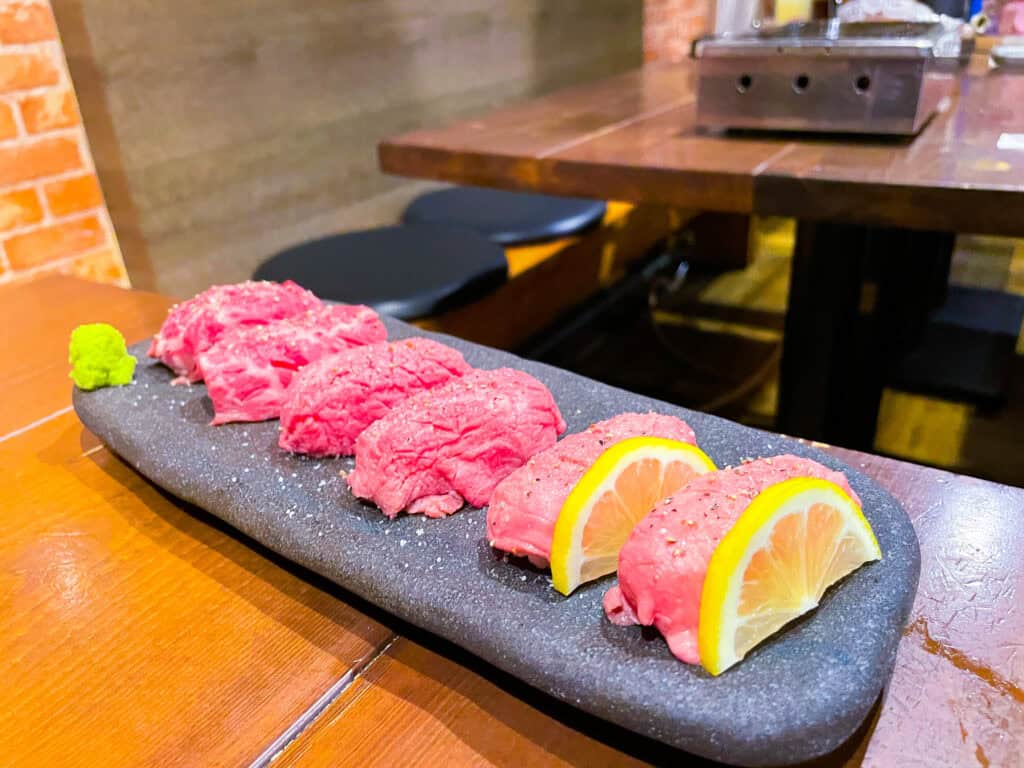 Seared red meat sushi, Seared marbled sushi, Seared beef tongue sushi
Seared meat sushi, 299 yen per piece (tax included)
Wagyu beef platter
The A4 Wagyu beef platter is an assortment of the day's recommended items from Misusuri, Sendai beef tongue, special ribs and more. The tender halami, marinated in a special sauce, weighs a whopping 200g each, and can be served on the grill or cut into pieces to your liking.
Assorted 4 kinds, single price 2,999 yen (incl. tax)
6 kinds of assortment Single price ¥3,999 (tax included)
Do you want to check out these delicious dishes? Even if you're not a fan of tongue, you might find that this restaurant is able to change your mind!
Tongue and Lemon Sour Yakiniku Kyutan Osaki タンとレモンサワー焼肉じゅうたん 大崎店
Location: New Osaki Building 2F, 3-6-17 Osaki, Shinagawa-ku, Tokyo
Telephone number: 03-6420-3736
Opening hours: 11:00 – 15:00 / 16:00 – 23:00
Instagram: https://www.instagram.com/yakiniku_jutan/