If you only have three days to spend in Tokyo for the first time, you will definitely want to take in as much of the city as possible, so while it is important to include historical and cultural sites in your three-day plan, be sure to leave time for shopping and enjoying the nightlife.
Here is a 3-day itinerary in Tokyo to help you maximise your time in Japan, along with the best things to do while you are here!
Day 1
Skytree (Observatory)
The Tokyo Skytree, which is situated in Sumida, the centre of Tokyo, is now acknowledged as the new representation of Japan. Built using the most cutting-edge technology and traditional Japanese craftsmanship, and at a staggering 634 metres tall, the Tokyo Sky Tree was recognised by Guinness World Records as the tallest skyscraper in the world in November 2011.
You can ascend to the 350-meter-high Tokyo Sky Tree Tembo Deck using the elevator. You may take in the breathtaking city views from here and even see as far away as Mount Fuji! The Tembo Galleria, an incredible tube-shaped hallway that gives you the impression that you are walking in the sky, is located 450 metres above ground and another 100 metres up.
Solamachi
At the foot of Tokyo Skytree is a sizable shopping and entertainment centre called Tokyo Solamachi. It is a commercial complex that debuted in May 2012 and has 312 stores with a wide range of offerings.
In addition to serving as a key hub for Tokyo with its busy new downtown ambience, Tokyo Solamachi seeks to be a gate for the city connecting the city centre with the Tokyo Skytree and the Tobu railway line. Tourists from Japan and other countries frequently visit it.
Sumo Show w/ Ex Sumo Wrestlers
The national sport of Japan, sumo, has its origins in the neighbourhood of Yokoami in Sumida-ku, Tokyo.
With the Ryogoku Kokugikan, numerous sumo stables housing wrestlers in various places, and numerous sumo fans still frequenting the area now, the region has a long history of being connected to sumo.
Furthermore, a monument has been built to commemorate the birthplace of Yohei Sushi, who created the nigiri-zushi utilising wasabi and is credited with creating sushi, a dish today enjoyed by people all over the world in addition to the Japanese. Sumo, otekebori, sushi, and other staples of Japanese culture may all be found in Ryogoku.
Ramen Making Experience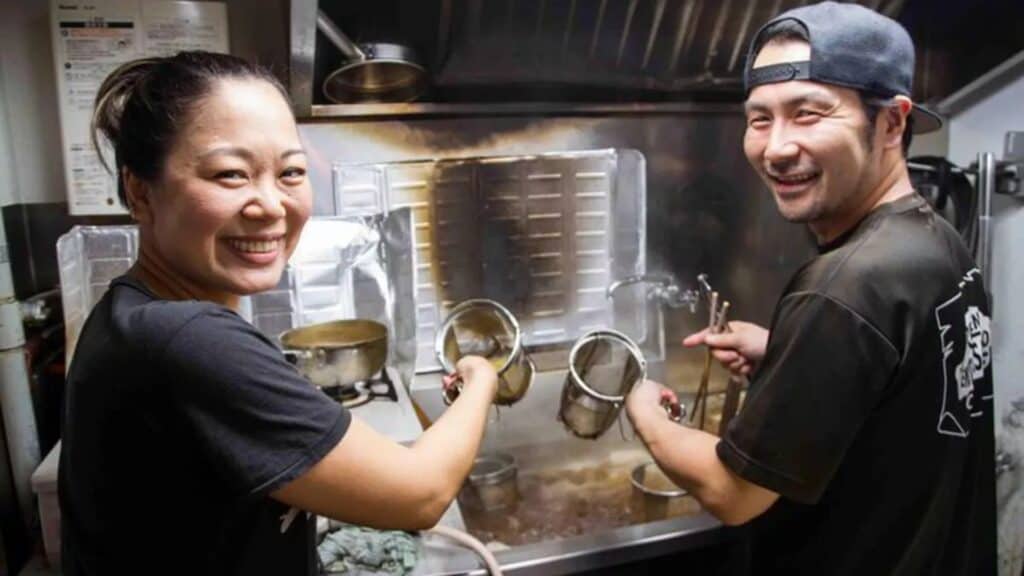 Here, you may learn the Japanese-style technique for creating fresh ramen. Make two bowls of fresh ramen while working in an authentic Japanese ramen kitchen. You will be given access to all the necessary Japanese cooking tools and be shown the standard methods used by a skilled ramen chef!
To remove the water from the ramen noodles, first prepare the noodles and then ladle the broth (soup and spice). The noodles will then be added to the soup along with any desired toppings and arrangements.
Yukata Experience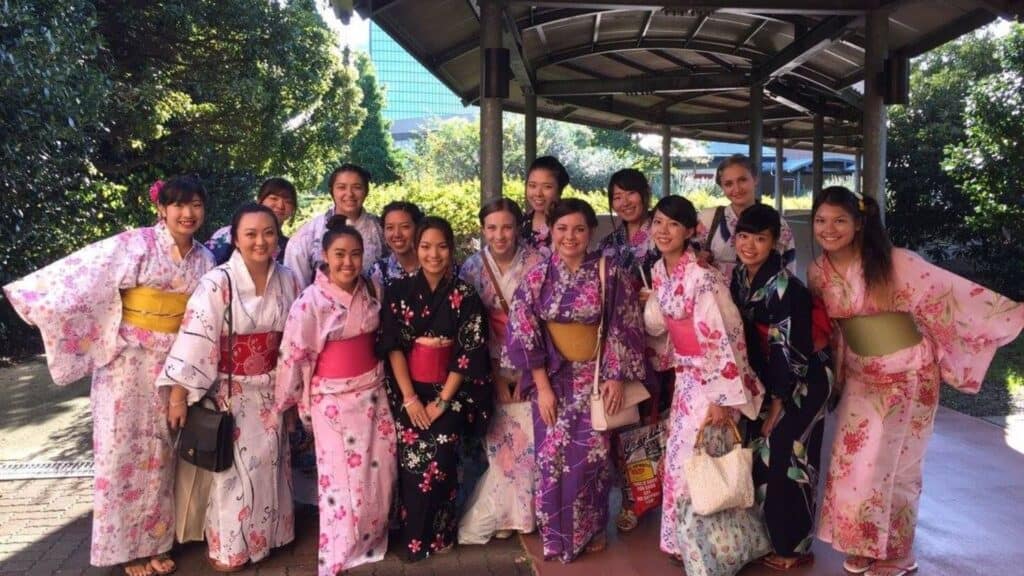 Given its lighter fabric and looser fit, a traditional Japanese yukata is a style of apparel that is worn throughout the summer and can be seen during festivals, traditional Japanese performing arts and dances. To genuinely experience Japanese culture, take the chance to dress in a traditional yukata and walk Asakusa's streets.
Tea Ceremony Experience
Traditional Japanese society is heavily reliant on tea ceremonies. Experience and take pleasure in a tea ceremony at Jidaya, along with an explanation of the origins and tenets of Japanese tea ceremonies. Get a thorough explanation of the tea-making process as well as tips on how to utilise tea accessories like an expert.
Sensoji Temple, Shopping street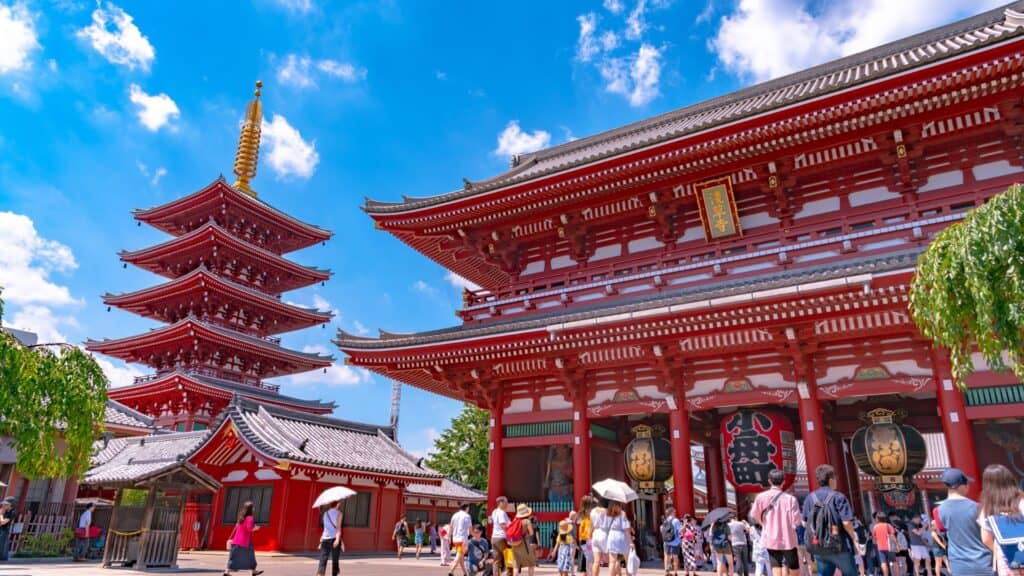 When it comes to popular tourist destinations in Tokyo, Senso-ji Temple is the first name that springs to mind. It is not overstated to say that Senso-ji is a well-known tourist destination throughout the world, receiving about 30 million visitors each year from both inside and outside of Japan.
Asakusa's emblem is the enormous red lantern that hangs over the Kaminarimon (Thunder Gate) at the entrance, and the neighbourhood around the temple is a city that still exudes an air of Edo (old Tokyo).
Lunch: Ramen, Dinner: Kaiseki
Day 2
Tokyo Tower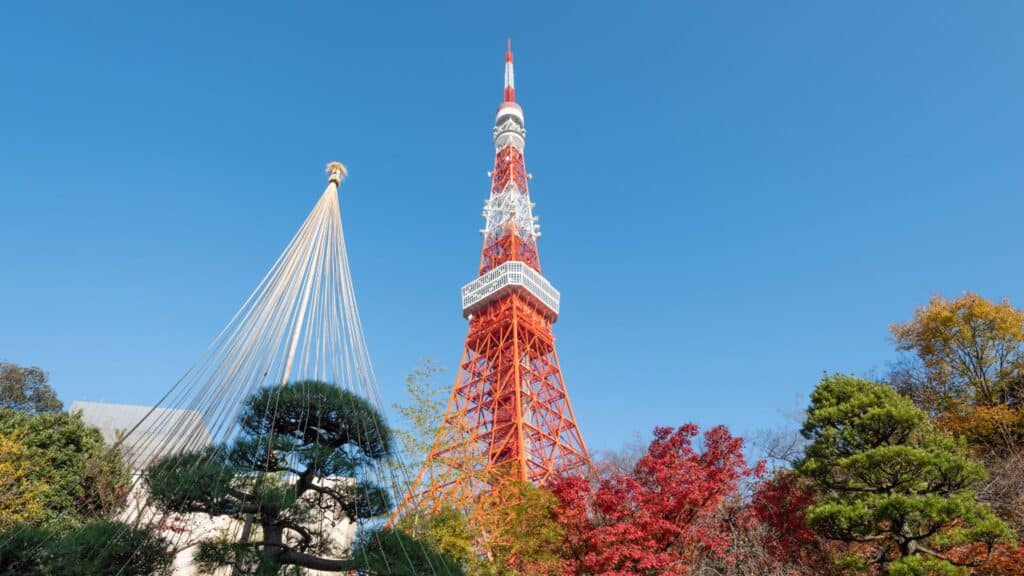 Tokyo Tower, the tallest steel tower in the world at 333 metres high (and 3 metres taller than the Eiffel Tower) is located in the heart of Tokyo. The red and white structure is a representation of Japan's post-war re-emergence as a significant economic force, and it stood as the highest building in the nation from its construction in 1958 until it was overtaken by the Tokyo Skytree in 2012. Tokyo Tower is a well-known tourist destination and a broadcast antenna.
The tower's main deck is accessible by elevator or a 600-step stairway and is located at 150 metres above the ground (both access methods are paid). Despite only being at a relatively moderate height, the observatory provides an interesting perspective of the city because of the tower's strategic placement. A gift shop, a cafe, and various "lookdown windows" on the floor are also present.
Shibuya- Crossing, Shopping
Shibuya is known for the world-famous Scramble Crossing, one of the world's busiest human traffic intersections, with as many as 3,000 people passing through it at a single green light.
Shibuya Scramble Square features a total of 212 of the 'world's most fashionable' shops. You can also visit the Shibuya Sky, the highest point in Shibuya, at approximately 230 m and 47 storeys above ground.
Harajuku- Takeshita Street, Meiji Jingu, Street food, Shopping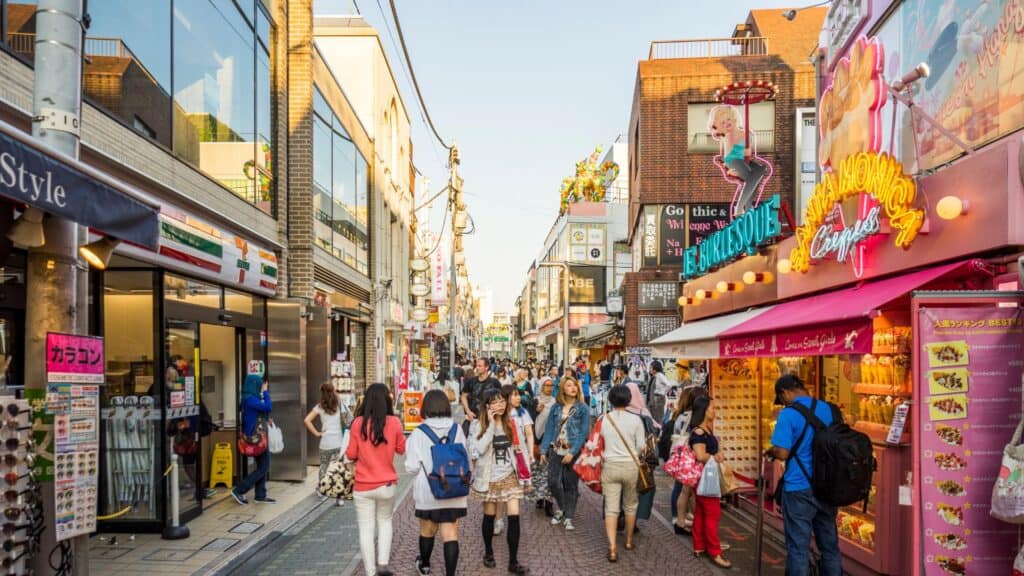 Takeshita-dori has long been known for its take-out shops, including crepes, which are really tasty. The number of unique cafés is also increasing. Harajuku Takeshita-dori is a centre of kawaii culture that now attracts people from all over Japan and the world.
The area is also easy access, as it is right in front of JR Harajuku Station.
Meiji Jingu, a famous Shinto shrine, is on the other side of Harajuku Station. It is dedicated to Emperor Meiji, the 122nd emperor, and Empress Shoken. The 700,000-square-meter Chinju-no-Mori is an artificial forest created with the aim of becoming an "eternal forest" by planting about 100,000 trees that were donated from all over Japan when the Meiji Jingu was founded.
It has the highest number of worshipers in Japan every year for New Year's visits.
Shinjuku- Omoide Yokocho, Kabukicho, Golden Gai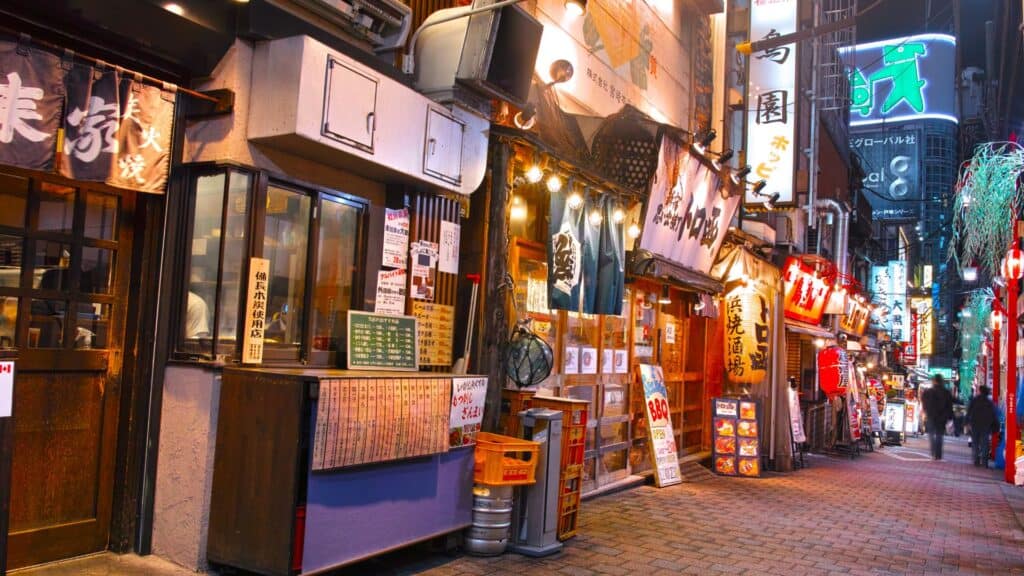 "Omoide Yokocho" is another name for the Shinjuku West Exit shopping street, which is located just outside the Shinjuku West Exit, and is also known as " Yakitori Yokocho" or "Shonben Yokocho". It has its roots in the black market that was created around 1946, and with the post-war reconstruction, there used to be about 300 shops.
Today, it is gaining popularity as a drinking district with many small shops selling various dishes such as yakitori, offal stew, and sashimi. It's a 3-minute walk from Shinjuku station, so it's easy to access, making it a perfect place for office workers on their way home from work to get a drink. Shinjuku Golden Gai (新宿ゴールデン街) is a restaurant district in Kabukichō 1-chō, Shinjuku-ku, Tokyo. It is lined with nearly 300 bars, including snack bars, and is known to be frequented by writers and people in the film and theatre industry.
Lunch: Sushi, Dinner: Izakaya
Day 3
Tsukiji Fish Market
The Tsukiji Fish Market is known as Japan's 'Food Town'. The market comprises of a vast variety of different traditional Japanese foods from wholesale to retail. There are also numerous restaurants and eateries lined up around the area, using the freshest fish and ingredients in Japan.
When the market first originated, it was primarily an area for wholesalers and professionals where products were sold in bulk. However in recent years, the area has become popular with consumers and tourists, and you are now able to find small meals and bite-size tasters. Tsukiji Outer Market is and will continue to be the best marketplace for customers to buy fresh seafood, vegetables, and Japanese traditional food materials.
If you are unsure how to approach this, take a look at Arigatojapan's brilliant Tsukiji Market tour! https://arigatojapan.co.jp/tours/classic-tsukiji-breakfast-tour/
This way you won't miss any incredible foods or experiences while visiting Tsukiji!
Neighbourhoods
Ginza
Ginza is a district of Chūō, Tokyo. It is a well-known premium shopping district in Tokyo, home to a number of internationally renowned department stores, boutiques, eateries, and coffee shops. It is regarded as one of the most costly, stylish, and opulent urban areas on the planet.
Ginza seems to have upscale clothing outlets on every corner. Additionally, you'll find a number of Michelin-starred establishments, the peak of Tokyo fine dining. If you're on a budget, you might find the nicest spots to visit in Ginza are tucked away in dimly lit little passageways. Everything is available, from little gift shops to typical izakaya (Japanese bars).
Akihabara
The central Tokyo neighbourhood of Akihabara, also known as Akiba after a former local temple, is well known for its abundance of electronics stores and has come to be known as the hub of the otaku (die-hard fan) culture in Japan. 
The district's electronic stores are home to a wide variety of shops and institutions that specialise in anime and manga. Akihabara has developed into a hub of Japanese otaku and anime culture in recent years, and dozens of shops specialising in collectables including figurines, card games, anime, manga, and old video games have occupied the spaces between the electronics stores. Along with stores, a number of other businesses associated with animation have gained popularity in the region, most notably maid cafes (manga kissa), where waitresses dress up and perform as maids or anime characters, and internet cafes where patrons can read comics and watch videos in addition to using the internet.
Shimokitazawa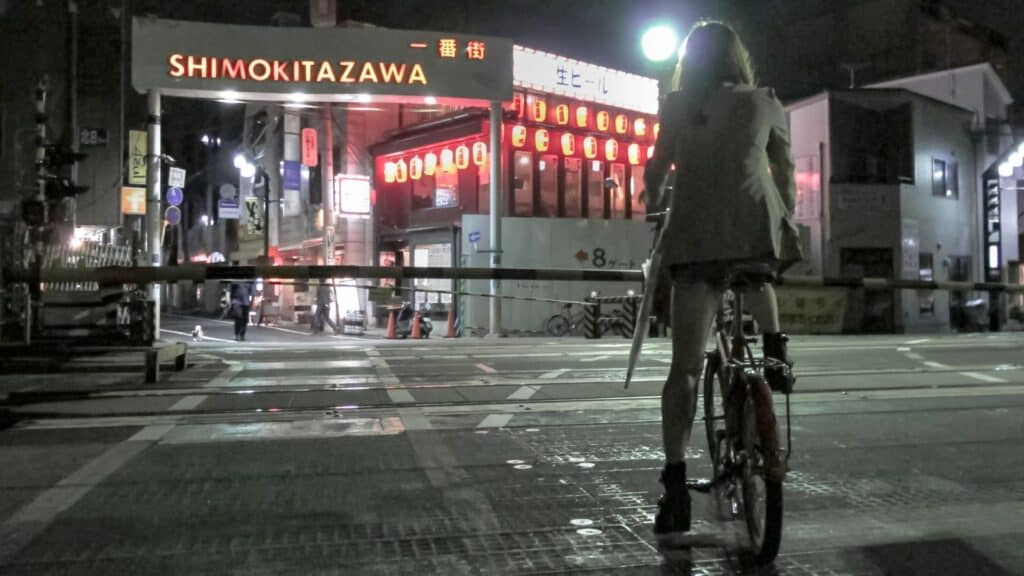 Shimokitazawa, a lively area of western Tokyo only a few stops from Shibuya, is well-known for its profusion of second-hand shops. You may find anything you need for at least 20% off the original sale price, including everything from designer clothing to brand-new phones. Shimokitazawa is sometimes called "Shimokita" for short because it has many theatres, galleries, live houses, cosy cafés, and izakaya pubs. This is a location in Tokyo that is a must-visit for everyone looking for something special!
Since the 1970s, Shimokitazawa has served as the hub of Japan's counterculture scene. Many of the local galleries and venues support independent artists and creatives from the area.
An optional extra – Nakano
A few stops from Shinjuku and sometimes referred to as "Western Tokyo's Akihabara," Nakano is deserving of the moniker "otaku nirvana." However, given Nakano Ward's vastness and diversity, even people who aren't huge manga fans are likely to discover something they like there.
The neighbourhood has mostly withstood Tokyo's relentless modernization drive: walk slightly northeast from the station and you'll discover an old-school, partially pre-war street packed with izakaya, bars, and more. Farther north, you'll find Edo-era temples and peaceful parks. The population is a diverse mix of office employees, college students, and families, with most residents being warm, laid-back, and open for a conversation.
Final Thoughts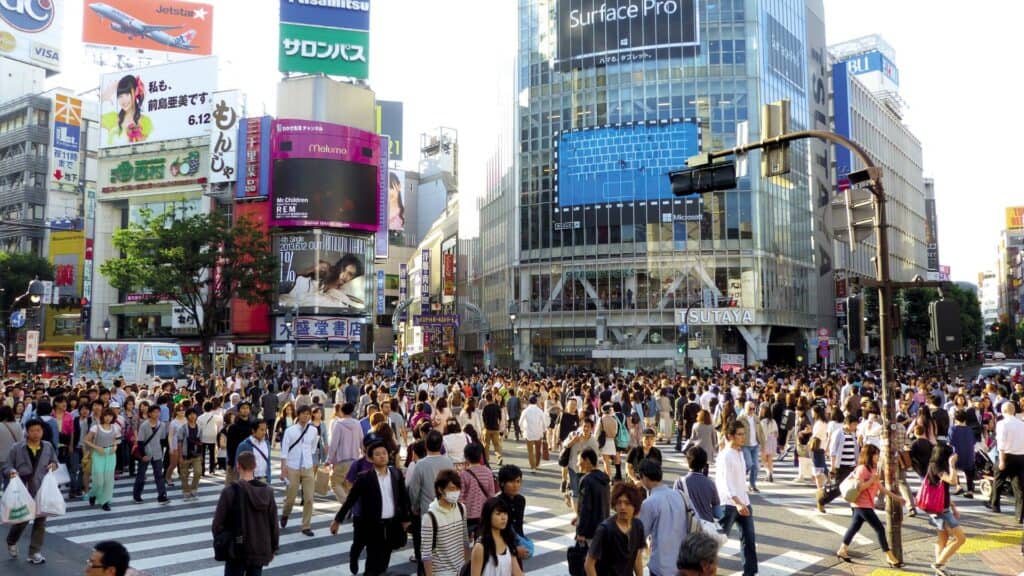 It is extremely difficult to cover all of Tokyo's highlights in a single trip. However, with a little research, you can make a 3-day plan that covers all the essentials. As one of the world's most popular tourist destinations, Tokyo is full of fun things to do. Hopefully, this jam-packed Tokyo 3-day itinerary course helps as a guide for you to choose the most exciting and interesting places to visit during your trip!