Have you ever heard of the Tokyo neighbourhood, Jiyugaoka? Are you thinking about visiting this unique area of Tokyo or even staying in Jiyugaoka, and wondering what are some things to do, places to visit and restaurants to check out?
There are so many neighbourhoods and areas in Tokyo. Besides the famous towns like Shinjuku, Shibuya and Harajuku, there are many incredible places and spots in Tokyo that are worth a visit. If you're looking to visit a local neighbourhood and check out some hidden gems, Jiyugaoka might be a great place to check out. In this Jiyugaoka area guide, let's have a look at what to do in Jiyugaoka, where to eat and drink in Jiyugaoka, where to stay in Jiyugaoka and some hidden gems in the area.

One of the best ways to explore Tokyo is to visit the local areas and immerse yourself in the local culture. If you want to explore local areas, we have created scavenger hunt adventures personalised to your interests, filled with fun facts, clues and puzzles. If you're curious, you can check out the games here!

Check out the Flip Japan Games here!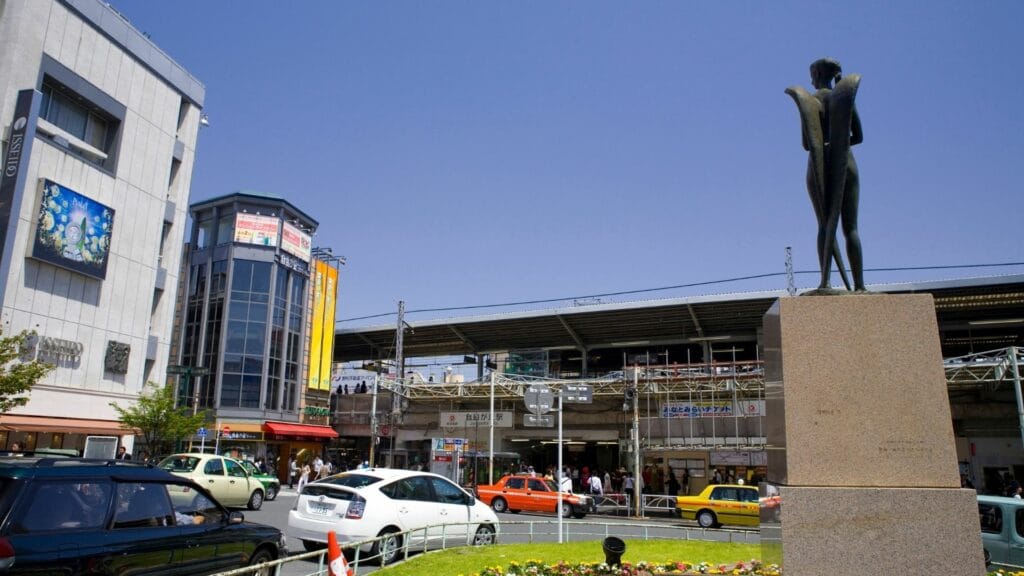 Just a few stops south of Shibuya on the Tokyu-Toyoko Line, the trendy residential district of Jiyugaoka welcomes you with a maze of narrow streets with a European ambience dotted with stylish cafes.
There are plenty of things to do and see here, from the Parisian-style streetscapes to La Vita, the miniature Venice of Jiyugaoka which has a canal and a gondola, just like the real deal.
When you're done with shopping, you can hop on the Tokyu-Oimachi Line train and make your way to Todoroki Ravine Park, a green oasis with a temple, a waterfall, a burbling river and a beautiful red arched bridge.
What is Jiyugaoka?
Jiyugaoka was named after a local school known for its liberal education. Jiyugaoka literally means "Freedom Hill" and it used to be a rural area on the southern end of Meguro that started to develop in the 1920s after rail services were introduced.
Although most of Jiyugaoka was demolished during WWII, the neighbourhood was quickly rebuilt, modernised and currently ranks as one of the most desirable places to live in Tokyo. No matter what day of the week you visit Jiyugaoka, it radiates a relaxed Sunday vibe with wide pedestrian-friendly avenues, fashionable boutiques, enticing craft stores and trendy cosy cafes.
Things do in Jiyugaoka
Shopping
Jiyugaoka has a large number of fashion boutiques and homeware stores perfect for you if you're looking to purchase unique designer items.
Besides designer goods, there are many interesting shops that you might want to check out. Today's Special and Koe House are two miscellaneous goods shops. They sell all kinds of items for your home, kitchen, skincare and all kinds of random goods. The collections and items here have elements of European and Japanese design and lean towards a clean and organic vibe. ​​
If you like interior design or looking for inspiration, visit the designer furniture store Acme, which is just a few minutes walks from the station's main exit.
Jiyugaoka is also known for its concept stores such as Lisette. Lisette stands out as a cosy corner selling exquisite garments regularly imported from France.
Jiyugaoka Depart
Jiyugaoka department store is located in front of Jiyugaoka station. When you leave the station, the building in front of you has about 100 shops from the latest to nostalgic items in various genres such as fashion, beauty, living, life, gourmet and culture from B1 to the 4th floor. The style of this building is a mix of Showa, Heisei and Reiwa. You will feel like you've stepped into a different world when coming into Jiyugaoka Depart.
Find more about Jiyugaoka Depart here on Google maps.
Hikarigai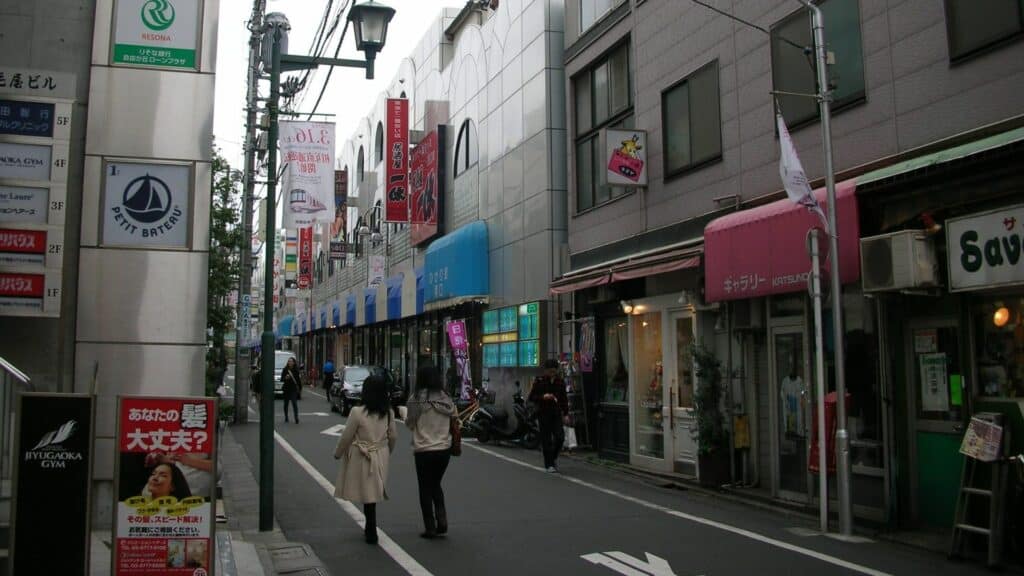 Hikarigai is a shopping street that is a 3-minute walk from Jiyugaoka Station. This street reminds you of a Showa retro atmosphere. There are a variety of shops for you to check out in this area. Many of the shops here have been open for a long time. You can find shops here selling groceries, clothes, pets, accessories, cosmetics. Even if you're not planning to buy anything, it's a good place to stop by and check out the different items they have to offer.
Find out more about Hikarigai here on Google maps.
Todoroki Ravine Park
Unlike most Japanese parks which are well maintained, Todoroki Ravine Park is like an untamed jungle. It is the only valley in the 23 wards of Tokyo, and because this place doesn't get very popular you can truly indulge in the peaceful and beautiful scenery. There is a river and a waterfall with benches dotted around so you can sit and take in all the scenery. We recommend you check this park out if you want an escape from reality into a fairytale world of nature.
Find out more about Todoroki Ravine Park here on Google maps.
La Vita Jiyugaoka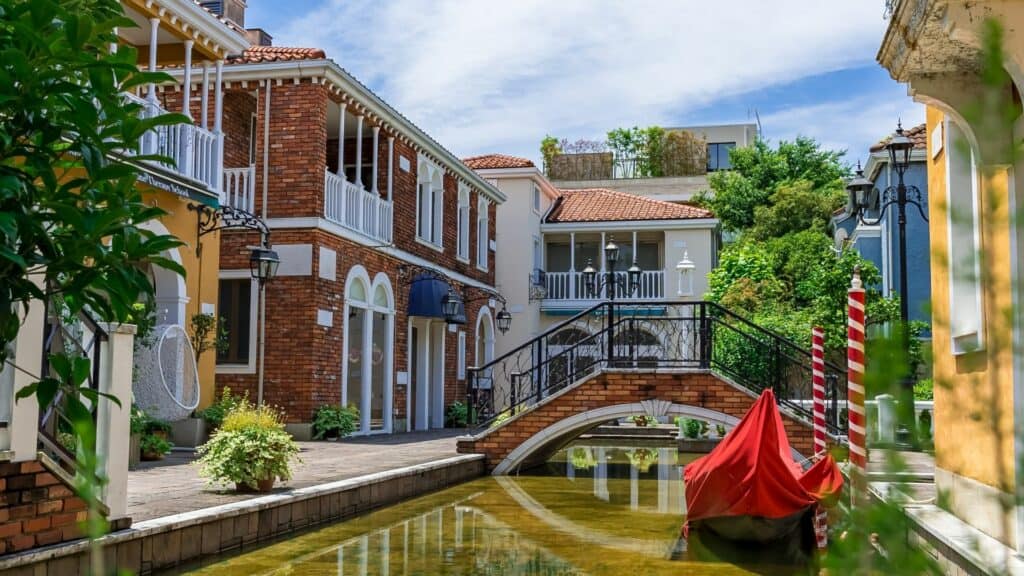 ​While nothing compares to the beauty of real Venice, Jiyugaoka residents have their private spot, La Vita, to indulge in the afternoon dolce far niente. This cosy piazza has everything to make you forget you are in the heart of Tokyo. If you couldn't travel abroad these past couple of years due to covid, La Vita will make you feel in the holiday spirit. This picturesque complex offers many different shops from hair salons to a pet-friendly cafe.
Find out more about La Vita Jiyugaoka here on Google maps.
Jiyūgaoka Kumano-jinja Shrine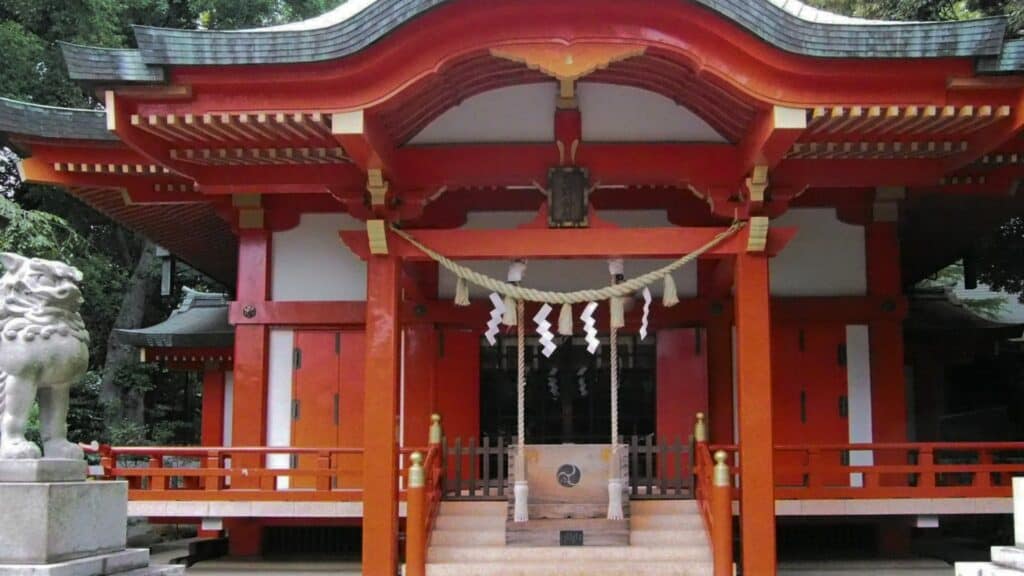 Those who long for a quintessential Japanese atmosphere should check out the local 800-year old Kumano Shrine, famous for hosting the traditional Jiyugaoka International Friendship Mikoshi Festival every September.
Kumano Shrine is the god of Jiyugaoka. A bright red-painted hall of worship and a guardian dog will welcome you. Unlike the main street, which is crowded with tourists, the calm space surrounded by greenery is just an oasis of nature.
The Kumano Shrine annual festival is held in September every year to pray for a good harvest.
There are lots of attractions such as the children's portable shrine (Mikoshi) seen at Kumano Shrine, which boasts a history of over 800 years, the portable shrines carried by people from various countries, and the international goodwill portable shrines! There are many food stalls, so it's cool to wear a yukata and go sightseeing in Jiyugaoka.
Find out more about Jiyūgaoka Kumano-jinja Shrine here on Google maps.
Jōshinji Temple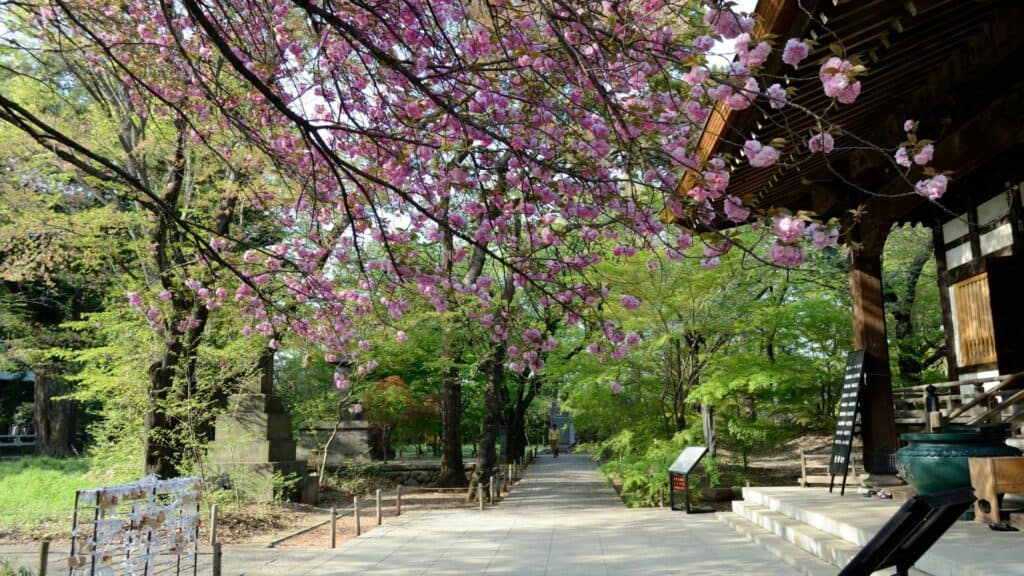 Joshin Temple is also known as Kuhonbutsu. This large complex surrounded by woodland once again serves as proof that Tokyo hosts numerous hidden gems in the most unexpected places.
Joshinji Temple is also home to one of the oldest trees in Tokyo! The temple was first established in 1678 and houses three of the nine Amida Nyorai Buddhas. It is a three-minute walk from Kuhonbutsu station and the temple is beautiful to look around.
Find out more about Jōshinji Temple here on Google maps.
九品仏川緑道 Kuhonbutsu River Green Way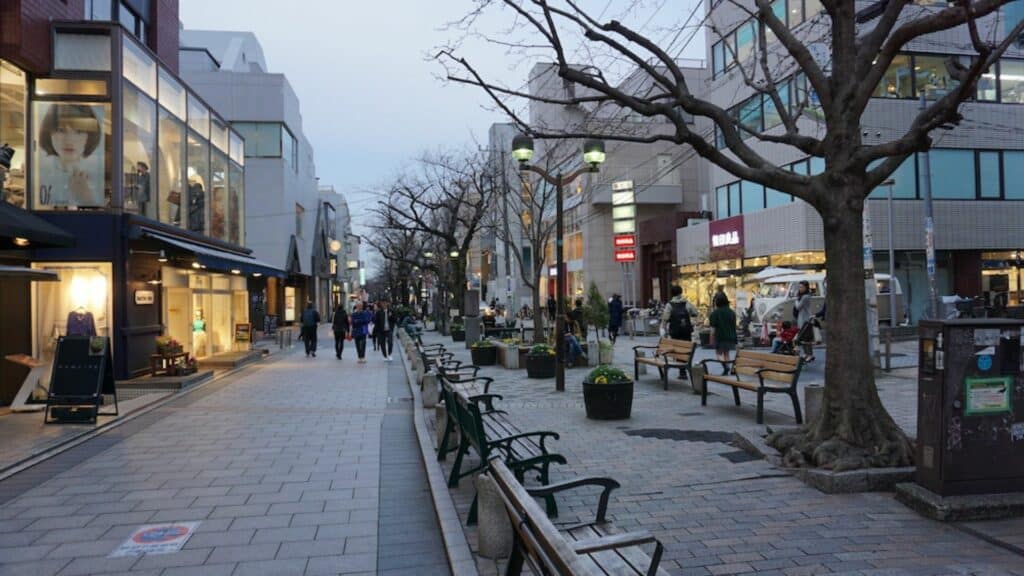 Green Street (Kyushin Buddha River Green Road) is a shopping street that represents Jiyugaoka. It is a beautiful street with impressive cobblestones and benches, which is located in the back of the south exit of Jiyugaoka Station. There is also a fashionable flower shop, which adds to the tranquil ambience. It is a walking course for locals as well as sightseeing and shopping for tourists.
Jiyugaoka South Exit Shopping District, including Green Street, is a city that integrates the public and private sectors. It is a very famous place for cherry blossom viewing in spring. The pale pink flowers will ingrain in your memory as you walk through the street mesmerised by the beauty of the trees, it is a popular spot for tourists and shoppers. It's a great place for sightseeing and dates!
Find out more about Kuhonbutsu River Green Way here on Google maps.
Trainchi Jiyugaoka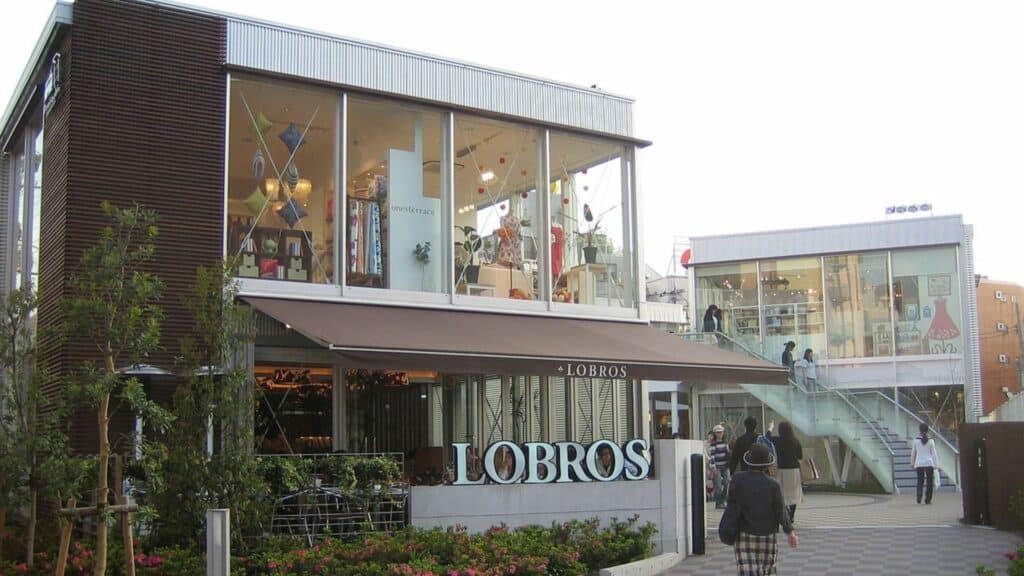 Trainchi Jiyugaoka is a spot where many "cute" people gather in the trendy two-story building. 13 shops that sell miscellaneous goods, cafes, fashion, etc. are gathered here. The stores are rich in individuality and it is good to find unique, one of a kind products. As you walk along aweing at the different shops you may feel your wallet start to loosen as you indulge yourself in the endless goods Trainchi Jiyugaoka has to offer. If you get tired of walking, we recommend tea time at the open cafe, which is full of openness.
Find out more about Trainchi Jiyugaoka here on Google maps.
Restaurants in Jiyugaoka
Whether you're after breakfast, lunch or dinner, you're guaranteed to find a perfect spot in Jiyugaoka to pass some time.
NEW NEW YORK CLUB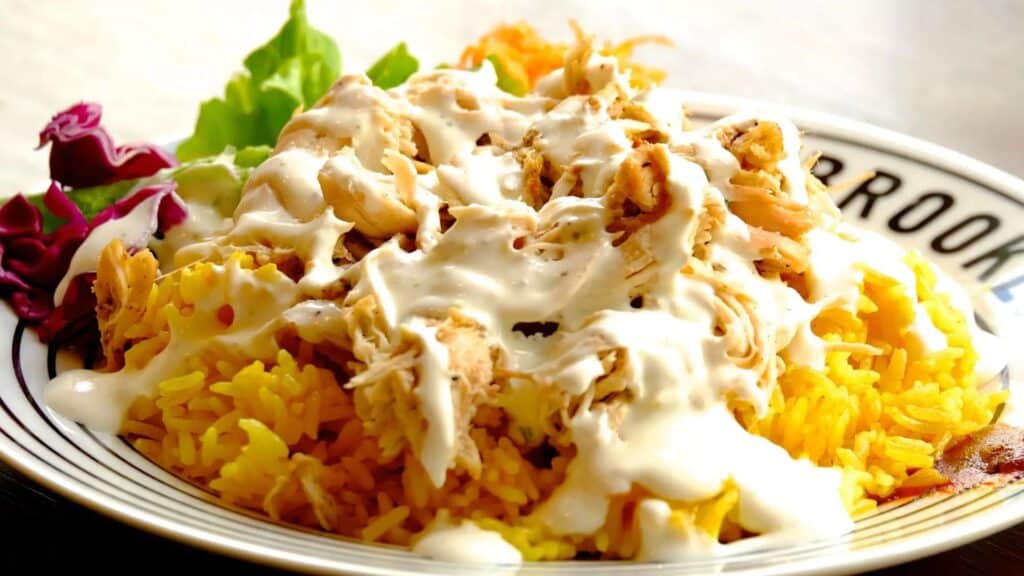 New New York Club mainly offers American comfort food and they are mainly New York-inspired multinational food and drinks. Their signature dish here is the street food "Chicken Over Rice". Besides this signature dish, you can find falafel, BLT sandwich, pulled pork sandwich, smoked salmon cream cheese bagel and grilled cheese sandwich. They also have different vegan options and even a vegan carrot cake. If you are interested in getting some desserts, they also have ice cream sandwiches, banana splits and different seasonal sweets. The decor is also unique, with different American elements, along with different American snacks for you to purchase.
Find out more about NEW NEW YORK CLUB here on Google maps.
Potato Cream
For a light but satisfying snack, head to Potato Cream, a minimalistic little bar that serves mashed potatoes with a gourmet twist: such as the turnip and chicken with Gorgonzola cheese and potato cream, eggplant and minced-meat with tomato cream; and some seasonal highlights — a light pork-and-mushroom creation and a hearty shrimp stroganoff. All of this is conveniently served in small cups in case you want to take it out and eat on a bench in a park.
Find out more about Potato Cream here on Google maps.
Alpha Beta Coffee Club
Alpha Beta Coffee Club is a cafe in Jiyugaoka and it has the atmosphere of a West Coast coffee shop. Inside the store, they offer speciality coffee and home-roasted coffee delivered from roasters from all over Japan. There is a tap on the counter and you can enjoy rare overseas craft beers. The spacious open terrace seats are also popular.
There are 6 types of coffee for you to choose from. Three of them are introduced as "A", "B", and "C", respectively, in analogy to the store name. These are coffee from different places around Japan. The other three types are the brand beans "AO COFFEE" and decaffeination baked at the roaster cafe, Alpha Beta Coffee Roasters, which opened in 2020 in Oyamadai.
Besides coffee, there are different sweets that go well with coffee. The most popular is the "handmade pudding" for 550 yen. With its slightly firm and exquisite smoothness, the texture melts in your mouth. They also have an Avocado Toast for 770 yen. It is made by spreading garlic to the bread of the popular bakery "Toshi Au Coeur du Pan" at Tokyo Metropolitan University, along with plenty of thinly sliced ​​avocado.
Find out more about Alpha Beta Coffee Club here on Google maps.
Peter Rabbit Garden Cafe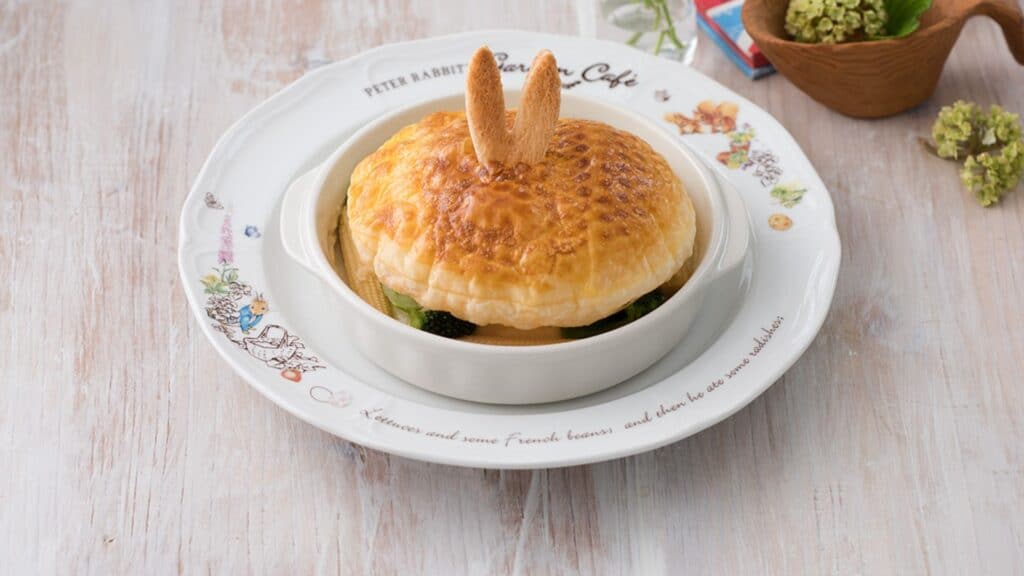 Peter Rabbit Garden Cafe is based on the World Bestseller picture book, The Tale of Peter Rabbit by Beatrix Potter. Here in this cafe, you will get to meet Peter Rabbit and his friends, surrounded by nature. Besides the cafe for you to eat and drink, there is a terrace and a souvenir shop. The spacious area is calming and enjoyable for a relaxing time.
The original menu here is inspired by British cuisine and the food items use local and seasonal ingredients. You can try all kinds of dishes like salad, french toast, roast beef, beef stew, cottage pie and more. Many of the dishes have elements of The Tale of Peter Rabbit. Different unique afternoon tea sets are also available here, along with a huge variety of desserts.
Although most themed cafes have the image of serving medicare food, the food served here is quite delicious and along with the storybook-like atmosphere, it is a great place to visit.
Find out more about Peter Rabbit Garden Cafe here on Google maps.
Yakumo Saryo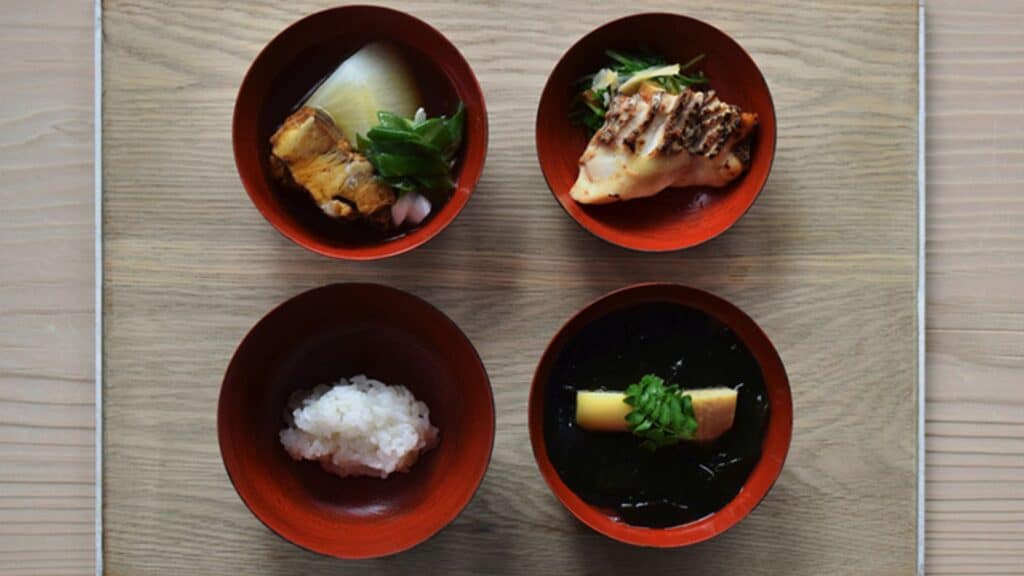 For more elaborate dining, take a 20-minute walk to Yakumo Saryo to savour their modern kaiseki lunch. I was quite mesmerised by the exquisitely refined setting of the restaurant, its contemporary design so skillfully incorporating elements of traditional Japanese interior designs that epitomise zen aesthetics. The moment you step in you realise that it is a place where all your senses will be involved, a place that evokes an immediate sense of peace and calm.
Tea lovers must not leave without visiting the century-old Tea House Kosoan which serves as a little sanctuary from the city's hustle and bustle. It's a perfect place to immerse in authentic Japanese aesthetics by savouring the matcha tea and wagashi whilst sitting on tatami floors and admiring the beautiful landscaping of the garden.
Find out more about Yakumo Saryo here on Google maps.
Sweets Forest
Those with a sweet tooth will find themselves in heaven at Sweet Forest, a dessert parlour that houses a few little cafes all housed inside the colourful space that looks like a fantasyland. A few blocks away, you'll also have an option to dine at the Peter Rabbit Garden Cafe, in an old English house in the company of Peter Rabbit himself. Each table has a stuffed toy sitting on the chair to make sure no one feels lonely. You can enjoy savoury set menus, as well as desserts and drinks — all garnished with the Peter Rabbit logo.
Find out more about Sweets Forest here on Google maps.
Bake Cheese Tart Jiyugaoka
And right as you plan to head towards the station, do yourself a favour and buy a cheese tart or two from the Bake Cheese Tart shop from Hokkaido. Its founders strongly believe that the cheese tarts taste the best when they're freshly baked and that's exactly how they sell their tarts. No matter when you visit, you're guaranteed to get nothing but fresh, fragrant and warm cheese tarts.
Find out more about Bake Cheese Tart Jiyugaoka here on Google maps.
フェリーチェ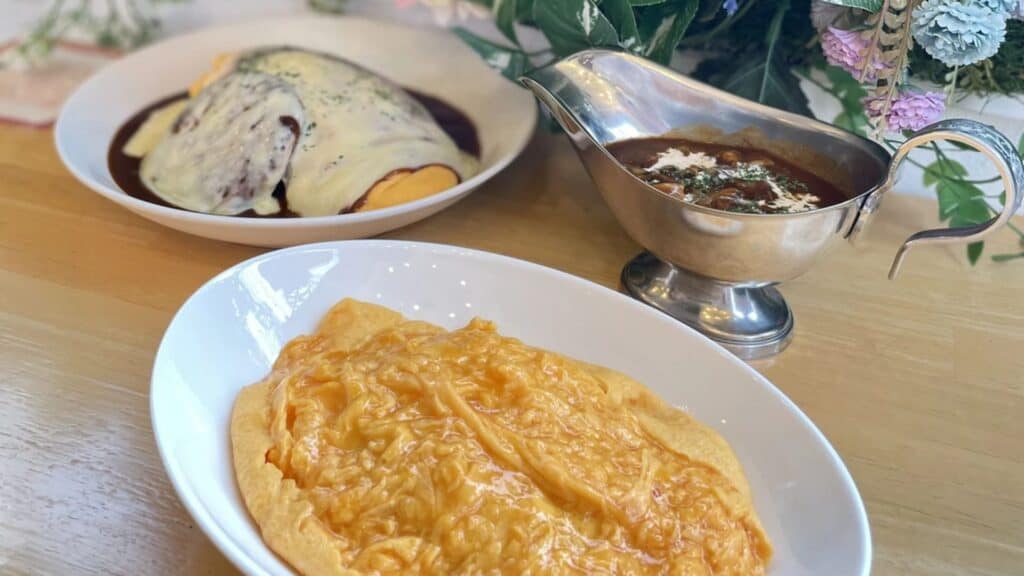 Felice is on the corner of a multi-tenant building, this hidden restaurant is best known for its fluffy omelettes. The selling point of the omelettes is that they are half-boiled. Once you cut open the omelette with your knife it melts over the rice and is so delicious!
Find out more about フェリーチェ here on Google maps.
Namino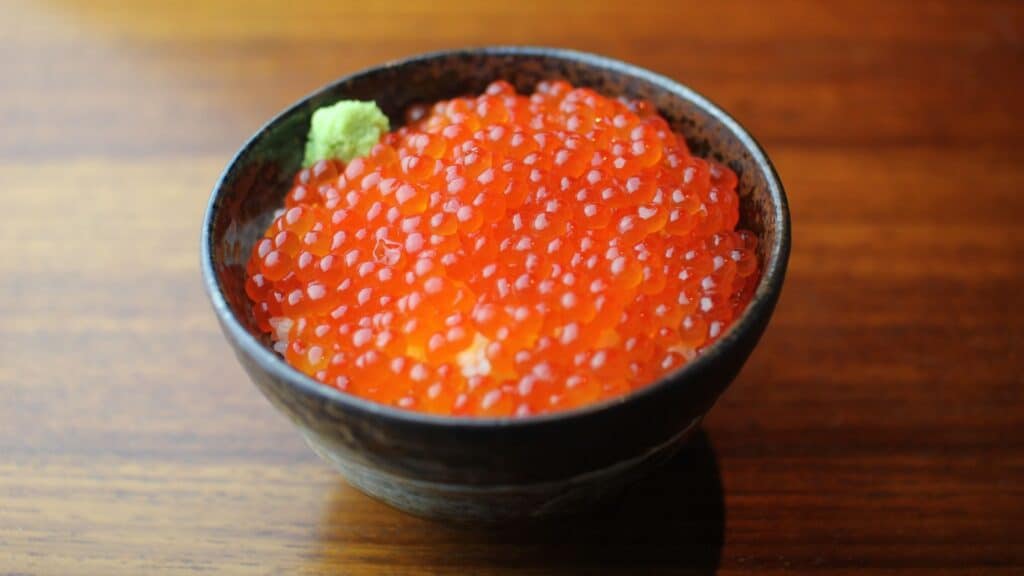 Namino is a store that is well known for its Salmon roe bowls (ikura.) You can choose from a variety of ikura types on your donburi. If you really enjoy it, you can even buy the ikura at the store and take it home! The flavour of the ikura that bursts in your mouth complements the rice extremely well and is worth checking out if you are a big fan of seafood.
Find out more about Namino here on Google maps.
Uozen taimeshi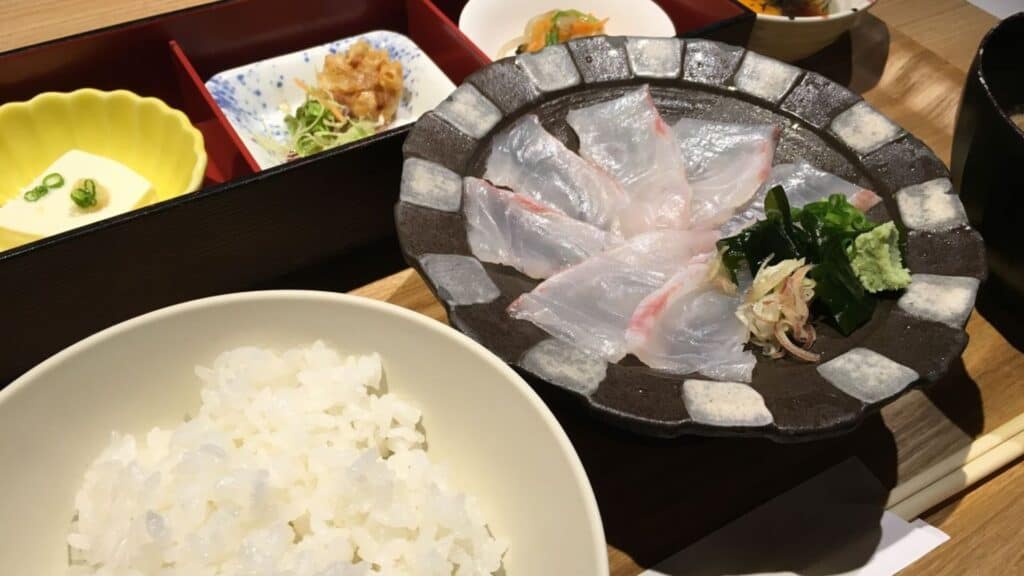 Uozen taimeshi is a popular restaurant where you can eat fresh sea bream. With the lunch set, you can get a sea bream ochazuke and a sea bream rice set. These come with a variety of side dishes and they are available at a reasonable price at around 900-1100yen. Different seasonal ingredients are added according to what is freshest at the time. If you come here for dinner, you will find different dishes centring around fish such as sashimi, grilled fish, deep-fried dishes and more.
Find out more about Uozen taimeshi here on Google maps.
En Lavida
En Lavida is a Spanish bar where you can enjoy all kinds of tapas and wine. They offer 9 to 10 kinds of glass wine, which changes every month. They also have a large selection of bottled wine, mainly from Spain. For food, they have different Spanish dishes here, like Paella, steak, ham and much more. The restaurant isn't huge, with 16 counter seats and 2 tables. These are two half-tables made of wine barrels. From early spring, terrace seats are also available. The staff is friendly and you will enjoy having a relaxing and delicious time here.
Find out more about En Lavida here on Google maps.
FINCA de LAVIDA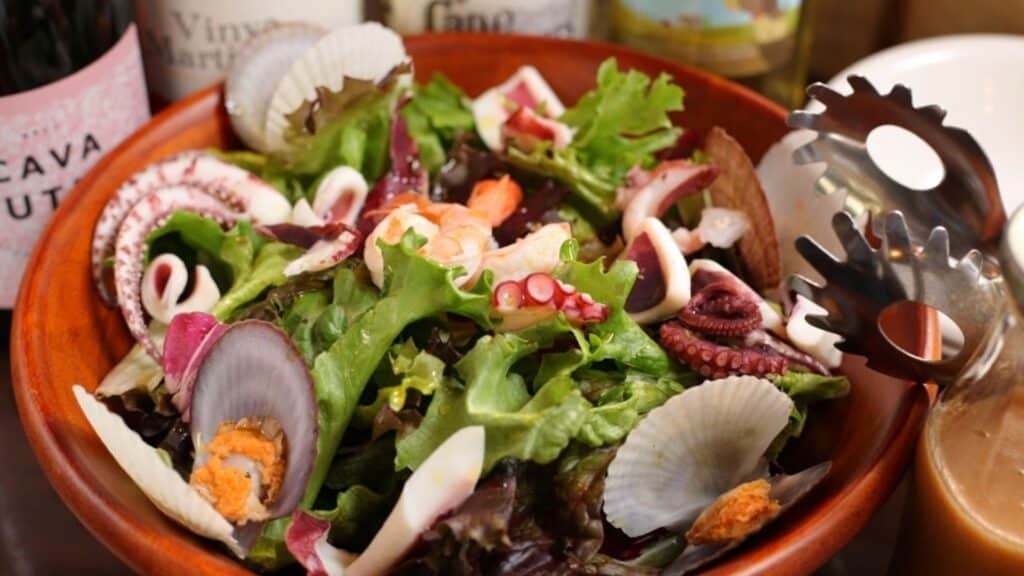 Finca de Lavida serves all kinds of authentic Mexican dishes. This restaurant is known for its Fajitas, a hot dish with a lot of vegetables on an iron plate. Wrap it in corn tortillas with your favourite salsa, which is all homemade at the restaurant. The chef chooses each bottled wine and they pair well with the food. Tequila is also available here to go with your food. The store is a small space, but the seats are spacious. The ceiling is high and the restaurant is decorated with Mexican goods!
Find out more about FINCA de LAVIDA here on Google maps.
Hai-Sai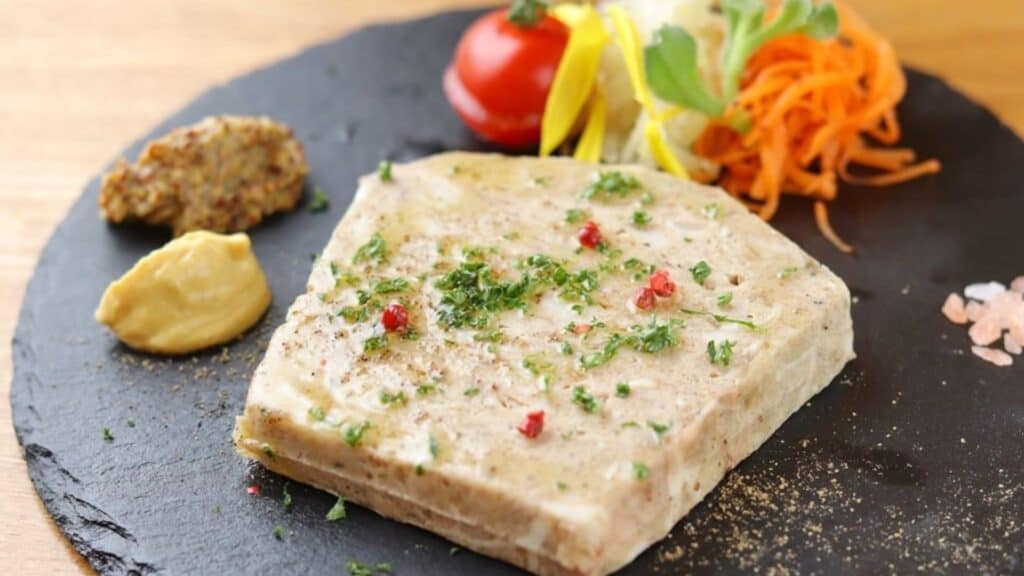 Hai-Sai is a great place to get Okinawan food. The moment you get off the elevator and the door opens, a big shisha welcomes you in a spacious and open space. You can taste the signature Okinawan dish here called goya champuru. It is made by boiling bitter gourd, pork rose meat and spam in a soup stock made from pork bones and bonito. Here in Hai-sai, they top this dish with a soft-boiled egg. Awamori is a great drink that goes well with Okinawan cuisine and you can get different types of Awamori from various Okinawan brewers.
Find out more about Hai-Sai here on Google maps.
Little Mona
Little Mona is a casual restaurant, serving French and Italian dishes. Ingredients are sourced directly from the production area. For lunch, they have several set menus. Dinner offers daily recommended dishes. Some delicious options include roast beef and crab tomato cream sauce pasta. They serve a variety of drink options and they offer bottled wine from 2800yen per bottle.
Find out more about Little Mona here on Google maps.
Hosakaya ほさかや
Hosakaya is an eel izakaya near Jiyugaoka station. It is a popular restaurant with a retro atmosphere. Hosakaya opened in 1950, shortly after the end of the war. The original owner of the shop wanted to offer eel, a high-class ingredient, to ordinary people. Since it opened more than 60 years ago, the taste of the store hasn't changed and this retro store continues to be loved by local people.
The shop prepares fresh eels every morning. They offer a wide range of snacks that go well with sake. They are especially famous for their eel on skewers. There are a few types to choose from and the price of the skewers start from 250yen. If you come here for lunch, you can also eat an eel bowl here at a reasonable price, with the middle size bowl at 900yen and the bigger bowl with more eel at 1600yen.
Find out more about Hosakaya here on Google maps.
Hotels in Jiyugaoka
Hotel Gajoen Tokyo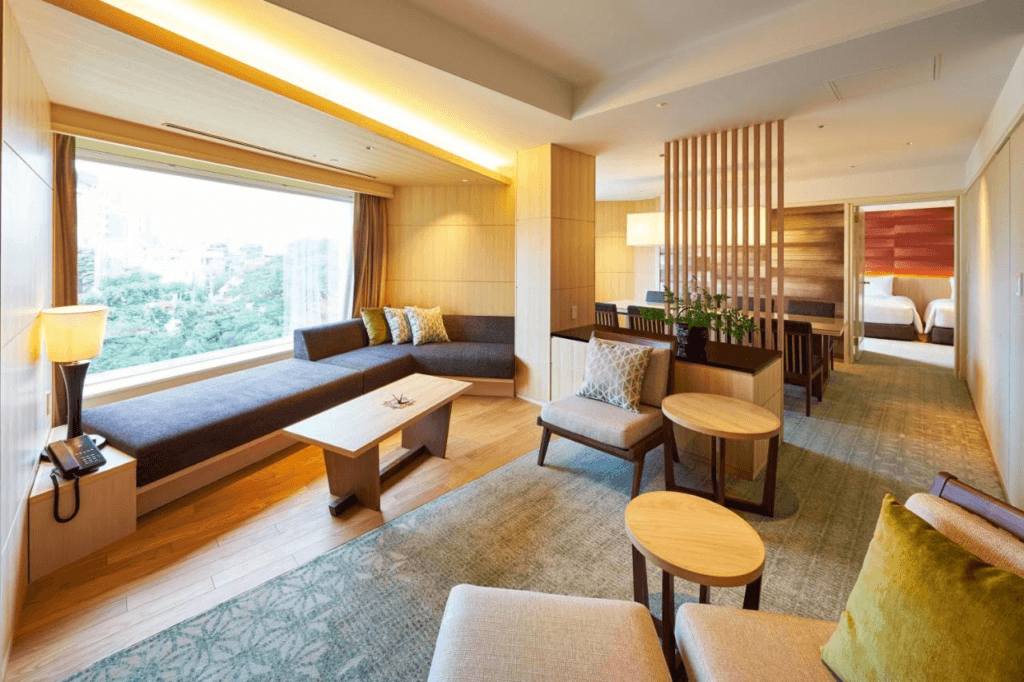 Boasting chic decor with touches of Japanese traditional aethetics, Hotel Gajoen Tokyo is a member of Small Luxury Hotels of the World. 7 dining options are featured, and free parking is available on site. JR Meguro Station is 6 minutes on foot and Tokyo Metropolitan Teien Art Museum is a 12-minute stroll.
All spacious rooms include a satellite TV with cable channels, minibar, a coffee machine and handy smartphone. An en suite bathroom is fitted with a spa bath, free toiletries and hairdryer. For your comfort, some rooms include a sauna.
Guests can unwind in a Japanese-style garden or at a library on site The front desk is open for 24 hours a day, and there are a pastry shop and gift shop at the property. Massage services and room services can be arranged.
Shunyuki serves signature Chinese delicacies, while Tofutei offers an authentic Japanese kaiseki multi-course meal. Teppanyaki Japanese wagyu beed, American-style grilled dishes and Italian cuisine can be sampled on site. Live piano performance can also be enjoyed at an on-site cafe lounge in the day time.
JR Shibuya Station is a 5-minute train ride, while JR Shinagawa Station is 8 minutes by train from Hotel Gajoen Tokyo. The nearest airport is Tokyo Haneda International Airport, 10 km away.
Address: 153-0064 Tokyo-to, Meguro Shimomeguro 1-8-1 , Japan
—
Jiyugaoka area is a sophisticated yet local area. With the mix of modern, historical and nature spots around the area, there is something for everyone. No matter if you are a window shopper or looking to go for a shopping spree, there are many shops available to you. If you are a foodie, make sure to stop by one or more of the many incredible restaurants over here. Enjoy your adventure around Jiyugaoka, and refer back to this guide whenever you need to!