A lot of people talk about going to Okutama for hiking and camping, but since Okutama is quite massive, you might be feeling a little overwhelmed with where to go and what to do in this vast area. If you're planning to visit this area during the day or hoping to stay here overnight, then this is a guide for you. Let's have a look at some of the best things you can do in Okutama, recommended sightseeing spots you won't want to miss and different options for camping in Okutama.

One of the best ways to explore Tokyo is to visit the local areas and immerse yourself in the local culture. If you want to explore local areas, we have created scavenger hunt adventures personalised to your interests, filled with fun facts, clues and puzzles. If you're curious, you can check out the games here!

Check out the Flip Japan Games here!

'
Things to do in Okutama
Nippara limestone caves 日原鍾乳洞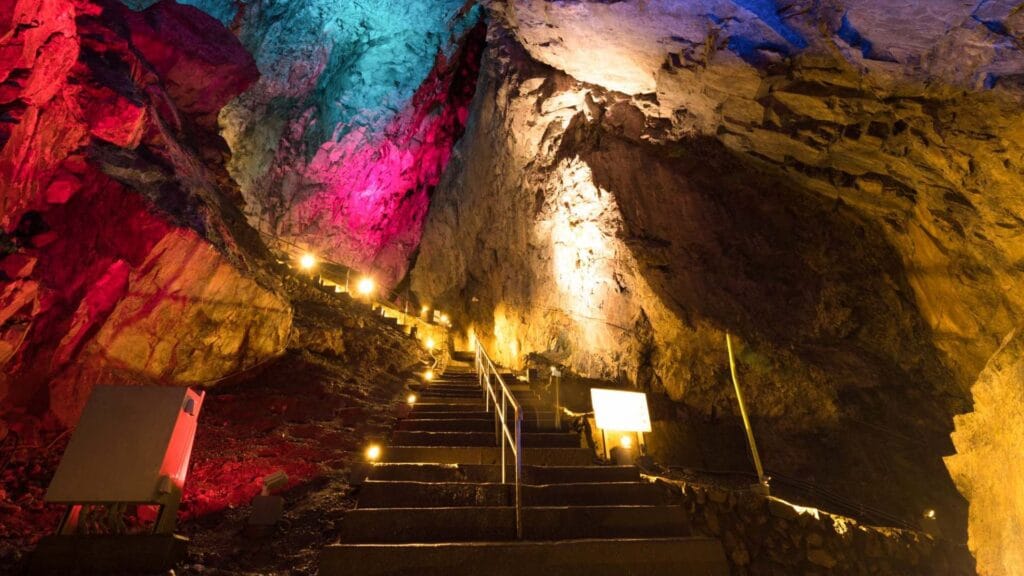 Located in Nishitama County, Nippara limestone caves are one of the largest limestone caves in the Kanto region and are designated as a natural monument by the Tokyo Metropolitan Government. The temperature inside the caves is maintained at about 11°C year-round, making them cool in summer and warm in winter. Visitors can enjoy the fantastic scenery and atmosphere created by nature.
Find out more about Nippara limestone caves here on Google maps.
Lake Okutama 奥多摩湖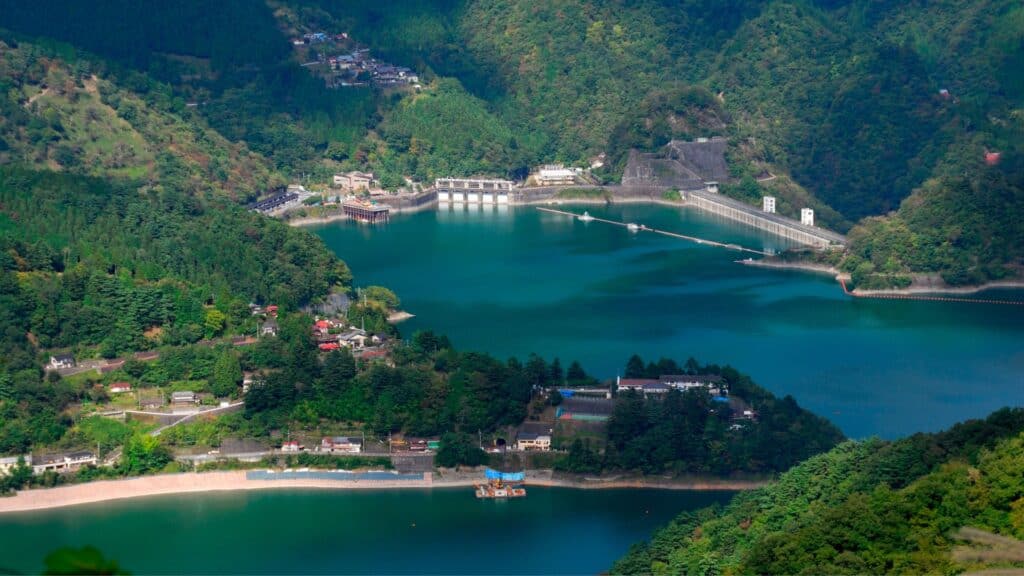 Lake Okutama is a valuable water source that supplies approximately 20% of the water used by Tokyo residents. It is a man-made reservoir straddling Okutama-cho, Nishitama-gun, Tokyo and Tamba-mura, Kitatsuru-gun, Yamanashi Prefecture, and is officially called the Ogouchi Reservoir.
Surrounded by mountains, the reservoir offers vivid seasonal scenery from cherry blossoms in spring to fresh greenery, autumn leaves, and snow. Two pedestrian-only floating bridges, commonly called drum bridges, are built over the reservoir. They are famous sightseeing spots in Okutama. In the past, the drum bridges used actual oil drums, but nowadays, drum-shaped synthetic resin floats are used.
Find out more about Lake Okutama here on Google maps.
Hatonosu Canyon 鳩ノ巣渓谷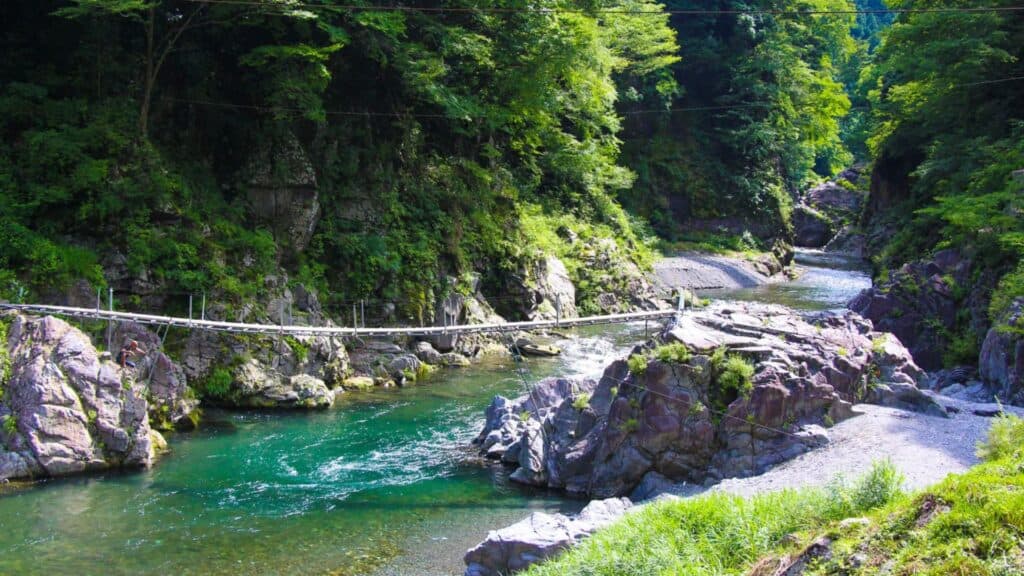 About 2 hours from Tokyo Station, visitors can enjoy the wild beauty of the Hatonosu Canyon in the rich natural Okutama area. Hatonosu Valley, where a clear stream weaves its way between giant stones and oddly shaped rocks, can be seen about 40 meters down the Ome Highway after getting off at JR Hatonosu Station.
The name "Hatonosu" is said to have originated in the Edo period (1603-1867), when two pigeons built a nest in the forest of the Suijinsha Shrine, which enshrines a water god, and the place came to be called Hatonosu Canyon.
If you're planning to go on a hike, Hatonosu Canyon is a great spot on the Otama Walking Trail, which takes you to some of Okutama's most famous spots. The view from the suspension bridge during the season of fresh greenery and autumn leaves is particularly exceptional.
Find out more about Hatonosu Canyon on Google maps.
Moegi no Yu Onsen 奥多摩温泉 もえぎの湯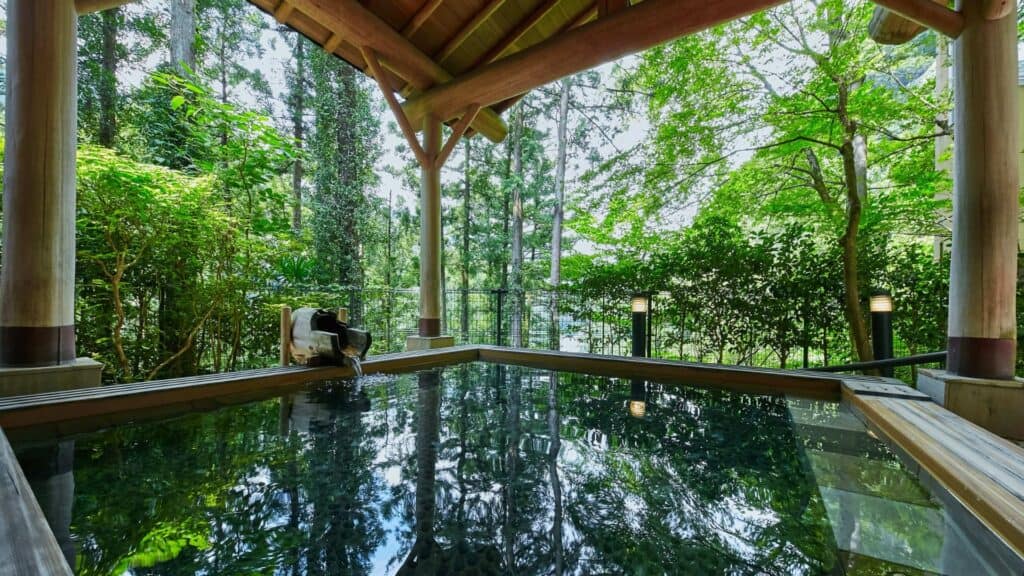 Moegi no Yu Onsen is a one-day hot spring where you can enjoy 100% spring water from the Okutama hot spring, which gushes forth from the Kosei formation. Kosei formation is believed to be the oldest geological formation in the Japanese archipelago.
There is an indoor bath, footbath, and open-air bath, and from the windows of the indoor bath and the open-air bath, you can see the mountains and trees of Okutama and the clear stream of the Tama River.
There is also a restaurant where you can enjoy Okutama's unique menu such as Okutama Netsushin Udon and Soba and grilled river fish, making it a facility where you can enjoy yourself all day long.
Find out more about Moegi no Yu Onsen here on Google maps.
Mugiyama Floating Bridge 麦山浮橋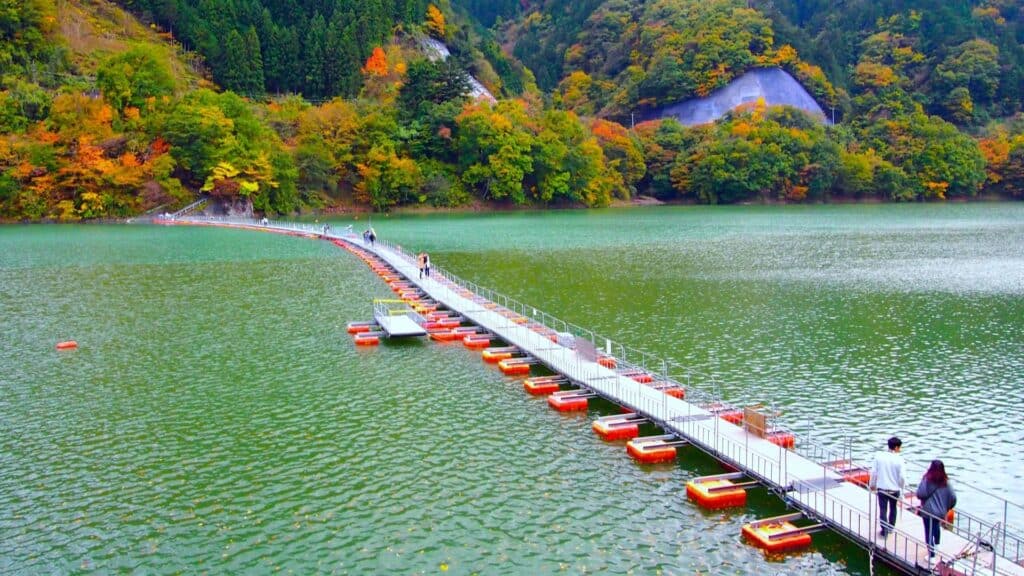 Mugiyama Floating Bridge is a floating bridge over Lake Okutama, a precious source of water for Tokyo. Nicknamed the "drum bridge," it is a well-known landmark in Okutama that is attracting attention as a bridge that allows visitors to cross Lake Okutama on foot.
The 220-meter-long bridge was originally built because it was no longer possible to walk to the other side of the lake due to the construction of a dam. At that time, drums were actually used for the bridge, but now it is constructed of polyethylene and styrofoam.
The bridge is safe for small children to cross because there is little splash and swaying, but there are some wide gaps, so watch your step.
Find out more about Mugiyama Floating Bridge here on Google maps.
Okutama water and green Friendship Hall 奥多摩 水と緑のふれあい館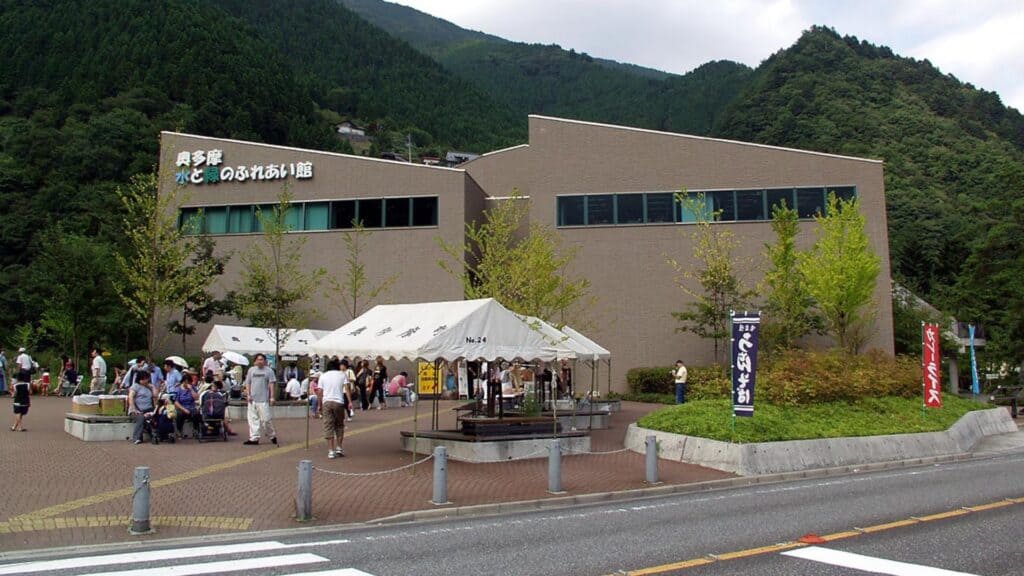 The Okutama water and green Friendship Hall provides visitors with easy-to-understand information about the nature and history of Okutama, the importance of water and nature, and how dams work. Visitors can learn not only through images and displays but also through hands-on experience.
At the panoramic restaurant, visitors can enjoy Okutama's local cuisine while gazing out the window at Lake Okutama and the natural surroundings.
Find out more about Okutama water and green Friendship Hall here on Google maps.
Seseraginosato Museum せせらぎの里美術館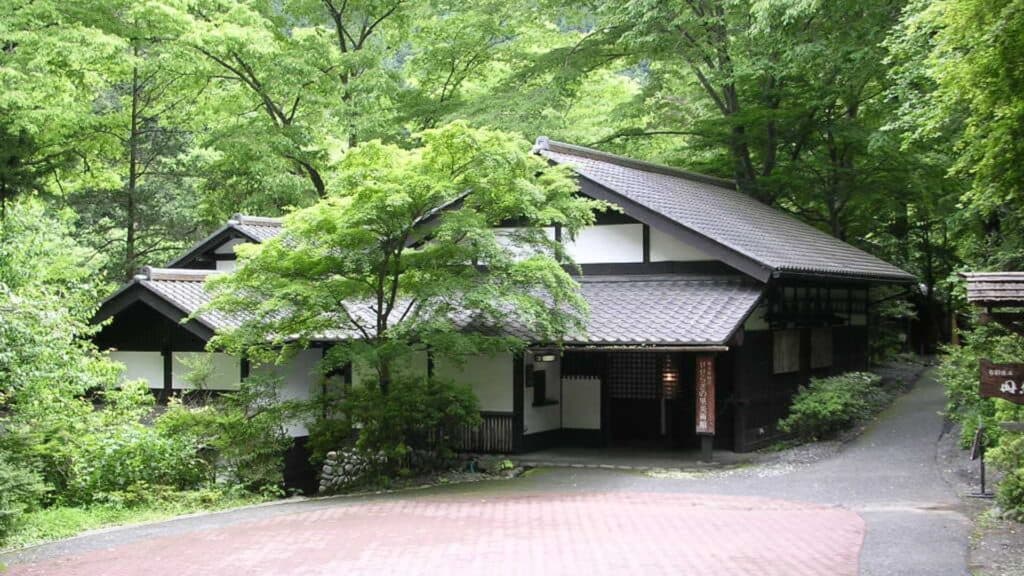 Seseraginosato Museum is a unique art museum built in the nature of Okutama. It was built in an old private house built at the end of the Edo period (1603-1868). The Tama River valley is nearby, and the sound of the murmuring river is always present. Paintings and traditional crafts are on display, mainly by artists associated with Okutama. Special exhibitions are held four to five times a year.
Find out more about Seseraginosato Museum here on Google maps.
Okutama Citizen's Forest 栃寄森の家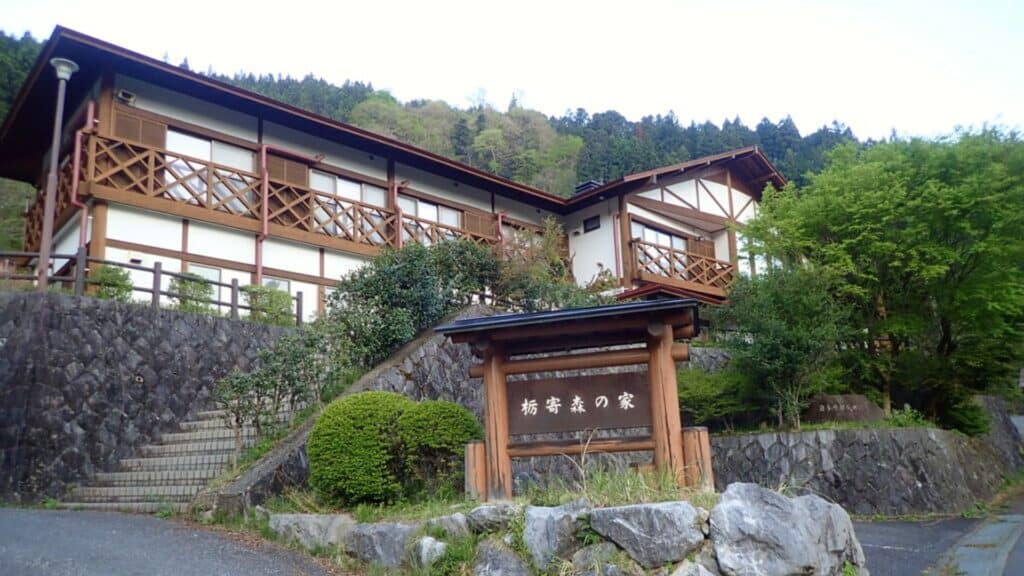 Okutama Citizen's Forest is a facility where visitors can enjoy recreational activities while deepening their understanding of forests and forestry.
There are many hands-on programs that allow visitors to experience the forest. These include seasonal mountain village walks, a Yamamegyo Dojo where visitors can learn the traditional method of fishing for wild landlocked salmon, and a course that requires forestry volunteers. There is also mountain stream fishing for parents and children, and children's events during summer vacation.
Find out more about Okutama Citizen's Forest here on Google maps.
Gyokudo Art Museum 玉堂美術館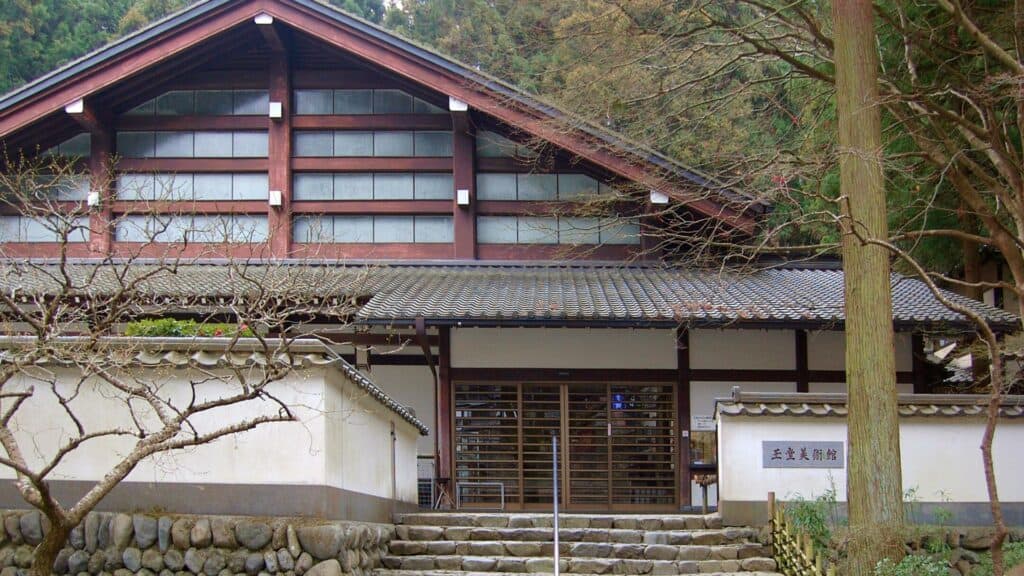 The Japanese-style painter Gyokudo Kawai's works from around the age of 15 to the end of his life at the age of 84, as well as his favourite articles he used during his lifetime, are introduced. The building was designed by Yoshida Gojuyachi, a recipient of the Order of Cultural Merit, and utilises the characteristics of a Hida private house and a temple cloister.
Find out more about Gyokudo Art Museum on Google maps.
Waterfalls in Okutama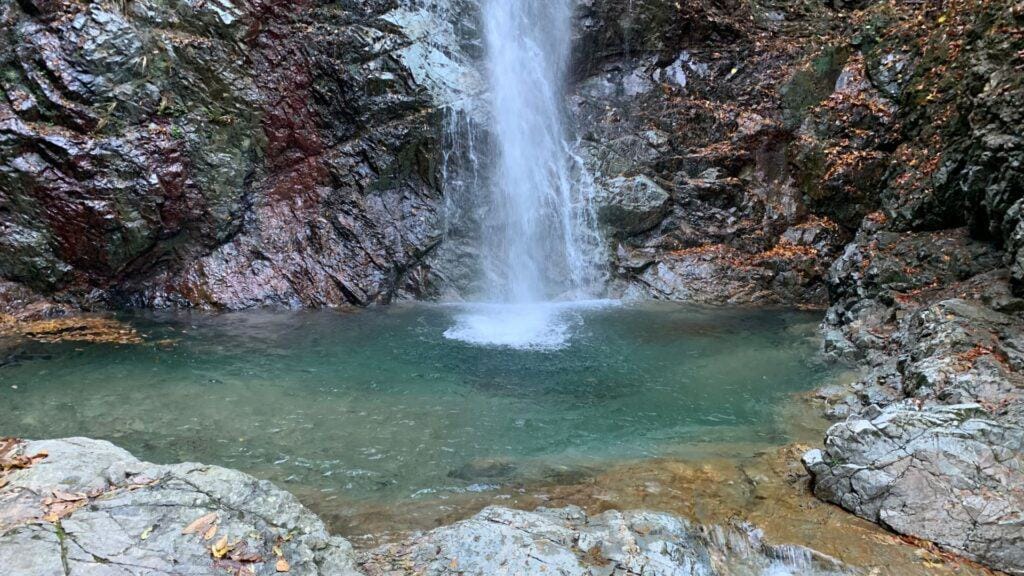 If you're interested in seeing the waterfalls, consider taking the Unazawa three waterfalls hiking course. This waterfall trekking area allows visitors can enjoy a tour of waterfalls. From Haizawa Park, it takes about 90 minutes to visit the three waterfalls.
There are three waterfalls you can see here, each unique in its own way. There's the uniquely shaped "Twist Waterfall", the "Mitsugama Waterfall", which cascades down the moss-covered rock face in three stages, and the "Otaki Waterfall", located just a short distance away.
Nejire-no Waterfall ネジレノ滝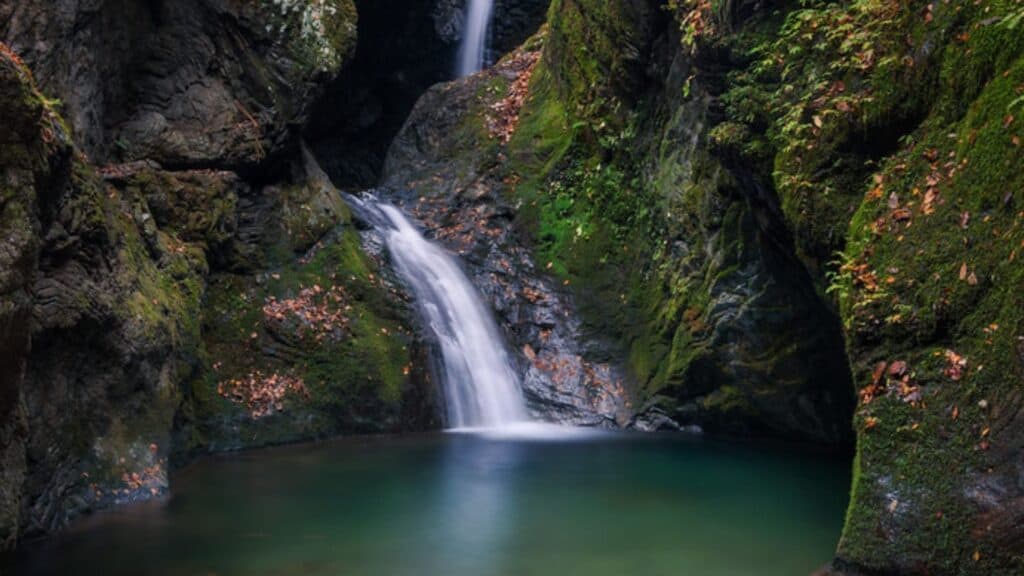 Nejire-no Waterfall, also known as "Twist Falls", is surrounded by rocks on all sides, visitors can enjoy the echoing sound of the falls.
Nejire-no Waterfall is a two-tiered waterfall, with the upper stage facing north with a 6-meter drop, while the lower section faces northwest. The top and bottom part of the waterfall appears to be twisted. The name comes from its appearance. The basin is uniquely shaped and with it being dimly lit, it looks slightly eerie.
Find out more about Nejire-no Waterfall here on Google maps.
Otaki 大滝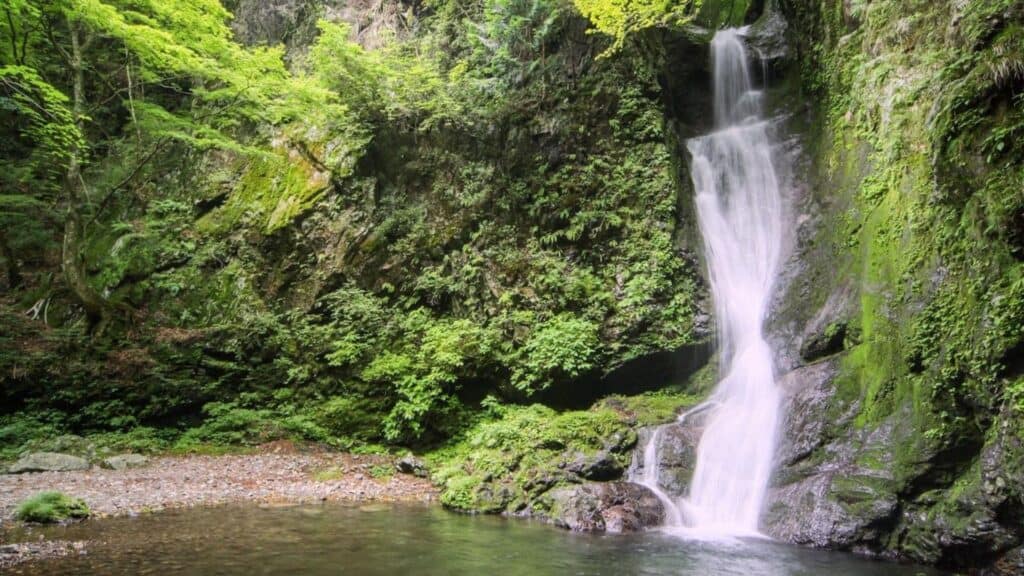 Otaki is the highest waterfall in the Umizawa Valley with a drop of about 20 meters. The waterfall hits a ledge 6m from the mouth of the waterfall and flies The bottom 9m is a groove. The next 5 meters fan out and slide down the slope. The majestic waterfall opens up and falls into a basin.
Find out more about Otaki here on Google maps.
Mitsugama Waterfall 三ツ釜ノ滝
Heading up the iron staircase, you will be welcomed by this majestic waterfall. The three waterfalls are visible from the front and Mitsugama Waterfall has a total drop of about 12.5 m. The area is quite spacious and the waterfalls are open and bright.
Find out more about Mitsugama Waterfall here on Google maps.
Hyakuhiro-no-taki Falls 百尋ノ滝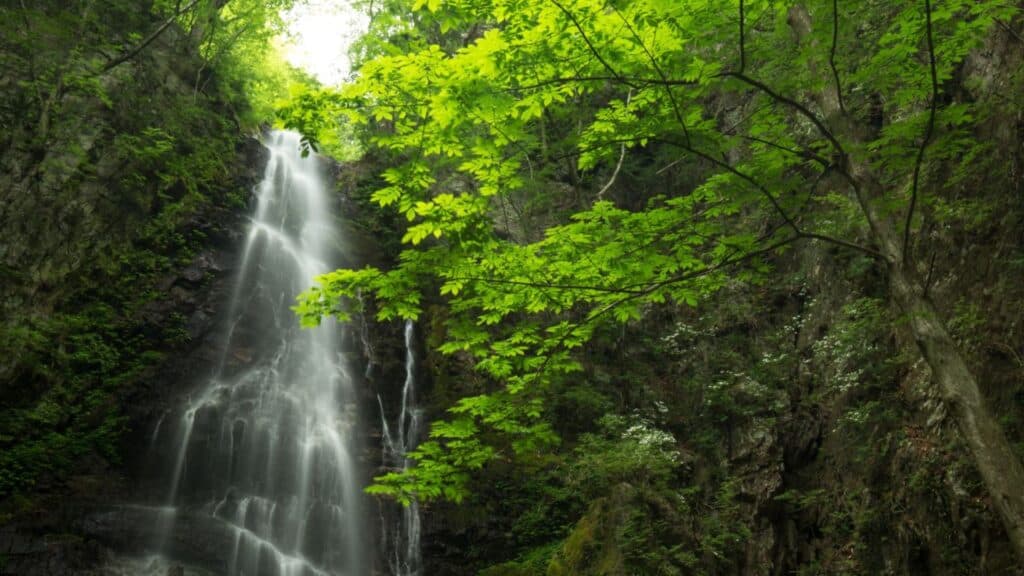 The Hyakuhiro-no-taki Falls is located on the climbing course of Mt. As the name implies (150 meters), the waterfall boasts a majestic appearance, with a drop of approximately 40 meters. It is recommended as a scenic spot that allows visitors to feel the power and charm of nature up close.
Find out more about Hyakuhiro-no-taki Falls here on Google maps.
Hossawa Falls 払沢の滝
Hossawa Falls, where legend has it that a giant snake lives in the waterfall basin, is a fantastically located waterfall surrounded by mountain trees. The waterfalls are divided into four tiers, each about 60 meters long, and the silhouette of the falling water from the lowest tier, which can be seen from the walking trail, is particularly beautiful. During the fall's autumn foliage season, the red and yellow colours and the sunlight glistening through the trees in the pool are a sight not to be missed.
Find out more about Hossawa Falls here on Google maps.
Ayahiro Falls 綾広の滝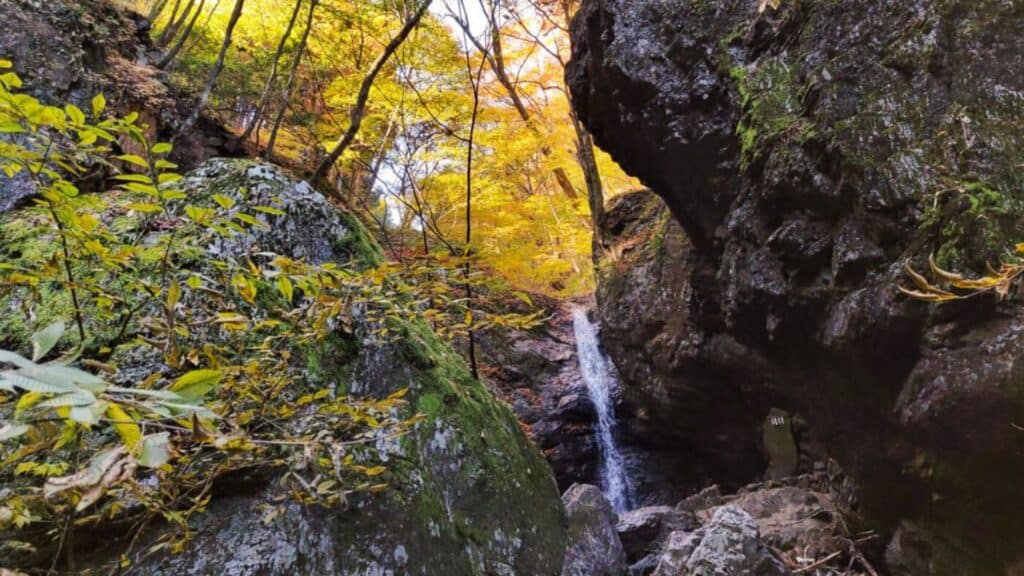 Ayahiro Falls is also used for the Musashi Mitake Shrine's Misonogi event. Although the waterfall is rather small, with a drop of only about 10 meters, it creates a majestic atmosphere and is a must-see spot as part of the hiking course around Mitake Mountain.
You can even experience a waterfall ritual here. If you are interested, check out the unique waterfall experience plans of each of the lodgings on Mt.
Find out more about Ayahiro Falls here on Google maps.
Camping in Okutama
Hikawa Camp site 氷川キャンプ場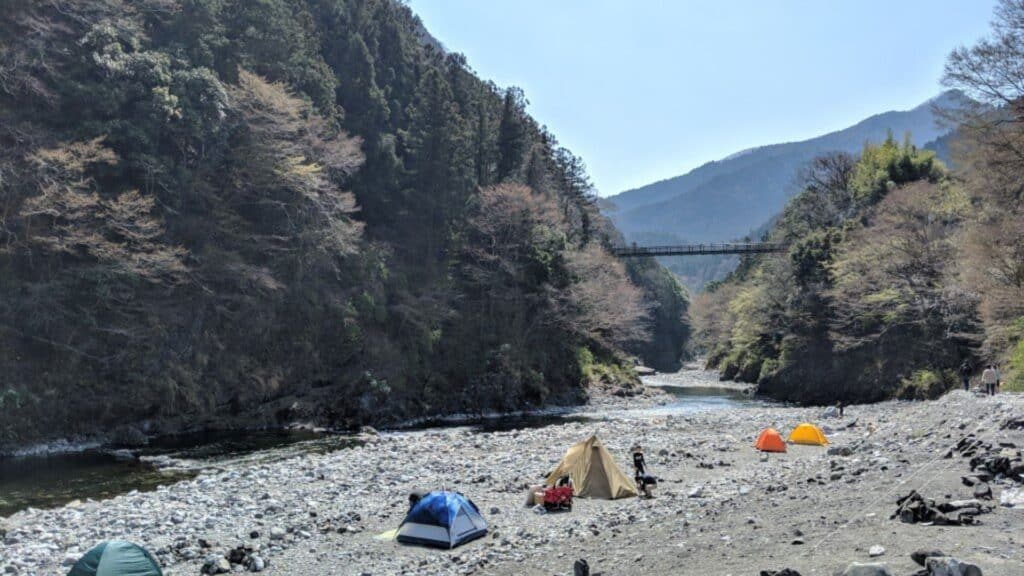 About 2.5 hours from central Tokyo, Hikawa Campground is located in the middle of nature. There are many big trees are located here, so you can feel like you are taking a forest bath wherever you are.
The cafe Kuala, which means "a place where streams gather," serves curry and other dishes made with Osuke sweet potatoes produced in Okutama, and has a reputation for providing barbecues of a higher grade. In addition to the hillside tent sites, there are 40 lodging facilities, including lodges equipped with toilets, refrigerators, kitchens, and bungalows with electrical outlets.
Find out more about Hikawa Camp site here on Google maps.
America Camp Village アメリカキャンプ村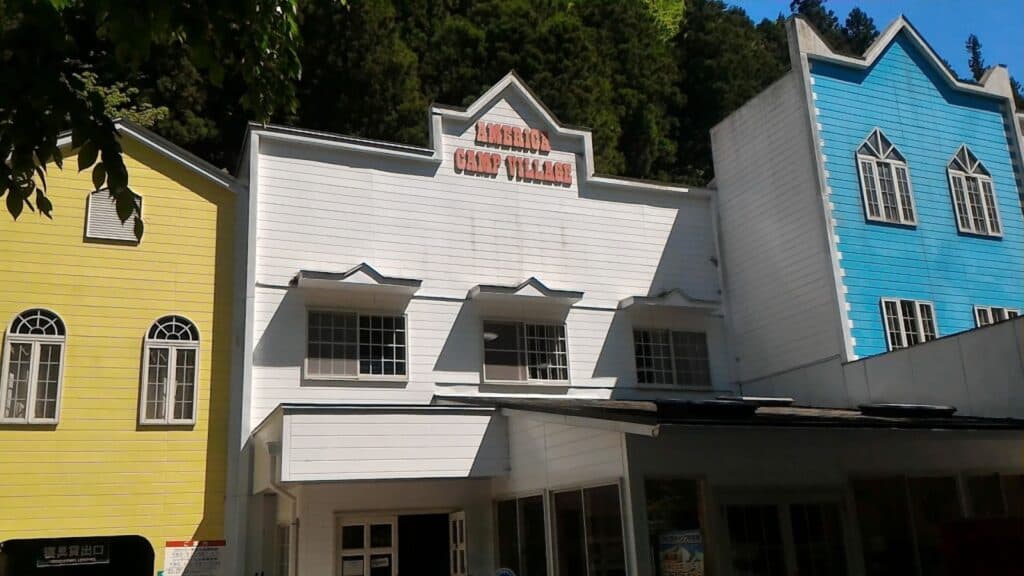 In addition to log cabins and barbecue equipment rentals, America Camp Village offers a full range of facilities, including a fishing pond, athletic facilities, and hiking trails. The athletic facility, which takes about one hour to complete, is a full-fledged gym-like structure. It is an activity that not only children but also adults can enjoy to the fullest.
Campfires, which are usually quite rare to experience in Japan, can also be enjoyed. Fireworks and firecrackers are prohibited, but handheld fireworks can be set off in the central plaza. The log house of the villa was used for the filming of the horror movie The Ring.
Find out more about America Camp Village here on Google maps.
Kawai Camping Ground 川井キャンプ場
Kawai campground has a large riverbank about 2 hours from central Tokyo, and is conveniently located 7 minutes on foot from JR Kawai Station, where you can enjoy various activities such as river play, fishing, and barbecue.
Throughout the year, different programs such as catching trout, canoeing, and cooking rice in a rice box baumkuchen baking are offered. The campground is located near a hot spring facility overlooking the headwaters of the Tama River, as well as a supermarket and convenience store.
Find out more about Kawai Camping Ground here on Google maps.
Restaruants in Okutama
Jinya陣屋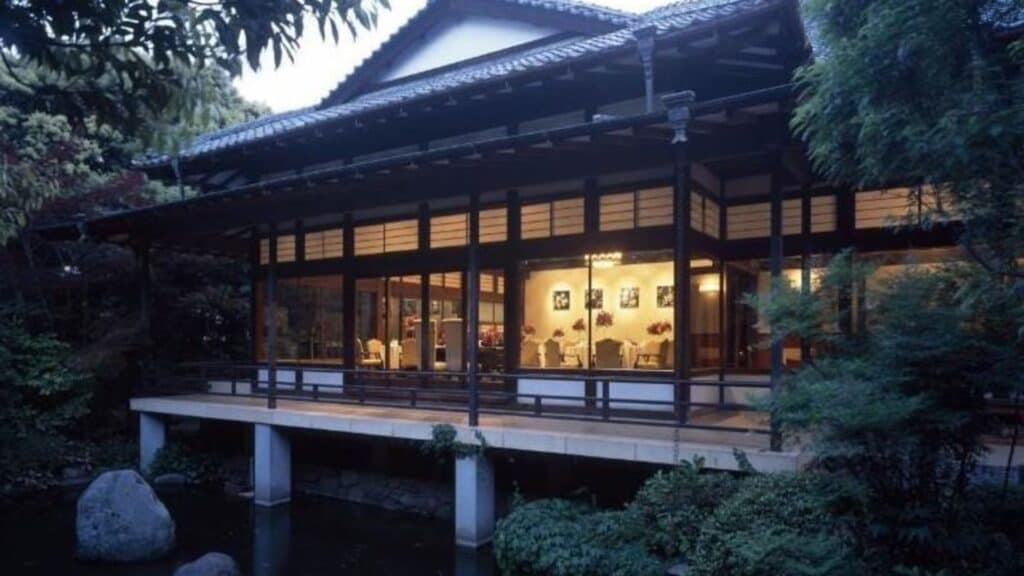 Jinya, a handmade soba noodle restaurant by Lake Okutama, serves not only soba but also local dishes such as konnyaku made from sweet potatoes and wild vegetables gathered directly from the mountains. Keep in mind that Jinya is only open for lunch.
Find out more about Jinya here on Google maps.
Kamameshi Nakai 釜めし なかい
Nakai is a popular restaurant that has been featured on TV for its popular kamahan (rice cooked in a pot) using seasonal ingredients. Located in a peaceful mountainous area, the restaurant is housed in a tasteful Japanese-style house, and time passes slowly in the calm atmosphere of the restaurant.
Hidden deep in the mountains of Okutama, Kamameshi Nakai is a quiet restaurant surrounded by the great outdoors. The seasonal Take-noko Kamameshi and Chestnut Kamameshi are especially popular. The salted and grilled river fish such as iwana (rockfish), ayu (sweetfish), and yamameshi (mountain lionfish) are also not to be missed.
Find out more about Kamameshi Nakai here on Google maps.
Beer Cafe VERTERE -ビアカフェ バテレ-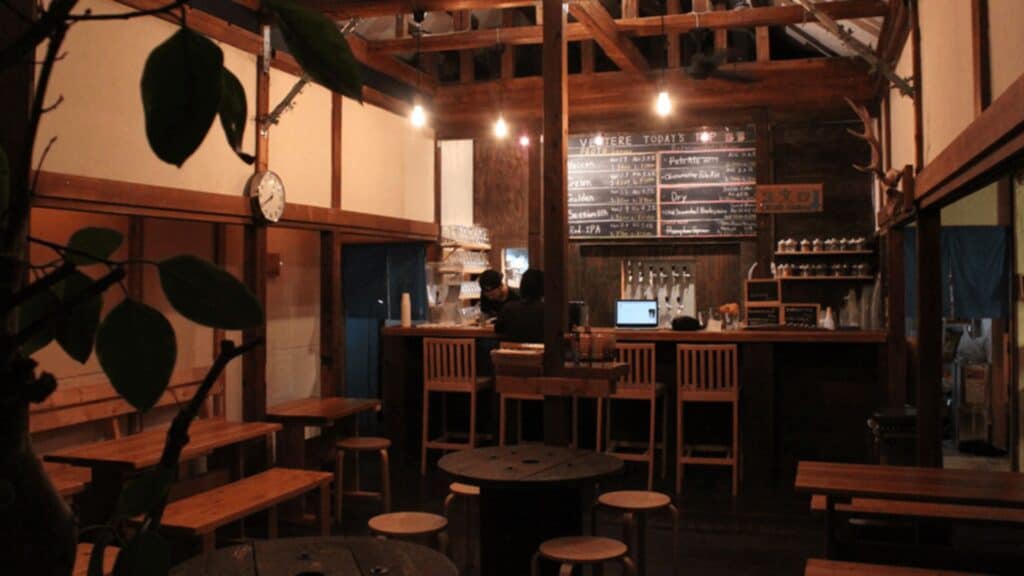 Beer Cafe Batele is a beer cafe where you can taste homemade beer. There is a wide variety of craft beer made with hops from Okutama and high-quality water from Okutama. The beers range from those with a clean taste to those with a strong bitterness.
The food menu includes fish and chips, pizza, and other items that go well with beer.
Find out more about Beer Cafe VERTERE here on Google maps.
Riverside cafe awa 奥多摩リバーサイドカフェawa
Okutama Riverside Cafe awa, where you can enjoy the rich natural location of Okutama, is a restaurant recommended for its meat dishes.
The highlight of the menu is the "Volcano," a roast beef rice bowl piled high with tender homemade roast beef. It goes perfectly with the original wasabi yoghurt sauce. You can also enjoy other gibier dishes and craft beer from Okutama. The terrace seating is also available for use with dogs.
Find out more about Riverside cafe awa here on Google maps.
—
When thinking about Okutama, a lot of people might be picturing the Okutama mountains and Okutama lake. Of course, these are part of the unique sights Okutama has to offer, but there are also a lot of other things to do in the Okutama area. Hope this list is able to help you figure out what to do on your next trip to Okutama, some camping ideas and delicious food and drinks options for you to try out.