Are tattoos in Japan taboo? As some of you might know already, tattoos are considered quite taboo in Japan. If you travel to Japan with tattoos, you are probably wondering the dos and don'ts. Here is everything you need to know about having tattoos in Japan and some of the Onsen that allow tattoos. For those of you that have tattoos, hope this can help you to figure out what to do, what to expect and where you can go during your stay in Japan.
Why are tattoos taboo in Japan?
Although the view on tattoos has changed little by little over the years, tattoo is taboo and it can still be quite difficult for those who have tattoos to enter certain establishments in Japan, such as the famous hot spring, onsen.
In the past in Japan, tattoos were used to mark those who committed a crime. More recently, tattoos are associated with the yakuza, Japanese crime organisations that are heavily involved in all kinds of businesses.

They are fewer in numbers today but for the older generation who remember the yakuza in their heyday, they may be uncomfortable being around tattooed Asians. Tattooed Caucasian or African-Americans, however, are viewed as 'cool' or 'stylish'. In other words, in Asian communities, tattoos are the marks of a criminal; in Western communities they are a fashion trend.
What is it like having Tattoos in Japan nowadays?
Is tattoo taboo in the modern days? Working in Japanese companies with tattoos is also difficult. Many companies may be reluctant to hire tattooed individuals, and may request the ones they do hire to cover all tattoos. This is why most Japanese people don't tend to have tattoos.
In the past few years, Japan's views on tattoos have shifted: tattoos are becoming more accepted and are viewed as forms of art rather than as signs of rebellion. More and more of the younger Japanese generation are getting tattoos and, while some may still stare at tattooed individuals walking down the streets, it's more out of curiosity and interest, not judgement or disgust.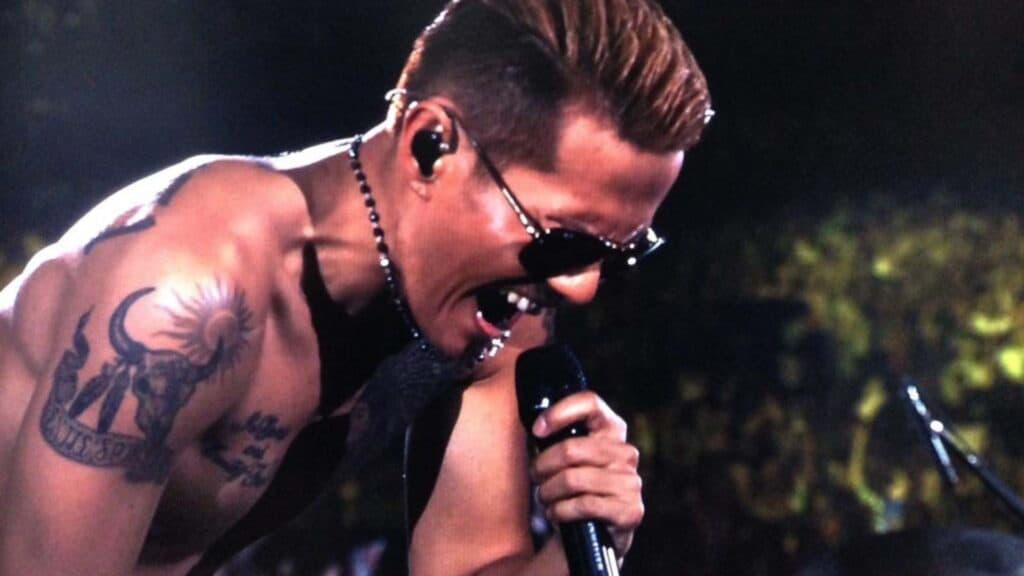 Various Japanese celebrities have tattoos and are proudly showing them off. For example, ATSUSHI from EXILE has multiple tattoos on his body; one of his most famous tattoos is his Indian Warrior tattoo on his left chest. Another famous Japanese celebrity that has tattoos is Namie Amuro; she has a couple of tattoos on her left arm and a few on her left wrist.
How to enter onsen with tattoos?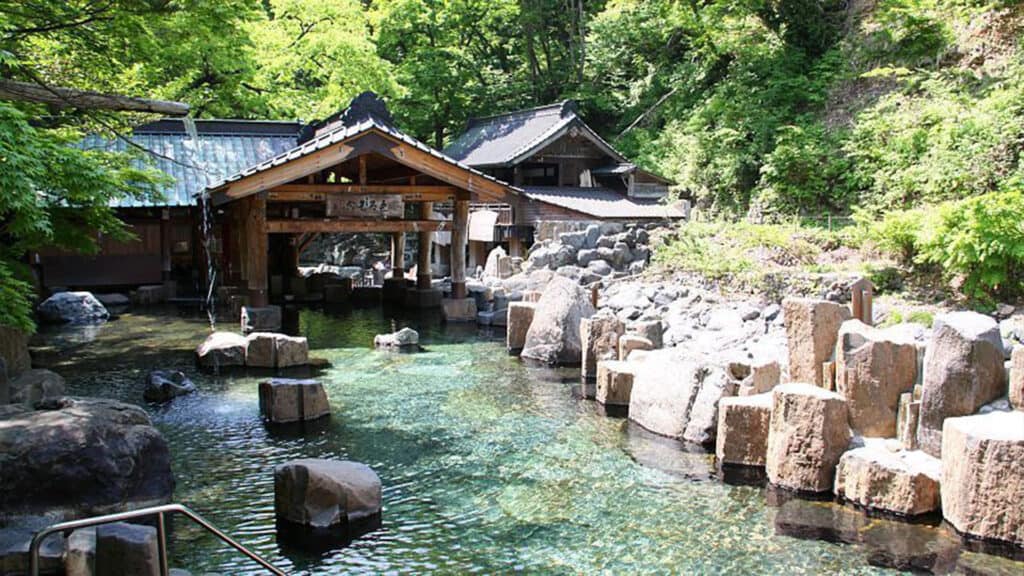 Although things have been changing, there are still a large number of establishments that forbid tattooed people. For those of you that will travel in Japan with tattoos, beware that places such as, onsen, public baths, swimming pools, gyms and public beaches don't always allow tattoos.
For those of you who have tattoos and who wish to experience the famous hot spring—one of the most special and beautiful parts about Japanese culture—we have gathered together some of the best options for you. Check out these options for when you travel in Japan with tattoos.
Firstly, there are two kinds of baths: onsens and sentos.
Onsen (温泉)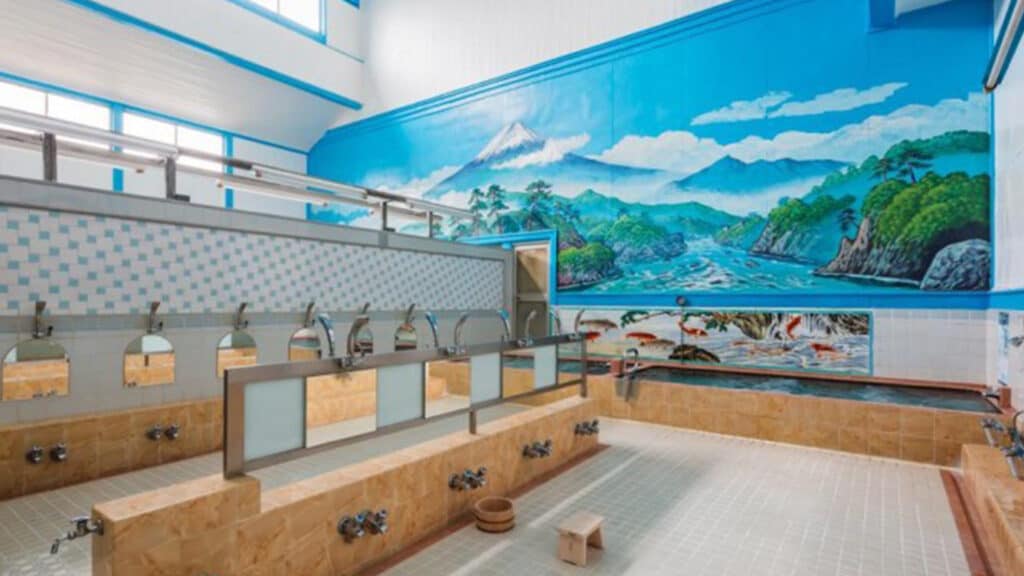 Onsen translates to "hot source". To be qualified as an onsen in Japan, the source of the onsen has to be at least 25 degrees and has to meet certain criteria regarding water elements and mineral content.
Sento (銭湯)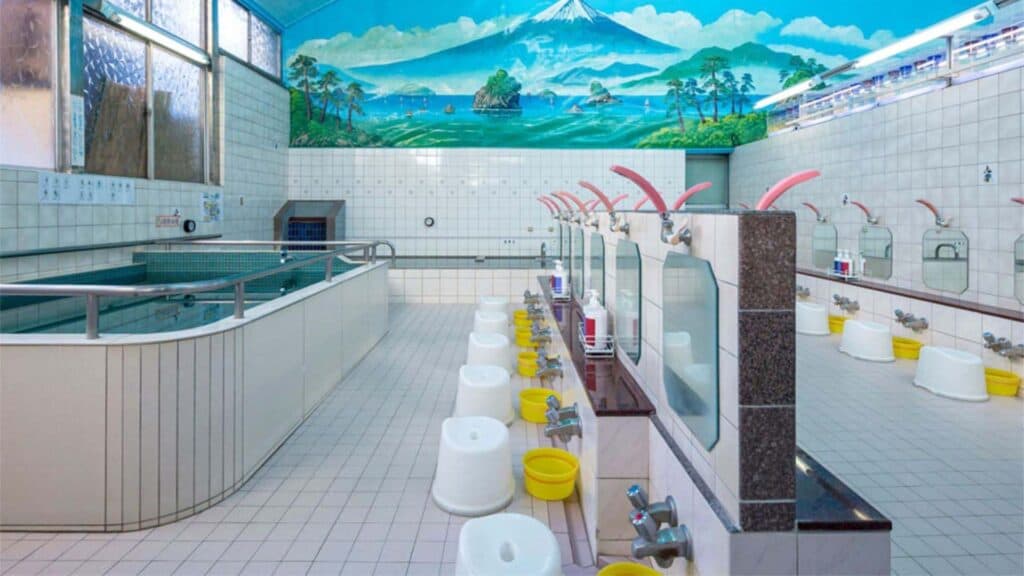 Sento translates to "coin" and "hot water". Sentos are public baths and they've become more and more popular as homes in Japan are built smaller and smaller, making it harder for people to take baths at home. A lot more sentos allow tattoos than onsens due to their more casual nature.
If you wish to enter an onsen that doesn't allow tattoos, you can get a seal to cover up your tattoos when you travel to Japan with tattoos. The seals are easy to use and cheap. You can easily cover up your tattoos with these skin coloured seals and enjoy the onsen. Unfortunately, these will only work with smaller tattoos. If you've got larger tattoos, you can try out a sento instead.
Here's a list of onsens and sentos that allow tattooed people in.
Sento
Daisantamanoyu 第三玉の湯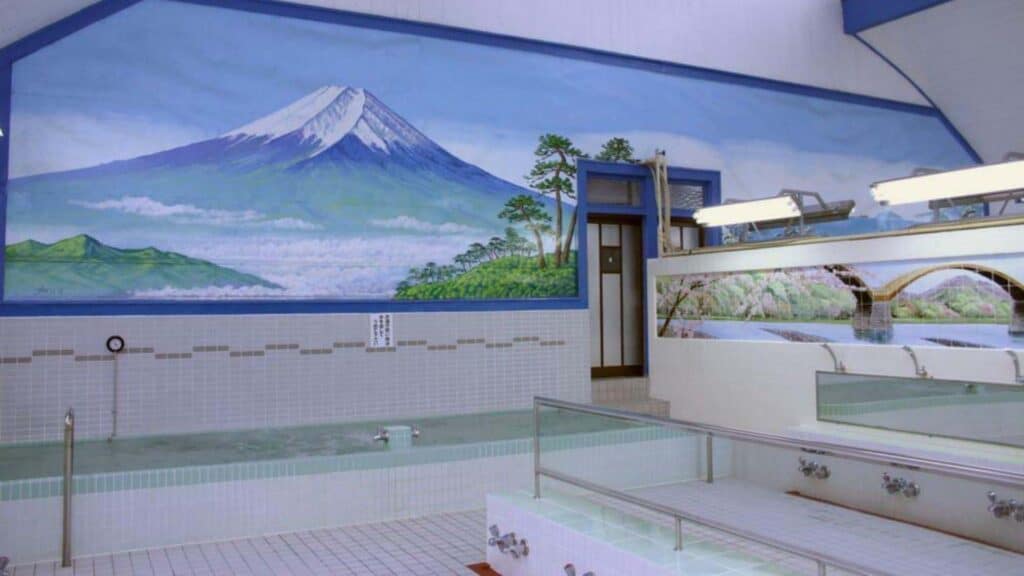 This sento might not be the fanciest but it is located very conveniently just five minutes from Iidashi Station, in Shinjuku ward. Renewed in 2018, this place has high-concentration carbonic bath, jet bath, open-air bath and even sauna.
Details
Opening hours: 15:00-25:30
Closed: Wednesdays
Price
Adult: 470
Children: 180
Sauna: 1000
Takaban Yu ぽかぽかランド鷹番の湯
Takaban Yu advertises their spring water with cyanuric acid that can speed up your metabolism and give your skin a glow. There are two types of saunas here: high-heat dry sauna, and salt sauna. They also have a beautiful outdoor sauna where you can enjoy the peace and quiet. On top of that, there are many different types of jacuzzis and baths here for you to experience.
Details
Opening hours: 15:00-24:30
Closed: Friday, 1st, 3rd, 5th Thursday
URL: www.takaban-yu.com/
Address: 東京都目黒区鷹番2丁目2−1
Price
Adult 470
Children 180
Infant 80
Sauna 460
万年湯 Mannenyu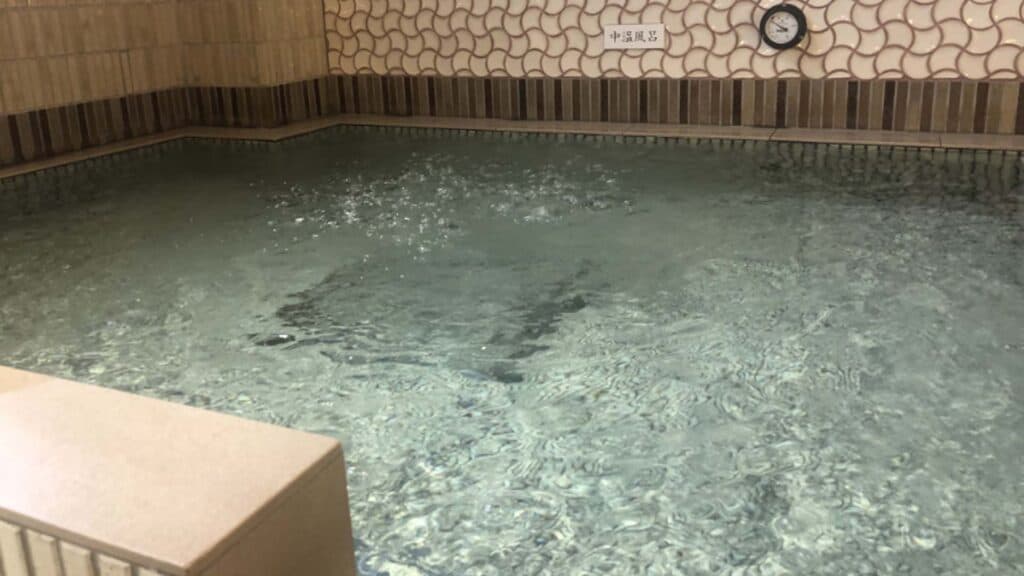 Mannenyu is situated in the very center of the city. It is just one stop, or about 15 minutes walk from Shinjuku, in the popular Shinokubo, Korea town. Mannenyu provides free body washes, shampoos and face towels. The inside of the facility is clean and comfortable with multiple baths for you to enjoy and relax in.
Details
Price
Adult: 470
Children: 180
Kindergarten children: 80
Onsen
Soshigaya onsen そしがや温泉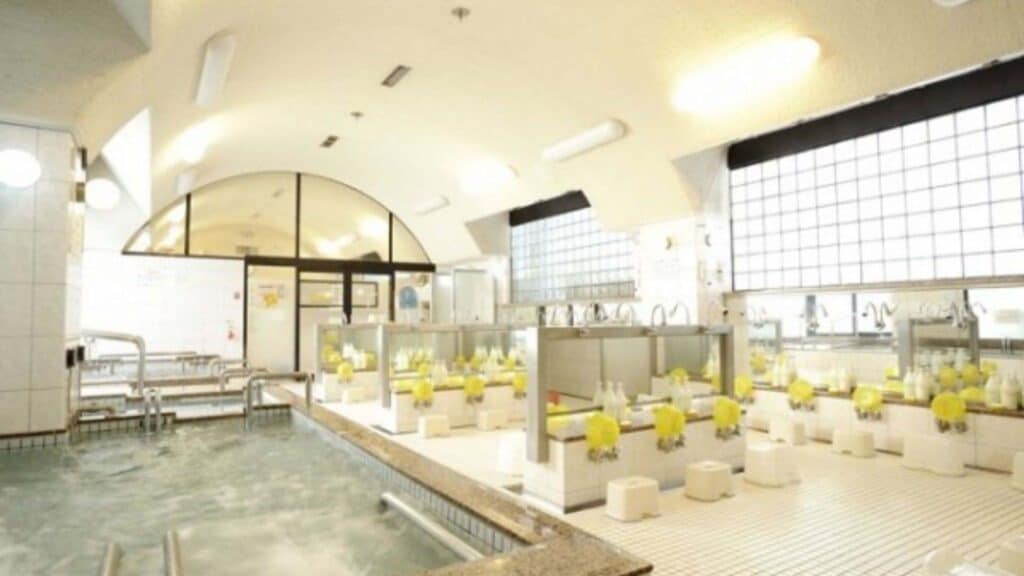 This onsen has a wide range of baths for you to experience. It is emphasised that the spring water they have here is "black spring water", with elements that over the years have the ability to rejuvenate your body, skin and health. They have a mini swimming pool for their customers to swim in. Sauna is also available here at this facility. Outside the baths, there is a reading corner for those who need to take a breather.
Details
Opening hours: 14:00-25:00
Address: 東京都世田谷区祖師谷3-36-21
Price
Adult: 470
Children: 180
Infant: 80
Sauna: 330
Shimizuyu 清水湯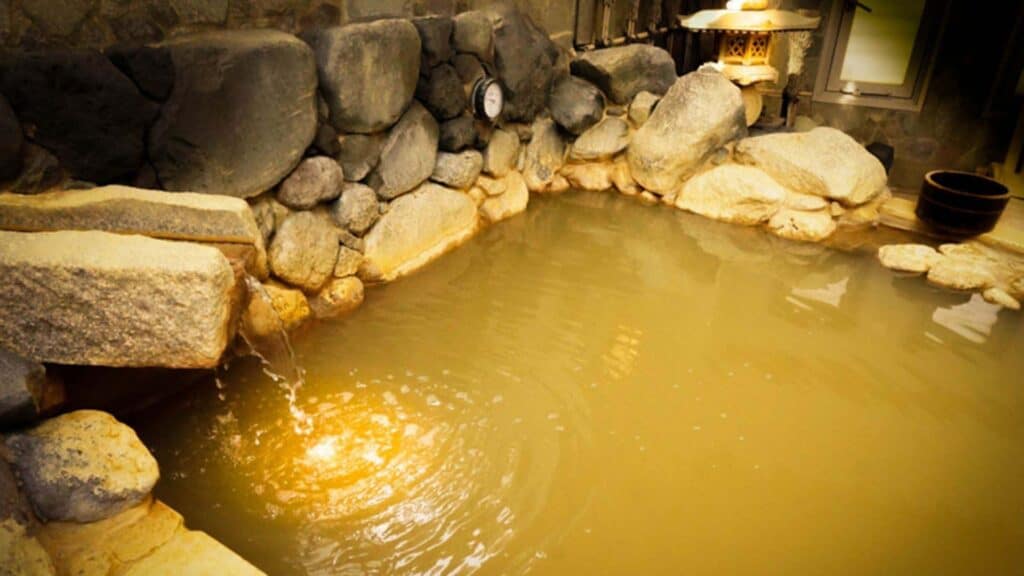 Shimizuyu is one of the few natural onsen in Tokyo. They have two types of natural spring water: the golden spring water and the black spring water. As mentioned earlier when introducing the Soshigaya onsen, black spring water is said to have incredible elements that can nourish and rejuvenate. Golden spring water is said to have healing powers for those that have pains and injuries.
Shimizuyu has various baths including jacuzzis and an outdoor bath. There is also a resting area to rest in if you're feeling overheated. They have a rock bath as well, a bath that has gained a lot of popularity in recent years. With rocks made from a mountain in Korea, it is said that lying in the rock bath fastens your metabolism and blood circulation, enhancing rest and sleep quality. Sauna is also available here with incense to enhance relaxation.
Details
Opening hours
Weekdays 12:00~24:00
Saturday 12:00~24:00
Sunday  8:00~24:00
Closed: Mondays
Price
Adult: 470 yen
Junior high school student: 300 yen
Child: 180 yen
Kindergarten children: free
Rock bath: 1,400 yen (women only)
Sauna: 400 yen
Thermae-yu テルマー湯
Thermae-yu is amazing and deserves a small shout-out. It is one of the most popular place for people that travel in Japan with tattoos. Although they allow tattooed people to enter, they require them to cover them up with the aforementioned skin-coloured patches, available at the front desk. Also mentioned earlier, these patches will only work with smaller tattoos.
Thermae-yu is definitely a place you can enjoy for a long time. They have natural onsens, rock baths, aauna, massages, restaurants and cafes and a lot more. There's also a huge open-air onsen.
One of the most special parts about this place is their large variety of rock baths. They have five types of rock baths, divided between male and female. It is said that these rock baths have healing powers and the ability to relax and rejuvenate.
If you want to find out more about this bath, check out our blog about Thermae-Yu here.
—
Here is everything you need to know when you travel with tattoos in Japan. Is tattoo taboo? Well yes, but things are changing and you will come across more and more places that allow people with tattoos to enter. If you get a chance, definitely check out these Onsen that allows tattoos.