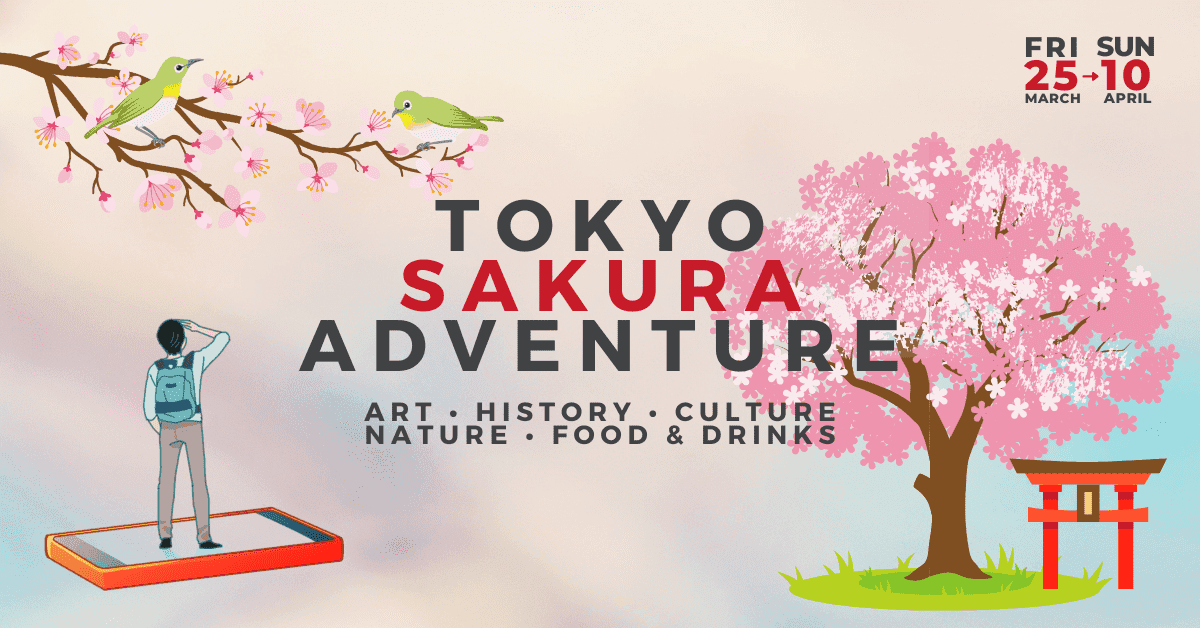 Choose your own Sakura Adventure

? It's Sakura season but it won't last long!
There's no better way than right now to go out and enjoy cherry blossoms. From famous places to secret spots, get ready to surround yourself with Nature, Japanese Culture & History, Art, Food & Drinks!
? We've created the world's first personalised chatbot tour guide! Depending on your interests, Tokyo Sakura Adventure has over 40+ variations of paths for you to choose from! 
? If you want to go out and explore the most beautiful sakura views but also avoid the crowd; if you don't want to stress about where's the best place to visit; if you want to enjoy a fun day trip around town; then look no further ?
Recommended Starting time: 9:00-11:00
Until end of Tokyo Sakura Adventure
What have we done so far?
The World's First Personalised Chatbot Tour Guide
With your chat bot personal tour guide at the tip of your finger, you can go at your own pace to explore the city based on your interests. Flip Japan Games operates entirely through Facebook messenger, so you won't need to download anything! Simply choose the game that matches your interests, tell the chatbot what you want and enjoy the adventure!
1️⃣ Get your ticket- Within 2 minutes, you can get your ticket directly inside Facebook Messenger
2️⃣ Chat with Tour Guide- Choose your path and let your chatbot know what you want throughout the tour
3️⃣ Enjoy your adventure- Follow along and have fun!
WHAT TO EXPECT
? Famous & Lesser-known secret spots in Japan
? Multiple photo spots for you to capture your trip
? Local shrines & temples
? Unique Historical sites & Historical buildings 
? Special Museums & Exhibitions
? Lots of options for delicious food and drinks 
? Expect art, history, culture, history, nature and good food & drinks conveniently wrapped into one day
Solo-travellers
Exploring the city by yourself? You will have the flexibility to choose everything you want to do, exactly the way you want to do them in the different games
Friends
Do you and your friends usually end up going to the same places? Want to give some new experiences a go? This is exactly what the games can do for you
Families
Tired of the same routine? While walking around local neighbourhoods, enjoy exploring new places without having to stress about planning
Dates
Want to spice things up? This game is a great way to get closer to your partner. There are a few romantic and interesting spots for some extra date fun
Testimonials & Featured Guests
"HIGHLY RECOMMENDED – really fun experience where we discovered places that we would never have found on our own. The game took a real interest in our interests & we felt like we were exploring with friends!"
"My experience with FLIP Guide was by far the best time I've ever had. The game was fun, knowledgeable, friendly and helpful. We had a great time walking around town! Thank you!"
FAQ
Got some questions about how Flip Japan Games work?
Check out these Frequently Asked Questions.
The person who bought the game can't come anymore, can you transfer the game to someone else's account?
Yes, we can do that. Please contact us on Instagram or Facebook Messenger and we will get back to you as soon as possible.
Do I have to have a facebook account to play?
Since the game is run entirely on Facebook messenger, you will need a Facebook messenger account to play the game. It's completely free, if you haven't already, simply download it here for iOS and here for Android.
Will the game use a lot of data?
Not much, since everything is sent as texts on Facebook messenger. We will mainly send you text, gifs and photos. There won't be any videos so not that much data will be used for the games.
Can I come with young children/elderlies?
Absolutely! The places that you will be visiting are all family-friendly. For places with admission fees, we try to include the fees for minors and seniors for your reference.
I'm vegetarian/vegan. Will the game have food options for me?
We give you a lot of food options and most places have vegetarian/vegan options. We are in the middle of an update, where we will indicate places with vegetarian/vegan options so you can choose easily. 
How does Flip Japan Games work?
With your personal tour guide chatbot at the tip of your finger, you can go at your own pace to explore the city based on your interests. Flip Japan Games operates entirely through Facebook messenger! Simply tell your personal tour guide what you want, follow along and enjoy your adventure!
Should I eat before playing the game?
It's up to what you want to do! There will be food options throughout the game. If you want to eat at a local place when you get to the area, that works! Come with an empty stomach in this case.
How long will this game go for?
You have a lot of different options throughout each game. So depending on what you choose, the game can go for 34 hours, or even 10 hours. It's really up to you!
How long will I have access to the game I buy?
You will have lifetime access! We continue to update the games and add more options and paths of adventure for you. Whenever we do a major update, you will get a notification .
How much money should I expect to spend during the game?
If there are admission fees to places, we tell you in advance during the game. We give you a lot of options so you can spend as little as you want, and as much as you want. For most restaurants that we recommend, expect to spend around 1000-2000yen for lunch, 2000-5000yen for dinner.