When you think about travelling in Japan, big cities like Tokyo, Osaka and Kyoto probably pop into your head. But besides these famous and popular places, there are so many incredible sights, neighborhoods, nature spots and places all around this country. If you are tired of the big cities or the famous tourist spots; if you want to avoid the crowd and visit a unique yet incredible place in Japan, here are 10 of the best underrated places to visit in Japan that I personally love and you should probably add to your bucket list. 

One of the best ways to explore Tokyo is to visit the local areas and immerse yourself in the local culture. If you want to explore local areas, we have created scavenger hunt adventures personalised to your interests, filled with fun facts, clues and puzzles. If you're curious, you can check out the games here!

Check out the Flip Japan Games here!

Find out more about Japan travel here: Shopping in Japan, the best souvenirs to buy in Japan, nature in Japan, camping in Japan, overnight & day trips from Tokyo, Top museums to visit in Tokyo, Local neighbourhoods in Tokyo and beaches near Tokyo.
1. Kawagoe
Kawagoe is located in Saitama, just about 30 minutes by train from Tokyo. In the Edo period, Kawagoe was served as a defense line in the northern part of Edo by Ieyasu Tokugawa and the area was developed as a castle town. Many merchants built warehouses in Kawagoe and these merchant houses still remain here today, making this area known as "Little Edo".
Here in Kawagoe, you can enjoy the old Japan town atmosphere. You will come across all kinds of historical spots just by taking a scroll around the streets. There are many kimono rental shops in Kawagoe as well if you're interested in joining a kimono experience.
Another one of Kawagoe's charms is that there are many gourmet spots. Kawagoe is famous for eel and there are many eel shops in the city. If you like unagi, definitely stop by one of the unagi restaurants here.
In Kawagoe, you can find about 70 confectionery shops, selling traditional Japanese snacks like rice crackers, mochi, candy balls and other old-school Japanese sweets. If you like sweet potatoes, Kawagoe is the place for you. You can try out all the incredibly amazing sweet potato coffee, sweet potato ice cream, and even sweet potato beer! You can truly and indulge in this nostalgic atmosphere here.
2. Niijima
When you think of islands in Japan, you probably think of Okinawa or somewhere far away from the cities, but did you know that there are actually 11 islands that are part of Tokyo?
Around 2700 people live on this island and a lot of oceanic species and birds migrate through Niijima. You can even spot Sperm whales and humpback whales from here. Niijima is great for surfing. The beaches are long and sandy and all face different directions so whichever way the wind is blowing, you can always catch some waves.
My favourite spot on this island is Mamashita Beach. Mamashita Beach is surrounded by cliffs, located along the southwest part of Niijima. The coastline of the beach offers a lot of little secluded spots to admire the view, including Mt Fuji on a clear day. You will be surprised by how blue the ocean is.
Like most of the volcanic Tokyo islands, Niijima also has hot springs. Once you're done enjoying Mamashita Beach, you can visit Yunohama Roten Onsen, which is right next to Mamashita Beach, around 5 minutes walk away. It is a large outdoor bath built in ancient Greek-style ruins. It gives you such stunning panoramic views of the setting sun and the Pacific Ocean. The amazing part about this rotenburo is that it's free for all to use and it is a mixed-gender bath.
3. Zamami
Located in the southernmost part of Japan, Okinawa is a gorgeous prefecture with stunning oceans, lush mountain ranges and all kinds of entertaining watersports for you to enjoy. Within the Okinawa Islands, you will find Zamami Island, one of the most gorgeous and tranquil places I have ever been.
Zamami Island can be easily accessible from Naha, the capital of Okinawa prefecture. You can take a ferry from Naha in about 1-2 hours. Zamami Island is known for watching whales and sea turtles in their natural habitat, snorkeling, diving, kayaking, beaches, hiking and local food and drinks.
If you like visiting beaches, you will love Zamami. Furuzamami Beach is the main beach of Zamami Island. The beauty of the pure white sand and the emerald green sea is beyond description. Here at Furuzamami Beach, you can see tropical fish in the shallow water below 1 meter, so even beginners can enjoy snorkeling here.
Ama Beach is another gorgeous beach where you can observe sea turtles in their natural habitat. There is a high probability of encountering sea turtles in this area. There is an abundant amount of seaweeds that feed the sea turtles. Make sure to come here during high tides, since you will be able to see the sea turtles eating just meters away from the shore.
The sea turtles come up to the surface to breathe so they can get very close to you.
4. Yanagawa
Yanagawa is a city on Japan's Kyushu island. It is often called 'the city of water' and the "Venice of Kyushu" because of its 470 kilometers of canals, which were originally built as irrigation channels using the waters of Chikugo River. The city's canals are lined with willow trees and beautiful architecture and structures.
If you come to Yanagawa for a trip, you have to experience taking the traditional Japanese low flat boats called donkobune. Your guide transports the boat with a pole and takes you on an incredible trip through the canals. The trip absolutely blew my mind and for what you're paying, I think you will definitely get your money's worth and more. In the middle of the course, you are also taken to a "water shop", where you can buy different snacks and drinks, like amazake, soft-serve ice cream and other snacks.
Shotoen is another beautiful sight that you can easily walk to, from where you get off the donkobune. It is a pond garden surrounded by black pine trees, and it is an ornamental garden where you can enjoy the view from the tatami room. It was designated as a national scenic spot in 1978 as a famous garden. Right next to Shotoen, there is also Tachibana Museum, showing you the history of Yanagawa.
After a day of exploring, stop by The Karatachi Bunjin Footbath. You can check out the literary figures related to Yanagawa that are introduced to you in the Footbath while healing the tiredness of your legs.
5. Izu Peninsula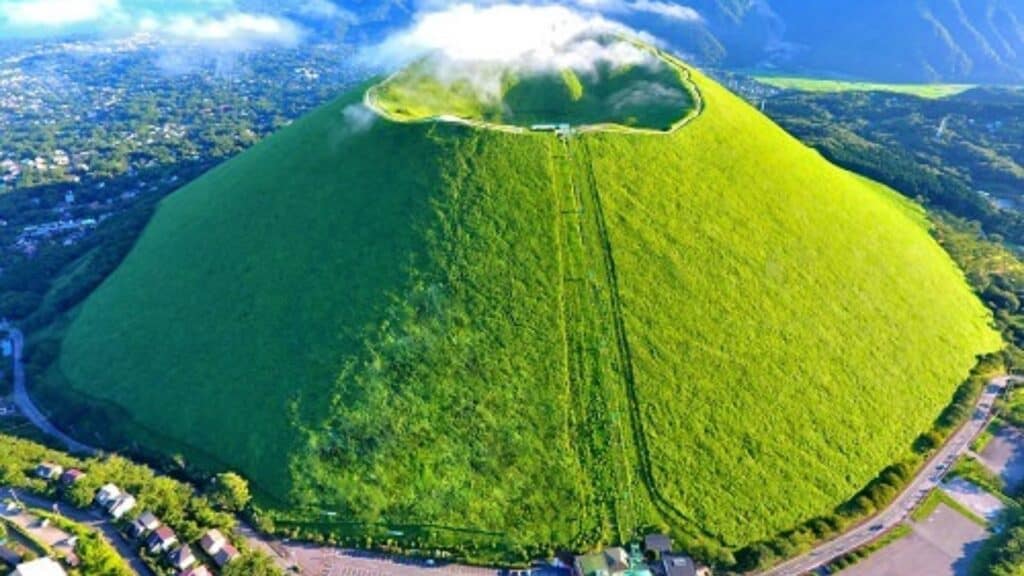 Popular for its resort area, hot springs, beautiful coastlines, beaches, mild climate and scenic mountainous interior, Izu Peninsula is a wonderful place for vacation. It takes merely a couple of hours to get to Izu Peninsula from central Tokyo, making it a great place for a weekend trip.
There are many amazing spots around the Izu Peninsula for you to visit and here are some that I have been to and have loved.
One of them is Jogasaki Coast. The unique coastline is created with lava that flowed out when Mt. Omuro erupted about 4000 years ago. The entire course has a total length of about 9 km, but there are many entrances and exits, so you don't have to complete the entire course. The Kadowakitsuri Bridge is another popular sight. It is 48 meters long at a height of about 23 meters, making it a thrilling scenic spot.
Komuroyama Ridge Walk "MISORA", a gorgeous new facility that recently opened in April 2021, is a spot where you can enjoy the magnificent natural scenery of the sea and sky in Ito City. It is a relaxing spot in Izu where you can relax surrounded by greenery and the gorgeous view.
If you want to visit a beach, Shirahama is definitely one that you will love. It is a vast white sandy beach extending up to 700 meters. It is also very famous nationwide and is crowded with many surfers and young people every year. Since Shirahama beach is quite spacious, even during peak seasons, you will still be able to enjoy the ocean and the sand with your own space.
6. [Kyoto] Amanohashidate
Amanohashidate is located in Kyoto Prefecture and it is known as one of the three most scenic spots in Japan. It takes roughly 2 hours to get here from the central Kyoto area. Amanohashidate translates to "bridge to heaven" and there's a legend that says the bridge was formed when an ancient dragon god flies to heaven.
Amanohashidate is a sand spit that separates Miyazu Bay and the Aso Sea from north to south.
The 3km stretch of Amanohashidate runs across the bay, with a beautiful sandy beach running along it the whole way.
During Summer, you can take a swim in the beach. When it snows in northern Kyoto in winter, Amanohashidate becomes such a fantastic sight. The area is covered in snow and you can cross the bridge while taking in the view.
There are a few other attractions that you can explore in this area including a few temples and shrines and a small amusement park and observation decks.
7. Karuizawa
Karuizawa is a beautiful area where you can visit nature and also shop and enjoy amazing food. Karuizawa Shiraito Falls is a popular spot to visit, and if you come to Karuizawa, you should definitely check it out. However, keep in mind it won't be as pretty in winter. I came here in winter and the ground was very icy and slippery and the falls aren't as pretty.
The Uchimura Kanzo Memorial Stone Church is a unique church made in stones and it is a unique sight.
One underrated place is the Onioshidashi Volcanic Park. There are such breathtaking views you can see from this park. The park features a landscape of volcanic rocks from the 1783 big eruption of Mount Asama. There is also a temple on top of the volcanic rocks that you can visit when you're here.
Old Karuizawa Ginza Street has an old-town vibe, great for you to scroll down and there is also Karuizawa Prince Shopping Plaza, an amazing place to shop for great deals.
Overall, this is a great area to visit either as a day trip or an overnight trip. You can easily get around with public transportation but getting a car is also a great option for you.
8. Tama lake and Sayama Hills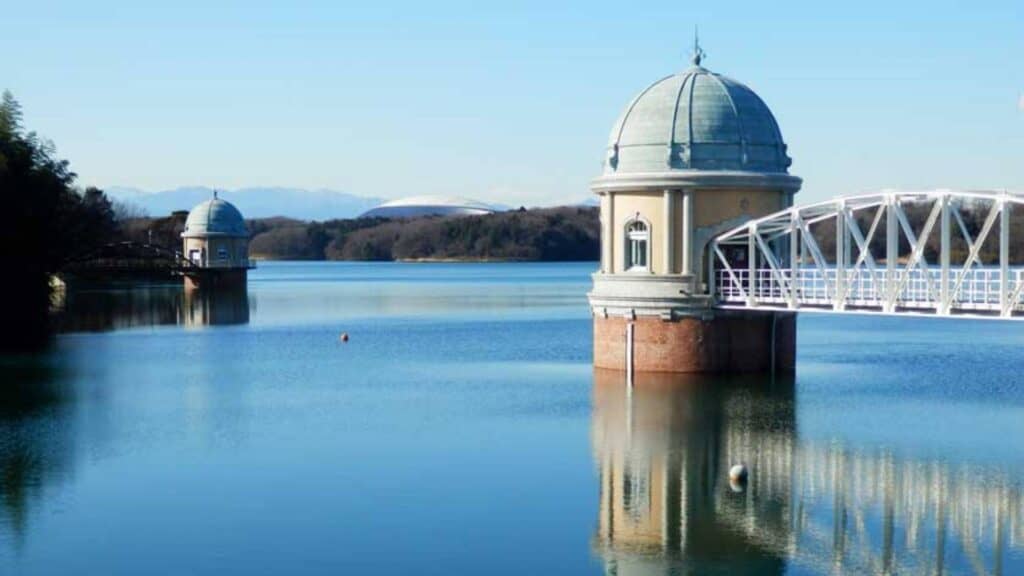 One of my personal favourite areas in Tokyo, Tama Lake and Sayama Hills are beautiful places to stop by to get away from the hustle and bustle. I came across this area randomly and absolutely loved it.
Tama Lake and Sayama Lake are water supply reservoirs. They take up a large area just north of Tokyo and you can get there easily from Shinjuku station. Tama Lake is massive and you can either take a stroll or take a bicycle here. You can also stop by Sayama Park here, with the Yakebe Pond and Sun Plaza in the wooded area. It is a great spot to enjoy cherry blossoms and autumn leaves and there are different events happening here throughout the year.
Just across the bridge through Tama Lake, you will find Sayama Hills. It is known as Totoro Forest, because it inspired the movie My Neighbour, Totoro (1988). If you haven't seen the movie, you should definitely watch it! This area is very peaceful, and you will feel like you have walked into a different world.
Tama Lake, Sayama Lake and Sayama Hills are quiet and peaceful, perfect for relaxation. If you decide to come here on a sunny day, be sure to bring sunscreen because there's not much shade. There aren't many shops either, so be sure to pack food and drinks.
9. Mount Nokogiri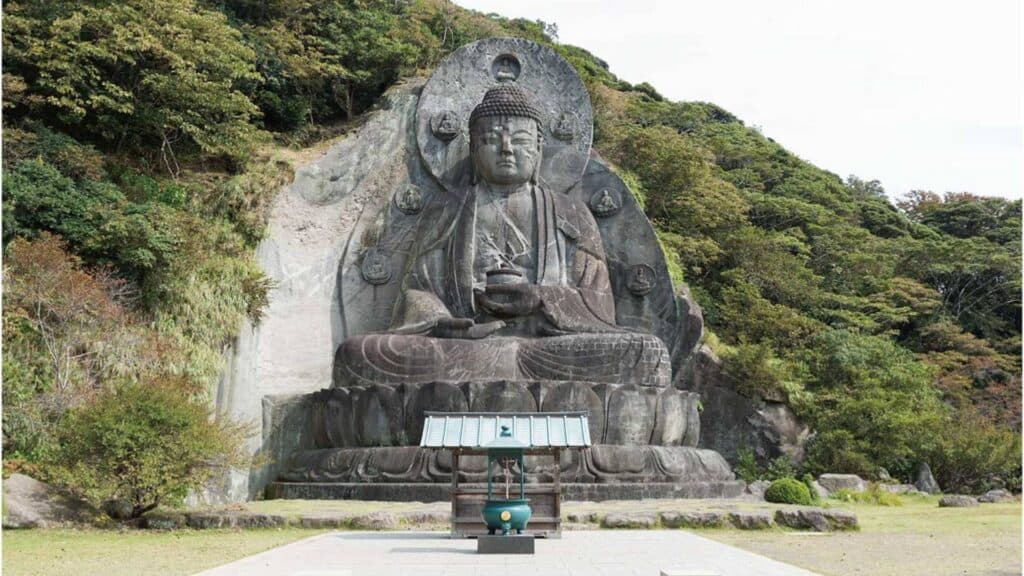 If you have seen photos of Japan, with a viewpoint extending from a cliff, then chances are it is Mt. Nokogiri. Mt Nokogiri is located in the Boso Peninsula in Chiba. It is one of Japan's 100 lowest mountains. It is also known as a "saw-toothed mountain", because of the rock walls and the sights along the way.
At the peak of Mt Nokogiri, you'll find the impressive viewpoint, including the Jigoku Nozoki, View of Hell, that sticks out at the top of a cliff. It offers wonderful views over Tokyo Bay. From here, you can take the path leading you to Nihonji Daibutsu, the largest pre-modern stone-carved Buddha in Japan. It is a Soto Buddhist temple built over 1300 years ago. The temple was originally a monastery and has been abandoned and revived multiple times through the ages. It is a must-visit sight in the area.
The end of the trail takes you to a massive collection of hand-carved Arhat sculptures. Although there were around 1500 of these sculptures, only 538 of them survived due to an anti-Buddhist movement in the Meiji Period.
You can get to the top of Mt. Nokogiri by the Mt. Nokogiri Ropeway or by hiking. The hiking trail can be quite challenging, but there are mini buddhas to accompany you along the way. It is a magnificent day trip from Tokyo that not many people know about.
10. Takachiho Gorge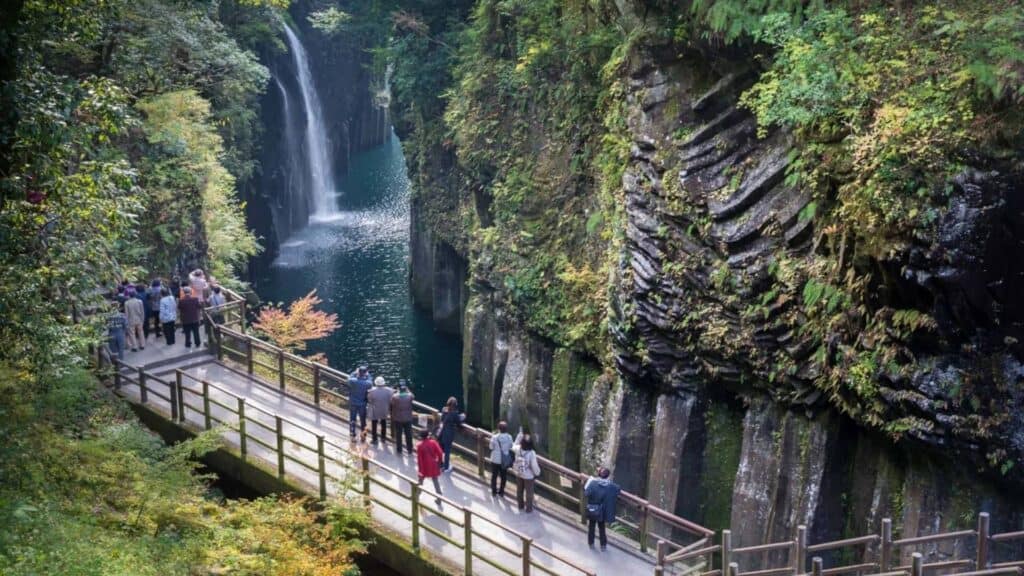 Takachiho Kai is a gorge formed by the erosion of Aso lava, and the 80-100m-tall cliffs stretch out for around 7 kilometers. It is especially beautiful in autumn when the leaves are changing colours. The geometric rock formation and the beautiful scenery created by the emerald green water surface are some of the mysterious sights that represent Kyushu.
Takachiho Gorge is one of Japan's leading scenic spots, which was designated as a national scenic natural monument as the Gorge River Gorge in 1934. It is known for its unique columnar-shaped valley surrounded by waterfalls.
The best way to visit Takachiho Gorge is to rent a boat and move freely along the river. From the boat, you will come across different beautiful sights and without a boat, it will be difficult to get to some of these places. The biggest attraction here is Manai Waterfall. It is a famous waterfall and has been selected as one of the 100 best waterfalls in Japan. The waterfall looking up from a boat is very impressive.
Besides Takachiho Gorge, there are many sightseeing spots in the area, where you can experience the local history and local cultural practices. If you get a chance to come here, take your time and submerge yourself in the beautiful scenery.
—
These places don't just provide beautiful nature, but also amazing Japanese history and cultural experiences. If you need to get away from the hustle and bustle of the big cities, take a day or more to enjoy these spots. What do you think about these places in Japan?
Find out more about Japan travel here: Shopping in Japan, the best souvenirs to buy in Japan, nature in Japan, camping in Japan, overnight & day trips from Tokyo, Top museums to visit in Tokyo, Local neighbourhoods in Tokyo and beaches near Tokyo.
Stay tuned for more information about Japan travel, Japanese culture, moving to Japan, living in Japan, Japanese language and more.