Located in the southernmost part of Japan, Okinawa is a gorgeous prefecture with stunning oceans, lush mountain ranges and all kinds of entertaining watersports for you to enjoy. Okinawa is home to a few dozen islands and each of these islands are special and unique in their own ways. The Okinawa islands are divided into three major island groups, the Okinawa Islands, the Miyako Islands and the Yaeyama Islands. Within the Okinawa Islands, you will find Zamami Island, one of the most gorgeous and tranquil places I have ever been. In this blog, I want to show you why Zamami island is so special, what to do and the hidden gems of Zamami through my experience. 

One of the best ways to explore Tokyo is to visit the local areas and immerse yourself in the local culture. If you want to explore local areas, we have created scavenger hunt adventures personalised to your interests, filled with fun facts, clues and puzzles. If you're curious, you can check out the games here!

Check out the Flip Japan Games here!

Find out more about Japan travel here: Shopping in Japan, the best souvenirs to buy in Japan, nature in Japan, camping in Japan, overnight & day trips from Tokyo, Top museums to visit in Tokyo, Local neighbourhoods in Tokyo and beaches near Tokyo.
Where is Zamami Island?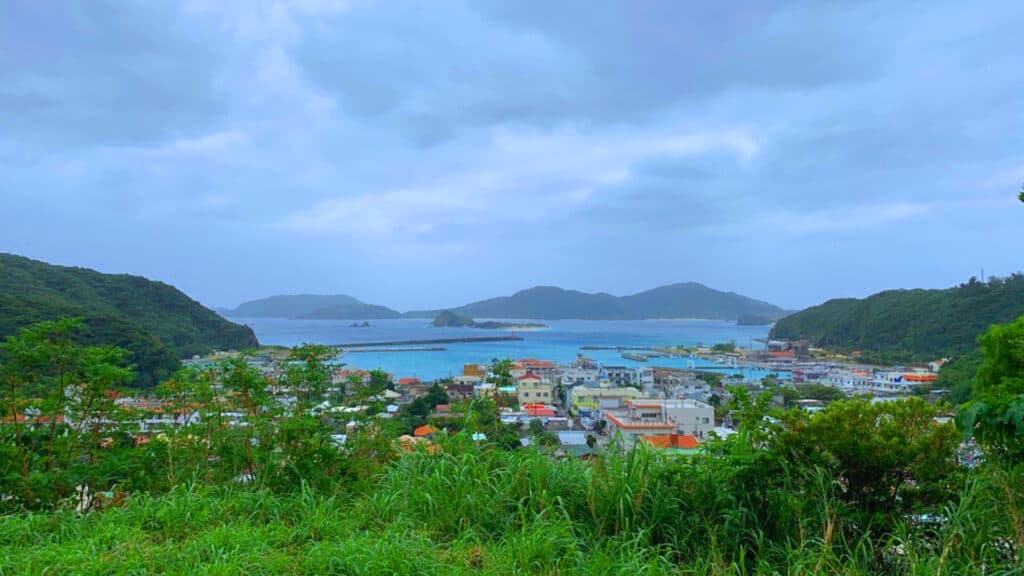 When thinking about travelling to Japan, relaxing on the beach and enjoying water sports might not be the first thing that pops into your head. However, you would be pleasantly surprised to find out the large number of beaches and coastal areas that will absolutely blow you away!
Zamami Island is one of the Kerama Islands, a national park of Japan that was crowned in 2014 for their beautiful coral reefs. Zamami Island is known for watching whales and sea turtles in their natural habitat, snorkeling, diving, kayaking, beaches, hiking and local food and drinks.
Zamami Island is a small island with a population of about 600 people, located about 40 km west of Naha City. Zamami Island can be easily accessible from Naha, the capital of Okinawa prefecture. You can take a ferry from Naha in about 1-2 hours.
Apart from the stunning beaches and gorgeous nature, this Island has a long history.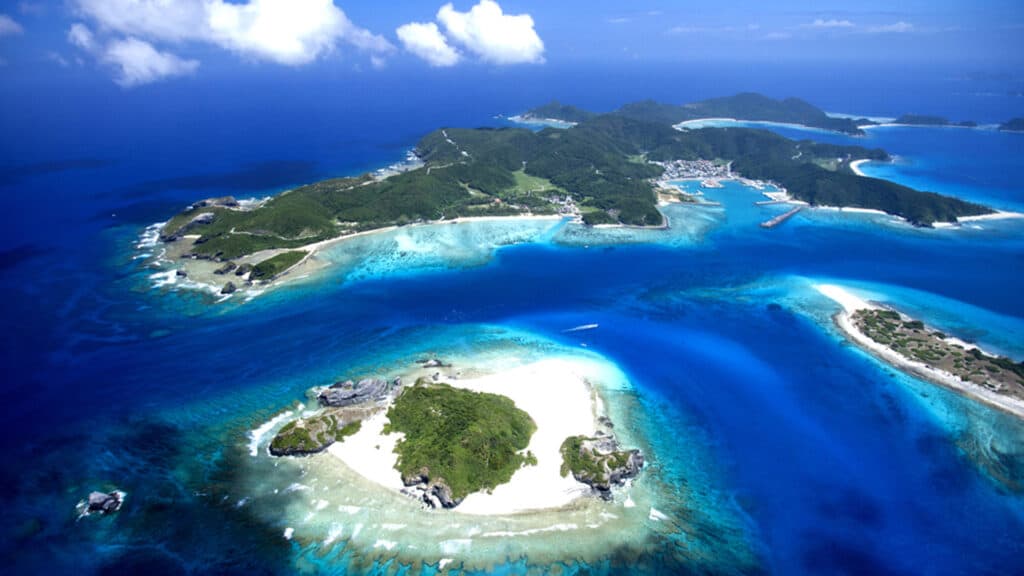 Okinawa once was the Ryukyu Kingdom, a Kingdom separated from other countries. Okinawa has distinct styles of art, food, drinks and traditions. In 1875, Japan's Meiji era transitioned into a modern country, and Ryukyu Kingdom was taken and became the Okinawa prefecture of Japan.
During the Battle of Okinawa in the Pacific War, one of the fierce battles took place on Zamami Island, with the island being the place where the US military first landed.
Where to go on Zamami?
Popular spots
Furuzamami Beach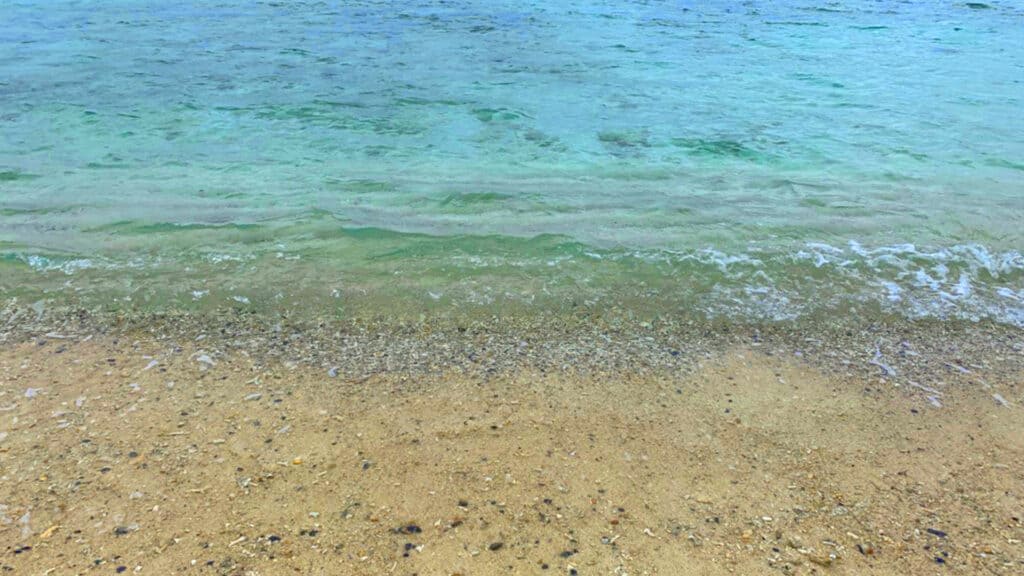 Furuzamami Beach is the main beach of Zamami Island. The beauty of the pure white sand and the emerald green sea is beyond description. Here at Furuzamami Beach, you can see tropical fish in the shallow water below 1 meter, so even beginners can enjoy snorkeling here.
Ama Beach
Ama Beach is most famous for being the beach where you can observe sea turtles in their natural habitat. There is a high probability of encountering sea turtles in this area. There is an abundant amount of seaweeds that feed the sea turtles. Make sure to come here during high tides, since you will be able to see the sea turtles eating just meters away from the shore.
The sea turtles come up to the surface to breathe so they can get very close to you. Make sure to enjoy watching the sea turtle's meal times without disturbing them.
Marilyn Statue
This statue was built to commemorate the love between Marilyn and his lover, Shiro. The dogs were said to be in love but Shiro's owner moved to Akajima, which was about 3 km away, bringing Shiro with them. Every morning, Shiro would swim across the ocean to see Marilyn. The story of Marilyn and Shiro inspired many people and the movie "I Want to See Marilyn" was produced. The statue of Marilyn still stares straight at Akajima, where her lover once was.
Definitely come and stop by the statue. Not just the beautiful story, but the view from where the statue is located has an incredible view of the different islands.
Underground spots
Unaji No Sachi Tenboudai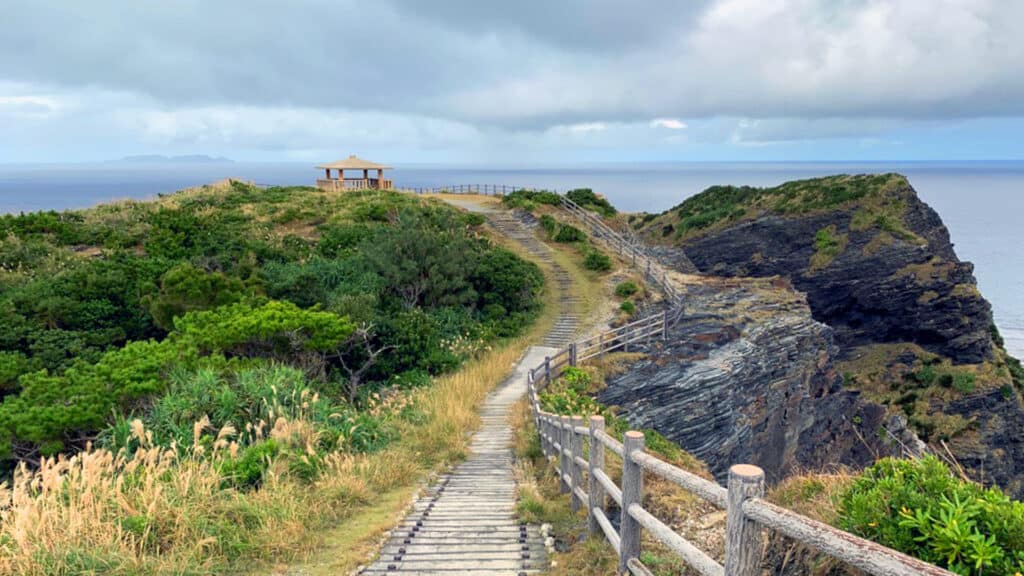 I'm surprised that I couldn't find information about this observatory on any English websites. This observatory is one of the most beautiful and peaceful observatories I've ever come across and I would highly recommend it.
It is absolutely breathtaking. A sidewalk stretches out from the parking lot to the top of the hill. It's a few minutes walk from the parking lot to the observatory, but every moment is special, with the gorgeous view and incredible sound of nature. You can see the powerful waves rushing in along the coasts of the island. If you are lucky, you may be able to see whales and their parents during the whale-watching season.
Chishi Observatory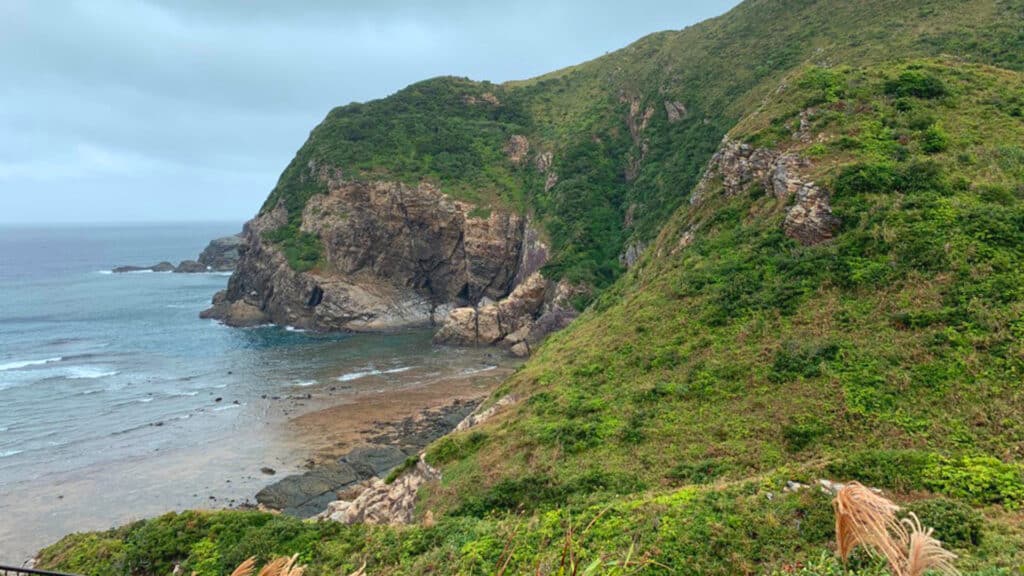 Chishi Observatory is another observatory that I would highly recommend for you to check out. It is not one of the popular observatories, since it is located in the middle of the island, a little further away from the more touristic areas.
It is roughly a 10-minute walk from Asa village and it's an observatory where you can enjoy being surrounded by the tall and majestic cliffs around you, while enjoying the sea breeze. On a clear day you can also see Aguni Island over the sea. The scenery woven by the rough rocks and the highly transparent Kerama Blue sea is truly spectacular.
Inoo Beach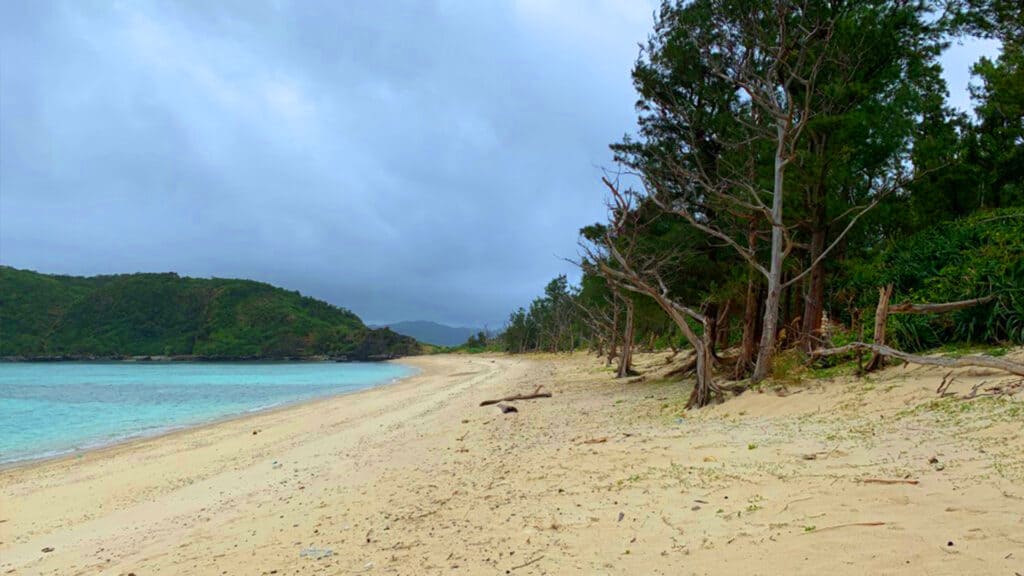 Climbing through the forest and arriving at the end of the Kudaki forest road, you will have to go through the forest of Mokumaou to come to this beautiful beach. It is truly a hidden gem and you won't run into many people here.
The name "Ino" of the beach is an Okinawan dialect and it means "the shallow and calm sea surrounded by corals." This beach is home to various types of fish, shellfish, and seaweed. It is also called the "sea field" because of the rich nature of Inoh beach. This is a great place to come snorkeling. You may encounter fish and shellfish that you don't normally come across.
What to do on Zamami?
There are many water activities for you to choose from snorkelling, stand-up paddle boarding, kayaking, there is a lot for you to choose from.
Diving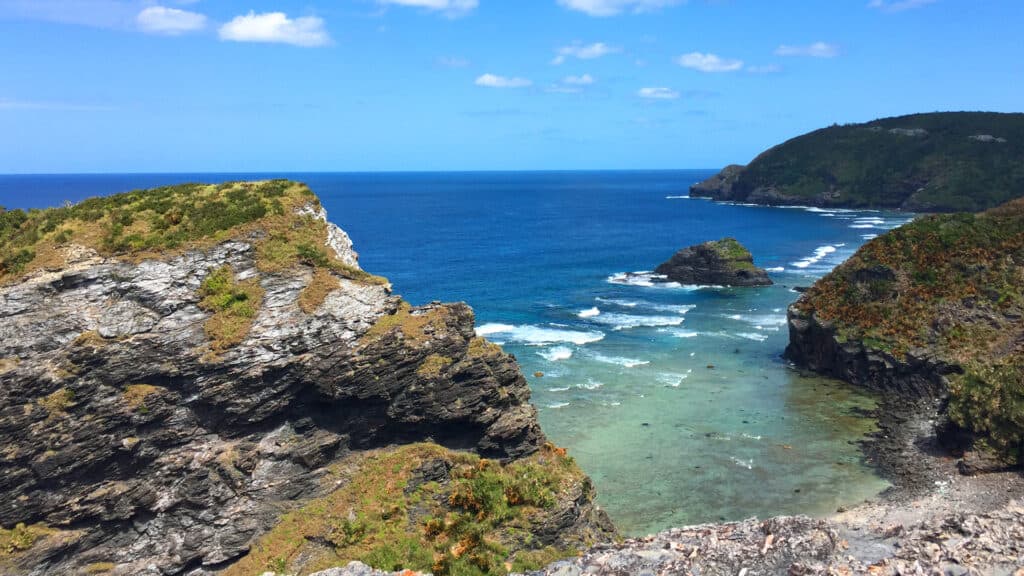 Since there are many different islands surrounding Zamami, the ocean is quite peaceful, making it a great spot for all kinds of sea life to grow and habitat. There are amazing diving spots all around Zamami Island. Join a diving tour when you're here to get well-equipped equipment and experienced guide staff. No matter how much experience you have with diving, you will be able to find instructors and tours to bring you out to different diving spots of the day.
Whale watching
Enjoying Zamami Island is not limited to summer. The highlight of visiting in winter is whale watching. The waters around Zamami Village are breeding spots for humpback whales. Every year, from January to the end of March, humpback whales come to this area to breed and give birth and spend the winter.
The reason why Zamami village whale watching is so popular is the high whale encounter rate. From early in the morning every day during the season, the staff looks into the sea from the observatory of the village with a telescope and looks for water splashes where the whale breathes, to see if the day is good to go for whale watching.
The tour guides that bring you out for whale watching are extremely careful with protecting these majestic humpback whales in their natural habitat. The boats that take guests out to the ocean always stay at a distance and do not chase after the whales.
Where to eat on Zamami Island
There are many restaurants on the Zamami Island and most of them are situated in the Zamami Village.
Restaurant Murumiya
Restaurant Marumiya is one of the most delicious restaurants I have ever been to. Even though it is a relaxed cafe-style restaurant, all the dishes that come out are exquisite. During the two weeks that I stayed on this island, I visited this restaurant 6 times, each time trying something completely different. This is a very ordinary restaurant that you might overlook if you are careless.
One delicious recommendation I have from this restaurant is Rafute. It is braised pork ribs, topped with sweet sauce. It goes well with rice and is perfect when paired with sake. The texture of the meat just melts in your mouth.
The absolute must-try from this restaurant is their homemade Jimami Tofu. Jimami Tofu is a local Okinawa dish. It is tofu made with peanuts. I know it might sound weird, I was reluctant to try in the first place but it was absolutely delicious. The rich scent of peanuts is a unique taste that many people find addictive.
Restaurant Marumiya also makes a deep-fried version of their homemade Jimami Tofu. The slightly crispy thin layer of dough surrounds the tofu, adding a different texture and flavour to the Jimami Tofu and it is absolutely delicious.
The most special part of this restaurant is that it is a family-run business and the grandma is the owner of the restaurant and the server. She is probably in her 60s or 70s, still actively running around the busy restaurants, memorising the orders by heart and chatting up the customers. She spent some time studying English so she can communicate a little with foreigners.
During my many visits to the restaurant, she gave me extra discounts and free coffee. After telling her I was leaving the island the next day, she gifted me with two extra Jimami Tofu to bring home. It was definitely the highlight of my stay here.
For lunch, they serve daily specials for under 1,000yen (10USD) and for dinner, sharing a few plates of their signature dishes with drinks would cost around 2,500-3,000yen (25-30USD) per person. No matter if you're in Zamami for just one day or a few days, definitely stop by this restaurant for the most delicious and heart-warming meal.
Wayama Mozuku
Another memorable restaurant on Zamami Island was Wayama Mozuku. They have a small menu and serve their signature Mozuku Soba.
Okinawa Soba is one of the popular dishes for people to try when visiting Okinawa. Okinawa Soba is usually made with a very light broth and the taste of the noodles is quite plain. It is said to be good for you because of the small amount of salt used and the focus on using seaweed to make the broth.
Zamami is special for their Mozuku soba. Mozuku is a type of seaweed. It is very healthy and the seaweed is thin and a little slimy. It might not sound very appealing but it is surprisingly delicious.
The owner at Wayama Mozuku produces his own mozuku. They make the soup with bonito flakes and kelp. The soba noodles here are home-made, kneaded with mozuku. The bowl of noodles is topped with a slice of Rafute, the sauteed pork that I introduced previously.
The shop has a terrace for you to hang out and enjoy your simple yet healthy and filling meal after a long day of water sports. The mozuku by itself is quite plain and some might even say tasteless. You can always get extra meat or a side dish on the side with your noodles.
How long to stay on Zamami Island?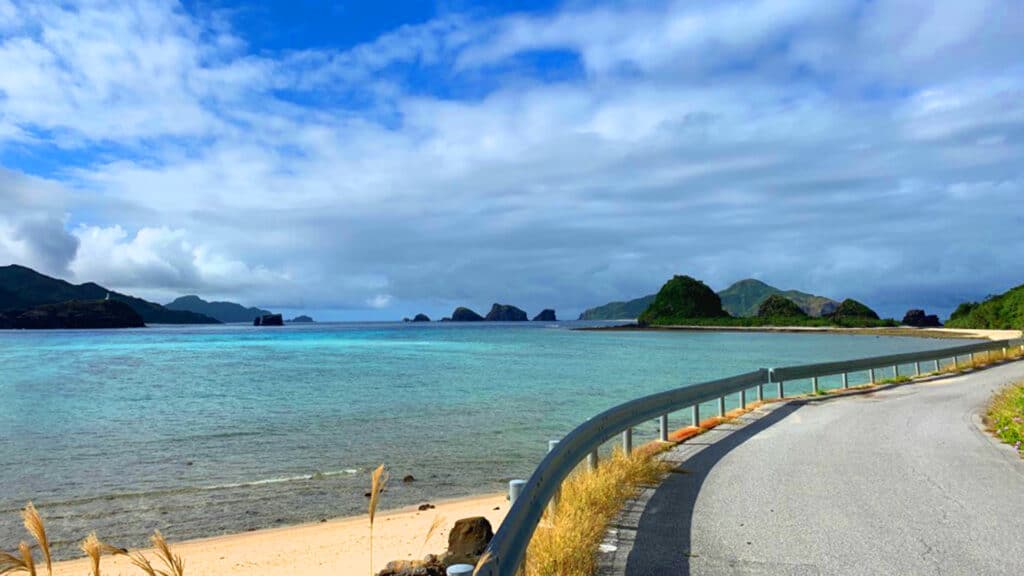 The first time I visited Zamami Island, I only visited for the day. I arrived in the morning around 9am and took the last boat to leave around 3pm. During that time, I had lunch at Wayama Mozuku and visited the west side of the island. I stopped by Ama beach to snorkel with the turtles and visited two observatories, including the Unaji No Sachi Observatory.
It was great to see the island quickly and if you don't have much time, coming for the day is a great choice for you.
After falling in love with this island during my short visit, I decided to come back and stay for 2 weeks. I was lucky to be able to find simple short-term work with a local business during this time, in exchange for accommodation. During the two weeks, I got to explore every hidden gem and took my time to enjoy the island to the fullest.
If you have time and want to relax, then definitely stay here for at least 1-2 nights, to truly enjoy the island. If you don't have time and don't mind rushing a little, then coming for the day is a great option for you. If you need to complete getaway and to immerse yourself here in Zamami, then definitely come for a few weeks.
How to explore Zamami Island?
I think the best way to explore the island is to rent an electric bicycle or a motorbike. I emphasise on the electric part because there are endless uphills and downhills. I made the mistake of riding from one end to the island to another with an old bicycle and it was painful.
Walking is another option and it doesn't take long, roughly a few hours to get from one side of the island to another. However, as I mentioned, keep in mind that you will come across a lot of steep hills. You can also rent a car on the island. If you don't have much time and want to quickly see the entire island, then this might be the option for you. 
—
Stay tuned for more information about Japan travel, Japanese culture, moving to Japan, living in Japan, Japanese language and more. 
Find out more about Japan travel here: Shopping in Japan, the best souvenirs to buy in Japan, nature in Japan, camping in Japan, overnight & day trips from Tokyo, Top museums to visit in Tokyo, Local neighbourhoods in Tokyo and beaches near Tokyo.