Japan is gorgeous throughout the year, but at the same time, its winter season offers a wonderfully unique experience. If you're an adventure lover or want to experience the joy of exploring a new area, why not try skiing or snowboarding in Japan? You'll not only be able to experience the thrill of these winter sports, but also have a memorable atmospheric experience. Here are the 8 best spots for skiing and snowboarding in Japan!

One of the best ways to explore Tokyo is to visit the local areas and immerse yourself in the local culture. If you want to explore local areas, we have created scavenger hunt adventures personalised to your interests, filled with fun facts, clues and puzzles. If you're curious, you can check out the games here!

Check out the Flip Japan Games here!

Check out what to do in Winter, best illuminations in Tokyo, best illuminations in Japan, illumination day trips, best ski resorts, winter festivals, best onsen spots and ways to escape the cold in winter in Japan.
How to choose the right ski resort
Before we get started, let's take a look at some tips to help you choose the right skiing and snowboarding spots in Japan for you.
1. Snow quality and amount of snow
In order to enjoy skiing and snowboarding, you want to choose a ski resort with the right quality and amount of snow. The slipperiness varies greatly depending on the snow quality. Powder snow, which is represented by the slopes of Hokkaido, is smooth and slippery. Ski resorts with as high an altitude as possible and dry air are said to have better snow quality.
In areas with little snow, a lot of artificial snow is used by snow machines, so the snow quality is harder than natural snow, speed control is difficult, and the impact at the time of a fall becomes stronger.
Especially for beginners, it is recommended to choose a ski resort with light snow and good snow quality. Snow quality depends on the weather, so make sure to check the slope information before going out.
2. Choose a place that has a course that suits your level
For beginners who have just made your ski / snowboard debut, we recommend ski resorts with as wide a course as possible. If you still can't control it well, you risk coming into contact with the people around you, so a wider course will give you more space.
Especially at popular ski resorts, there are usually multiple courses that allow you to ski comfortably. If you haven't skied or snowboarded for a long time or if you want to practice tricks, it is a good idea to choose a place with a wide course.
If you are an intermediate or advanced person who wants to ski a lot, we recommend ski resorts with long courses. It's just a short course, it might become annoying to keep riding ski lifts.
There are also courses that go through forest roads and courses with a good view that can be a fun adventure, if you're comfortable at it. If you are quite good at skiing or snowboarding, you might also want to try out steep slopes and even jumps.
3. Rental shops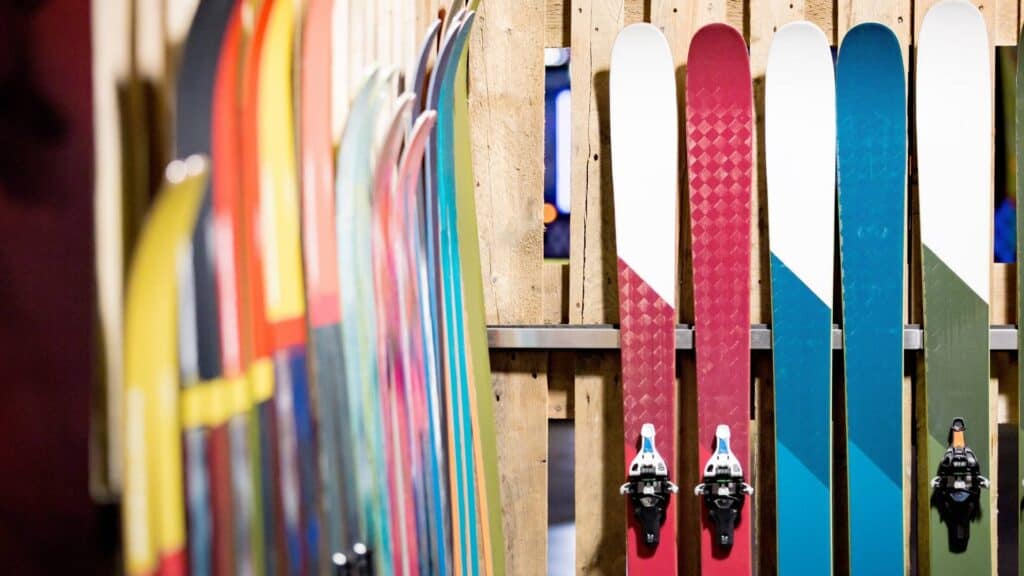 It goes without saying but if you don't have your own gear, make sure to choose a place where you can rent everything you need. Some items you need to consider include your rental wear, rental board sets, and accessory sets.
Rental items that are available to you depend on the ski resort, so make sure to check in advance. Most ski resorts will have ski and snowboard rentals. Most of these places will also have rental wear but the selection tends to be limited. If you want to invest into your own outfit for your ski trip, then you can check out online stores such as Amazon.
Keep in mind that you usually won't be able to rent things like ski gloves, ski goggles, face covers or beanies, so you might want to get them in advance.
4. Ski schools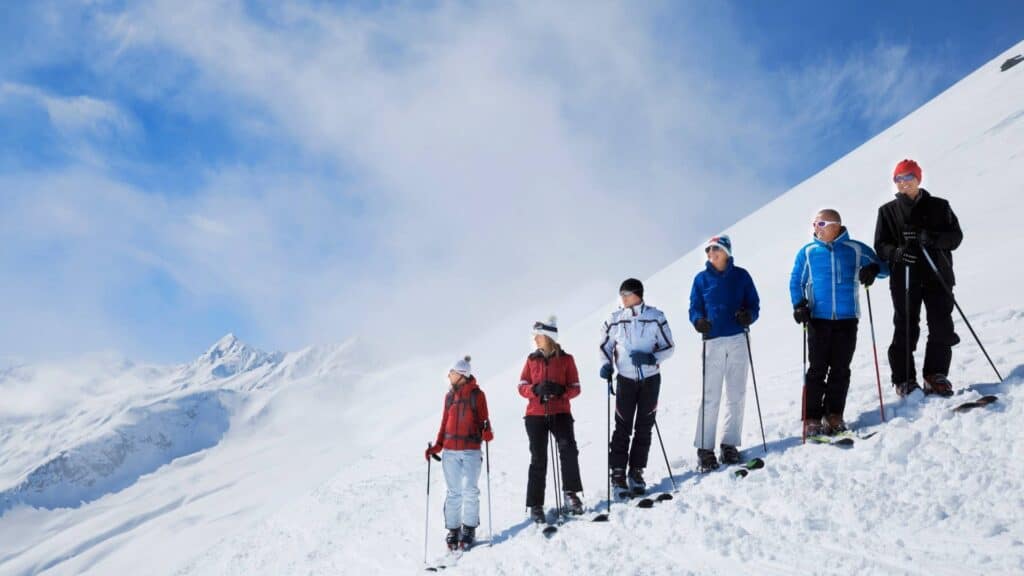 If you're a beginner or aren't too familiar with skiing or snowboarding, we recommend that you have a course for beginners. The basics are important. If you learn it properly, you will be good at it before you know it.
If you are traveling with children, it would be nice to have the option to let them attend a kids school. It depends on the age of the child, you can choose a place where you can have family classes or private classes. Apart from children, many ski schools also offer lessons to people over the age of 60.
5. Check the business hours
The business period varies depending on the snowfall on the slopes, so make sure that it fits your schedule. This is especially important if you're planning to go on a ski trip before the full-scale winter season or in early spring.
The business hours of ski resorts may change depending on the day and the weather. Lift times and ticket sales start times might also change. Some ski resorts only open during the day, while others open at nights as well. Make sure to choose a place that fits your schedule as well as possible.
Best Skiing/Snowboarding Spots
1. [Hokkaido] The Niseko Ski Resort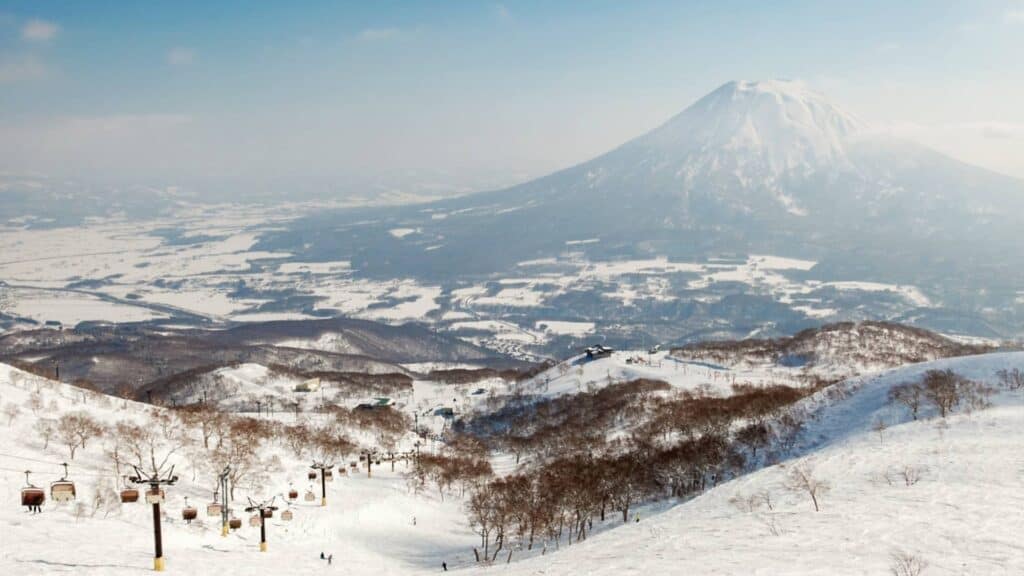 Niseko is located on the island of Hokkaido. It is the most famous ski resort in Japan and probably the most popular Japanese resort for both Japanese people and foreigners. Niseko is known because it offers some of the best slopes and snow conditions.
The Niseko ski resort has been awarded the Powder Hounds award for the best ski terrain in Japan, making it the ideal spot for ski lovers. There is no need to worry about any language barriers, as English is spoken by most of the staff at the resort.
Skiing here ranges from beginner to advanced with varied terrain types such as powder, moguls, trees, steeps, groomers and parks. Snowboarding is available at all levels as well with varying features including freestyle terrain parks and half-pipes.
Besides skiing and snowboarding, there are also many places for lodging and great nightlife. With all the unique things to do in Niseko, it should definitely get on your must-visit list for your next winter skiing and snowboarding trip.
2. [Niigata] Myoko Ski Resort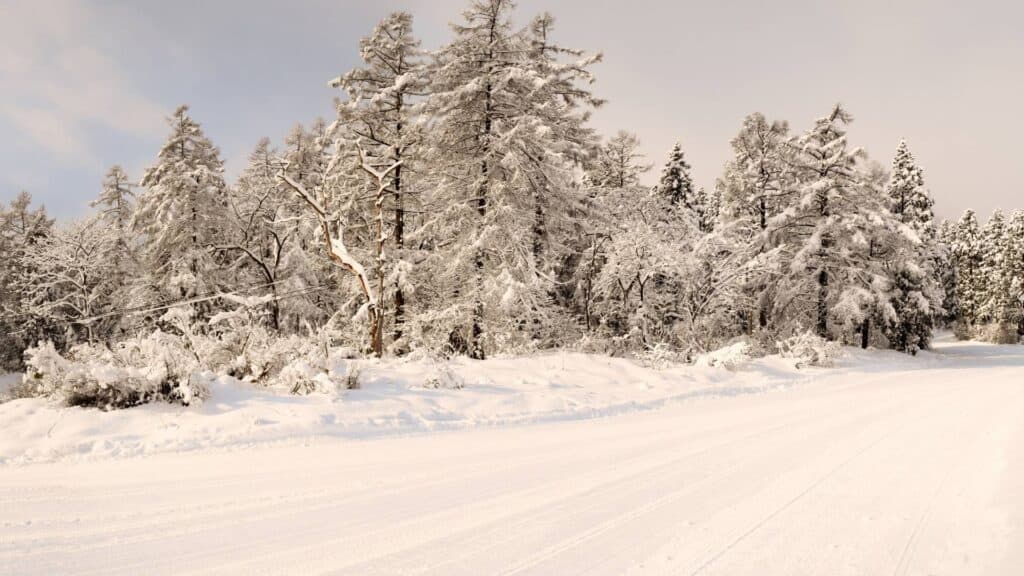 Niigata is located in the Chubu region of Japan. Niigata has one of the heaviest snowfalls in Japan and therefore is home to many great ski resorts.
Most of the ski slopes are easily accessible from the train stations and highways, making it easy to get to from Tokyo. There are 4 mountains that offer skiing and snowboarding – Myoko Ski Resort, Snow Park Resort, Sun Alpina Ski Resort and Kiroro Ski Resort. Myoko Ski Resort, in particular, is one of the favourites. It is located on Mt Myoko which has an altitude of 1473 meters above sea level. It has 12 lifts and 107 runs. The courses here range from beginner courses to advanced, good for people of all levels and experiences.
Besides skiing, Niigata is famous for rice and sake, and there are many old sake breweries for you to visit. Niigata provides a spectacular experience, one for you to talk about for years to come!
3. [Yamagata] Yamaga Zao Onsen Ski Resort
Yamaga is located in Tohoku prefecture. Yamagata provides many experiences in one. If you want a place to immerse yourself in Japanese culture, try all the freshest and delicious seasonal food, and also experience skiing and snowboarding, Yamagata is here to make your dreams come true!
One of the most famous ski resorts in Yamaga is Zao Onsen Ski Resort in Yamagata Prefecture, which is famous for having the longest skiing slope in Japan and for the snow monsters. Snow Monsters are unusual plumes of ice that form when water droplets freeze on cold grassy surfaces, like ski lifts or sloped sides.
Skiing and snowboarding while enjoying the views of snow monsters is a sight that is absolutely exceptional! Zao Onsen Ski Resort has one of the highest snowfalls in the country and offers skiing and snowboarding with impressive views of Mt. Fuji.
Besides Nao Onsen Ski Resort, there are many other incredible ski resorts for people of all levels. Yamagata is also often less crowded than other locations, making it perfect for people looking to escape large crowds. With all the different activities and cultural experiences, this area is a favourite for skiers and snowboarders of all skill levels. It's definitely worth exploring!
4. [Nagano] Hakuba Village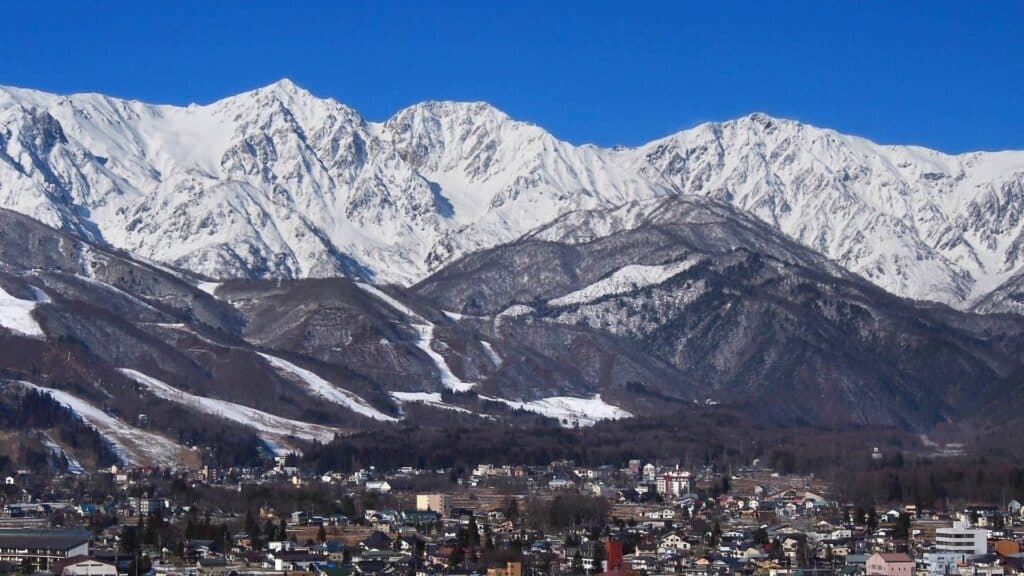 If you want an international atmosphere while enjoying winter sports and activities, along with great nightlife, then Hakuba is the perfect place for you. It has a great mix of everything. From skiing to snowboarding, to onsen, there's something for everyone in Hakuba.
Hakuba is a village in the Japanese alps, just three hours from Tokyo. Hakuba has some of the best classy ski resorts in Japan with beautiful and soft snow. Hakuba Ski Resort's ski courses range from beginner to expert levels, with some courses also designed for night skiing.
Hakuba is known for having international resorts that are perfect for skiing lovers, and skiing and snowboarding instructions are available in English. The amazing thing about Hakuba is, you only need to buy one ticket to visit ten resorts of the Hakuba Village! One ticket allows you to move around Hakata and explore all of these different resorts.
Hakuba village itself has beautiful traditional buildings and historic stone structures with few modern structures can be found nestled between two mountains at an altitude of 1800 meters overlooking vast expanses of forest with an unbroken view over the Kita Alps range.
Come check out Hakuba not just for your next skiing and snowboarding trip, but for the full experience with everything you might need for your vacation.
5. [Niigata] Naeba Ski Resort
Nozawa Onsen Ski Resort in Nagano Prefecture is one of Japan's leading ski resorts due to its large size, long history, and good snow quality. Naeba Ski Resort has a huge variety of 22 courses, 4 kids parks, and 3 gondolas. It takes about 2 hours to get here by car and 2.5 hours by train. There are fun beginner ski slopes for children, challenging trails for advanced skiers, and also terrain parks for all level riders. The entire ski resort is connected by lifts and Japan's longest gondola, the 8-person Dragondola.
There are a large variety of snow activities that both children and adults can enjoy. Besides skiing and snowboarding, you can experience different activities like snowmobiles and snow bikes here. Many of them are great to enjoy with family and friends.
Winter Fireworks also take place here on the slopes, held 34 times every season. Visitors can enjoy the fantastic event that illuminates the clear night sky with fireworks from the ski slopes.
There are many accommodation options, including Naeba Prince Hotel, a large hotel with approximately 1,200 rooms. Beside this, there are a wide variety of restaurants, 24 in total, 5 of which are restaurants on ski slopes.
6. [Gifu] Dynaland
Gifu is a city in Central Japan, a perfect city for skiing/snowboarding. It is easy to get to Gifu from Tokyo by bus or car.
Dynaland in Gifu Prefecture is one of the largest ski resorts in western Japan and has incredibly long business hours. Dynaland has a total of 20 skiing courses. The skiing slopes open from the early mornings of 5am and you can stay until as late as 23:00, so if you want, you can spend 18 hours skiing or snowboarding. With 210 artificial snowmaking machines, there is no need to worry about lack of snow.
Besides the skiing slopes, there is also a snow area called Baboon, which is perfect for families and it is fully equipped with a sled slope with a moving belt and an indoor play area.
Dyna Fireworks Festival is also held here, scheduled to be held four times every season.
You can also enjoy the hot springs after a long day of skiing or snowboarding! With many tourist spots, it's easy to have a lot of fun in Gifu.
7. [Nagano] Shiga Kogen Ski Resort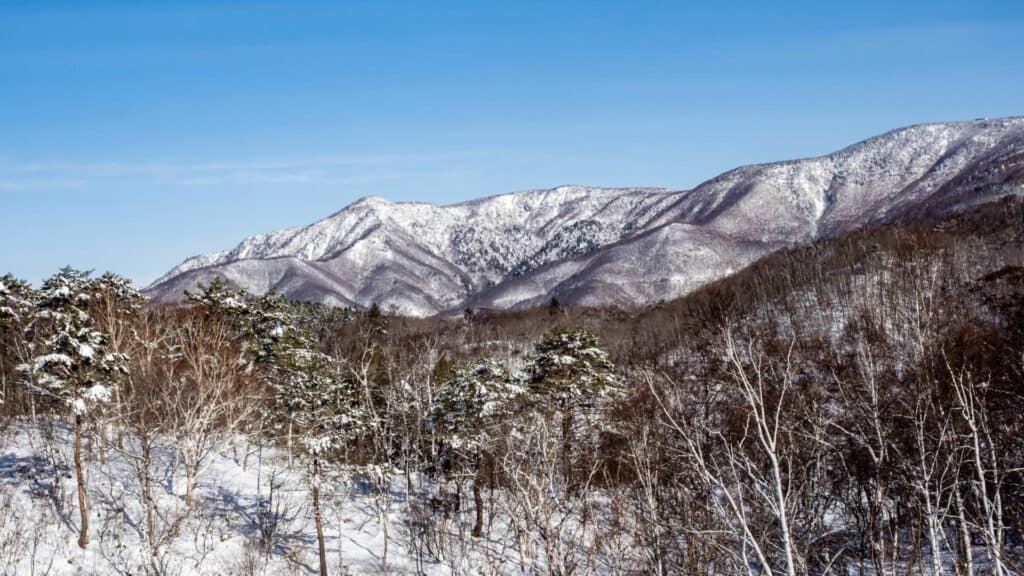 Nagano is a modern city located in the northern part of Nagano prefecture. Nagano prefecture gained world renown after hosting the Winter Olympics, and skiing and snowboarding are major attractions during the winter. It's also easily accessible from Tokyo.
Nagano has amazing slopes and deep snow that attracts skiers from all over, filling the resorts especially on holidays. You can also visit the beautiful fire festival and enjoy all the gorgeous unique activities and relaxing hot springs in Nagano.
The Shiga Kogen Ski Resort is one of the most popular skiing destinations in Japan. Shiga Kogen Ski Resort refers to all 18 ski resorts in the Shiga Kogen area of ​​Nagano Prefecture. It is one of the largest ski areas in Japan, divided into all four areas of the Shiga Pass area, and each area consists of ski resorts of various sizes.
Within the Shiga Kogen Ski Resort area, the 18 large and small ski resorts stretch from 1,304m to 2,307m above sea level. Each ski resort is connected by a total of 52 lifts, gondola and shuttle bus. You can freely go to and from each ski resort with the lift pass and shuttle bus common to all mountains, and you can ski all courses within this area.
Besides winter sports, there are some nice places to visit in the area, too. This includes Shirakaba Onsen, which lies just outside the resort's boundaries. It's one of Japan's best natural onsen resorts and is at an elevation of 1,300 m (4,260 ft), which means it stays warm all year round. For nightlife there are plenty of restaurants and bars along with entertainment options for those who want to stay out late at night.
—
Japan has the perfect places for winter sports, even more than the ones mentioned here. You can decide what you want: Do you want a place just for skiing/snowboarding? Or do you want more activities and winter sports? That all depends on you. Just search about what you are truly looking for in your experience and have fun! 
Check out what to do in Winter, best illuminations in Tokyo, best illuminations in Japan, illumination day trips, best ski resorts, winter festivals, best onsen spots and ways to escape the cold in winter in Japan.
Stay tuned for more information about Japan travel, Japanese culture, moving to Japan, living in Japan, Japanese language and more.