Hinamatsuri, also called the Doll's Festival, lands on the 3rd March. It is a beautiful festival that celebrates and prays for the well-being of girls. How long do Hina dolls decorations stay up for? What kind of food is eaten during the day? Let's have a look at the different customs practised here, the different Hinamatsuri, the different ways to decorate and how to enjoy Hinamatsuri events.

One of the best ways to explore Tokyo is to visit the local areas and immerse yourself in the local culture. If you want to explore local areas, we have created scavenger hunt adventures personalised to your interests, filled with fun facts, clues and puzzles. If you're curious, you can check out the games here!

Check out the Flip Japan Games here!

Find out about Modern Fashion, Kimono culture, Jikkyousha, the weeaboo culture, ninja, geisha, samurai, horror legends and folktales.
What is Hinamatsuri?
The Hinamatsuri is a festival to wish for the healthy growth and health of girls. The festival was traditionally known as the Peach Festival (桃の節句, Momo no Sekku) because peach trees typically start to bloom around this time.
Why is Hinamatsuri on March 3rd?
According to the ancient Chinese Onmyōdō (陰陽道), "the way of the Yin and Yang", there was a custom of offering and praying on days when odd numbers of 1, 3, 5, 7, and 9 overlap. These include the Double Third Festival on March 3, the Dragon Boat Festival on May 5, and the Tanabata on July 7.
In Japan, Hinamatsuri became an annual event during the Heian period and changed a little during the Edo period to become the official holiday of the shogunate and the festival was called "Gosekku".
Hinamatsuri is a rather important holiday, and it has a lively festival atmosphere. Originally, there is no distinction between men and women in the festival, but in contrast to the Dragon Boat Festival, which mainly celebrates amle soldier, the Kamimi festival has become an elegant girl's festival.
Where did Hinamatsuri decorations come from?
You might have seen figurines of court families in Hina doll decorations. Actually, not related to the Hina festival, there was a little girl's toy called "ひいな(ひな)遊び Hina Asobi" in Japanese court noble households. This word often appears in the story of Genji. In short, it's a playhouse using dolls.
During the Edo period, women from court noble households often married into samurai families and Hina dolls were brought into the samurai society as a wedding tool.
Hina dolls represent court nobles and they are popular among samurai and wealthy tradesmen. It seems that the custom of enjoying Hina dolls was gradually born in connection with 上巳 Jōshi, the Double Third Festival, which is 3rd March.
Hinamatsuri and Peach blossom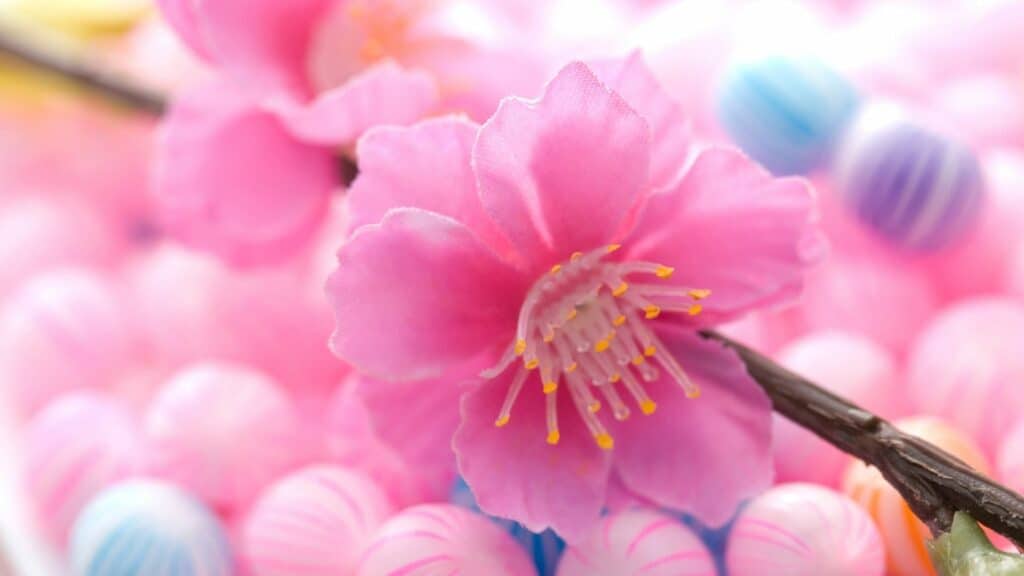 March 3rd of the lunar calendar symbolises the beginning of March to the middle of April. Since it is the spring season when peach blossoms bloom, this festival is also known as "peach festival".
In China, peach trees are believed to be long-lived trees with powers to repel illness or disaster, and there was even a ritual to drive away demons with the peach trees. Peach is believed to be a plant full of fortune.
How to decorate with Hina dolls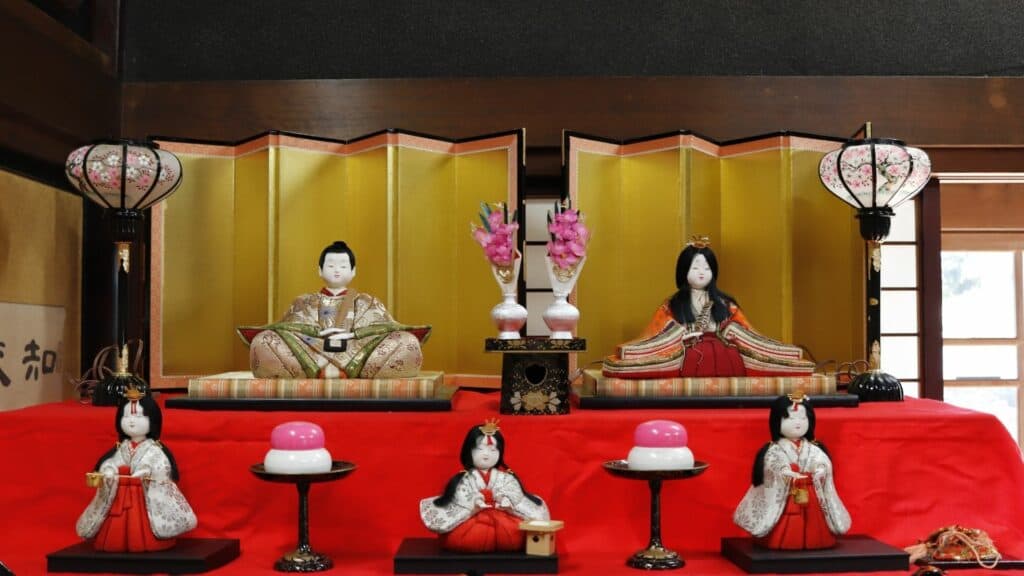 There are two types of Hina dolls: "Kyobina" made in Kyoto and "Kanto Hina" made in Kanto.
Kyobina has a male doll sitting on the left side and a female doll sitting on the right side. They usually have narrow eyes and subtle eyes and a nose. Kanto Hina has the male doll sitting on the right side and the female doll sits on the left side. These dolls tend to have clear eyes and nose.
In the courthouse, the left side was considered to be higher (the left minister is higher than the right minister, etc.), so in Kyotobina, the male is on the left and the female is on the right.
This is derived from the ceremony of the coronation of Shishinden Hall in the Kyoto Imperial Palace, and it is based on the ancient custom that the side where the sun hits first is the upper position. It is a decoration unique to Kyoto that values ​​old traditions.
Of course, both are available in modern times, so it's a good idea to choose according to your taste. Also, most of them can be arranged freely.
Seven-tired decoration is the most luxurious way to decorate. Since there are fifthteen people, it is also called a 十五人飾り fifteen-person decoration. To decorate a seven-tiered decoration:
First stage: Male and female dolls
Second stage: Three lady waiters
Third stage: Five-person musical accompaniment (Gonbanbayashi)
Fourth stage: Protection deity (Zuijin)
Fifth stage: Servant (Shicho)
6th and 7th tiers: Wedding tools such as dressing boxes and ox carts
For five-tiered decorations, up to the 3rd tier, it is the same as the 7th tier decoration, and it is common to line up the Zuijin and Shicho on the 4th tier and the wedding tools on the 5th tier.
For three-tiered decoration, the companions are all lined up together and sometimes, the wedding tools are also decorated around the companions.
There is also the Imperial prince decoration with the two-person decoration. It has only a pair of male and female dolls and this was normal until the Muromachi period. In modern times, this has also become more common, because of the lack of space.
When to decorate with Hina dolls?
Most people decorate with Hina dolls from Lichun (also known as the main Setsubun, around February 3rd). In this case, you can decorate it for just one month, until March 3rd.
It is also believed that you will be blessed with a good fortune if you decorate the hina dolls on 雨水 Usui, which is part of the 24 solar terms and usually around February 18. This day symbolises the time when the falling snow turns into rain and water is a symbol of life and leads to fertility and prosperity of descendants.
No matter when you decide to put up the hina dolls, decorate at least a week in advance. Avoid rushing to decorate on March 2nd, the day before, as it is called an 一夜飾り, meaning overnight decoration and is not good for your luck.
To take away the decoration of the Hina dolls, it's best done on a sunny and dry day any day until mid-March. The point is not to leave moisture on the doll. There is also a belief that it is better to clean them up on 啓蟄, the day of Jingzhe, around March 5th.
What to eat for Hinamatsuri
There are many different foods that are made and eaten on this occasion. By eating these dishes or sweets, it is said to bring all the more goodluck alongside the Hina dolls.
Chirashizushi ちらし寿司
Chirashizushi can be made with a number of different ingredients of your preference as it mainly is just different toppings on a rice base. However, when it comes to Hinamatsuri it is recommended to put the following toppings on such as green beans which symbolises a good and hard work ethic. This dish can be easily made, but if you aren't too confident in your culinary skills you can find it in your local supermarket.
Clear clam soup はまぐりのお吸い物
Another Hinamatsuri delicacy a clear clam soup. The clam shells have to be attached together as it is representative of marriage, and having one life partner. It is a really simple recipe with around 5 ingredients, so it is worth giving it a go if you want good marital luck!
Hina Arare 雛あられ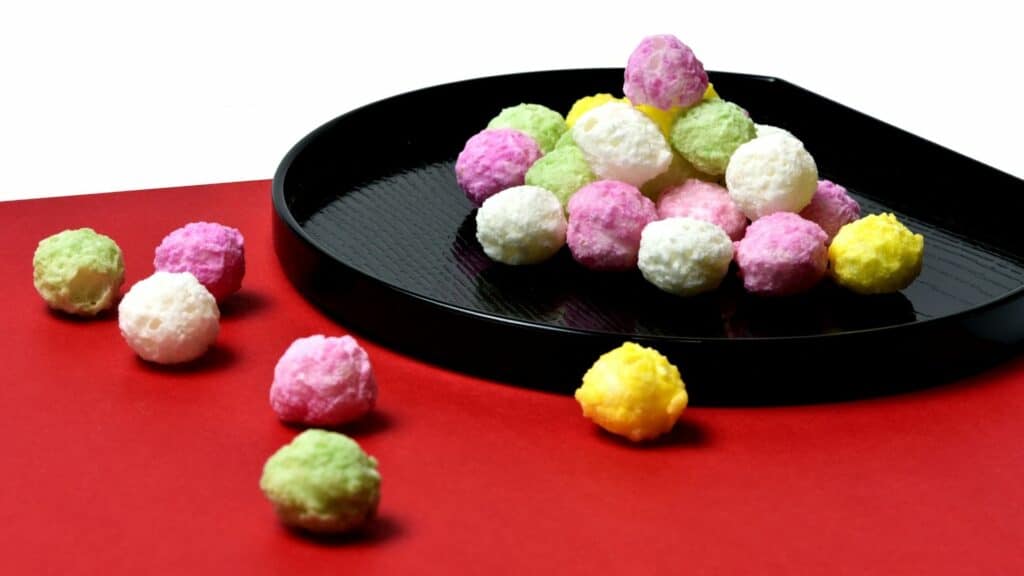 Moving onto the sweet side of Hinamatsuri, probably the most famous snack to eat on this day is Hina Arare. They are little rice crackers that come in a pack of either 3 colours or 4, both representing different meanings and once consumed it is meant to bring different fortunes to the girls. If the Hina Arare is only three colours; white, pink and green, they represent different types of energy. White being 'the energy of the earth,' pink is 'the energy of life,' and green is for the 'energy of the trees.' It is believed that the girls can retrieve energy from the help of nature in order to live a healthy year.
If the Hina Arare has an additional yellow rice crackers in the mix the four colours represent the four different seasons. White is winter, pink is spring, green is summer and yellow is autumn. Different to the energy fortune by eating this variety of Hina Arare is meant to give the girls a happy life all throughout the year.
Hishi Mochi 菱餅
Another favoured sweet is Hishi Mochi. Similarly to the Hina Arare, the Hishi Mochi is made up of 3 colours; pink, white and green layered mochi. All layers are made of different ingredients that symbolise different fortunes towards a girl's healthy year. The top layer is pink which stands for 'amulet,' it is coloured using gardenia extract which is said to detoxify the body once consumed. The second layer is white, which stands for 'purity,' it is made with water chestnut which helps lower blood pressure throughout the body. The final layer is green which represents 'good health,' it is made with Yomogi, a herb made from the leaves of a Japanese Mugwort plant. It is said to increase blood circulation!
Shirozake 白酒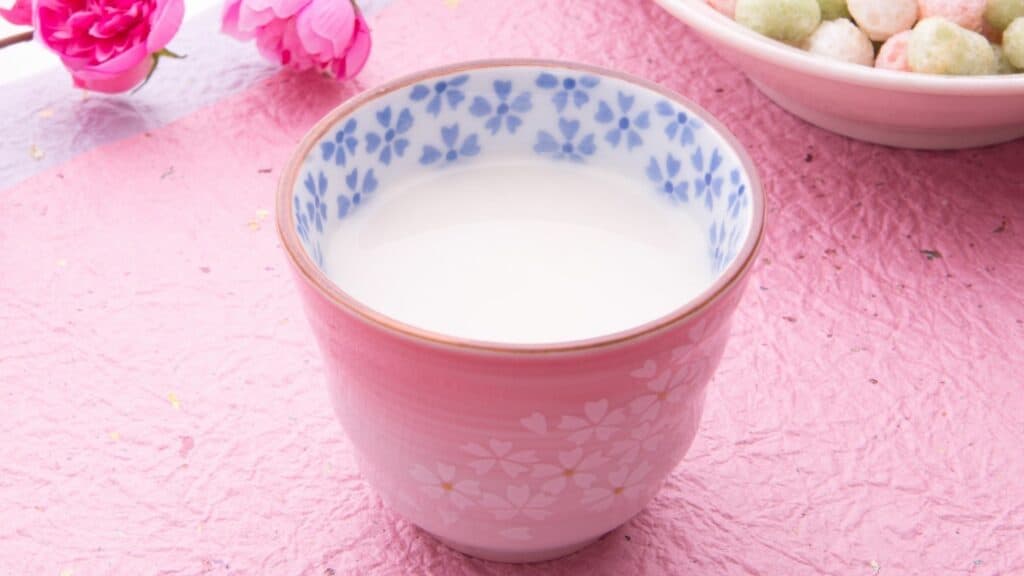 To wash down the different flavours of food, the drink that is drank on Hinamatsuri is Shirozake. It is a fermented sake made from Mirin or Shochu mixed with steamed rice or a yeast mix. Although this is the traditional way of making Shirozake, supermarkets have a different variety to match your taste! Don't worry though, many parents cheer with close family for their daughters good fortune for the year and are not offered to the children to drink. Instead, there is a non-alcoholic version called Amazake for the children who want to get involved with the Kampai.
Hinamatsuri events
Ningyo Tonomachi Iwatsuki Machikado Hinameguri, Saitama
During the Edo period, Hina dolls were expensive to buy so many families made the small dolls using cloths such as brocade, yuzen and crepe. Once made, the families would place them as decoration to celebrate their daughters health for the year. At this event you can create these Hina dolls like they did in the Edo period. You can even visit places such as the Iwatsuki Doll museum which opened two years ago, or go to Watts East Building to see rare Hina dolls displayed in front of Iwatsuki station. There are different lunch menus for hinamatsuri set up especially for this occasion, so be sure to go check it out!
Awa Katsuura Big Hina Festival, Tokushima
This event has 30,000 Hina dolls displayed in the venue. The doll's are collected from all over the country and most go towards the main attraction of a pyramid with stairs filled with different Hina doll's that vary from all shapes and sizes. This year there is a collaboration with the Sakamoto area where you will be able to do a tour of Sakamoto where you can visit lots of different shops and shrines that also display unique Hina dolls.
Yanagawa Hina Matsuri Sagemon Tour, Fukuoka
March 5 (Sat), March 6th (Sun) 10: 00-15: 00 "Yanagawa Kimono weather"
March 5th (Sat), 6th (Sun), 12th (Sat), 13th (Sun), 19th (Sat), 21st (Monday holiday) "Hina Meguri boat service"
March 20 (Sun) 11: 00-12: 20 "Ohina-sama water parade" * Postponed to 27th (Sun) in rainy weather
April 3 (Sun) "Nagashi" "Hinasai"
April 3 (Sun) -April 16 (Sat) (Reception period) "Ohina-sama Photo Contest"
Listed above are the main events of the event, all are unique in their own ways and it is recommended to go visit at least one if you are in the area.
Hyakudan Hinamatsuri, Hotel Gajoen Tokyo- 24th Jan- 15th March
The Hyakudan Kaidan has a beautiful display of Hina doll's, each floor has a beautiful array of doll's ranging in all different sizes and styles. You can browse and take in these magnificent dolls but make sure to prebook on the website as it is a cheaper admission cost than paying at the door!
Doll floating ceremony, Asakusa in Sumida Park
One of the oldest Hinamatsuri traditions was to put the Hina dolls in little baskets and send them down rivers or streams in order to pray for a safe and healthy growth for their daughters. This tradition has been brought back to life at the Edo Nagashibina Festival and Asakusa, and it is a great way to spend an authentic Hinamatsuri by sending your own Hina dolls down the stream in Sumida park.
Tomo Machinami Hinamatsuri, Fukuyama
The Tomo Machinami Hinamatsuri held in Fukuyama is one of a kind because each year the people who live in the Tomo area put their Hina doll's on display so that visitors can enjoy viewing them when browsing round the area. As Tomo town still has many old houses that stem back from the Edo period, it is as if you are stepping into a time machine and it is a very nostalgic atmosphere as you see the generations of different Hina doll's displayed in different shapes and sizes.
Ceramic ware Festival of the 18th young bird, Arita 5th Feb-13th March
This festival held in Arita is different from other Hinamatsuri festivals as the Hina doll's are ceramic and made out of porcelain. It is a very beautiful exhibition where you can also go Cherry Blossom viewing to really get a sense of spring. There even is a stamp rally offered where you go round 30 different facilities which act as a chance to sightsee whilst supporting local businesses!
Kasuisai Doll Festival, Jan 1st- 31st March, Shizuoka
During this festival, there will be a huge display of Hina dolls on 32 flights of stairs, which is the biggest in Japan! It is absolutely breathtaking and is a must-see if you are in the area. Additionally, with a reservation, you can taste the limited Shojin Ryori, which is the traditional dining style of Buddhist monks in Japan.
—
Hinamatsuri is a meaningful celebration and the intricate decorations just add something so special to the festival. What do you think about this festival? Will you be enjoying the festivities this year?
Find out more about Spring in Japan here: What to do in Spring, Where to go in spring, Wisteria in Japan, Spring Date ideas, What to do eat in spring, Where to see cherry blossom in Tokyo and Cherry blossom festivals.
Stay tuned for more information about Japan travel, Japanese culture, moving to Japan, living in Japan, Japanese language and more.