Since the Kobe port's opening, more than 150 years have elapsed. During the Meiji era (1868–1912), the area flourished as a foreign settlement, and many of its unique structures are still standing. The port city of Kobe serves as a stylish and open representation of Japan.
There are lots of picturesque locations, such as the mysterious Ijinkan and Meriken Park near the water! Let's look at some of the well-known locations for activities, shopping, and sightseeing!
History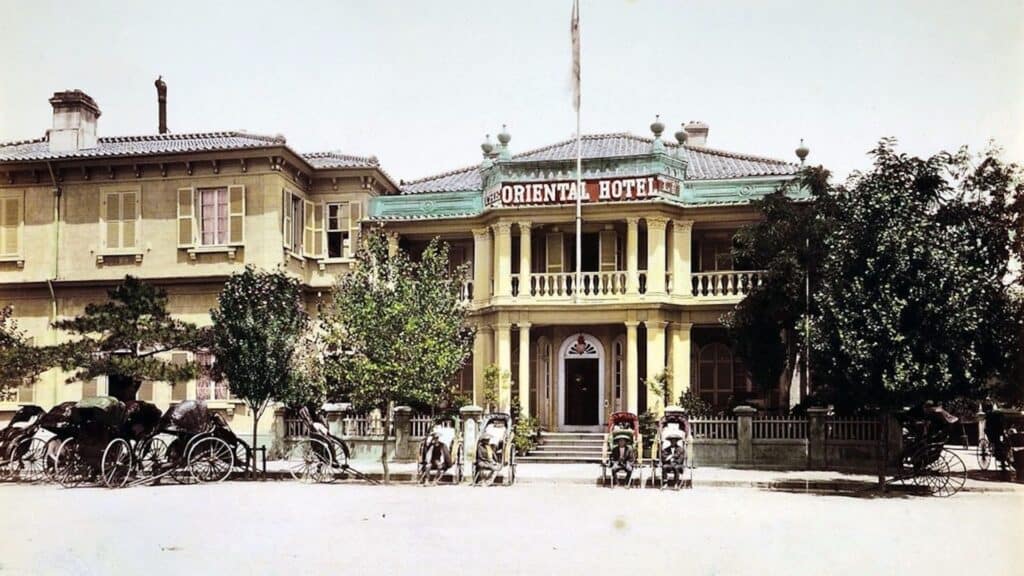 Before we take a look at where to visit, let's familiarise ourselves with some interesting history of Kobe. After the establishment of Hyogo Prefecture in 1868 and the abolition of feudal domains in 1871, Kobe City was born in 1889 with a population of 135,000. The city continued to grow steadily, and in 1939, eight years after the "ward" system was introduced in 1931, the population exceeded 1 million.
The city continued to accumulate a glorious history, including the "First Kobe Festival" in 1971, the Port Island Kobe Harborland in 1981, the birth of the maritime city of Port Island and "Portopia '81," and the birth of Kobe Harborland in 1992.
Great Hanshin-Araji Earthquake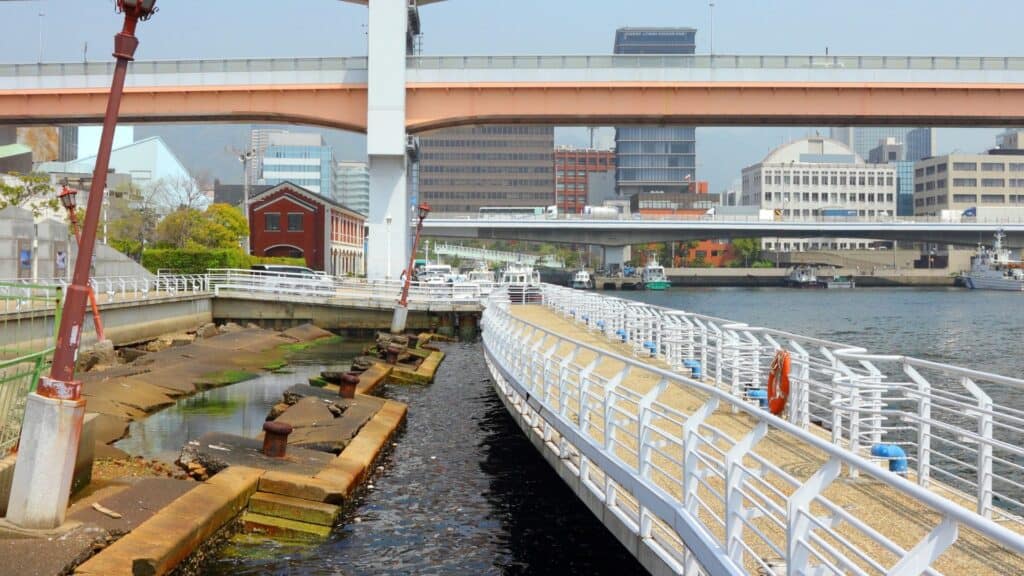 One of the most interesting attractions to visit on this list is the Earthquake Museum. Here is a brief overview of that event. At 5:46 a.m. on January 17, 1995 (Heisei 7), an earthquake of magnitude 7.2 struck the Kobe area. In an instant, the "Great Hanshin-Awaji Earthquake (Southern Hyogo Earthquake)" took many precious lives and destroyed the city of Kobe.
More than 10 years later, the city has successfully recovered from the disaster, but various new monuments, facilities, and events have been created in Kobe to keep the memory of the earthquake from fading away and to pass on the valuable lessons learned from the disaster to future generations.
How to get there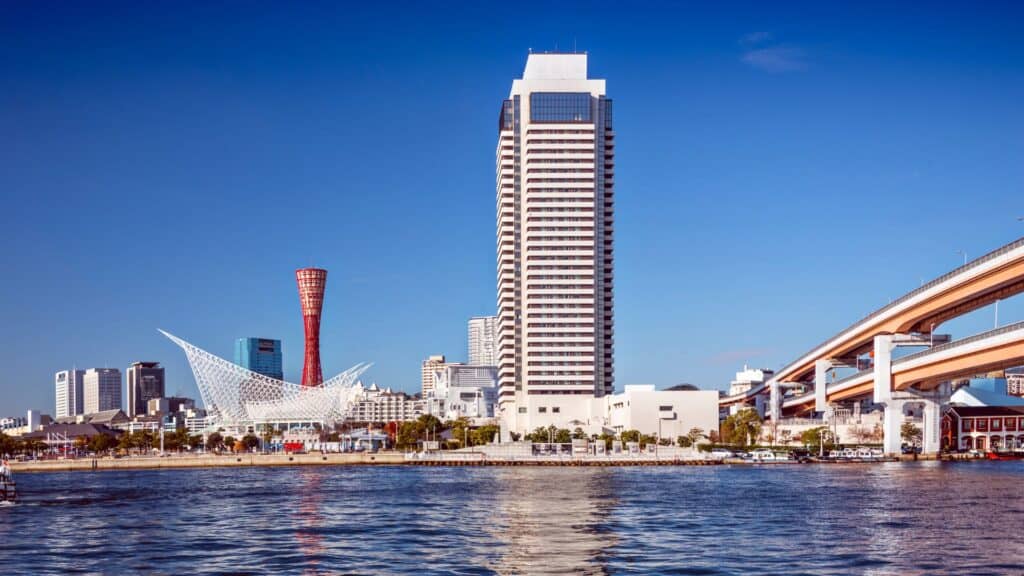 Kobe has a Shinkansen station, and the central Sannomiya area is served by JR and private railway lines, making access from outside the prefecture convenient. Kobe is also conveniently accessible to neighbouring cities, with Osaka and Kyoto being only 21 minutes and 52 minutes away, respectively.
From Kansai International Airport, the gateway to western Japan, a 30-minute ride on the Kobe-Kansai Bay Shuttle high-speed boat will take you to Port Island, a populated island where Kobe Airport with domestic flights is located. From there, it is a quick and convenient 18-minute ride on the Port Liner to Sannomiya in the city centre.
Express buses are available from Kanto in the east and Kyushu in the west, both departing from Sannomiya. We also recommend taking a ferry to Kobe, where you can enjoy the unique scenery of the port city. Ferries to and from Kobe Port are convenient, with a large number of services from outside the prefecture.
1. Try Kobe beef
It's safe to assume that Kobe Beef, a prized Japanese delicacy, is the most well-known regional speciality dish in Japan. Kobe Beef is famous throughout the world, and many people recommend it. It is no exaggeration to say that Kobe Beef is expensive because of its strict quality and the solid quality backing it has. The price of Kobe beef has been rising since only a small number of cattle are shipped due to the strict quality standards. It is one of several Wagyu Japanese cattle breeds that are raised across the country and typically associated with the area in which they are raised.
While Matsuzaka and Yonezawa Beef are two more breeds that are equally popular or perhaps more well-known among Japanese gourmets, Kobe Beef is probably the variation of wagyu that is best known outside of Japan.
The Kobe Beef label, a trademark that is carefully controlled, may only be applied to the highest grades of meat that have extremely high levels of fat marbling. where the meat is roasted on a teppanyaki grill
Location:
Sannomiya/Motomachi area
Price:
You can enjoy Kobe beef for around 3,000 yen
2. Visit Arima Onsen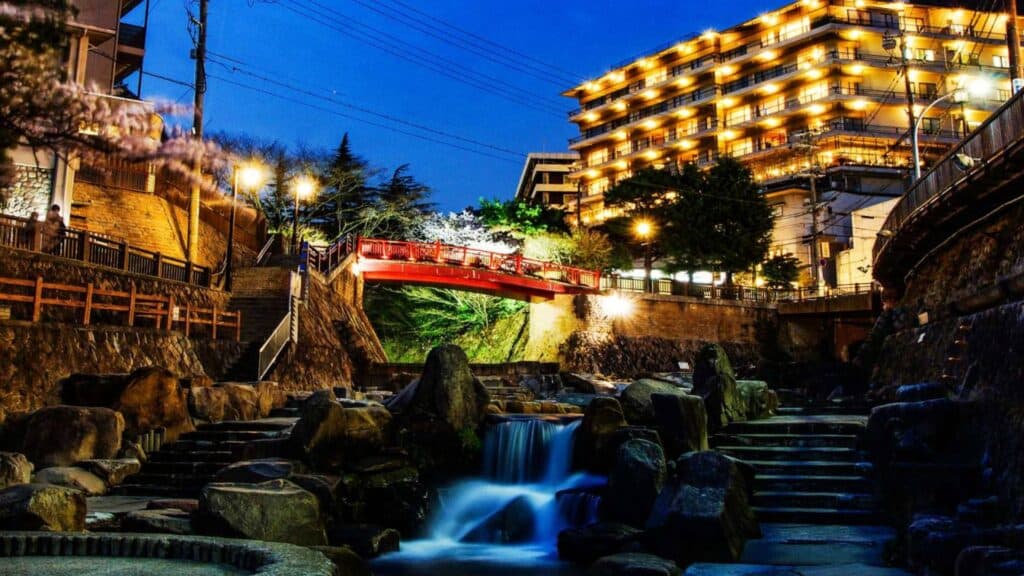 One of the "Three Oldest Springs in Japan," Arima Onsen is a historic hot spring that is recorded in the Chronicles of Japan and the Kojiki (Records of Ancient Matters). Along with Kusatsu and Gero, it is chosen as one of the "Three Great Springs of Japan."
A "brown gold spring" and a "colourless silver spring" are other names for it. A strong salt spring with a high salt and iron content, a radon spring with a high radon content, and a carbonic acid spring with a high carbon dioxide content are just a few of the spring characteristics it possesses.
The region is well-known as a historic hot spring resort where guests can roam around while being surrounded by nature.
Location:
Kita Ward, Kobe, Hyogo 651-1401
Price:
Between 550 – 2600 yen
3. Visit the Earthquake Museum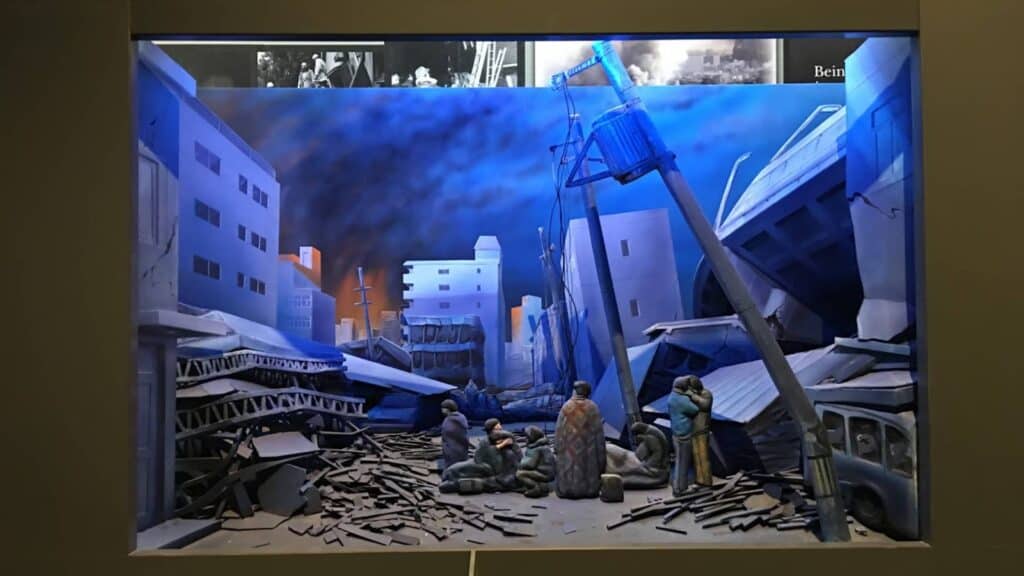 The purpose of this earthquake museum is to teach future generations how to prepare for the future while also sharing the experiences and lessons of the Great Hanshin-Awaji Earthquake. By seeing a movie that recreates the moment the earthquake occurred and by examining displays of disaster-related artefacts supplied by victims of the disaster, visitors can discover what kind of disaster the 1995 Great Hanshin-Awaji Earthquake created.
Through a variety of interactive exhibits, such as the "Weather Walk," where visitors direct the path of a typhoon as though they were in a high-pressure environment themselves, and the "Mission Room," where evacuation training is conducted, visitors will learn how to think, judge, and act on their own in times of emergency.
Location:
〒651-0073 Hyogo, Kobe, Chuo Ward, Wakinohamakaigandori, 1 Chome−5−2 東館
Price:
600 yen
Opening Times:
9AM – 5PM
4. Take a walk around Meriken Park
Meriken Park is a nice waterfront park located in Kobe's port neighbourhood. The park is surrounded by lush lawns and open courtyards that are dotted with a variety of modern art pieces and fountains. It was built on a protrusion of reclaimed ground.
It is home to two of the city's most recognisable examples of modern architecture, the red Kobe Port Tower and the Kobe Maritime Museum. On April 5, 2017, Meriken Park in Chuo Ward of Kobe City reopened. The media covered the inaugural ceremony, and it has since gained prominence as a destination with high hopes.
Location:
2 Hatobacho, Chuo Ward, Kobe, Hyogo 650-0042
Price:
Free
Opening Times:
Open 24 Hours
5. Harborland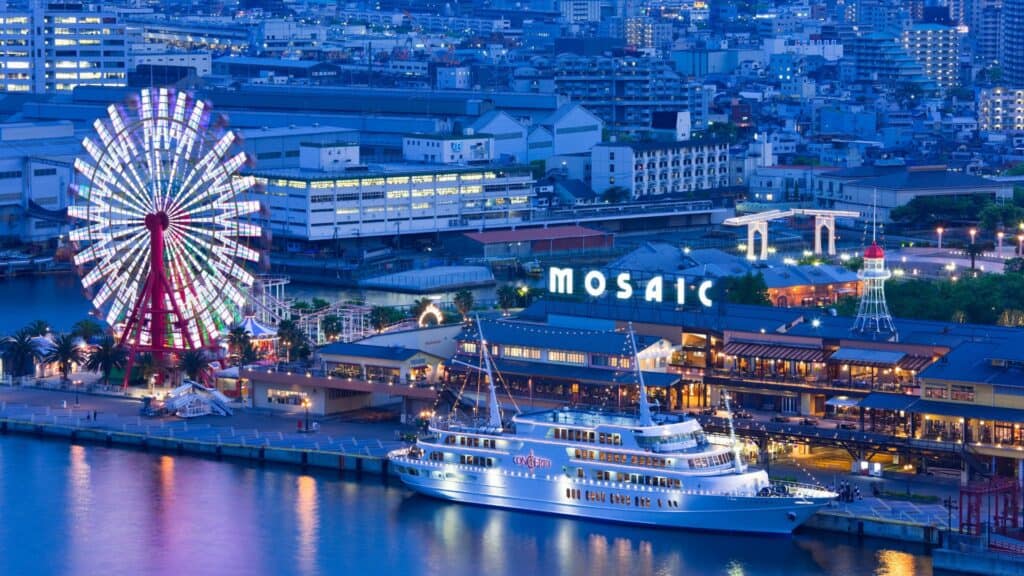 A bay region known as Harborland is home to numerous business complexes. A great place to visit in this area is the Kobe Brick Warehouse, a massive brick structure constructed in the late 1890s and home to cafes, restaurants, and stationery shops.
The Kobe Brick Warehouse is a hip location in the Port of Kobe where you can find a café and stationery.
A long-running stationery chain's NAGASAWA Kobe Brick Warehouse offers a wide selection of unique stationery that its staff members who share their passion for stationery have collected from all across Japan. Many consumers travel great distances to the business to get stationery. Even if you are not a fan of stationery, you will enjoy exploring this entertaining area.
Location:
1 Chome Higashikawasakicho, Chuo Ward, Kobe, Hyogo 650-0044
Price:
Free
Opening Times:
10AM – 9PM
6. Mt. Rokko
From Arima Onsen, a cable car can take you to Rokko, a region abounding in natural beauty.
With barbecues at the Rokkosan Country House and athletic events at the Rokkosan Field Athletic, Rokko is a place where you can fully immerse yourself in the great outdoors and fresh air.
The Rokkosan Ranch is a wonderful spot for families to interact with animals while enjoying indulging in farm-fresh milk, cheese, and ice cream. Seasonal variations in Rokko's landscape make a visit there a must if you have the time.
Location:
Arimacho, Kita Ward, Kobe, Hyogo 651-1401
Price:
Cablecar ride up to mountains – 600 yen one way – 1100 yen round trip
Rokko Arima Ropeway from Arima Onsen to top of Mount Rokko – 1030 yen one way – 1850 yen round trip
7. Eating Chinese food in Nankinmachi!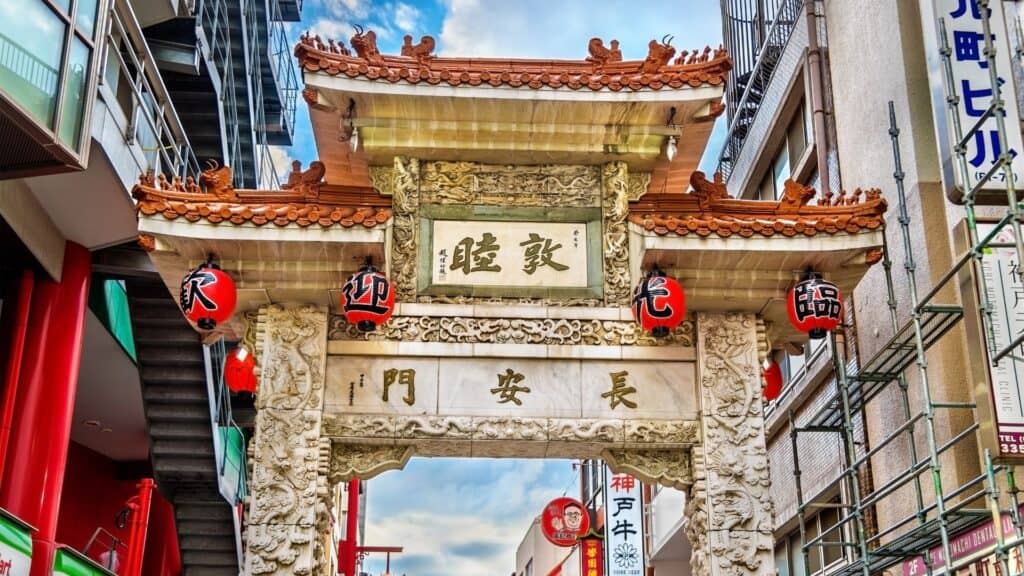 Nankinmachi, the representative Chinatown of Western Japan, is about five minutes walk from Motomachi Station. A space covering around 270 metres from east to west and 110 metres from north to south is crowded with more than 100 stores.
There are many Chinese restaurants in Nankinmachi, from long-established establishments to new restaurants. In addition to enjoying delicious Chinese food inside the restaurants, it is also recommended to go to the food stalls in front of the restaurants to taste a wide variety of delicacies such as pork buns, baked dumplings, dumplings, square dumplings, xiaolongbao, Kobe croquettes and more!
Location:
1 Chome-3-18 Sakaemachidori, Chuo Ward, Kobe, Hyogo 650-0023
Price:
Free to walk around – Different foods set at varying prices
8. Freshly made sake in Nada
The greatest producer of sake in Japan is found in Hyogo Prefecture, where Kobe is situated. It is the primary sake-producing region in Japan. The majority of the sake breweries are situated in the Nada region.
Brewery Hakutsuru for Sake is an actual, former brewery, the Museum of Hakutsuru Sake Brewery, a sake brewery that has been in operation for more than 270 years, displays the process of making sake. The tour is free! Freshly squeezed sake is available for tasting and purchase at the tasting area.
Location:
4 Chome-5-5 Sumiyoshi Minamimachi, Higashinada Ward, Kobe, Hyogo 658-0041
Price:
Free
9. Walk Kobe's No. 1 Shopping Street
An arcade shopping street called Sannomiya Center-gai is located approximately 600 metres to the south of Sannomiya Station and can be reached by foot in five minutes.
From clothing shops to electronics retailers, the wide street is lined on both sides by a variety of shops.
Location:
〒650-0021 Hyogo, Kobe, Chuo Ward, Sannomiyacho, 1 Chome, ~3丁目
Price:
Free
10. Toa West Shopping District – Sannomiya/Motomachi Area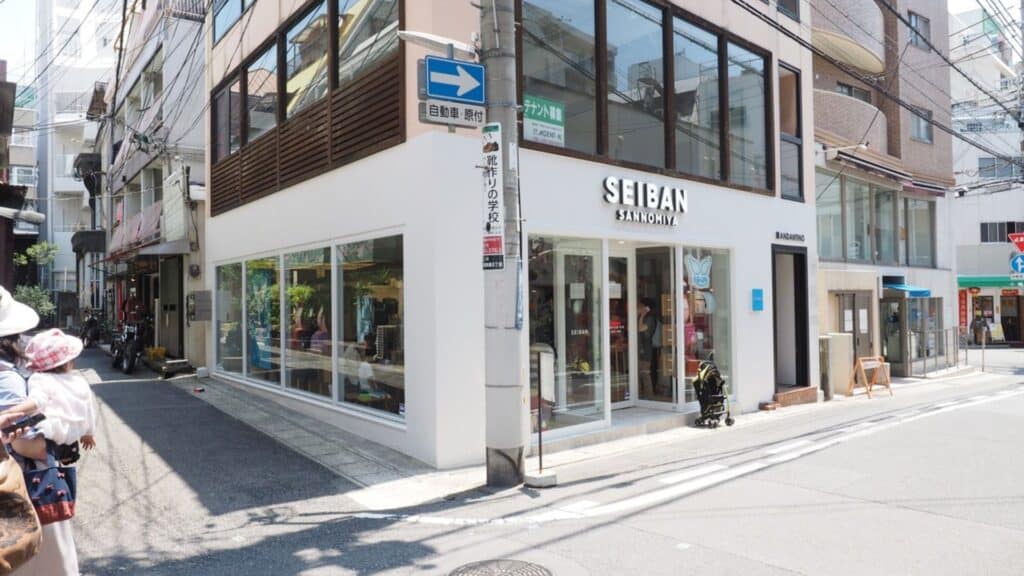 Located between Sannomiya and Motomachi stations, the shopping area "Toa West" is lined with cosy clothing stores, vintage clothing shops, and cafes hidden away in small alleyways. Perfect for a stroll and a spot of shopping! A short walk south from Motomachi and Nankinmachi brings you to the Sakae-machi area, another fashionable area with a different aspect. Retro buildings have been renovated into general stores, apparel stores, galleries, and cafes.
Location:
2 Chome-2-22 Shinsaibashisuji, Chuo Ward, Osaka, 542-0085
Price:
Free
11. Ikuta Shrine
Ikuta Shrine is a 10-minute walk from Sannomiya Station. Kobe has a well-established reputation as a port city, but it is also peppered with ancient shrines.
Ikuta Shrine houses the god Wakahirume no Mikoto (Wakahirume no Mikoto). She is revered as the goddess of "karma," the connection that binds people together because she is the textile goddess. The shrine is now well-known as a powerful location for romantic fulfilment.
The Inari Shrine, located northeast of the temple grounds, is a popular photogenic spot.
Visitors make a wish at the Inari Shrine, and a vermilion-lacquered torii gate is delivered to the shrine as a token of appreciation that their wish "came through" or "passed. The way the torii gates go on and on is like the Fushimi Inari Shrine in Kyoto. The more torii gates there are, the more wishes you make at this shrine will come true.
Location:
1 Chome-2-1 Shimoyamatedori, Chuo Ward, Kobe, Hyogo 650-0011
Price:
Free
Opening Times:
7AM – 5PM
12. Mt. Maya
One of the top three nightscapes in Japan is the view from Kobe. Particularly impressive is the nighttime view from Maya Sukuiseidai (Mt. Maya Sukuiseidai). It is a well-liked location for date nights and is conveniently located from Kobe's downtown.
When the air is clear, you can see as far as Kansai International Airport in the winter and as far as Osaka on a clear day. It is stated that the reason Kobe's nighttime scenery is referred to as the "ten million dollar night view" is because the total amount of power visible from this observatory is comparable to around 10 million dollars.
Location:
Mayasan, Nada Ward, Kobe, Hyogo 657-0104
Price:
Free
13. Old Town Atmosphere in Shinkaichi
If you want to experience the downtown atmosphere, how about the Shinkaichi area? The area used to be lined with movie theatres and was once the busiest area in Kobe.
Today, the area is full of humanity, with retro buildings, coffee shops and shopping streets loved by locals. It is also a town that shows a different side of Kobe.
Location:
Hyogo Ward, Kobe, Hyogo 652-0811
Price:
Free
14. Kobe Port Tower (Temporarily closed for Renovation)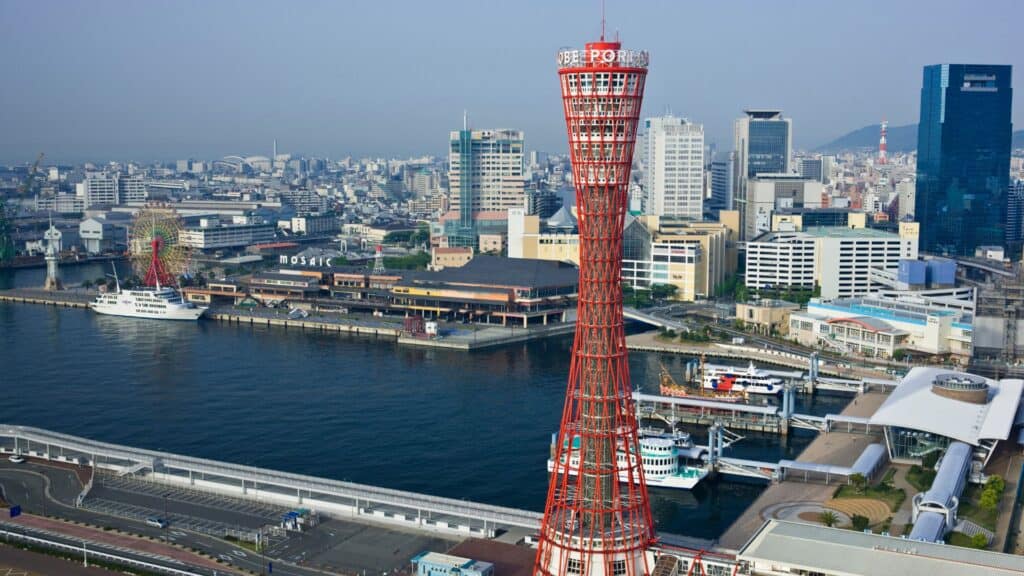 Port Tower is the symbol of Kobe. It is a 108-meter observation tower loved by many people.
The bright red tower, with a hyperbolic structure that is constricted in the center, looks very beautiful against the blue sky.
At night, the tower is illuminated, making it even more beautiful than it is during the day. If you go up to the observatory at this time, you can enjoy a 360-degree panoramic view of the nightscape of Kobe, which is said to be worth 10 million dollars.
Location:
5-5 Hatobacho, Chuo Ward, Kobe, Hyogo 650-0042
Price:
Adults – 700 yen
Children and Students – 300 yen
Opening Hours:
Temporarily Closed
15. Rooftop Terrace view at a trendy bar and restaurant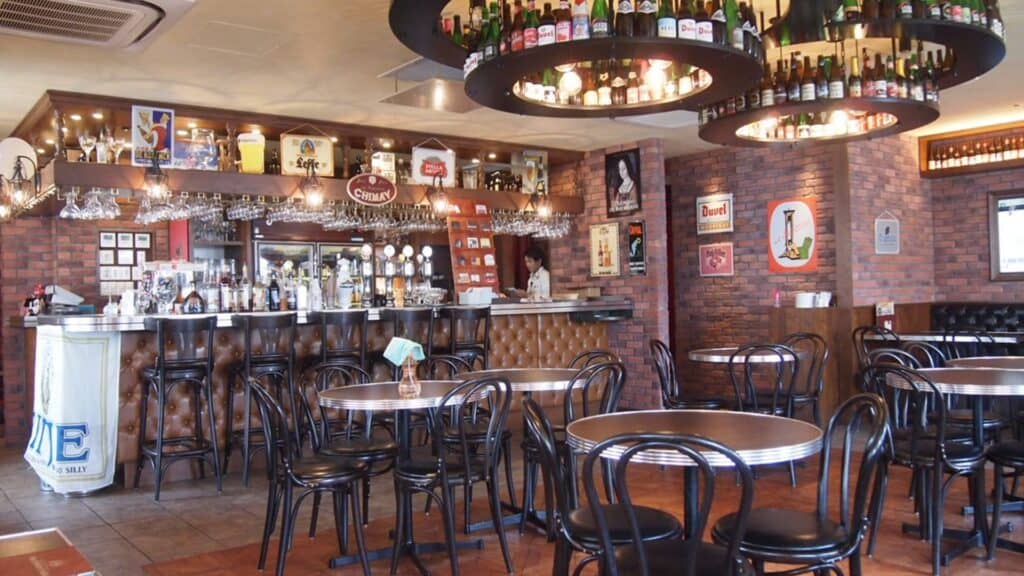 Laputa The Flanders Tale is a Belgian beer speciality store located a 5-minute walk from Sannomiya Station. The lineup always includes 70 kinds of Belgian beers with a variety of tastes and aromas and a rich individuality. Five kinds of Belgian beer on tap are priced at 490 yen (excluding tax). You can enjoy it with local mussels, pasta, pizza, and other dishes.
The best part of this restaurant is the rooftop terrace overlooking the city of Sannomiya! The terrace seats about 40 people and offers a great sense of openness.
A variety of menu items, including the famous homemade roast beef and lamb chops, are well-received. Of course, the food is also appealing. The menu includes an all-you-can-eat buffet and BBQ, courses, and a la carte dishes. You can have a lively BBQ on the terrace, or just enjoy the night view while relaxing!
Location:
〒651-0086 Hyogo, Kobe, Chuo Ward, Isogamidori, 7 Chome−1−19 プログレス神戸 8F
Price:
Price range – $$
Opening Hours:
4PM – 11PM
Final Thoughts:
From world-famous food such as Kobe beef to the incredible views of the traditional shrine of Ikuta, Kobe truly has something for everyone. The next time you consider visiting Osaka and the local areas, be sure to add Kobe to the places of must-visit!