Ramen is a meal that is very special in Japan. Every ramen shop you come across is different with its own unique recipes using original soup, noodles and toppings.
Every ramen shop has its own twist, making it one of a kind. Some of these ramen shops grow into an empire and open up different branches all over the country. If you're lost among all the options and want to try out some of the most famous ramen shops, then we have got you covered.
Here is a breakdown of some of the biggest ramen chains that you can find in Japan, even overseas. When you wander around and get hungry, look around and you will probably find one of these ramen restaurants in Japan.
Check out every Japanese food you should try, fusion dishes, types of ramen, ramen chains, yakitori and food and drinks at izakaya, fast food chains in Japan and healthy food in Japan!

One of the best ways to explore Tokyo is to visit the local areas and immerse yourself in the local culture. If you want to explore local areas, we have created scavenger hunt adventures personalised to your interests, filled with fun facts, clues and puzzles. If you're curious, you can check out the games here!

Check out the Flip Japan Games here!

Ichiran 一蘭
Ichiran is probably the most famous ramen chain. It is the ramen chain that everyone has to try at least once. They specialise in their famous tonkotsu ramen. Besides adding different toppings, they only have the one consistent menu that has made them so popular.
The original shop opened in 1960 in Fukuoka and the first concept shop with the current design opened in 1993. There are currently 85 restaurants worldwide, with 7 of the restaurants overseas.
Ichiran is known for their solo dining booth, where each customer is sat in their booth, facing the wall and your order is taken and received without you ever seeing the face of the staff inside the kitchen.
The booth is equipped with explanations of how to order, their restaurant motto, water and order form. The individual booth is said to help you concentrate on your food and focus on the flavours, rather than talking to those around you and the chance of getting distracted. Some Ichiran stores have removable partitions, where you can open the booth up so you can talk easier with your companions.
The menu is offered in English as well as Japanese. The order form allows you to choose the richness of the broth, spiciness, the amount of garlic, meat and so on… This way you can properly customize your ramen and have it the way that best suits you. 
Within minutes of ordering, you will be served the most mouth-watering dish. Ichiran is definitely one of the must-try ramen shops and its unique style and flavour will be able to satisfy your crave. 
Ichiran, especially those in the city centre, is very popular and considered one of the best ramen places in Japan for many people. If you go during lunch hour or dinner time, you will probably have to stay in the queue for a while. Since most of the Ichiran restaurants are opened 24 hours, we suggest you visit out of the peak hours to avoid the line.
For people that don't like pork or can't eat pork, Ichiran has recently opened a restaurant that is pork-free. Instead of using pork in the soup, they use chicken to create the broth, topped with a sweetened beef called "gyuyarou". The way they came up with the name is interesting.
"Gyu" means beef and "yarou" means "right?". It is said that the Ichiran specialists were deciding what to add as a topping and one of them said "gyuyarou", meaning "it has to be beef, right?". That's how the beef topping became a part of the no-pork Ichiran ramen.
Ippudo 一風堂 
Similar to Ichiran, Ippudo is another famous ramen chain that has made it overseas in fifteen countries worldwide, including the United States, Singapore, Hong Kong, Taiwan and more. Ippudo offers a few different types of ramen, along with sides, such as gyoza and fried rice.
Ippudo has renewed its image of Hakata Ramen, a style of tonkotsu ramen. Hakata Ramen used to be shunned by young people for being "scary, dirty, and smelly." However, the store was designed to be easy for anyone to enter, especially women, with a focus on stylish and clean store design.
Not only do they offer tonkotsu ramen but also miso and soy sauce ramen. There are two main menus at Ippudo. The first is the original taste of Shiromaru, which has been popular since the beginning. The soup is cooked for 18 hours and aged for a day. The other is Shin-Akamaru, a pork bone ramen that has evolved based on the taste of Shiromaru, with extra richness and depth.
In addition, Karaka ramen is topped with spicy miso, which is a mixture of hot spices, nuts, and balms based on white soup. This is a popular match because the heat of the spices and the taste of the pork bones match perfectly.
Tenkaippin 天下一品
Tenkaippin is a ramen chain shop that originated in Kyoto. It started as a standing ramen shop in 1971, run by Mr. Tsutomu Kimura, whose company he was working at went bankrupt and was left with only 37,000yen to his name. After hardship and consistent improvements, in 1975, Mr. Kimura opened his first ramen restaurant and the journey continued on. As of 2019, there are more than 240 stores from Hokkaido to Okinawa, including a shop in Hawaii.
The rich soup is made from their ordinary ingredients, including chicken bones and vegetables, which are made into rich, exquisite soup by the secret method that Kimura created through strenuous efforts. The popular ramen of Tenka Ippin costs as little as 720 yen. They also offer a cheap lunch set with ramen, mentaiko rice and char siu rice. 
Some of their shops serve special ramen menus, for example, a soup called "Kosasari" that mixes two types of soups together, and a ramen called "Ajigane" where customers can adjust the concentration of the soup.
Korakuen 幸楽苑
Korakuen is a ramen chain store with its headquarters in Koriyama, Fukushima Prefecture. It was founded in 1954, after that, their factory was built, and it was developed for nationwide expansion. As of 2019, there are 528 stores all over Japan.
Korakuen makes ramen that is particular to the times and regions. They have ramen with tonkotsu, miso and shoyu broth, with a big amount of variations. The light soup is made with pork bones, where the pork umami is boiled, the noodles are flattened with the soft char siu added on top. They have an extraordinary commitment to vegetables, and "Miso Vegetable Ramen", which was launched mainly in eastern Japan, uses 300g of vegetables per cup.
Since the tastes differ according to the region, the Japanese braches are divided into six regions and menus are provided according to each region. In addition, they have stores in the food courts of shopping centers, and prepare menus that can be easily eaten.
If you happen to be visiting a shopping mall or an outlet store, then you will probably need to stop by Korakuen to try out their unique ramen.
Kitakata Ramen 喜多方ラーメン
Kitakata Ramen is a local ramen that originated in Kitakata City, Fukushima Prefecture. Their Tokyo branch called Kitakata Ramen Bannai opened in 1987. Currently, their shops are expanding beyond the Tokyo metropolitan area, eastern and western Japan, as well as overseas.
Kitakata Ramen has three types of stores: Bannai, Koboshi, and Kitakata Shokudo. Although there is no significant difference in taste between Bannai and Koboshi, Kitakata Ramen's popularity has increased and the name of Kitakata has become the lucky charm. The name "Koboshi" is now used widely among all the Kitakata Ramen shops.
The menu includes the basic Kitakata ramen, "Negion ramen" with plenty of green onions, "Yakibuta ramen" filled with char siu with rice bowl, and "Negiyaki pork ramen" with a lot of green onions. There is a special summer-only "chilled ramen", which can be chosen between Japanese style and Chinese style.
Set menus are also available and they are also substantial. You can decide between ordering "gyoza set", "roasted pork rice set" or "half fried rice set". "Child ramen set" for children includes dessert juice and toys.
Hidakaya 日高屋
Popular with families with children, Hidakaya is a convenient ramen chain store that serves a wide range of dishes, other than ramen. This chain store has a wide variety of ramen, mochilon, cheap Chinese set meals and side menus, so you can think of it even like an izakaya. Hidakaya has more than 365 stores at the moment.
The recommended ramen at Hidakaya is "Vegetable Tanmen". This ramen has plenty of 350g of vegetables, which is the daily vegetable intake required. It is cheap at 490 yen per bowl. They also offer a variety of other ramen for their customers to choose from and it is recommended for an order of special dumplings to go with the ramen.
Hidakaya is a low-priced ramen food chain. The food used in all stores is manufactured in the central kitchen of the Gyoda factory, which is operated by a small number of employees, allowing costs to be cut and the price to be as low as it is. The menu is not only affordable, but also simple and standard, so that people of all ages, young and old, can visit the store and enjoy a delicious meal.
Vegetarian, Vegan and Halal Ramen places
Japan is slowly but surely catching up with the rest of the world with more and more vegetarian, vegan and halal-friendly ramen places popping up around the country. Here are some of your options: 
Afuri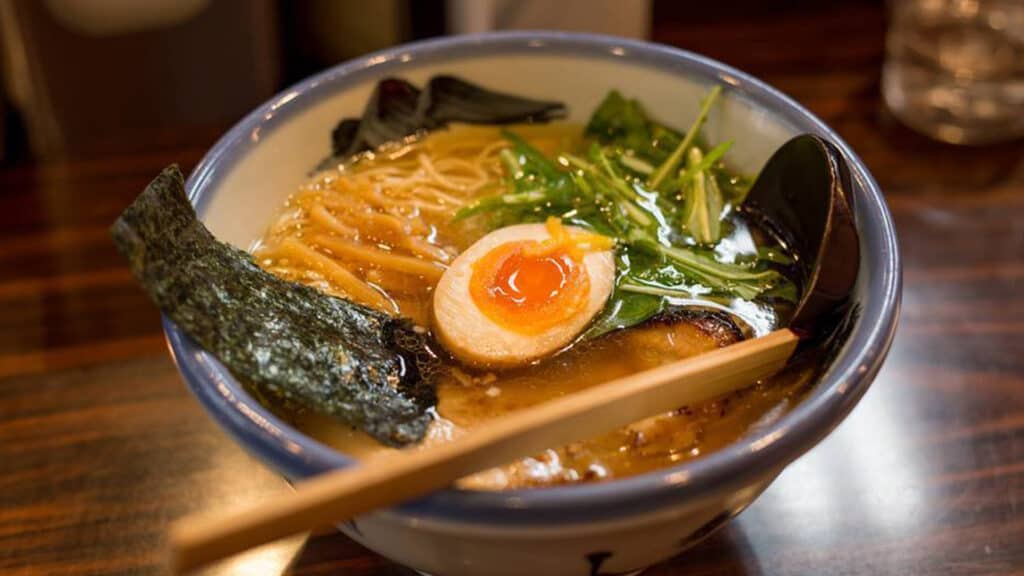 Afuri has 8 branches around Tokyo. Afuri is famous for the use of Yuzu, Japanese citrus in their ramen, which is rare and unique. Among the different options, "Yuzu Shio Ramen" is particularly famous.
The soup used in the shop is said to be prepared with the natural water that springs from the foot of Mount Afuri, the mountain that this chain is named after. The golden soup is the life of the ramen of Afuri. While extracting the umami of the carefully selected ingredients to the utmost, the transparent color adds to the refreshing taste of the soup.
Chi-yu, "Chicken Oil", is finely extracted from the Japanese whole chicken and you can choose the amount of Chi-yu you like for your broth, blending with various seasonal vegetables and roots.
Their vegan ramen option is made with 100% plant-based ingredients. Along with seasonal vegan broth, the ramen served with fresh seasonal vegetables, wheat noodle blended with lotus root without the use of egg).
Shinjuku Gyoen 桜花 新宿御苑らーめん桜花
Shinjuku Gyoen Ouka is a halal ramen shop in Shinjuku. They have also obtained Halal certification from Otsuka Mosque, and they do not offer any alcohol.
One bowl of their homemade noodles with sea bream soup is very delicious, and you can enjoy a different taste from conventional halal ramen. The top of the ramen is a foam made by combining egg whites with yuzu soup. In addition, tomatoes are used for the secret taste, adding a slight sour taste is appetizing. Halal chicken is specially treated, so you can enjoy a very savory taste.
—
Feeling hungry yet? Enjoy visiting one, two or all of these chain ramen shops and try out some of the best ramen in Japan. Since some of these chains have ramen branches overseas as well, you don't have to travel all the way to Japan to try out these legendary shops. If you can't figure out which ones to visit, feel free to send us a message on Facebook messenger or through Instagram!
Stay tuned for more information about Japan travel, Japanese culture, moving to Japan, living in Japan, Japanese language, Japanese culture and more.