Yakitori, Japanese chicken skewers, might not be the first thing that comes to mind when you think about Japanese food, but it is delicious, affordable and can be found basically everywhere with so many different types. There are restaurants that specialise specifically in yakitori, but yakitori can also be found at almost all izakayas on every corner. Let's have a look at the types of yakitori you can find in Japan.
Check out every Japanese food you should try, fusion dishes, types of ramen, ramen chains, yakitori and food and drinks at izakaya, fast food chains in Japan and healthy food in Japan!

One of the best ways to explore Tokyo is to visit the local areas and immerse yourself in the local culture. If you want to explore local areas, we have created scavenger hunt adventures personalised to your interests, filled with fun facts, clues and puzzles. If you're curious, you can check out the games here!

Check out the Flip Japan Games here!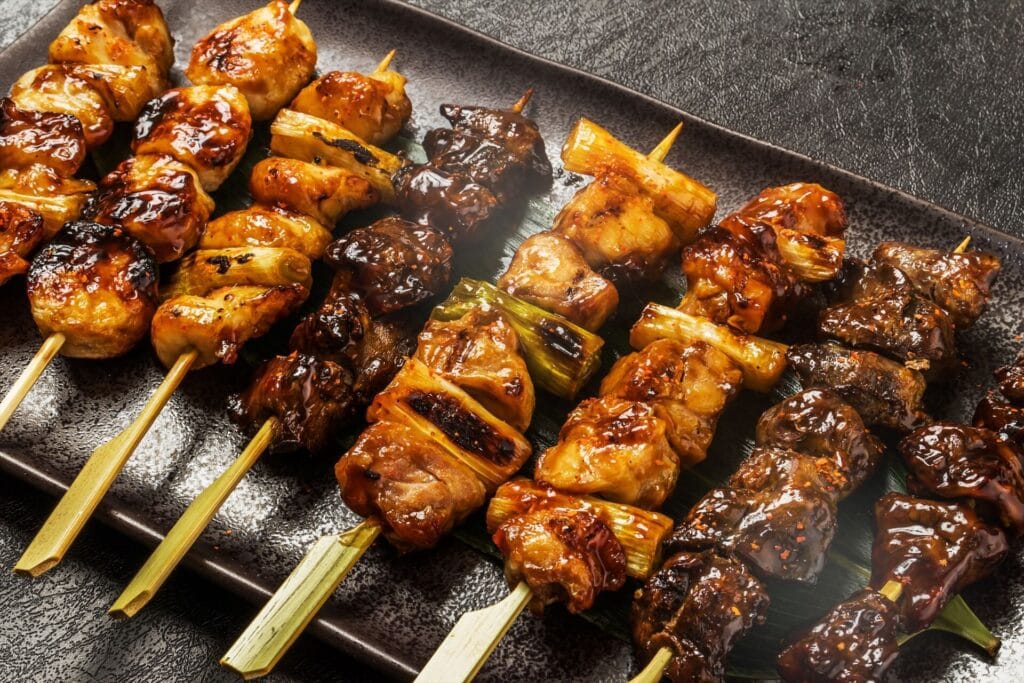 Traditionally, yakitori is grilled on charcoal. However, due to the cost and trouble, many restaurants have switched to using electric grills.
Yakitori is a go-to Japanese food for Japanese people to enjoy with friends, while having a beer or two. It is inexpensive and usually comes in relatively small portions. Usually eaten during dinner-time, go to a nearby yakitori restaurant for a few sticks and drinks with your friends.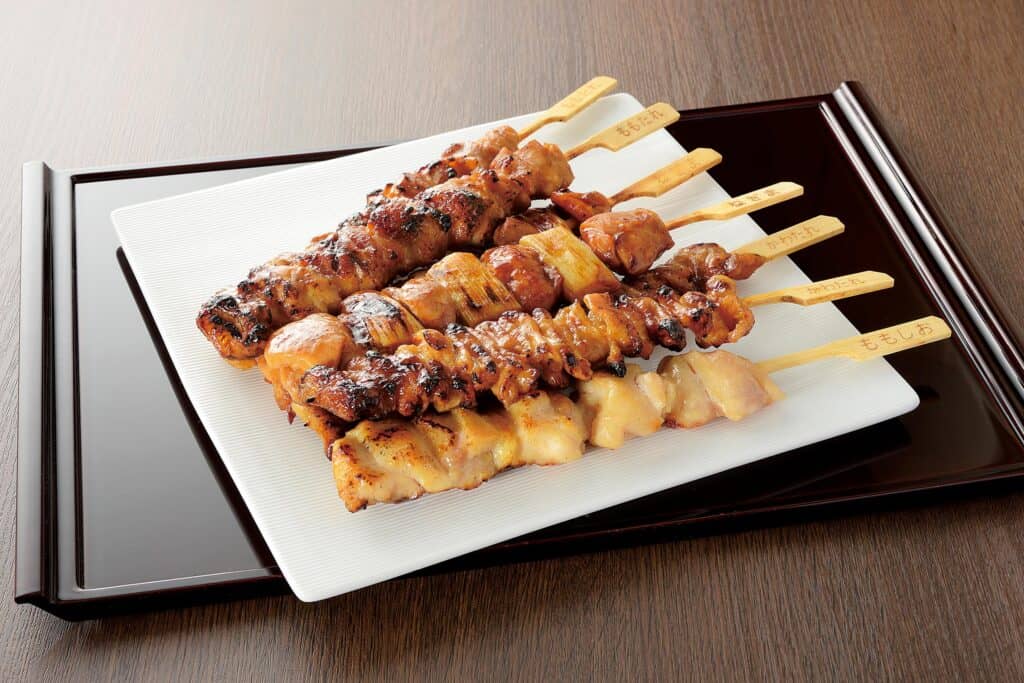 There are also restaurants with innovative and unique recipes, where they use original sauces, special complementary ingredients and even unique ways of eating to add that little special something to the dish.
These dishes are usually great paired by Japanese alcohol and Japanese beer, so definitely give that a try!
It can be very confusing to figure out what meat or what part of the animal is on the stick, even with English menus. That's why I'm going to break down every type of common yakitori type you can find in different restaurants. Some of these Japanese food might sound a little strange but if you're up for it, give it a try!
Negima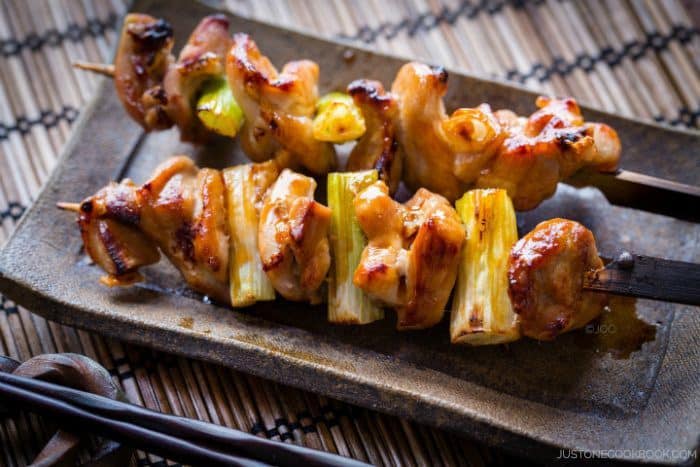 Negima is pieces of chicken thigh or chicken breast strewed with leek in between. This is one of the most popular choices, with nice complementary flavours and textures of the different ingredients
Mune
Mune (pronounced "moo-neh") means chicken breast and is pieces of chicken breast. Chicken breast tends to be a little tougher than chicken thigh.
Momo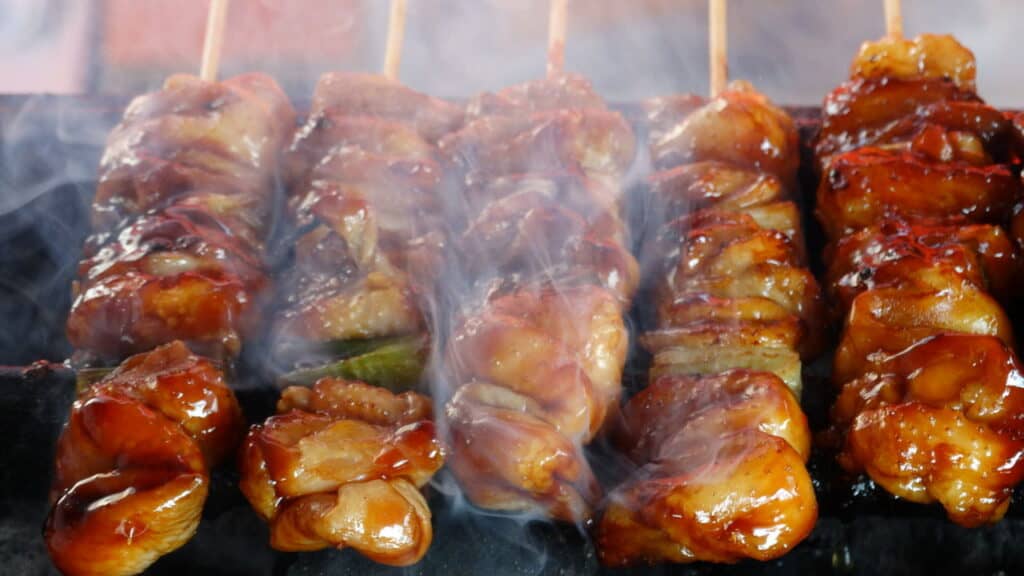 Momo means chicken thigh and it is skewers of pieces of chicken thigh. Chicken thigh is quite soft and juicy.
Sasami
Sasami is pieces of tenderloin cut of chicken breast. It is supposed to be quite high in protein and the texture is quite soft. It is usually served with mentaiko (cod roe) sauce.
Tsukune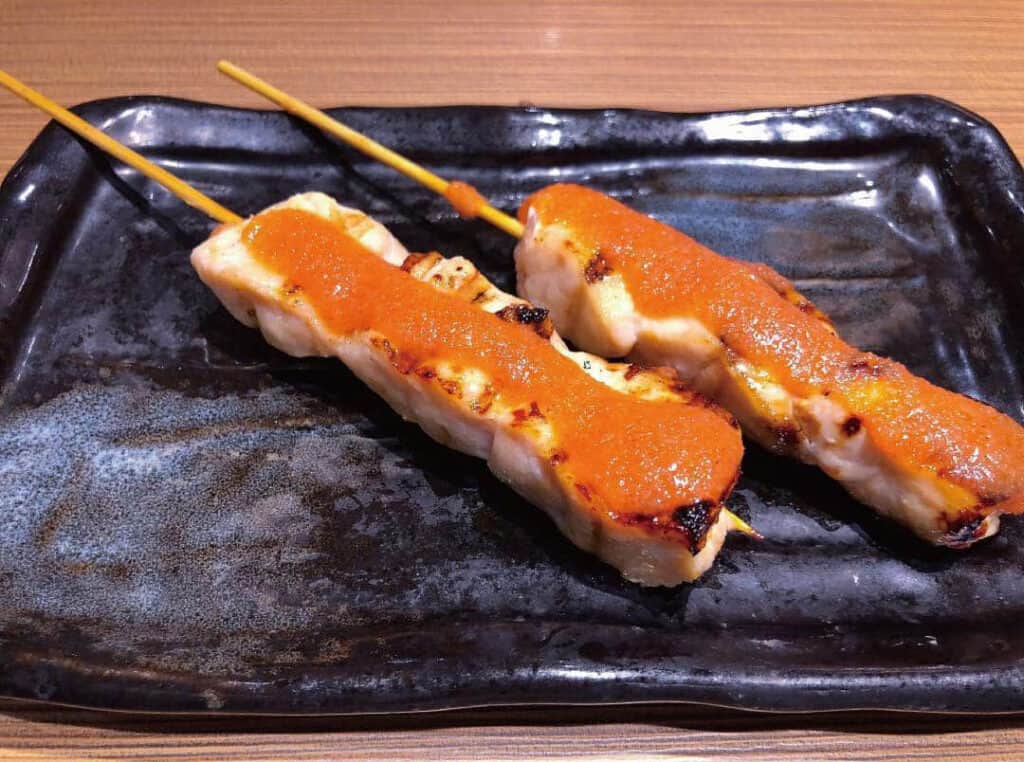 Tsukune is a skewers of chicken meatballs or a long chicken skewer made of minced chicken. Chicken cartilage, vegetables and spices are usually mixed in to create a crunchy and more flavourful taste. Depending on the restaurant, the amount of cartilage, the different ingredients added to the minced chicken is different.
Tebasaki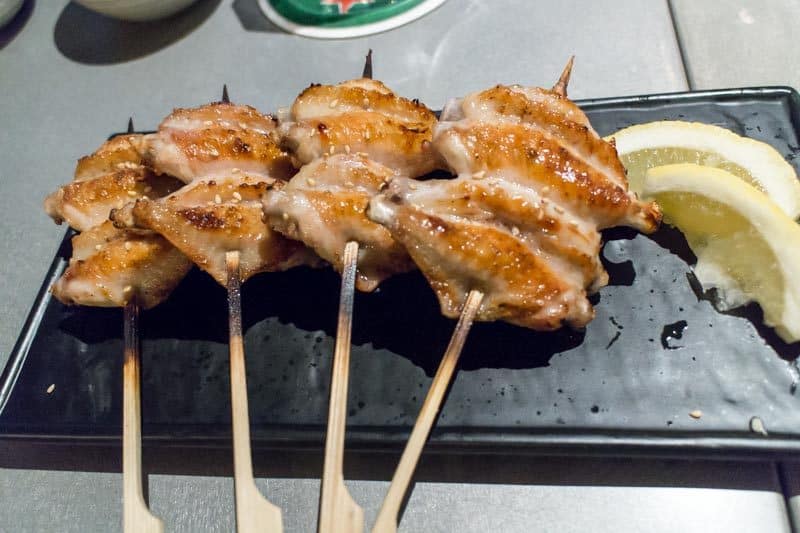 Tebasaki means chicken wings. Chicken wings that have been spread open and skewered together on the stick. The skin is usually grilled to a golden color, with a crunchy texture.
Rebā (liver)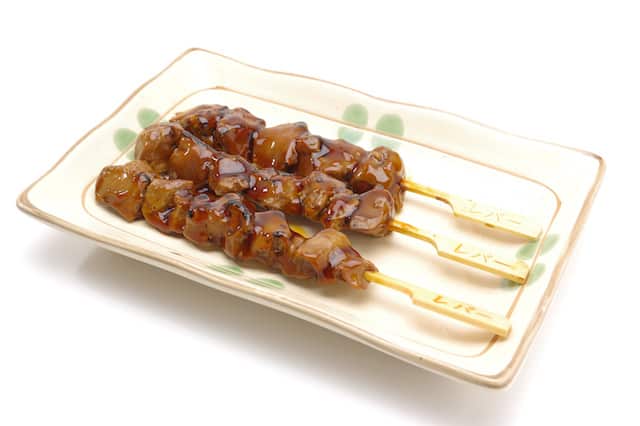 'Rebā' is the Japanese pronunciation of 'liver'. Understandably, reba yakitori is a few pieces of chicken liver skewered together on a stick. Reba is said to be highly nutritious.
Hātsu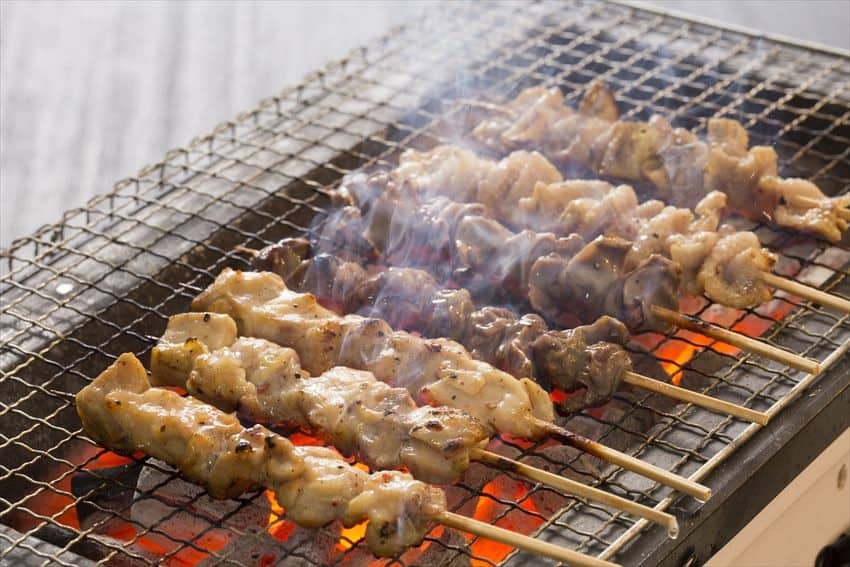 Hātsu (The Japanese pronunciation of 'heart') means chicken heart. The flavour is quite strong and unique. The texture is very unique and soft, quite similar to the texture of a pudding.
Sunagimo
Sunagimo skewer is pieces of chicken gizzard. It is quite crunchy, the meat is firm but surprisingly doesn't have a very strong flavour.
Bonjiri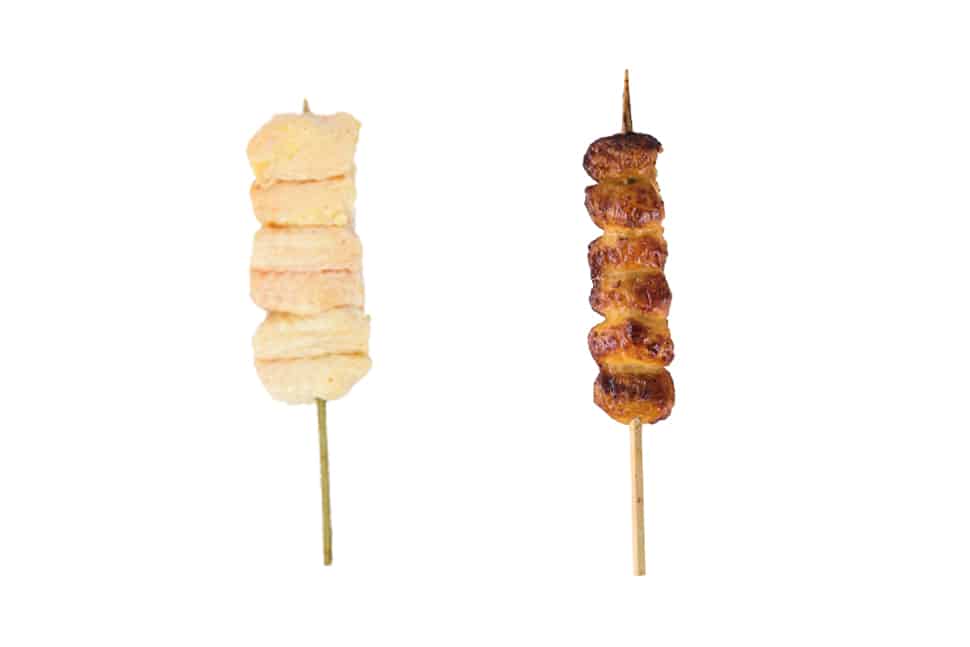 Pieces of meat of the chicken tail, or more commonly referred to as the chicken ass. It is similar to the chicken thigh area, although the meat is more firm. It is quite a rare part of the chicken and it has gained a lot of popularity in the past few years.
Kawa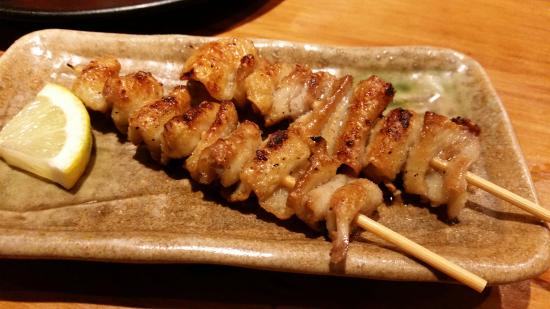 Pieces of chicken skin. It is usually cut into small pieces and is a little chewy. Since it's been grilled lightly, it has a nice, slightly burned, flavour to it.
Nankotsu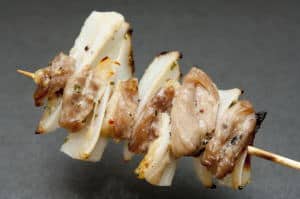 This is definitely an interesting one. Nankotsu consists of pieces of cartilage from the chicken breast skewered together. Cartilage might sound strange since you're literally eating bones, but it's actually quite soft and easy to chew.
Yakitori condiments
Besides the different yakitori types, the condiment paired with the yakitori plays a big part in the dish since it adds extra flavour. There are some fusion flavours but here are the condiments that you can get with all the yakitori on this list.
Tare (sauce)
Tare (pronounced "tah-ray") is a brown sauce, a sweetened and thickened soy sauce. It is probably the most popular choice of sauce, especially for skewers with less-flavourly meat.
Shio (salt)
Shio means salt and this is the simplest one condiment. Salt is sprinkled onto the skewers. It brings out the fresh flavours of the meat without any additional flavours.
—
There you have it! What do you think about this Japanese food? Next time you hit up a yakitori restaurant or come across yakitori on the menu, you won't have to look up each type of yakitori. Although some of them sound strange and might not be something you would usually eat, give it a try! You might just be pleasantly surprised!
Check out every Japanese food you should try, fusion dishes, types of ramen, ramen chains, yakitori and food and drinks at izakaya, fast food chains in Japan and healthy food in Japan!