100 yen shops in Japan are the Japanese equivalent of dollar stores overseas, where all products cost just 100 yen each (around USD$1). You can essentially get everything here, and though they're cheap, the products (mostly made in Japan) are high-quality and long-lasting.
What to buy at 100 yen shop? From practical, useful products to pretty souvenirs and decorations for show, we'll break down everything you need to know about 100 yen shops, what to buy at 100 yen shop, and some tips on navigating them.
Wanna go shopping in more places? Check out Don Quijote, souvenirs, ramen chains, yakitori, food and drinks at izakaya and fast food chains in Japan!

One of the best ways to explore Tokyo is to visit the local areas and immerse yourself in the local culture. If you want to explore local areas, we have created scavenger hunt adventures personalised to your interests, filled with fun facts, clues and puzzles. If you're curious, you can check out the games here!

Check out the Flip Japan Games here!

What 100 yen shops are best for
Beauty and skin products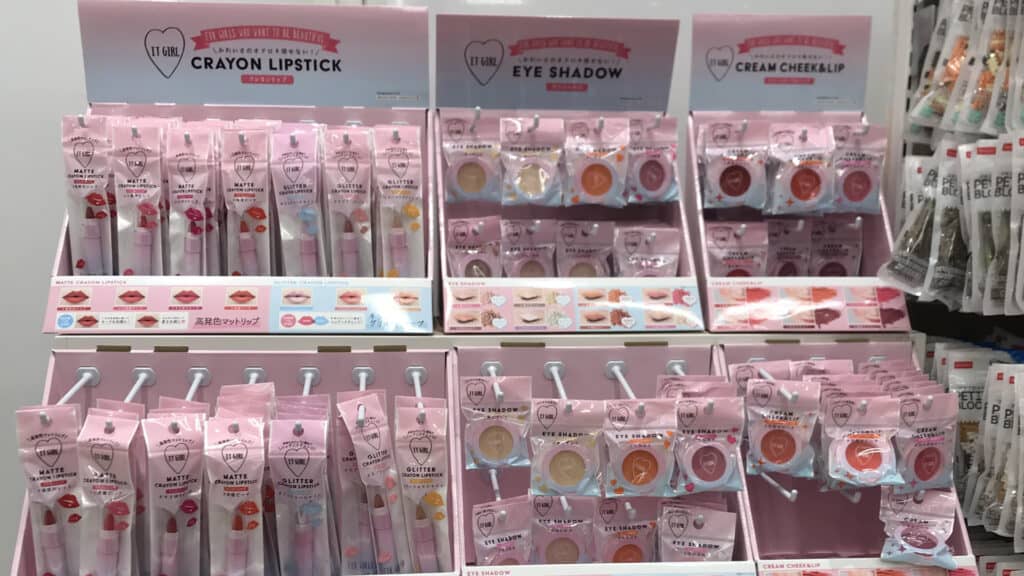 When you think of what to buy at 100 yen shop, Japanese dollar store, this is probably not what pops into your head. Beauty products can tally up quite the tab, so if you're on a budget or just new to cosmetics, 100 yen shops are a great place to get your products.
Like in other make-up stores, you can try on different colours of eyeshadows, blushes and lipsticks, and the products will come in attractive, cute packaging—same as the regularly-priced products. At 100 yen each, the quality of these products may not live up to the standards of high-end make-up stores, but they are a great bang for the buck.
You'll also find other products to go hand-in-hand with your make-up, such as beauty blenders, containers and make-up removers.
Winters in Japan can get pretty dry, and spring allergies can cause skin irritation, so if you need skin products, 100 yen shops have got you covered, too. They sell hand lotion, face wash, exfoliators, cleansers, and more. They're not the best quality but they are a steal at 100 yen each. If you find yourself without your regular skincare products, 100 yen shops products are a good temporary substitute!
Jewellery/accessories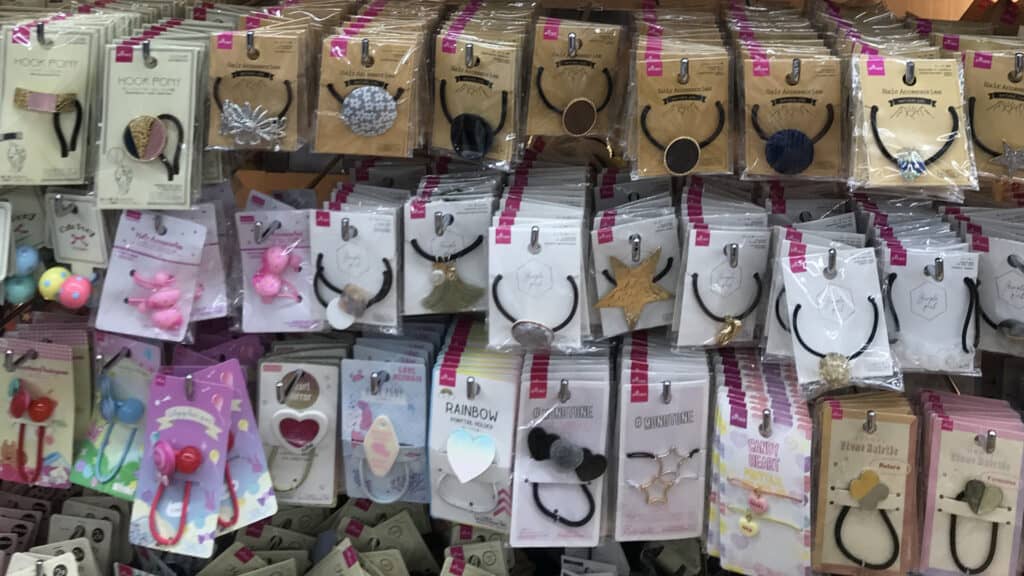 100 yen shops usually have a huge section of jewellery and accessories. Bracelets, bangles, scarves, earrings, necklaces, rings… They've got everything here. Grab some pretty jewellery and different seasonal accessories for yourself or as souvenirs for friends and family back home. 100 yen shops will help you style it up at affordable prices.
Household products
If you live in Japan or are planning to live in Japan, these Japanese dollar stores, are the best place to get things to furnish your home with. They've got soft, fluffy 100% cotton towels, floor mats and scrubs for your bathroom; neat and tidy stationery or desk shelves for your work area; and simple and sturdy plates, bowls and cups for your kitchen.
100 yen shops also sell smart cooking utensils that help reduce preparation and cooking time in the kitchen. As Japanese people have some of the longest working hours in the world, leaving them little time to do other activities, these smart cooking utensils are a huge help.
Such utensils include fruit/vegetable dicers, molds or cutters for dumplings, and sushi makers. If you, like regular Japanese employees, don't have a lot of free time to cook, or you just want a quicker cooking experience, explore 100 yen shops for innovative, creative kitchenware.
Souvenirs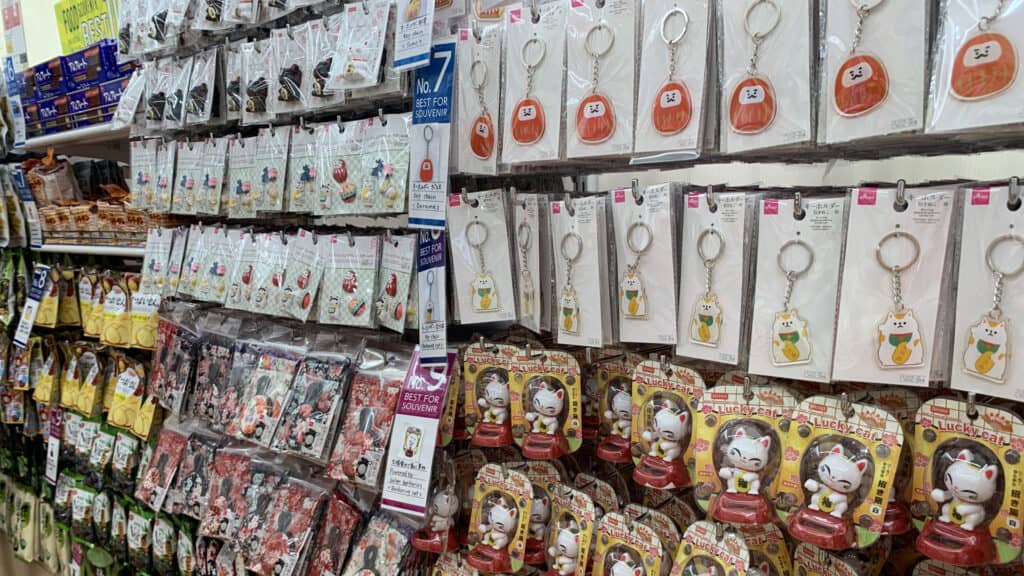 Before your trip to Japan, we're sure you've been asked by friends or family to bring souvenirs back home. If you want to spare some expense on souvenirs, 100 yen shops are a great place to check out!
They may not have the traditional, spiritual Japanese souvenirs like protection amulets from temples or shrines, nor will they have the special green tea-flavoured Kit-Kats, but they've got a bunch of other things like keychains, stickers, magnets, coin purses, mugs, wall scrolls, and more!
If you visit other tourist attractions, they will also sell souvenirs but they may have those tourist attractions' logos or branding on them ("Tokyo Skytree", "Tokyo Tower", "Sensoji Shrine", etc.). If you want souvenirs that's just Japan or just Tokyo, 100 yen shops are a good place to get them.
Stationery and DIY
Stationery is undoubtedly necessary in our daily lives, whether you're a student, office worker or just really into arts and crafts. Japanese dollar stores sell many different-coloured and patterned paper and sheets, smooth pens and markers, colourful and beautifully designed notebooks and scrapbooks, knitting wool, sewing kits, and more. Most of these products are made in Japan, all at 100 yen each.
If you're new to arts and crafts, 100 yen shops also have DIY craft packages with instruction manuals and guides to help you along your new hobby, so give that a go!
Food and drinks
100 yen shops sell both Japanese food and international food and products including seasonings to flavour your meals in the kitchen and snacks to munch on when you're feeling peckish. One of the must-haves is furikake, a mixture of seaweed, bonito flakes, sesame seeds and seasonings. Furikake is meant to be sprinkled on rice, vegetables or fish. It has a distinctly Japanese flavour, so you can enjoy the taste of Japan even after you leave, or you can get creative and use furikake in your own country's cuisines.
There are various flavours of furikake and you can get most of them at 100 yen shops.
Space Bag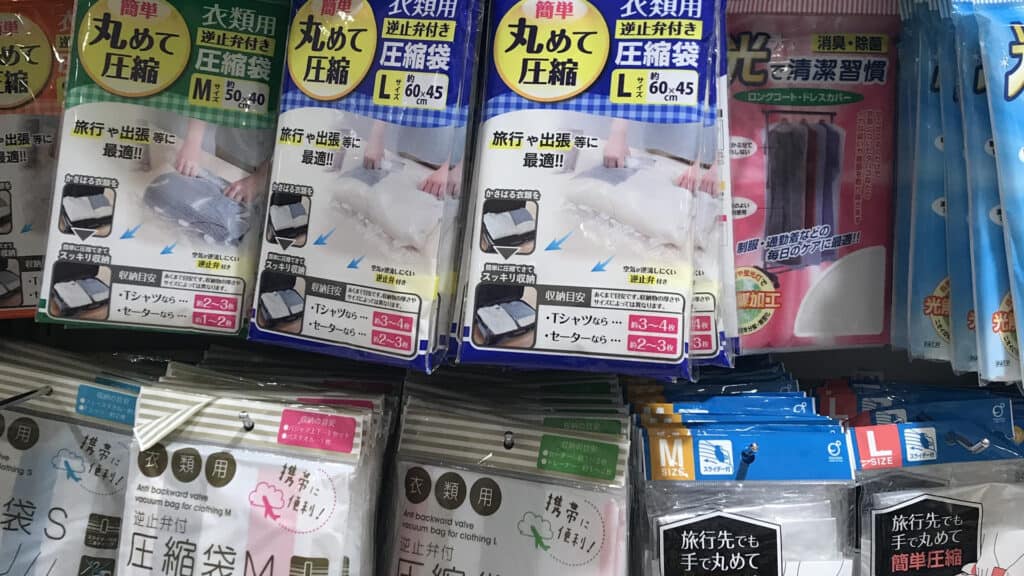 Packing your luggage for a trip can be a hassle; you have to figure out a way to stuff all your clothes, toiletries and other belongings in the limited amount of space your bag provides. Especially in winter, bulky jackets and sweaters leave very little space left in your bags. And, what about your trip back from your vacation? You'll need extra space for souvenirs and other purchases.
Space bags are the solution! 100 yen shops sell them in different sizes, so you can get the ones you need to help condense your belongings and save space in your bags.
Storage items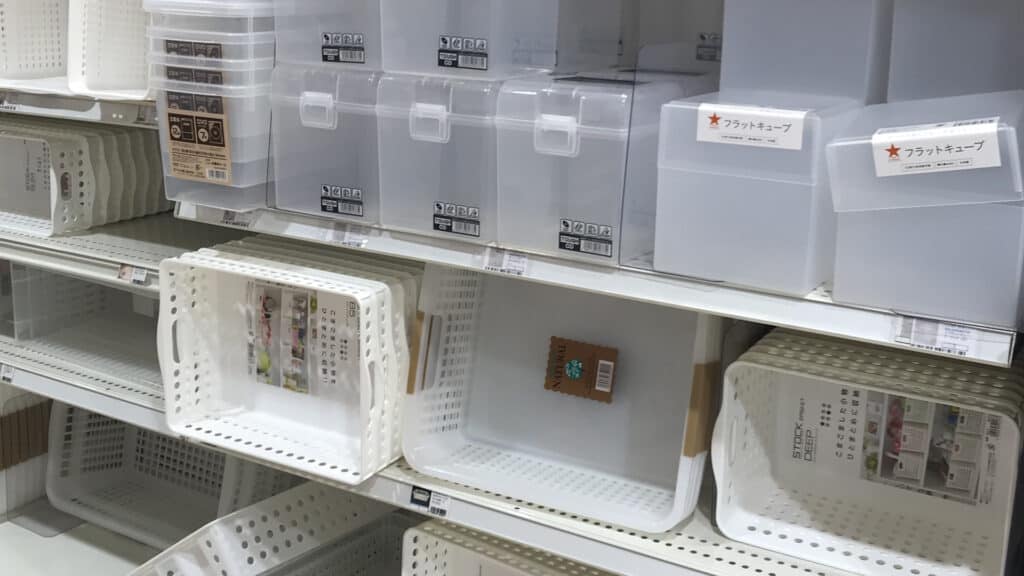 It's been said that organising everything can help you focus and clear your mind, enabling you to think better and more precisely. However, it can be a struggle trying to store hoards of items properly. In Japanese dollar stores, you can find all sorts of shelves or boxes to help with this Herculean task. It'll help you clear things away in bulk and keep you coordinated. You can throw a bunch of things in a box and store them away for future organisation. It'll at least help to declutter your main living space for the moment.
There are just a small handful of the many products you can get at 100 yen shops. They're known as "mini department stores" in Japan which is telling of just how much they have on their shelves. Explore their aisles and take a gander at all the creative, innovative and random products they have! 100 yen shops are everywhere in Tokyo so you'll find one easily.
Top 100 yen chains
Here are some of the more famous 100 yen shops, so keep an eye out for them!
DAISO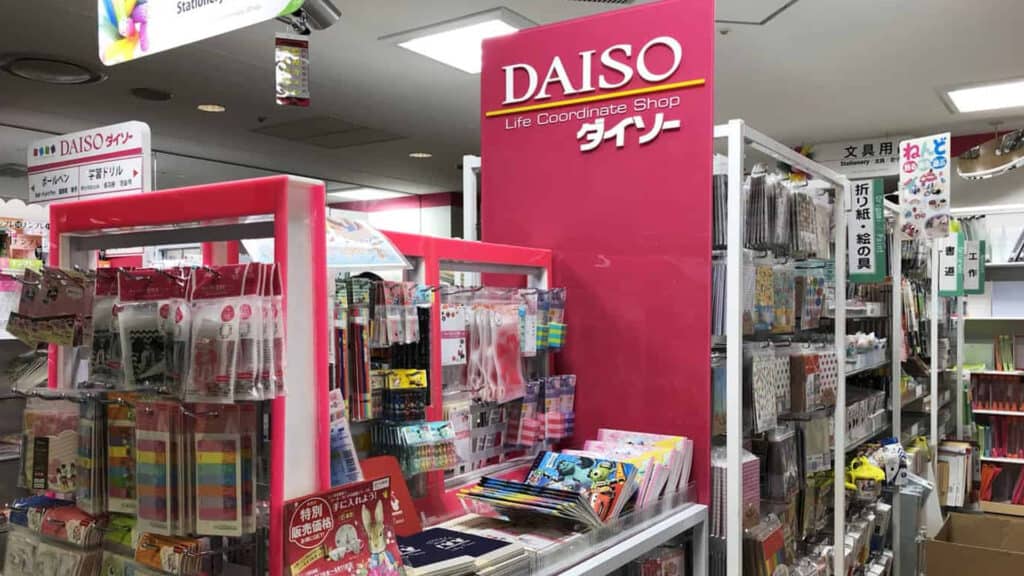 You may have seen or heard of a DAISO as they've expanded overseas to countries such as South Korea, Hong Kong and Singapore. But make no mistake that they are a Japanese brand with made-in-Japan products! The Japanese branches have more products than the ones overseas, so if you're planning to visit a DAISO, Japan's the place to do it.
When you think about what to buy at 100 yen shop, you will have to check out beauty and skin products. DAISO will be your best bet as they have the widest variety of beauty and skin products amongst all the other 100 yen shops.
You can find a DAISO pretty much anywhere in Tokyo but the one in Harajuku has three floors! You'll find everything there.
Can☆Do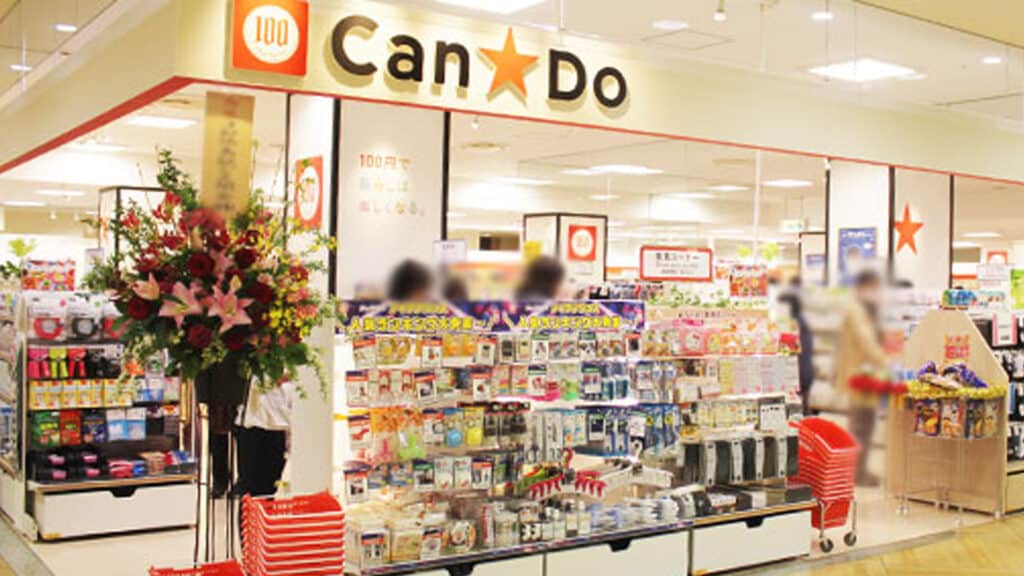 Can☆Do has launched mostly life necessities, groceries, and stationery, and they also collaborate with famous brands to launch limited edition products. If you're not 100% satisfied with your purchases, have no fear; Can☆Do will give you a full refund if you return the products within a year.
Can☆Do may not stock as many make-up products as DAISO, or as many products in general, but they're more accessible as they have more than 100 branches in just Tokyo!
Seria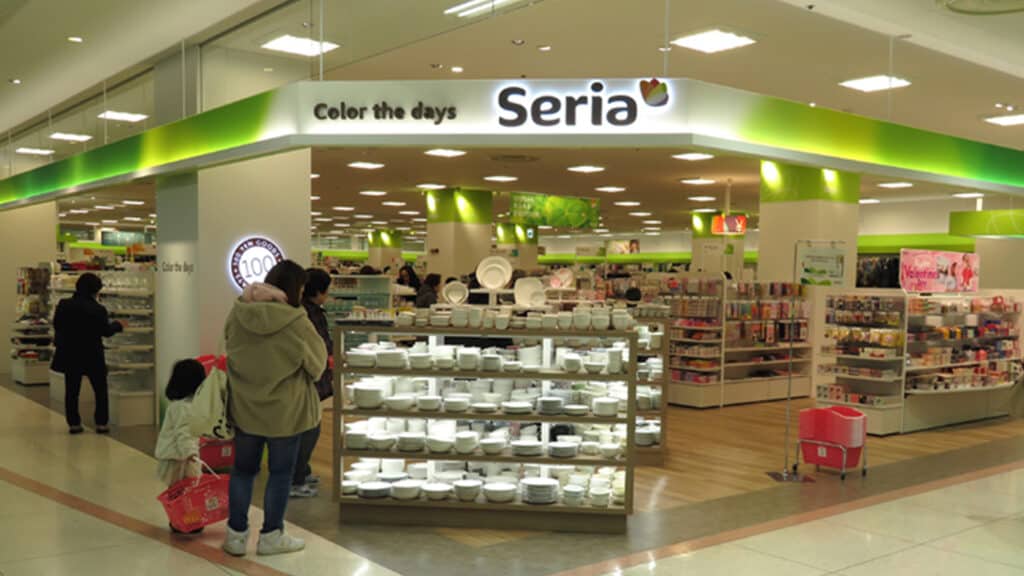 Seria is one of the largest chains of 100 yen shops in Japan, stocking products such as tableware, decorations, storage items—all in minimalist style. The most significant selling point of Seria's products is that all—not some, but all—their products are made-in-Japan. If you want guaranteed high-quality products, then Seria may be the 100 yen shop for you.
—
100 yen shops are amazing places that will more often than not have whatever it is you're looking for, so definitely check one or two out when you're here! When it comes to what to buy at these Japanese dollar stores, check out all the different options you can find there.
Stay tuned for more information about Japan travel, Japanese culture, moving to Japan, living in Japan, Japanese language, Japanese culture and more.