You're nearing the end of your trip to Japan, and it's been an unforgettable experience. As you start to pack up your belongings for your inevitable return back home you realise you need to bring back souvenirs in Japan and gifts in Japan for everyone back at home. Check out these Japanese souvenirs you can even find online!
Omiyage (お土産), as they are called in Japan, are part of Japanese culture as gift-giving is a big thing here. But with so many options, how will you know what the best Japanese souvenirs are?
Don't panic, we have you covered. Food, toys, anime goods, and limited items, you will be able to find the perfect Japanese souvenirs and gifts for everyone here in Japan.
Find out more about Japan travel here: Shopping in Japan, nature in Japan, camping in Japan, overnight & day trips from Tokyo, Top museums to visit in Tokyo, Local neighbourhoods in Tokyo and beaches near Tokyo.

One of the best ways to explore Tokyo is to visit the local areas and immerse yourself in the local culture. If you want to explore local areas, we have created scavenger hunt adventures personalised to your interests, filled with fun facts, clues and puzzles. If you're curious, you can check out the games here!

Check out the Flip Japan Games here!

Japanese Souvenirs in Japan
1. Food 
Who doesn't love receiving food? And, Japan has so much of it and so many variations that even the locals give food from different regions to one another. Many stores also have their products already nicely packaged and wrapped, so they make both great and convenient gifts.
Narita and Haneda Airport both have intense shopping plazas with gift shops that sell these kinds of products. One brand that is widely popular with locals and foreigners alike is Tokyo Banana, a small cake-like pastry with banana cream filling. It tastes sweet and has a soft, fluffy texture.
Cookies are another widely accepted souvenir from Japan. They come in Japanese flavours like matcha (抹茶, green tea) and goma (ごま, sesame sauce). They may sound or even taste weird to someone who isn't familiar with Japanese flavours, but that's what makes it an exciting gift! Some have patterns baked in the centre that make them artistic and pretty presents as well.
For getting this Japanese souvenir and gift in Japan, you can get check out Tokyo station and department stores or check this Japanese souvenir online!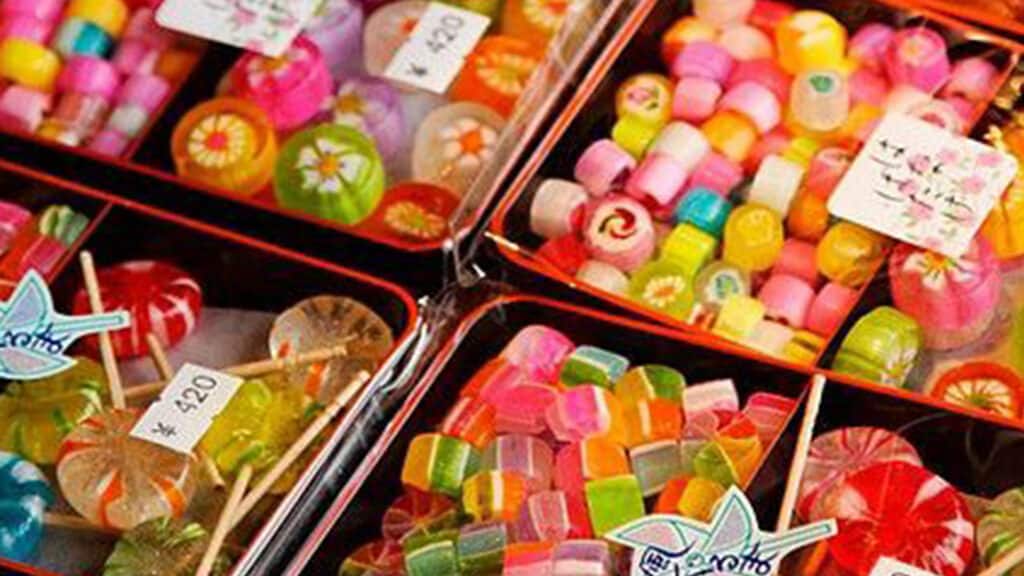 Wagashi (和菓子, Japanese sweets) is a classic Japanese souvenir to gift to your friends and family. Most of them were created during the Edo period when Japan didn't have much contact with the outside world, making these sweets unique from others. The most affordable and easily-found wagashi are probably konpeitō (コンペイトー, derived from the Portuguese "comfits"), namagashi (生菓子, raw candy) and dangō (だんご), pictured above. You'll find many stores selling these great Japanese gifts in Nakamise Shopping Street in Asakusa in Tokyo, department stores, and airports.
For something more contemporary, consider the special flavours of Kit Kat! They come in rum raisin, apple, strawberry shortcake, Japanese green tea, red bean and more! Don Quijote (found in almost every neighbourhood) sells most of these special flavours. They make amazing Japanese souvenirs you can get anywhere in Japan!
There are even seasonal Japanese candies that commemorate the current season, such as cherry blossom candies or red momiji leaves candies. These aren't available throughout the year so if you come across them during your visit, be sure to nab them while they last!
2. Gashapon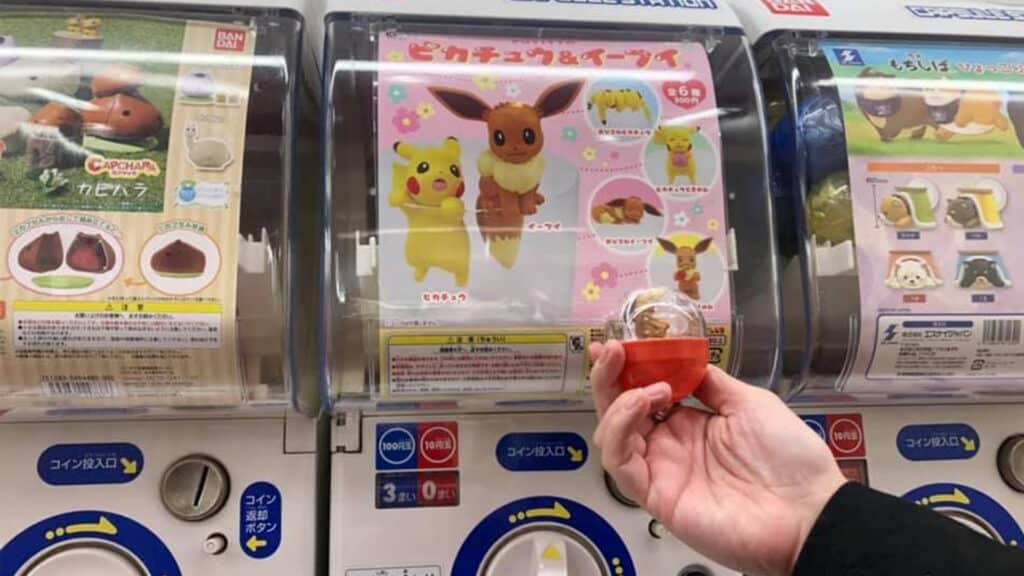 Japan is famous for its geek culture and pop culture that includes Japanese anime, comic books, games and toys. You can find figurines, body pillows, keychains and tons more merchandise. For these types of Japanese souvenirs in Japan, head over to Akiharabra, Tokyo's geek town.
However, a more special geek souvenir would be gashapon goods. They are vending machines that dispense capsule toys. You won't get to choose what toy you get, but that's all part of the fun! The capsule toys cost anywhere between 200 and 500 yen each (USD$1.8-4.65), which make them a lot more affordable than store-sold merchandise. They also fit easily in your palm so they won't take up too much space in your suitcase.
Like coin machines in other parts of the world, the capsule toys are usually themed. There are anime-themed toys from popular series such as Naruto, Demon Slayer and Attack on Titan, as well as Japan-themed toys such as sushi or samurai keychains.
Each gashapon dispenses about 5 to 7 different toys from one theme and many Japanese people will try to collect the entire set, which will definitely take a significant number of tries, racking up the costs. But if you're not particular about which toy you'll get, gashapon toys remain an affordable option for souvenirs. Stick in a few 100 yen coins and see what you get!
3. Stationary
I truly believe Japan is one of the best places in the world to get stationary. There is such a vast selection and many of the tools are extremely high quality. From everyday products like pencils or pens, to more situational items like postcard envelopes, Japan has everything. There are many stores that are dedicated solely to stationary, and it's here that you'll be able to find a variety of designs.
Many of these designs are things that you can't find anywhere else in the world. A lot are based on traditional Japanese culture like ukiyo-e (浮世絵, pictures of the floating world), or Mt. Fuji.
Washi tape is growing in popularity as the trend for bullet journals and decorating notebooks grows around the world. It's a great souvenir for people who enjoy stationary, as washi tape originated in Japan. You can find a lot more variety here in terms of colours and patterns, and they are much more affordable here at the source than in other countries or online.
Some common places that you can find stationary are Muji and Tokyu Hands, but try looking out for your local store as you may be able to find some more unique things there.
4. Omamori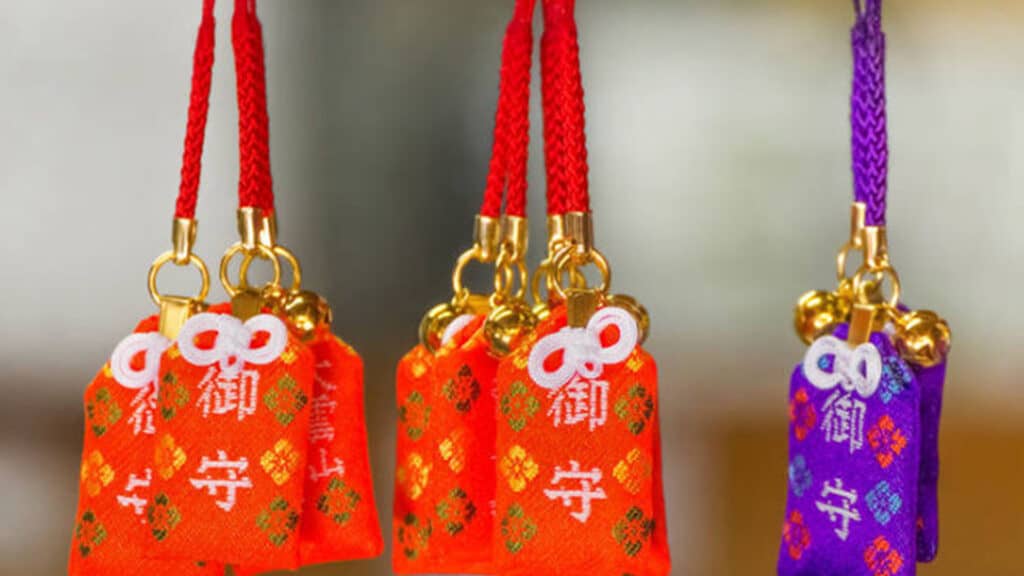 Omamori (お守り) are Japanese good luck charms. There are specific omamori for love, wealth, health, studies, careers, and more, and each usually comes in a different colour (pink, for example, is almost always the 'love' omamori). They're usually handed out during New Year's but are available throughout the year at shrines and temples.
Whether they work or not, it's to you to buy one and find out. To get Omamori in Japan, you can visit Meiji Jingu Shrine or Sensoji temple in Tokyo.
5. Tableware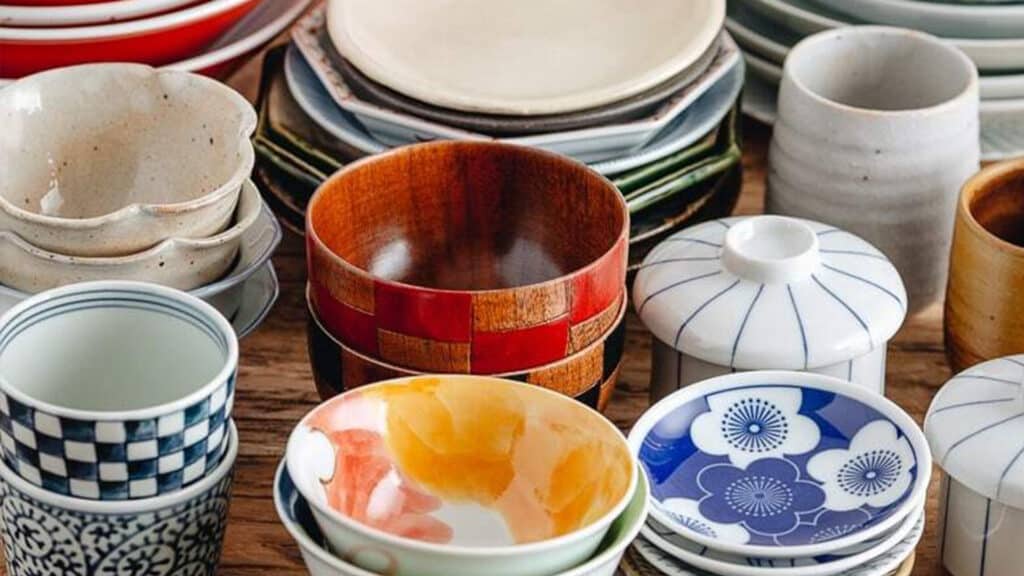 Japanese pottery is highly praised for its aesthetics and variety. You can find bowls, plates, cups, and cutlery with traditional Japanese designs that aren't commonly found overseas. Many small businesses are dedicated to selling only tableware; take a look around your area and see if you can find one. If not, try larger stores such as Japanese department stores.
Japanese pottery has changed since historical times where wabi sabi (侘寂, the aesthetic of imperfection) was common practice. Tea cups and bowls are intentionally broken and then put back together with gold or other striking and elegant ingredients filling in the cracks, making them entirely unique even from one another.
6. Bento Boxes/Furoshiki
Bentō boxes are Japanese lunch boxes. The material used to make them are meant to keep the food nice and warm inside. They usually come in simpler and plainer designs such as wood or black lacquer as it's meant to contrast the usually colourful and eye-catching meal kept inside it.
Japanese also have what is called a furoshiki (風呂敷), which is a large cloth that is wrapped around the bento. This is to prevent any spillage, and is a traditional way of packing a bento box. You can find furoshiki in traditional colours such as muted tones to match the bento box itself, but nowadays there are a lot of contemporary designs that come in colourful patterns.
7. Japanese Face Masks/Cosmetics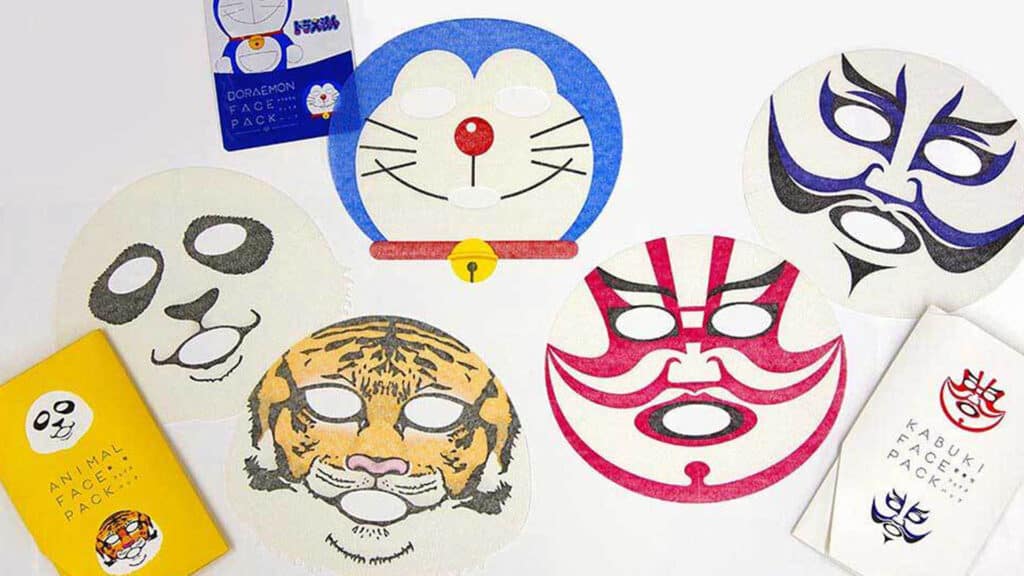 Try out these fun face masks and bring them home as great Japanese souvenirs! Japanese cosmetics and skincare products are generally cheaper than bigger brands that you'll find in a Sephora such as Urban Decay or Benefit. Despite that, they still maintain their quality and sometimes are even better than high-end brands.
Japanese brands like Cosme and Heroine Make are award winning for their amazing products such as powder or mascara.
For skincare, you can get these quirky masks that are made in the shape of a character or animal. Perfect for a spa day with a friend, these will not only make your skin feel smooth but give you a laugh as well. You can buy these face masks at Don Quixote, or Tokyu Hands.
8. Sakura Seasonal Items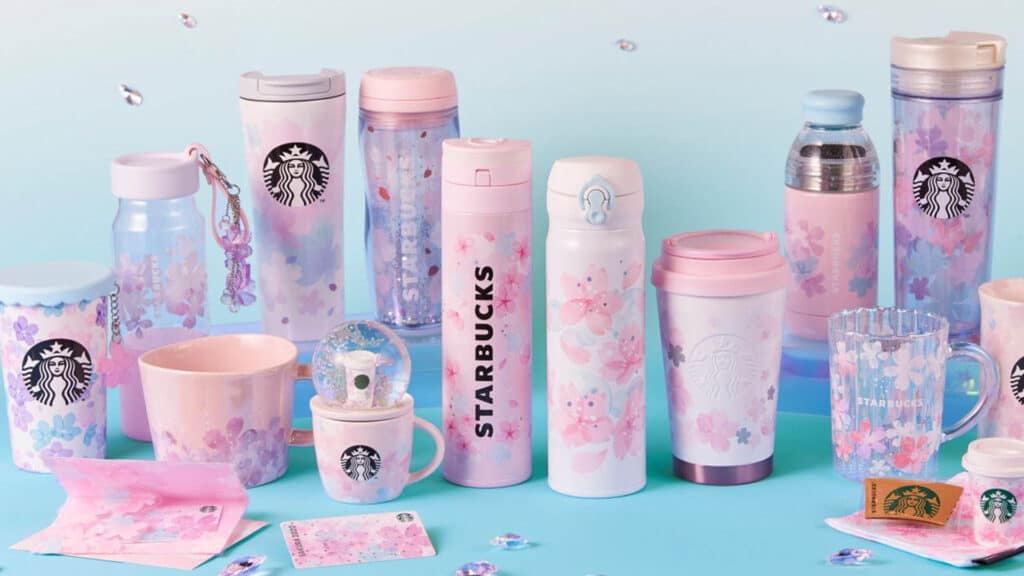 During the springtime in Japan, the cherry blossoms are in full bloom for a mere two weeks, the epitome of the Japanese philosophy of impermanence. Though the cherry blossoms don't have a long lifespan, the cherry blossom craze does and cherry blossom-themed goods are available from March till May. This include snacks, clothes and tableware.
Even Starbucks has a seasonal menu every year based on these delicate flowers, and it's a great Japanese souvenir to bring back as it's something you can only find in Japan.
9. Japanese Books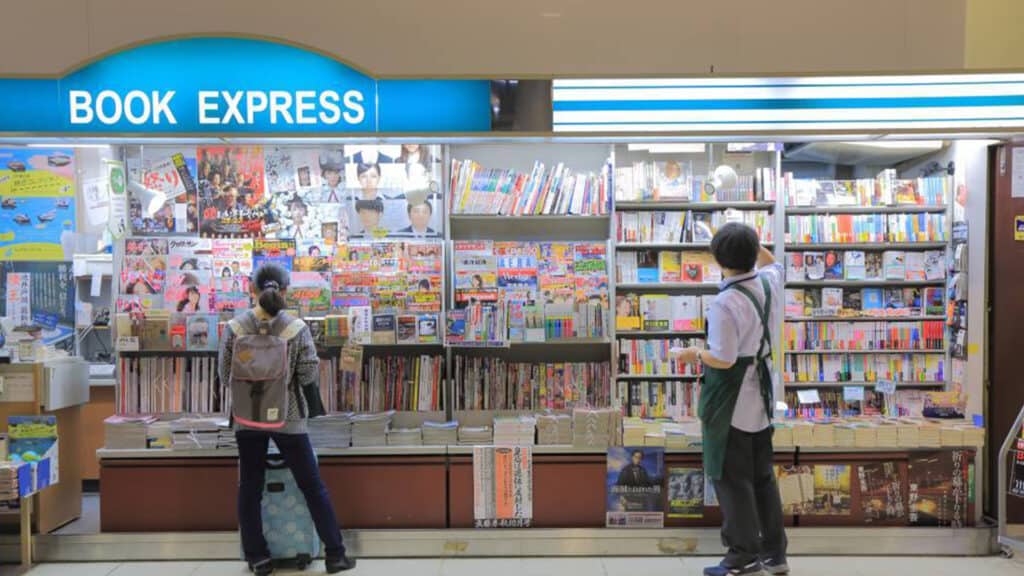 For all the book lovers out there, try visiting a book shop in Japan. This is an especially good place for those learning Japanese, and there are many interesting books to choose from to improve your reading skills. From children's books to a guide on how to use the word "fuck" correctly, there is a wide variety of genres to choose from.
For your friends or relatives who are book-lovers, get them a book! There are Japanese language books, Japanese joke books and even a funny cartoon book on how to use the word 'fuck' correctly. For fashionistas, there are a bunch of Japanese fashion magazines on Japanese fashion styles such as gyaru, lolita, and more.
Japan publishes many photo books, and they can be wonderful decorations around the house. Of course manga is easy to find here in Japan too. You can find manga of series that are less well-known, as they most likely haven't been sold abroad yet. Do some reading, and see what you can find.v
10. Alcoholic Drinks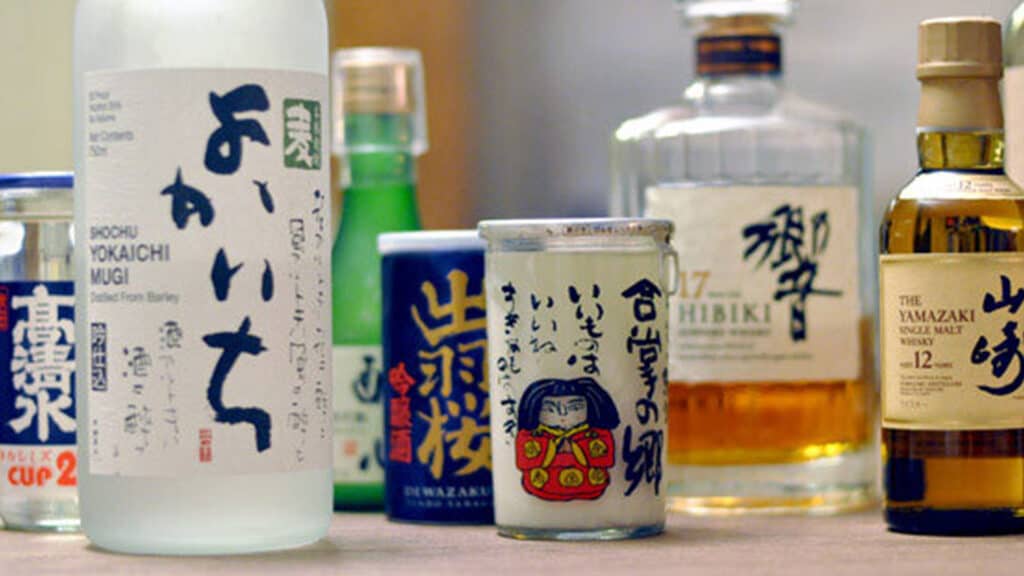 Japan has so many different types of high quality alcohol. Along with traditional drinks like nihonshu (what is known as 'sake' overseas), umeshu, and shochu, you can find beer, whisky, and highballs too. Brands like Asahi and Sapporo are known around the world, and here you can find variations of them that you wouldn't be able to find elsewhere.
Japan also offers unique flavours of chuhai drinks (short for "shochu highballs"). They have many fruity flavours like melon, pineapple, lemon, strawberry, and mango. You can find milkier flavours like Yakult as well.
Japanese alcohol can be purchased in alcohol stores, convenience stores, and grocery stores at every turn in Japan. Definitely try some out while you're visiting Japan, and bring some back for those back home as well.
There's so much shopping to do in Japan, and sometimes it can get overwhelming to know what to buy in Japan, especially when it comes to buying Japanese gifts. Now you can narrow it down, and find the best Japanese souvenir to bring home.
You might want to check out 10 Places You Need To Shop When You Come To Japan. Want to find out more about Japan? check out perfect Japanese alcohol in Japanese convenience stores and Let us help you make the most out of your time in Japan!
Stay tuned for more information about Japan travel, Japanese culture, moving to Japan, living in Japan, Japanese language and more.