If you live in Tokyo or near Tokyo, you might be constantly surrounded by the hustling and bustling of the city. It is important for your physical and mental health to take some time off and have some self-care time. One of the best self-care activities you can do with nature is visiting a beach. Japan has a very rich nature and because of the unique geographical location and being a country that is also an island, Japan has lots of beaches to offer. If you want to get away and enjoy a day at the beach, here are 8 incredible beaches not too far from the city. 

One of the best ways to explore Tokyo is to visit the local areas and immerse yourself in the local culture. If you want to explore local areas, we have created scavenger hunt adventures personalised to your interests, filled with fun facts, clues and puzzles. If you're curious, you can check out the games here!

Check out the Flip Japan Games here!

Find out some nature spots in Japan, day trip ideas from Tokyo, campsites in Japan and hiking spots in Japan.
Beaches near Tokyo 
1. Moriya beach 守谷海水浴場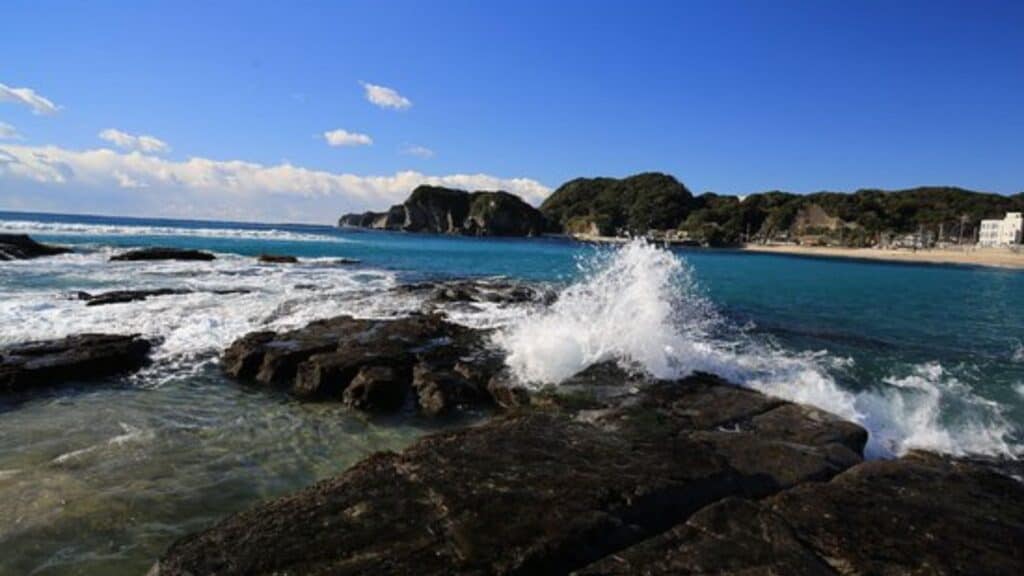 Moriya beach is located in Katsuura, and it is one of the best places near Tokyo to go swimming. You will find the water and sand here extremely clean. Moriya beach has the best quality of water in Katsuura so swimming here is a superb experience. Despite the fact that the place is very famous and popular among both Japanese and international tourists, the beach is quite spacious and you will surely be able to find a good area to hang out at.
Located in Minami Boso National Park, Moriya Beach has been selected as one of the "100 Best Beaches in Japan" and "100 Best Beaches in Japan" and boasts for the outstanding transparency of seawater.
During summer, first aid stations, beach houses, pay parking lots, shower facilities, changing rooms, etc. are installed here. Besides visiting Moriya beach, there are other tourist attractions for you to visit, such as Moriya Cave, Myokaku Temple, and Okitsu Beach in the surrounding area.
To get to Moriya beach, it takes roughly a 1.5 hours drive from central Tokyo and a roughly 2.5 hour train ride.
2. Isshiki beach 一色海水浴場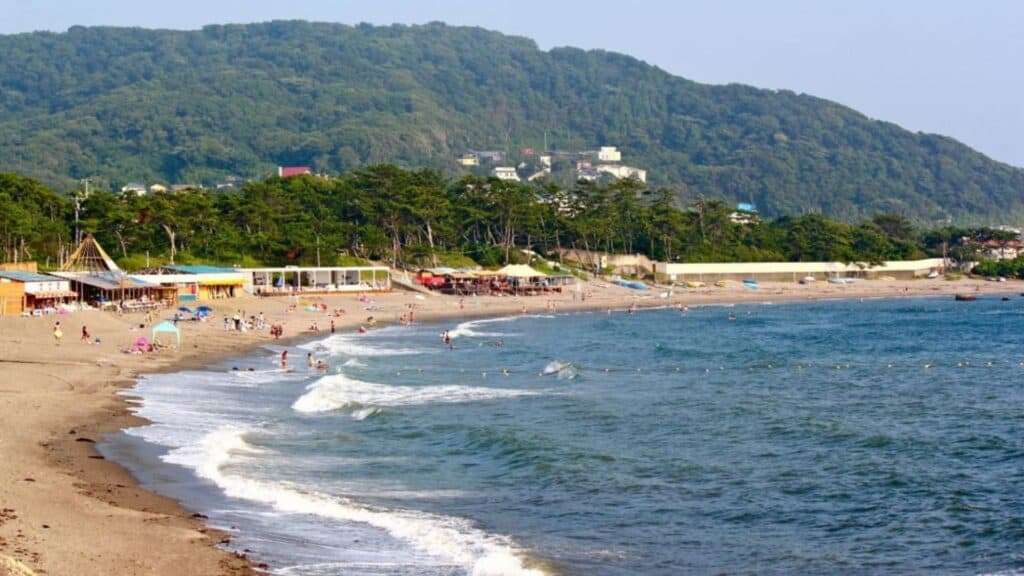 You might have heard the name Isshiki beach already, since it is featured by many media, such as CNN, as one of the best beaches in the world.
Isshiki beach has very gentle and calm water and a breathtaking view of the sunset. Sometimes, you can even see Mount Fuji across the bay. In the high seasons during summer, Isshiki beach often hosts many live/DJ music performances, attracting people who love music to come and hang out.
Besides the peak season with these activities running, Isshiki beach doesn't get very crowded, making this beach a great place for solo or couples to enjoy their privacy. Swimming is allowed in designated areas and there are lifeguards present, so the risk is relatively low. Surfing is a less common activity at the Isshiki beach since the waves are relatively calm.
If you have a chance to stop by Isshiki beach, make sure to try out the local cuisine. Hayama, where the beach is located, is famous for great food. One of the most famous ingredients is Hayama beef. It is high in fat and thus has a very juicy and tender taste.
It takes around 1.5 hours to get to Isshiki beach by car and 2 hours to get here by train.
3. Morito coast 森戸海岸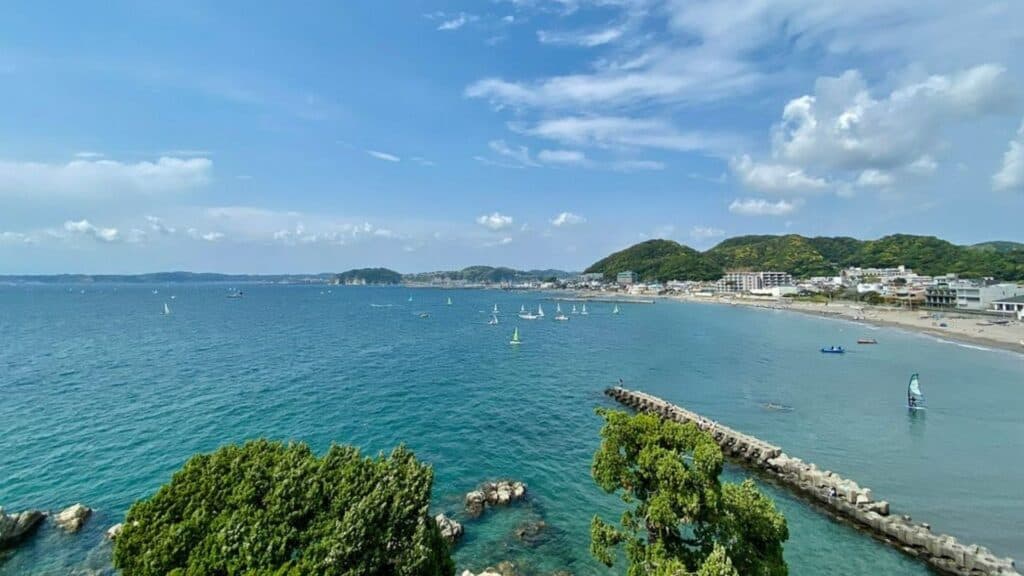 Another popular spot for sea lovers is Morito coast in Hayama. The Morito coast is a place for water-based activities. You can enjoy sea kayaking, SUP, surfing, diving and more water activities here. The waves at Morito coast are small, making it safe for people of all age groups to hang out. You won't find many restaurants or activities here, so make sure to bring along your own food and drinks.
From time to time, you will see local artists' and musicians' live performances. Just like Isshiki beach, it is located in Hayama and has a view towards Mount Fuji. Morito coast houses different firework festivals in summer. Make sure to check the official website to find the different festivals happening here.
To get to the Morito coast from central Tokyo, it takes roughly 1.5 hours by car and 2 hours by train.
4. Onjuku Beach 御宿
Onjuku Beach is a beach located in the Sotobo area in Chiba prefecture. Facing the Pacific Ocean, Onjuku Beach has white sandy beaches and beautiful blue waters. It is characterised by its warm climate throughout the year. The palm trees planted along the beach add to the tropical mood and a vacation atmosphere for its visitors. However, the beach could get very sunny during the summer, so it will be a good idea to protect yourself with lots of sunscreen to avoid a sunburn.
The Onjuku beach is located in the center of the coastline. Along with the great infrastructure and sandy beach, Onjuku beach offers fantastic surf conditions. It is a summer haven for surfers with the many great facilities in the area for surfers of all levels.
Onjuku is the place where the nursery rhyme "Moon's Savage" was set. You can enjoy the feeling of a tropical resort on the white sand beach and the blue sea. There are different events happening here, especially during summertime such as arm wrestling competitions, beach volleyball competitions, and fireworks competitions. There is also a permanent beach volleyball court here, making it a beach for people of all interests. For those who want to stay active, you can spend 1,000 yen to rent a surfboard.
To get here to Onjuku beach, it takes around 1.5 hour drive by car and just under 3 hours by train and bus.
5. Okitsu Beach 興津海水浴場(おきつかいすいよくじょう)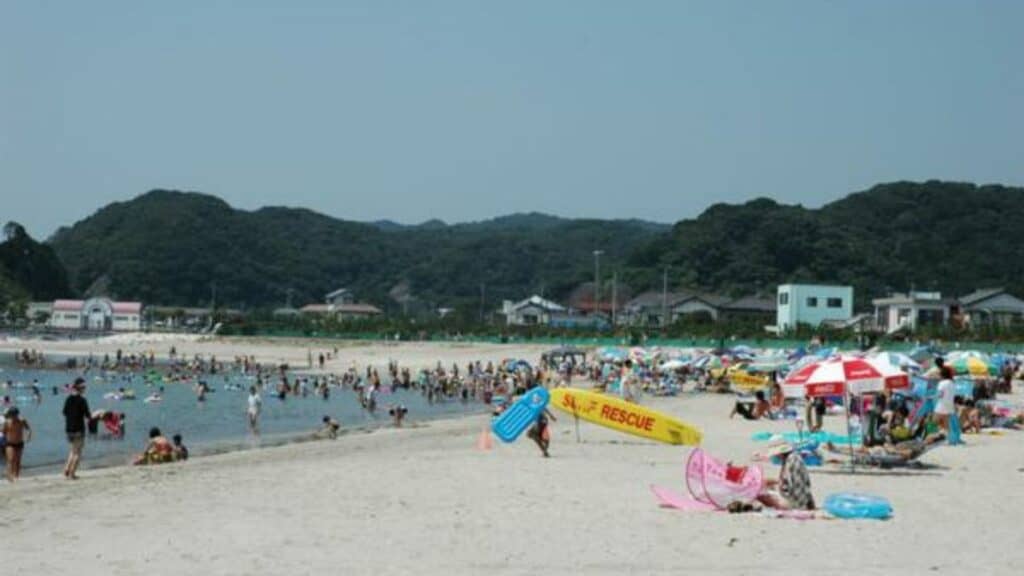 Okitsu Beach is a beach in the Okitsu Prefectural Natural Park. The beautiful beach of white sand and blue waters stretches about 2km from east to west. The shallow sandy beach is ideal for swimming.
Okitsu Beach has been certified as one of the "100 Best Beaches in Japan" selected by the Ministry of the Environment in 2007. It has also been designated as the Okitsu Youth Travel Village. There are plenty of accommodation facilities such as bungalows, mobile homes, and seaside houses. There is a camping area for people who want to stay the night, and it is popular for snorkeling and scuba diving as the water is really clear.
Okitsu Beach is a beach facing Okitsu Port, which is designated as an evacuation port for small boats. The beach is quiet, giving you lots of privacy. It is a great beach to visit for families with young children as well as couples and friends.
You can also enjoy hanging out and checking out the rocky shore areas that appear during low-tide. You can also enjoy the lovely views of green plant-covered hills just by the sea against the backdrop of a small village.
It takes just under 2 hours to drive to Okitsu beach from central Tokyo and around 3 hours to get here by train.
6. Chojagasaki and Ohama Beach 長者ヶ崎・大浜海水浴場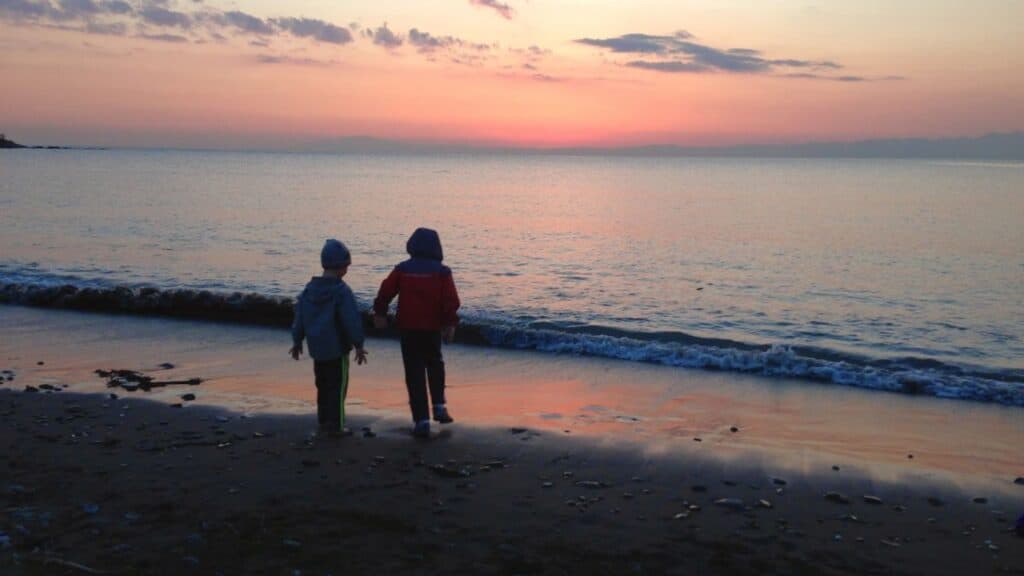 Chojagasaki and Ohama Beach area was selected as one of the "50 scenic spots in Kanagawa." When the weather is nice, you can see many famous nature wonders including Enoshima, the Izu Peninsula, and Mt. Fuji, especially at dusk.
At low tide, you can walk along the rocky shore to the tip of the cape, which is an activity you cannot enjoy on other beaches. You can enjoy the view of the cape sticking out from the ocean, and the sky being dyed in the setting sun.
There is a marine sports area at Chojagasaki beach, and you can do different marine sports such as sea kayaking, jet skis, and SUP off the coast.
In the case you want to hang out there for a longer amount of time and get hungry, it is good news that there is also a barbecue course. After all, BBQ might be one of the best foods to enjoy at the beach.
To get here, it takes roughly 3 hours by car and 2.5 hours by train from central Tokyo.
7. Shirahama Beach 白浜大浜海水浴場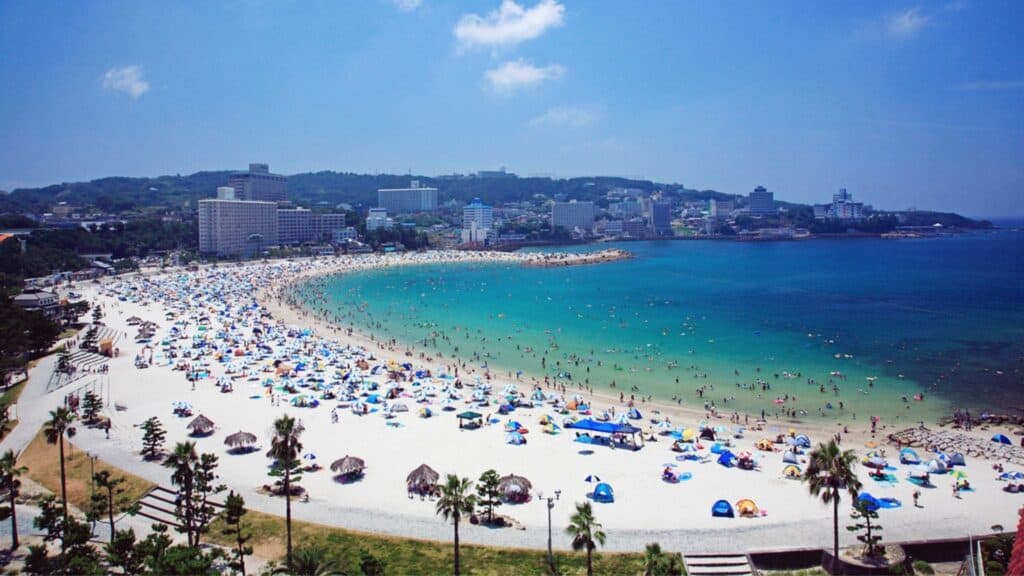 Shirahama beach is Izu's busiest beach with a beautiful and vast sandy beach extending up to 700 meters. The sandy beach faces the national highway, giving a feeling of openness. It is also very famous nationwide and is crowded with many surfers and young people every year. Since Shirahama beach is quite spacious, even during peak seasons, you will still be able to enjoy the ocean and the sand with your own space.
The beauty of the contrast between the white sand beach and the emerald green sea fascinates many people. The smooth white sand is beautiful even outside the season. A sea festival is held on the third Saturday of July, and there are events such as fireworks displays. There are also lots of restaurants, accommodations, shops and activities along the beach for you to enjoy.
To get to Shirahama Beach from Tokyo, it takes about 3.5 hours drive and 3 hours by train.
8. Sarushima beach 猿島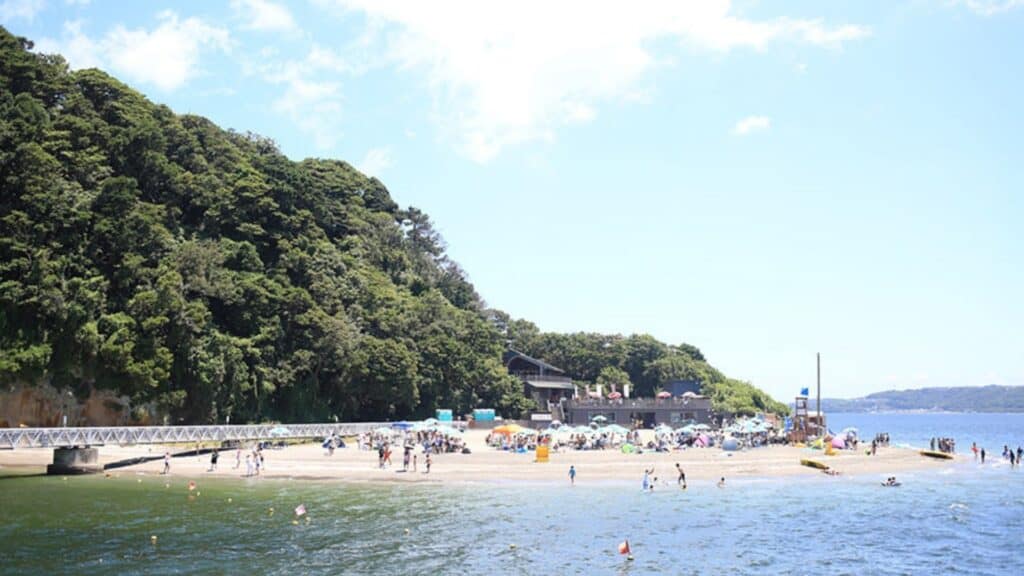 Sarushima beach is different from all the above-mentioned beaches because it is actually on Sarushima island. It is a sightseeing spot that can be easily reached in about 10 minutes by ferry from Mikasa Pier in Yokosuka, and you can enjoy activities such as barbecue and fishing in addition to swimming and hanging out on the beach. This is the only beach where you can enjoy the view of Yokosuka on the opposite bank.
Sarushima was used as a battery by the Tokugawa shogunate during the Edo period, and after the Meiji Restoration in 1868, the island was developed as part of the Yokosuka Navy Yard.
Sarushima Island is the only natural island in Tokyo Bay and is an uninhabited island. What is there on an uninhabited island? What kind of vibe is it? Mysterious? Scary? Uncanny? You might assume there will be flora and fauna, pristine sandy beaches, cliffs, and hidden treasures, but Sarushima is in fact a popular leisure island that is visited by as many as 150,000 people a year.
To get to the Mikasa Pier in Yokosuka, it takes roughly 1 hour by car or train from Tokyo.
Conclusion
There you have it, the 8 beaches near Tokyo that we would like to recommend for you to visit. Looking at Japan from the map, it might not be surprising to know that there are lots of beaches where you can enjoy the seaview. Each beach has its own charm and attracts many tourists all year long. Without a doubt, now is the best time to go to a beach and enjoy the breath of summer. But make sure to double check there is no typhoon warning as the waves can become really rough due to the typhoon. What do you think about these beaches near Tokyo? Which one(s) is your favourite? Do you find beaches in Japan different from other countries you have been to? 
Find out some nature spots in Japan, day trip ideas from Tokyo, campsites in Japan and hiking spots in Japan. Stay tuned for more information about Japan travel, Japanese culture, moving to Japan, living in Japan, Japanese language and more.