If you love camping and want to explore the camping scene, you might be surprised by all the wonderful places Japan has to offer. Most campsites are available throughout the year – yes, even in the freezing winters! However, I'd recommend camping in Japan during the warmer seasons, between the months of March and September, just to avoid the few weeks of rain in June, and the typhoon period in late August and early September. Also, during the summer it is important to check out the weather regularly in order to avoid the typhoon season. 

One of the best ways to explore Tokyo is to visit the local areas and immerse yourself in the local culture. If you want to explore local areas, we have created scavenger hunt adventures personalised to your interests, filled with fun facts, clues and puzzles. If you're curious, you can check out the games here!

Check out the Flip Japan Games here!

Find out some nature spots in Japan, day trip ideas from Tokyo, campsites in Japan and hiking spots in Japan.
You can find many different campsites in Japan, they are located in places such as parks, beaches, rivers, and mountains. Do keep in mind that it's illegal to camp just anywhere, so you'll need to find official and legally approved campsites. If you want to camp with family, many of these places offer activities for different age groups, including children. Because camping is loved by a lot of Japanese people during the warmer seasons from March to October, it might be a good idea to plan and book earlier to avoid disappointments.
What if I don't have a tent? No worries! Many campsites offer various lodging options that include cabins, treehouses, and even luxury huts for glamping ("glamorous camping," which has become a big part of camping culture in Japan). I know some people might associate camping with danger, but safety should not be a big concern when you camp in Japan, because all campsites, including the ones I will talk about, emphasize a safe environment and one of them even has a women-only camping area. Let's get started and figure out which campsites you might want to try out.
1. The Farm
Do you want to escape the city and enjoy your peace at a farm? Do you want to try out local products? The Farm, located in Chiba, is known for its wide range of services. This campsite is a great combination of nature and comfort, and it is not too far away from the city and thus easy to get there. I would recommend the Farm for those who want to have a local experience and who want to access a variety of facilities and activities. Since it is well-equipped, it is also a great place for camping beginners who haven't had lots of experience yet.
Inside The Farm, you will find lots of facilities including cottages, glamping tents, natural hot springs, barbecue pits, fresh vegetable cafe restaurants, and cabins. All these facilities make the Farm more than just a campsite but a community with breathtaking views and nature. You can visit the Farm any time during the year because their glamping tents, cabins, and cottages are fully equipped with air conditioning and heating to adjust to different kinds of weather (but of course, it is always more fun to camp when it's nice out there :).
The Farm even has zip lining facilities, where you can enjoy gliding in the air. Their mini zoo and vegetable harvest experience are great for children to get connected with animals and plants. Workshops such as botanical candle making will not only give you a unique experience but also enable you to make your own hand-crafted souvenir, whether it is for yourself or for your special ones. The Farm also offers a wide range of seasonal activities like vegetable-picking and glass art-making. It is definitely a place which will make you want to go back throughout the year because I am sure that each time you will experience and feel something different.
The Farm has a private camping site in the forest, next to a shallow river, which is around 30cm deep at most, making it an ideal spot for children to play and for families who want some privacy.
Because the Farm is a popular choice among Campsites near Tokyo, Japan, make sure to use the link below to check its availability and schedule of events.
Homepage: https://www.thefarm.jp/
Address: 千葉県香取市西田部1309-29
Access: Take a bus from Tokyo station and get off at 栗源バス停, where you can get a free shuttle bus that takes you to The Farm.
2. Takivillage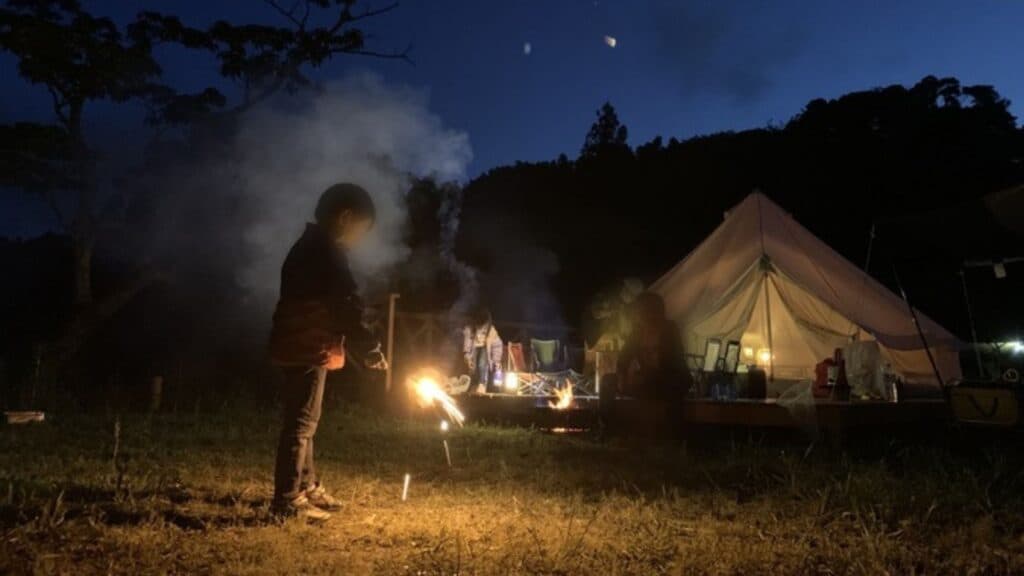 Takivillage is a campsite in Chiba, roughly 80 minutes' drive from Tokyo or Kanagawa. It is run by a 26-year-old Japanese man who quit his full-time job and created this little piece of paradise for people to relax and (re-)connect with each other.
Takivillage offers glamping options and free camping. The facilities are fully-equipped with rental equipment, so you don't have to worry about bringing anything. It is a campsite for beginner campers and families to enjoy comfortably. Although you won't find cottages in Takivillage, their glampings are very cozy, and the interiors are wonderfully designed.
The most amazing thing about Takivillage is that it's located on a hill, and you get to see different sceneries depending on the time of day. At night, you can enjoy star-gazing. It's a great place to immerse yourself in nature and get away from the city.
Takivillage also offers a bonfire school, which is a learning workshop of two days and one night for both parents and children. Apart from having fun with peers, the workshop has its educational significance as it will teach your kids how to survive in nature. The motto behind this experience is to make your kids a positive and persistent person whenever they encounter obstacles in life. As for parents, isn't it amazing to be there and see the skills and transformation your kids will gain in just two days?
Youtube video:
URL: https://takivillage-camp.site/
Address: 〒298-0112 千葉県いすみ市国府台459-2
Access: It takes around 80 minutes to get here from Tokyo or Kanagawa by car. You can also take a bus from Tokyo station or Shinagawa.
3. Kita Karuizawa Sweet Grass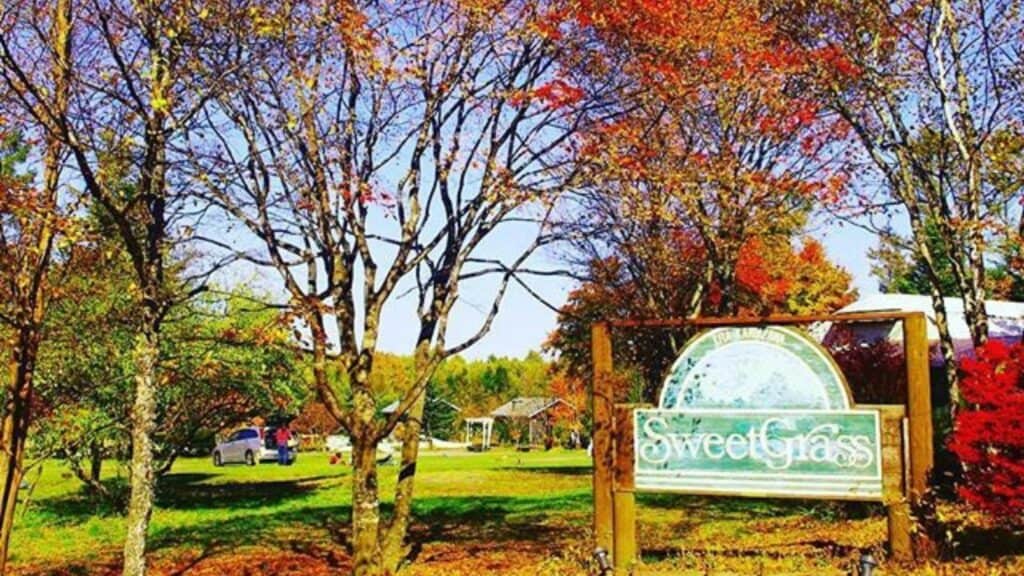 Kita Karuizawa Sweet Grass is situated in the north of Kita Karuizawa, approximately 30 min-drive away. It is a campsite where you can enjoy different things depending on the season. In the upcoming August, for instance, you can participate in events such as bird call making, water battle, bonfire championship, and many more. Most events require a reservation in advance. In December, there will be Christmas-themed activities like workshops for making party decorations. Kita Karuizawa has two concepts: "green style" from spring to autumn and "white style" in winter. You can enjoy camping regardless of the season.
The different styles of accommodation here are extremely impressive. From tents to cottages and cabins, there's a wide range of accommodation so you can easily find the one that suits you the best. Nearby this campsite, you will find natural, wood-fired hot springs, where you can relax and take baths and showers. Additionally, there are plenty of activities for children.K
Kita Karuizawa also has a wonderful selection of food. You can reserve a variety of ingredients from Akagi beef, BBQ, to winter can rice. Now they are offering a new dish called SG Spice Camp Curry. It looks amazing, isn't it? 🙂
Kita Karuizawa also offers Tipi, which is a North American Indian tent. Although you can't stay in the Tipi, you can enter and enjoy the experience. At night, a bonfire is lit there and you can spend a quiet night enjoying the moment, surrounded by nature. Of the choices of campsites near Tokyo Japan, this one might be best for pleasing all family members.
Address: 群馬県吾妻郡長野原町北軽井沢1990-579
Access: Take a bus from Shibuya station towards Kita Karuizawa, then walk or take a taxi to Sweet Grass.
4. GRAN BLUE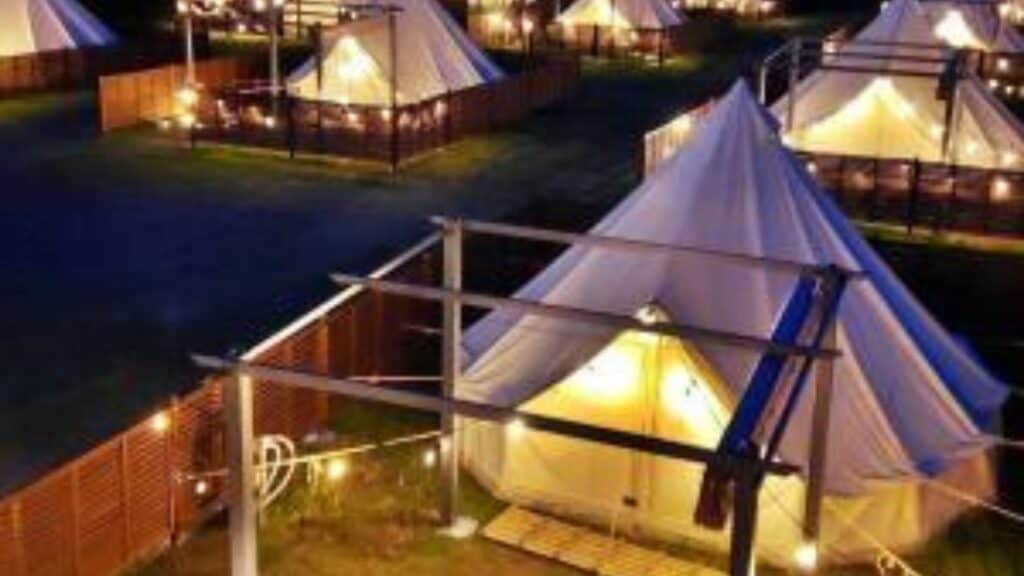 Gran Blue is a glamping facility in Minamiboso, Chiba. It takes about 2 hours to drive there from central Tokyo. The area is famous for its calm and consistent weather.
This campsite imitates the ocean with their minimalist interiors, with mainly white and blue colours. They have a cafe space on the huge wooden deck. If you like lying down in a hammock, you will be happy to hear that they have 12 hammocks lined up.
They're got showers and toilets, and a rubbish disposal area, so you don't have to worry about lugging your rubbish back with you. They are also quite flexible and will let you use the barbecue pit with no extra cost, and you can even bring your own food into this campsite.
The main activity at Gran Blue is swimming at the beach. Because Gran Blue is located in Tateyama and the place has 8 beaches, it is perhaps the best place I can think of for those who want to enjoy time at sea and natural corals.
URL: https://uyamaresort.com/granblue/
Address: 〒295-0103 千葉県南房総市白浜町滝口5580-6
Access: Take a bus from Tokyo station to Tateyama station, then take a bus to 白浜中学校前 station, then walk 10 minutes to get to Gran Blue.
5. Akiha Auto Camp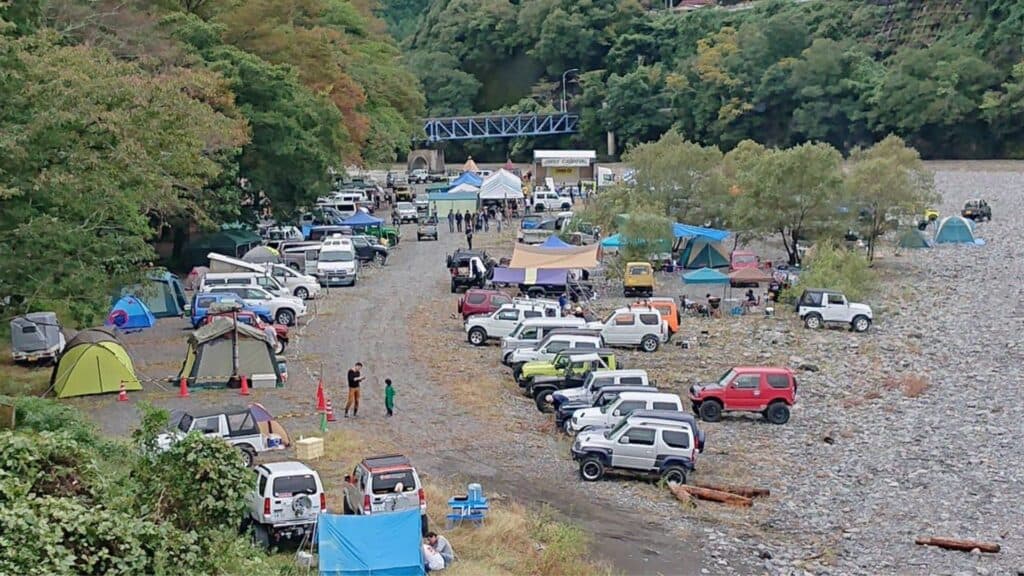 Akiha Auto Camp is a massive campsite along the Tenryu River which flows through western Shizuoka prefecture. Akiba Auto Campground is a long-established campsite beloved for over 40 years. The clear stream, which is said to be the best in Japan, is ideal for fishing and canoeing. Above all, the staff here is described as the secret weapon that makes camping comfortable.
This campsite offers all kinds of camping plans, such as mountain-side campsites, river-side campsites, women-only campsites and even bungalows.
The water originates in the southern part of the Southern Alps. The water of the river is extremely clear, making it a very pleasant river for fishing and swimming. There are playground equipment and sports facilities, and there is also a canoeing experience for people to enjoy here. It is also famous as a mecca for sweetfish fishing.
Address: 静岡県浜松市天竜区春野町領家364
Access: 3.5 hours drive or around 4 hour train ride from Tokyo
6. Hikawa Camping Site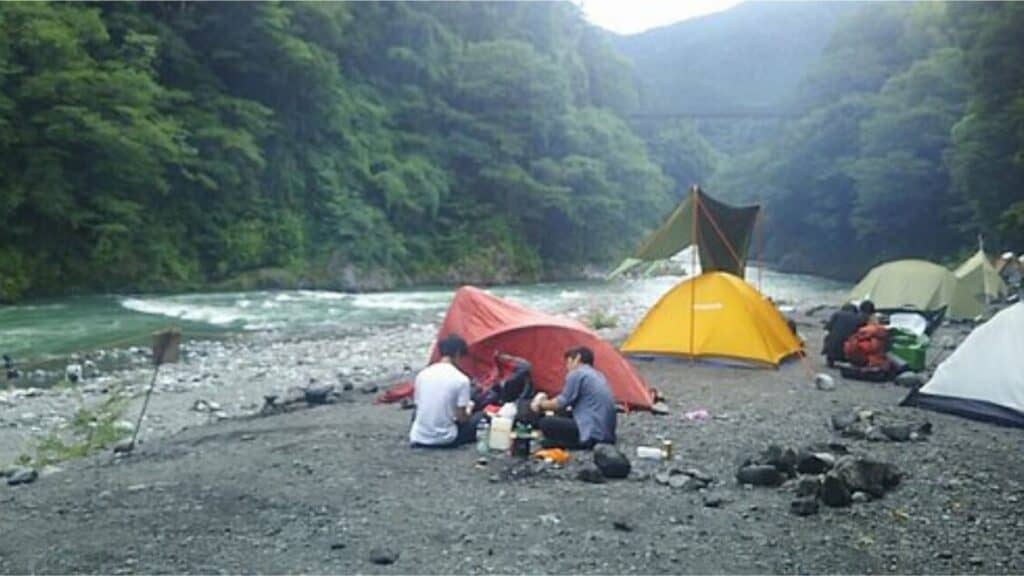 Hikawa Camping site is a very convenient campsite. It is about two and a half hours from the city center, then a 10-minute walk from the station. There are many convenient facilities in the area, along with plenty of lodges and bungalow-type accommodations. The camping site is right next to the okutama river and you can enjoy BBQ, swimming in the river and even stand up paddleboarding in this camping site. The river is very clear and refreshing and they also sell firewood and simple amenities at the camping site, in case you need it. Since this campsite is very close to the station, you can easily come here by train and also enjoy different shops and restaurants nearby.
7. Shinrin Mura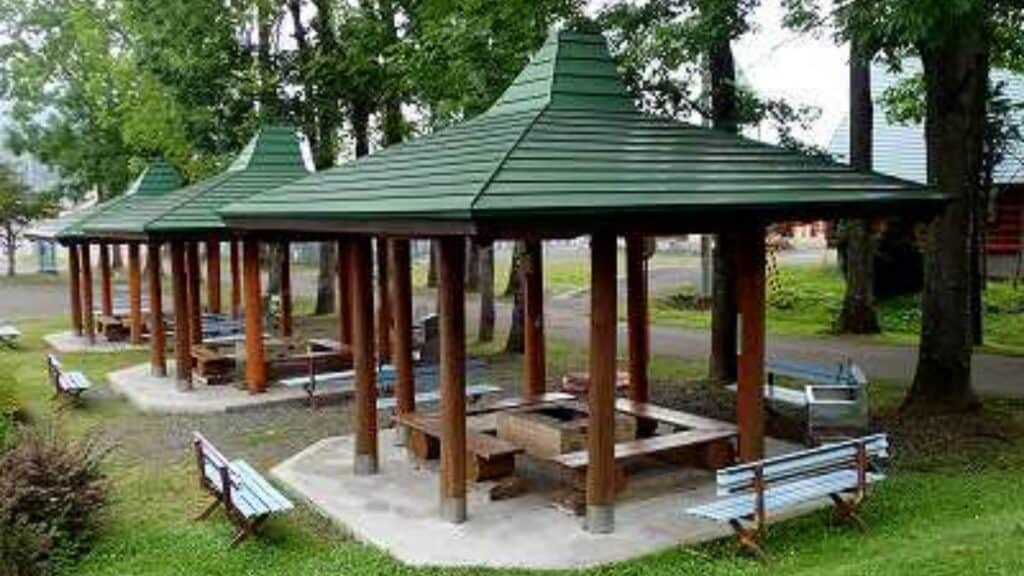 Shinrin Mura is called "forest village" in Japanese. It is located next to Aki River in the Musashi area. It has two types of cottage buildings available to rent: one for 6 people and one for 8.
Shinrin Mura's BBQ service is directly managed by a butcher, so their meat is definitely the top quality. The specialization of their BBQ is Akigawa beef, and you can try different parts of beef including ribs, sirloin, shoulder loin, and peach. Shinrin Mura also has a restaurant to prepare refreshing breakfasts for you. The second floor of its restaurant is designed to be a hall to host various events, parties, and competitions. The good thing about Shinrin Mura is that it is usually not as fully booked as other camping sites, but it is still important to plan and reserve your spot early so that you won't be disappointed.
8. WILDMAGIC -The Rainbow Farm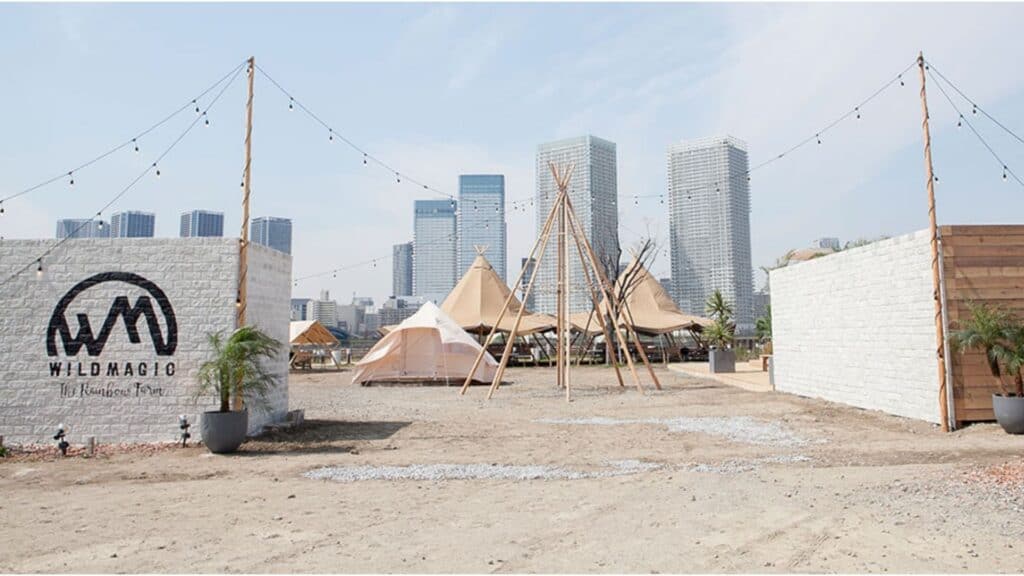 Wildmagic is located on the artificial island of Odaiba in the Toyosu district, and it is a bit different from other camping sites. It is advertised as an urban outdoor park, and it is most famous for its BBQ, and you need to book in advance not only because of its popularity but also because they actually prepare everything for you. All you need to do is to show up and enjoy your meal. Accompanying your BBQ, Wildmagic also has cocktails at their bars and restaurants. The farm is divided into different areas: village area, fire pit area, family area, seaside area, beach & lagoon area, gathering area, party area. There is no cottage available so everyone stays in a tipi tent. The tents are in various shapes and have different styles and designs.
The other attraction of Wildmagic is weddings – do you want a beach wedding with tents? Wildmagic will make it happen. They do wedding planning and photo shooting, and they want you to have a unique experience that you will never forget.
Conclusion
Here are eight campsites near Tokyo Japan that you can visit and access easily from the center of the capital. Make sure to check the website of the campsite you're visiting for more information about what to expect, the activities, and rules. Camping in Japan is a fun activity and if you are in Tokyo and want to get away from the hustle and bustle of the big city, definitely check one of these campsites out! Happy camping!
—
Find out some nature spots in Japan, day trip ideas from Tokyo, campsites in Japan and hiking spots in Japan.
Stay tuned for more information about Japan travel, Japanese culture, moving to Japan, living in Japan, Japanese language and more.