If you're planning a trip to Tokyo, you'll probably have found a lot of information on major areas such as Shinjuku, Shibuya or Harajuku. Those areas are definitely a lot of fun, but there are lesser-known and more unknown neighbourhoods in Tokyo that are also worth visiting! If you want to get away from crowded areas and want something a little more local, check out this list we've put together of our favourite local neighbourhoods and local areas in Tokyo! 
Find out more about Japan travel here: Shopping in Japan, the best souvenirs to buy in Japan, nature in Japan, camping in Japan, overnight & day trips from Tokyo, Top museums to visit in Tokyo, Local neighbourhoods in Tokyo and beaches near Tokyo.

One of the best ways to explore Tokyo is to visit the local areas and immerse yourself in the local culture. If you want to explore local areas, we have created scavenger hunt adventures personalised to your interests, filled with fun facts, clues and puzzles. If you're curious, you can check out the games here!

Check out the Flip Japan Games here!

Local Neighbourhoods in Tokyo
Shimokitazawa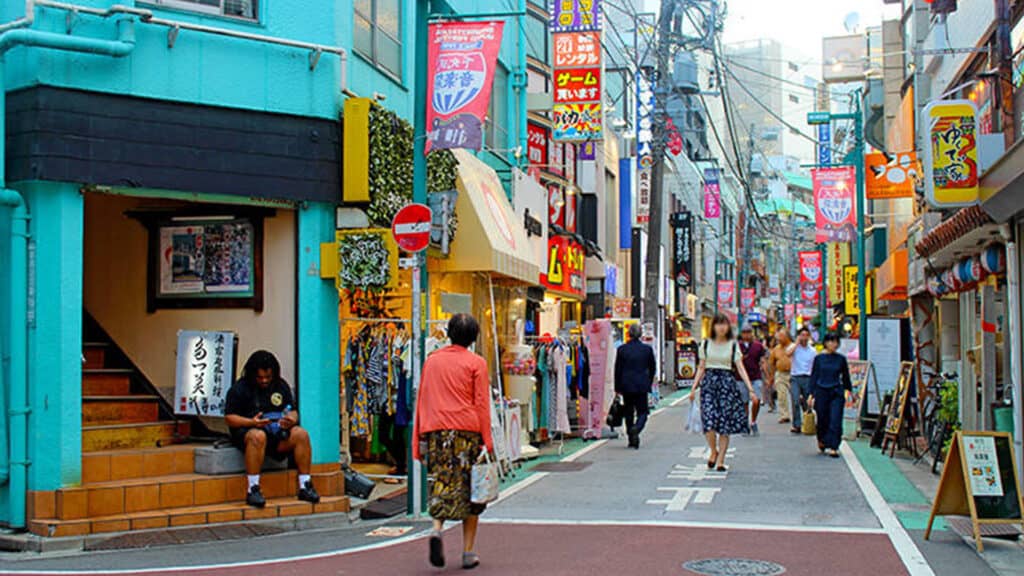 Affectionately nicknamed "Shimokita", Shimokitazawa is hipster central. This local area in Tokyo is full of chill cafes, music bars, thrift stores, punk rock stores, novelty stores and more. This is the place for a relaxing early afternoon at a café with a book, drinking coffee that's actually good (near impossible to find in other parts of Tokyo); Shimokita is also good for a full afternoon of checking out second-hand stores that sell clothes, furniture and antiques; and you can end the day by finding a cosy, boozy music bar and having an expertly crafted—but fairly priced—cocktail while enjoying jazz or grunge music.
Shimokita consists of many, many alleys all intersecting one another so it's easy to get lost. Be careful! It is definitely a local neighbourhood in Tokyo that you should definitely check out!
Nakano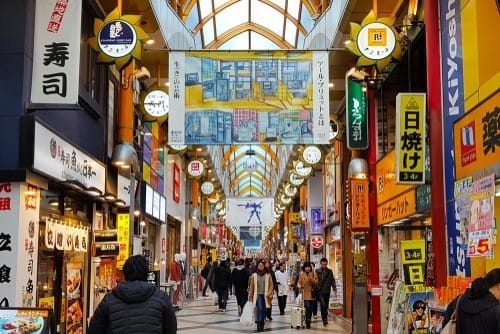 This neighbourhood is slowly gaining recognition as a mini anime and manga town, with many stores selling figurines and comic books. All these stores are gathered in one area known as Nakano Broadway, so stop by there if you're into Japanese cartoons.
However, Nakano has more to offer than just that. The north of Nakano station is made up of small alleys and streets filled with restaurants serving all sorts of cuisines, from traditional Japan cuisine to fusion cuisine and Southeast Asian cuisine. Among all these restaurants is a large number of bars usually frequented only by the locals living in the area. Don't be surprised if many patrons already know each other or the bartender; it seems as though everyone's a regular at every bar in Nakano. Grab a couple of friends and join them!
Koenji
Koenji has a rich history that goes in all sorts of directions. In the 1950s, it was famous for its many coffee shops. In the 1970s, it became the punk neighbourhood of Tokyo. In the early 2000s, it was known for being "retro" and for selling used equipment, so much so that it was chosen as the site to hold protests against laws that restricted the sale of electronics.
Today, this local area in Tokyo is known for its cheap groceries, highly-discounted branded bags or clothes, and antique goods and furniture. You'll find many of these stores along Koenji Pal Shopping Street.
If you go under the train tracks, you will come across an area filled with small izakayas and unique bars with outdoor seating. Some of these "outdoor seats" aren't seats at all; they're just boxes or crates made into makeshift chairs for patrons. In the colder seasons, some of these places drape a transparent mat over their awning to keep the cold out. It's an interesting experience.
Most of the patrons are locals who've just finished work. They're usually very boisterous unlike the stereotypical image of Japanese people. They're laughing loudly, getting drunk and having a blast. Join them!
Kichijoji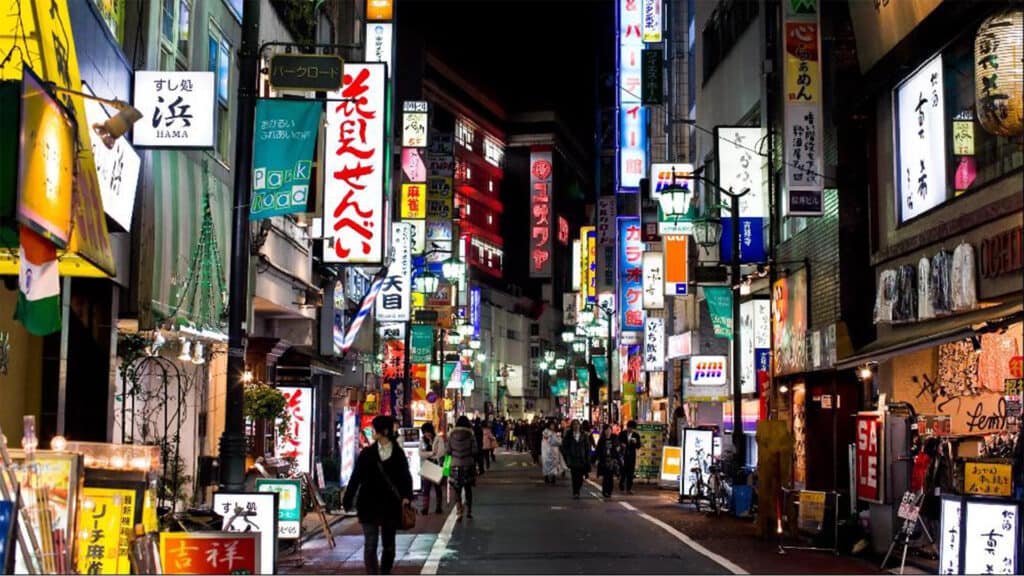 Kichijoji has been consistently voted the place most Japanese people want to live in since 1990. Part of its popularity amongst Japanese people is due to its accessibility. Shibuya and Shinjuku are both only a few stops away, and the very beautiful Inokashira Park (where you can venture out on a lake in a swan boat!) is a few minutes' walk south of Kichijoji station. Residents in Kichijoji get to enjoy both the hustle and bustle of Tokyo and its serenity.
A must-visit if you're in the area is Harmonica Alley. It's a cluster of traditional Japanese bars spread out in a number of alleys. This area is largely untouched by foreign or modern influences so if you want an authentic Japanese drinking experience, this is it. Just bear in mind that many of these bars don't have seats so you'll have to stand while drinking. Standing-only establishments are becoming less common in Tokyo so you might want to experience them while you still can.
Kagurazaka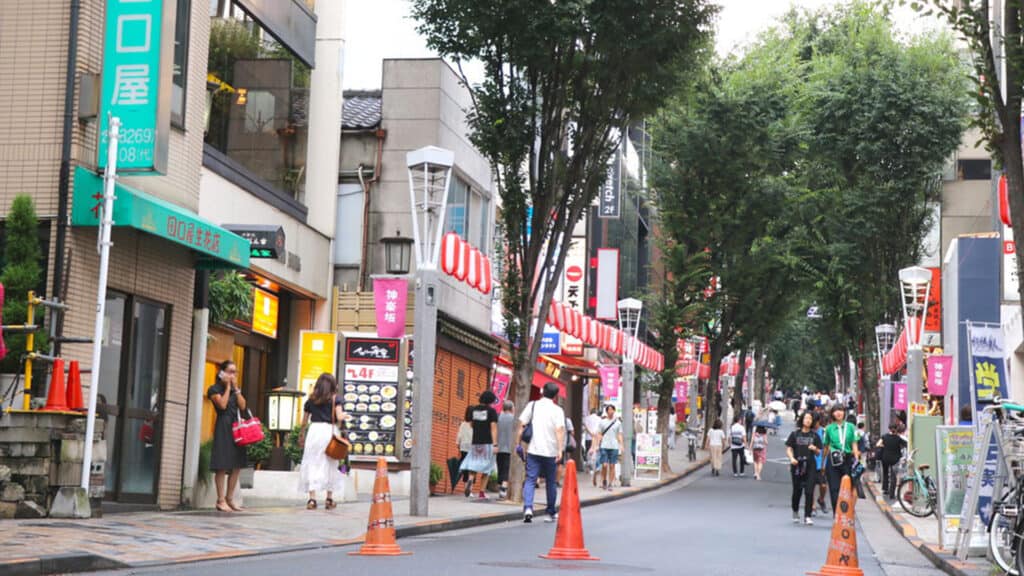 Might not be on top of your list as one of the local neighbourhoods to visit in Tokyo, but it's definitely unique! Back in the olden days, Kagurazaka was known for its many geisha houses, some of which are still there today. If you're lucky, you may even spot a geisha and her maiko (an apprentice) on their way to an appointment. It's an interesting sight to see traditional geisha in kimono against the backdrop of modern-day Kagurazaka with buildings, fast food restaurants and neon lights.
Aligned with its reputation as a hub for Japanese tradition and culture, there are stores selling traditional Japanese teas and candies, as well as traditional Japanese restaurants (some of which allow you to hire a geisha yourself to entertain you for the evening).
Having said that, Kagurazaka is more recently known as a little French town. There are many French eateries popping up around the area, possibly due to the two French schools located there. If you're craving French cuisine, come here.
Tsukiji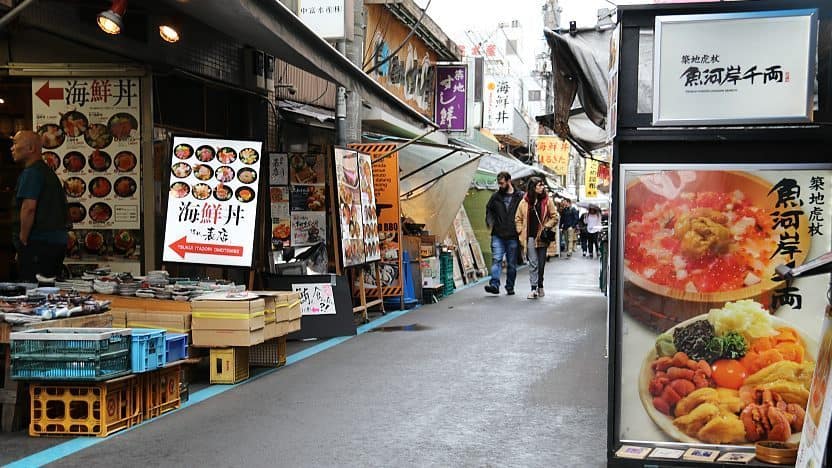 You may have heard of Tokyo's famous tuna auctions where restaurant owners show up in the wee hours of the morning to bid on the best catch of the day. These auctions were previously held here in Tsukiji until October, 2018 (the auctions are now held in Toyosu). Though the auctions and wholesale fish market (known as the Inner Market) are no longer here, the Outer Market is still very much alive.
The Outer Market consists of many sushi restaurants, stalls that sell seafood and processed food, and cafes. Many have remarked that the sushi in Tsukiji is far fresher than in other areas (as its fish is delivered directly from the new fish market in Toyosu), so if you're a big fan of this classic Japanese food, you'll want to make a stop here. Many of these sushi restaurants are only open from early morning till noon or early afternoon, so make this your first stop of the day.
Besides exploring the many alleys of the Outer Market of this local area in Tokyo, sampling different types of sushi, and buying seafood, there isn't much else to do in this area so don't expect to spend more than an hour or two here.
Jimbocho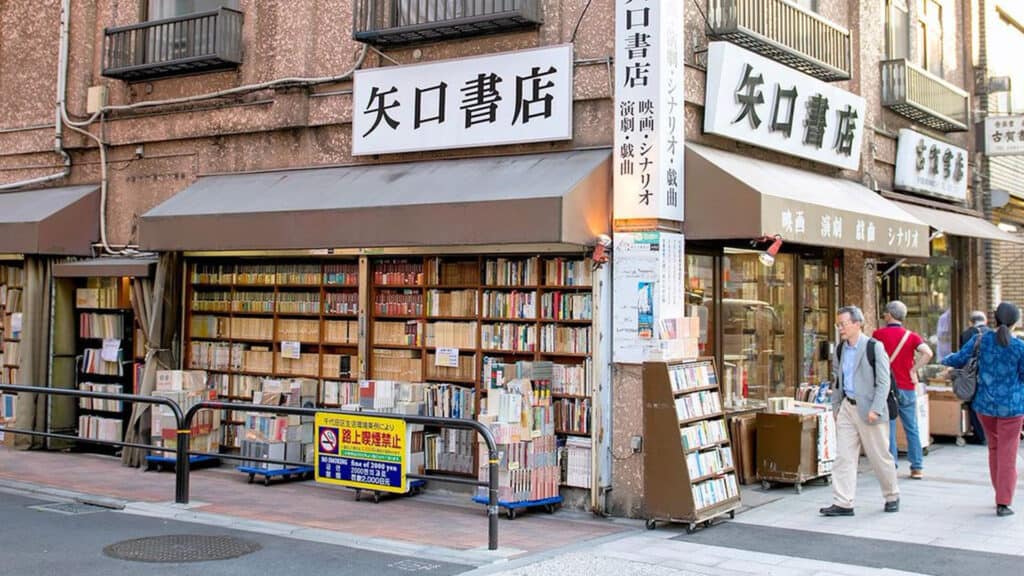 This neighbourhood is for history-and book-lovers. Jimbocho is famous for its many antique stores and bookstores but might be an unknown neighbourhood in Tokyo.
If you're into Japanese history (and, why wouldn't you be? It's a rich history!), there are stores here that sell old documents, art, or coins from the Meiji Era or Edo Era. You may even find practical antiques like old cigarette cases or smoking pipes.
If you're a bookworm looking for new material to read, wander around and visit their many bookstores. This is Tokyo's literary center with close to 200 bookstores and some publishing houses, so there's something for everyone. There are stores that specialise in European texts, Japanese literature, philosophy and history, art and photography, and more.
—
If you're visiting this area, be sure to bring a large sturdy bag to hold your purchases in.
Find out more about Japan travel here: Shopping in Japan, the best souvenirs to buy in Japan, nature in Japan, camping in Japan, overnight & day trips from Tokyo, Top museums to visit in Tokyo, Local neighbourhoods in Tokyo and beaches near Tokyo.
If you have time and want to explore someplace special and unique, these are some of the many local neighbourhoods in Tokyo that you should visit.
Stay tuned for more information about Japan travel, Japanese culture, moving to Japan, living in Japan, Japanese language and more.