In the last month, I've been to dozens of bars all over Tokyo, and I've loved every second of it—from the achingly hip bars in Shimokitazawa to the bold and garish glow of Shinjuku, even the hip bars in Roppongi, there's so much to see and so much to, er, drink. Tokyo nightlife bars really are special—and for a whole host of reasons. As a Tokyo newbie, I have enjoyed every part of it and I want to share my experience with you!
The neighbourhoods are all distinctive and have their own unique character about them. The bars are quirky. The people are kind and interesting. Tokyo feels very safe, so I've never felt worried about exploring a new place on my own. It's also very easy to make friends.
Find out more about the different Japanese drinks, Japanese beers, the special strong zero you can get in Japan and how to prepare for a night out in Tokyo. Want to check out more bar recommendations in Shinjuku, Shibuya, Roppongi, Akihabara, Asakusa, Nakano, Shimokitazawa and Koenji.

One of the best ways to explore Tokyo is to visit the local areas and immerse yourself in the local culture. If you want to explore local areas, we have created scavenger hunt adventures personalised to your interests, filled with fun facts, clues and puzzles. If you're curious, you can check out the games here!

Check out the Flip Japan Games here!

Bar Bao Bab, Bar in Shinjuku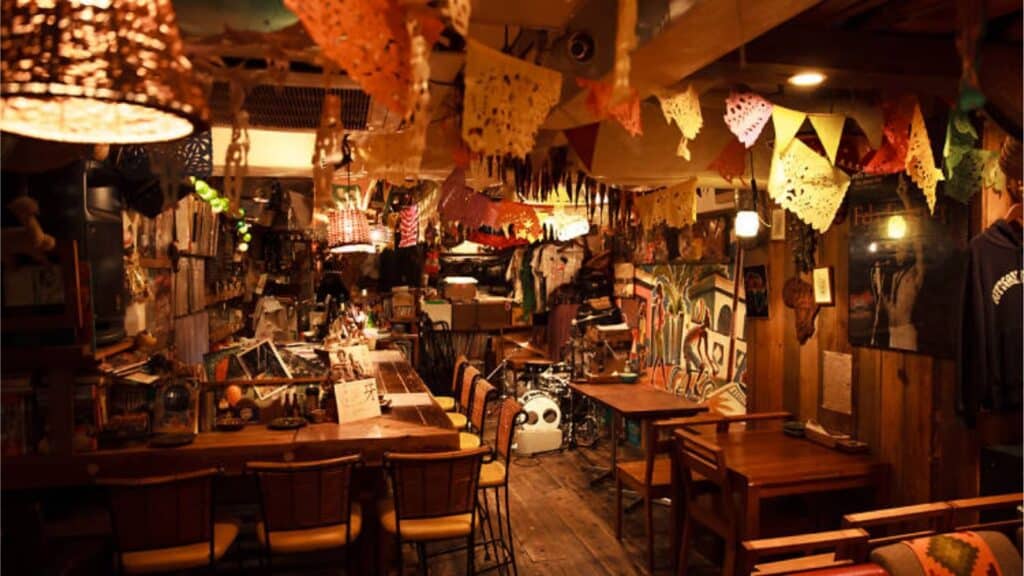 Bao Bab is the very first bar I went to in Tokyo and it's definitely up there with the best. It was here that I was introduced to a Tokyo standard: the Moscow Mule. Up a staircase and sandwiched between plenty of other bars, you might not notice Bao Bab at first. And that's often the case with bars in this city. Prepare to climb some staircases and feel self-conscious when you open that sliding door. Be brave!
Bao Bab is a quirky place, influenced by North African and Mediterranean cuisine while still being, undeniably, a Japanese establishment. The music is fantastic and the owner has over 3000 records! I dig any bar that's not afraid to be utterly itself and Bao Bab is just that. It has that buzz that interesting places always do.
Bar 3, Bar in Shinjuku
My second Shinjuku pick is Bar 3 (pronounced Bar San), which is very different from Bao Bab in every possible way. With fairy lights and green vines tumbling down from the ceiling, it feels like a pretty magical place to enjoy a cocktail or two. There's even a Studio Ghibli corner which suits the whimsical mood of the place.
My favourite part? Just how comfortable it is. The lighting is gorgeous, the staff kind and the drinks affordable (and delicious). If I wanted to impress you with an Instagram-able place where we could all sit around looking and feeling glamorous, this would be it.
Bar 808, Bar in Shimokitazawa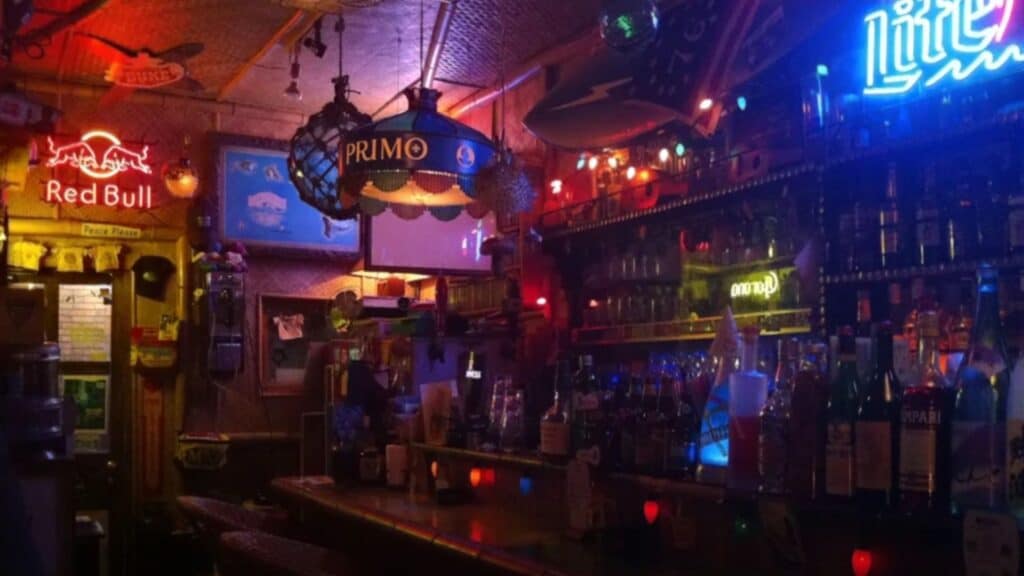 Shimokita is my favourite neighbourhood in Tokyo. I love the vintage shops and the huge selection of bars and restaurants. Sure, it's kind of like a trendy area of Brooklyn or East London, but it's also got a brilliantly Japanese sensibility about it. The bars aren't run by moustachioed hipsters, but by older Japanese people who've lived there for years and care a lot about the standard of drinks and food they're serving.
Bar 808 is a rock bar in Shimokitazawa, run by a very cool Japanese guy. He makes his own infused spirits, including clear Jack Daniels infused with coffee, and earl grey gin. My friends went for one of these homemade liquors, infused with cinnamon, and it was so delicious that I initially regretted my choice.
As it was, I went for a mojito, their speciality, which was also fantastic. With old videos of Meat Loaf from MTV playing and neon-purple up-lights slowly taking the day into night, I felt so happy and relaxed here. Definitely recommend this bar in Shimokitazawa!
Bar Ohana, Bar in Kichijoji
A lot of restaurants and bars in Tokyo are family-owned, but this one had a very particular homely vibe to it. I felt extremely privileged to visit Ohana, because it kind of felt like I was joining the family for the hour or so that I was there. Kichijoji is a vibrant and very cool area, but it's also populated by a lot of seedy establishments around the station — Ohana is the polar opposite of all of that.
If you, like me, like to get to know locals, then this is an ideal place to do just that. The owner is a wonderful and very fun Japanese lady, who offered me a book of photos from her recent trip to Ireland and chatted away to me about my hometown. The drinks had a tropical vibe to them and the food was Italian with a Japanese twist, bringing a world of flavour and quirkiness to somewhere that looks ostensibly like a traditional izakaya. I'll definitely be back.
Plus, it's one of the few places that doesn't allow smoking indoors, so you'll have a smoke-free night!
Mezzo, Bar in Roppongi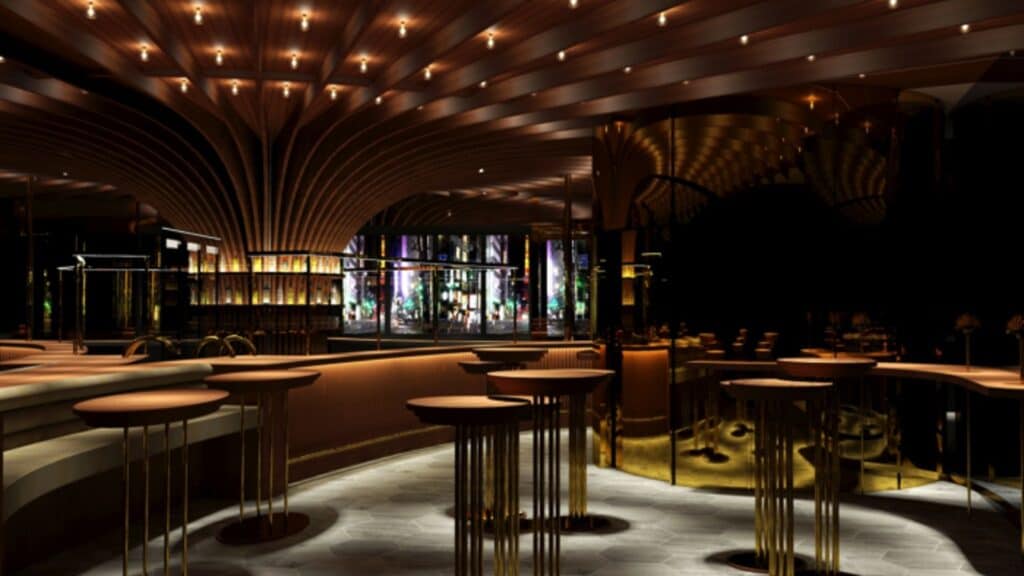 Somewhere between a bar and a club, this bar in Roppongi is the kind of place you can dance while snacking (my dream). With a mix of cool ex-pat and Japanese clientele, its a really awesome place to chill for a few hours before you head to a club or more energetic bar. Sometimes, you just want to dress up and drink with your friends — and Mezzo is the perfect bar in Roppongi to do that.
—
Stay tuned for more information about Japan travel, Japanese culture, moving to Japan, living in Japan, Japan nightlife, Japanese language and more.