10 days may still not feel like enough time given the sheer amount of options for places to visit in Japan. Japan can feel a little overwhelming for some, especially when people recommend so many places to visit.
However, with our 10-day Japan itinerary plan, we have put together some of the most amazing and crucial places to visit and explore during your adventure in Japan.
Each place ticks off a different goal, some being historically or culturally focused, while others being social and shopping. Every day is jam-packed with a variety of activities to choose from! So let's take a look at your next adventure in Japan!
Day 1 – Tokyo
Skytree (Observatory)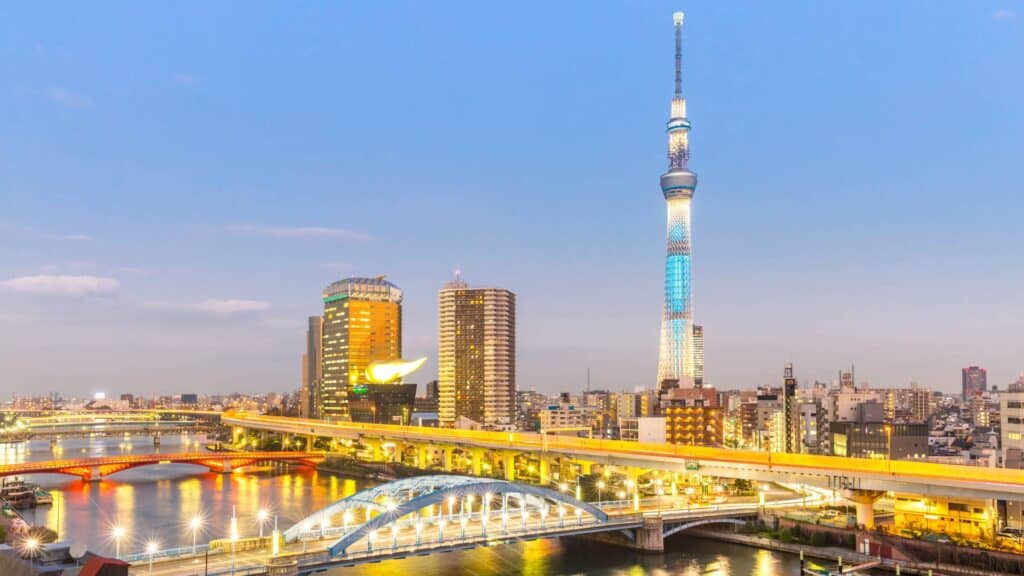 The Tokyo Skytree, which is situated in Sumida, the centre of Tokyo, is now acknowledged as the new representation of Japan. built using the most cutting-edge technology and traditional Japanese craftsmanship. At a staggering 634 metres tall, the Tokyo Sky Tree was recognised by Guinness World Records as the tallest skyscraper in the world in November 2011.
You can ascend to the 350-meter-high Tokyo Sky Tree Tembo Deck using the elevator. You may take in the breathtaking city views from here and even see as far away as Mount Fuji! The Tembo Galleria, an incredible tube-shaped hallway that gives you the impression that you are walking, is located 450 metres above ground and another 100 metres up.
Solamachi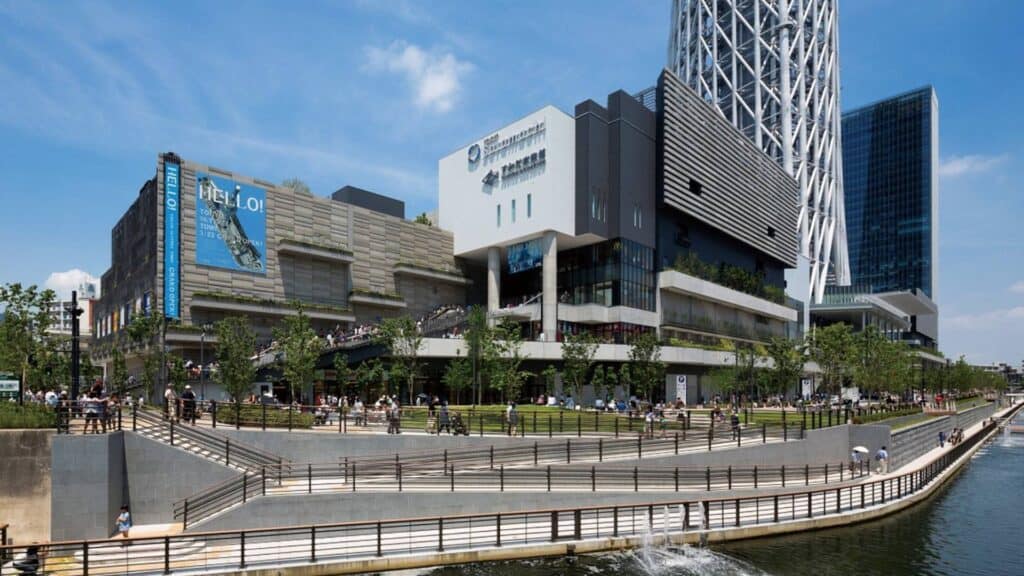 At the foot of the Tokyo Skytree is a sizable shopping and entertainment centre called Tokyo Solamachi. It is a commercial complex that debuted in May 2012 and has 312 stores with a wide range of offerings.
In addition to serving as a key hub for Tokyo with its busy new downtown ambience, Tokyo Solamachi seeks to be a gate for the city connecting the city centre with the Tokyo Skytree and the Tobu railway line. Tourists from Japan and other countries frequently visit it.
Sumo Show w/ Ex Sumo Wrestlers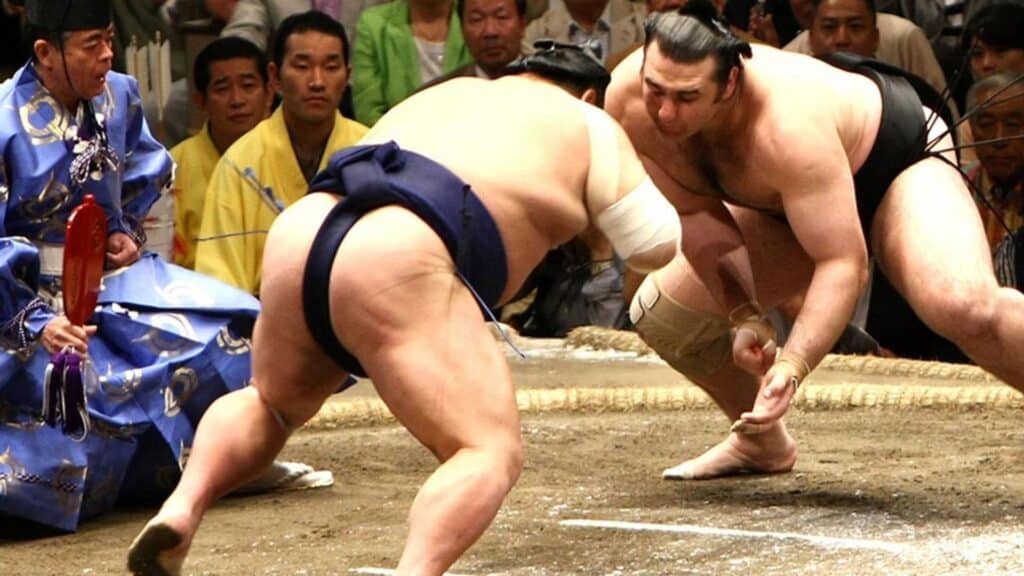 The national sport of Japan, sumo, has its origins in the neighbourhood of Yokoami in Sumida-ku, Tokyo.
With the Ryogoku Kokugikan, numerous sumo stables housing wrestlers in various places, and numerous sumo fans still frequenting the area now, the region has a long history of being connected to sumo.
Furthermore, a monument has been built to commemorate the birthplace of Yohei Sushi, who created the nigiri-zushi utilising wasabi and is credited with creating sushi, a dish today enjoyed by people all over the world in addition to the Japanese. Sumo, otekebori, sushi, and other staples of Japanese culture may all be found in Ryogoku.
Ramen Making Experience
Here, you may learn the Japanese-style technique for creating fresh ramen. Make two bowls of fresh ramen while working in an authentic Japanese ramen kitchen. You will be given access to all the necessary Japanese cooking tools and be shown the standard methods used by a skilled ramen chef!
To remove the water from the ramen noodles, first prepare the noodles and then ladle the broth (soup and spice). The noodles will then be added to the soup along with any desired toppings and arrangements.
Yukata Experience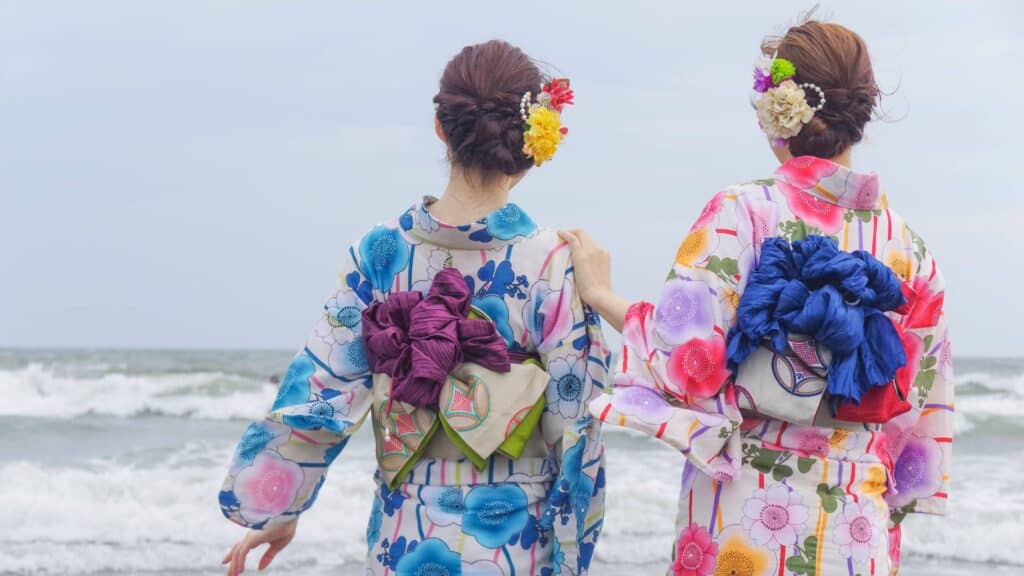 Given its lighter fabric and looser fit, a traditional Japanese yukata is a style of apparel that is worn throughout the summer. Traditional Japanese performing arts and dances display it. To genuinely experience Japanese culture, take the chance to dress in a traditional yukata and walk Asakusa's streets.
Tea Ceremony Experience
Traditional Japanese society is heavily reliant on tea ceremonies. Experience and take pleasure in a tea ceremony at Jidaya, along with an explanation of the origins and tenets of Japanese tea ceremonies. Get a thorough explanation of the tea-making process as well as tips on how to utilise tea accessories like an expert.
Sensoji Temple, Shopping street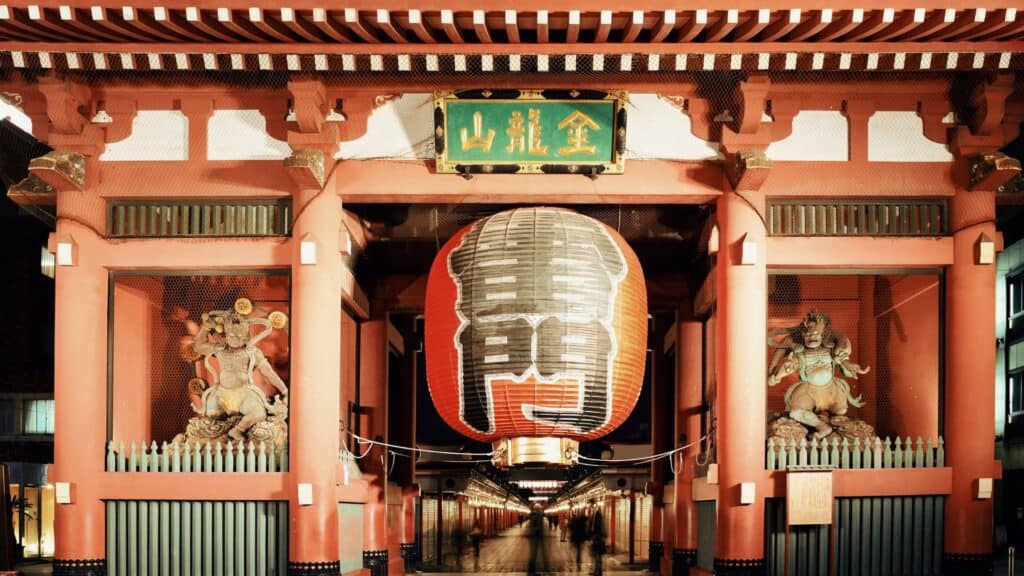 When it comes to popular tourist destinations in Tokyo, Senso-ji Temple is the first name that springs to mind. It is not overstated to say that Senso-ji is a well-known tourist destination throughout the world, receiving about 30 million visitors each year from both inside and outside of Japan.
Asakusa's emblem is the enormous red lantern that hangs over the Kaminarimon (Thunder Gate) at the entrance, and the neighbourhood around the temple is a city that still exudes an air of Edo (old Tokyo).
Lunch: Ramen, Dinner: Kaiseki
Day 2 – Tokyo
Tokyo Tower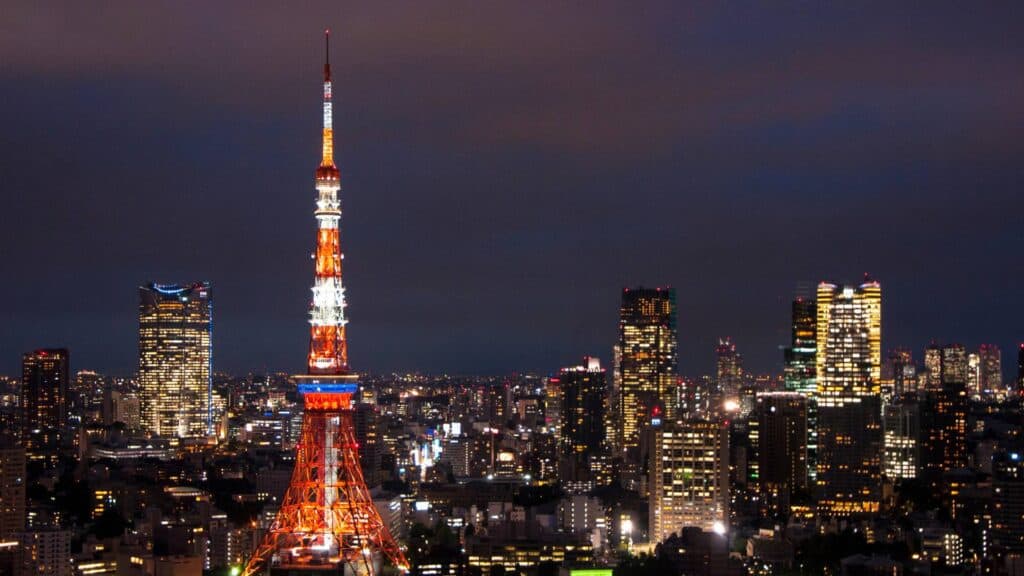 Tokyo Skyscraper, the tallest steel tower in the world at 333 metres high and 3 metres taller than the Eiffel Tower, is located in the heart of Tokyo. Tokyo Tower, a representation of Japan's post-war re-emergence as a significant economic force, stood as the highest building in the nation from its construction in 1958 until it was overtaken by the Tokyo Skytree in 2012. Tokyo Tower is a well-known tourist destination and a broadcast antenna.
The tower's main deck is accessible by elevator or a 600-step stairway and is located at 150 metres (both paid). Despite only being at a relatively moderate height, the observatory provides an interesting perspective of the city because of the tower's strategic placement. A gift shop, a cafe, and various "lookdown windows" on the floor are also present.
Shibuya- Crossing, Shopping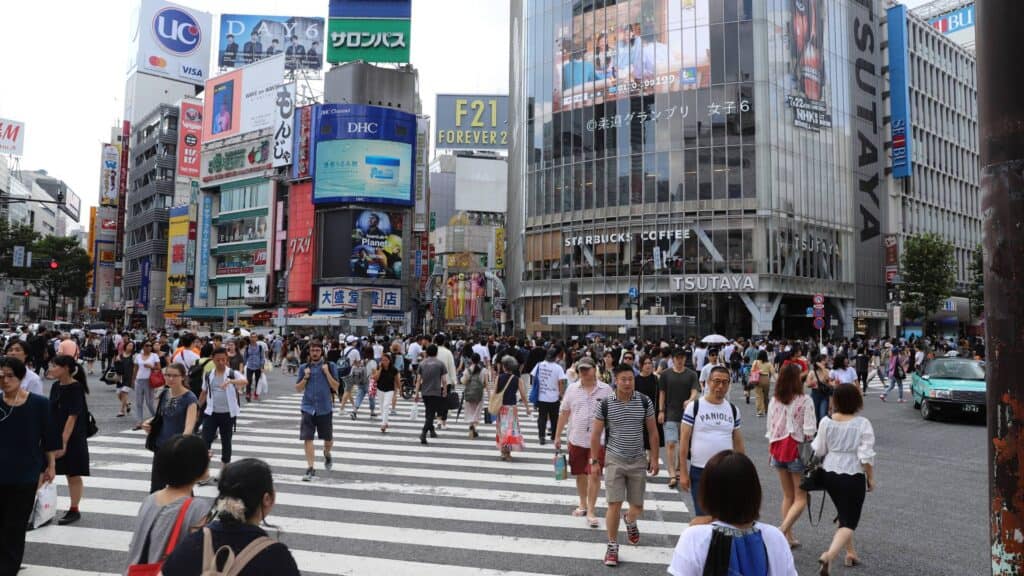 Shibuya is also known for the world-famous Scramble Crossing, one of the world's busiest traffic intersections, with as many as 3,000 people passing through it at a single green light.
Shibuya Scramble Square features a total of 212 'world's most fashionable' shops, including those that have arrived for the first time and new business models. You can also visit the Shibuya Sky, the highest point in Shibuya, at approximately 230 m and 47 storeys above ground.
Harajuku- Takeshita Street, Meiji Jingu, Street food, Shopping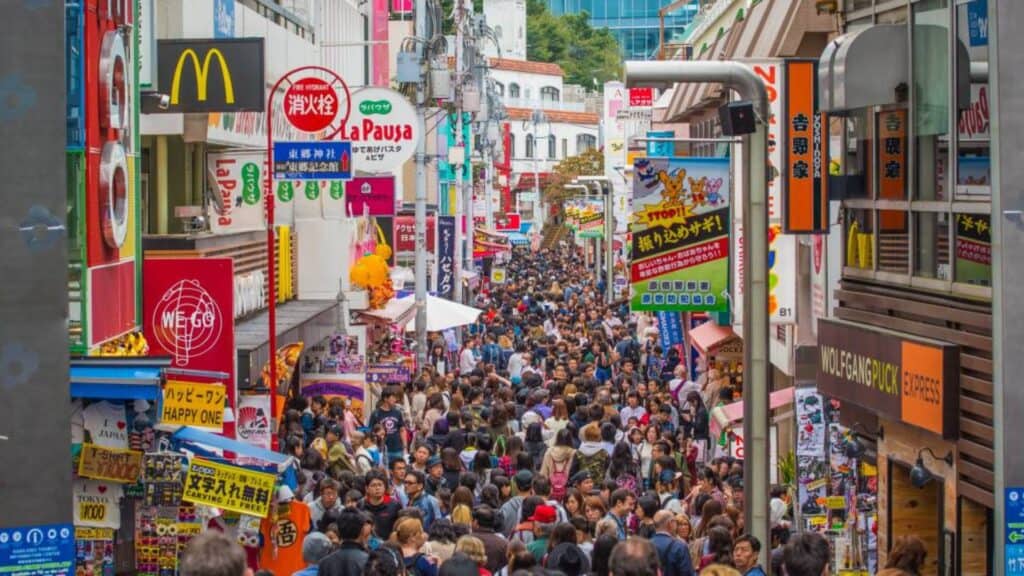 Takeshita-dori has long been known for its take-out shops, including crepes, which are really tasty. The number of unique cafés is also increasing. Harajuku Takeshita-dori is a centre of kawaii culture that now attracts people from all over Japan and the world.
Access is right in front of JR Harajuku Station.
Meiji Jingu is a Shinto shrine located in Shibuya, Tokyo. It is dedicated to Emperor Meiji, the 122nd emperor, and Empress Shoken. The 700,000-square-meter Chinju-no-Mori is an artificial forest created with the aim of becoming an "eternal forest" by planting about 100,000 trees that were donated from all over Japan when the Meiji Jingu was founded.
It has the highest number of worshipers in Japan every year for New Year's visits.
Shinjuku- Omoide yokochu, Kabukicho, Golden Gai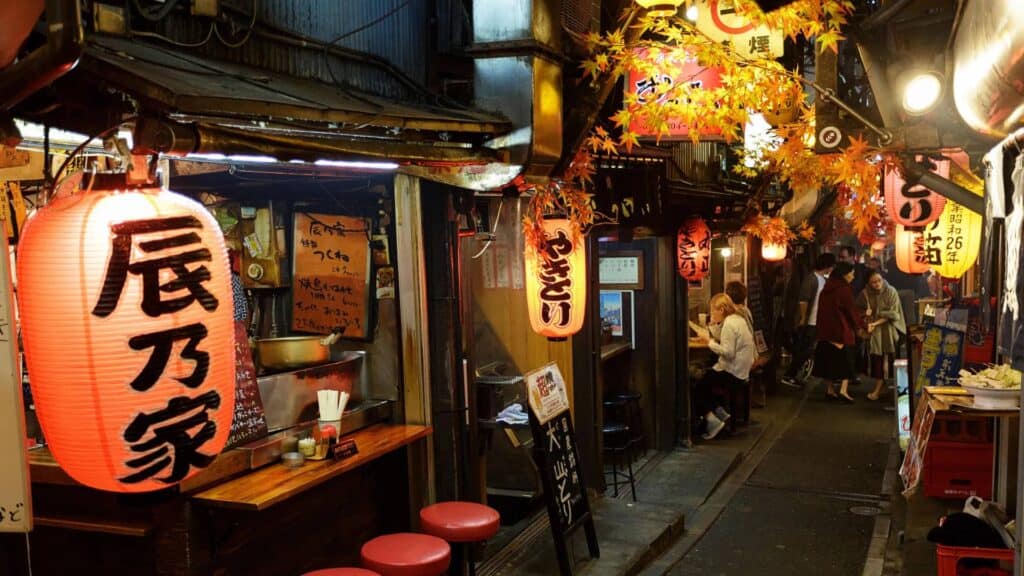 "Omoide Yokocho" is another name for the Shinjuku West Exit shopping street, which is located just outside the Shinjuku West Exit, and is also known as " Yakitori Yokocho" or " Shonben Yokocho". It has its roots in the black market that was created around 1946, and with the post-war reconstruction, there used to be about 300 shops.
Today, it is gaining popularity as a drinking district with many small shops selling various dishes such as yakitori, offal stew, and sashimi.
It's a 3-minute walk from Shinjuku station, so it's easy to access, and it's a perfect place for office workers on their way home from work or for a drink after playing. Shinjuku Golden Gai (新宿ゴールデン街) is a restaurant district in Kabukichō 1-chō, Shinjuku-ku, Tokyo. It is lined with nearly 300 bars, including snack bars, in barracks tenements and is known to be frequented by writers and people in the film and theatre industry.
Lunch: Sushi, Dinner: Izakaya
Day 3 – Tokyo
Tsukiji Fish Market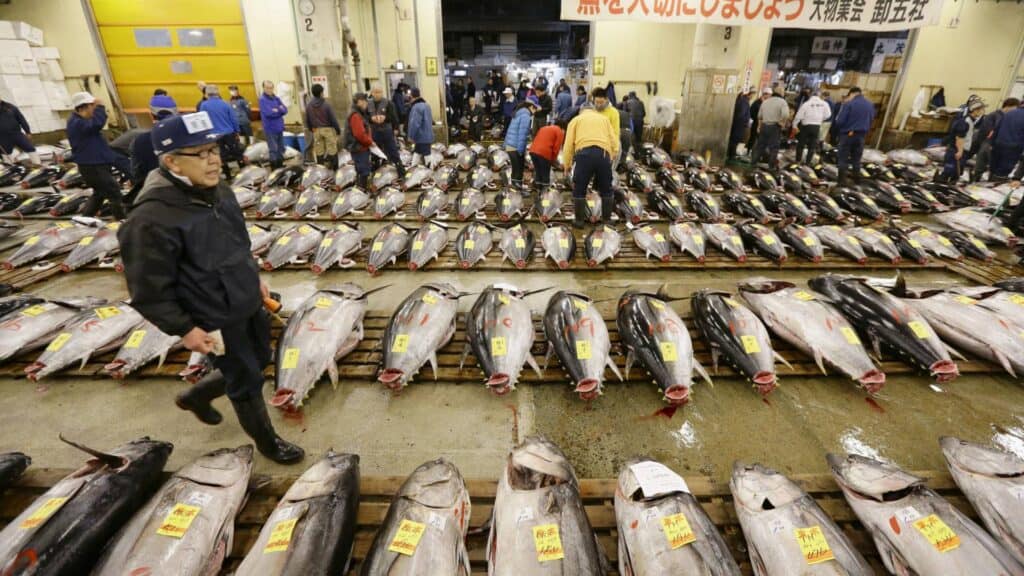 The Tsukiji Fish market is known as Japan's 'Food Town'. The market comprises of a vast variety of different traditional Japanese foods from wholesale to retail. There are also numerous restaurants and eateries lined up around the area, using the freshest fish and ingredients of Japan.
When the market first originated, it was primarily an area for wholesalers and professionals where products were sold in bulk. However in recent years, the area has become popular with consumers and tourists, and you are now able to find small meals and bite size tasters. Tsukiji Outer Market is and will continue to be the best marketplace for customers to buy fresh seafood, vegetables, and Japanese traditional food materials.
If you are unsure how to approach this, take a look at Arigatojapan's brilliant Tsukiji market tour! https://arigatojapan.co.jp/tours/classic-tsukiji-breakfast-tour/
This way you won't miss any incredible foods or experiences while visiting Tsukiji!
Neighbourhoods
Ginza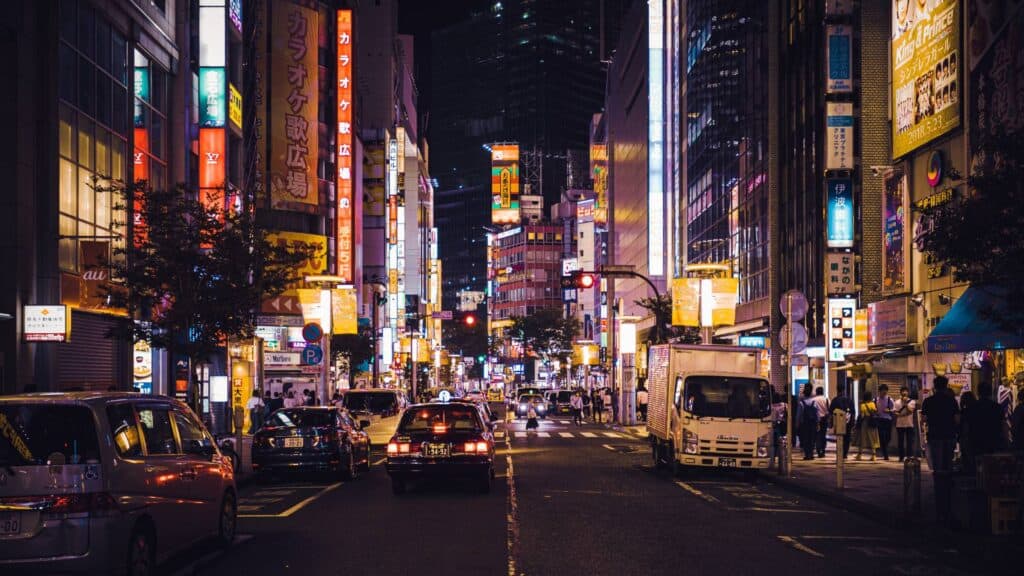 Ginza is a district of Chūō, Tokyo. It is a well-known premium shopping district in Tokyo, home to a number of internationally renowned department stores, boutiques, eateries, and coffee shops. It is regarded as one of the most costly, stylish, and opulent urban areas in the entire globe.
Ginza seems to have upscale clothing outlets on every corner. Additionally, you'll find a number of Michelin-starred establishments, the peak of Tokyo fine dining. Go a bit further. The nicest spots to visit in Ginza are on the other side, tucked away in dimly lit little passageways. Everything is available, from little gift shops to typical izakaya (Japanese bars).
Akihabara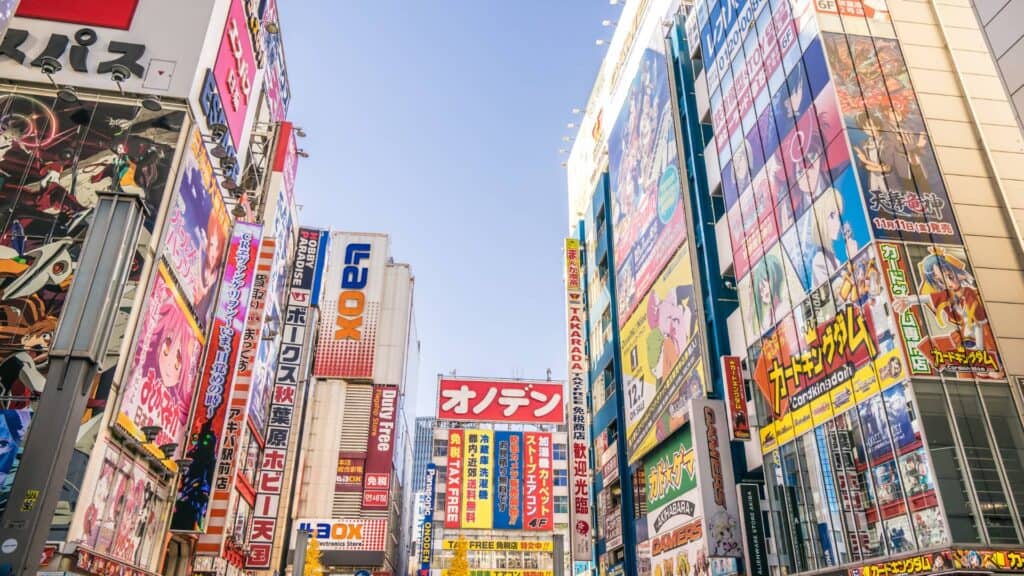 The central Tokyo neighbourhood of Akihabara, also known as Akiba after a previous local temple, is well known for its abundance of electronics stores and has come to be known as the hub of the otaku (die-hard fan) culture in Japan.
The district's electronic stores are home to a wide variety of stores and institutions that specialise in anime and manga. Akihabara has developed into a hub of Japanese otaku and anime culture in recent years, and dozens of shops specialising in collectibles including figurines, card games, anime, manga, and old video games have occupied the spaces between the electronics stores. Along with stores, a number of other businesses associated with animation have gained popularity in the region, most notably maid cafes (manga kissa), where waitresses dress up and perform as maids or anime characters, and internet cafes where patrons can read comics and watch videos in addition to using the internet.
Shimokitazawa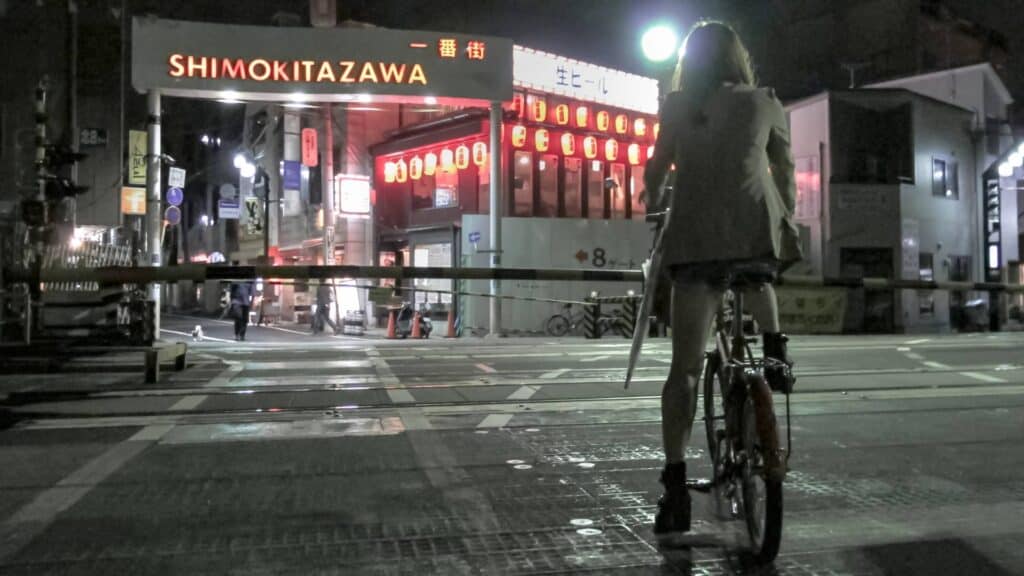 Shimokitazawa, a lively area of western Tokyo only a few stops from Shibuya, is well-known for its profusion of second-hand shops. You may find anything you need for at least 20% off the original sale price, including everything from designer clothing to brand-new phones. Shimokitazawa is sometimes called "Shimokita" for short because it has many theatres, galleries, live houses, cosy cafés, and izakaya pubs. This is a location in Tokyo that is a must-visit for everyone looking for something special!
Since the 1970s, Shimokitazawa has served as the hub of Japan's counterculture scene. Many of the local galleries and venues support independent artists and creatives from the area.
Nakano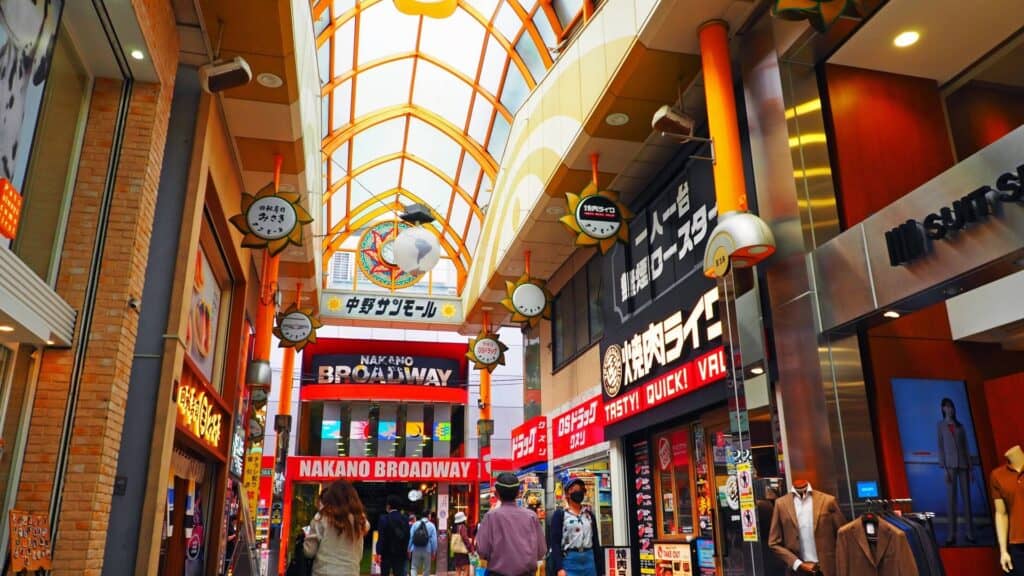 A few stops from Shinjuku and sometimes referred to as "Western Tokyo's Akihabara," Nakano is deserving of the moniker "otaku nirvana." However, given Nakano Ward's vastness and diversity, even people who aren't huge manga fans are likely to discover something they like there.
The neighbourhood has mostly withstood Tokyo's relentless modernization drive: walk slightly northeast from the station and you'll discover an old-school, partially pre-war street packed with izakaya, bars, and more; farther north, you'll find Edo-era temples and peaceful parks. The population is a diverse mix of office employees, college students, and families, and most residents are warm, laid-back, and open for a conversation.
Day 4 – Kyoto
Arashiyama Bamboo Forest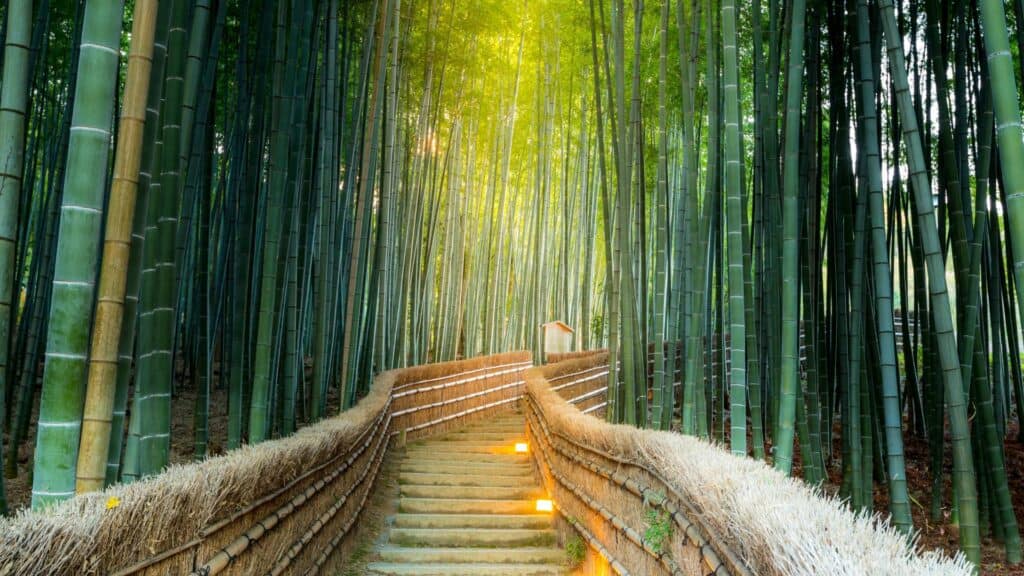 The bamboo grove path is one of Kyoto's most popular tourist attractions and, along with the Togetsu Bridge, is the symbol of Arashiyama. The bamboo grove stretches for 400m from Nomiya Shrine, through the north side of Tenryu-ji Temple to the Okochi Sanso Garden, where it grows so tall that it covers the sky.
The bamboos are at their most beautiful during the autumn foliage season and have also been selected as one of the 100 best cherry blossom viewing spots in Japan.
Kimono Rental
With over 300 years of experience, Kimono Misayama offers an opportunity to walk the streets of Kyoto in a high quality traditional Kimono. This is an amazing chance to take some incredible photos showing traditional Japanese culture that can be shared with friends and family!
Kinkaku-ji Temple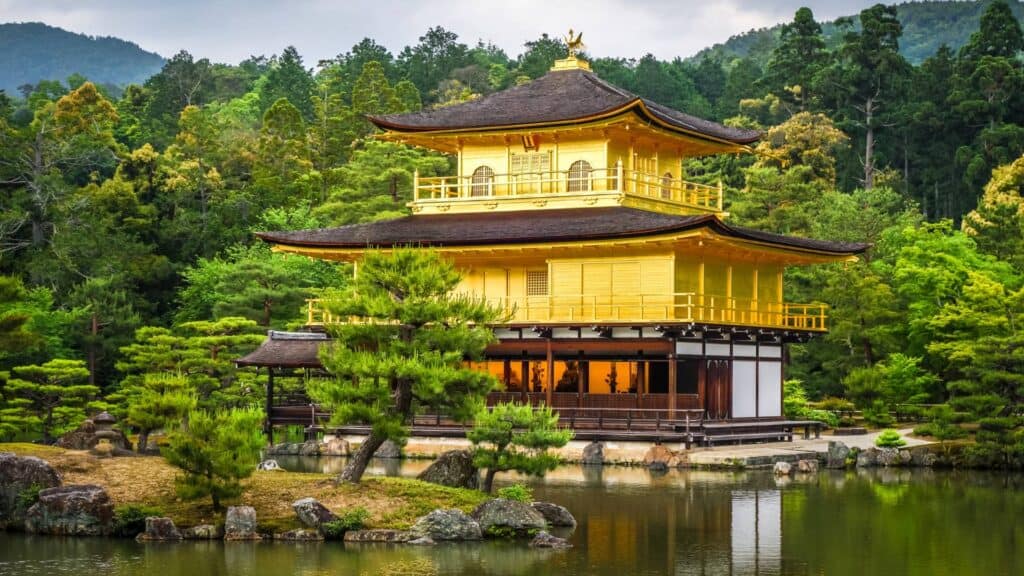 Kinkakuji Temple is a pagoda temple of the Shokokuji school of the Rinzai sect of Zen Buddhism, whose history can be traced back more than 600 years.
The temple was extensively renovated during 1987 Ashikaga Yoshimitsu took over the Saionji family's villa in 1397 (Oei 4), and after his death the temple was renamed Rokuonji. The Kinkaku (Golden Pavilion), a three-storey gold-leafed tower erected as the Shariden, is reflected in Kagamiko Pond.
Gion District, Pontocho area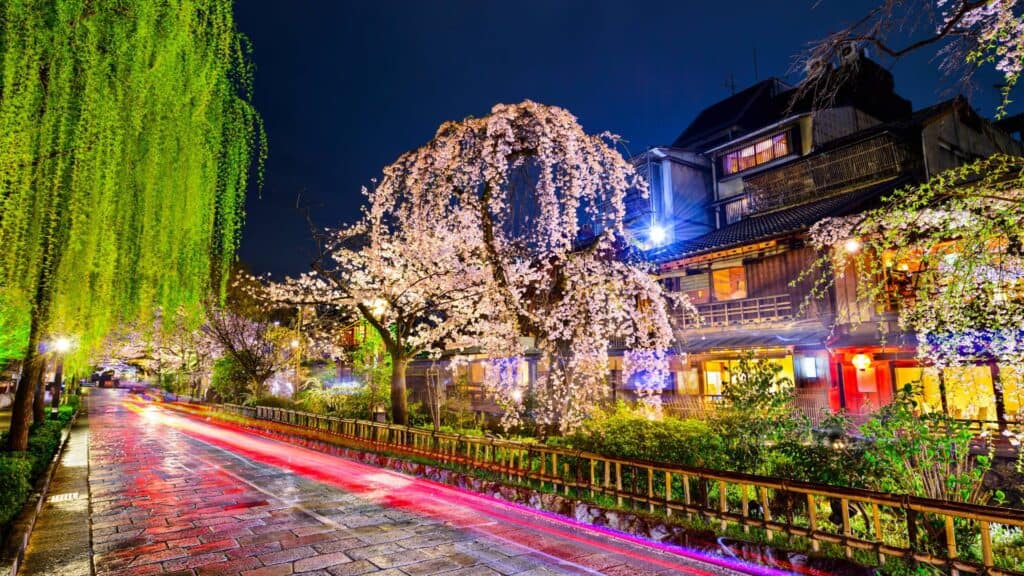 Gion is and always has been known as Kyoto's representative downtown area. It is a popular area that attracts many tourists from home and abroad, as it is easily accessible from Kyoto Station and is an easy area for sightseeing.
The district centred on Yasaka Shrine in the centre of Kyoto City, named Gion after the old name of Yasaka Shrine, Gionsha. It is also one of Kyoto's most popular shopping streets.
On the way from Kawaramachi Station towards Gion and Yasaka Shrine. In a corner of Shijo Dori, there is a narrow alleyway with a gaping hole in it. This is Ponto-cho. Ponto-cho is Kyoto's Hanamachi, a traditional flower quarter with traditional shops on either side of the narrow street, where chochin (lanterns) with a staggered mark are waving.
Lunch: Soba, Dinner: Riverside restaurant
Day 5 – Explore outside and around Kyoto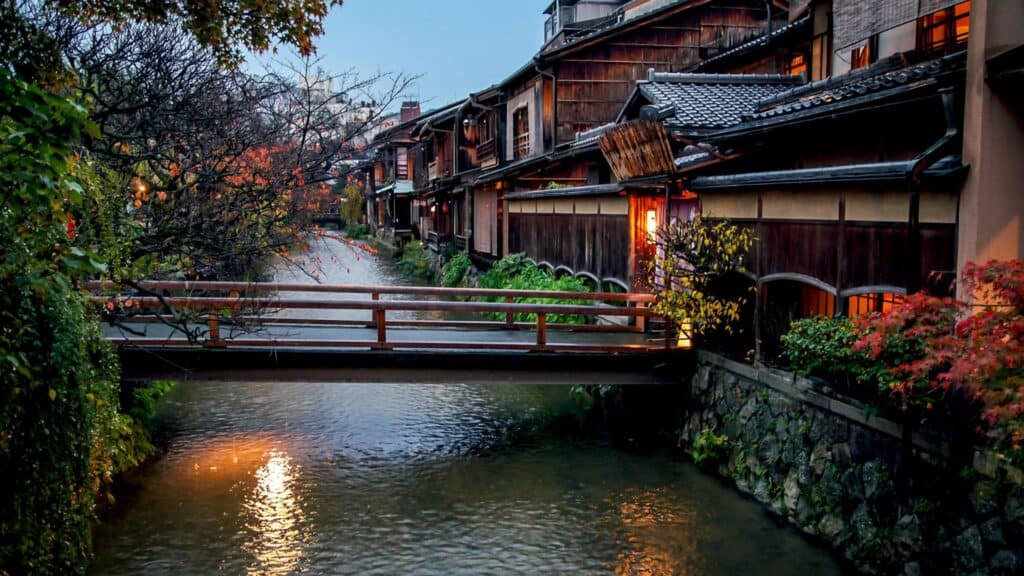 Although Kyoto has many exciting and interesting places to visit, it might be worth taking the opportunity to explore further out, and see some of the areas which surround Kyoto. In this case, consider renting a car for the day and take your adventure further out to some of the harder to reach, remote areas. Here we have a select few places that are worth a visit outside and around Kyoto.
Some sights people can visit:
Kiyomizu-dera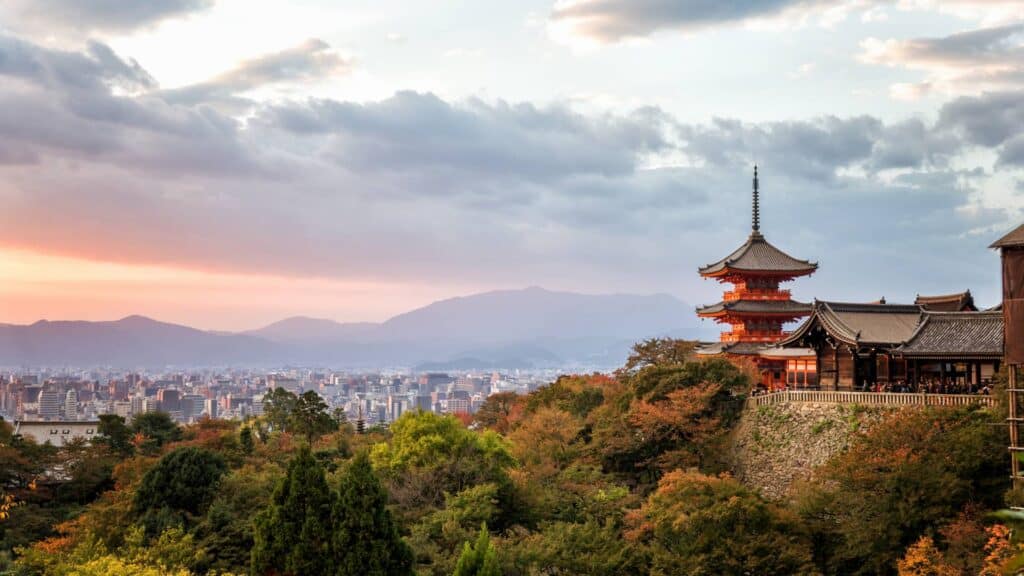 The "Temple of the Pure Water Spring," also called Kiyomizu-dera, is a Buddhist temple in Kyoto, Japan. The location is well-known for its spectacular viewing platform, three-story Koyasu pagoda, and the Otowa Spring's therapeutic, pure waters.
Higashiyama Jisho-ji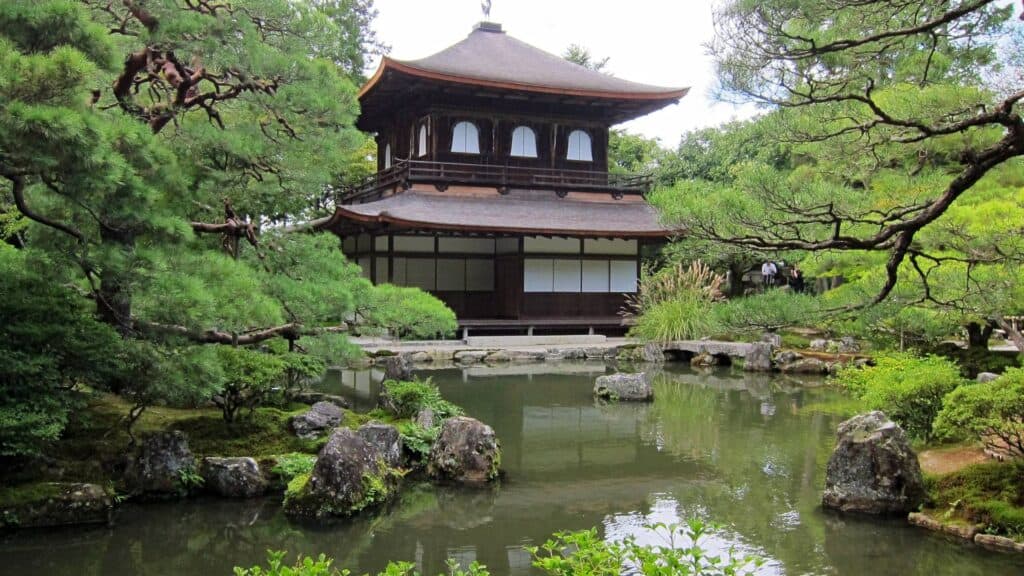 The Muromachi period general Yoshimasa Ashikaga used the Ginkakuji Temple in northern Kyoto City as his residence until it was converted into a temple in 1482, when it was given the name Higashiyama Jisho-ji Temple. The Edo era is when Ginkakuji Temple first received its name.
For its iconic "wabi" and "sabi" colours, the Kannon Temple, one of Japan's national treasures, is a sight to behold. A distinctive aspect of the temple is the two-story structure, which has an upper level in the Zen Buddhist style and a lower level in the home style.
Uji
Between Kyoto and Nara, two of Japan's most well-known historical and cultural hubs, sits the little city of Uji. Due to its close proximity to these two ancient capitals, Uji quickly established itself as a major cultural hub. Buildings like Byodoin Temple and Ujigami Shrine, the oldest still-existing shrine in Japan, were constructed in Uji during the Heian Period (794 to 1192), when the Fujiwara clan was at its political zenith.
The green tea from Uji is also well-known. While the birthplace of tea planting in Japan is thought to have been at Kyoto's Kozanji Temple, Uji's tea gained more notoriety for its high quality in the 1100s.
Day 6 – Kyoto to Osaka
Fushimi Inari Taisha Shrine
The head shrine of the 30,000 Inari shrines in Japan. The shrine is lined with stately pavilions and auxiliary shrines, and is worshipped by the general public as a deity of good harvests and prosperous business.
The numerous vermilion-lacquered torii gates on the approach from behind the main shrine to the inner shrine are known as 'Senbon-torii' (a thousand torii). A very popular spot for foreign tourists.
Yasaka Shrine
Yasaka Shrine, known and loved as 'Gion-san' since ancient times, is the head shrine of all Gion shrines in Japan. The shrine is said to have been founded in the 2nd year of the Emperor Saimei (656).
It is said to have quelled an epidemic that swept through the capital of Kyoto, and since then it has been worshipped as a shrine to ward off evil spirits. Even today, the shrine is famous for the Gion Festival held in July and the New Year's Eve Pilgrimage to the shrine.
Photo spot
A famous spot to take an amazing photo of the Kyoto streets. Located in Nineizaka, the streets are lined with traditional Japanese homes, teahouses and cherry blossoms offering the perfect chance to take a once in a lifetime photo.
Nijo Castle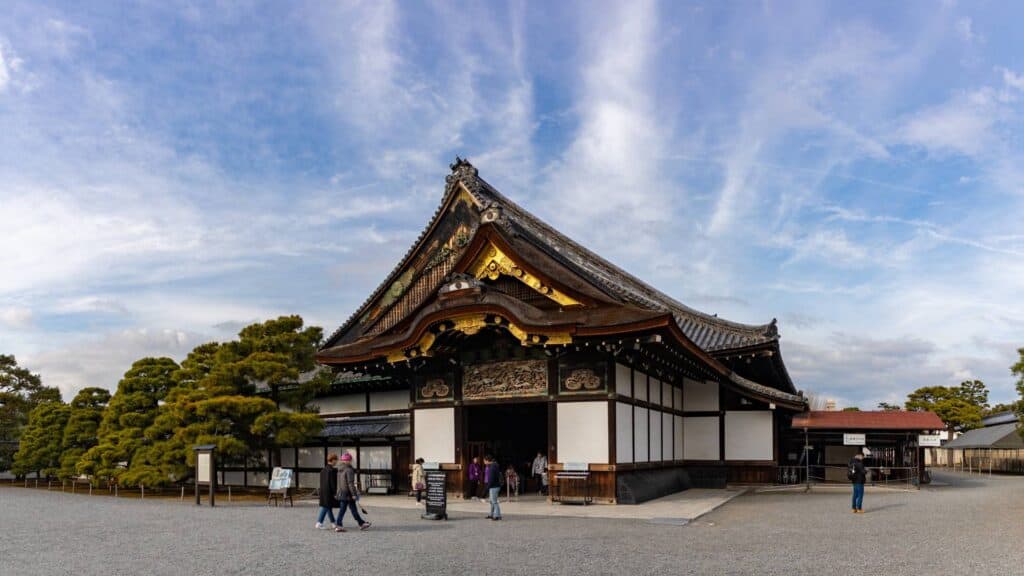 Nijo Castle, built by Tokugawa Ieyasu in 1603, has been the setting for many historical events, including the declaration of the intention to return to the Great Government by Tokugawa Yoshinobu.
You can enjoy the spacious castle grounds, including the gorgeous Karamon gate and three gardens. It is also close to an underground station and city bus stops, making it easy to get to from Kyoto Station.
Toji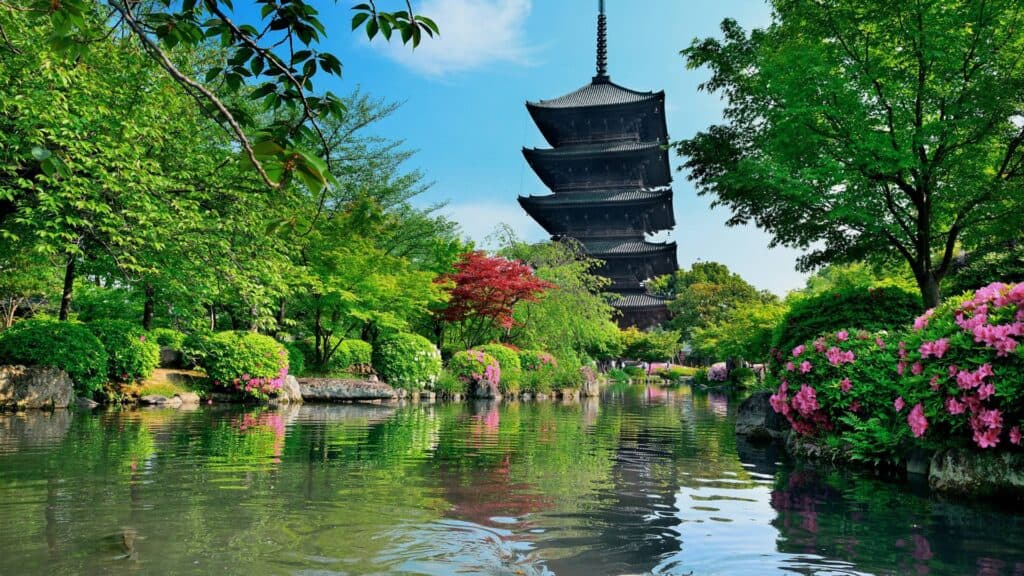 To-ji Temple is a national temple (kan-ji) that was built at the time of the relocation of the capital to Heian-kyo. It is the only surviving remnant of Heian-kyo and was considered one of the two major temples of Heian-kyo, along with Sai-ji Temple. Its official name is Kyoohogokokuji Temple.
It was the first esoteric Buddhist temple in Japan. Kobo Daishi Kukai made it the first esoteric Buddhism temple in Japan, and it became the fundamental center of Shingon Esoteric Buddhism.
Travel to Osaka
Solaniwa Onsen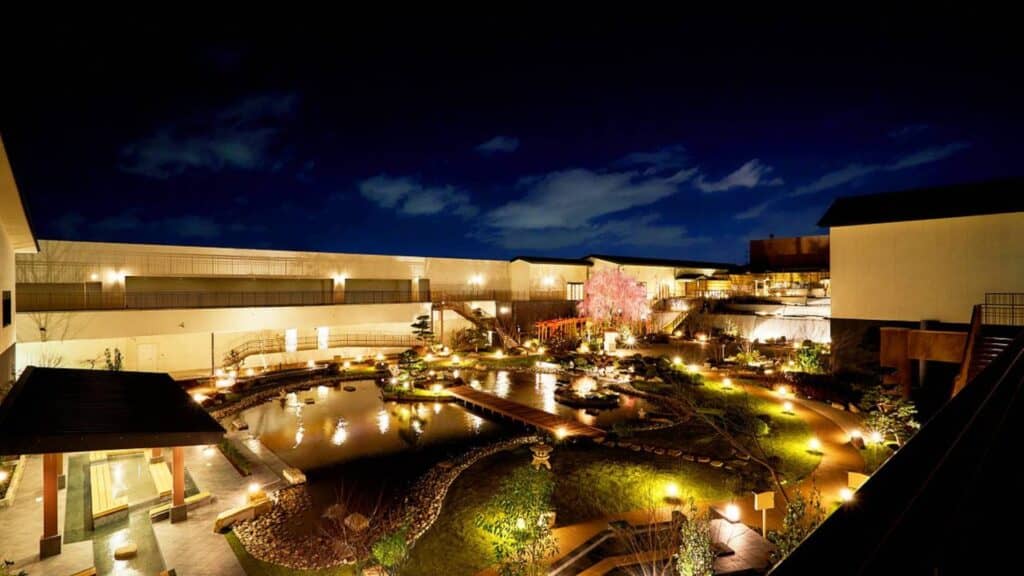 The hot spring water of Bihan, a natural hot spring with weak alkalinity and free-flowing spring water, gushes out from 1,000 m underground.
The baths include an open-air bath with free-flowing hot-spring water, a garden-viewing bath overlooking a vast garden, a carbonated spring, a bath with alternatives, a sauna, and an akasuri (a traditional Japanese bath where the body is washed after a long day's work).
There is also a private open-air bath for 2 to 6 people, so you can enjoy your own private space.
Lunch: Teishoku, Dinner: Solaniwa Onsen
Day 7 – Osaka
Nagai Botanical Garden
With a total area of 24.2 hectares, the Nagai Botanical Garden is a well-liked urban paradise surrounded by greenery and brimming with seasonal blooms. It is home to almost 1,200 different plant species. There are 11 specialty gardens, including a camellia garden, button garden, rose garden, hydrangea garden, and herb garden, in addition to a big flower bed that is 580 square metres in size and offers tourists flowers that are in season. There are also a variety of events, exhibitions, and workshops.
Osaka Castle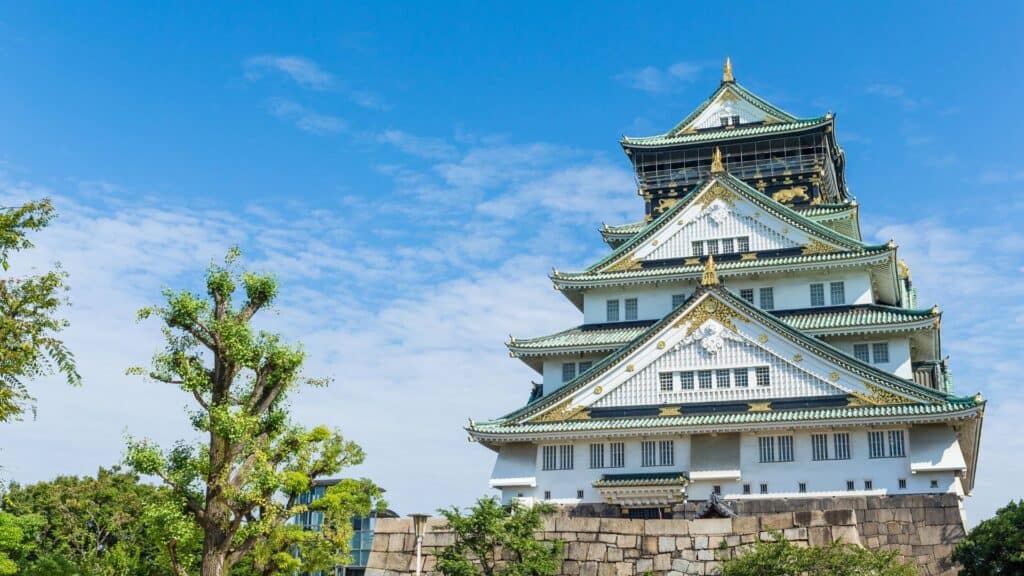 It is the most famous tourist attraction in Osaka, attracting many tourists from home and abroad. During a major renovation in the Heisei era, the decorative metal fittings and ornamentation of the orca were re-gilded, making them shine even more brightly.
Valuable historical documents and works of art are on display in the keep. At night, the keep is illuminated to create a fantastic view of the castle. A not-to-be-missed spot when visiting Osaka.
Umeda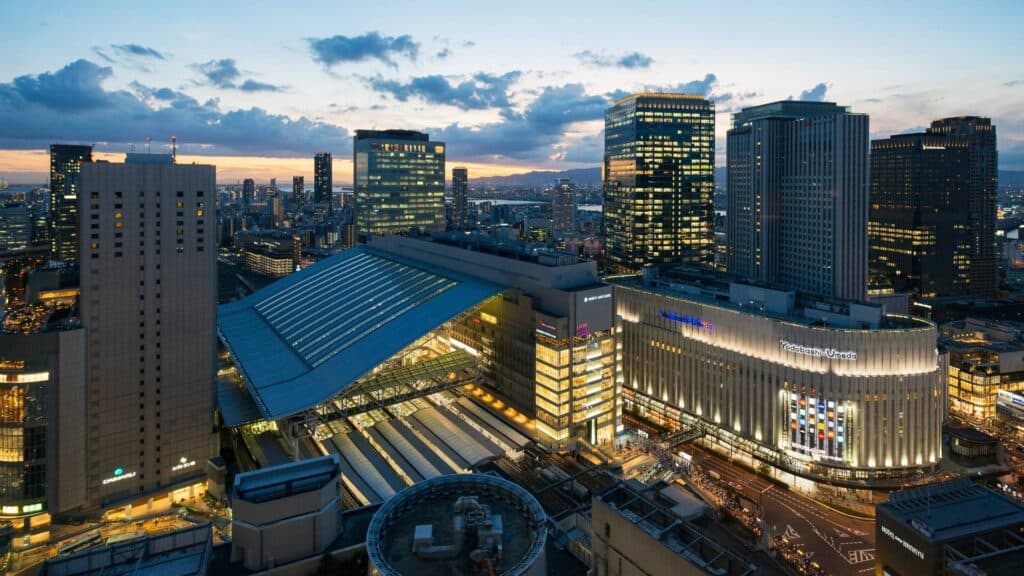 Umeda is one of Japan's largest shopping and office districts, representing Osaka, spreading across Kita-ku, Osaka. Umeda operates as one of the main transport hubs for Osaka and has private railways that go to Kyoto and Kobe.
In Umeda, there are many different restaurants around the station, department stores, old station buildings and underground shopping.
Street food in Dotonbori, Shinsaibashi-Suji Shopping Street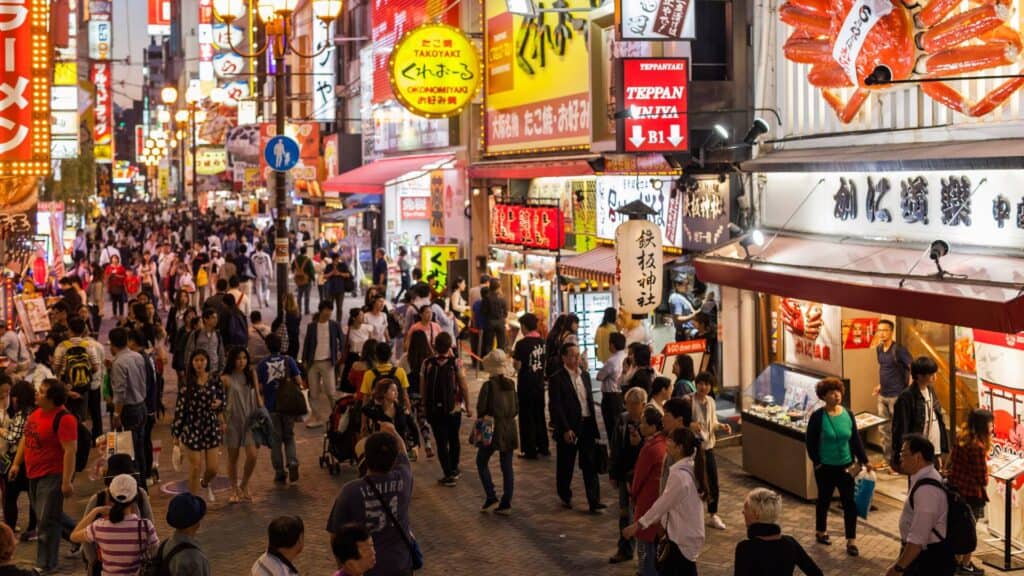 Dotonbori is one of the most popular destinations in Osaka for tourists. It runs along the Dotonbori canal and is packed full of bars, restaurants and street food. Although it may not be the biggest area, it is full of food stalls and street vendors, selling the most famous and traditional food and dishes that Japan is known for.
The Shinsaibashisuji shopping street runs north-south for 580m from the south side of Nagahori Dori to Soemoncho Dori. It is lined with about 180 shops, including two major department stores, Daimaru Shinsaibashi, as well as clothing and restaurant shops, and attracts about 60,000 shoppers on weekdays and 120,000 on Sundays and public holidays.
Lunch: Yakiniku, Dinner: Street food
Day 8 – Nara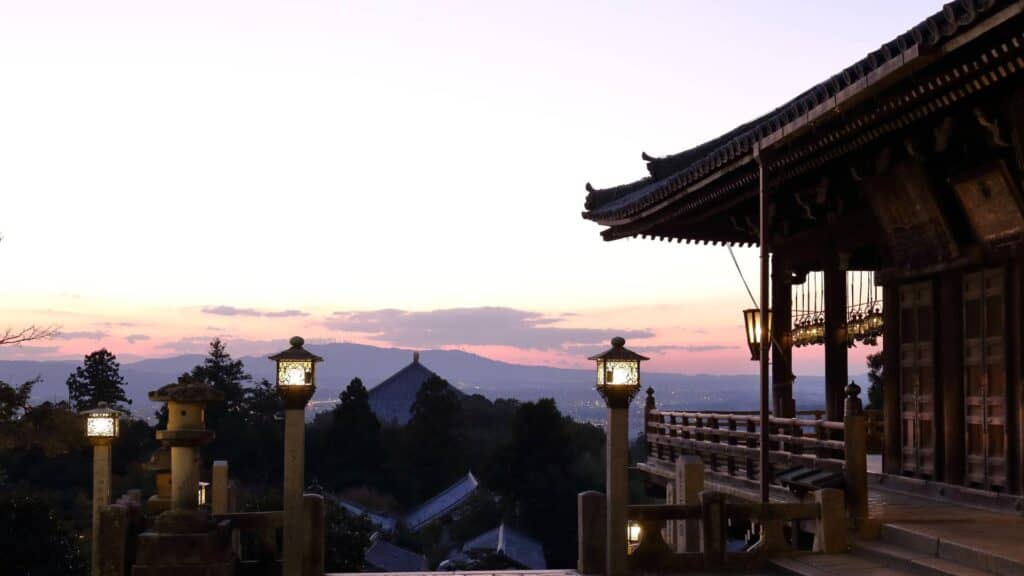 Nara Prefecture is home to some of Japan's greatest World Heritage sites and national treasure buildings. Nara has a longer history than Kyoto, and you may notice it has an even deeper history. Nara is characterised by its compact size and the fact that many of its tourist attractions can be visited on foot within the city limits.
The area is also characterised by the presence of many ancient burial mounds from the old days, including the Kitra and Takamatsuzuka burial mounds. The fascinating history and culture of the ancient capital of Nara can be seen everywhere in the area.
Here's an optional bonus, take a look at these tours if you're looking for a more complete experience.
Todaji Temple
In 754, the Tang Chinese monk Ganjin, who came to Japan to spread Buddhism in Japan, built the Kaitan-in at Todai-ji Temple to bestow the Buddhist precepts on Emperor Shomu and Empress Dowager Komyo. The largest Buddha in Japan can be found in the wide precincts of Todaiji Temple. The sense of scale is large, and when you see it for the first time, it is very impressive.
If you visit Todaiji Temple , be sure to visit Nigatsudo. It is the highest hall in the Senin district on the east side of Todaiji Temple , and is known as the building where the event called "Omizutori", which is an early spring event in Nara, is held. . Ascending to Nigatsu-do through two quiet stone-paved passages, one behind the Daibutsu-den and the other on the east side, you can see the cityscape of Nara from the spacious 'stage'.
Kikuichi Monju Shiro Kanenaga Main Store/Mountain Cafe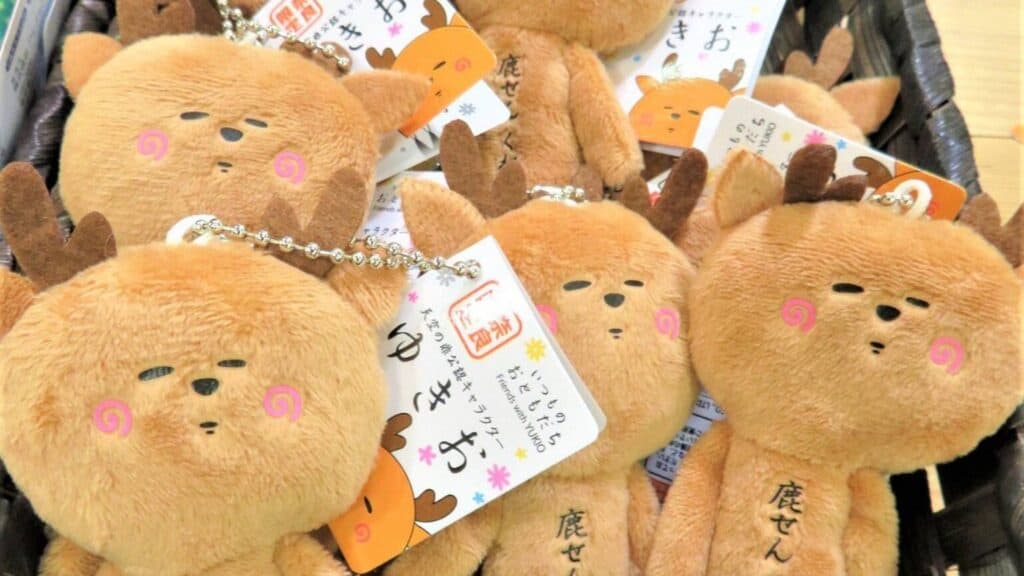 A cafe that specialises in selling cute deer manjuu and authentic original pizza. The specialty is "Kasuga Shika Manju Kanoko" which is made resembling deer, which is unique to Nara Park! The manju is baked in the store, so you can enjoy it fresh from the oven. The filling varies from day to day, so you will never get tired of the taste. This store has also inherited the sword-making techniques that have been used since the Kamakura period, and sells hammered blades and offers knife-sharpening workshops.
You can take a break, have lunch, or buy souvenirs while watching the deer that spend their time relaxing in front of the store, so be sure to stop by when you visit Nara Park.
Nara Park – Feed Deer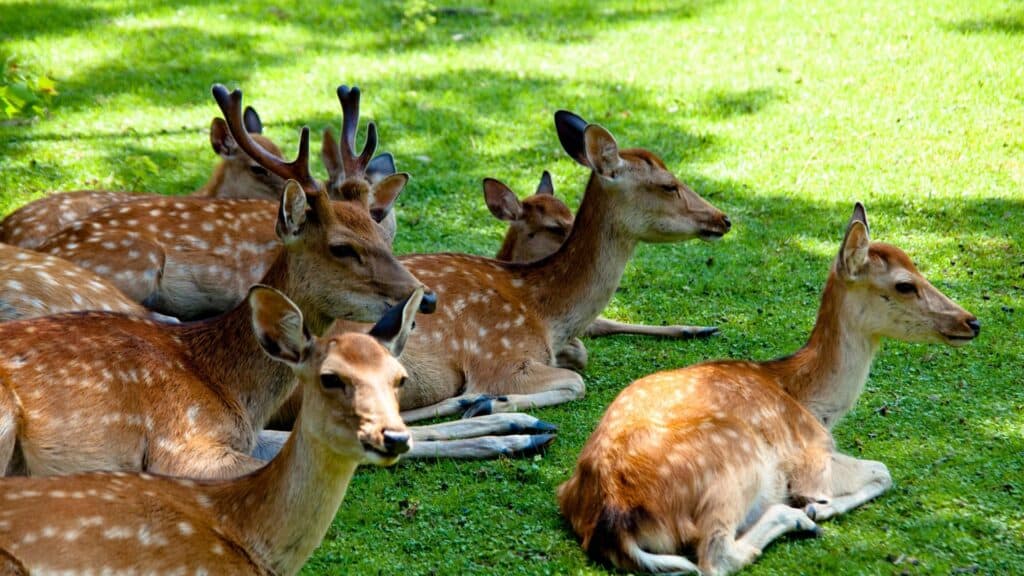 Nara Park is a city park located in Nara City, Nara Prefecture, with a total area of ​​about 502.38 hectares. The park includes Mt. Kasuga and Mt. Wakakusa, as well as Kofuku-ji Temple, Todai-ji Temple, and Kasuga-taisha Shrine, and is dotted with many national treasures and World Heritage Sites. About 1,300 wild deer play in groups in the park, which has a beautiful lawn and a 1,000-year-old pine tree.
Mt. Wakakusa – Night view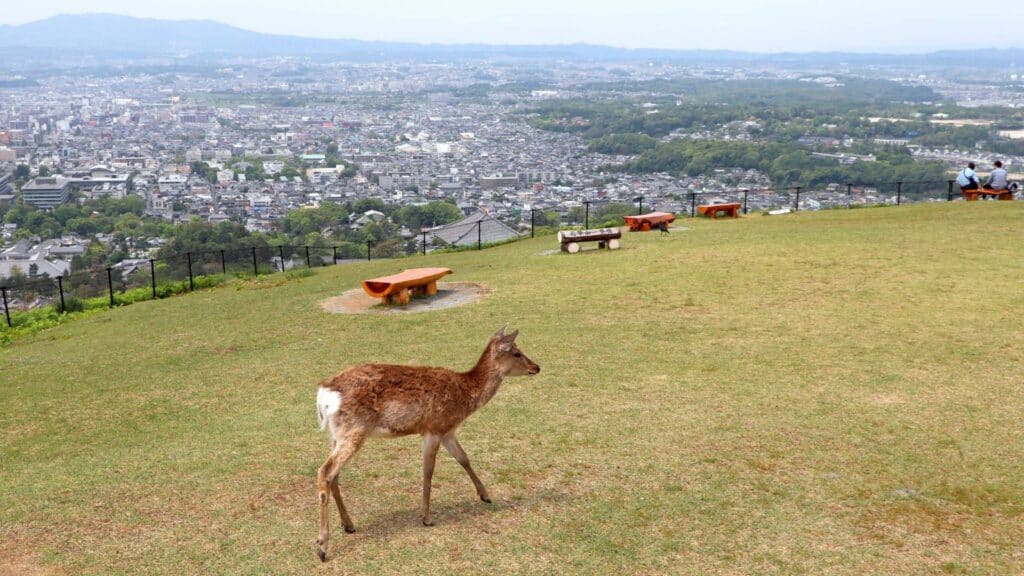 "Wakakusayama" is located in Nara Park, and the entire mountain is covered with grass. Also known as Mt. Mikasa. It is one of the most recommended sightseeing spots in Nara where you can see the Great Buddha Hall and the city of Nara, and you can also see a beautiful night view at night.
Because it is in Nara Park, deer will also come by. It's a 5-minute walk from the "Kasuga Taisha Honden" bus stop, and it's located in Nara Park, so it's recommended that you visit it along with other spots for a smooth sightseeing experience.
Day 9 – Kobe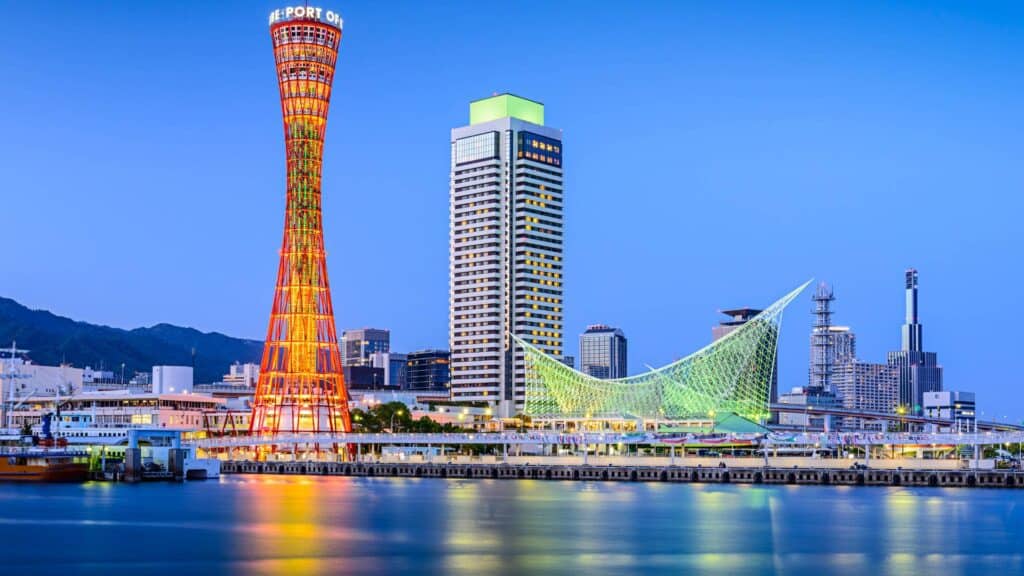 More than 150 years have passed since the opening of the port of Kobe. The land flourished as a foreign settlement during the Meiji period (1868-1912), and even today, many of its exotic buildings remain. Kobe is a fashionable and open port city that represents Japan. There are plenty of Instagrammable spots, including the exotic Ijinkan and Meriken Park by the sea! Let's take a look at some of the popular spots to visit for sightseeing, shopping and activities!
Meriken Park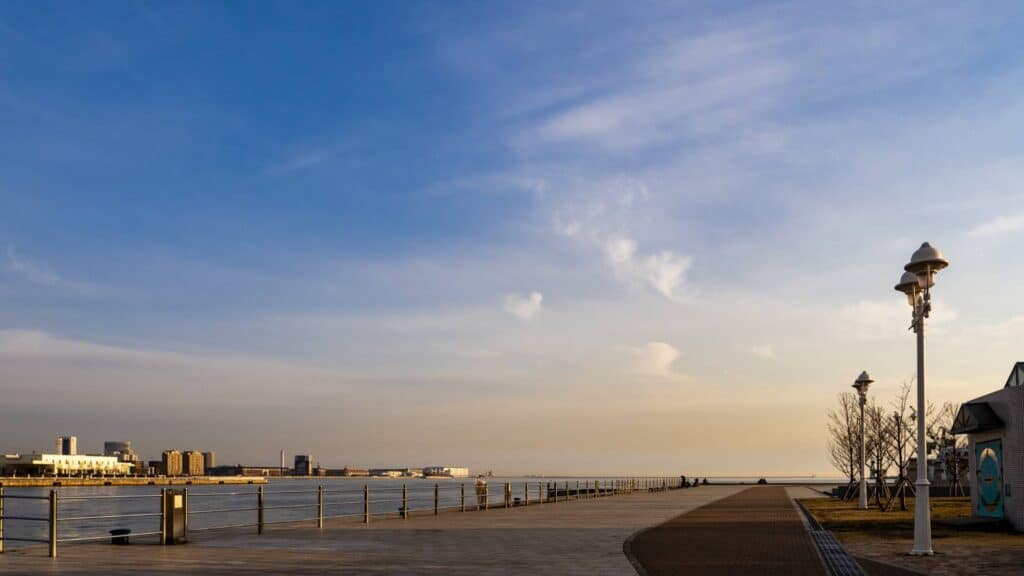 In the port district of Kobe, there is a lovely waterfront park called Meriken Park. The park, which was constructed on a protrusion of reclaimed ground, is covered with green lawn and open courtyards that are sprinkled with a variety of contemporary art works and fountains. It is where the Kobe Maritime Museum and the red Kobe Port Tower, two of the city's most recognisable examples of modern architecture, are located. Meriken Park (Chuo Ward, Kobe City) reopened on April 5, 2017. The opening ceremony was reported in the media, and it has been attracting attention as a sightseeing spot of high expectations.
Earthquake Museum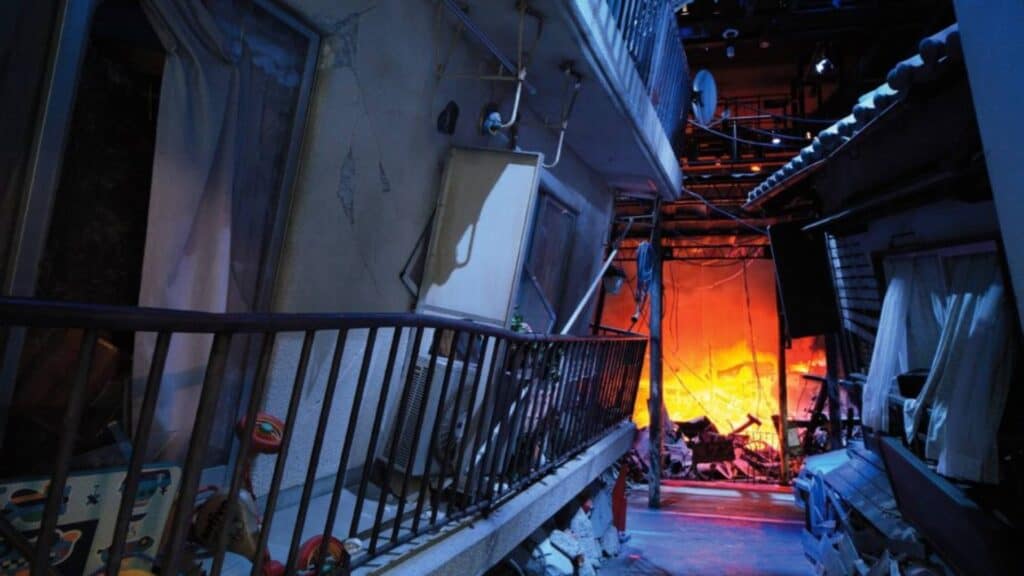 This is a disaster museum to pass on the experiences and lessons of the Great Hanshin-Awaji Earthquake to future generations and to learn how to prepare for the future. Visitors can learn what kind of disaster the 1995 Great Hanshin-Awaji Earthquake caused by the earthquake was by watching a video that reconstructs the moment the earthquake occurred and viewing exhibits of disaster-related materials provided by victims of the disaster.
Visitors will be taught the ability to think, judge, and act on their own in times of emergency through a variety of hands-on exhibits, such as the "Weather Walk," in which visitors guide the path of a typhoon as if they were in a high pressure environment themselves, and the "Mission Room," in which evacuation training takes place in realistically reproduced houses and convenience stores.
Arima Onsen
Arima Onsen is an ancient hot spring mentioned in the Chronicles of Japan and the Kojiki (Records of Ancient Matters), and is called one of the "Three Oldest Springs in Japan. It is also selected as one of the "Three Great Springs of Japan" along with Kusatsu and Gero.
It is also known as a "brown gold spring" and a "colorless silver spring." It has a variety of spring qualities, including a brownish iron-containing strong salt spring with high salt and iron content, a radium spring (radon spring) with high radium content, and a carbonic acid spring with high carbon dioxide content.
The area is loved as a hot spring resort with a historical past, surrounded by nature, and where visitors can enjoy strolling around.
Try some world-famous Kobe beef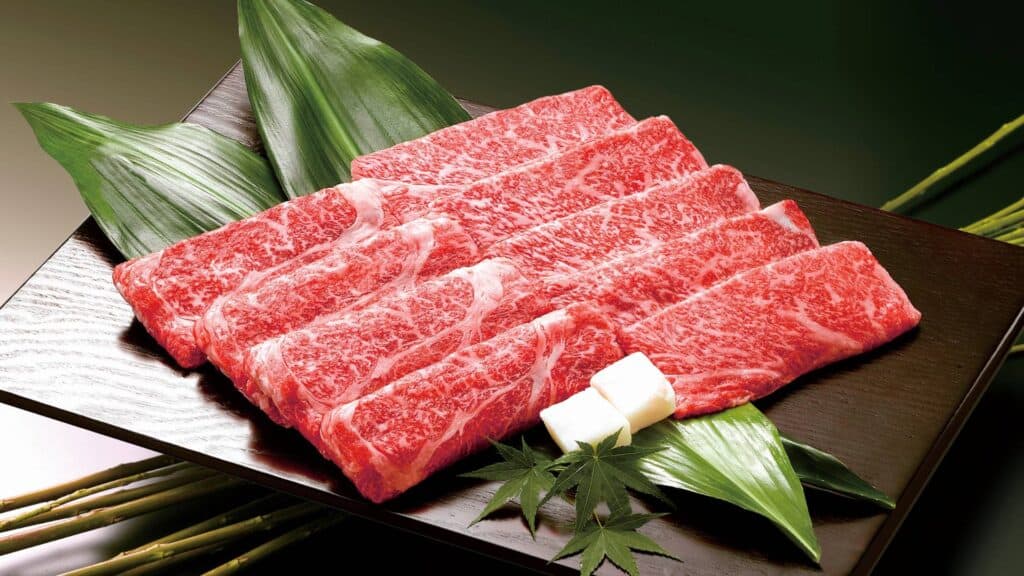 It's safe to say that the most well-known regional specialty dish in Japan is Kobe Beef, a valued Japanese delicacy. It is one of a number of Japanese cattle breeds known as Wagyu that are bred all throughout the nation and frequently identified with the region in which they are raised. While Kobe Beef is perhaps the variety of wagyu that is best known outside of Japan, there are other breeds, like Matsuzaka and Yonezawa Beef, that are just as popular or even more well-known among Japanese gourmets.
Only the greatest grades of meat with very high levels of fat marbling are eligible to bear the Kobe Beef name, a trademark that is closely guarded. In a teppanyaki restaurant, where the meat is grilled on an iron plate in front of the diners, is one of the best places to consume Kobe beef.
Day 10 – Nagoya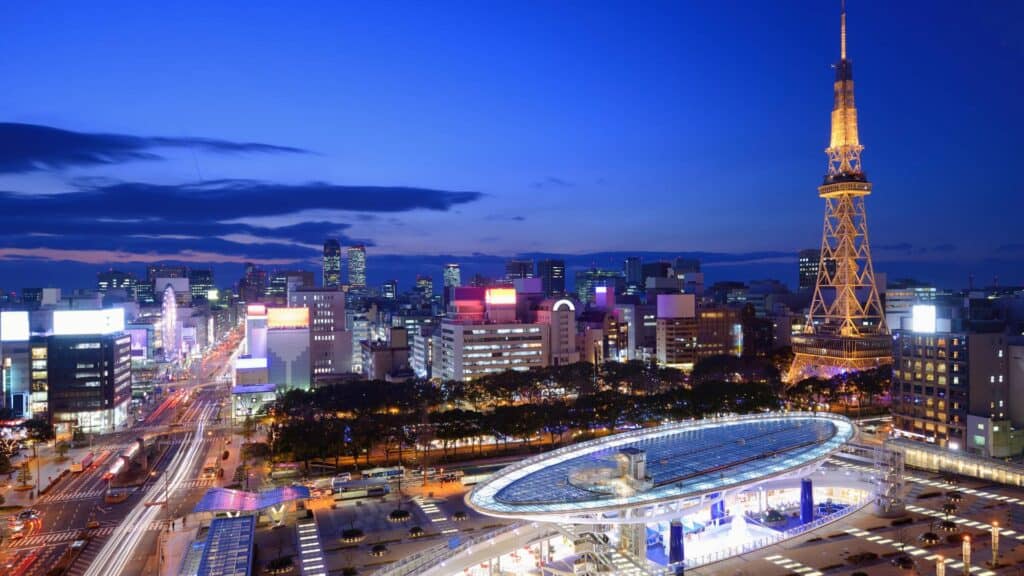 No matter what aspect of history you are interested in, Nagoya is sure to have something of interest for you. In addition to having a penchant for robotics and future ideas, Nagoya also has a rich past and is thought to be the birthplace of both samurai and ninja culture. The lovely Aichi area of Japan is home to Nagoya, the fourth-largest city in the country. It is arguably most known for being the hub of the Japanese automotive industry, where you can find all the major companies like Toyota, Honda, and Mitsubishi.
Nagoya Castle
Nagoya Castle was built in 1612. It was built by Ieyasu Tokugawa as a preparation against the Toyotomi clan in Osaka Castle. Since the entry of Yoshinao Tokugawa, the first lord of the Owari domain, the castle has flourished as the residence of the Owari Tokugawa family, the first of the three families in Japan.
Also, there is a life-size replica of a golden shachihoko near the main gate, so be sure to take a picture of it.
Tokugawaen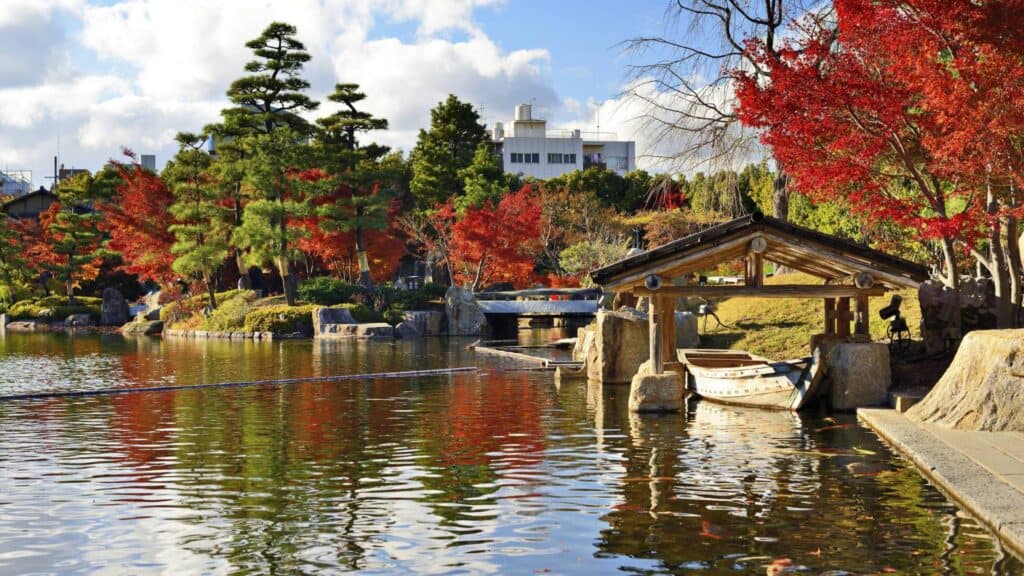 Tokugawa-En, which was developed from the daimyo's residence of the Owari Tokugawa family, is a 45,000 m2 park located in the center of Nagoya. Within the grounds are the 'Yomogiwa Bunko' a public collection of classical books, and the Tokugawa Art Museum, which houses the Tale of Genji Picture Scrolls, a national treasure, and other artifacts belonging to Tokugawa Ieyasu.
While the Tokugawaen Garden offers many attractions such as an open library and art museum, we recommend the expansive Japanese garden that occupies the northern half of the grounds. The garden is best enjoyed while listening to the explanations of the volunteer guides.
Railway Museum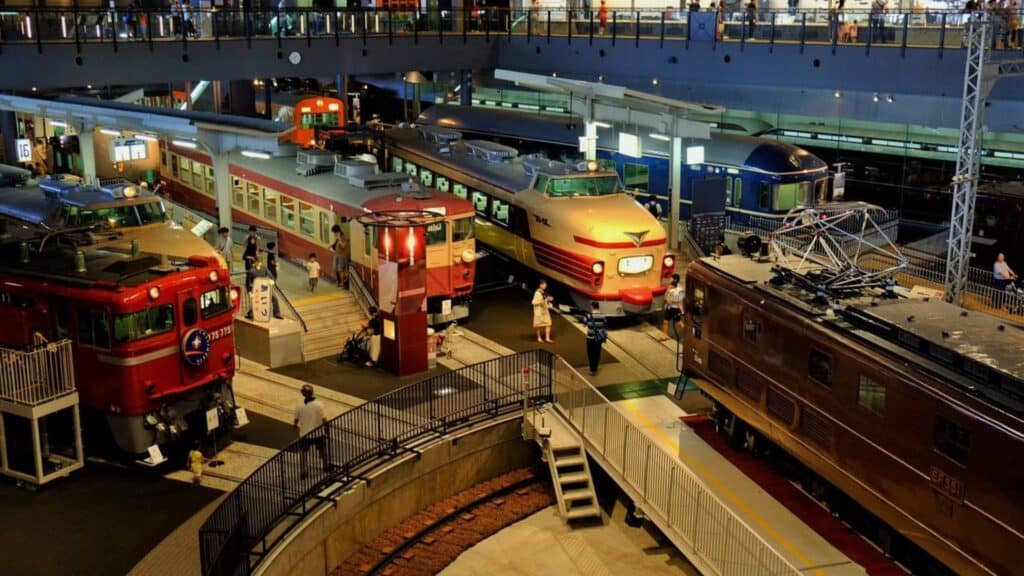 The Linear Railroad Museum is a railroad museum where visitors can see exhibits of trains and linear trains of the past, and even ride them. This is a fun spot for railroad enthusiasts and non-enthusiasts alike, as you can experience the world of Linear trains at speeds of up to 500 km/h for the first time.
Ascend Nagoya TV Tower
The Nagoya TV Tower, built in 1954 in Sakae, the center of Nagoya, is one of the oldest radio towers in Japan. It is well known as a symbol of Nagoya and is designated as a national tangible cultural property. In 2008, the tower was designated as a sacred place for lovers, and in 2013, it was recognized as a Japan Nightscape Heritage site.
The tower is 180 meters high, with a sky deck 90 meters above the ground and a balcony 100 meters above, from which you can view the city of Nagoya and, on a clear day, the Suzuka Mountains in the distance. This is a recommended spot for couples who want to enjoy an evening date in Nagoya.
Final thoughts
So there we have it, 10 full days adventuring across Japan seeing the many different sights and places that Japan is famous for. This jam packed guide can be used in full or maybe you just feel like picking a few places from the list to visit!