Want to take a mini vacation and take your pallets on a vacation to Hawaii? Come check out Aloha Afternoon Tea offered by the Marriot Hotel!
Featuring the natural beauty of Hawaii, this afternoon tea offers a relaxing experience in Shinagawa Gotenyama, away from the hustle and bustle of the city.
The afternoon tea is inspired by a relaxing holiday in Hawaii, with its lush greenery and ocean.
To start off your afternoon tea, they offer a range of savoury Hawaiian dishes, such as malasadas and lomi lomi. When you get to the main portion of the sweets, you will find a large collection of tasty items like tropical jelly in vivid rainbow colours and guava bonbon chocolate in the shape of a flamingo.
To finish off the meal, a soft and milky shaved ice with blue syrup is served as an Hachette Dessert.
Our Experience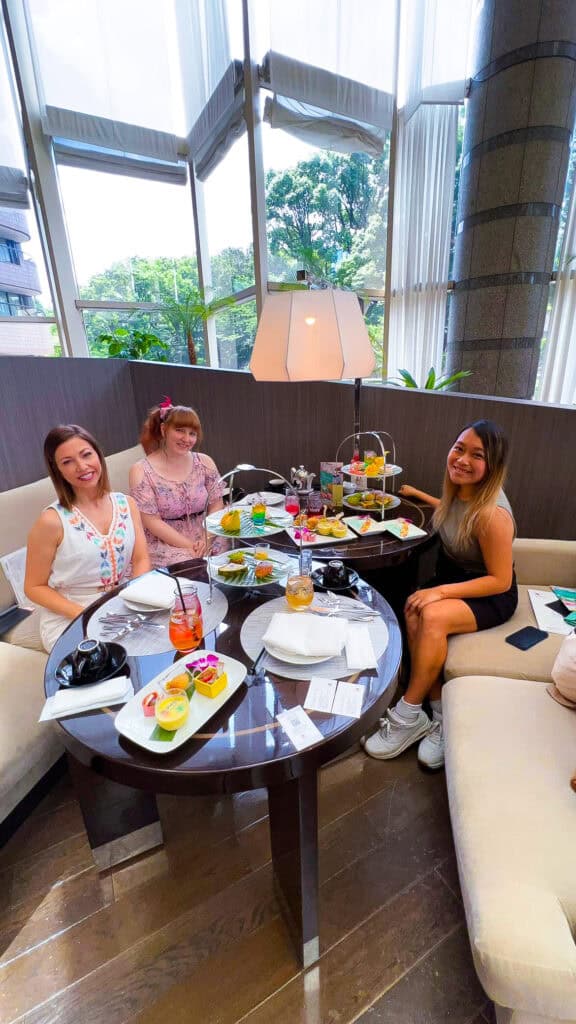 Even before stepping foot inside The Marriot Hotel, you will feel like you have disappeared off to a hidden oasis, away from the hustle and bustle of the city. The Marriot Hotel is surrounded by Gotenyama Garden, a gorgeous Japanese garden that is famous for its seasonal appearance.
The Aloha Afternoon Tea is held inside The Marriot Hotel's Lounge & Dining G.
Through each individual food item, you can get a glimpse into how much thought goes into every little process in creating this afternoon tea.
Without revealing too much, let me tell you a few of my absolute favourite items from this afternoon tea!
We started this afternoon tea by trying their Coconut Corn Soup Aloha Style. It was a gentle chilled corn soup, with hints of coconut. It was the perfect start to the afternoon tea, especially in the hot weather.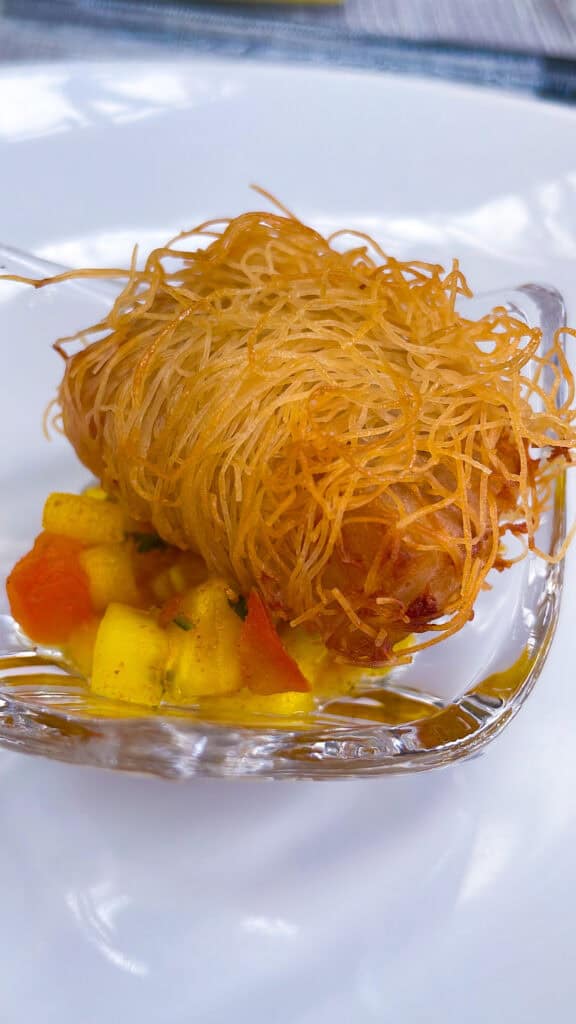 Diving into the savouries, one dish that I loved was the "Mahi-mahi Frit with Spicy Pineapple Salsa Sauce". The Mahi-mahi fish was cooked so beautifully. It was lightly deep-fried, with just the right crunch to add something special to the texture. Topped with the Pineapple Salsa Sauce, it gave a sense of sweetness to this dish.
There were so many sweet dishes, I could go on and go. Let me narrow it down and tell you a little about two of the dishes.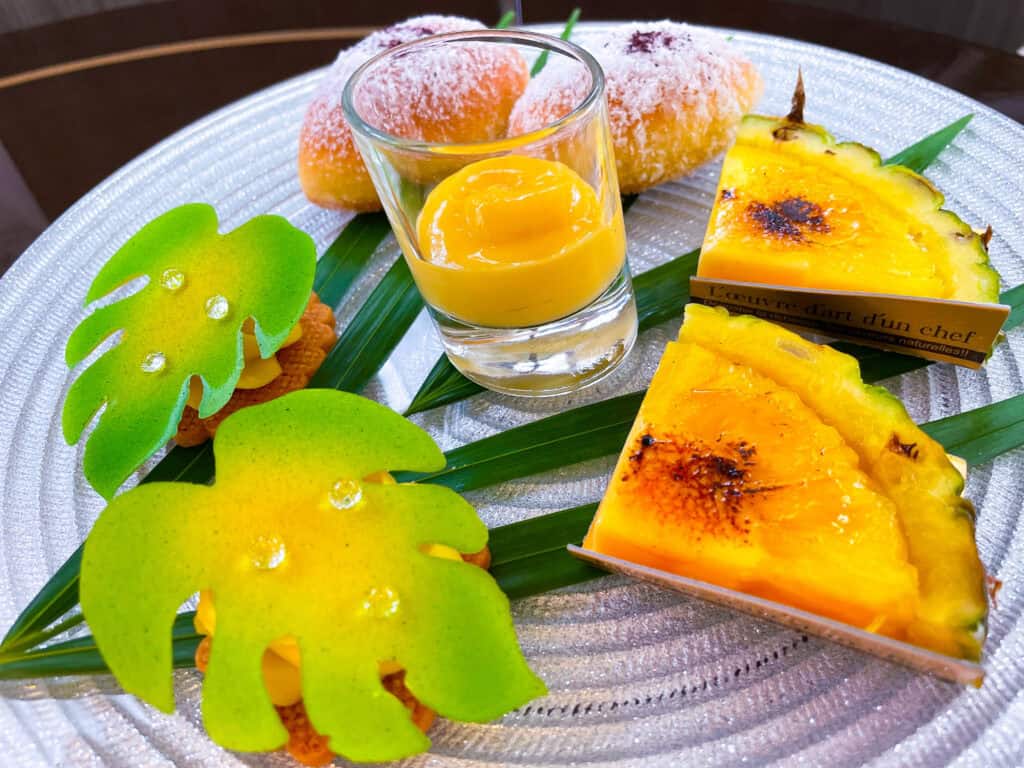 The "Banana Ganache Sable with Monstera Shaped Chocolate" was so beautifully presented, it was difficult to take a bite. Taking to the chef, he shared that each of the leaf-shaped chocolate was carefully prepared and designed. One tiny detail that blew my mind, was the little sugar liquid shaped like raindrops on top of the leaf. Not just the appearance, but the taste was incredible. If you are a banana fan, you will probably enjoy this item as much as I did!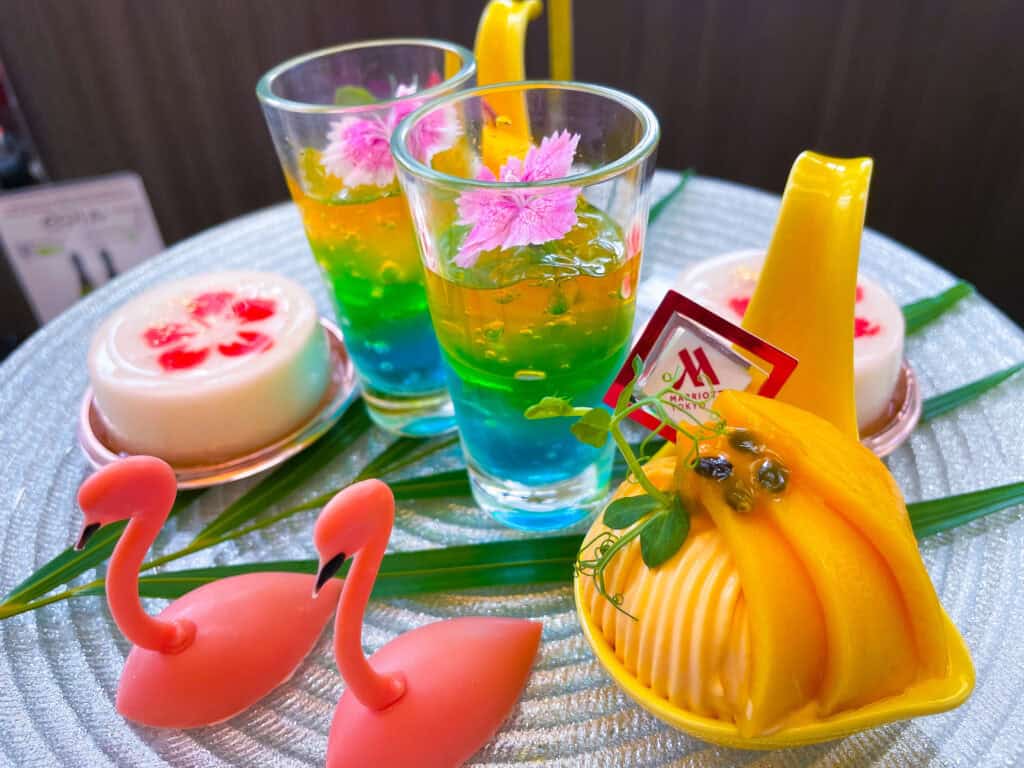 Another incredible sweet item was the Guava Bonbon Chocolate. The chocolate had been shaped like a flamingo, with a surprise guava liquid in its body. It took some time to figure out which part of this flamingo to bite, but once you've taken the first bite, it became quite addictive and difficult to stop.
There is so much more I can say about this afternoon tea but here's the full menu for you to check out.
Aloha Afternoon Tea Menu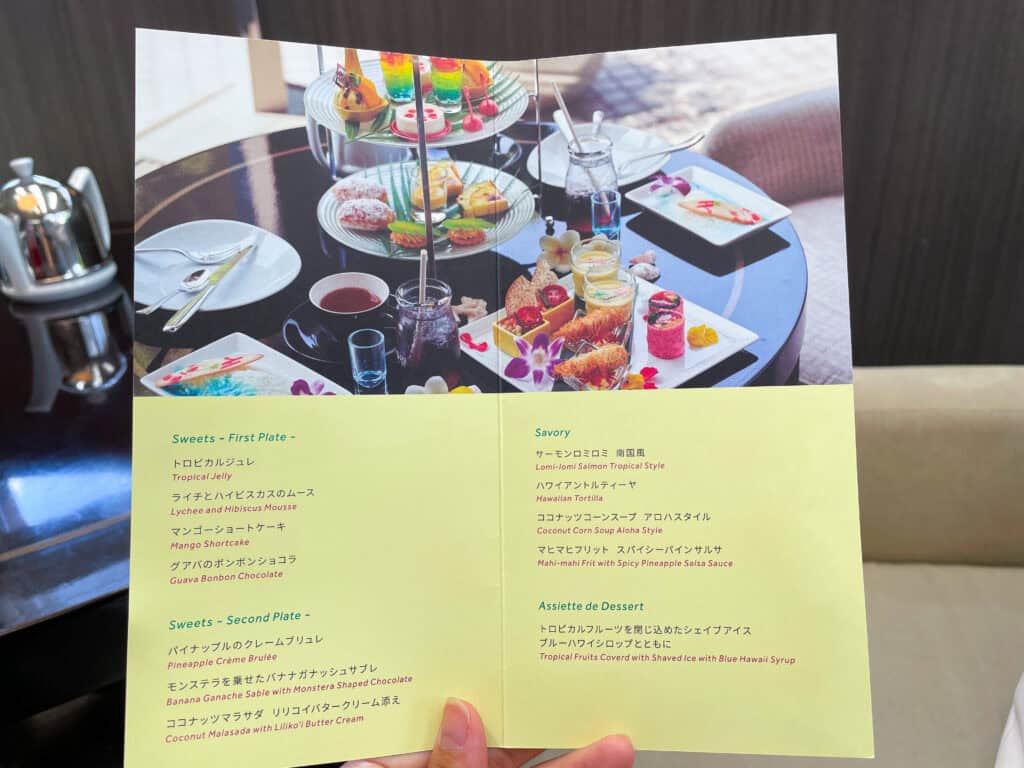 【スイーツ】Sweets
トロピカルジュレ Tropical Jelly
ライチとハイビスカスのムース Lychee and Hibiscus Mousse
マンゴーショートケーキ Mango Shortcake
グアバのボンボンショコラ Guava Bonbon Chocolate
パイナップルのクレームブリュレ Pineapple Crème Brulée
モンステラを乗せたバナナガナッシュサブレ Banana Ganache Sable with Monstera-Shaped Chocolate
ココナッツマラサダ リリコイバタークリーム添え Coconut Malasada with Liliko'i Butter Cream
【セイボリー】Savoury
サーモンロミロミ 南国風 Lomi-lomi Salmon Tropical Style
ハワイアントルティーヤ Hawaiian Tortilla
ココナッツコーンスープ アロハスタイル Coconut Corn Soup Aloha Style
マヒマヒフリット スパイシーパインサルサ Mahi-mahi Frit with Spicy Pineapple Salsa Sauce
【アシェットデセール】Assiette de Dessert
トロピカルフルーツを閉じ込めたシェイブアイス ブルーハワイシロップとともに Tropical Fruits Covered with Shaved Ice with Blue Hawaii Syrup
【お飲み物】Beverages
TWGティーセレクション8種 8 TWG tea selections
コーヒーバリエーション6種 6 coffee varieties
ハーブティー3種 Three types of herbal teas
* Free Refills 銘柄変更・おかわり自由
Lounge & Dining G
This lounge, where you can enjoy afternoon tea and other dining options, has a 17-metre high atrium with glass walls all around and bright sunlight streaming in from the Gotenyama Garden. It is a gorgeous space for you to enjoy a luxurious moment in a spacious.
The Marriot Hotel
With more than 590 hotels and resorts in over 65 countries and states, Marriott Hotels evolves every aspect of travel by helping guests relax, clear their minds, spark new ideas, anticipate travellers' needs, inspire them and fulfil their potential.
The Tokyo Marriott Hotel is located in the Gotenyama Trust City, which has a gorgeous 10,000 m2 of greenery. It is an urban oasis where guests can experience the changing seasons through all five senses.
—
Tokyo Marriott Hotel
Period: Wednesday 1 June – Wednesday 31 August 2022
Time: [3-part system] 10:30 – / 13:00 – / 15:30 –
Fee: 7,200 yen per person