Have you ever heard of the Japan neighbourhood near Tokyo, Atami? Are you thinking about visiting this unique area of Japan or even staying in Atami, and wondering what are some things to do, places to visit and restaurants to check out?
There are so many neighbourhoods and areas in and around Tokyo. Besides the famous towns like Shinjuku, Shibuya and Harajuku, there are many incredible places and spots in Tokyo that are worth a visit. If you're looking to visit a unique area near Tokyo and check out some hidden gems, Atami might be a great place to check out. In this Atami area guide, let's have a look at what to do in Atami, where to eat and drink in Atami, where to stay in Atami and some hidden gems in the area.

One of the best ways to explore Tokyo is to visit the local areas and immerse yourself in the local culture. If you want to explore local areas, we have created scavenger hunt adventures personalised to your interests, filled with fun facts, clues and puzzles. If you're curious, you can check out the games here!

Check out the Flip Japan Games here!

What is Atami?
Atami is a seaside city in Shizuoka Prefecture, a 40-minute Shinkansen ride from Tokyo! It is a beautiful city with extraordinary scenery of Mt Fuji, the sea and cherry blossoms. Atami is famous for its hot springs and seafood, so if you are interested in going for a little weekend getaway or even a day trip, we have gathered the best things to do and eat in Atami to ensure you get the most out of this captivating city.
Things to do in Atami
Atami Ekimae Shotengai
The Atami Ekimae Shotenhai, also known as Heiwadori Shopping street, was built in order to create a fun and memorable space where people can browse and have a good welcoming introduction to what Atami is like as a city. With various stores and restaurants drawing you in with their friendly atmosphere you can taste local delicacies and popular gourmet spots that have been featured in TV programmes and magazines. Atami Ekimae Shotengai has recently created an Instagram page that will provide you with more detailed information on each store in the shopping street, be sure to check it out.
Find out more about Atami Ekimae Shotengai here on Google maps.
Atami Nakamise-dori Shopping Street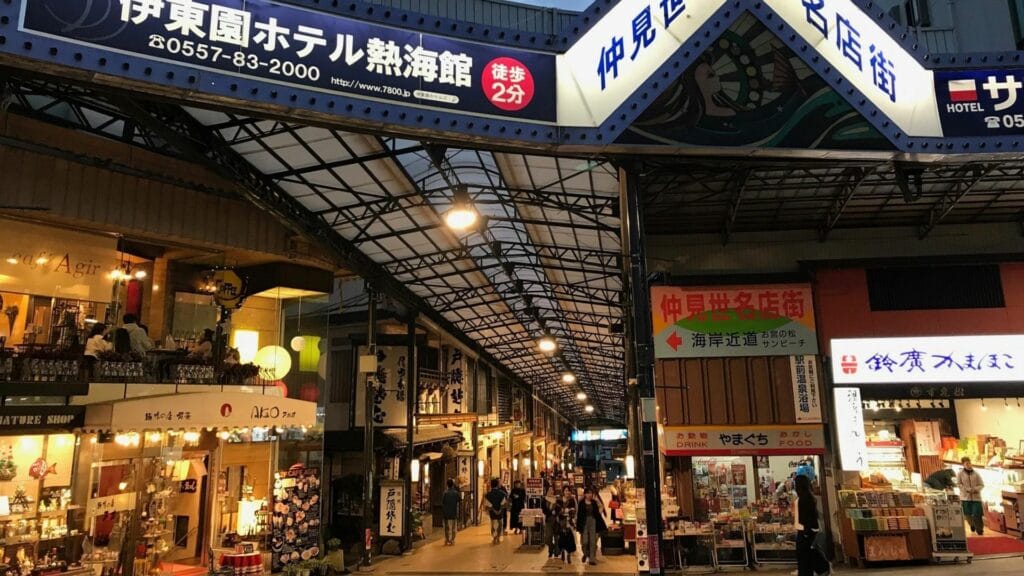 Stepping into Atami Nakamise-dori Shopping Street is like you are going back through time, with a nostalgic atmosphere the shopping street offers stores that originate from the 60s and 70s giving you a sense of what the Showa era was like. Popular for its sweet shops, it's definitely a place to go visit along with Atami Heiwadori.
Find out more about Atami Nakamise-dori Shopping Street here on Google maps.
Omiya-no-matsu
Omiya no matsu has a history that roots back all the way from the Edo era. Originally known as 'Hagoromo-no-matsu,' this tree was planted by the Elder Matsudaira Izunokami Nobutsuna and was renowned for its beauty. During the late 1890s, the pine tree became even more famous as it was featured in Koyo Ozaki's famous novel, 'Konjiki Yasha.' The story featuring the pine tree was serially printed in the local newspaper for 6 years. The tree was renamed Omiya no matsu after Koyo Ozaki's student, Fuyo Oguri placed a monument with words of his master on it next to the pine. The monument was designed after a famous scene in the novel where Kanichi, a struggling student kicked Omiya, his lover, rejecting her for her forgiveness for choosing to marry another man. It is a famous tourist spot in Atami and is worth photographing this beautiful pine.
Find out more about Omiya-no-matsu here on Google maps.
Jacaranda promenade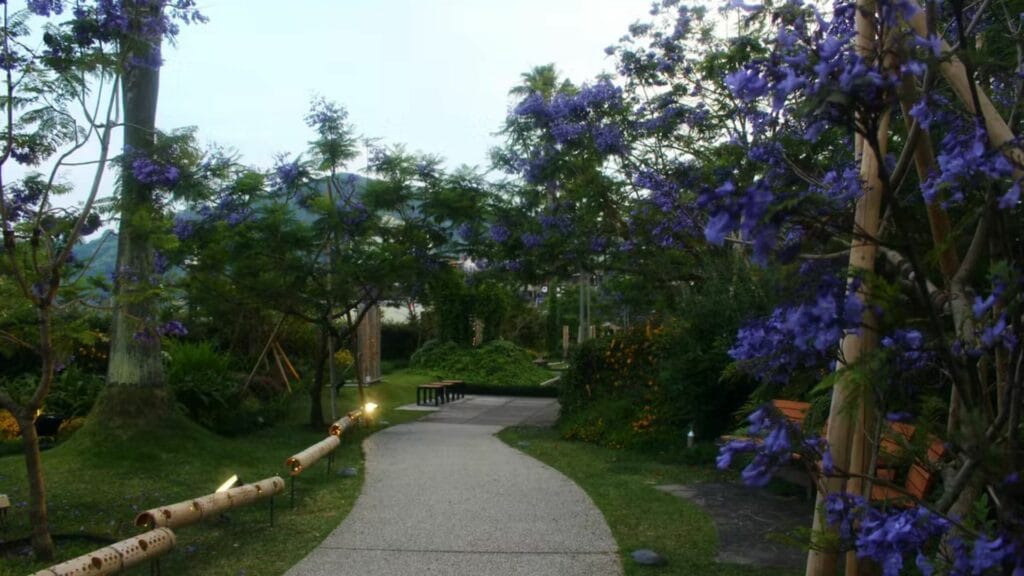 Jacaranda promenade is famous for its jarcarana's when they are in full bloom, which is from June to early summer. It is extremely beautiful and they bloom a luscious violet colour and is a great photography opportunity. It is definitely recommended to visit if you are in Atami during the summer.
Find out more about Jacaranda promenade here on Google maps.
Ozawa no Yu 熱海七湯 小沢の湯
Ozawa no Yu is one of the seven hot springs in Atami. Many tourists buy eggs from the convenience store close by and boil hot spring eggs with the steam that blows out of the hot spring and then eat them.
Find out more about Ozawa no Yu 熱海七湯 小沢の湯 here on Google maps.
Yumae-jinja Shrine
This shine is a 15-minute walk from Atami station and is definitely a place to visit, especially if you are going to go to the renowned hot springs in Atami. This is because the shrine is said to protect Atami Onsen, people have been coming here to visit and honour the 'God of hot springs all the way from the Heian period!
Find out more about Yumae-jinja Shrine here on Google maps.
Itokawa Promenade 糸川遊歩道
Itokawa Promenade is famous for having one of the earliest blooming cherry blossom trees in Japan. It is recommended to go visit the cherry blossoms on your way to Atami beach.
Find out more about Itokawa Promenade 糸川遊歩道 here on Google maps.
Atami Water Park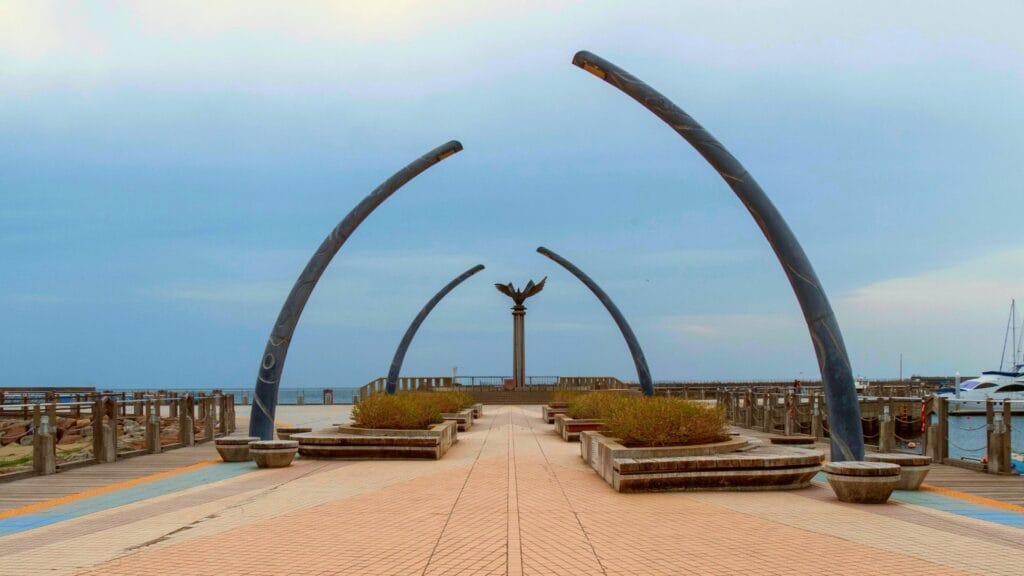 This water park is a nice stroll with waterfront and harbour views, it also has an elevated terrace overlooking the harbour and is a popular place to go with your partner as it is certified as the 'Lover's Sanctuary.' At night the terrace is illuminated and it is well known for people to confess their love to their partners, so if you are in Atami for a romantic get-a-way make sure to visit Atami Water Park. The park is also very close to beaches so you can make a fun day trip out of the local spots. It is also a great spot to watch the Atami fireworks, be sure to check the website for the firework schedule.
Find out more about Atami Water Park here on Google maps.
熱海山口美術館 Atamiyamaguchi Museum
Atamiyamaguchi Museum is a new facility that has only been open for over a year! There are around 200 different works which are divided by various themes made or painted by famous artists such as Pierre-Auguste Renoir, Pablo Picasso, and Taro Okamoto. Unlike most museums, where you can take photographs and can even touch certain exhibits, the museum encourages its customers to embody the art displayed. This is why the museum offers special courses to encourage new artists to nurture their skills as the courses are supported by professors from the Tokyo University of the Arts.
Find out more about 熱海山口美術館 Atamiyamaguchi Museum here on Google maps.
起雲閣 Kiunkaku
Kiunkaku is one of the 'three major villas of Atami,' and was built as a villa in 1919. In 1947 it became a renowned place for literary masters such as Osamu Dazai. It is famous for fusing modern and traditional architecture to create a unique atmosphere that is popular among tourists. The building is surrounded by a luscious Japanese garden that you can stroll around and take in the scenery.
Find out more about 起雲閣 Kiunkaku here on Google maps.
アタミロープウェイ山麓駅(後楽園駅) Atami Ropeway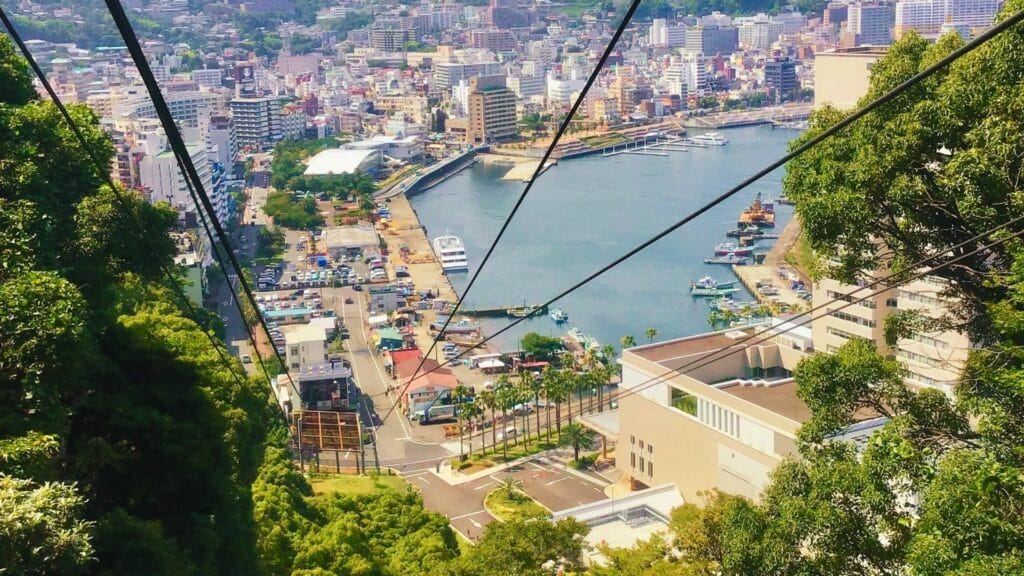 The ropeway is a great way to enjoy the beautiful scenery of Atami that ascends the steep cliffs of Mt. Hachiman. Once you get off the ropeway there are many things to do and experience such as visiting the Umisora deck, 'umisora' translates to 'sea sky,' and the view is literally that! A vast carpet of the sea can be enjoyed whilst enjoying an ice cream. If you are visiting with your partner you can purchase an Ema and tie it to the votive tablet in the corner of the observatory. Every year on New Year's Eve the votive tablets are burned which is said to bring good luck and blessing to marriage!
Find out more about アタミロープウェイ山麓駅(後楽園駅) Atami Ropeway here on Google maps.
熱海秘宝館 Hihokan – Adult Museum Atami
Atami Hihokan is an amusing place to visit if you are into unusual exhibitions. The museum is all to do with sex… yes! Whether it is taking a deep dive into the history of Japanese sexuality with different pictures and wax figures or looking at modern versions of everything sex, you can learn all about different views and perspectives on the art of sex. It is a great place to go for some humour relief
Find out more about 熱海秘宝館 Hihokan – Adult Museum Atami here on Google maps.
熱海城 Atami Castle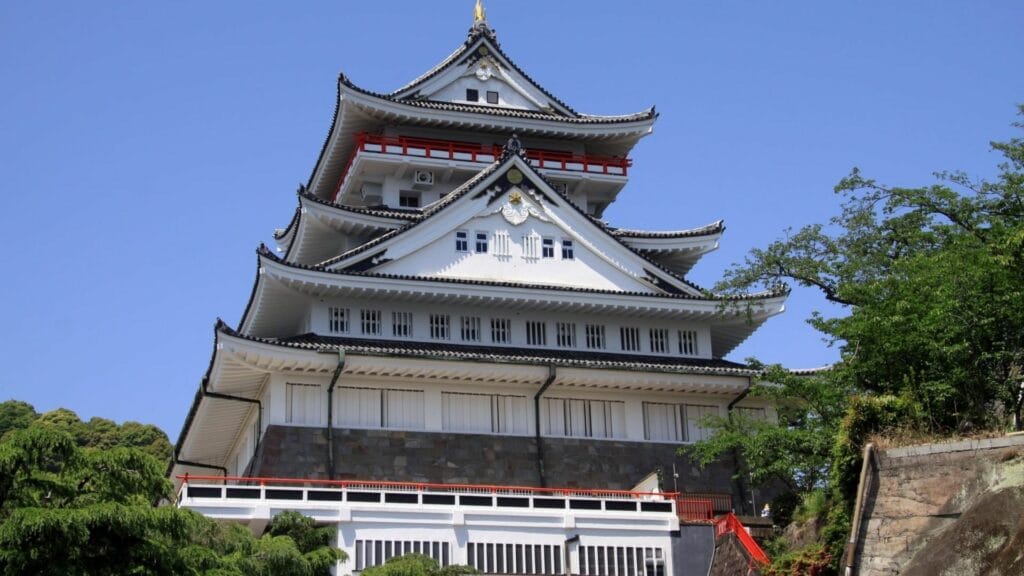 Atami Castle is one of the best places to look over Sagami Bay as it stands 120 metres above sea level! Built-in 1959, Atami Castle was built along with other castles such as Osaka Castle and Nagoya Castle in the architectural style of castles during the Momoyama period. This consists of many floors which have been transformed into different attractions which you can pay an entry fee to enjoy. Visit the Atami Castle website for more in detail explanations of what is on each floor.
Find out more about 熱海城 Atami Castle here on Google maps.
熱海梅園 Atami Plum Garden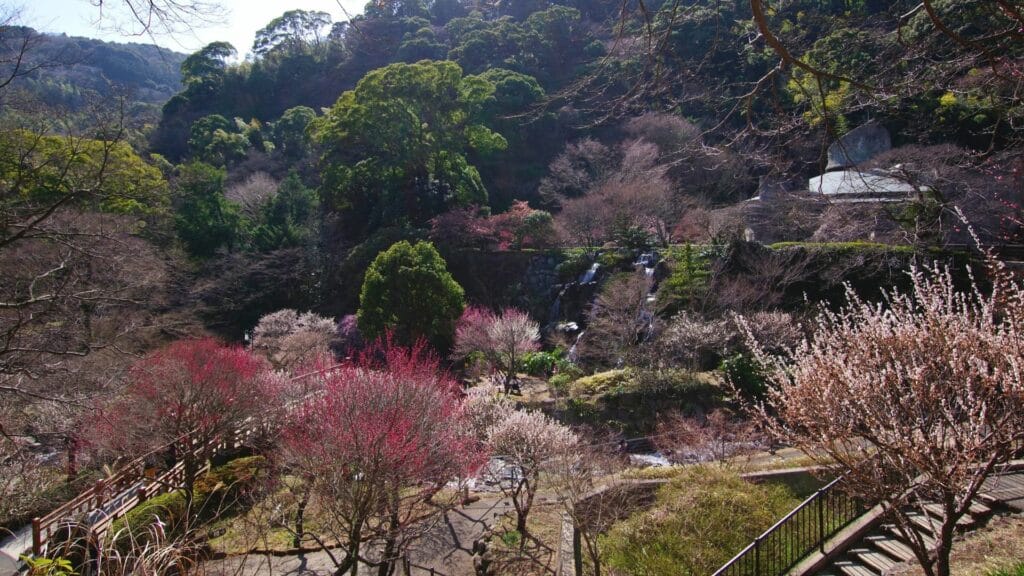 Atami Plum Garden is a brilliant place as its first plum blossom bloom is from late November to early December! With around 60 varieties in the 469 plum trees, you can enjoy different types of plum blossoms as they are planted in order of bloom. It is an incredibly scenic walk that we definitely recommend you do after visiting a hot spring. There are also other facilities such as the Shinpei Nakayama Memorial Museum and Korean Gardens that you can also enjoy whilst you are visiting the plum garden.
Find out more about 熱海梅園 Atami Plum Garden here on Google maps.
來宮神社 Kinomiya Shrine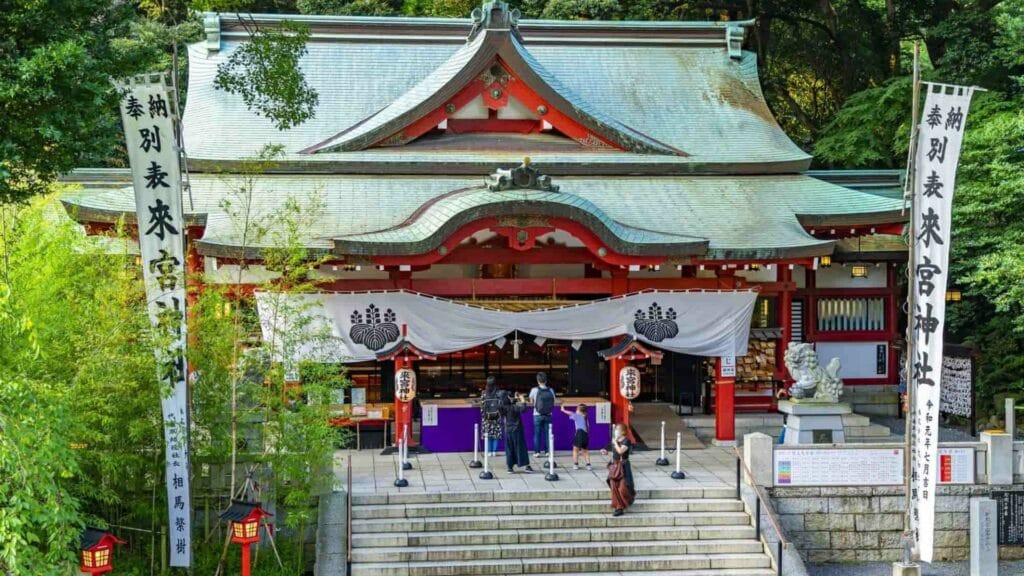 Kinomiya Shrine has been known to be the residence of the God of fortune and luck. In Japan, there is the belief that 'Gods dwell in all things of nature,' which is why when you visit Kinomiya Shrine the temple has lots of sacred trees and water sources. In particular, Kinomiya Shrine has a sacred tree named 'Okusu' which is more than 2000 years old! Many people come and worship Okusu in order to recover from sickness and pray for good health. There is a festival known as the 'burning festival' held from July 14th-16th, so if you are in the area at that time be sure to check it out to learn more about the Shrines' interesting history.
Find out more about Kinomiya Shrine here on Google maps.
MOA Museum of Art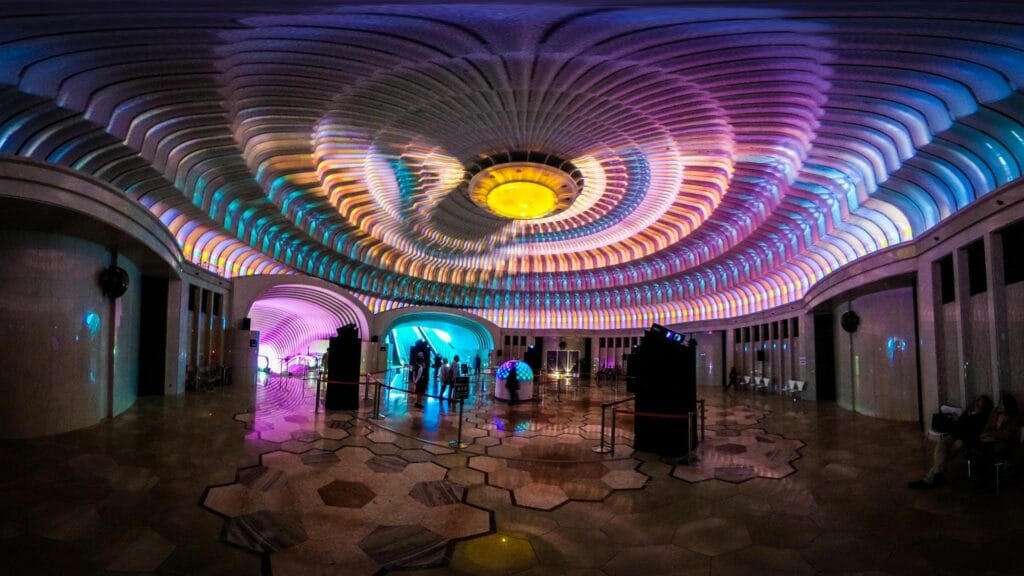 The MOA Museum of Art opened in 1982 and has recently gone through a modern renovation in 2017, it is a grand museum with lots to see and learn about Japanese culture. With different exhibitions going on all the time it is a great place to go around and appreciate the intricate history of Japan through the beauty of art. One of the museum's mottos is to become a museum that interacts with the local community in order to become an 'international tourism and cultural city,' that brings people happiness and satisfaction when visiting Atami. They are very strong in all types of art education and offer various school programs for students.
Find out more about MOA Museum of Art here on Google maps.
Restaurants in Atami
Kiito
Founded 200 years ago, Kitto is the longest established store in Atami! It is famous for its chestnut confectionery which is paired with either tea or alcohol. The use of chestnuts is very important to Kitto as they want their customers to remember the flavour of the Japanese delicacy that has grown over the four seasons! You can see the chestnut paste being professionally squeezed in front of you and is absolutely mouth-watering!
Find out more about Kiito here on Google maps.
Densuke Chaya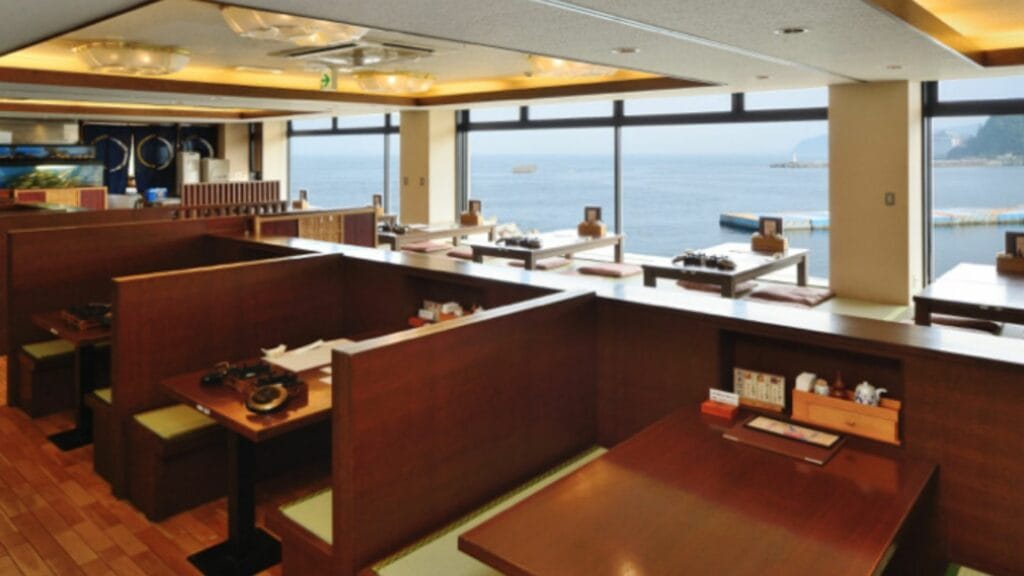 Densuke Chaya is a great place to eat fresh seafood dishes for a good price with an ocean view! There are different set menus available that you can choose from, the mixed fried set meal is recommended as many satisfied customers have stated they have never eaten such fluffy and crispy fried food.
Find out more about Densuke Chaya here on Google maps.
Irori Chaya
Irori Chaya is a seafood restaurant famous for its fresh sashimi, with the most popular set menu being the horse mackerel ochazuke. Be sure to go check the restaurant as it has a really good atmosphere where you can relax and eat to your heart's content.
Find out more about Irori Chaya here on Google maps.
KICHI+(キチプラス)
If you want to taste local seafood, then drop by KICHI+. For lunch, KICHI+ offers special rice bowls featuring raw shirasu, boiled shirasu and sakura shrimp. The great thing about KICHI+ is that the majority of the ingredients used are made in the suburbs of Izu and Atami, so you can taste the authenticity of the place you are visiting through food! You can go for a light meal or a full meal depending on how you feel. They also offer local sake and Shizuoka craft beer so you can really feel like you are a local! The ambience is good and is definitely worth checking out if you are close to the station.
Find out more about KICHI+(キチプラス) here on Google maps.
Atami Purin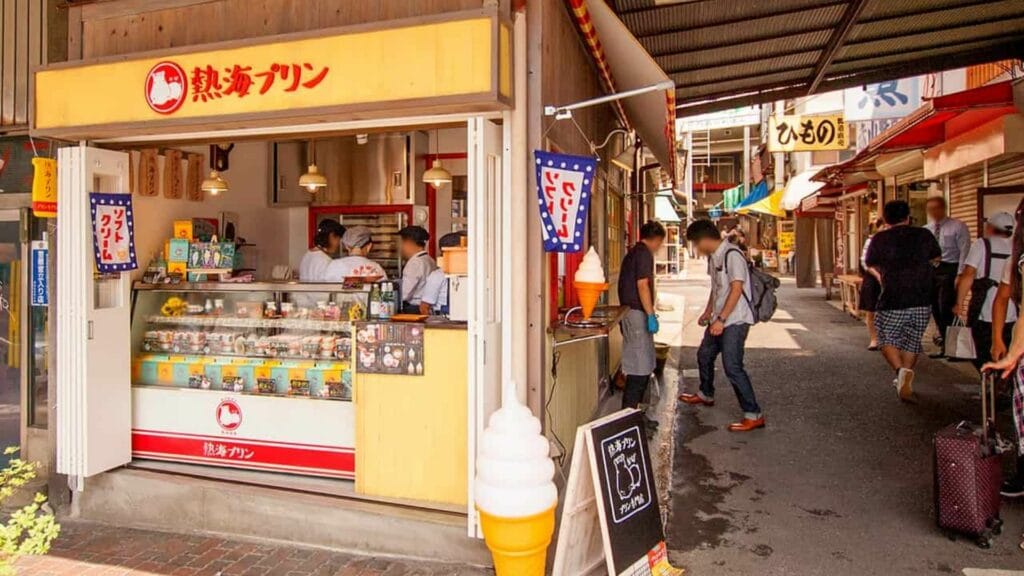 Featured in various TV programs, Atami Purin is a local delicacy loved by everyone. From the packaging to the flavour, this dessert is definitely worth trying if you want to taste old-school Japanese sweets. The nostalgic taste of the retro Purin comes in different flavours such as hot spring eggs or salt to give the product a hint of 'Atami-ness'. All the Purins have are all handmade which adds to the authenticity!
Find out more about Atami Purin here on Google maps.
Ichigo BonBon Berry Atami House
If you are a big fan of strawberries then this store is the place for you. The strawberry house has been featured on many TV shows and magazines and is worth checking out! Every floor has a different interior design so you can enjoy the strawberry house in many different ways. With the most famous strawberry sweet being Ichigo Daifuku or the Strawberry Mochi Mochi Milk Parfait Deluxe, you can enjoy the taste of strawberries in many different forms, so choose wisely!
As you can gather, Atami is a brilliant place to add to your bucket list if you want a chance to relax and experience art in the form of exhibitions or ropeway views. We highly recommend you check out some places that we have listed above to really experience Atami as authentically as possible. Let us know where your favourite place was!
Find out more about Ichigo BonBon Berry Atami House here on Google maps.
Hotels in Atami
Hotel ACAO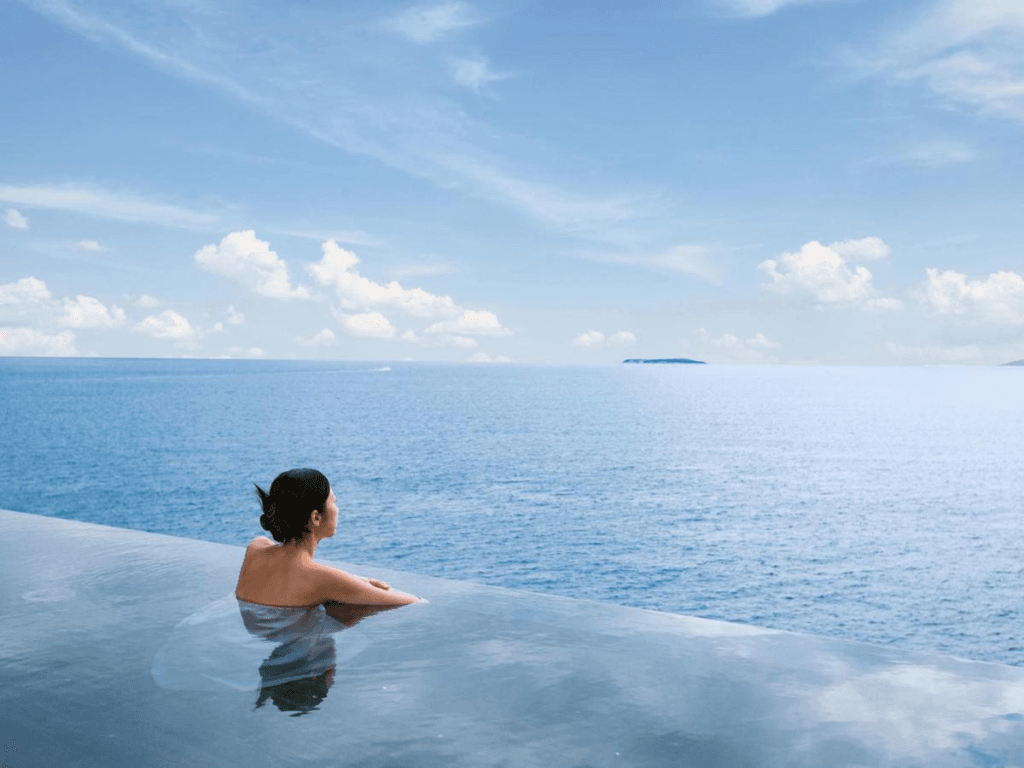 Hotel ACAO is a 10-minute ride from JR Atami Train Station, and a free shuttle is offered. The modern accommodation features hot-spring baths with ocean views, a rooftop garden and a French restaurant.
Spacious guest rooms offer both air conditioning and heating facilities. Each room is equipped with a fridge, a tea/coffee maker and a television set. The en suite bathroom comes with toiletries and a bathtub.
The hotel has a seasonal outdoor pool. Free WiFi is available in all areas except the on-site restaurant.
Hotel ACAO is a 15-minute walk from ACAO FOREST and the nearest beach. Atami Castle is a short 200 m away.
Address: 413-8555 Shizuoka, Atami, Atami 1993-65 , Japan
Atami Korakuen hotel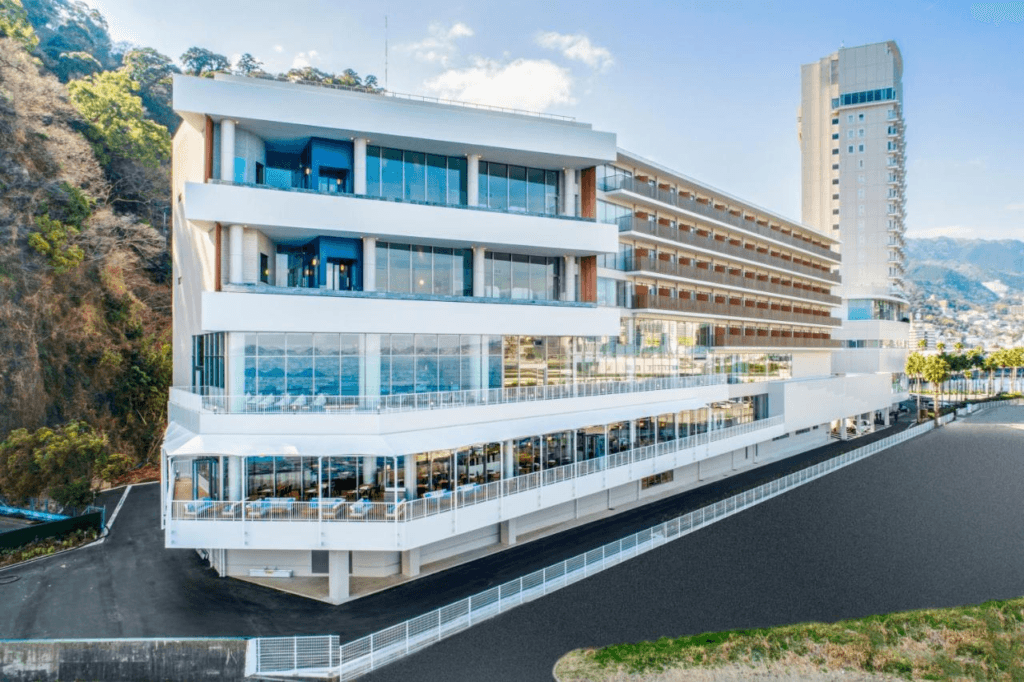 Situated in Atami, 2 km from Kinomiya Shrine, Atami Korakuen Hotel features accommodation with a restaurant, free private parking, a bar and a terrace. Located around 4.2 km from Izusan Shrine, the hotel with free WiFi is also 5 km away from Nagahama Beach. The accommodation offers a 24-hour front desk and room service for guests.
The rooms in the hotel are equipped with a kettle. Complete with a private bathroom fitted with a shower and slippers, all rooms at Atami Korakuen Hotel have a flat-screen TV and air conditioning, and some rooms also boast a balcony. The units have a safety deposit box.
Guests at the accommodation can enjoy a buffet breakfast.
Atami Korakuen Hotel offers a sauna.
MOA Museum of Art is 5 km from the hotel, while Atami Onsen is 1.5 km from the property. The nearest airport is Tokyo Haneda International Airport, 110 km from Atami Korakuen Hotel.
Address: 413-8626 Shizuoka, Atami, Wadahamaminami-cho 10-1, Japan
Kanpo Yado Atami Honkan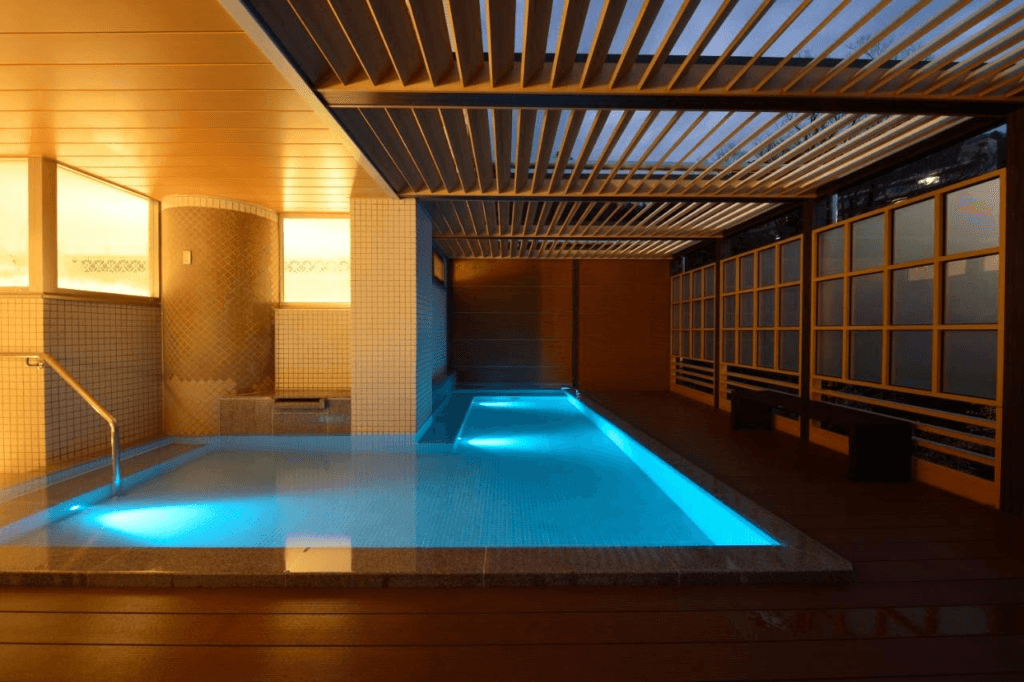 Situated in Atami, 1.8 km from Kinomiya Shrine, Kanpo no Yado Atami Honkan features accommodation with a restaurant, free private parking and a shared lounge. The property is located 4.1 km from MOA Museum of Art, 5 km from Izusan Shrine and 6 km from Nagahama Beach. The accommodation provides a hot spring bath, luggage storage space and free WiFi throughout the property.
A buffet breakfast is available each morning at the ryokan.
Atami Onsen is 2.2 km from Kanpo no Yado Atami Honkan. The nearest airport is Tokyo Haneda International Airport, 105 km from the accommodation.
Address: 413-0016 Shizuoka, Atami, Minaguchi-cho 2-12-3, Japan
Onsen Hostel Hinoemi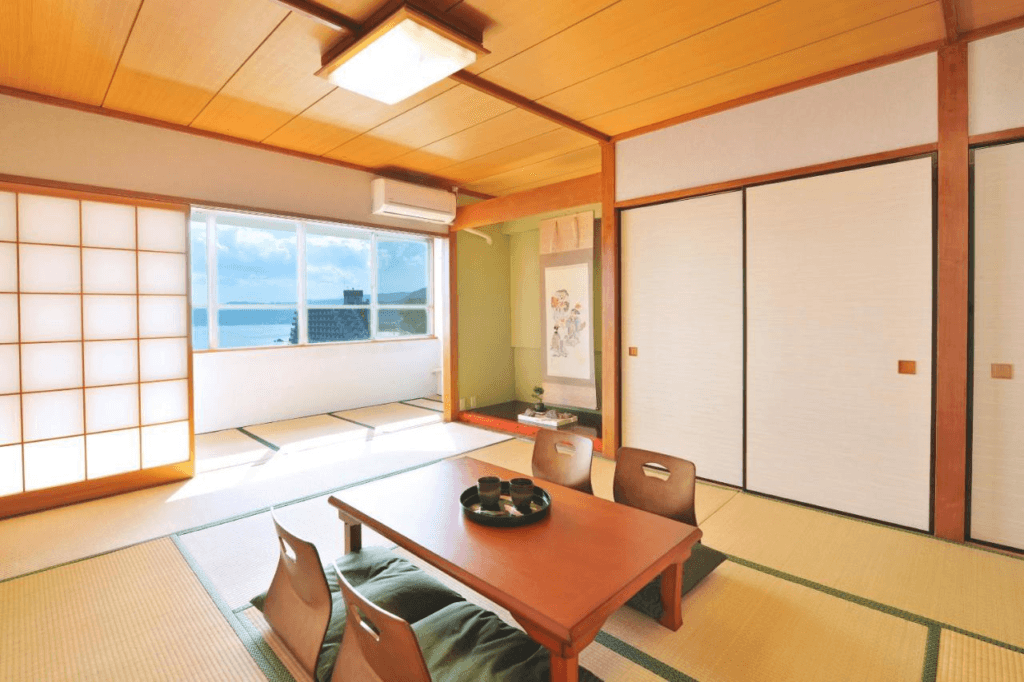 Onsen Hostel Hinoemi is your home away from home. Located only 45min away from centre of Tokyo by bullet train. We have wealth of experience in the industry and know what travellers value and need during their stay. We have our own Onsen(hot spring) inside our property.
You can enjoy our natural hot spring as much as you want during you stay. If you are looking for a chill out, peaceful countryside atmosphere, this is the place you should try. Free Wifi access is also available throughout the property. 
Address: Atami 9-8 Kaiko-cho, Atami, Japan 
—
Atami is known for its hot springs but it has a lot of other things to offer. Come here for nature, local government, museums, and shrines, and if you're around during Spring, check out the beautiful plum cherry blossoms. Come to Atami for a day or more and indulge yourself in all the different things this place has to offer. Enjoy your adventure around Atami, and refer back to this guide whenever you need to! If you have any questions, feel free to reach out anytime!