It's no surprise to anyone that in the last few years, craft gin and gin, in general, have made quick traction on the market, becoming one of the most widely consumed spirits available.
This is not only due to the complexity of flavours that gin has evolved into, but also the varying places that these gins are being distilled from. One of these places to rapidly show momentum in the gin market is Japan.
Let's have a look at what Japanese Gin is and take a look at some of the best gin distilleries in Japan!
What is Japanese Gin?
Since 2016, the Japanese market started to pick up on craft gins. One of the first distilleries which focused on gin launched in Kyoto, called the "Kyoto distillery". This triggered an influx of other large-scale manufacturers of sakes and alcoholic products to enter the craft gin market. Japanese gins differ from other gins due to their use of Japanese citrus fruits such as Yuzu and Sudachi, combined with Japanese spices like sansho pepper and ginger. Furthermore, using Japanese botanicals such as gyokuro, sencha, cherry blossoms and cypress gives Japanese gin a truly unique flavour.
Now we have covered the basics of Japanese gins, let's take a look at where in Japan you can find the best distilleries!
Tokyo Hachioji Distillery [Tokyo, Hachioji City]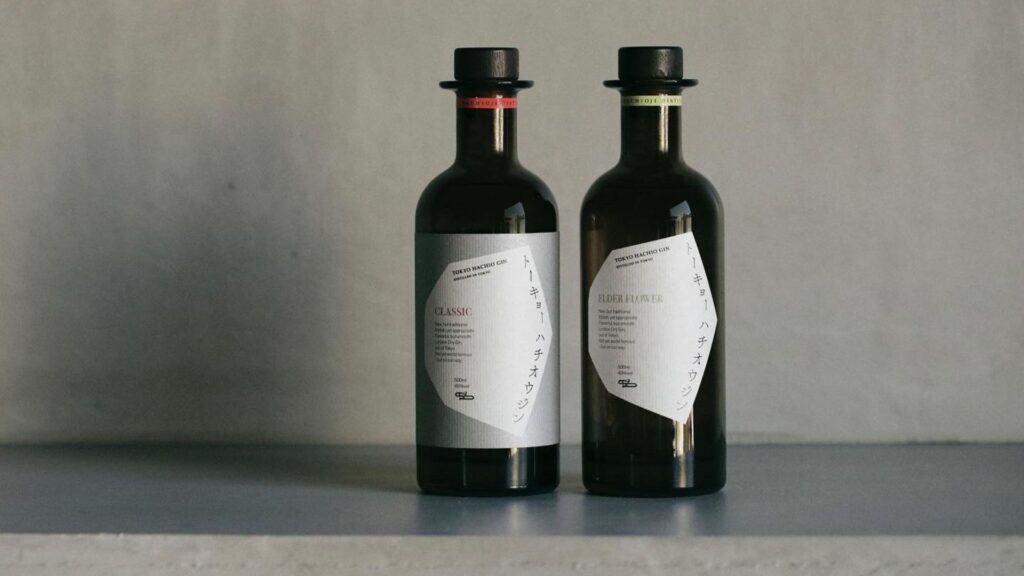 Hachioji, where Yakushi Nyorai, the god of medicine, is worshipped, and once healed people in Europe as "medicinal wine".
Hachioji, which has refined its processing technology in recent years, has a wealth of know-how that forms the basis of gin production. To ensure that the quality of the aroma and taste of the spirits remains constant, the Kothe distiller is the first in Japan to automatically control the distilling process.
Distillery tours are available, check out the link below to see reservations.
Address:
1213-5 Kunugidamachi, Hachioji, Tokyo 193-0942
More information
https://hachioji-distillery.jp/#information
Yamamoto Sake Brewery [Akita]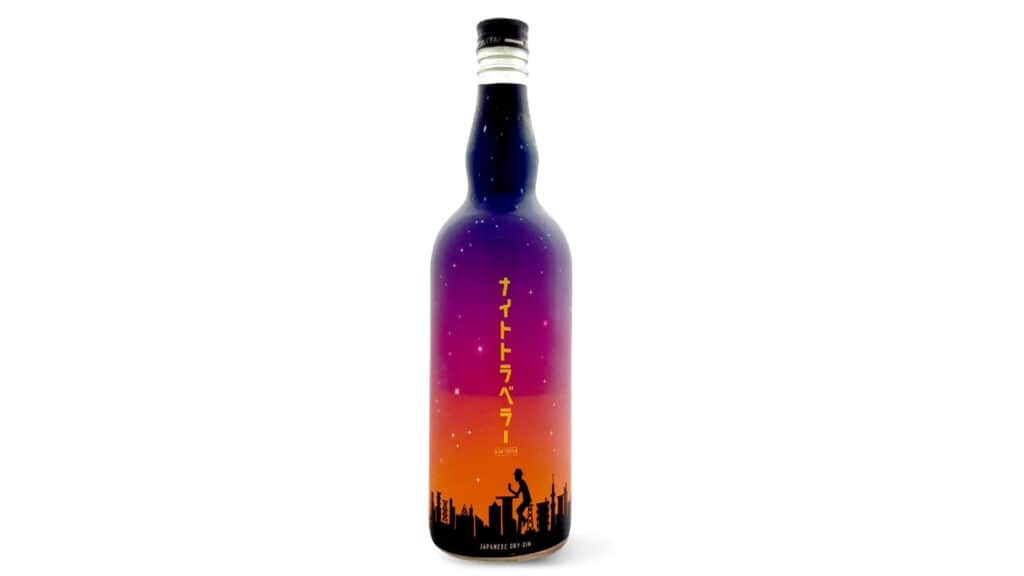 Yamamoto Sake Brewery, which produces Yamamoto, one of the most popular sake brands in Akita. "Night Traveler" was released in September 2020 and is one of the first gins produced by this distillery.
Yamamoto Sake brewery uses the basis of sake to develop its gin, and then uses a total of more than 20 botanicals, with locally produced Kikyo, chamomile, cedar leaves, apples and other unique Akita ingredients as its core, and extracts the aroma using a newly introduced domestic distillation machine.
Address:
269, Yachimori, Happo-machi, Yamamoto-gun, Akita Prefecture, Japan
More information:
Nakano BC [Wakayama]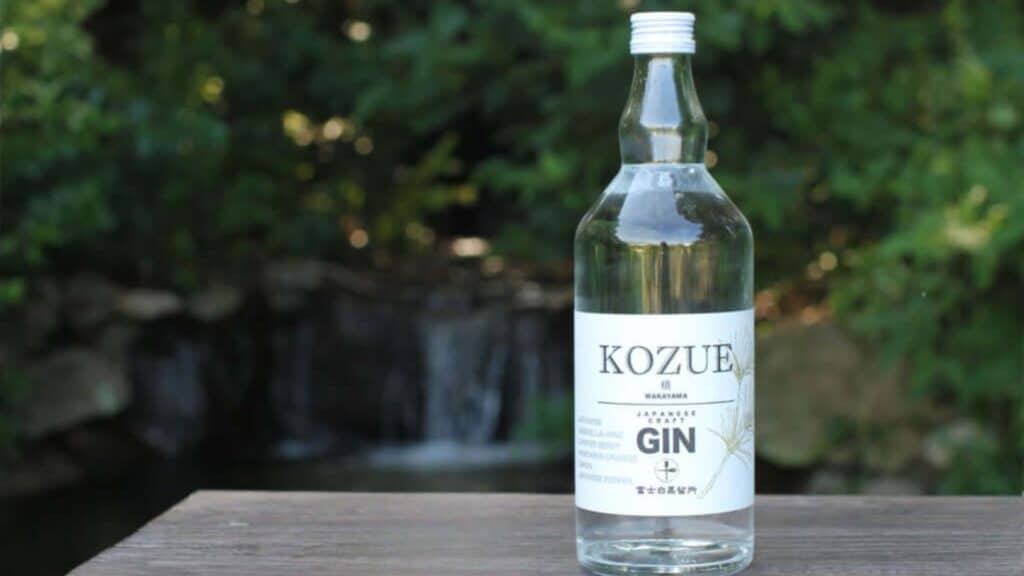 Nakano BC, a Wakayama-based company nationally renowned for producing ume (plum) and Japanese sake, released its craft gin Maki KOZUE in 2017, which expresses the nature and climate of Wakayama, using local specialities Onshu mandarin oranges, lemon and sansho as well as Koya maki leaves as botanicals.
Also released in 2019 is KODACHI, a woody gin that makes use of cedar and cypress from the local Kishu area.
Address:
758-45 Fujishiro, Kainan, Wakayama 642-0034
More information:
https://shop.nakano-group.co.jp/
Oyama Jinshichi Shoten [Kagoshima]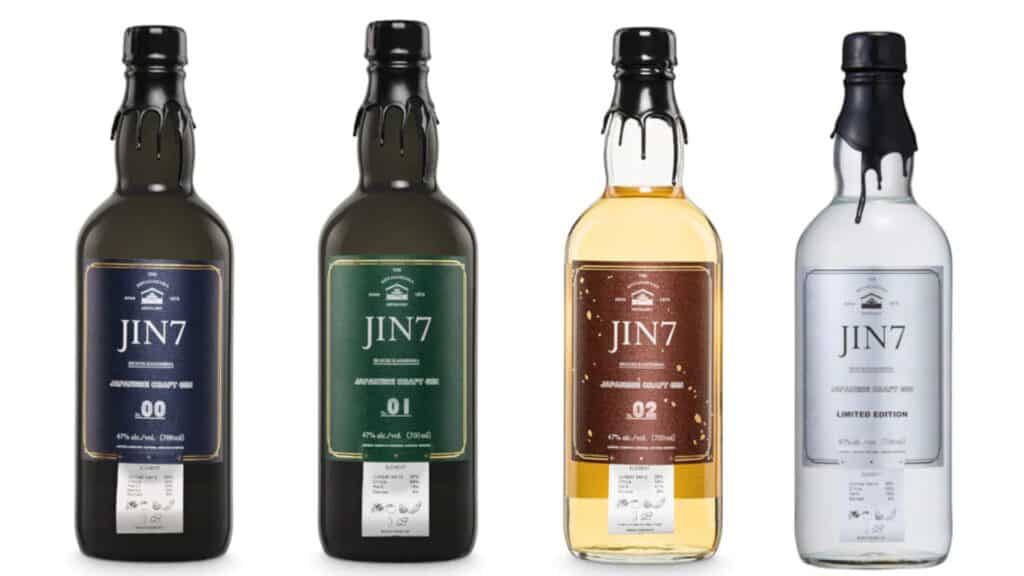 In Japan, many shochu producers have entered the market due to their distillation facilities and know-how, which are essential for gin-making. As a result, domestic gin makers are concentrated in Kyushu, a region renowned for its shochu, and especially in Kagoshima.
Oyama Jinshichi Shoten, based by the sea in Ibusuki City, famous for its hot springs, entered the gin market with the release of JIN 7 in summer 2019.
Another unique point is that, as the brewer has its roots in a kimono shop, the botanical recipe is written on a label that resembles a quality label tag on a piece of clothing, and is decorated on the bottle.
Address:
4657 Nishikata, Ibusuki, Kagoshima 891-0311
More information:
Number Eight Distillery [Kanagawa]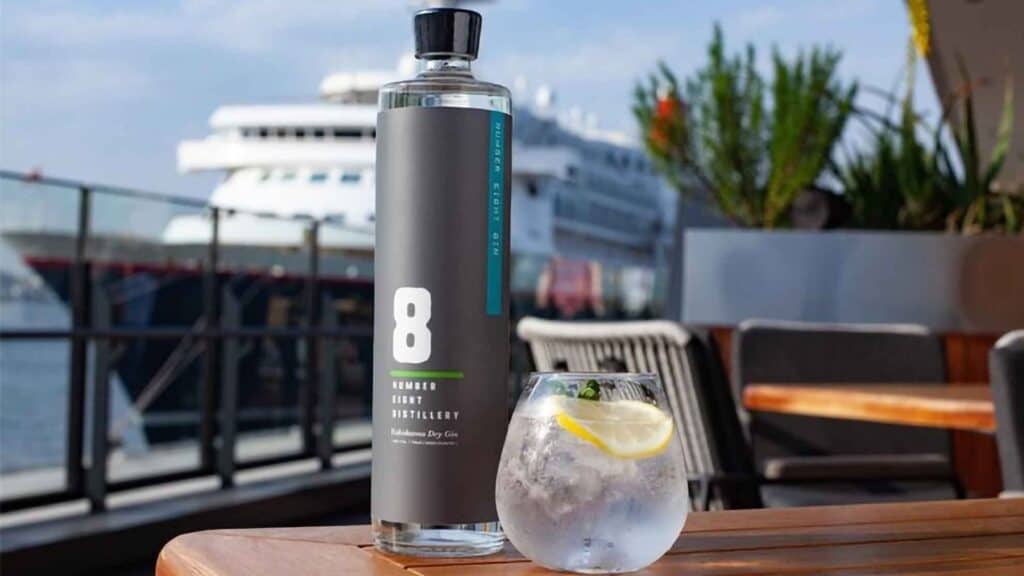 NUMBER EIGHT DISTILLERY is located in the restaurant-bar "QUAYS pacific grill" in the new tourist spot Hammerhead in Yokohama Minato Mirai, and is a craft gin produced at the distillery, which opened in autumn 2019. The craft gin is NUMBER EIGHT GIN.
As the restaurant also brews beer and roasts coffee, hops and coffee beans are also used as botanicals. It is also made with food loss and sustainability in mind, utilising avocado seeds that would normally be discarded in the course of operating a restaurant.
Another key feature of the product is that it is developed and manufactured by one of Japan's top active bartenders.
Address:
〒231-0001 Kanagawa, Yokohama, Naka Ward, Shinko, 2 Chome−14−1 横浜ハンマーヘッド 2F
More information:
https://www.huge.co.jp/restaurant/new-american/quayspacificgrill
Toranomon Distillery [Tokyo]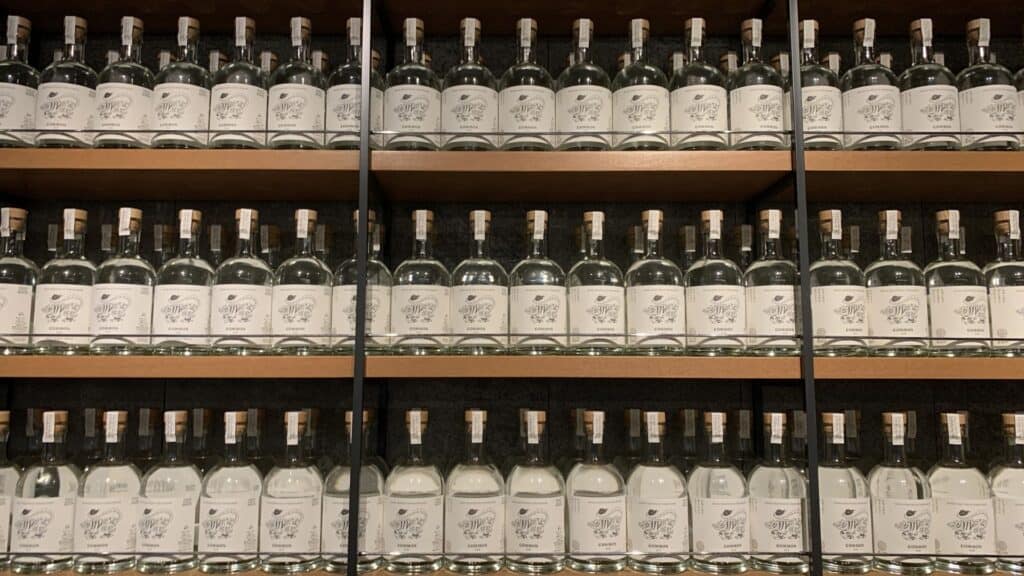 Sake Shokudo Toranomon Distillery opened in spring of 2020 in Toranomon Yokocho, a hot spot in the Toranomon Hills Business Tower.
The craft gin 'COMMON', produced at the urban distillery, which also has a face as a tavern in the middle of Tokyo, is based on the concept of 'TOKYO LOCAL SPIRITS' and is a gin-based on Tokyo's island shochu.
The 'Seasonal Gin' series, which is released on a regular basis, has so far produced gins that make use of seasonal ingredients such as chamomile, mandarin orange blossoms and plums from Ome, Tokyo.
Address:
〒105-6403 Tokyo, Minato City, Toranomon, 1 Chome−17−1, Toranomon Hills Business Tower, 3F 虎ノ門横丁
More information:
https://www.toranomonhills.com/toranomonyokocho/1018.html
Echigo Herbs [Niigata]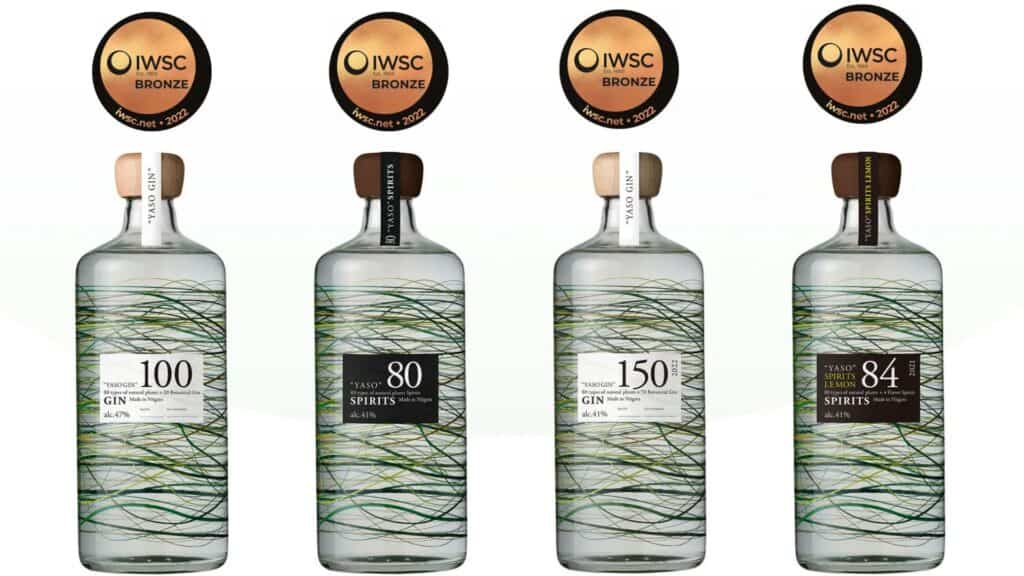 Echigo Yakuso, based in Joetsu City, Niigata Prefecture, is a health food manufacturer that has been involved in drinks and foods that utilise enzymes from wild herbs in the 40 years since its establishment.
It is, so to speak, a professional in the use of medicinal herbs, and has also started making alcoholic drinks using its technology and knowledge.
Although the brand was created in 2020, it has already gained many fans in the domestic craft gin market.
Address:
73 Kozaruya, Joetsu, Niigata 942-0055
More information:
Kyoto Distillery [Kyoto]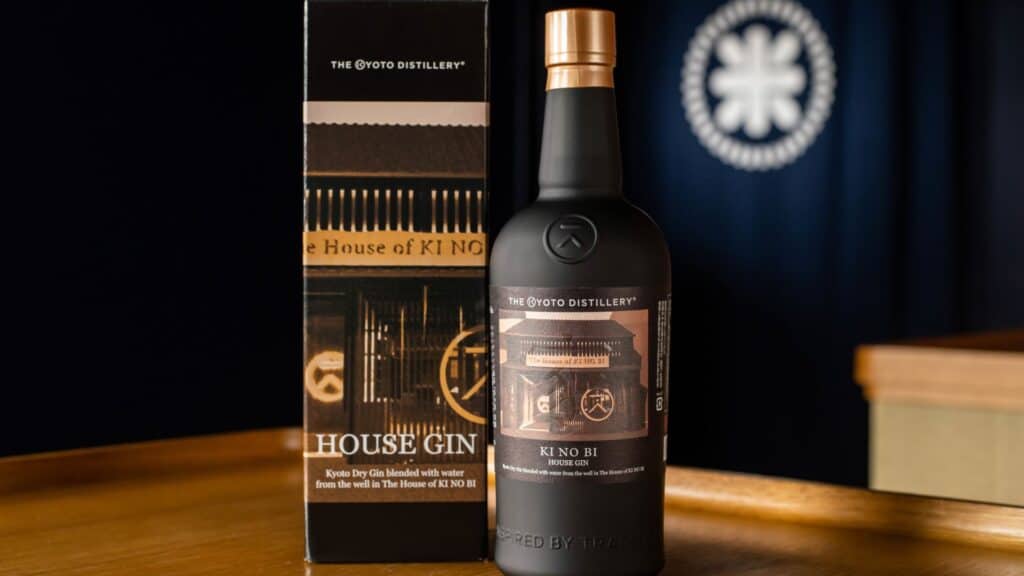 Ki no Bi is a craft gin released in 2016 from the Kyoto Distillery, the first gin-specialised distillery in Japan, in the ancient capital of Kyoto. It has already won numerous international awards and has become a gin that has made a name for itself not only in Japan, but around the world.
The gin also uses Fushimi's famous water, and the bottle design with its historical karakami pattern gives a sense of Kyoto through the gin.
Address:
Kyoto, Minami Ward, Kisshoin Shimanomazumecho, 15
More information:
Final Thoughts
The Japanese gin market is growing at a fast rate, with some Japanese gins winning awards not just in Japan, but all over the world. With such a strong background in Sake production, it makes perfect sense for distilleries to incorporate their knowledge into making some of the finest luxury gins.