Sipping on an ice-cold beer while watching the sunset over the beautiful Tokyo skyline is about as good as city life gets. 「BBQ HELLO Beer Garden」offers the best views and the best vibes!
Perched on the rooftop of Shinjuku Station at LUMINE 1, this newly-opened fusion barbecue beer garden couldn't be more easily accessible.
The Western-style garden features an open-air concept, stringing fairy lights over picnic tables with beer taps and drink bars lining the terrace, and a lush green lawn by the edge where you can get an amazing rooftop view of Shinjuku!
Centering its theme around travelling the world,「BBQ HELLO Beer Garden」offers a cultural variety of barbecue sets – Korean, American and Mexican paired with all-you-can-drink deals, perfect for sharing with friends and family.
At night, films by CINEMA CARAVAN, the creative group behind the Zushi Beach Film Festival, will be screened.
Our Experience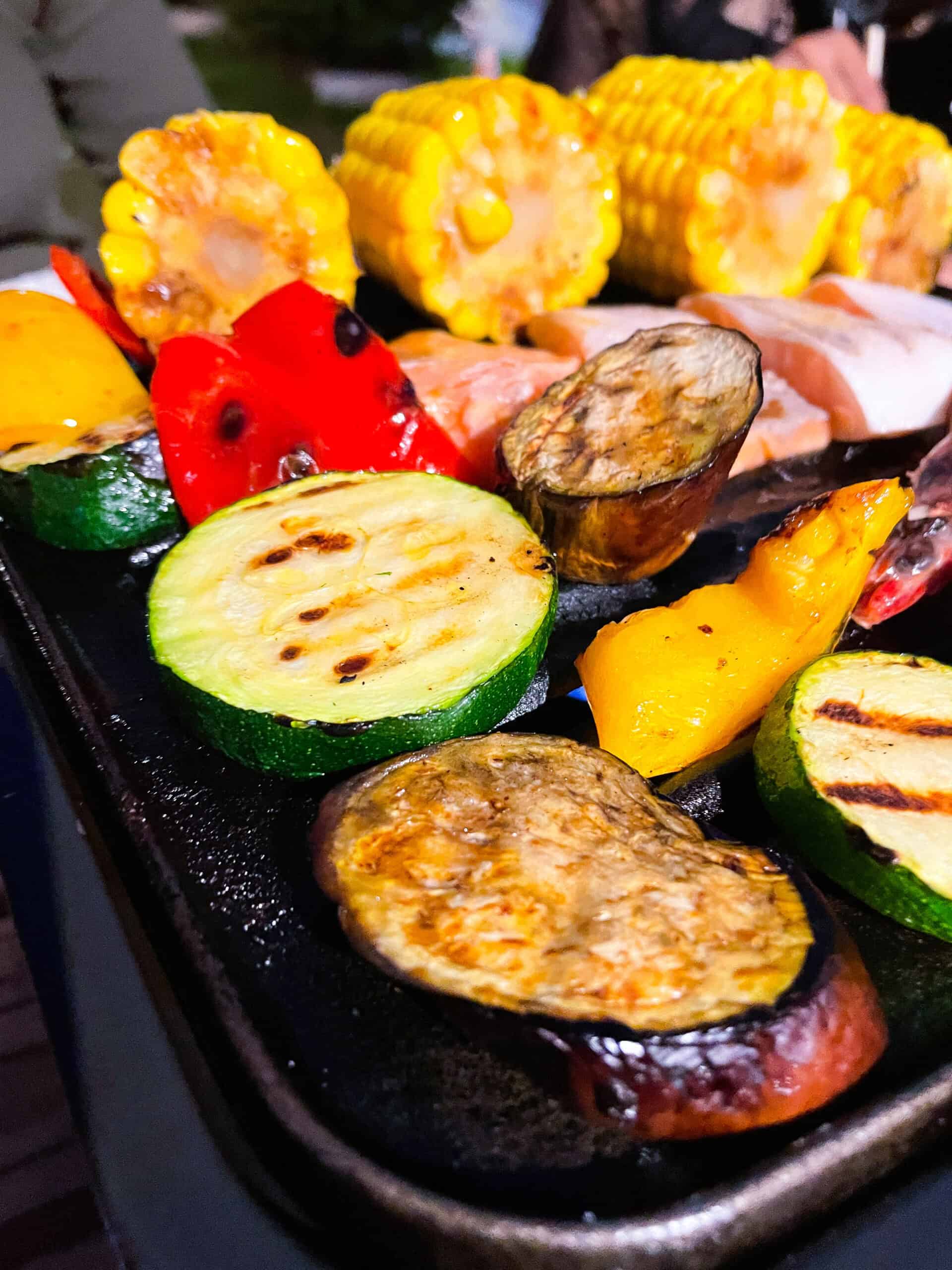 We ordered the Mexican set, which we would highly recommend – read more about it below!
We were greeted by a huge, hot-pink sombrero hat, which contained an assortment of barbecue meats and vegetables which we grill on our own – pork belly and pork sausages, beef strips, scallops, salmon, chicken and prawns which were accompanied by generous amounts of corn, bell peppers, onions and eggplant. The scallops were massive and the grilled salmon was very tender and fresh – these were definitely the highlights of the barbecue set.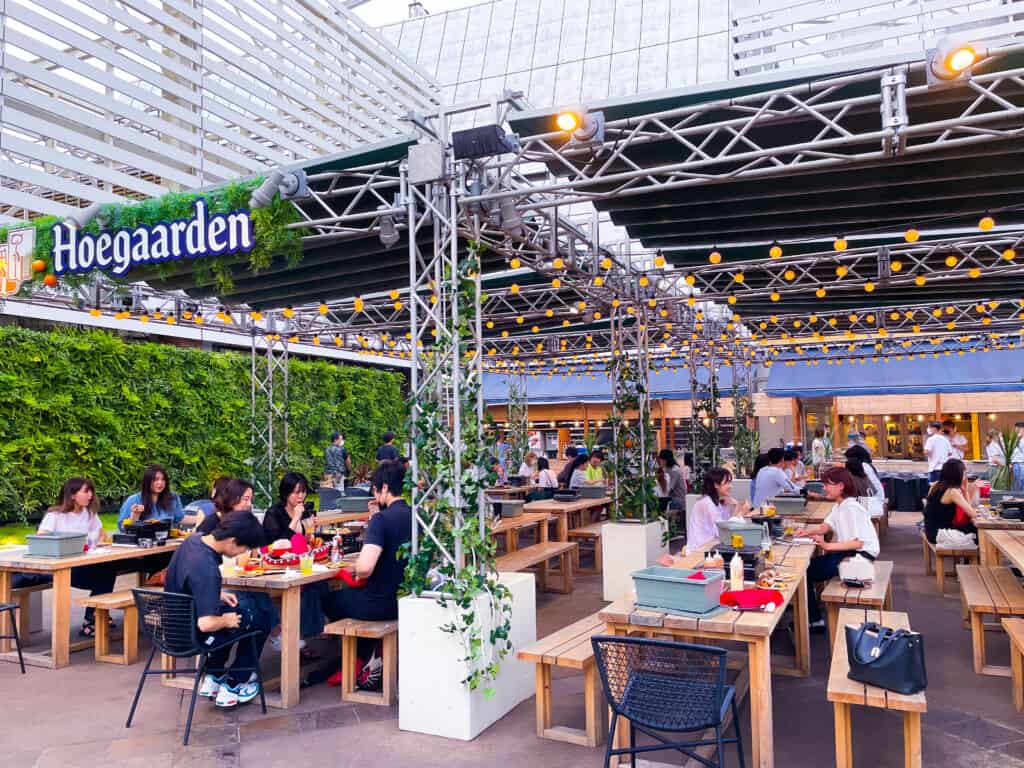 Like we mentioned earlier, Hello's food menu is based on the concept of "traveling meals. A pop-up, visually appealing selection of barbecue courses from around the world, inspired by the three countries of the U.S., Korea, and Mexico, are available as barbecue sets that can be prepared without the need to bring your own food.
The sombrero hat was followed closely by two buckets of salad, seasoned fries and taco shells with heaps of guacamole, salsa, relish and other condiments – all a nod to Mexican (and Western) culture. The evening ended with a gigantic mango ice-cream sundae: topped with mango slices, corn flakes, sprinkles, cookies, coconut shavings and even more mango sorbet! It's safe to say that we were stuffed by the end.
Of course, you can't enjoy a good barbecue without the main star – beer! With the all-you-can-drink deal, we made many trips to the drinks bar lining the sides of the beer garden. The drinks bar features free-flow beers: Hoegaarden, Corona, Budweiser and more, so feel free to help yourself to as many drinks as you want! There are other liquors available as well together with a variety of mixers on the counter – just grab a cup from your table and make your drink the way you like it.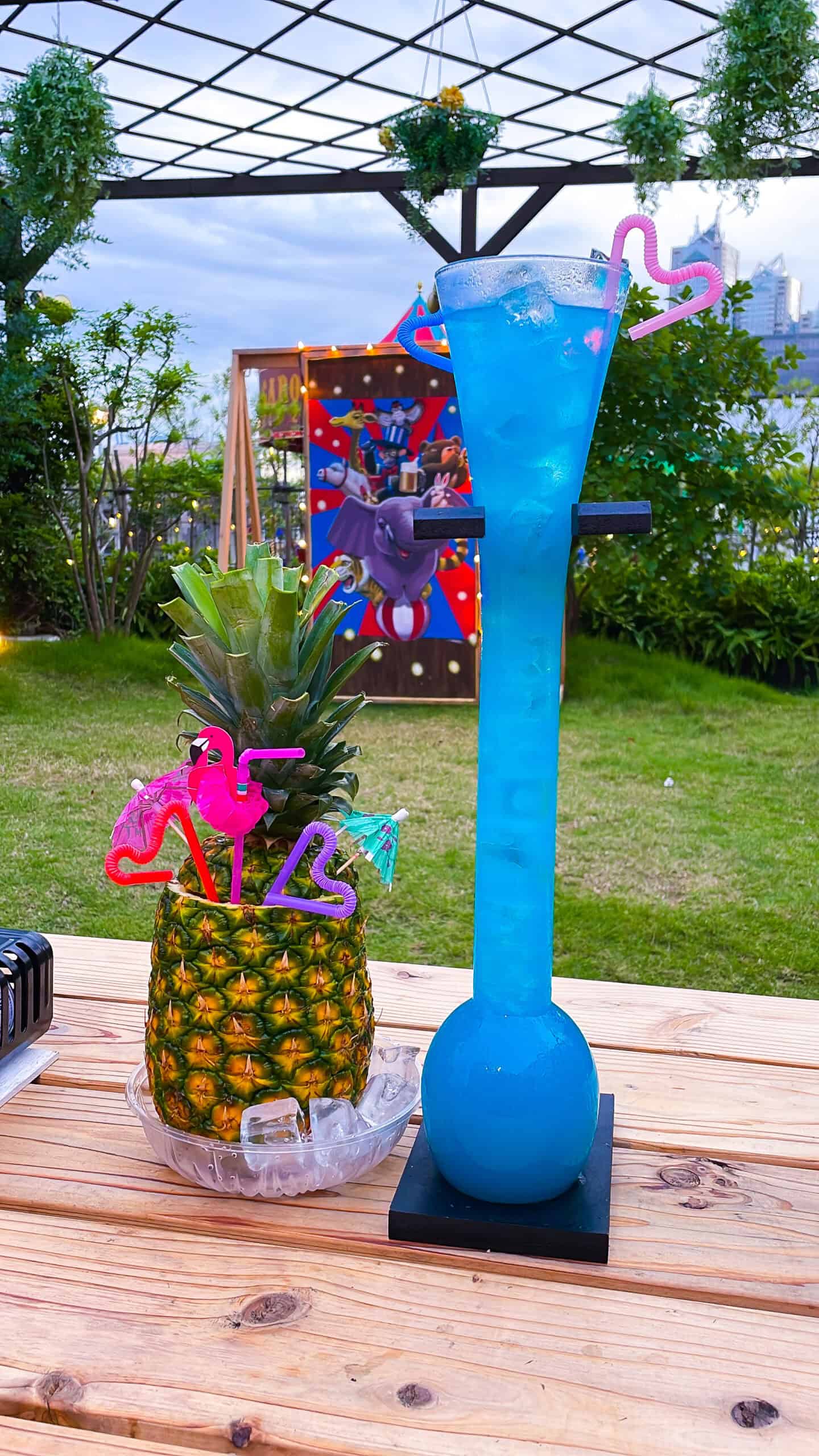 In addition to countless beers, we tried 2 of their bestseller drinks – the Pineapple Sour and the China Blue. The Pineapple Sour, served in a whole pineapple, had strong and refreshing citrus tones and (obviously) a pineapple-flavoured tang to it – it's definitely on the more tropical, alcohol-light end. The China Blue was much sweeter, yet equally refreshing on a warm summer evening. Nonetheless, with its incredible volume, bright azure colour and waterproof lights floating around the glass, these Instagrammable drinks are a must-get!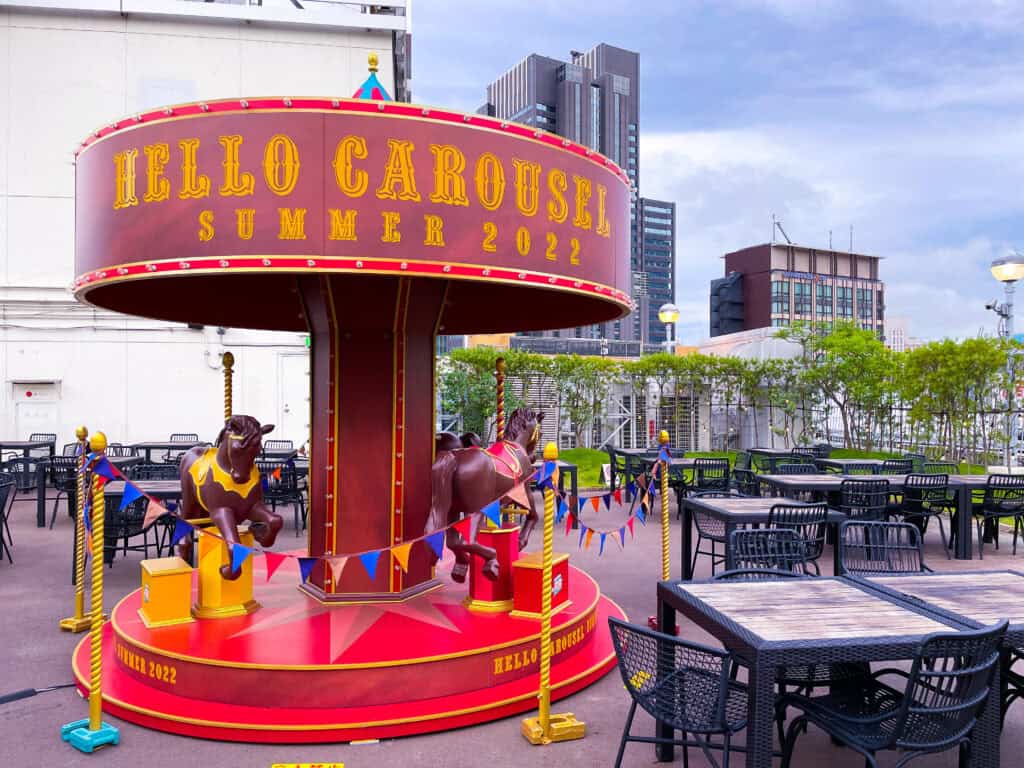 The beer garden has a unique layout – from its Western-inspired decor to its theme of "Empty Amusement Park", embodied by funky wallpaper designs and an empty carousel by the lawn. For those looking for a break away from the Japanese atmosphere, this is the place to be. The photo-spots available around the rooftop garden, the bright fairy lights and flamboyant barbecue arrangements under the gorgeous Tokyo sunset provide perfect opportunities for aesthetic photo-taking!
An evening filled with beers, friends and amazing ambience – who would say no to that? Give 「BBQ HELLO Beer Garden」a shot: grab some friends and family and head on down to Shinjuku!
—
BBQ HELLO BEER GARDEN – SHINJUKU
Location: Shinjuku Station, LUMINE 1 Level RF (L Terrace)
Address: 〒160-0023 1-1-5 Nishi-Shinjuku, Shinjuku-ku, Tokyo Lumine 1-RF L Terrace (〒160-0023 東京都新宿区西新宿1丁目1-5 ルミネ1-RF エルテラス)
Opening hours:
Weekdays: 16:00~23:00 (Last order for food: 22:00; last order for drinks: 22:30)
Weekends and holidays: 12:00~23:00 (Last order for food: 22:00; last order for drinks: 22:30)
*Note: For the months of July and August 2022, opening hours are from 12:00~23:00 every day.
Telephone: 03-6304-5660(Operating hours: 11:00~22:00)
Instagram: @hello_beergarden