Are you planning to go on a vacation to get out of the city? Do you want to check out hotel chains/hotel resorts in Japan?
When you picture Japan, you might think of the hustling and bustling neighbourhoods, where the cities seem to never sleep. If you want to get some peace and quiet, while enjoying the gorgeous nature that Japan has to offer, there are a lot of incredible accommodation options for you around the country. No matter if you are planning to stay for a night, or an extended staycation, here are 3 unique hotel resorts and hotel chains that you will love around the country.
Hotel resorts in japan
1. Itoen
Itoen hotels are fantastic and they give you the full vacation experience for a relatively affordable price. Itoen hotel chain has a strong focus on hot springs and all-you-can-eat. It is a unique hotel chain with around 50 locations in different areas all over the country, most of which are around the Kanto area and the famous hot spring areas. Out of the 50 hotels, 4 are high-end Itoen resorts, 2 are city hotels and 1 is a one-day hot spring facility. 
For under 10,000yen a night, you get to enjoy the stay at the hotel, hot springs, all-you-can-eat dinner and breakfast, and sometimes, even all-you-can-drink for dinner. On top of that, the hotels provide transportation from the central Tokyo area and depending on the hotel and the season, the bus ride is affordable, sometimes even free! Every Itoen hotel is different but quite a few of the hotels also provide karaoke, table tennis, mahjong, billiard, game corners, bicycle rentals and other services for free.
I have stayed at a few Itoen hotels a few times and have enjoyed each and every time. Many of these hotels are located near tourist attractions and nature spots. Most of the rooms tend to be quite big and there are different styles you can choose from. There are even rooms with private onsen on your balcony, for just a small additional fee.
2. Hoshino Resorts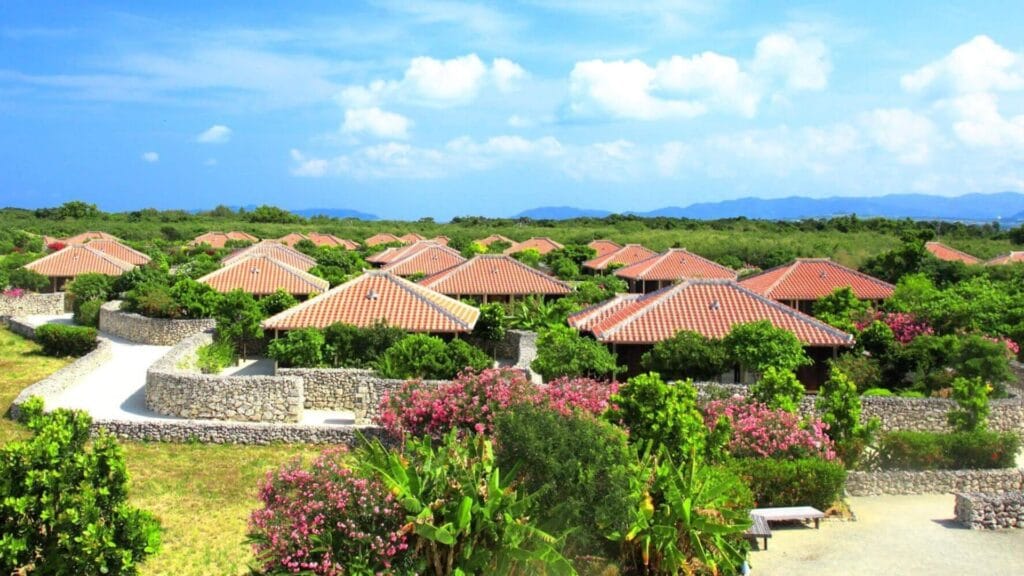 Hoshino Resorts feature luxurious traditional Japanese hospitality with modern elements, giving you all the charms of Japan. There are over 40 locations and each location is uniquely different, catering to the culture, history and seasonal activities of the area. Some of these experiences that guests can participate in include tea and sake tastings, Japanese kenjutsu (swordplay), Japanese traditional arts and more. Hoshino Resorts focus on eco-friendliness and most of the food served at Hoshino Resorts is made with fresh organic local ingredients. 
Some of the flagship Hoshino resorts include the one in Kyoto, Okinawa and the original Hoshinoya Karuizawa. Hoshinoya Karuizawa is the first eco-resort in Japan and features its "Tombo-no-yu" hot springs, which are famous in the area. This resort village is surrounded by forests and a river, giving you the ultimate escape in this fresh-air atmosphere. This resort is known for its bird-watching experiences and healing hot springs, seasonal cuisine, spa and treatments inspired by the concept of Zen. 
Each one of these Hoshino Resorts provides a different experience and the architecture and concept are also different. The price also varies depending on the hotel and season. Check out the official website to find the perfect Hoshino Resort for your next vacation. 
3. ClubMed
ClubMed is an international all-inclusive resort village, with over 70 locations in 26 countries worldwide. Three of these locations are in Japan, including Kabira Ishigaki in Okinawa, Sahoro Hokkaido and Tomamu Hokkaido.
When we talk about all-inclusive, we really mean all-inclusive. ClubMed organises your transportation and takes care of all of your meals for you. From breakfast, lunch, and dinner to all-day snacks, everything is included. The meals are mostly produced with fresh and local products and there are all kinds of cuisines for you to taste. With the premium open bar, you can even get all the drinks you want. Yes, alcohol is also included with all the spirits, cocktails, beer and wine you want. 
Not just food and drinks, every resort offers all kinds of activities for you. For summer activities, you can join different activities like snorkelling, diving, scuba diving, tennis, table tennis, rock climbing and hiking. In winter, you will get ski lift passes, ski lessons, snowshoeing and other winter activities included in your stay. ClubMed is especially great for families with children since you can get free access to nursery equipment and there are lots of supervised activities for kids. 
Even though ClubMed is all-inclusive, you might be surprised by how affordable it is. If you are interested in checking out ClubMed for yourself, I would recommend you head to Kabira Ishigaki in summer and Sahoro Hokkaido or Tomamu Hokkaido in winter.
—
What do you think about these hotel resorts? Would you be interested in staying in one of them? Check out their official website for more information about what these places have to offer.