Have you ever heard of the Tokyo neighbourhood, Iidabashi? Are you thinking about visiting this unique area of Tokyo or even staying in Iidabashi, and wondering what are some things to do, places to visit and restaurants to check out?
There are so many neighbourhoods and areas in Tokyo. Besides the famous towns like Shinjuku, Shibuya and Harajuku, there are many incredible places and spots in Tokyo that are worth a visit. If you're looking to visit a local neighbourhood and check out some hidden gems, Iidabashi might be a great place to check out. In this Iidabashi area guide, let's have a look at what to do in Iidabashi, where to eat and drink in Iidabashi, where to stay in Iidabashi and some hidden gems in the area.

One of the best ways to explore Tokyo is to visit the local areas and immerse yourself in the local culture. If you want to explore local areas, we have created scavenger hunt adventures personalised to your interests, filled with fun facts, clues and puzzles. If you're curious, you can check out the games here!

Check out the Flip Japan Games here!

What is Iidabashi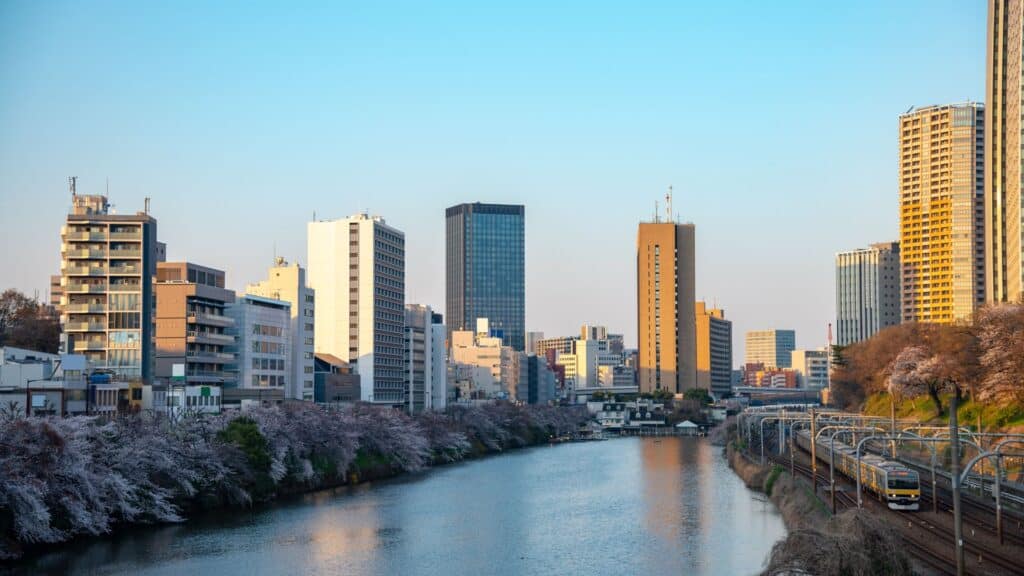 Iidabashi in Chiyoda-ku is in the middle of Tokyo and it was named "Iidamachi" by Tokugawa Ieyasu. Iidabashi has witnessed the transition of Tokyo's history since the Edo period. Today, Iidabashi is a bustling student and office district.
Iidabashi is served by JR, Tokyo Metro, and Toei Subway lines, and is easily accessible from major areas such as Shinjuku, Shibuya, and Marunouchi, all within about 10 minutes.
Iidabashi itself does not have a strong tourist image, but it is adjacent to popular sightseeing areas such as Korakuen Garden and Kagurazaka, making it a great place to visit on the way.
Iidabashi is dotted with famous shrines and temples such as the Tokyo Daijingu Shrine and Yasukuni Shrine, which give the area a sense of history. Nearby Kagurazaka, cultural figures such as Momiji Ozaki and Kyoka Izumi lived here, and traces of them can still be seen today. Iidabashi is a well-balanced town that combines history and culture in a modernized city.
Things to do in Iidabashi
Hyogo Yokocho Alley 兵庫横丁
Hyogo Yokocho is an old street with long-established restaurants and inns. You can find back alleys that are reminiscent of the ancient city. The cobblestone road creates a nice atmosphere. In Kagurazaka, it is interesting to discover new things by strolling in such narrow alleys without deciding the purpose.
Find out more about Hyogo Yokocho Alley here on Google maps.
Nezu Shrine 根津神社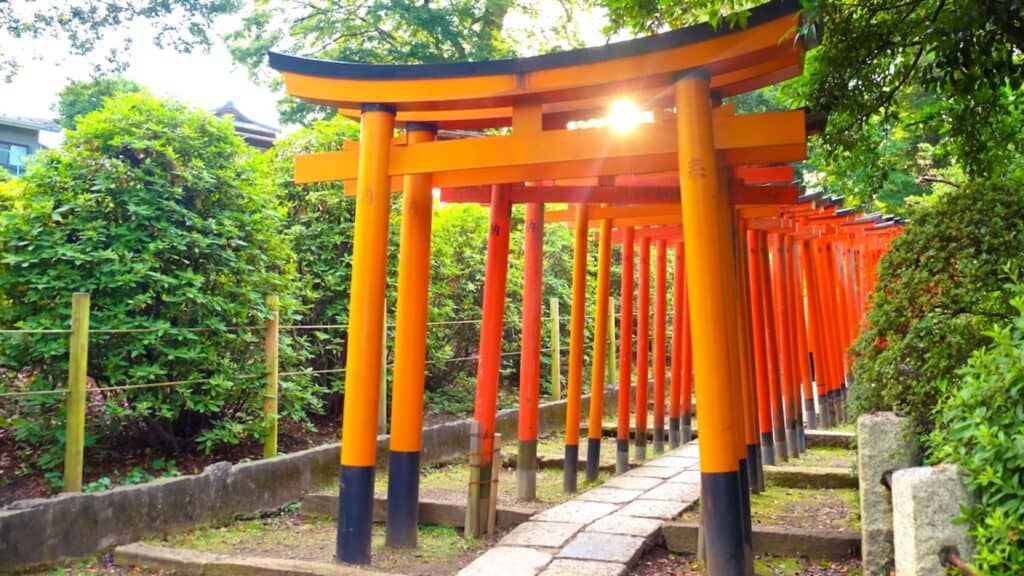 Nezu Shrine is one of Japan's oldest shrines. It is surrounded by luscious greenery with beautiful natural settings. The contrast between the trees and the tunnel of torii gates is so picturesque and reflects Japanese culture in all its age and beauty. Nearly all of Nezu Shrine's structures are extant from when they were built or rebuilt in 1706. For this reason, they are designated Important Cultural Properties of Japan.
Find out more about Nezu Shrine here on Google maps.
Yasukuni Shrine 靖国神社
Originally, Yasukuni Shrine was called Shokonsha, which was established during the Meji era (1869). However, after a decade it was renamed to the beloved Shrine we know today, Yasukuni Shrine. Currently, more than 2,466,000 divinities are enshrined here, they are said to be the souls of the many people who have sacrificed their lives to Japan since 1853. This can be from the Boshin War, Seinan War, both World Wars and many other incidents. These souls, regardless of their social ranking, are considered to be completely equal and worshipped as venerable divinities of Yasukuni.
Find out more about Yasukuni Shrine here on Google maps.
AKOMEYA TOKYO in la kagū
This shop has a lot of original products with lots of traditional Japanese houseware, clothing and food! There is also a farmer's market outside with vegetables and flowers, it is a really pretty place to visit and is very authentic. There is also a restaurant here with lots of healthy and organic options, the most popular dish is the Kaiseki meal and it is very decently priced.
Find out more about AKOMEYA TOKYO in la kagū here on Google maps.
Tokyo Daijingu 東京大神宮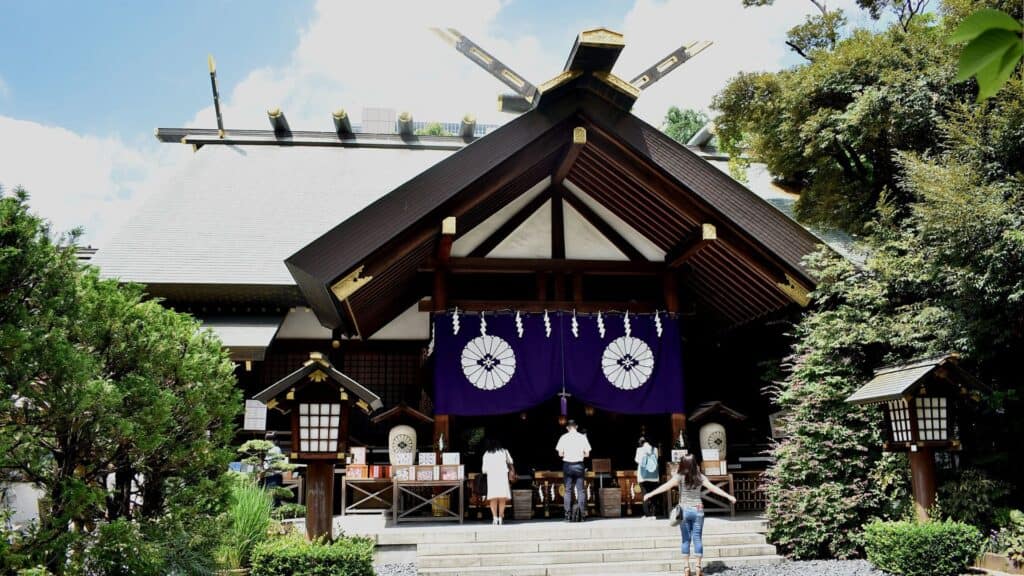 Tokyo Daijingu has lots of different deities which include; the ancestral deity of the Imperial Family and the tutelary deity of all the Japanese, the guardian deity of agriculture, industry, clothing, food and housing! With the divine power of these deities of creation and growth, a lot of people come to this shrine in order to get good fortune and luck for a happy marriage. Check the Shrine's website for the main annual events held and the shrine and see if any overlap with your time in Japan.
Find out more about Tokyo Daijingu here on Google maps.
TeNQTeNQ Space Museum 宇宙ミュージアム TeNQ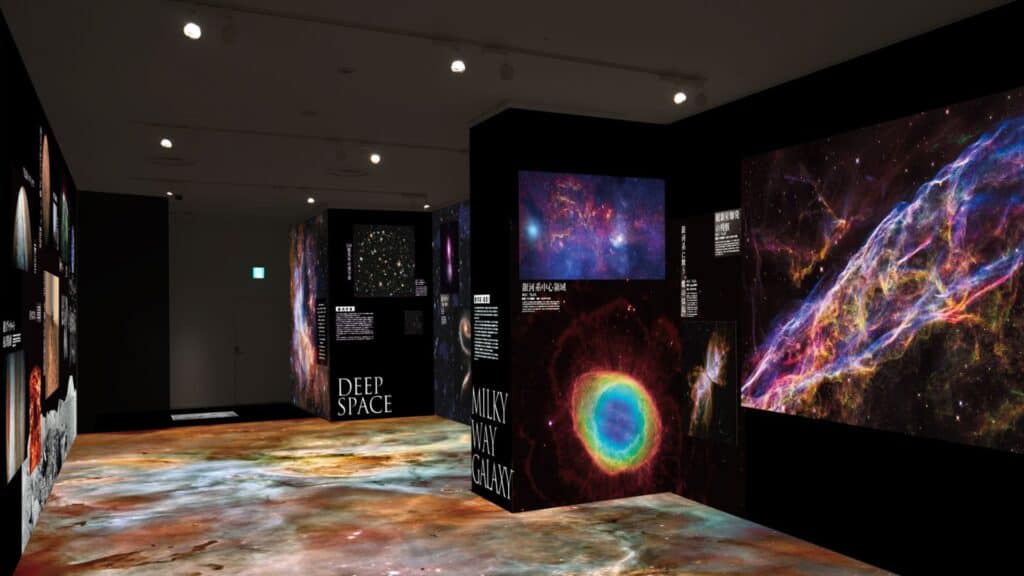 This museum provides an environment where you can enjoy the universe from various perspectives. Experience an amazing, high-quality projection around the theatre with 11 metres in diameter, where you can "surround" and "look into" space videos. ​Most exhibitions are displayed in Japanese as well as in English, so visitors from overseas can enjoy the exhibit contents fully.
Find out more about TeNQTeNQ Space Museum here on Google maps.
Tokyo Dome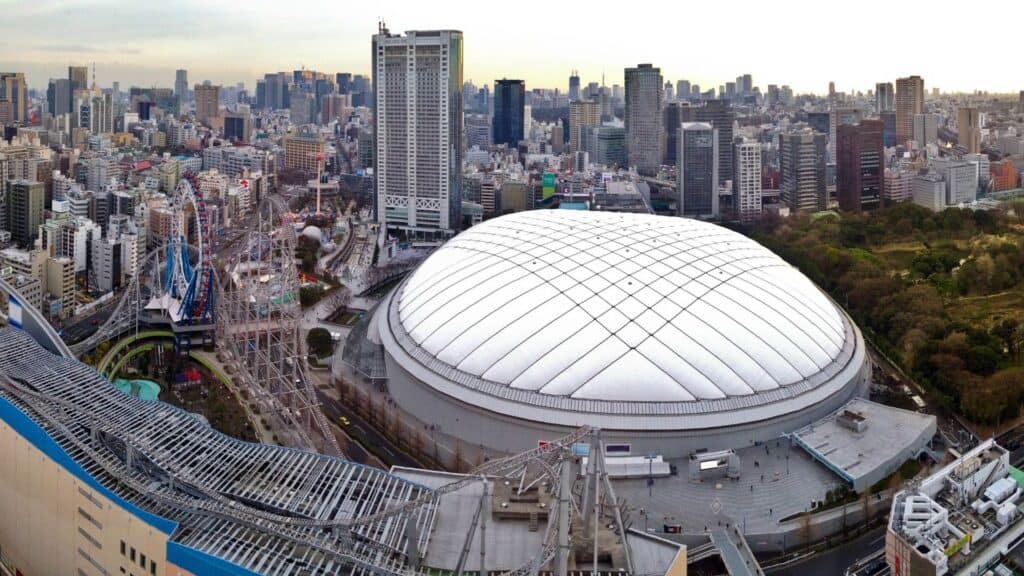 Tokyo Dome is an integrated sports and lifestyle complex famous for baseball matches and music concerts. There's also a shopping complex, game centre and amusement park within the area. There are a variety of tasty restaurants that you can browse to find the perfect place to satisfy your hunger. The dome is located between many stations from different train lines so it is very easily accessible. Be careful when there is a baseball match, the surrounding area will be flooded by baseball fans!
Find out more about Tokyo Dome here on Google maps.
Printing Museum 印刷博物館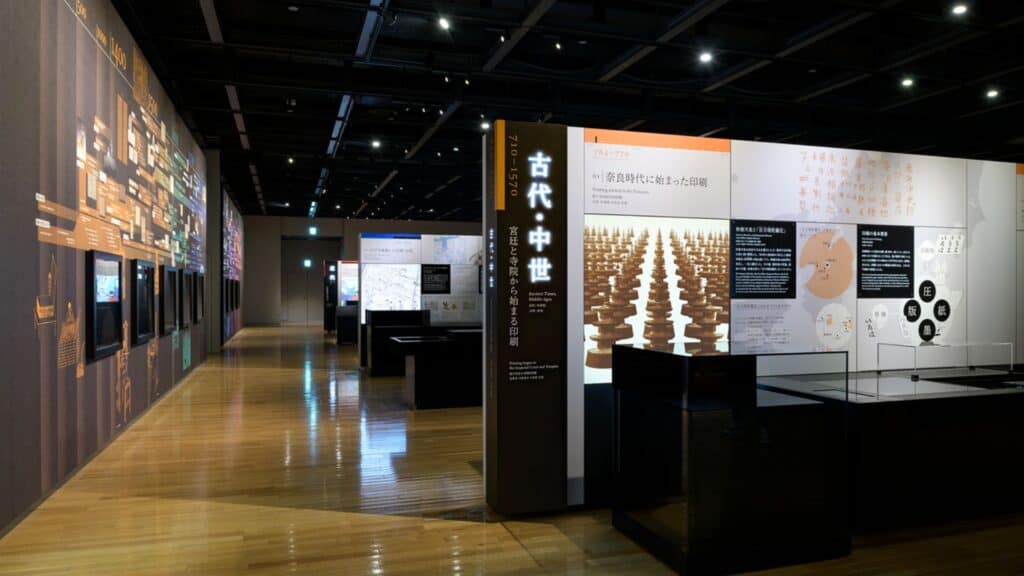 The printing museum's mission is to show the public the cultural side of printing, and the social and historical aspects rather than the technology behind it. There are many videos and descriptions that are explained in both English and Japanese so you can learn in-depth about the relationship between printing and mankind. It is a good place to get away from the busy bustle of the city and take a relaxing walk around the museum.
Find out more about Printing Museum here on Google maps.
Akagi Shrine 赤城神社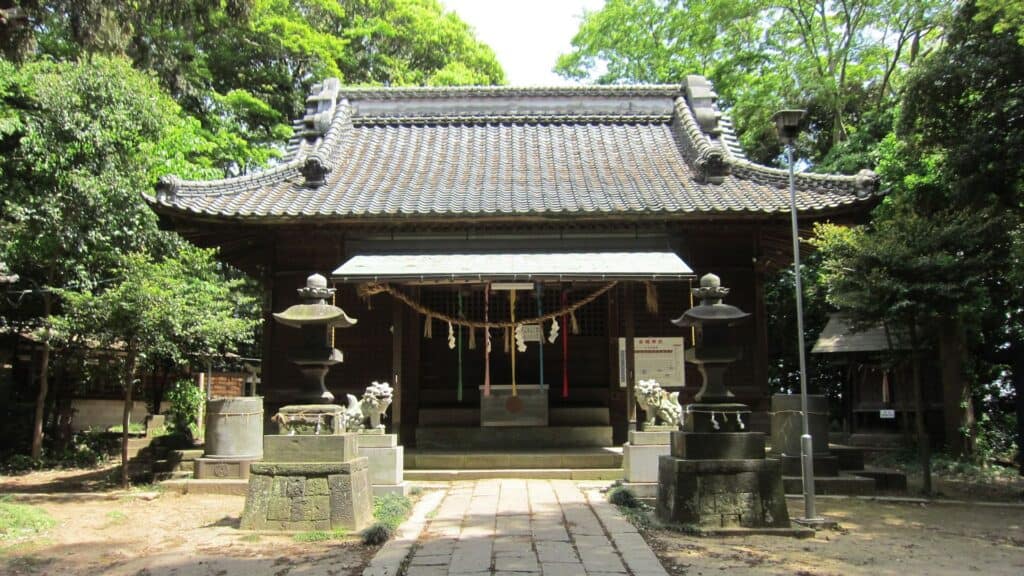 Akagi Shrine is said to be visited by many women as one of its deities, 'Akagi Hime-no-Mikoto grants women's wishes! The shrine was said to be established in the 1300s and is situated at the foothills of Mount Akagi. It is a very quiet and intimate place to go to appreciate the modern architectural design of the shrine.
Find out more about Akagi Shrine here on Google maps.
Zenkokuji 善國寺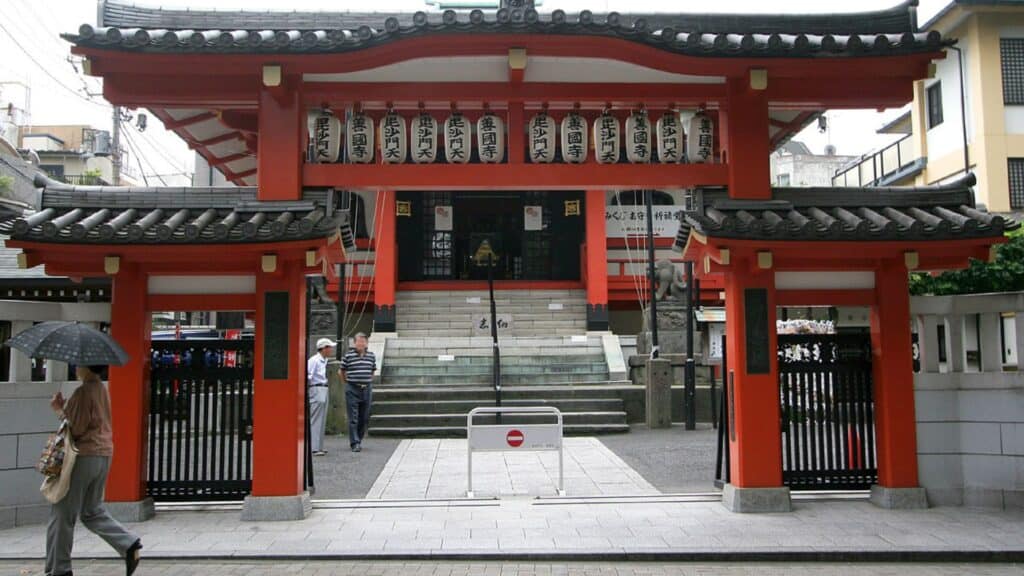 Zenkokuji Temple has a bright red gate and is located in the middle of Kagurazaka in Tokyo.
This temple has been busy since the Edo period (1600-1867). A symbol of Kagurazaka, it is still a very popular spot today, known for the two tiger statues sitting in front of the main hall.
Located in the middle of Kagurazaka Street, the famous Zenkokuji Temple is dedicated to Bishamonten, one of the Seven Gods of Good Fortune and the god of wealth. Zenkokuji Temple was built in 1595 during the Azuchi-Momoyama period. The precincts of the temple are purified, and the dignified statue of Bishamontengives you a sense of the historical atmosphere.
Find out more about Zenkokuji here on Google maps.
Koishikawa Korakuen Gardens 小石川後楽園
Koishikawa Korakuen Gardens is one of the oldest and most popular gardens in Japan. It was built during the early years of the Edo period and the Mito branch of the Tokugawa family resided here. The garden was named Korakuen after a poem that encouraged the ruler to enjoy pleasure only after achieving happiness for his people. There are ponds and beautiful greenery and is especially pretty during autumn and early spring.
Find out more about Koishikawa Korakuen Gardens here on Google maps.
Kagurazaka-dori 神楽坂通り
Kagurazaka-dori starts at the bottom of Kagurazaka, turning right out of the west exit of Iidabashi Station and crossing Sotobori-dori, and goes up a slightly sloping slope, passing Bishamonten Zengokuji on the way to the top of Kagurazaka for about 400 m.
Both sides of the street are lined with old and new stores. If you enter the alley, you can still see the streets that remind you of the old Hanamachi.
We recommend that you combine a stroll along Kagurazaka Street with lunch. For those who wish to enjoy dinner in Kagurazaka, one of the pleasures of strolling is to enjoy sweet foods such as oshiruko (sweet red-bean soup) after lunch. There are some delicious sweet shops on Kagurazaka-dori.
Find out more about Kagurazaka-dori here on Google maps.
Restaurants in Iidabashi
KinozenKinozen 紀の善
When thinking about Japanese traditional sweets, Kinozen is a great place to go. Matcha is a staple here, and it is irresistibly delicious with its sweetness. Matcha shaved ice and anmitsu are also very popular. It is an irresistible shop for Japanese sweets lovers.
Find out more about KinozenKinozen here on Google maps.
Canal Cafe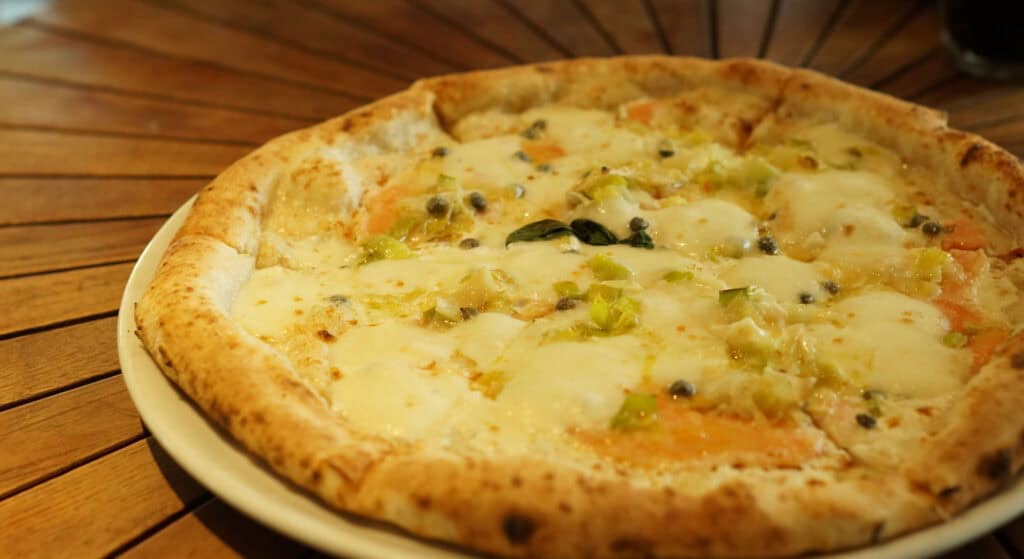 Canal Cafe is an Italian restaurant that sits on the waterfront, it is a food place that never disappoints. It is an accessible and pretty place to have casual food for a good price. It is extremely pretty during Hanami season as you can eat your delicious food whilst looking at the pink clouds of cherry blossoms in front of you.
Find out more about Canal Cafe here on Google maps.
Kagurazaka Saryō 神楽坂 茶寮 本店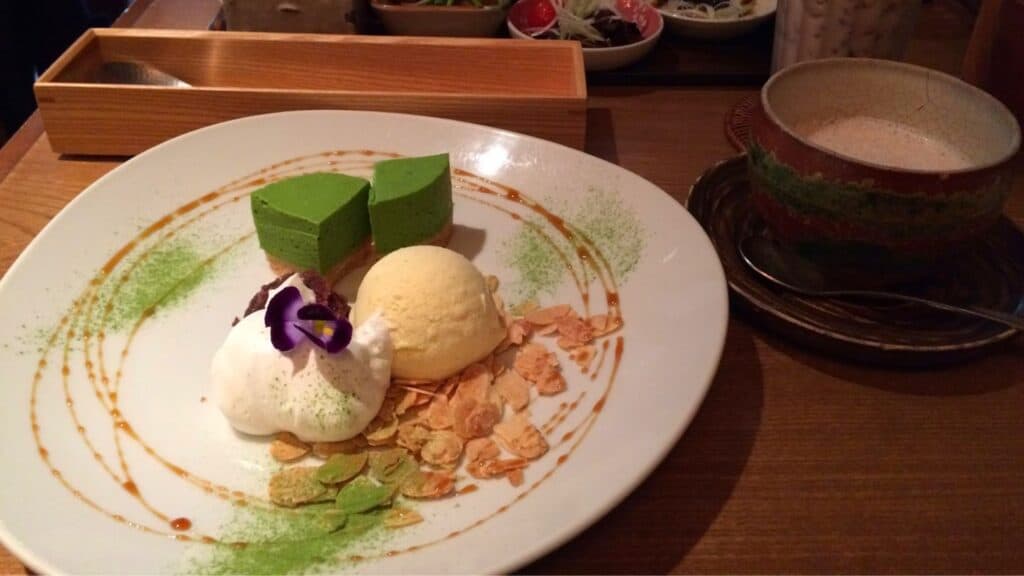 Kagurazaka Saryō offers delicious green tea and traditional Japanese dessert. If you are unsure of what to get, then there are set menus you can choose from. It is very nice to drink on a chilly day as the hot green tea warms your body up nicely. The customer service here is also notably very pleasant creating a very relaxing and enjoyable atmosphere.
Find out more about Kagurazaka Saryō here on Google maps.
CAFE & BAR 1363(ビアンカグループ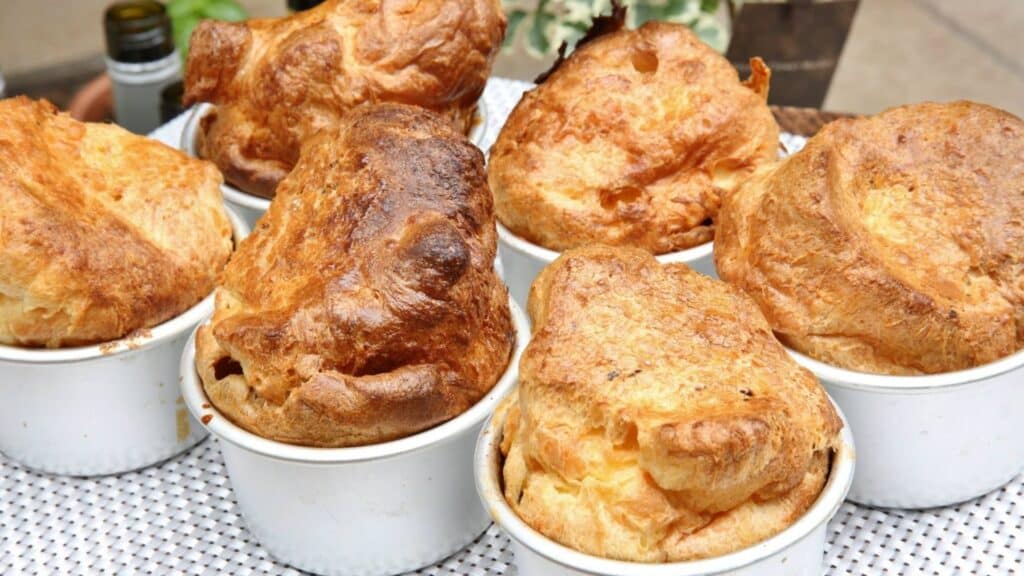 Cafe & Bar 1363 is a small food place that is very close to a lot of the main attractions in Iidabashi. The most popular dish is the roast beef dish as it compliments the yuzu sauce very well and makes you want seconds! The desserts are also very nice, so be sure to check them out if you are in the area.
Find out more about CAFE & BAR 1363 here on Google maps.
Agezuki 神楽坂とんかつ あげづき
Agetsuki is a tonkatsu restaurant. Although most people have the image of eating tonkatsu for lunch, Agezuki is a tonkatsu restaurant that can be enjoyed anytime in the day. The slightly low-lit interior is similar to a café or restaurant, making it a tonkatsu restaurant with a Kagurazaka feel.
Agedzuki is particular about its ingredients, using "Minami no Shima Pork" from Nagata Pork Farm in Miyazaki Prefecture. The basic ingredient of a pork cutlet is the ingredient itself, followed by the frying technique that brings out the flavour of the ingredient.
As you can see from the cut, Agezuki's pork cutlets are light pink in colour. The pink colour indicates that the meat has been cooked through and the flavour of the meat is incredible and dense.
Find out more about Agezuki here on Google maps.
Accommodation in Iitabashi
Sequence Suidobashi/Tokyo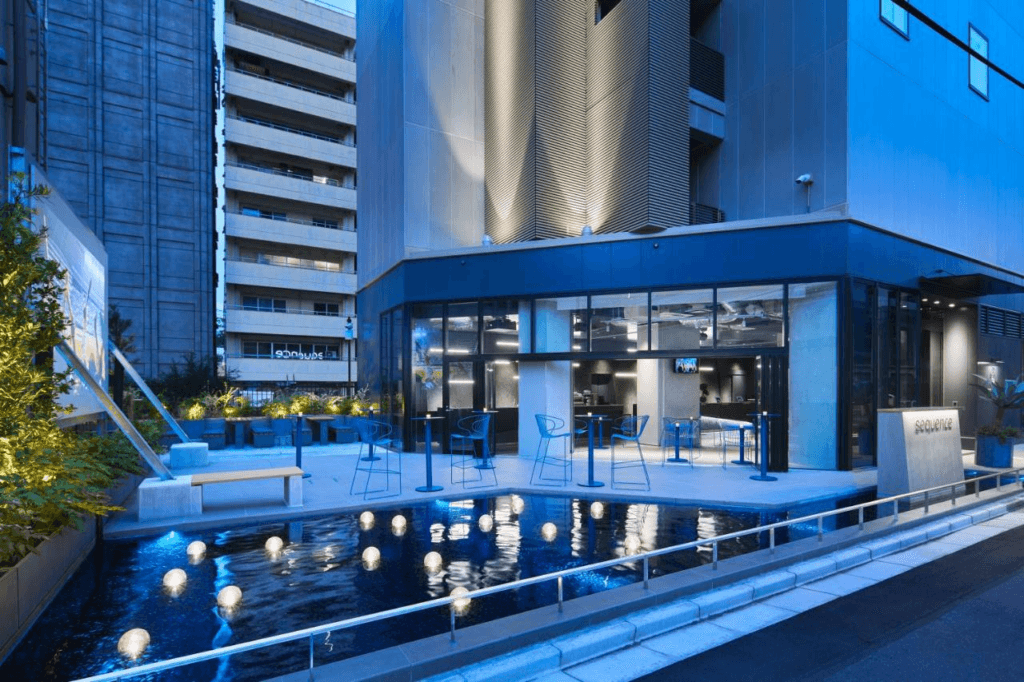 Offering air-conditioned rooms in the Chiyoda district of Tokyo, sequence SUIDOBASHI/ TOKYO is 100 m from Misaki Inari Shrine. Among the facilities of this property are a restaurant, a 24-hour front desk and luggage storage space, along with free WiFi. The property is close to popular attractions like Koanji Temple, St. Francis Xavier Church and Tokyo Arts and Space Hongo.
An American breakfast is available every morning at the hotel.
Popular points of interest near sequence SUIDOBASHI/ TOKYO include Kotohira Shrine, The Baseball Hall of Fame and Museum and Shoseiji Temple. The nearest airport is Tokyo Haneda International Airport, 16 km from the accommodation.
Address: 101-0061 Tokyo-to, Chiyoda-ku, Kanda Misakicho 2-22-17, Japan
Hotel Metropolitan Edmont Tokyo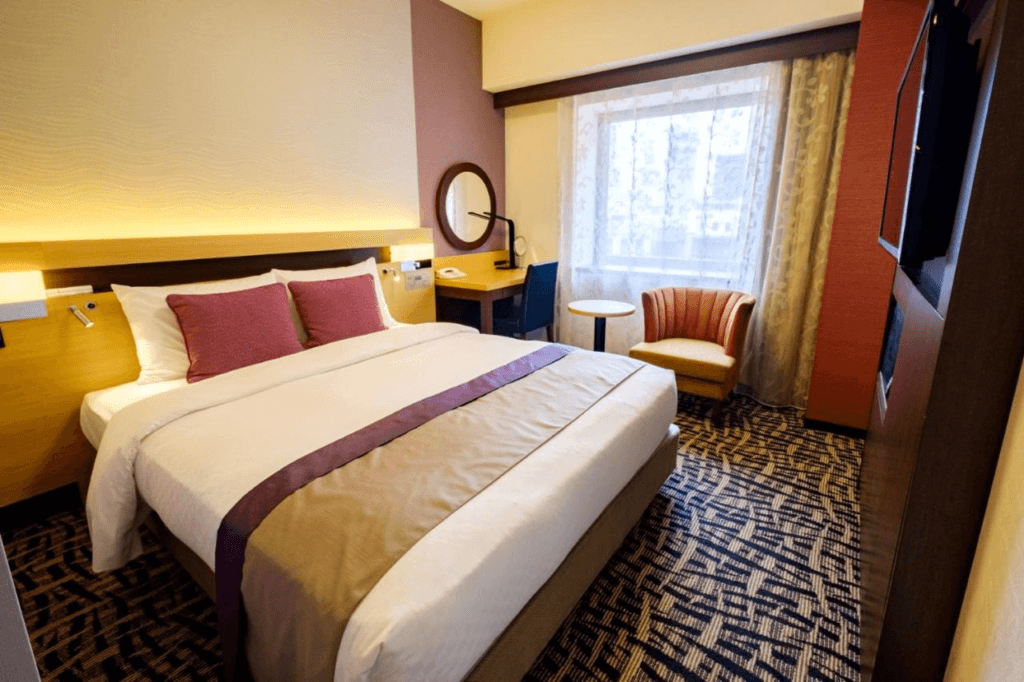 Located in the heart of Tokyo just a 5-minute walk from the East Exit of JR Iidabashi Subway Station, Hotel Metropolitan Edmont Tokyo offers comfortable rooms with a flat-screen TV and free WiFi. The hotel boasts 6 dining options and massages. Guests staying at either the Main Building or East Wing Building.
Nearby Iidabashi Station has 5 subway/train lines and offers direct access to the Shinjuku and Otemachi areas as well as the Kokugikan Sumo Stadium at Ryogoku.
Guest rooms at the Tokyo Metropolitan Edmont are decorated with wood highlights, giving a warm feel to the room. They are air-conditioned and fitted with a fridge and an electric kettle. The en suite bathroom has a bathtub with a shower attachment.
The hotel features a convenience store and a 24-hour front desk with luggage storage and currency exchange.
Metropolitan Edmont Hotel offers a variety of fine dining, including Western cuisine and local specialities such as sushi and Japanese teppanyaki grill dishes. Restaurant Beltempo serves a daily breakfast buffet for a fee.
Address: 102-8130 Tokyo-to, Chiyoda-ku Iidabashi 3-10-8, Japan
The b Suidobashi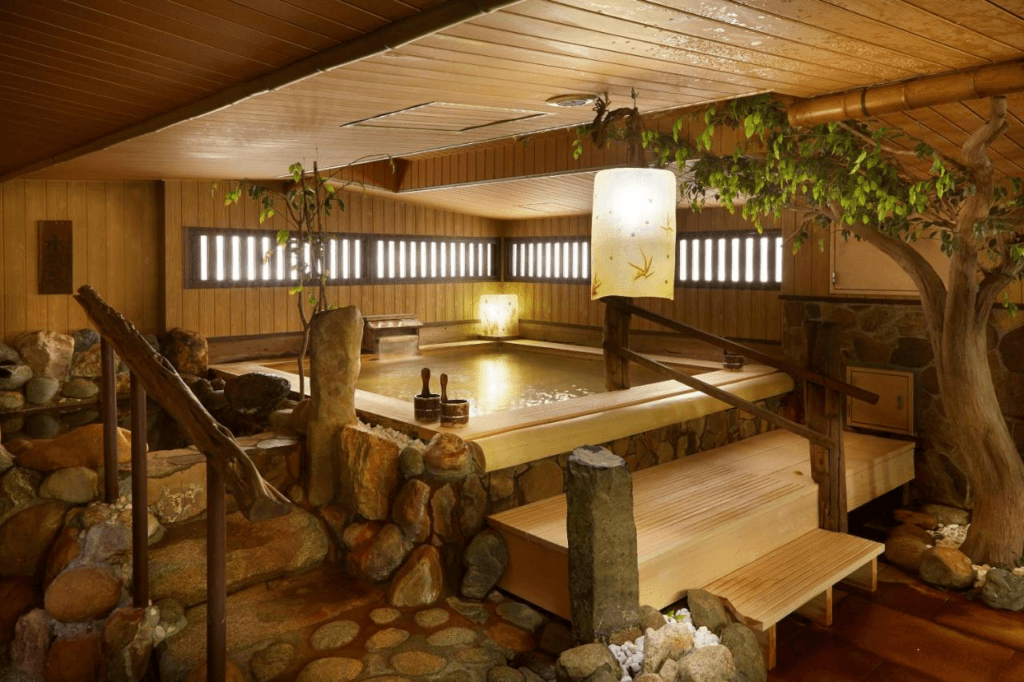 Just a 3-minute walk from Suidobashi Subway Station, the b Suidobashi offers rooms with free internet and an attached bathroom. It features a public bath, laundry and a buffet-style breakfast. Complimentary coffee is available at the lobby.
The air-conditioned rooms at the b Suidobashi include a fridge and a satellite TV with video-on-demand movies. Shiseido shampoo, conditioner and body soap are provided in each room.
Tokyo Dome, with its amusement park and shopping mall, is just a 5-minute walk away. Nearby Suidobashi Subway Station offers direct subway access to the Otemachi and Jimbocho areas.
Guests can enjoy a public bath or unwind in the sauna. A coin launderette comes with washing machines and dryers. A Japanese and Western buffet breakfast is served daily in the dining room.
Sakura Hotel Jimbocho
Sakura Hote Jimbocho, we are pleased to announce that we have received a '2019 Certificate of Excellence & 'Travelers CHOICE'on the world's largest travel review site, TripAdvisor. The award celebrates excellence in hospitality and is given only to establishments that consistently achieve great traveller reviews on TripAdvisor. We try our best to get better and better every year and this is definitely motivating us to continue our hard work so as to meet your expectations each time. 
Address: 2 Chome-21-4 Kanda Jinbocho, Chiyoda City, Tokyo 101-0051
—
Iidabashi has so much to offer that it would be impossible to visit everywhere in a few days. Hope you get to check out the museums and restaurants for yourself and like them as much as we do. Refer to this blog anytime for more ideas and activities to do in the Meguro ward. If you have any questions, feel free to reach out to us anytime.