After two and a half long years, Japan's borders have finally reopened! You may have already packed your suitcase and are ready to set off to the land of the rising sun. But even after all the time planning, Japan can still appear overwhelming, with so many incredible places to visit and amazing sights to see.
We planned the 1-week itinerary for 4x Emmy Award TV show, Global Passport. It was the perfect Japan overview you need to dip your shoes in this beautiful country. Adding a few tweaks to the Japan itinerary, we've prepared this 1-week Japan trip itinerary that covers some of the main tourist attractions of Japan.
From traditional temples and shrines to new and modern city centres, here's how you enjoy some of the must-see attractions of Japan in 7 days!
Day 1 – Tokyo
10:00-10:30 Skytree (Observatory)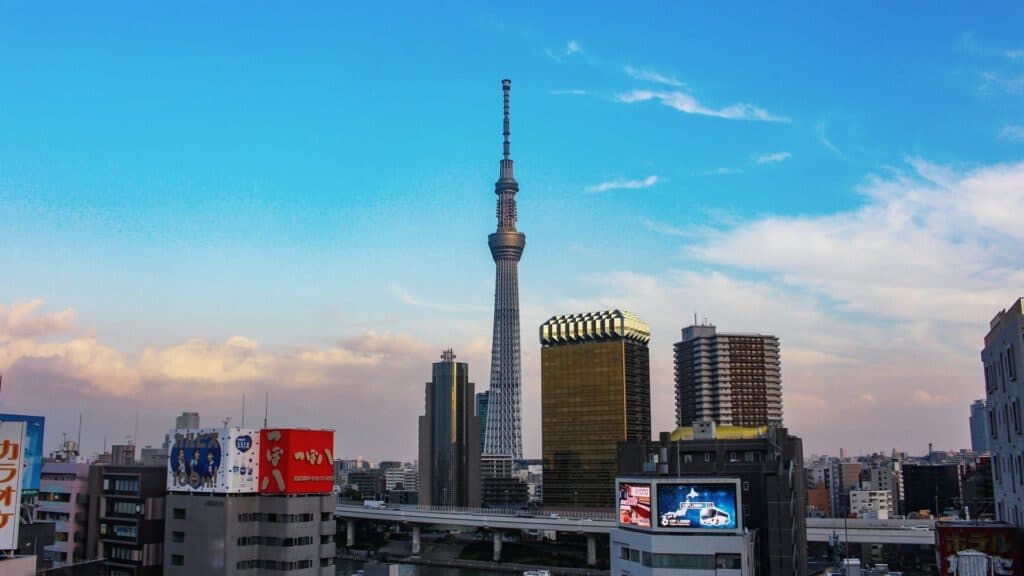 Located in the heart of Tokyo, Sumida, the Tokyo Skytree is now recognised as the new symbol of Japan. Built upon ancient Japanese craftmanship and the modern latest technology. The Tokyo Sky tree stands tall at a whopping 634 meters and was known as the worlds tallest tower in the Guinness World Records in November 2011.
You can travel up to the Tokyo Sky Tree Tembo Deck which takes you 350m above the ground. From here you can enjoy the incredible views of the city, and even see as far out as Mount Fuji! A further 100 meters up, reaching 450 meters above ground, you will find yourself at the Tembo Galleria, an amazing tube-shaped corridor which makes you feel as if you are walking in the air.
10:30-11:30 Solamachi
Tokyo Solamachi is a large shopping and entertainment complex that sits at the base of the Tokyo Skytree. It is a commercial complex with a rich variety of 312 shops which opened in May 2012.
Tokyo Solamachi aims to be a gate for the city linking the city centre with the Tokyo Skytree, the Tobu railway line and act as a central hub for Tokyo with its bustling new downtown atmosphere. It is a popular spot for tourists from Japan and abroad.
12:00-1:00pm Sumo Show w/ Ex Sumo Wrestlers
Yokoami, Sumida-ku, Tokyo, is known as the home of sumo, the national sport of Japan.
The area has a long history of being associated with sumo, with the Ryogoku Kokugikan as well as sumo stables with many wrestlers in various locations, and many sumo fans still visiting the area today.
Furthermore, sushi, a dish now loved not only by the Japanese people but also by the rest of the world, is said to have originated in Ryogoku, and a monument has been erected to mark the birthplace of Yohei Sushi, which invented nigiri-zushi using wasabi. Ryogoku is the very starting point of Japanese culture, with sumo, otekebori, sushi and so on.
1:00-2:00pm Ramen Making Experience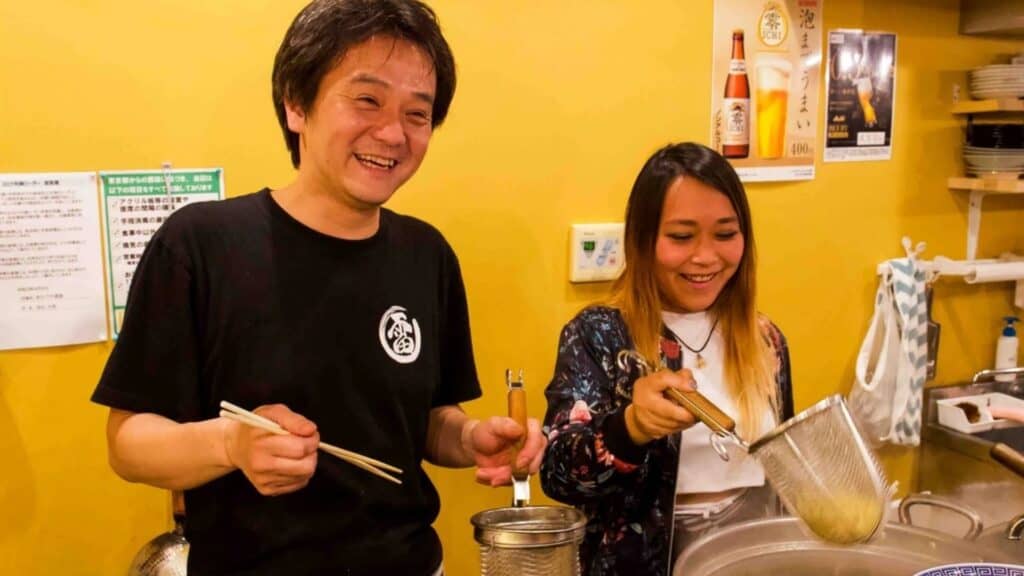 Here you can discover the art of making fresh ramen, Japanese style. Experience working in a real Japanese ramen kitchen and making two bowls of fresh ramen. You will have access to all the essential Japanese cooking equipment and be shown the traditional techniques of a professional ramen chef!
Ladle the broth (seasoning and soup), ready the noodles, and then – shake the water out of the ramen noodles in a "tebo". From here, you'll place the noodles into the broth and then add toppings and arrange as you like.
2:30-3:30 Yukata Experience
A traditional Japanese Yukata is a type of clothing that is worn in the summer because of its lighter fabric and more relaxed fit. It can be seen in traditional Japanese performing arts and dances. Take the opportunity to wear a traditional yukata and wander the streets of Asakusa to feel truly immersed within Japanese culture.
3:30-5:00pm Tea Ceremony Experience
Tea ceremonies are a staple of traditional Japanese culture. At Jidaya, experience and enjoy a tea ceremony that comes with an explanation of the history and the principles of Japanese tea ceremonies. Learn how to use tea utensils like a pro and get a complete guide to the process of making tea.
5:00-6:30pm Sensoji Temple, Shopping street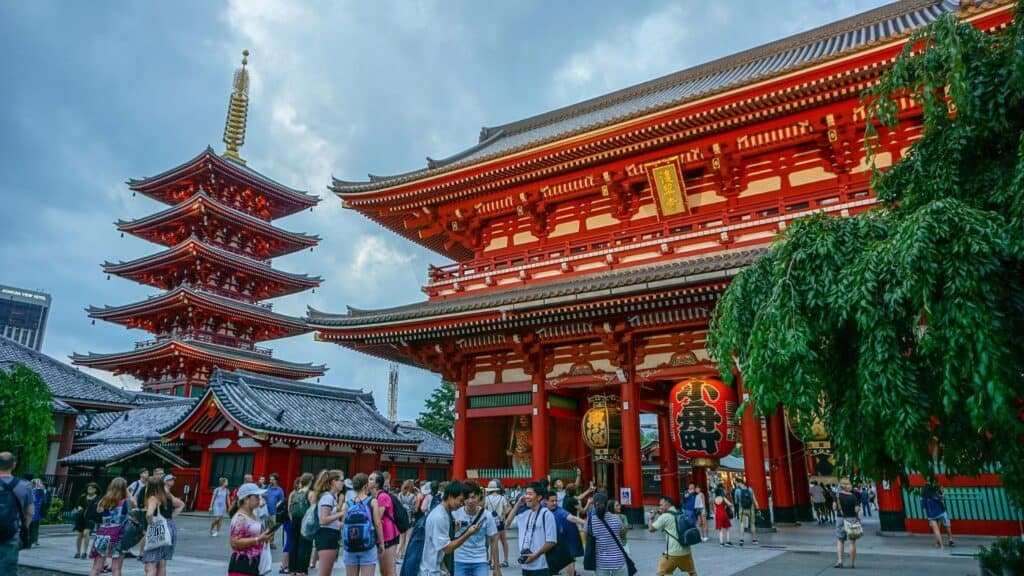 Senso-ji Temple is the first name that comes to mind when it comes to sightseeing spots in Tokyo. It is no exaggeration to say that Senso-ji is a well-known sightseeing spot all over the world, visited by some 30 million people a year from Japan and abroad.
The large red lantern over the Kaminarimon (Thunder Gate) at the entrance is known as the symbol of Asakusa, and the area surrounding the temple is a downtown area that retains the atmosphere of Edo (old Tokyo).
Lunch: Ramen, Dinner: Kaiseki
Day 2- Tokyo
10:00-11:30pm Tsukiji Fish Market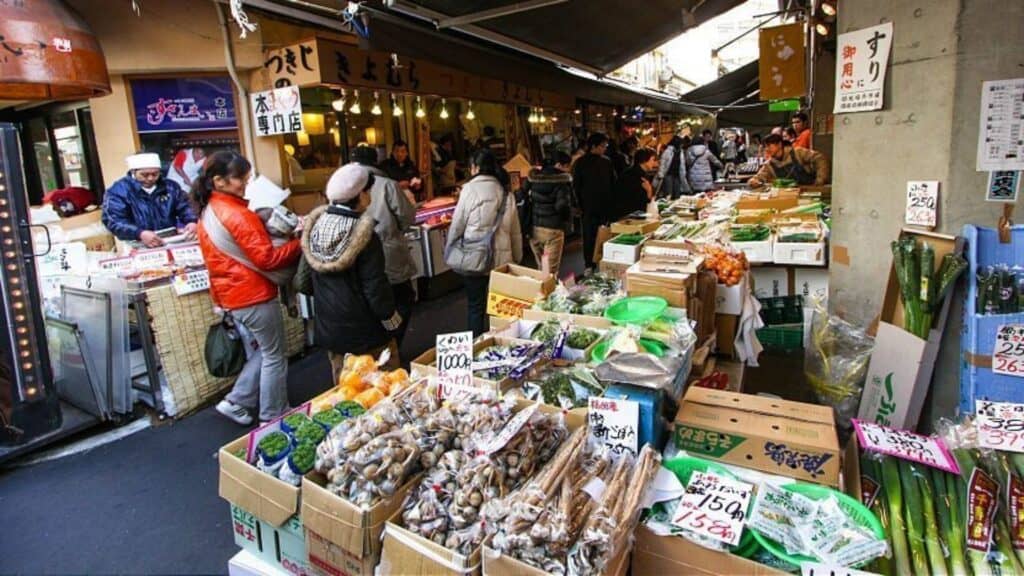 The Tsukiji Fish market is known as Japan's 'Food Town'. The market comprises of a vast variety of different traditional Japanese foods from wholesale to retail. There is also numerous restaurants and eateries lined up around the area, using the freshest fish and ingredients of Japan.
When the market first originated, it was primarily an area for wholesalers and professionals where product was sold in bulk. However in recent years, the area has become popular with consumers and tourists, and you are now able to find small meals and bite size tasters. Tsukiji Outer Market is and will continue to be the best marketplace for customers to buy fresh seafood, vegetables, and Japanese traditional food materials.
12:30-2:30pm Shibuya- Crossing, Shopping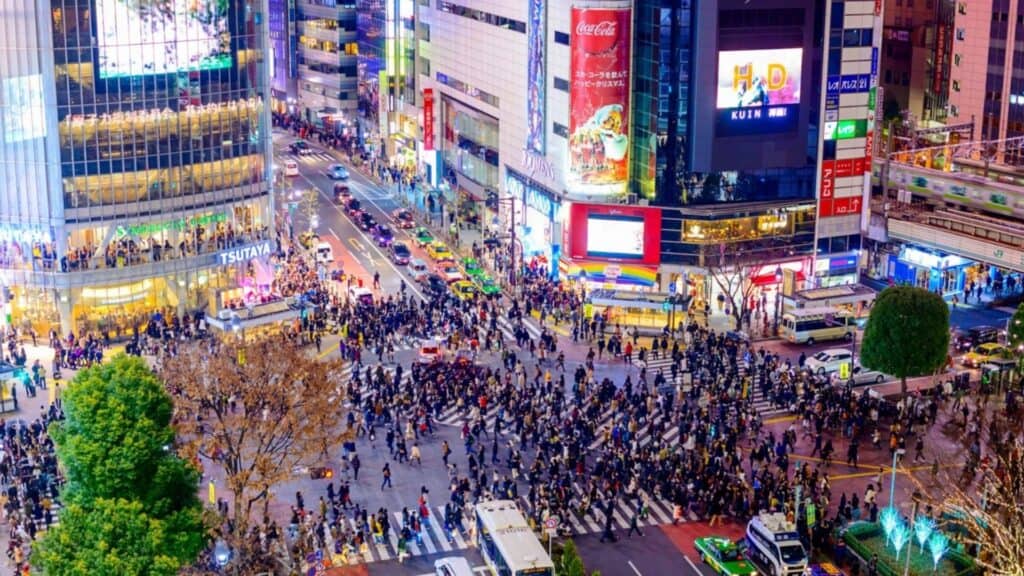 Shibuya is also known for the world-famous Scramble Crossing, one of the world's busiest traffic intersections, with as many as 3,000 people passing through it at a single green light.
Shibuya Scramble Square features a total of 212 'world's most fashionable' shops, including those that have arrived for the first time and new business models. You can also visit the Shibuya Sky, the highest point in Shibuya, at approximately 230 m and 47 storeys above ground.
3:00-4:30pm Harajuku- Takeshita Street, Meiji Jingu, Street food, Shopping
Takeshita-dori has long been known for its take-out shops, including crepes, which are really tasty. The number of unique cafés is also increasing. Harajuku Takeshita-dori is a centre of kawaii culture that now attracts people from all over Japan and the world.
Access is right in front of JR Harajuku Station.
Meiji Jingu is a Shinto shrine located in Shibuya, Tokyo. It is dedicated to Emperor Meiji, the 122nd emperor, and Empress Shoken. The 700,000-square-meter Chinju-no-Mori is an artificial forest created with the aim of becoming an "eternal forest" by planting about 100,000 trees that were donated from all over Japan when the Meiji Jingu was founded.
It has the highest number of worshipers in Japan every year for New Year's visits.
5:00-7:00 Shinjuku- Omoide yokochu, Kabukicho, Golden Gai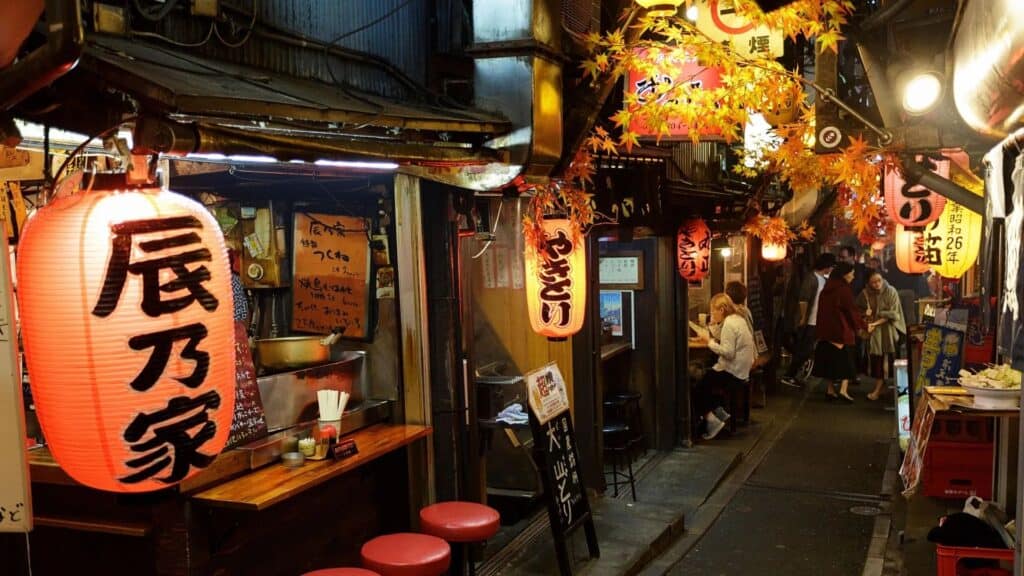 "Omoide Yokocho" is another name for the Shinjuku West Exit shopping street , which is located just outside the Shinjuku West Exit, and is also known as " Yakitori Yokocho" or " Shonben Yokocho". It has its roots in the black market that was created around 1946, and with the post-war reconstruction, there used to be about 300 shops.
Today, it is gaining popularity as a drinking district with many small shops selling various dishes such as yakitori, offal stew, and sashimi.
It's a 3-minute walk from Shinjuku station, so it's easy to access, and it's a perfect place for office workers on their way home from work or for a drink after playing. Shinjuku Golden Gai (新宿ゴールデン街) is a restaurant district in Kabukichō 1-chō, Shinjuku-ku, Tokyo. It is lined with nearly 300 bars, including snack bars, in barracks tenements and is known to be frequented by writers and people in the film and theatre industry.
Lunch: Sushi, Dinner: Izakaya
Day 3- Tokyo
11:00-12:30 Ginza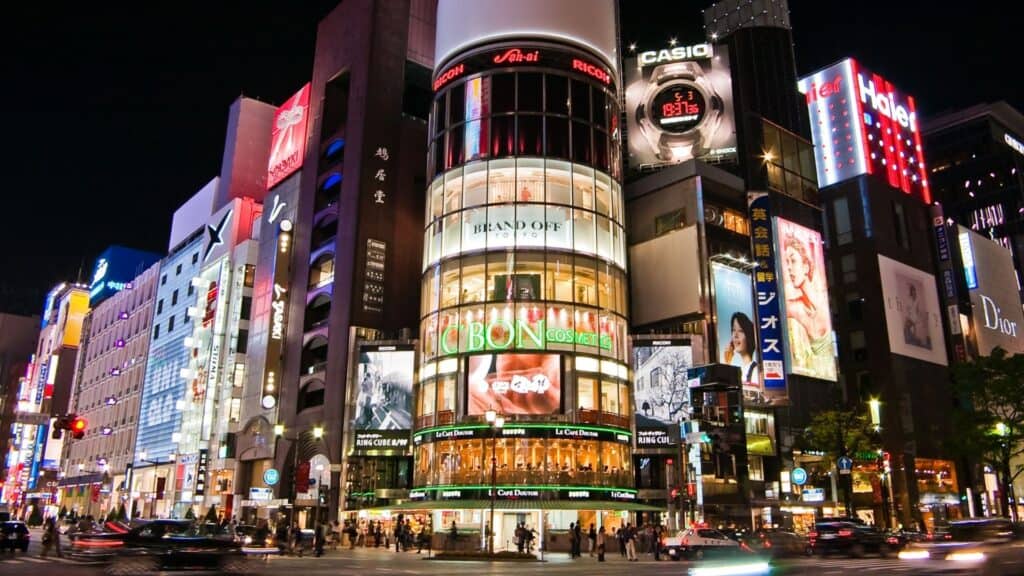 Ginza is one of Japan's leading shopping streets and a downtown in the broadest sense of the term. As a high-end commercial district representing central Tokyo, it has been known outside Japan since the pre-war period along with Fujiyama, Geisha, Mikimoto, Akasaka and others.
It is home to many flagship shops of foreign high-end brands, high-end clubs, high-end bars, high-end watch specialty shops, department stores, etc., and the Kabuki-za theatre is located in front of Higashi-ginza Station
1:00-3:00pm Akihabara
Akihabara is known as one of Japan's leading electronics districts. While it is packed with shops selling electrical and IT products, it is also a hub of subculture with shops selling games, manga and anime, and is also known as a mecca for 'cosplayers' dressed up in costumes of popular idols and anime characters. Take a stroll through the streets of Akihabara and get a taste of its unique culture.
5:00-7:30 Bullet Train to Kyoto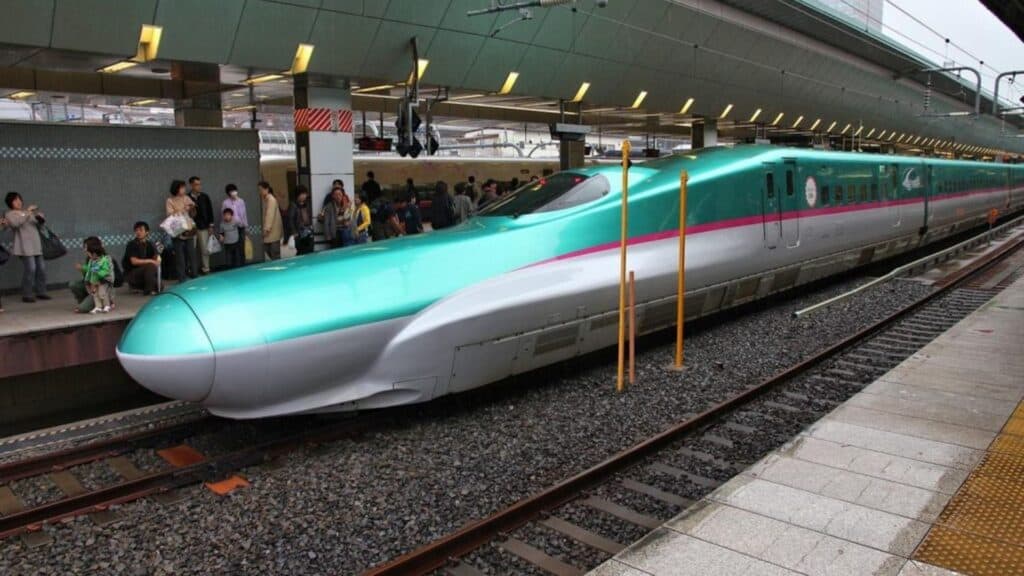 By far the most efficient and fastest way to travel between Tokyo and Kyoto. Take the Shinkansen (bullet train) to arrive in Kyoto in 2 hours and 15 minutes. Tokyo, Kyoto and Osaka are connected by the Tokaido Shinkansen Line, it is the most heavily travelled high speed rail route in the world.
Lunch: Sukiyaki, Dinner: Yakitori
Day 4- Kyoto
7-9:30am Arashiyama Bamboo Forest
The bamboo grove path is one of Kyoto's most popular tourist attractions and, along with the Togetsu Bridge, is the symbol of Arashiyama. The bamboo grove stretches for 400m from Nomiya Shrine, through the north side of Tenryu-ji Temple to the Okochi Sanso Garden, where it grows so tall that it covers the sky.
The bamboos are at their most beautiful during the autumn foliage season and have also been selected as one of the 100 best cherry blossom viewing spots in Japan.
12-1:30pm Kimono Rental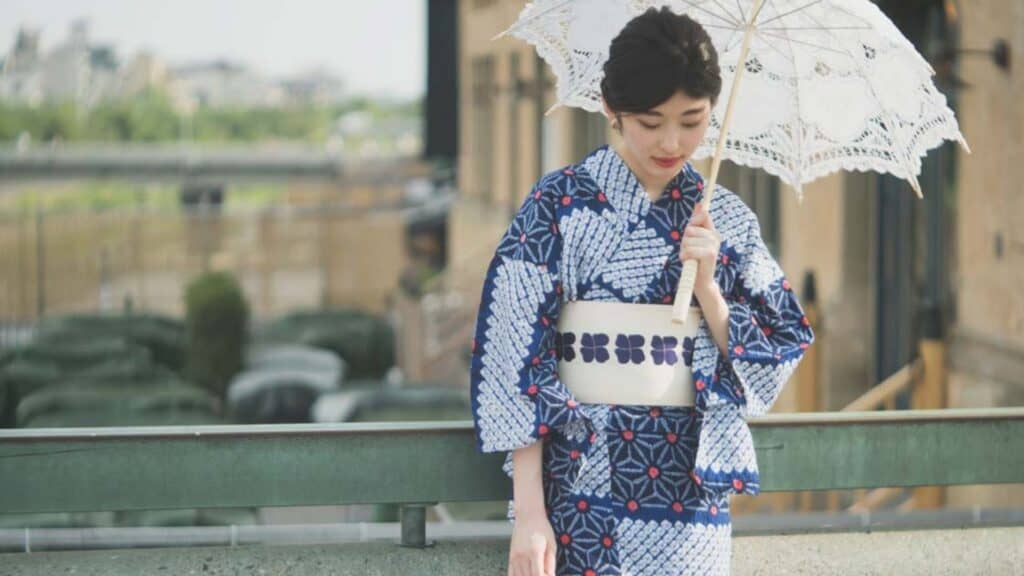 With over 300 years of experience, Kimono Misayama offers an opportunity to walk the streets of Kyoto in a high quality traditional Kimono. This is an amazing chance to take some incredible photos showing traditional Japanese culture that can be shared with friends and family!
2:00-4:00pm Kinkaku-ji Temple
Kinkakuji Temple is a pagoda temple of the Shokokuji school of the Rinzai sect of Zen Buddhism, whose history can be traced back more than 600 years.
The temple was extensively renovated during 1987 Ashikaga Yoshimitsu took over the Saionji family's villa in 1397 (Oei 4), and after his death the temple was renamed Rokuonji. The Kinkaku (Golden Pavilion), a three-storey gold-leafed tower erected as the Shariden, is reflected in Kagamiko Pond.
4:30-8:00pm Gion District, Pontocho area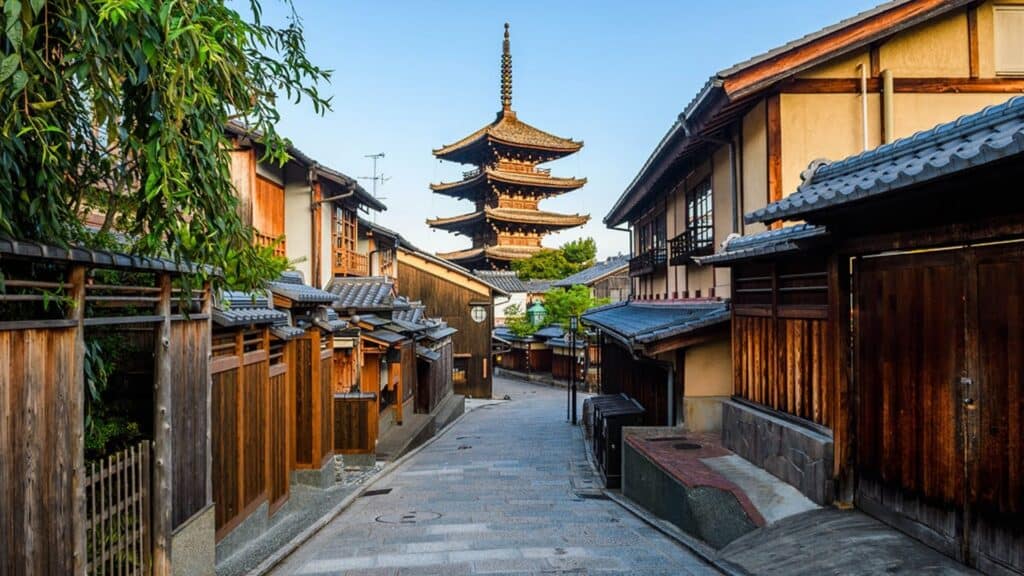 Gion is and always has been known as Kyoto's representative downtown area. It is a popular area that attracts many tourists from home and abroad, as it is easily accessible from Kyoto Station and is an easy area for sightseeing.
The district centred on Yasaka Shrine in the centre of Kyoto City, named Gion after the old name of Yasaka Shrine, Gionsha. It is also one of Kyoto's most popular shopping streets.
On the way from Kawaramachi Station towards Gion and Yasaka Shrine. In a corner of Shijo Dori, there is a narrow alleyway with a gaping hole in it. This is Ponto-cho. Ponto-cho is Kyoto's Hanamachi, a traditional flower quarter with traditional shops on either side of the narrow street, where chochin (lanterns) with a staggered mark are waving.
Lunch: Soba, Dinner: Riverside restaurant
Day 5- Kyoto
7:30-9:00am Fushimi Inari Taisha Shrine
The head shrine of the 30,000 Inari shrines in Japan. The shrine is lined with stately pavilions and auxiliary shrines, and is worshipped by the general public as a deity of good harvests and prosperous business.
The numerous vermilion-lacquered torii gates on the approach from behind the main shrine to the inner shrine are known as 'Senbon-torii' (a thousand torii). A very popular spot for foreign tourists.
9:30-10:30am Yasaka Shrine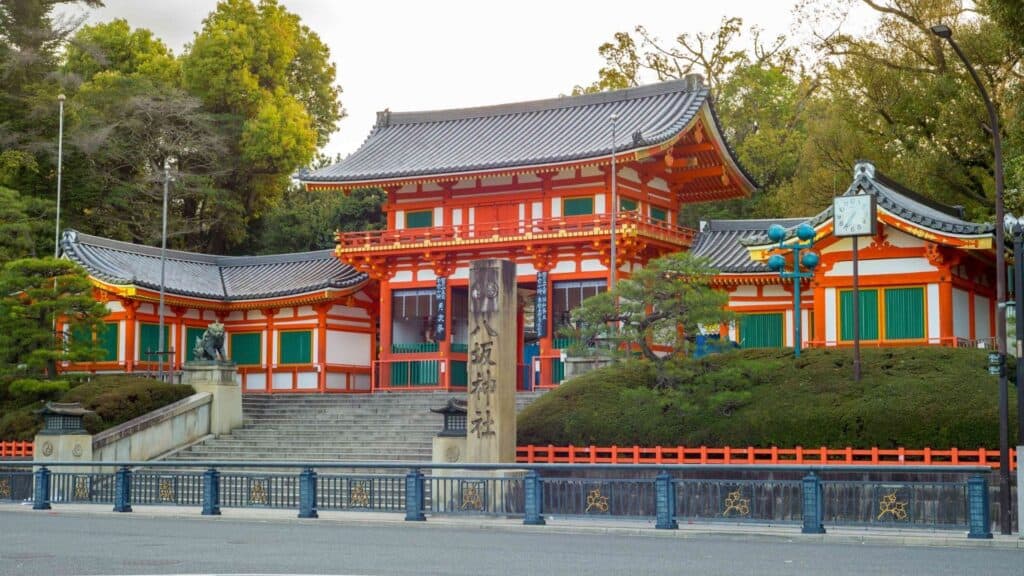 Yasaka Shrine, known and loved as 'Gion-san' since ancient times, is the head shrine of all Gion shrines in Japan. The shrine is said to have been founded in the 2nd year of the Emperor Saimei (656).
It is said to have quelled an epidemic that swept through the capital of Kyoto, and since then it has been worshipped as a shrine to ward off evil spirits. Even today, the shrine is famous for the Gion Festival held in July and the New Year's Eve Pilgrimage to the shrine.
10:30-11:00 Photo spot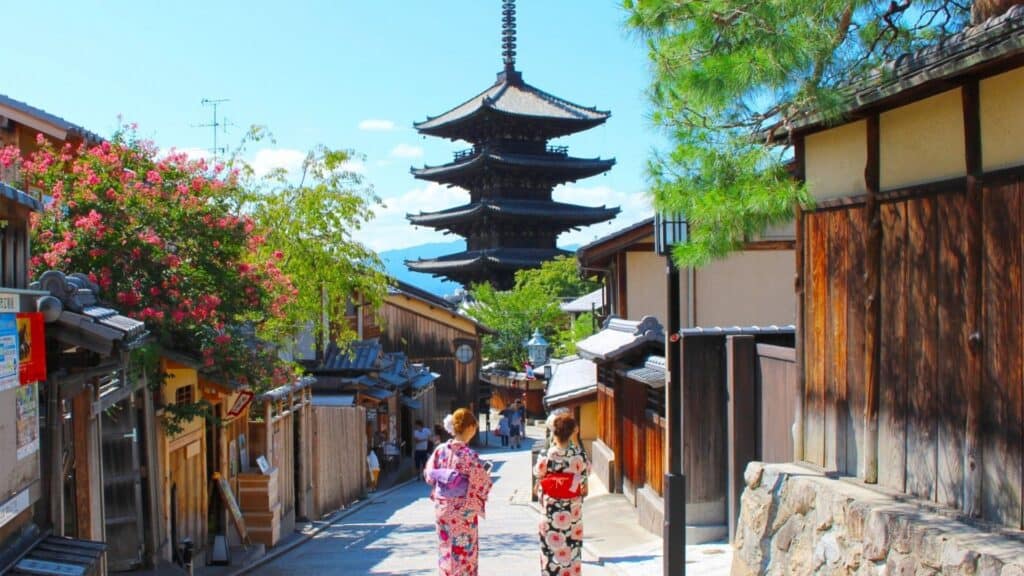 A famous spot to take an amazing photo of the Kyoto streets. Located in Nineizaka, the streets are lined with traditional Japanese homes, teahouses and cherry blossoms offering the perfect chance to take a once in a lifetime photo.
12:00-2:00pm Nijo Castle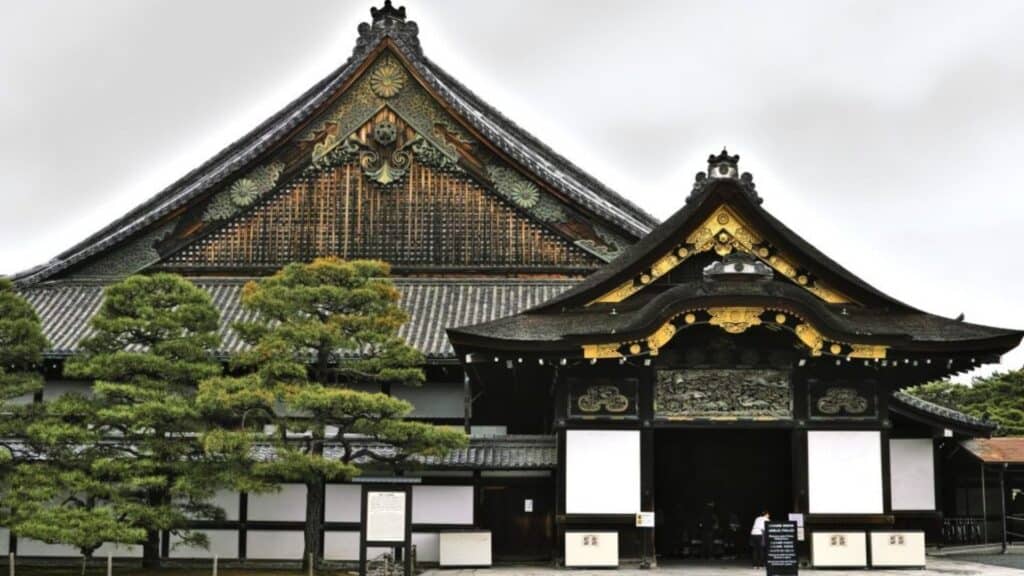 Nijo Castle, built by Tokugawa Ieyasu in 1603, has been the setting for many historical events, including the declaration of the intention to return to the Great Government by Tokugawa Yoshinobu.
You can enjoy the spacious castle grounds, including the gorgeous Karamon gate and three gardens. It is also close to an underground station and city bus stops, making it easy to get to from Kyoto Station.
2:30-3:30pm Travel to Osaka
5:00-8:00pm Solaniwa Onsen
The hot spring water of Bihan, a natural hot spring with weak alkalinity and free-flowing spring water, gushes out from 1,000 m underground.
The baths include an open-air bath with free-flowing hot-spring water, a garden-viewing bath overlooking a vast garden, a carbonated spring, a bath with alternatives, a sauna, and an akasuri (a traditional Japanese bath where the body is washed after a long day's work).
There is also a private open-air bath for 2 to 6 people, so you can enjoy your own private space.
Lunch: Teishoku, Dinner: Solaniwa Onsen
Day 6- Osaka
9:00-1:00pm Nara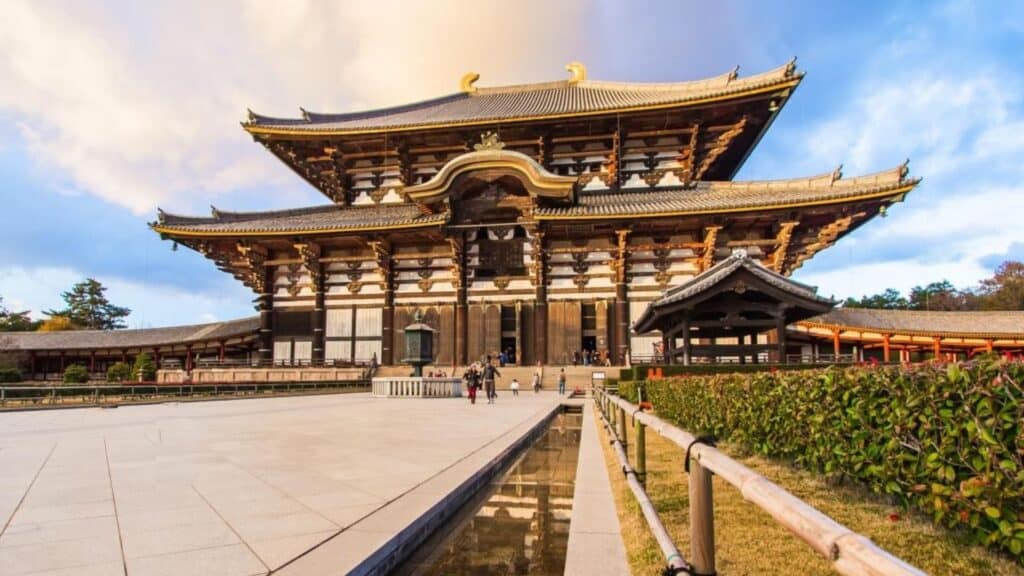 Nara Prefecture is home to some of Japan's greatest World Heritage sites and national treasure buildings. There are many famous temples and shrines throughout the area, including Horyu-ji Temple, Akishinoji Temple and Kasuga Taisha Shrine, so visitors on a sightseeing tour should first take a tour of the temples and shrines.
The area is also characterised by the presence of many ancient burial mounds from the old days, including the Kitra and Takamatsuzuka burial mounds. The fascinating history and culture of the ancient capital of Nara can be seen everywhere in the area.
1:30-3:00pm Osaka Castle
It is the most famous tourist attraction in Osaka, attracting many tourists from home and abroad. During a major renovation in the Heisei era, the decorative metal fittings and ornamentation of the orca were re-gilded, making them shine even more brightly.
Valuable historical documents and works of art are on display in the keep. At night, the keep is illuminated to create a fantastic view of the castle. A not-to-be-missed spot when visiting Osaka.
3:30-5:00pm Umeda
Umeda is one of Japan's largest shopping and office districts, representing Osaka, spreading across Kita-ku, Osaka. Umeda operates as one of the main transport hubs for Osaka and has private railways that go to Kyoto and Kobe.
In Umeda, there are many different restaurants around the station, department stores, old station buildings and underground shopping.
5:30-7:30pm Street food in Dotonbori, Shinsaibashi-Suji Shopping Street
Dotonbori is one of the most popular destinations in Osaka for tourists. It runs along the Dotonbori canal and is packed full of bars, restaurants and street food. Although it may not be the biggest area, it is full of food stalls and street vendors, selling the most famous and traditional food and dishes that Japan is known for.
The Shinsaibashisuji shopping street runs north-south for 580m from the south side of Nagahori Dori to Soemoncho Dori. It is lined with about 180 shops, including two major department stores, Daimaru Shinsaibashi, as well as clothing and restaurant shops, and attracts about 60,000 shoppers on weekdays and 120,000 on Sundays and public holidays.
Lunch: Yakiniku, Dinner: Street food
—
So there we have it, a jam-packed week of exciting and interesting places to visit and things to do! From traditional, cultural events in places like Kyoto and Nara, to some of the world's leading technological districts such as Akihabara, this itinerary will cover it all!