Have you ever heard of the neighbourhood near Tokyo called Kawagoe? Are you thinking about visiting this unique area of Tokyo or even staying in Kawagoe, and wondering what are some things to do, places to visit and restaurants to check out?
There are so many neighbourhoods and areas in Tokyo. Besides the famous towns like Shinjuku, Shibuya and Harajuku, there are many incredible places and spots in Tokyo that are worth a visit. If you're looking to visit a local neighbourhood and check out some hidden gems, Kawagoe might be a great place to check out. In this Kawagoe area guide, let's have a look at what to do in Kawagoe, where to eat and drink in Kawagoe, where to stay in Kawagoe and some hidden gems in the area.

One of the best ways to explore Tokyo is to visit the local areas and immerse yourself in the local culture. If you want to explore local areas, we have created scavenger hunt adventures personalised to your interests, filled with fun facts, clues and puzzles. If you're curious, you can check out the games here!

Check out the Flip Japan Games here!

What is Kawagoe?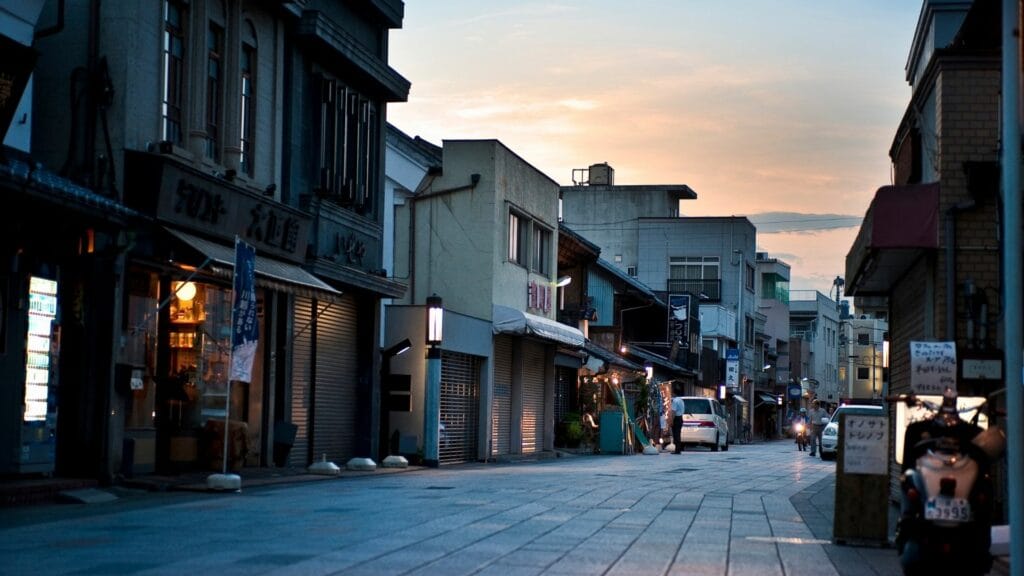 Kawagoe City, located in the southwestern part of Saitama Prefecture, is the third most populous city in Saitama Prefecture. It just takes 30 minutes by train from central Tokyo to get here. Kawagoe is a historical town in Japan, famous for its traditional Japanese buildings and culture. It is also known as "little edo" because of the old townscape of the city.
Kawagoe was served as a defence line in the northern part of Edo by Ieyasu Tokugawa during the Edo period. Influential daimyo such as Matsudaira Nobutsuna was placed and developed as a castle town of the Kawagoe domain and a town of merchants. Kawagoe was an important supply town for collecting and shipping different items and it also has an important military-political history. Around the same time, many merchants built storehouses in Kawagoe, where logistics developed with Edo. The streets lined with merchant houses still remain here today.
How to visit Kawagoe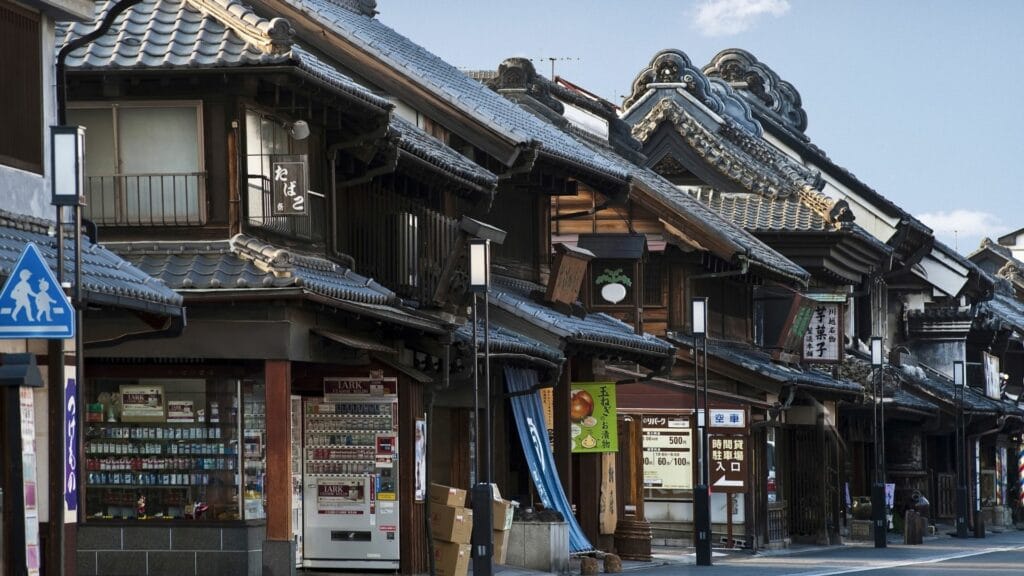 When you visit Kawagoe, the first thing you want to do is visit historical spots. Kawagoe's signature historical spots, quaint side streets and shopping streets are scattered throughout the townscape. You can meet many historical spots just by walking in the city of Kawagoe.
There are many kimono rental shops in Kawagoe. Even if you visit Kawagoe empty-handed, you can rent a kimono and walk around the city. It is also recommended to wear a kimono and take a leisurely walk through the town of Little Edo, which is full of the Edo atmosphere.
Another Kawagoe charm is the many gourmet spots. Here at Kawagoe, you can enjoy the feeling of old Japan and try out all the different sweets this place has to offer. Kawagoe is especially famous for sweet potatoes and when you visit, you can try out the amazing sweet potatoes coffee, sweet potatoes ice cream and sweet potatoes beer!
Kawagoe eel is a specialty. It's a city known for its many eel shops. It is a good idea to come and visit the eel shops in the city and compare the tastes of eels that are different for each shop.
What to do in Kawagoe
川越大師 喜多院 Kawagoe Kita-in Temple
Kawagoe Kita-in Temple was founded in Tencho 7 (830) by Emperor Junna as a royal palace by Ennin, a priest of Jikaku Daishi.
During the war in 1202, the temple was burnt down. Under Emperor Fushimi's order, it was rebuilt in 1296 and managed by the priest Tenkai. The temple reached such fame and influence that when it was burnt down in 1638, Iemitsu transferred part of Edo Castle to Kita-in, the northern hall of the temple. These structures included reception rooms, studies, kitchen, bathrooms and even Iemitsu's birth room in Edo Castle and the dressing room used by his wet-nurse Kasuga no Tsubone, who then became the mistress of the inner palace of the Edo Castle.
Due to the Great Kanto earthquake of 1923, Kawagoe Kita-in Temple contains only some structures from the original Edo Castle.
Find out more about Kawagoe Kita-in Temple here on Google maps.
川越 熊野神社 Kawagoe Kumano shrine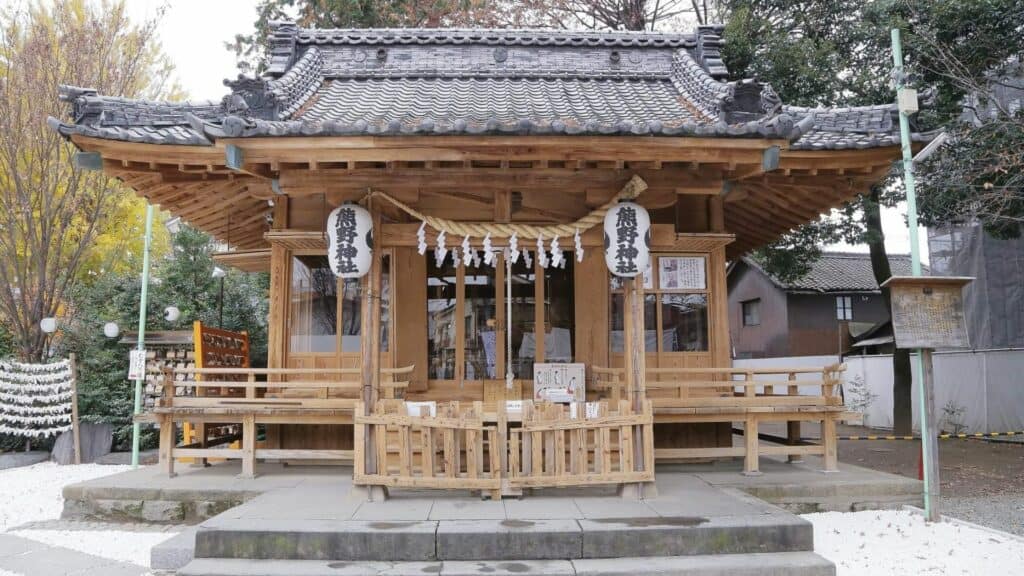 Kawagoe Kumano shrine is a small shrine of the god of love, health, and luck. A huge number of people come here every year to pray for their wishes and love to come true.
There are quite a few unique activities you can do here at this shrine. On the approach to this shrine, there is the "Footstep Health Road", where you can massage your feet by taking off your shoes and walking in on the small stones. You can also try tossing your coins to pray for good fortune for your romance, health, wealth or any other aspects of your life.
Find out more about Kawagoe Kumano shrine here on Google maps.
蓮馨寺 Renkeiji temple
This temple was built by the mother of Kawagoe Castle, Renkeiji Temple, to bring a place of peace to the people. It is a popular place as a temple for the common people.
In 1602, it became one of the Jodo sect's Kanto Juhachidanrin (a school officially recognized by the Shogunate with Zoujoji Temple at the top). Because of this, the temple was given high status and it was allowed the family crest of Aoi. The bathhouse that used to be in the temple was opened to the common people. The lions carved between the columns of the water house on the approach to the shrine is reminiscent of the art and culture of the time.
Obinzuru-sama which sits in front of the Donryudo is very popular with the citizens and it's believed that your illness will be cured by touching the Buddha.
Fukurokuju is also enshrined here. Fukurokuju is said to be the god who embodies the three virtues of bringing happiness to people, building wealth, and living a healthy and long life. Originally a Chinese god, Fukurokuju represents one aspect of the work of Amida Nyorai, the principal idol of the mountain, in this world. It is enshrined in temples in China and Japan and is worshipped by many people.
Find out more about Renkeiji temple here on Google maps.
時の鐘 Toki no Kane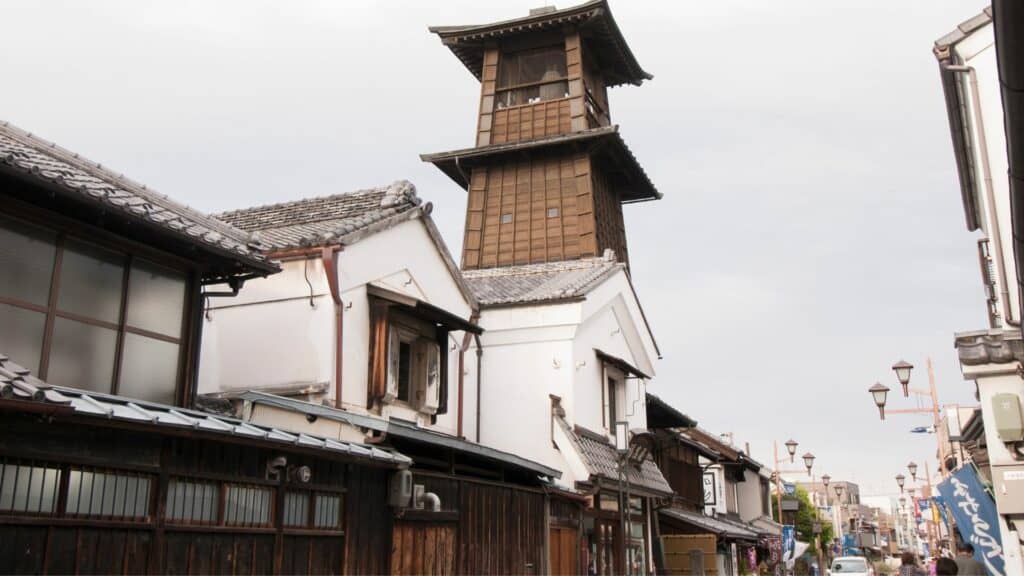 Toki no Kane was first built by Tadakatsu Sakai, the lord of Kawagoe Castle, in Taga Town (now Saiwaicho) between 1627 to 1634. The current bell tower was rebuilt the year after the Kawagoe Great Fire that occurred in 1893. It has a three-layer structure and is about 16 meters high. It is a symbol of Kawagoe that has been telling the time for the local people since the early Edo period when it was founded. Currently, the sound of bells echoes in the streets of Kurazukuri four times a day, at 6:00, 12:00, 15:00, 18:00. In 1996, Toki no Kane was selected as one of the "100 Soundscapes of Japan" sponsored by the Environment Agency.
Find out more about Toki no Kane here on Google maps.
氷川神社 Kawagoe Hikawa Shrine
Hikawa Shrine is a shrine that is worshipped as the guardian of Kawagoe. The current main shrine, which was built in 1842, has an elaborate sculpture called Edo carving and is designated as an important cultural property of the prefecture. The five deities enshrined at the shrine are the reason why the shrine has been worshipped as a god of marriage and has brought many people together.
Kawagoe Hikawa Shrine is said to have been built about 1,500 years ago. Since Kawagoe Castle was built by Michimasa Ota and Dokan father and son in 1457 during the Muromachi period, it has been deeply respected by successive castle owners as the guardian deity of the castle and the general guardian of the feudal lord.
Find out more about Kawagoe Hikawa Shrine here on Google maps.
小江戸蔵里 川越市産業観光館 Koedo Kurari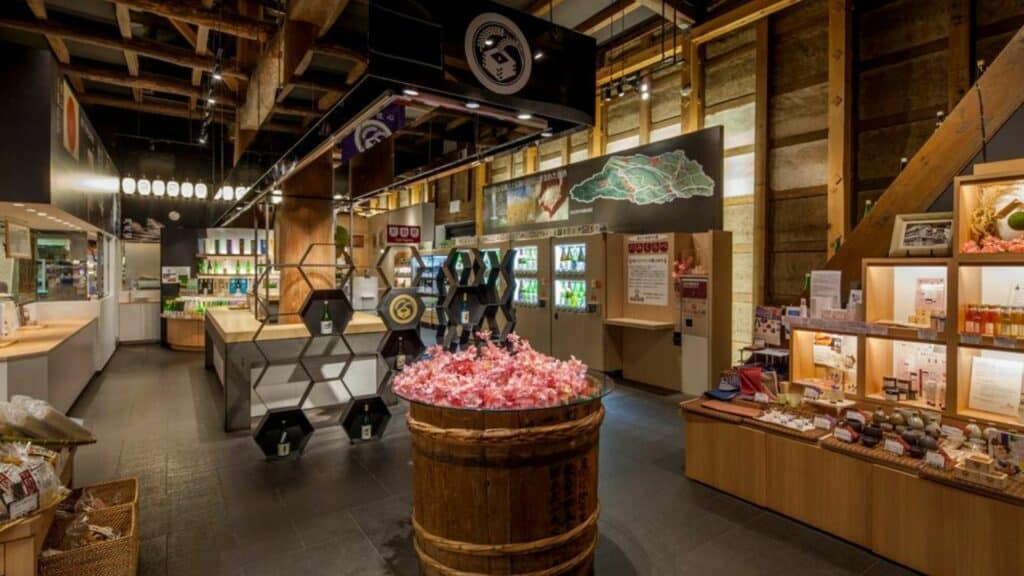 There are three warehouses in Koedo Kurari, the Meiji Gura (souvenir shop), the Taisho Gura (restaurant), and the Showa Gura (sake place). There is also the exhibition Gura for displaying and exhibiting different items. The warehouses were renovated traditional buildings of the former Kagamiyama Brewery. The exhibition storehouse is designated as a nationally registered tangible cultural property.
Kagamiyama Brewery started its business in 1875 and Koedo Kurari opened in 2010 to share the local products of Kawagoe. The name "Koedo Kurari" was chosen because "Koedo" is the nickname of Kawagoe, and "Kura" refers to Kawagoe's famous Kurazukuri. It is combined with "Ri" meaning one's home.
The Show Gura is a unique spot where you can enjoy tasting different types of local Japanese sake with their sake vending machines, along with delicious snacks. It's a fun interesting experience at a low price
You can buy souvenirs and eat here and enjoy what this place has to offer. The souvenir shop, in particular, is a warehouse built in the Meiji era, so it is a place where you can feel the history of Koedo Kawagoe.
Find out more about Koedo Kurari here on Google maps.
菓子屋横丁 Kashiya Yokocho / Candy Alley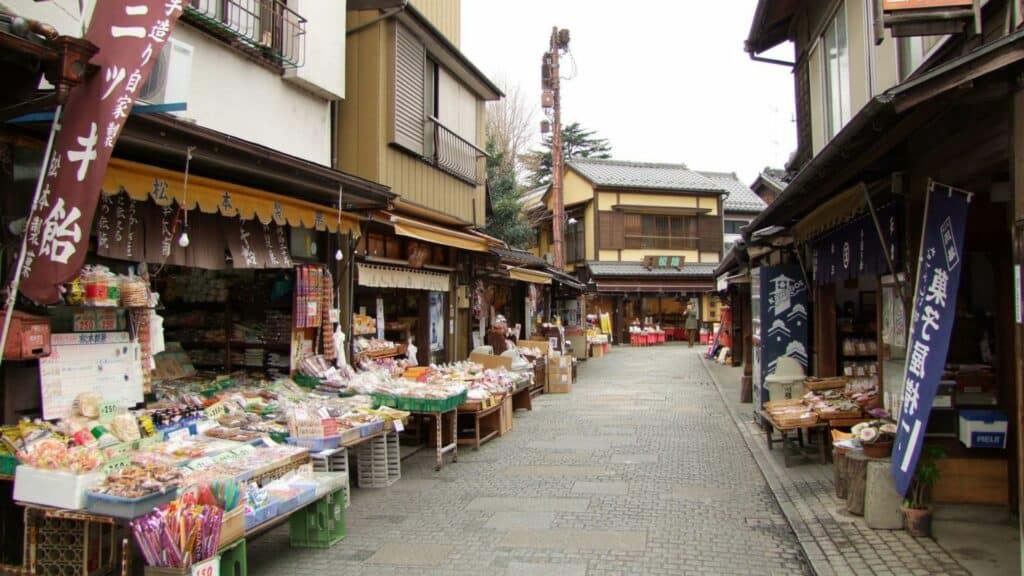 Kashiya yokocho Candy alley Is a little shopping street, lined with stores selling different Japanese traditional sweets and cakes.
Kashiya Yokocho has been manufacturing confectionery since the beginning of the Meiji era. It began to manufacture and supply sweets on behalf of Tokyo, which was damaged by the Great Kanto Earthquake, and it is said that about 70 vendors lined up in the early Showa period.
Currently, there are more than 20 stores in a row, and it is a popular spot not only for children but also for adults who miss the Showa era. The atmosphere created by Yokocho and the downtown-style sweets such as candy and rice crackers have increased the number of fans seeking nostalgia and are visited by many people.
In 2001, it was selected as one of the "100 Kaori Scenery Selections" conducted by the Ministry of the Environment because of the atmosphere created by Yokocho and the nostalgic atmosphere of downtown-style sweets.
Find out more about Kashiya Yokocho here on Google maps.
川越椿の蔵 Kawagoe Tsubaki no Kura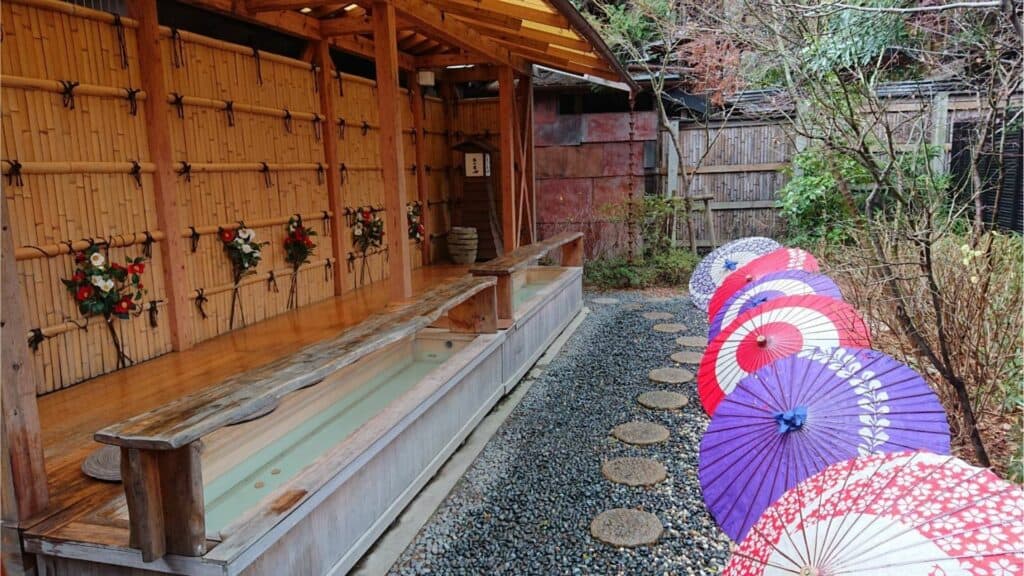 Kawagoe Tsubaki no Kura is a traditional Japanese storehouse known as the "kura" and it is one of the largest shops in the area, selling traditional and cultural Japanese goods. The ceiling is high here and you will feel like you have walked into a new place when you enter this store. You can find all kinds of unique Japanese accessories and traditional clothes, shoes, bags and decor.
Kawagoe Tsubaki no Kura consists of a few different stores. One of them is Wamonoya KAYA. At the end of the Edo period, Japan incorporated western culture, which greatly impacted the Japanese culture. Wamonoya KAYA showcases all kinds of traditional Japanese goods, as well as Japanese goods that have been influenced by western cultures. Iwakura is another store featured here, featuring different jewellery that represents the beauty of Japan.
A unique spot of this shop is the Tsubakiya Foot Spa Tearoom. Along with a footbath, you can enjoy some Japanese drinks and sweets in the Japanese-style garden. It is a great place to go after walking around Kawagoe and when you want to relax. 
Find out more about Kawagoe Tsubaki no Kura here on Google maps.
川越着物レンタル美々庵 Vivian Kimono Rental
Why don't you wear a kimono and walk around Kawagoe, where the old-fashioned cityscape remains around you? Vivian is an affordable kimono rental place that can be easily used by foreigners and first-time users. They can accommodate groups of 1 to 100 or more. Everything you would need can be rented here so you don't have to worry about bringing anything. This is also the only kimono rental shop that won the "Saitama Prefecture Hospitality Award", known for its dedication to offering the complete package to help you have the best experience here. 
Find out more about Vivian Kimono Rental here on Google maps.
川越体験工房青い鳥 Aoitori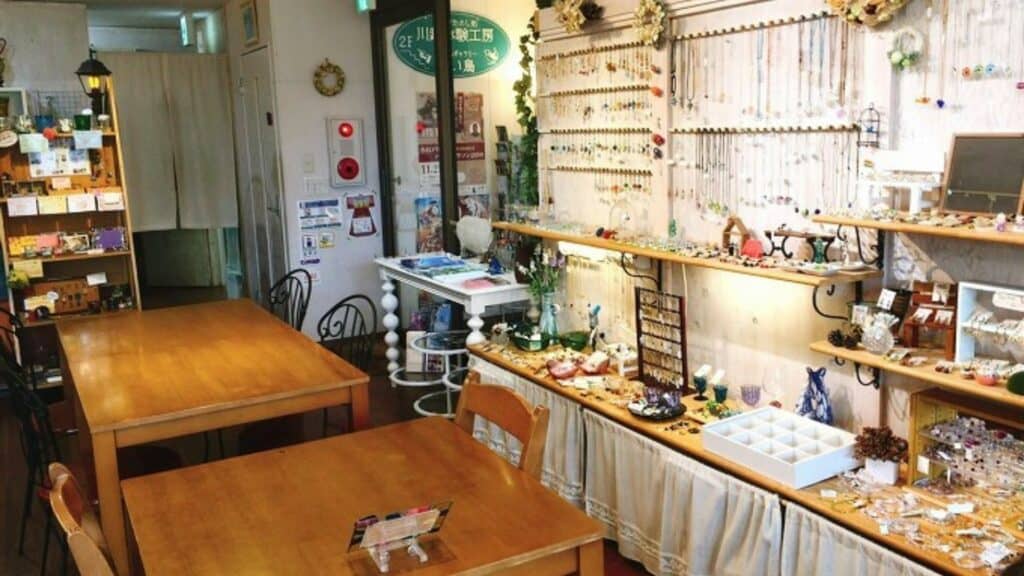 The town of Kawagoe, where many craftsmen and merchants lived, is thriving in all kinds of crafts. One place you can visit to try out these craft experiences is Aoitori. At the store on the second floor of the building, you can make accessories with dragonfly balls and stained glass, and make original glass with carved glass and sandblasting experience. This is a great spot where you can make handmade souvenirs while having fun.
Find out more about Aoitori here on Google maps.
What to eat and drink in Kawagoe
うなぎ 小川菊 Ogakiku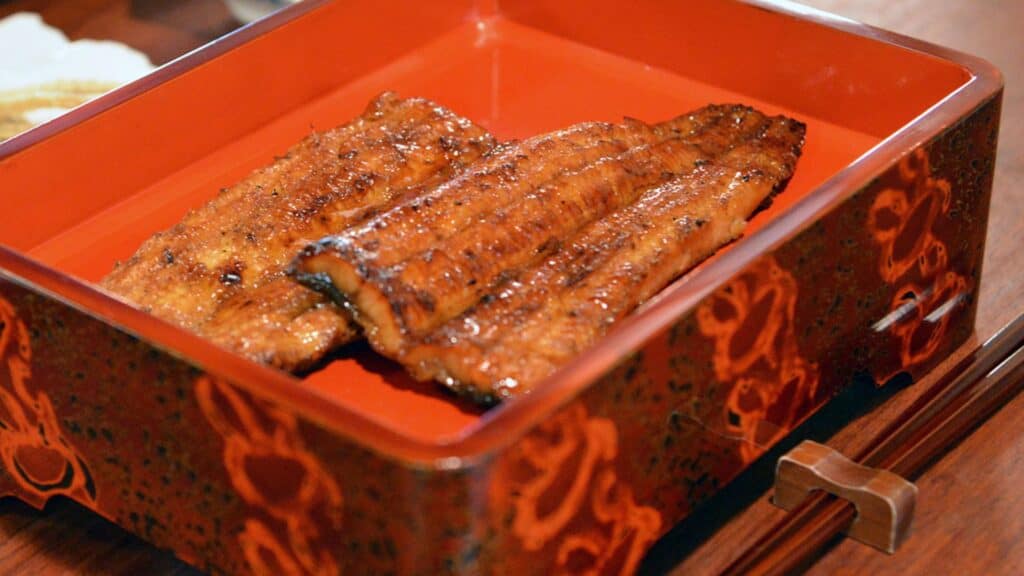 Ogakiku first opened about 200 years ago. Ogakiku Is a famous eel restaurant in a historic building with a traditional Japanese style. Now, Ogakiku is owned by the 7th generation of the family. The restaurant has had a secret heirloom sauce since its opening of the restaurant and it offers amazing eel sauce.
Find out more about Ogakiku here on Google maps.
お食事処林屋 Ugani Hayashiya
Unagi Hayashida is a traditional restaurant known for Japanese eel, situated in a traditional building that is over 100 years old. The carefully selected eels are carefully baked one by one by craftsmen with Bincho charcoal and served with seasonal ingredients. The restaurant is known for its way of cooking eel. They steam the eel twice and bake it twice to get the fluffy texture. They also have a popular fried chicken dish here, grilled with garlic sansho. 
Find out more about Ugani Hayashiya here on Google maps.
Starbucks Kawagoe
Starbucks is a coffeehouse chain world-famous, but in Kawagoe, you can find this unique traditional Japanese-style Starbucks. It looks like one of the warehouses that the city is famous for, with a gorgeous view of a Japanese garden.
Find out more about Starbucks Kawagoe here on Google maps.
Hotels in Kawagoe
Kawagoe Tobu Hotel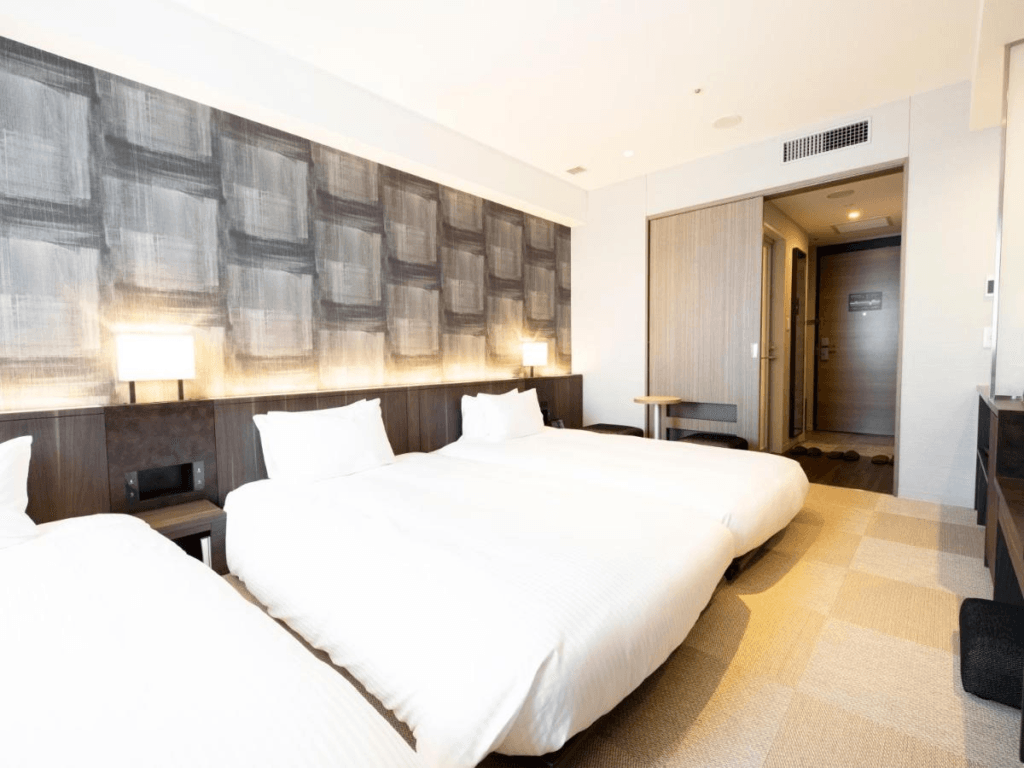 Set within 2.3 km of Candy Alley and 11 km of Lalaport Fujimi, Kawagoe Tobu Hotel offers rooms in Kawagoe. Among the facilities of this property are a restaurant, a 24-hour front desk and luggage storage space, along with free WiFi.
The hotel will provide guests with air-conditioned rooms offering a desk, a kettle, a fridge, a safety deposit box, a flat-screen TV. At Kawagoe Tobu Hotel every room has bed linen and towels.
Guests at the accommodation can enjoy a buffet breakfast.
Address: 350-1123 Saitama, Kawagoe, Wakitahoncho 8-1, Japan
Kawagoe Prince Hotel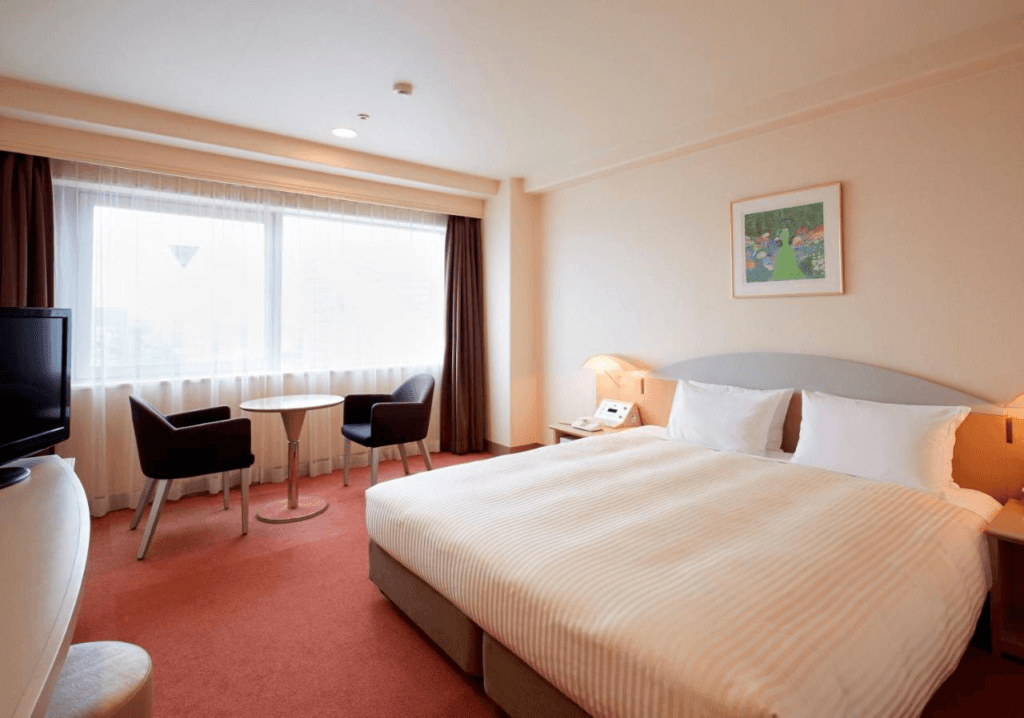 Directly connected to Hon-kawagoe Train Station, Kawagoe Prince Hotel offers a 24-hour front desk and guest rooms with free Wi-Fi. The historic Kura-no-machi area in Kawagoe can be reached within a 20-minute walk.
Each room comes with a flat-screen satellite TV, a fridge and an electric kettle with tea bags. The en suite bathroom includes a bath tub and free toiletries.
Laundry services and drinks vending machines are available.
The hotel is a 10-minute walk from JR Kawagoe Station. Kita-in Temple is located a 15-minute walk away. A shopping mall is connected to the hotel. Shinjuku area is a 45-minute train ride from Honkawagoe Station.
Etoile restaurant offers hearty buffets including a Japanese/Western breakfast buffet, while Kokiden serves lavish Chinese cuisine. Delicately prepared Japanese meals can be savoured at Musashino restaurant.
Address: 350-8501 Saitama, Kawagoe, Shintomi 1-22, Japan
—
Kawagoe is a beautiful city that still has the beautiful old townscape of Tokyo. Would you want to come and visit Kawagoe? Find out more about different underground neighbourhoods in Tokyo here. If you are interested in finding more underrated areas around Japan, check out all the areas we have explored and loved here!