Have you ever heard of the Tokyo neighbourhood, Kitasenju? Are you thinking about visiting this unique area of Tokyo or even staying in Kitasenju, and wondering what are some things to do, places to visit and restaurants to check out?
There are so many neighbourhoods and areas in Tokyo. Besides the famous towns like Shinjuku, Shibuya and Harajuku, there are many incredible places and spots in Tokyo that are worth a visit. If you're looking to visit a local neighbourhood and check out some hidden gems, Kitasenju might be a great place to check out. In this Kitasenju area guide, let's have a look at what to do in Kitasenju, where to eat and drink in Kitasenju, where to stay in Kitasenju and some hidden gems in the area.

One of the best ways to explore Tokyo is to visit the local areas and immerse yourself in the local culture. If you want to explore local areas, we have created scavenger hunt adventures personalised to your interests, filled with fun facts, clues and puzzles. If you're curious, you can check out the games here!

Check out the Flip Japan Games here!

What is Kitasenju?
Kitasenju has many old buildings and it is a historic city where you can feel the atmosphere of Edo. Kitasenju has become a popular tourist destination for tourists and a great spot to live in because of its easy access to the five different train lines and the calm atmosphere of the city.
Senju Street Station was originally a fish store and it has become a tourist information centre for Kitasenju. It has a nostalgic retro appearance. There is also a mini-exhibition corner associated with Kitasenju for you to discover the history and culture of this area.
Arakawa river flows through Adachi Ward and brings a relaxing atmosphere to the area. The Adachi-ku Arakawa Visitor Center is located about a 15-minute walk from Kitasenju Station and different exhibits and activities related to Arakawa are held here. You can thoroughly learn about history and nature with the extensive exhibits about Arakawa and the insects and aquatic creatures derived from Arakawa.
Adachi is also known for the Adachi fireworks. Adachi fireworks began in the Meiji era. It is said that the fireworks were launched to celebrate the completion of Senju Ohashi. The 1st Senju Fireworks Festival was held in 1918, and now, it is held around the end of July every year, so if you are around Tokyo around then, make sure to drop by the Adachi fireworks!
Things to do in Kitasenju
千住 街の駅
When it comes to "Tourism!", One of the first things you will need is a map. The map function of mobile phones is also convenient, but it is exciting to go sightseeing around the city while expanding the paper map.
The place where maps and pamphlets that are indispensable for such sightseeing are placed in the station in this town. The building, which was originally a fish store, has become a tourist information centre in Kitasenju, and its nostalgic retro appearance is eye-catching. Goodwill also has the word "resting place", and as the name suggests, there are chairs for resting in the building. There is also a mini exhibition corner associated with Kitasenju, so it is recommended as a sightseeing spot where you can take a break when you are a little tired of sightseeing.
Find out more about 千住 街の駅 here on Google maps.
Arakawa Visitor Center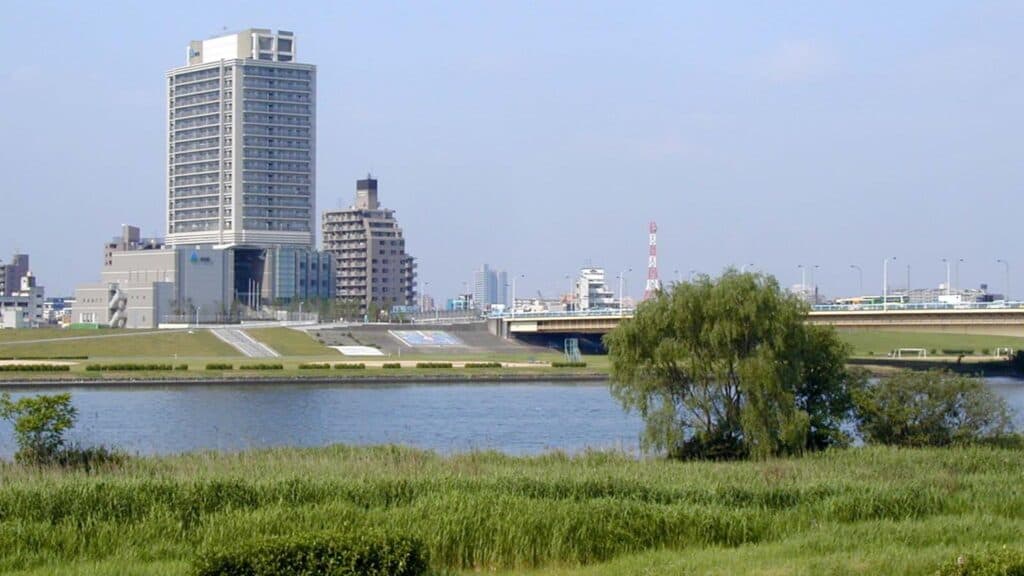 Arakawa flows through Adachi Ward and brings relaxation to the people of Kitasenju. The part from Iwabuchi Water Gate in Kita Ward to Tokyo Bay, which flows through Saitama and Tokyo, is surprising because it is an artificial river built over about 20 years.
The Arakawa Visitor Center in Adachi-ku, which is about a 15-minute walk from Kitasenju Station, is a tourist facility where various exhibits and activities related to Arakawa are held. You can thoroughly learn about history and nature with the extensive exhibition contents such as easy-to-understand explanation panels about Arakawa and the actual insects and aquatic creatures derived from Arakawa.
If you look at Arakawa again after gaining knowledge, you should be able to see the river that you couldn't see before. When you visit Kitasenju sightseeing, be sure to visit the Arakawa Visitor Center in Adachi-ku and fully enjoy the charm of Arakawa.
Find out more about Arakawa Visitor Center here on Google maps.
Yokoyama Family House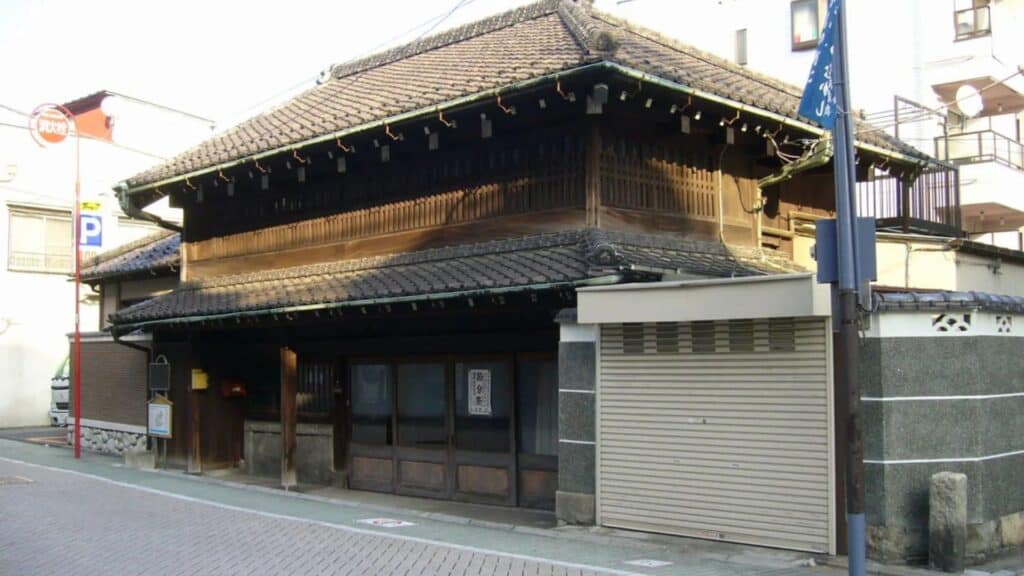 The Yokoyama family in Kitasenju which is built in 1855, was a merchant house of a local paper wholesaler facing Senju-juku on the Nikko Kaido, which prospered as a post town during the Edo period. It seems that they sold "Asakusa paper", a toilet paper from the Edo period, to Nihonbashi.
Although it was rebuilt once in 1936, it is also a tangible cultural property of Adachi Ward, where Kitasenju is located, because it has survived the fires of the Great Kanto Earthquake and the Pacific War and has almost the same appearance as it was when it was first built. It is specified. The solid appearance is spectacular, and it can be said to be one of the must-see sightseeing spots when visiting Kitasenju. However, it is not possible to tour the inside of the building, so please be careful not to accidentally enter the building while sightseeing.
The traces of the vivid sword wounds left on the entrance pillar were made by Shogitai Ueno during the Battle of Ueno in 1868. You can also see the remnants of the turbulent times that changed from Edo to the Meiji era.
Find out more about Yokoyama Family House here on Google maps.
Senjujuku History Petit Terrace 千住宿歴史プチテラス
History of Kitasenju Petit Terrace is a tourist facility that has been relocated from the Yokoyama family, which has been a local paper wholesaler since the Edo period. It is now also used as a gallery. From the exterior and interior of the dozo, you can feel the weight that has passed through many years. The exhibits are also spectacular, and it is a tourist spot where you can think of the history of Kitasenju, which prospered during the Edo period.
The scenery of the flowers in each season is very beautiful, and I want to relax and enjoy sightseeing in the history of Kitasenju! It is a recommended sightseeing spot for those who say.
Find out more about Senjujuku History Petit Terrace here on Google maps.
Shosen-ji 浄土宗 三宮神山 勝専寺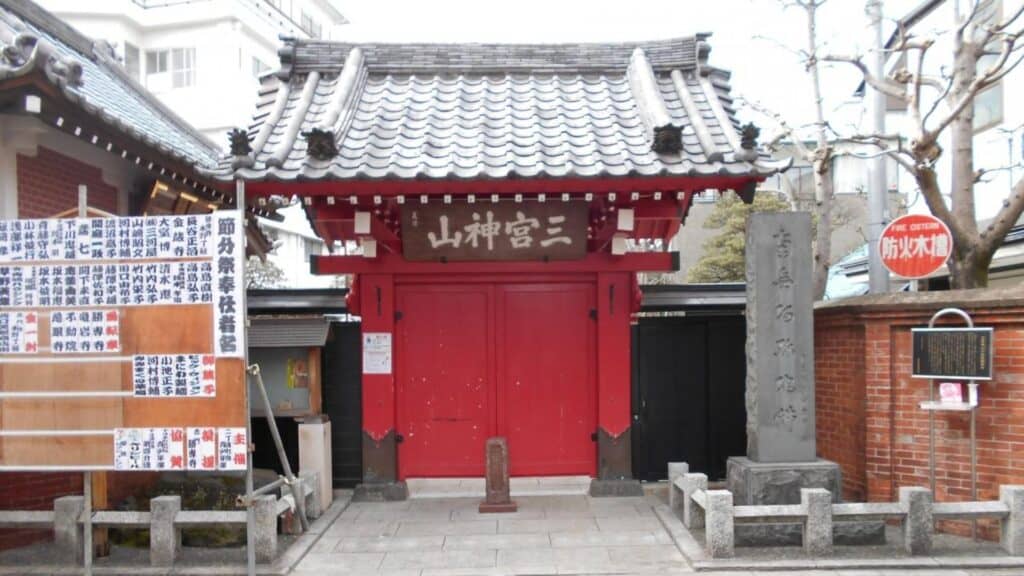 Shosenji is a place where the bright red gate stands out. Also known as "Akamonji", it is familiar to the people of Kitasenju. The appearance of the main hall, which is made of brick and has an exotic atmosphere, is also characteristic. Shosenji was founded in 1260 during the Kamakura period. During the Edo period, Hidetada Tokugawa, the second shogun, used it as a resting place for falconry, and it is said that Iemitsu, the third shogun, often stopped by the teahouse built in the precincts.
The current main hall was built in 1906. In preparation for the flood-prone land pattern of Kitasenju, it is said that concrete was used as the main material and red bricks were fitted on the sides to create a sturdy structure that imitated an Indian temple to prepare for flooding.
Every year on January 15th and 16th, there is also a festival called "Enma Opening" where a powerful statue of Enma, which is 1.8m long, is exhibited. This festival, which has many food stalls and is crowded with many tourists, is one of the popular tourist events in Kitasenju.
Find out more about Shosen-ji here on Google maps.
Sekido Museum of Art 石洞美術館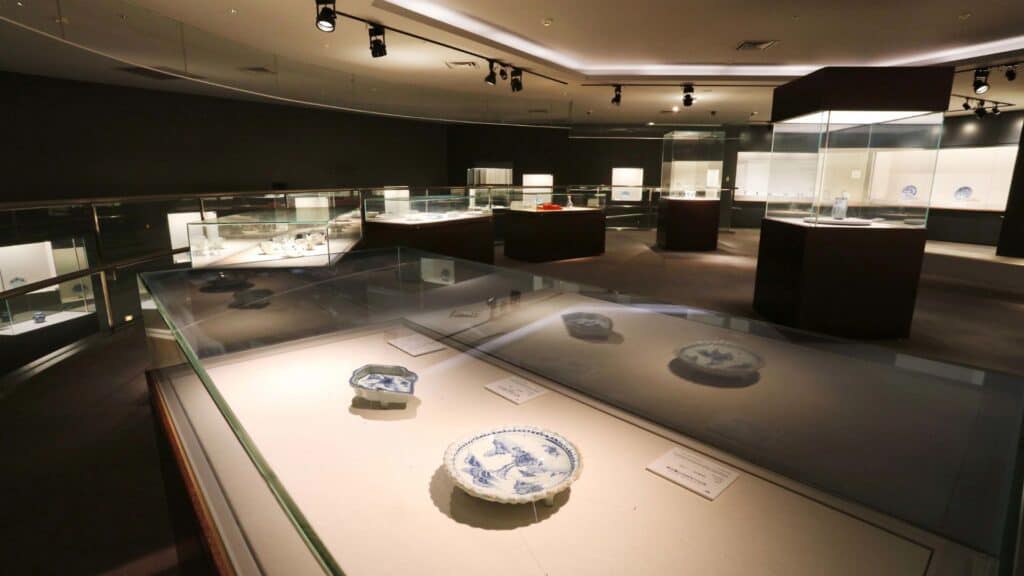 The Sekido Museum of Art in Kitasenju was built in 2006 with a focus on collections collected around the world by Senju Sato, who was the president and chairman of Senju Metal Industry Co., Ltd. It features a down-roofed copper roof and a hexagonal exterior with reddish-brown brick tiles. In addition to being barrier-free, such as installing slopes, there is also a cafe "Myoko" run by people with disabilities.
The main collection is pottery, lacquering, metalwork and other pottery. From the tea ceremony kettle to lacquerware, jade ware, and bronze ware, there is no doubt that you will be drawn to the many vessels with beauty from all over the world. The religious artworks, which are mainly collected from Indian religious art, are also worth seeing. This is a tourist facility in Kitasenju that is especially recommended for those who want to enjoy moist sightseeing. Please thoroughly enjoy the Buddha statue of Gandhara and Hindu art.
Find out more about Sekido Museum of Art here on Google maps.
Senju Honcho Park 千住ほんちょう公園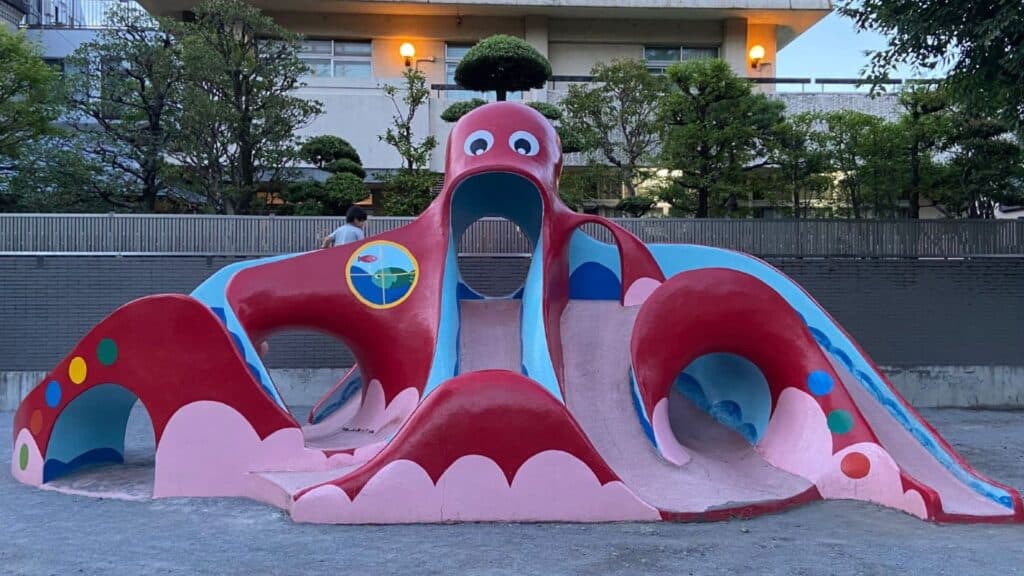 About 5 minutes walk from Kitasenju station. Senju Honcho Park is located along the Kyu-Nikko Kaido. Let's convey the atmosphere of Kitasenju, which was a busy post town during the Edo period, to tourists who visited Kitasenju! It was created based on the concept.
There are also Senjujuku historic sites and historic site guide maps, so you can relax and think about the scenery of the Edo period in the park full of atmosphere. Not only is it a place of relaxation for the people of Kitasenju, but it is also a recommended park that can be enjoyed by tourists.
Find out more about Senju Honcho Park here on Google maps.
千住ほんちょう商店街
Honmachi Center Shopping Street is located just outside the west exit of Kitasenju Station. It is a shopping street that was built on the site of Senju-juku in the Edo period and is dotted with historical spots. Therefore, it is a popular tourist spot among tourists visiting historic sites.
At the same time, it is also a local shopping district loved by the locals of Kitasenju. I thought I'd go for a bit of sightseeing, but I couldn't help but stay in the downtown atmosphere with a nostalgic scent.
Find out more about 千住ほんちょう商店街 here on Google maps.
千住絵馬屋・吉田家
A votive tablet that is familiar when visiting temples and shrines. Wouldn't it be very exciting to write your wishes carefully and tie them to the shelves? Facing the old Nikko Kaido in Kitasenju, Yoshidaya is a long-established votive tablet that has been making such votive tablets since the Edo period. The creator, Akiko Yoshida, is an intangible folk cultural property holder in Adachi Ward. We continue to follow the traditional method of making votive tablets from the Edo period.
You can't see the inside of the building, but you can fully feel the weight of its history from the outside. In addition, many votive tablets from Yoshidaya are dedicated to the votive tablets of Choenji Temple in Kitasenju, hoping for the healing of eye diseases, prosperous business, and academic achievement. Each votive tablet is carefully made, and all the votive tablets are very beautiful. If you want to go sightseeing in the Yoshida family, be sure to visit Choenji Temple as well.
Find out more about 千住絵馬屋・吉田家 here on Google maps.
Where to eat in Kitasenju?
Chaka 茶香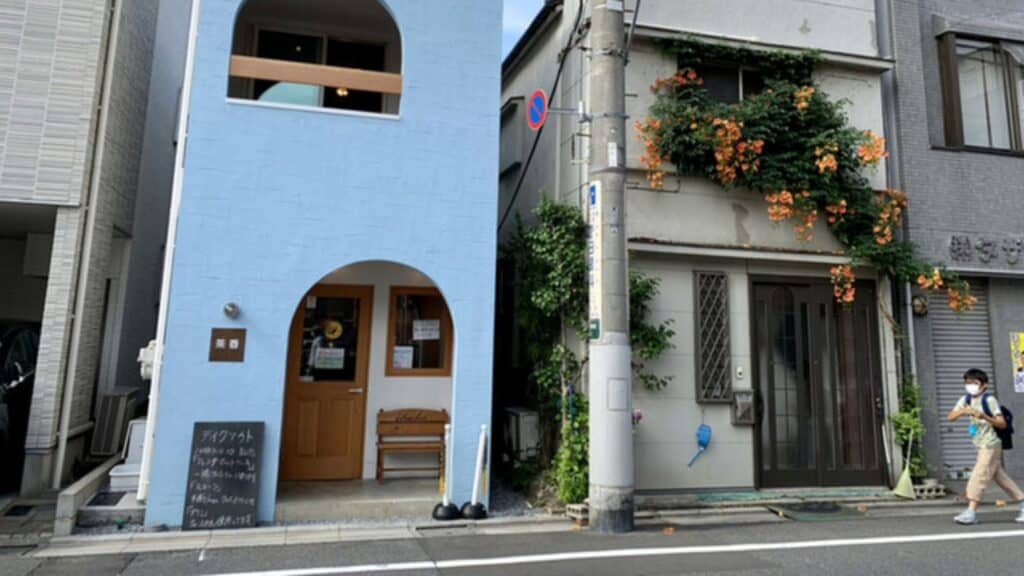 Chaka is a popular dessert cafe, serving all kinds of fluffy pancakes and seasonal fruits and different ice cream. The most popular is "Akari Pancake" for 1,300 yen. You can have an additional drink for 200yen. The dough is fluffy and melts in your mouth while leaving the sweetness on your tongue. Fresh cream is sweet but very light so it's easy to eat.
The tea incense pancakes are a combination of Master's original powder. The master here carefully prepares just the right amount of pancakes for the day. Fresh raw milk and buttermilk from Hokkaido are used and each item is made individually for each order.
Find out more about Chaka here on Google maps.
Sd Coffee エスディ コーヒー
The store name Sd is an abbreviation for Suzuki Denki. It is also an abbreviation for S for "Sento" and D for "Daisuki". This was named because the store manager, Suzuki, likes public baths and his parent's house was an electric shop.
Kitasenju is full of old-fashioned downtown atmosphere. About a 5-minute walk from the station, Sd Coffee stands out even from a distance. From the outside, it has a retro American feel, but once you step inside, you will find a showa interior.
The interior of the store is arranged with the concept of an electric shop and a public bath. There are many interiors with light bulbs as motifs in the store. There is even a mural painting of Mt. Fuji that remind us of public baths in Japan.
When you place an order, you will receive a numbered light bulb. The original hot dogs here are very popular and they come in onsen buckets. Everything is unique here and you will get to try all kinds of fusion dishes and creative items. They have a lot of original goods and items reminding you of the Showa period.
Find out more about Sd Coffee here on Google maps.
LaZAPPA 北千住店
La ZAPPA is an Italian restaurant where you can enjoy fresh organic vegetables and carefully selected wines. The antique-style restaurant has both counter seats and table seats that can be easily used by one person, making it an easy place to stop by after work or on the way home from work.
The restaurant's special vegetables are all shipped directly from contracted farmers, and the bagna cauda, which allows you to enjoy a variety of seasonal vegetables, is a superb dish. The restaurant also offers daily appetizers, handmade pasta, and a variety of other dishes that can be enjoyed with wine.
Find out more about LaZAPPA here on Google maps.
Wakabado cafe わかば堂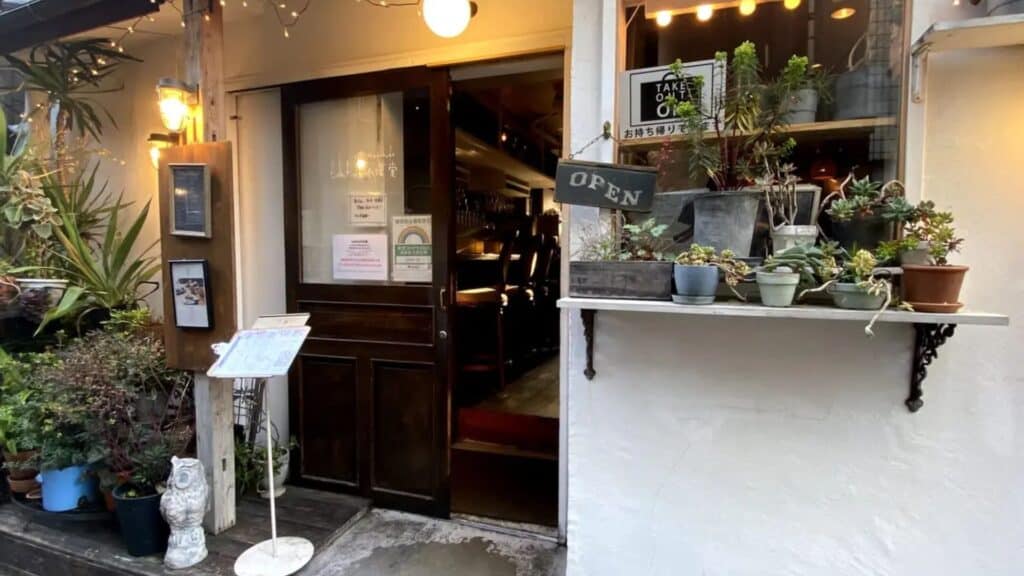 Wakabado cafe is a hideout in a renovated private house in the back alley of Kitasenju. For lunch, relax in the soft light coming in from the courtyard with a view of the sky. You can enjoy lunch and dessert as well as drinks in a relaxed atmosphere. Lunch comes with salad, bread, and soup for about 1,000 yen. For dinner, enjoy the gentle light of antique lighting and candles and the music played by an amplifier.
Seasonal ingredients are used to create different dishes and desserts. Homemade bread and domestic wine are also available. The meat is cooked to the point that it falls apart, making it an authentic dish.
Find out more about Wakabado cafe here on Google maps.
もう一つの家 一歩一歩
Ippo Ippo is a popular izakaya with a cosy atmosphere, located about a 1-minute walk from the west exit of Kitasenju Station. There are tables and loft seats in the back, making it a great place to relax and enjoy a drink. If you sit at the counter seats, you can watch the robata being grilled in front of you, which is also popular among couples.
The restaurant also focuses on handmade dishes that take a lot of heart and care, and do not use chemical seasonings, allowing you to enjoy the taste of your mother's cooking.
The omelette is made to order and is hot, fluffy, and tastes great. The shrimp mayo is a must-try. The sauce is handmade and the batter is crispy. The fact that you can order one at a time is also a great point. Once you visit this popular izakaya with its heartwarming dishes, you will definitely want to go back again.
Find out more about もう一つの家 一歩一歩 here on Google maps.
Matador Gyukotsu Ramen 牛骨らぁ麺 マタドール 本店
Gyukotsu Ramen Matador is a popular beef bone ramen restaurant located about a 4-minute walk from Exit 1 of Kitasenju Station, with ramen made by a restaurant owner who knows all about the beef. He won the first ramen chef audition at Ra-Senju and later opened his own store in his hometown of Kitasenju. The atmosphere of the restaurant is modern, with black as its base colour and a striking red colour on the floor.
The soup is made mainly from beef bones with plenty of beef, seafood, and vegetables, and is well-balanced with the sticky texture of the straight, thin noodles. Instead of roasted pork, it is topped with a large piece of roast beef, which is tender and tasty with a moderate seasoning. The bowl is stylish and the light aftertaste makes it very popular among women as well. The soup is a clear broth, yet it is rich and mild, so be sure to try this ramen that lets you fully enjoy the deliciousness of the beef!
Find out more about Matador Gyukotsu Ramen here on Google maps.
Obana尾花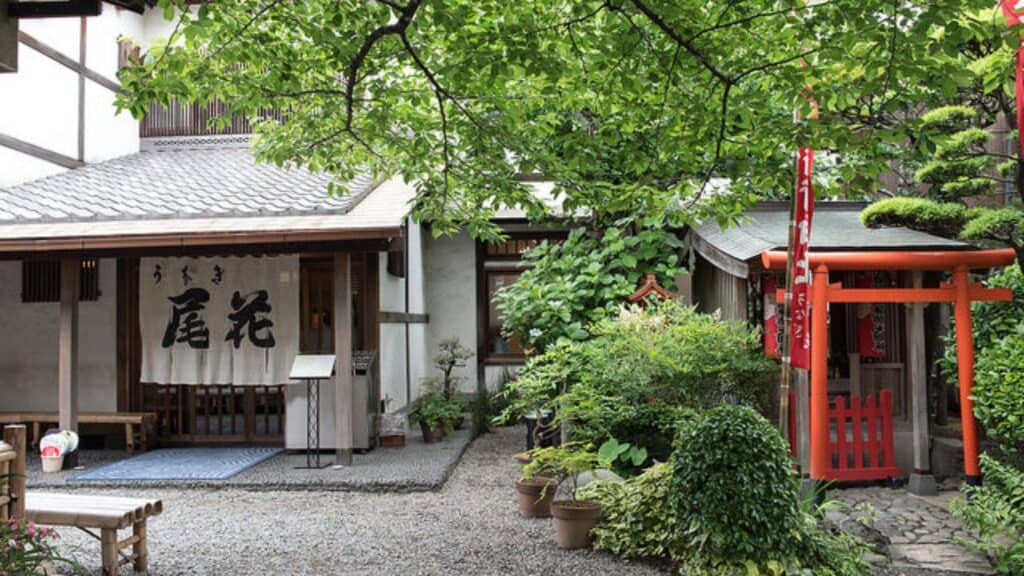 Ohana is a famous eel restaurant located about 5 minutes on foot from Minami-Senju Station and has been awarded a Michelin star in the Michelin Guide. The main dish, unaju, is available at three different prices depending on the size of the eel. The eel is thick, firm, and fluffy, and the sauce is rich, sweet, and spicy. The sauce is rich, sweet, and spicy, and the savoury aroma of the charcoal fire goes well with the rice.
The umaki is also highly recommended. It is filled with a thick layer of broiled eel, and the richness and flavour of the eel can be strongly felt in the slightly sweetened Edo style egg. You can also enjoy the elegant aroma of the grilled eel and the texture that softly melts on your tongue. Please enjoy the best eel with a sense of tradition and technique.
Find out more about Obana here on Google maps.
Sunny Diner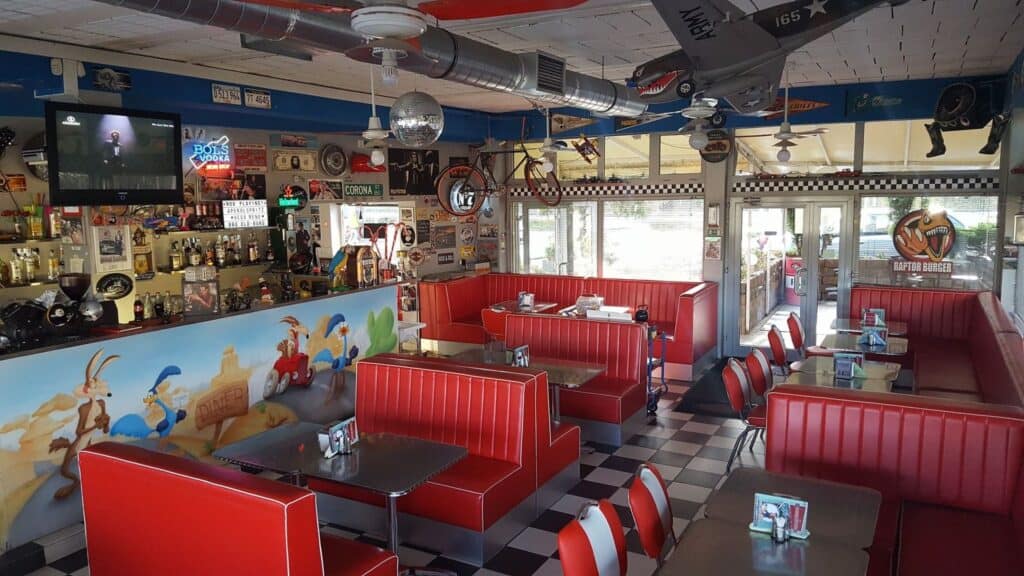 Sunny Diner is located about a 1-minute walk from Kitasenju Station and is very popular for its authentic hamburgers. The red and white colour scheme of the restaurant gives it a pop American dining feel, and the interior is decorated with cute sundries and posters. The burgers are made with fresh vegetables and 100% domestic beef under the concept of "delicious and healthy food carefully handmade by hand.
Two types of buns are available, one with poppy seeds and the other with sesame seeds kneaded into the bun, giving it a fluffy texture and rich flavour. On the plate, the meat and vegetables in the buns are placed separately, and you can choose what you want to put between them. The friendly atmosphere and delicious gourmet hamburgers are sure to keep you coming back.
Find out more about Sunny Diner here on Google maps.
Sasaya ささや
Sasaya Kitasenju is a famous restaurant for Motsunoyaki (grilled beef or pork) located about 2 minutes on foot from Kitasenju Station. This izakaya is run by the owner, who trained at Shinjuku Sasamoto in Ginza.
We recommend the stewed skewers (600 yen). Three types of tender skewers are stewed from the same supplier as at Sasamoto and include huwa (lung), kashira (pork), and shiro (white meat), all of which are of high quality and have no odour. They are seasoned with light salt so that you can enjoy the flavour of the motsu.
The homemade liver paste is another dish that goes well with sake. The liver is flavoured with herbs and black pepper, and even those who do not like liver can enjoy it. Beef Harami Sashimi and Pork Liver Sashimi are also popular items. This is the perfect place to enjoy delicious food and drink slowly.
Find out more about Sasaya here on Google maps.
Uzukino Honten 宇豆基野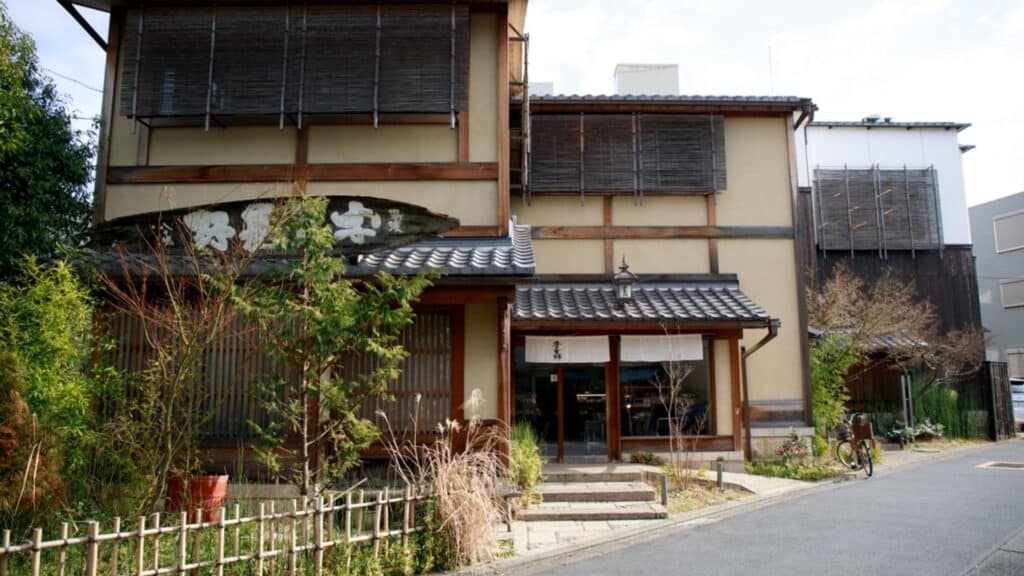 Uzukino Honten is a unique tofu and namafu speciality shop. Uzukino offers a limited number of meals, which are made with great care in the on-site workshop.
The Uzukino Brunch at 2,800 yen, focuses on namafu and tofu dishes, on Saturdays, Sundays, and holidays. This reasonably priced course includes 7-8 dishes, all-you-can-scoop freshly made namafu and dessert. The explanation about tofu and namafu and the demonstration of making them right in front of you is as enjoyable as a factory tour.
There are different types of yunami, with the first yunami having a refreshing taste, and then gradually changing to sweeter and mellower yunami as they are harvested. The menu also features dishes that make the most of the characteristics of each season. Taste the freshly made Yunami and enjoy the world of Yunami to your heart's content.
Find out more about Uzukino Honten here on Google maps.
Accommodation in Kitasenju
Landaabout Tokyo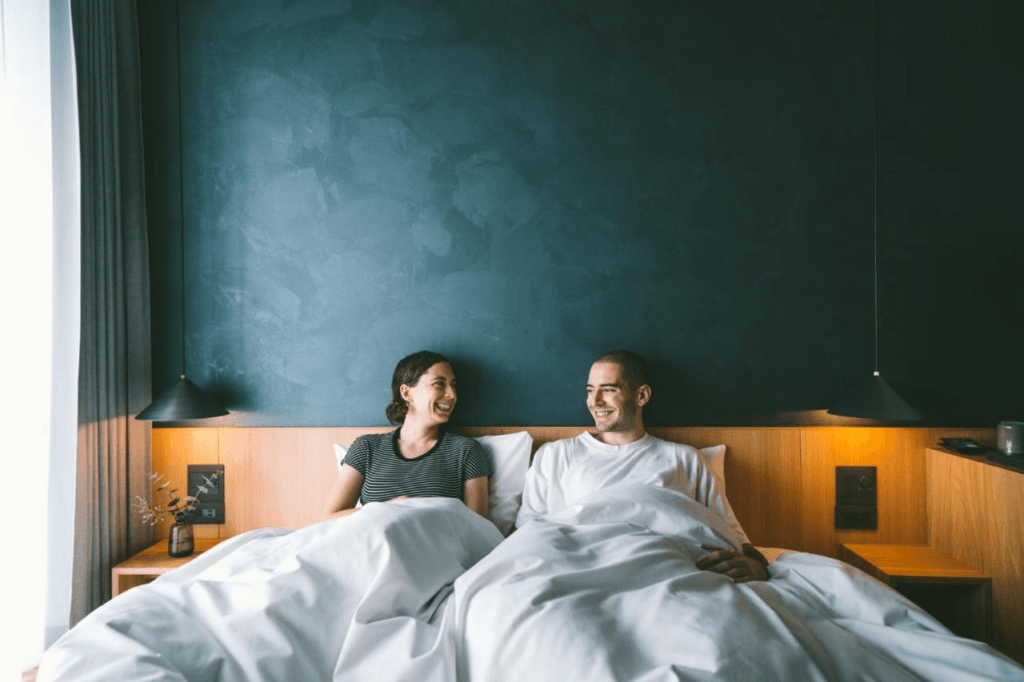 Boasting a restaurant, bar, shared lounge and free WiFi, LANDABOUT TOKYO is situated in Tokyo, 400 m from Kemmyo-in Temple and 600 m from Shunsho-in Temple.
At the hotel, the rooms are fitted with a desk, a flat-screen TV and a private bathroom. All rooms will provide guests with a fridge.
Guests at LANDABOUT TOKYO can enjoy a continental breakfast. Popular points of interest near the accommodation include Tozen-in Temple, Tokugawa Ietsuna's Mausoleum Gate Plaque and Chosho-ji Temple. The nearest airport is Tokyo Haneda International Airport, 31 km from LANDABOUT TOKYO.
Hotel Coco Grand Kitasenju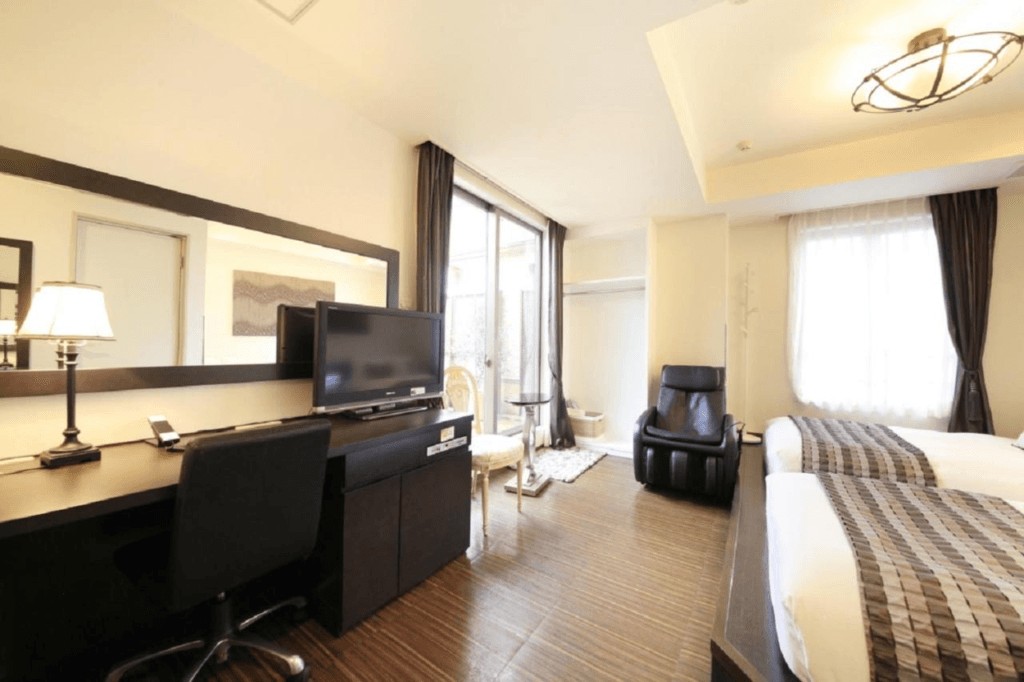 Just a 2-minute stroll from JR Kitasenju Station's West exit, Hotel Coco Grand Kitasenju offers comfortable rooms with free WiFi and a massage chair. It features a terrace, a hot public bath and a restaurant. It also houses a pastry shop.
Rooms are air-conditioned and fitted with a flat-screen TV, a fridge and an electric kettle. Toiletries are provided in the en suite bathroom, and additional amenities are available.
Kitasenju Coco Grand Hotel has a 24-hour front desk, and it offers dry cleaning and laundry services, as well as luggage storage. Complimentary coffee is available at the lobby.
A daily breakfast buffet with Japanese and Western fare is served at the restaurant between 06:30 and 09:30. Alternatively, guests can explore shops, local restaurants and bars within 5 minutes' walk around the hotel.
Guests staying at Hotel Coco Grand Kitasenju can visit Asakusa and Akihabara via a 10-minute subway ride, while the glitzy shopping areas of Ginza and Roppongi are accessible within a 35-minute subway ride away. Haneda Airport is 50-minutes away by airport bus. Narita Airport is 60 minutes away by train, connecting at JR Nippori Station.
Address: 120-0034 Tokyo-to, Adachi-ku Senju 3-40-2, Japan
—
Kitasenju is situated a little away from the city centre but with all its incredible things to offer and delicious local restaurants to visit, it is definitely worth getting onto your bucket list. If you are looking to get in touch with the traditional Japanese culture, nearby nature spots and incredible local shops, definitely check back and visit this blog post all about Kitasenju, things to do and restaurants in Kitasenju.