Summer in Japan is the season for matsuri, traditional Japanese festivals. These Summer events in Japan are local, regional and national festivals, featuring food stalls, dances, parades, games, fireworks and much more! There are festivals happening literally every single day, albeit on varying scales; some are small, neighbourhood festivals where just people living in the area celebrate; then there are large-scale ones that gather people from all over the city. Despite all of the craziness that's happening in the world right now, finger crossed, we will see some amazing Japanese festivals in 2020.
Large celebrations involve processions where thousands of people dance, chant, and carry the shrine's deity—'kami' in Japanese—through the city. These processions may also include breathtaking, colourful floats.
Festivals are a huge part of Japanese tradition and culture, and are largely untouched by foreign or modern influence. If you want an authentic, traditional Japanese experience, you're sure to get it at a Japanese festival.
Here are some festivals we recommend!

One of the best ways to explore Tokyo is to visit the local areas and immerse yourself in the local culture. If you want to explore local areas, we have created scavenger hunt adventures personalised to your interests, filled with fun facts, clues and puzzles. If you're curious, you can check out the games here!

Check out the Flip Japan Games here!

Gion Festival (Kyoto)
You can't talk about Japanese festivals in 2020, without talking about The Gion Festival. It is one of the oldest and most famous festivals in Japan. It originated in 869 and was held annually starting from 970. Throughout history, it has been halted and restarted but has become a consistent, annual event since the late 16th century. It is held in Yasaka Shrine which is in the famous Gion area (the setting of Hollywood's Memoirs of a Geisha) in Kyoto, Japan's cultural capital as well as the previous capital of Japan.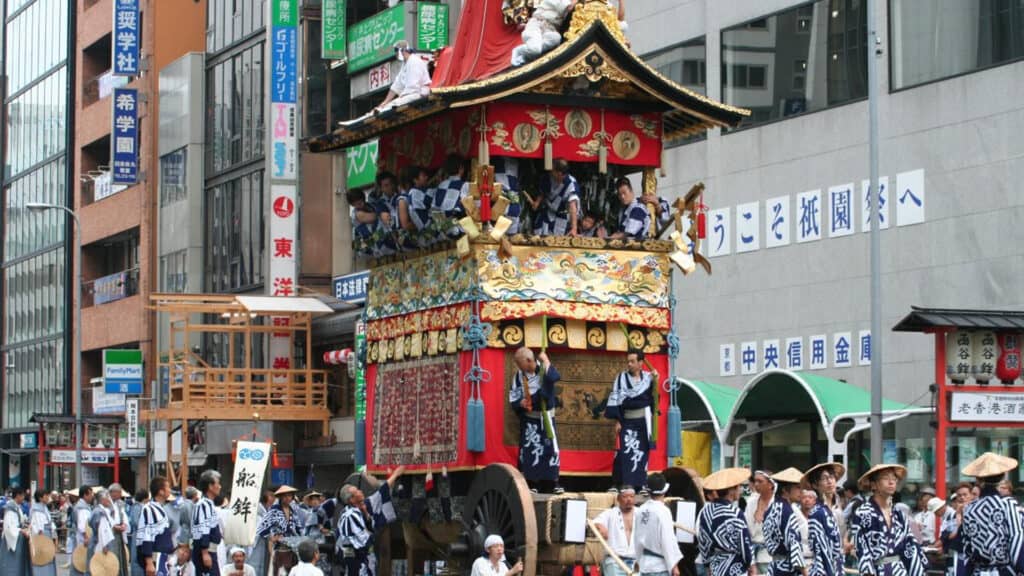 Though there are festival activities happening all through the month of July, the most important dates are the 17th and 24th, when the festival's famous yamaboko floats are paraded through town. For history-lovers, you may want to come down to the festival in the three nights before the parade dates as some traditional private houses will open their doors to the public in that period, giving you a glimpse at their family heirlooms.
Awa Odori Festival (Tokushima)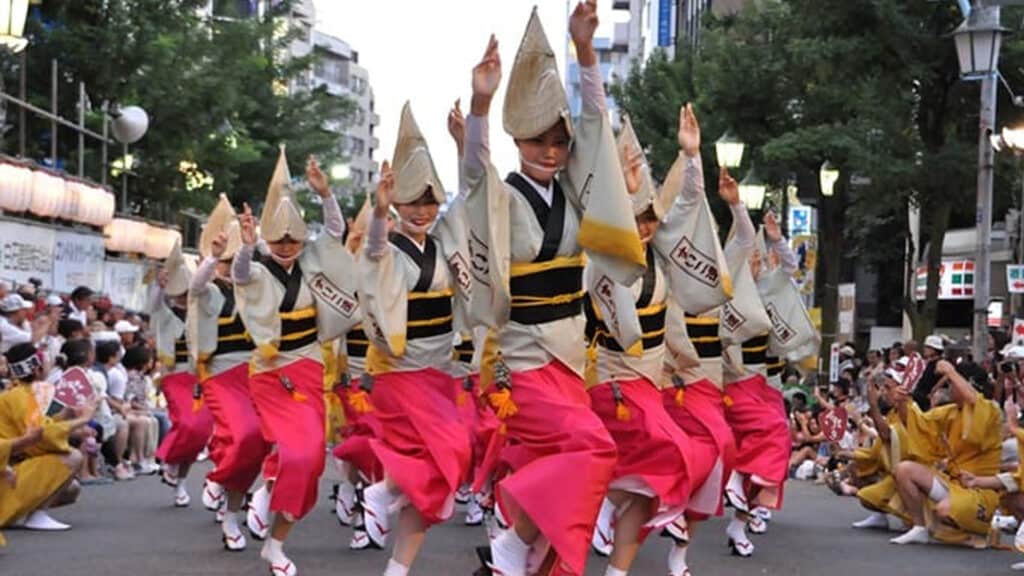 'Odori' is Japanese for 'dance' and, as the festival's name implies, the Awa Odori Festival is a dance festival. Groups of dancers, who practice their choreography for months leading up to the festival, will dance on the streets in traditional Japanese costumes, to the music of traditional Japanese instruments such as the famous shamisen lutes and taiko drums.
It is held from 12 to 15 August in Tokushima, Shikoku. It is one of the few places you can watch traditional Japanese dance without having to pay exorbitant fees so it's a very popular festival that gathers over a million visitors every year.
Mitama Matsuri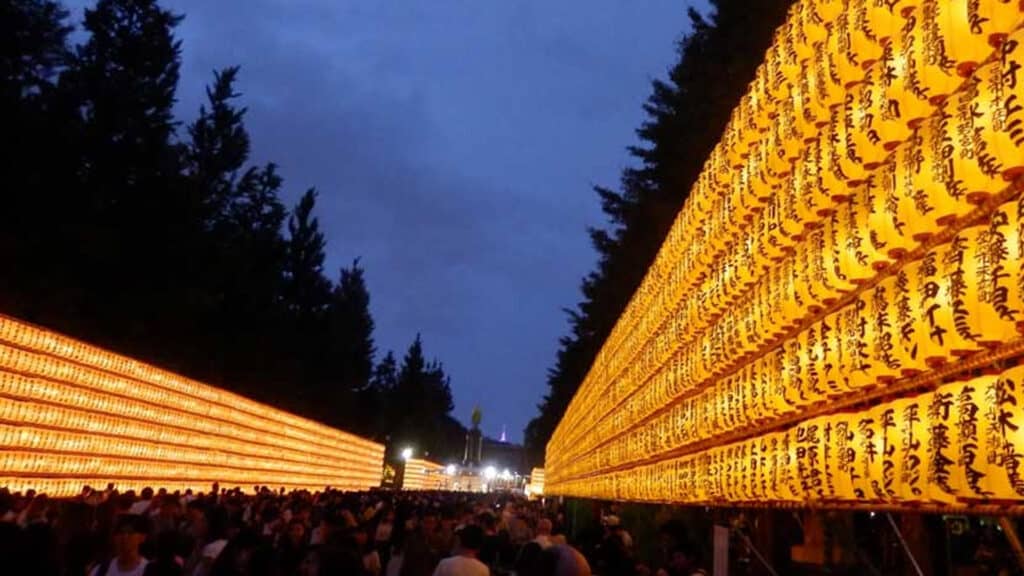 This festival is held at Yasukuni Shrine from July 13 to 16. Leading up to the main hall are 40-foot-high walls with more than 30,000 lanterns, creating a magical, wondrous display. It is part of another festival, the large Obon Festival which honours the dead so there is usually a haunted house attraction.
Bear in mind that Yasukini Shrine is a highly controversial shrine that has strong nationalist, right-wing ties in Japan as it honor's fallen soldiers of WWII, some of whom are war criminals. If these values should make you feel uncomfortable in any way, you might want to pass up on this festival. Otherwise, come enjoy it and learn more about pre-war Japan.
Sumida River Fireworks Festival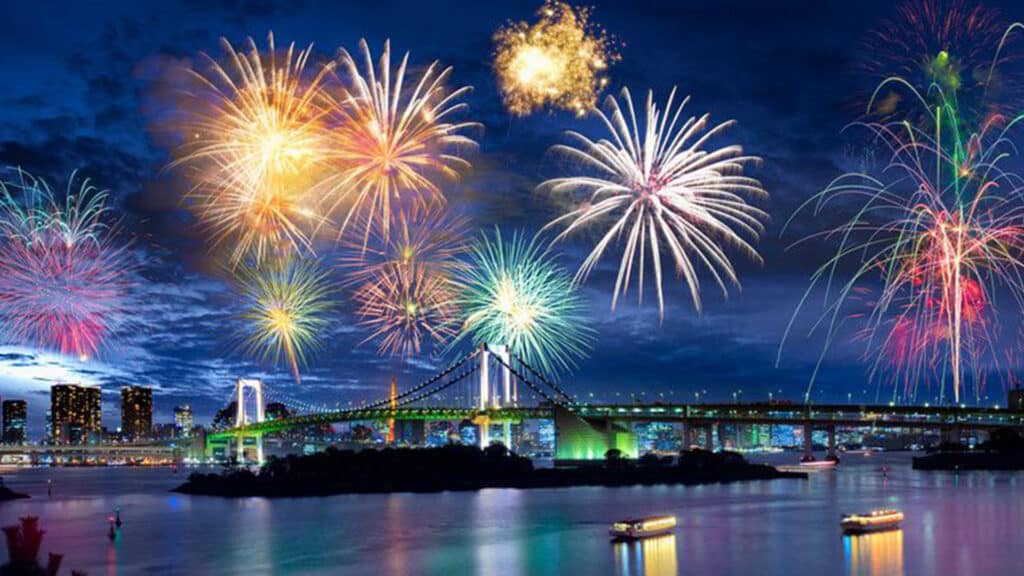 This might be seen as THE Summer event in Japan. The direct translation of the Japanese name of this festival—Sumidagawa Hanabi Taikai—is actually "Sumida River Fireworks Competition". Its name is derived from the tradition of competition between the various pyrotechnician guilds in the early 19th century. The rivalry between these guilds resulted in increasingly extravagant fireworks year after year. Over 22,000 fireworks are released in time to music, making it not just a fireworks display but a fireworks performance.
Though it's usually held on the last Saturday of July, it will be held in early July this year, due to the Tokyo Olympics 2020.
Azabujuban Noryo Matsuri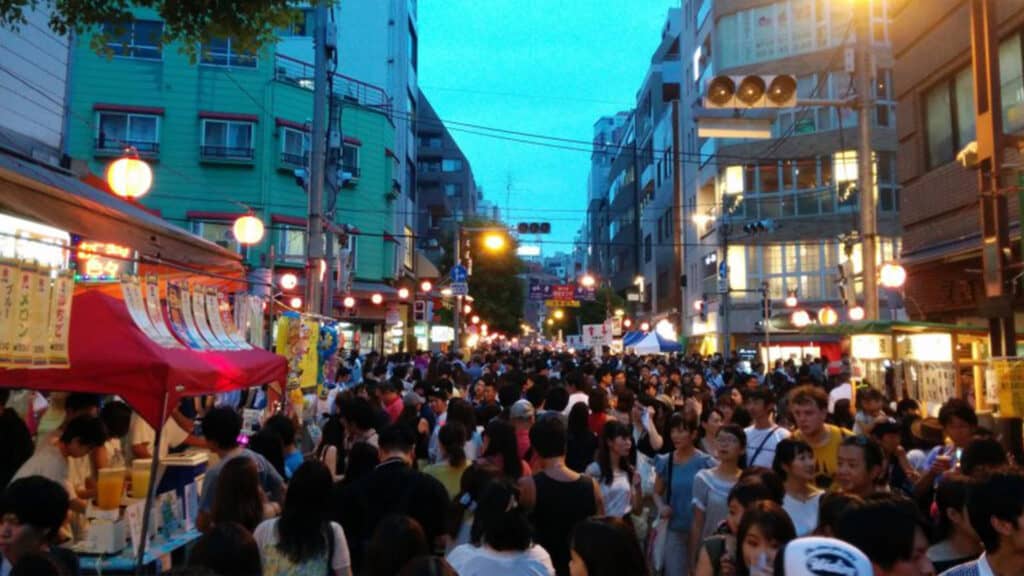 You usually see people of all ages at festivals but the Azabujuban Noryo Matsuri gathers a younger crowd. It's a large festival that sometimes even requires traffic to be blocked. It only takes place two days in late August (usually Saturday and Sunday) so don't miss it!
It's also a good festival for food-lovers as there'll be food stalls selling food from other regions of Japan. Many of these foods will taste distinctly different from Tokyo food so it's a good chance to sample them without having to travel to that region yourself.
Shinjuku Eisa Matsuri
This festival may be held in Shinjuku, Tokyo but its roots are in Okinawa, an island to the south of Japan. Okinawa was once known as the Ryūkyū Kingdom, separate from Japan with its own culture, customs and even language. It was annexed by Japan in 1879 but still retains its own unique flavour. The Shinjuku Eisa Matsuri is one of the few places in Tokyo where you can taste that flavour, both literally and figuratively.
The festival, meant to honour the spirits of Okinawan ancestors, will feature Okinawan foods, Okinawan dance performances, traditional Okinawan costumes and more. If you're not planning a visit to Okinawa anytime soon, this will be a good opportunity for you to experience its culture, at least a little.
It is a very young festival, having started in Tokyo only in 2002. However, it has already become immensely popular and gathers one million visitors every year. Come to Tokyo in late July to be one of those million!
Stay tuned for more information about Japan travel, Japanese culture, moving to Japan, living in Japan, Japanese language, Japanese culture and more.