When you think of islands in Japan, you probably think of Okinawa or somewhere far away from the cities, but did you know that there are actually 11 islands that are part of Tokyo? And yes, Niijima is one of those islands. Here, I'll tell you about my experience visiting Niijima, the places that you must visit, the transportation and some secret spots that I got introduced to by the local people at Niijima.

One of the best ways to explore Tokyo is to visit the local areas and immerse yourself in the local culture. If you want to explore local areas, we have created scavenger hunt adventures personalised to your interests, filled with fun facts, clues and puzzles. If you're curious, you can check out the games here!

Check out the Flip Japan Games here!

What is Niijima?
First, let me give you a quick overview of Niijima. Around 2700 people live on this island and a lot of oceanic species and birds migrate through Niijima. You can even spot sperm whales and humpback whales from here. Niijima is a really popular destination for surfing with good waves most of the year. The beaches are long and sandy and all face different directions so whichever way the wind is blowing, you can always catch some waves. Fun fact, during the Edo period, Niijima was used as a place of exile for convicts. Niijima also used to be the venue for huge international surfing competitions.
Let me tell you a little about the sights on Niijima. We were only on Niijima for 2.5 days but we got to visit a lot of the incredible places on the island. We rented a bicycle to cycle around the island and I would recommend doing that, since the roads weren't too busy and you could stop easily to check out different spots and take photos along the way. For more information about the places we visited and also to get the exact map of all the places we went to, I have put everything together for you so make sure to grab it in the description box down below.
Beaches of Niijima
Let me first tell you about the beaches of Niijima.
Honson-maehama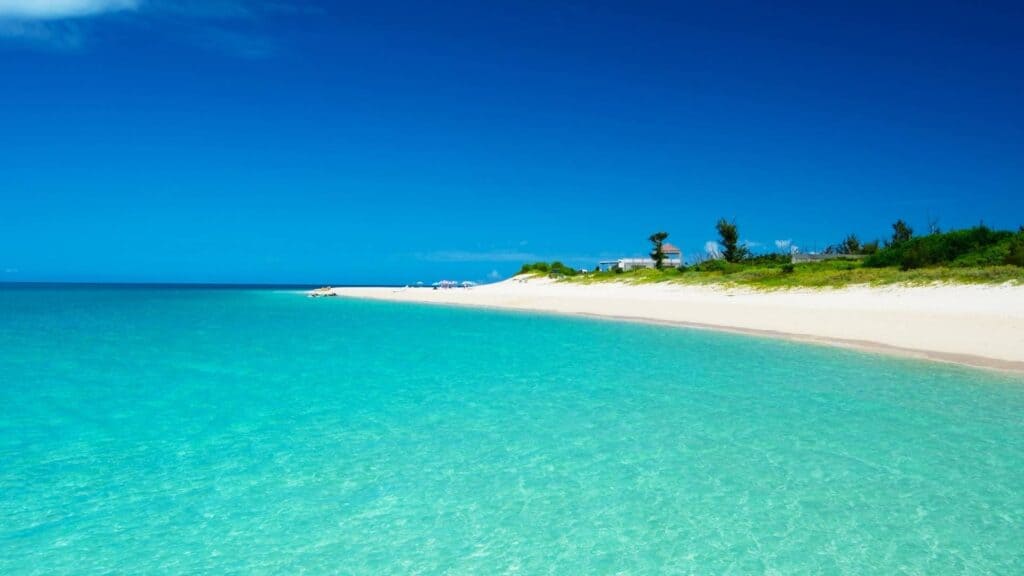 This beach is the first one that we visited when we got to Niijima. This beach in particular has calmer waves in comparison to the other beaches because of the seawall that is built to block off the waves, making it a popular spot for families and children. Honson-maehama is the closest beach to the village so it's very convenient and there are lots of restaurants nearby. Apparently, floating islands and stalls are set up in the summer and people can do Stand-up paddleboarding and sea kayaking here.
Habushiura Beach
Habushiura is definitely one of the most beautiful beaches that I have ever been to. This beach is on the east coast and it is the longest beach on the island. It is a famous spot for surfers and it is where international surfing competitions used to take place. It is a nationally protected reserve with its waves and white sand. The beach is around 6.5 km long and is surrounded by koga volcanic cliffs.
Mamashita Beach
Now, I want to tell you about my favourite spot on the island, Mamashita Beach. In the 2.5 days that we were there, we visited this place twice and spent a lot of time there. The second time I visited this place, I did an Instagram live as well, to show you in real time just how beautiful it was.
Mamashita Beach is surrounded by cliffs, located along the southwest part of Niijima. The coastline of the beach offers a lot of little secluded spots to admire the view, including Mt Fuji on a clear day. You will be surprised by how blue the ocean is. The water is so clear. Since the ground is a Koga stone mining ground, the place is scattered with stones so make sure to have your flip-flops handy.
Next to Mamashita beach, you will find Torigashima, which is an island that rises right off the coast. Apparently, there used to be a ropeway base for carrying out the Koga stones of the stone mountain on the opposite side. There is also a very cool carved staircase to help you climb around the oceanside to watch the sunset.
Like most of the volcanic Tokyo islands, Niijima also has hot springs. Once you're done enjoying Mamashita Beach and Torigashima, you can visit Yunohama Roten Onsen, which is right next to Mamashita Beach, around 5 minutes walk away. It is a large outdoor bath built in an ancient Greek style ruins. It gives you such stunning panoramic views of the setting sun and the Pacific Ocean.
The view and the entire experience is very special. You can see so far out to the horizon from Yunohama Roten Onsen. They have a few baths for you to choose so you can enjoy the view from different spots. The amazing part about this rotenburo is that it's free for all to use. It's also open 24 hours a day, so you can go whenever and however many times as you please.
It is a mixed gender bath, so you have to wear a swimsuit to enter, making it a great place to relax and enjoy onsen for couples, families and friends.
We came here during sunset and the view is incredible and I would highly recommend you come and check it out for yourself.
Another spot that I really enjoyed was Shinsui Koen, which is located near Mamashita beach. Shinsui Koen, which is also known as "Niijima Water Park" is a park created with the theme of harmony between Koga stone and water. The water in this park is drawn from a well. There is also a Rest House in the park for people to relax and eat in.
Besides these must-see spots, we checked out a few other special places as well. The owner of the place that we stayed at, Tooru-san was so kind and offered to drive us around the island. We went to a stone dinosaur park, which was super cool. I love dinosaurs and I think I spent a good 15-20 minutes there hanging out with the dinosaurs. We also checked out a secret spot, that's what the owner of the accommodation called it. It was a path that led to the staircase in the middle of the mountains, heading towards the beach. The view was spectacular there. We also went to two observatories, one during the day and one at night. In the day, we got to enjoy the view of the island and the ocean and at night, we got to see the stars. The sky wasn't that clear, but we still got to enjoy looking out to the horizon and seeing the lights of the Izu city from afar. Apparently during winter, a lot of people come to do stargazing in this area.
Art and culture on Niijima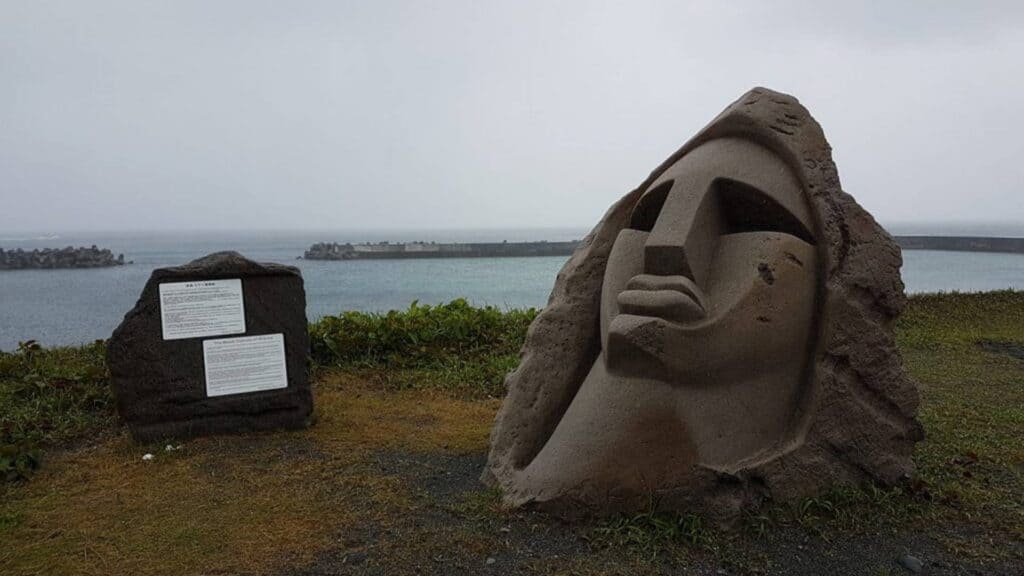 Niijima is known for its glass works and Moyai carvings. Different sculptures are carved from a special kind of local stone and they are scattered all over the island. "Moyai" means "to come together" in the local dialect, and it is a tribute to the artworks crafted by members of the community.
Because of COVID, we were able to visit the museums. But there is the Niijima Glass Art Center, where you can try glass blowing and see how the island's glass works are produced. Apparently, the Niijima Glass Art Center is a world-renowned place that hosts the Niijima International Glass Art Festival every autumn.
There is also the adjacent museum, the Niijima Glass Art Museum, where you can see over 90 different works by glass artists from Niijima and also other places.
There is also the Niijima Village Museum, which is tucked away off of Maehama Beach.
Niijima-mura Museum shows you the history and culture of Niijima. You can find artifacts from the island's pre-history up to the modern-day surfing culture. Like I mentioned earlier, Niijima used to be the place where convicts get exiled to and here, you can find the details of the criminals and the history of that. Apparently, the information at the museum is bilingual, so even if you don't understand Japanese, you can still learn about the island here.
Food on Niijima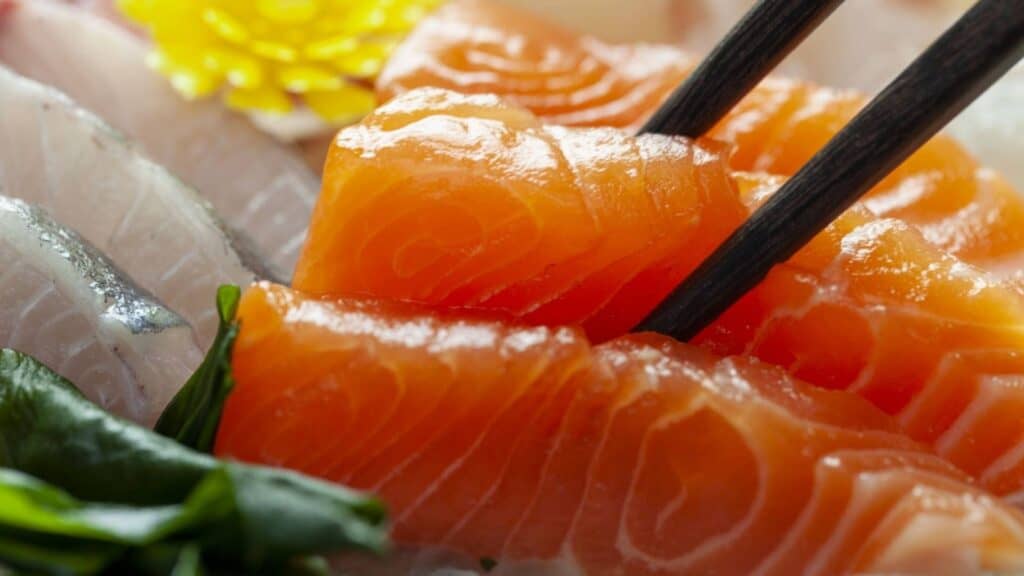 Because of COVID, unfortunately a lot of restaurants were closed when we visited. However, we still got to taste some local dishes.
The quality of sashimi and seafood are great in Niijima. In addition to the fresh seafood caught in Niijima, there are a lot of different island gourmet dishes you can try, such as Ashitaba tempura and small fish Kusaya. Ashitaba literally means "tomorrow's leaves". It is a local ingredient of the Izu Islands, and it is said that it was named because it is said that the leaves grow so fast that even if it is picked today, new leaf buds will still come out tomorrow. I don't think there are many places outside of this region that serve this dish so fresh and it has high nutritional value, so definitely take this opportunity to try Ashitaba in Niijima.
Kusaya is another local dish. The name translates directly to "stinky fish". It is basically salted, dried and fermented fish. It is supposed to be super healthy for you. On our first night on Niijima, we visited the restaurant run by the same people that run the accommodation we stayed at, and they were very generous to make some for us. I have to say, kusaya was really not my cup of tea. It had a very strong smell and the taste was so pungent. I managed to swallow one bite of kusaya but couldn't continue eating it. If you are brave enough, I recommend you try it yourself.
Accommodation on Niijima
For Accomodation, we stayed at an amazing Minsyuku. Minsyuku is similar to B&Bs and the hosts Yuuko-san and Tooru-san were so generous and kind to us. As I mentioned earlier, the host, Tooru-san, drove us around the island on his day off and when we ate at their restaurant, we got a lot of extra food for free. We could also check in very early and hang out in the accommodation until our ferry back to Tokyo. You could truly feel the omotenashi of the people there. The accommodation is called Ipponnmatsu. The rooms were Japanese style, there is a small rooftop terrace to relax on. We could hang out in the living area and the bathrooms and toilets were very clean.
We paid 5000yen per person per night to stay there. I'm definitely coming back and staying here and if you are considering checking out Niijima for yourself, I would highly recommend staying here.
Access to Niijima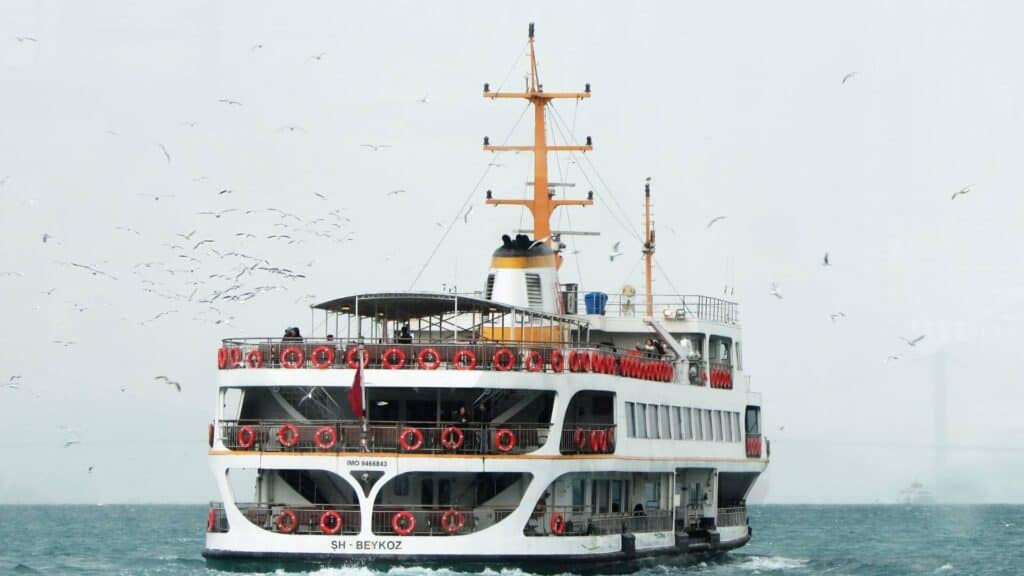 A lot of people don't necessarily enjoy the transportation part of a vacation or a trip, but I actually had a great time taking the ferry to Niijima.
To get to Niijima from the mainland, you can take either the jet boat for the overnight ferry from Takeshiba Sanbashi Pier. The jet boat takes 2 hours and 20 minutes and the overnight ferry takes about 9 hours. Apart from taking a boat, you can also take direct flights from Chōfu Airport. The airport is located in western Tokyo and it takes around 45 minutes.
There are also ferries to Niijima from Shimoda, which is in the Izu Peninsula.
We took the overnight ferry to Niijima and got the jet boat back to Tokyo. The overnight ferry was surprisingly comfortable and they had all kinds of amenities on the ferry. The jet boat was developed by a US aircraft manufacturer and it uses a jet engine to take in seawater (in place of air) and drive it backward with a lot of force so the vessel is lifted right out of the water. It moves at a speed of 80km/hour. You would think that a ferry that flies over the water at ultra-high speed would be super bumpy but it wasn't. I'm prone to getting seasick, but I was completely fine on the jet boat.
Conclusion
I truly enjoyed Niijima so much and it was such a fantastic experience. I had so much fun there and can't believe it's only a ferry ride away from the Tokyo city center. I'm definitely coming back soon and will probably stay longer, film more videos, take more photos and do more livestreams to show you just how amazing this island is. If you have any questions, make sure to put them in the comment section down below. For more information about the places we visited and the exact map of all the places we went to, make sure to grab it in the description box down below.