Probably the only bar that serves African dishes
On the second floor of a building in Shinjuku, behind a Hawaii-ish, wooden sliding door is BaoBab, a small, cosy–maybe even cramped–bar. One of the first few things you'll notice is the huge shelf chock-full of vinyl records behind the bar, and when we say chock-full, we mean near-breaking-point-full of vinyl records. According to their website, there are over 3000 vinyl records in that shelf. They're not just decorations either; there is an actual record-player as well.
The actual decor is interesting, to say the least. There are a handful of paintings hung around, and they give off the same vibe as the music that they play in the bar: Soul, funk, hip-hop, jazz, R&B.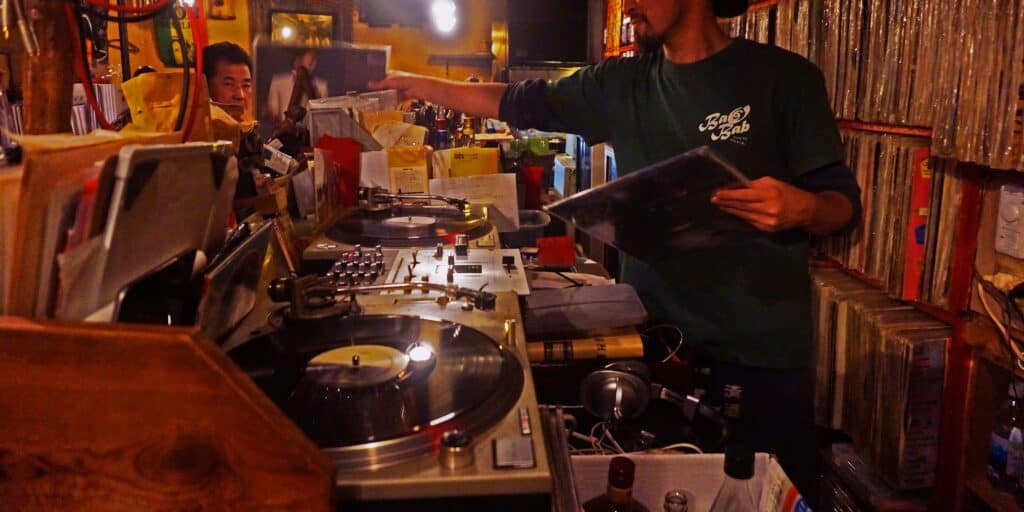 There's a bar counter that seats 20 people, and three separate tables that seat 10 altogether. So, you can come here with a date or you can come here with three or four friends; BaoBab will accommodate you. If you're coming in a group of friends and you worry about the tables being full, they do accept reservations so just drop them a call.
If you're starting your night early in the evening and you wanna get some dinner to go with your drinks, BaoBab is a good place to visit. They have an extensive food menu with dishes from Nigeria, Tazmania, Senegal, and many other African countries.
As mentioned before, BaoBab is quite small and you might start to feel as though the walls are closing in on you after some time, so if you're looking for one bar to spend your entire night in, BaoBab is not it. BaoBab is better as one stop on a night of bar-hopping, or as a place to have a dinner date in. If you're in Tokyo, do try to visit this bar at least once, though. If it's not to your liking, have no fear, there are plenty of other bars in the area, too.