Despite its easy access and being in the centre of Tokyo, CCC Cheese Cheers Cafe offers a surprisingly spacious and relaxing place for you to indulge in all kinds of different cheese dishes.
As the name suggests, CCC Cheese Cheers Cafe specialises in cheese dishes and offers a wide variety of cheese creations. It is a restaurant that specialises in cheese dishes by cheese lovers, for cheese lovers.
One thing that you might enjoy is the interactiveness of this restaurant, where you get to admire the freshly made cheese-based dishes in front of you.
It is perfect to get your mouth watering before diving into the dishes! If you are a fan of cheese, would highly recommend this restaurant to taste cheeses from all over the world, homemade cheeses and even cheesecakes in the shape of cheeses.
Cheese dishes recommendations
1. Carbonara with mimolette cheese 
The Carbonara with Mimolette Cheese is a popular item at this restaurant. The carbonara is carefully prepared right in front of you. The carbonara is flavoured with cheese in the kitchen, and then prepared in a hollowed-out bowl of Mimolette cheese.
When the waiter approaches your table, you will be welcomed with the steam of the carbonara, leaking from within the Mimolette Cheese.
The inside of the Mimolette Cheese is bright orange and has a deep flavour. The waiter uses the heat of the carbonara to coat the noodles with cheese. The creamy carbonara is accented by the unique flavour of the Mimolette cheese, and the rich, sticky pasta is served on a hot plate, topped with an onsen-tamago, soft-boiled egg.
2. Cheese Risotto
Cheese risotto is made inside the 20 kg of hard Grana Padano cheese. This is one of the dishes where you will get to witness a unique 'cheese performance'.
When you order the cheese risotto, the waiter will bring out a massive hollowed-out cheese wheel. Simply looking at this sight will get you to start drooling. Upon pouring alcohol inside the cheese wheel, the waiter lights the liquid on fire, melting the cheese over the flame.
Then the freshly-cooked cheese risotto is poured inside the cheese wheel, where the melted cheese coats the risotto. Finally, the cheese-filled cheese risotto is served on a hot plate. This dish tastes exceptional with its rich flavours and creaminess.
3. Cheese Cheese cheesecake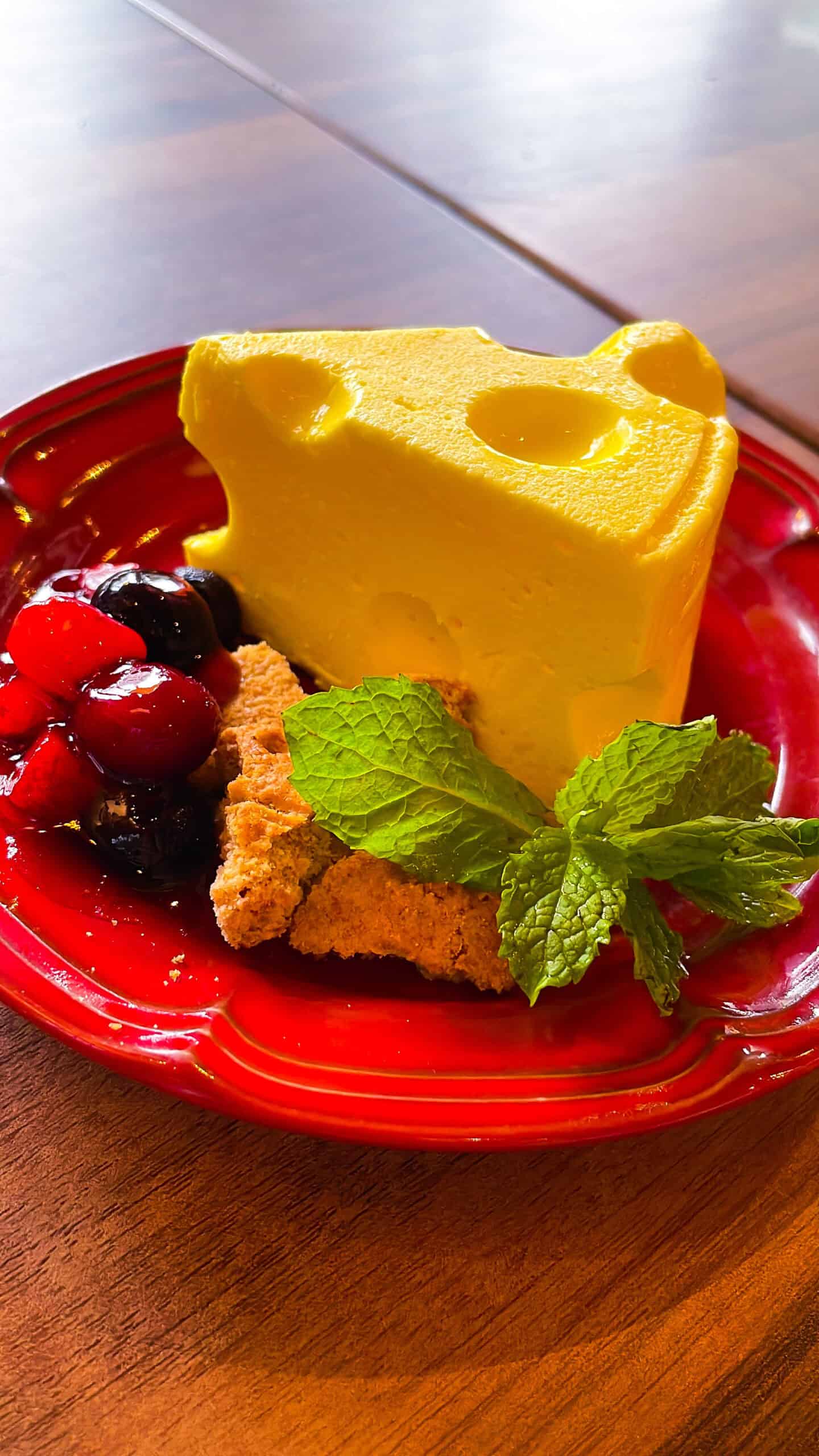 When I first saw this dish, I thought we were being served a massive chunk of cheese. But in fact, this is one of the restaurant's best creations.
With a mix of three types of cheese, ricotta, mascarpone and cream cheese, this cheese cheese cheesecake was born. While you might think that it might have an overpowering taste, it actually tasks rather light and refreshing, making it a great dessert to end on. 
—
Do you want to try these cheese dishes at CCC Cheese Cheers Cafe HIBIYA?
CCC Cheese Cheers Cafe HIBIYA(CCCチーズチーズカフェ日比谷)
Address: 8F Orchid Square Bldg, 1-2-11 Yurakucho, Chiyoda-ku, Tokyo (東京都千代田区有楽町1−2−11 オーキッドスクエアビル8階)
Phone: 03-6205-4038
Opening hours: 11:30-15:00/17:00-22:30
Closed: New Year's Eve and New Year's Day