Calling all dessert lovers! Funabashiya Kuzumochi is a haven for traditional Japanese desserts, from good old-fashioned matcha sweet treats to unique wisteria-themed dishes.
A short ten-minute walk away from Kinshichō Station, the flagship store of Funabashiya features an assortment of cold desserts you can enjoy with a hot cup of green tea. Their desserts have been around for over two centuries, and they have 27 other branches in Shinjuku, Asakusa, Omotesando and more. We've tried their bestsellers – continue reading below to find out more!
What to eat at Funabashiya
1. Kuzumochi (元祖くず餅)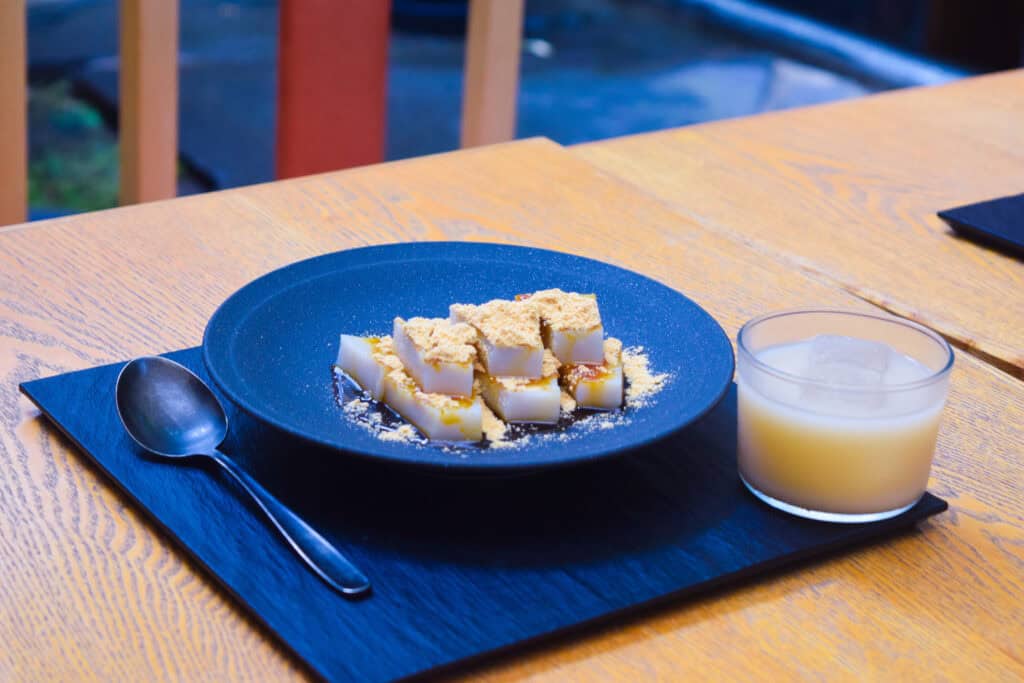 The kuzumochi is Funabashiya's trademark – and with good reason. This dish is made of soft mochi cakes drizzled in a sticky sweet sauce, then dusted with generous helpings of powdered kinako. It's an explosion of flavours and textures, from the aromatic kinako flavour to the bold sweetness of the sauce similar to the Japanese version of toffee sauce. If you're planning to drop by, this dish is essential.
What's most impressive is Funabashiya's meticulous process of making kuzumochi. Importing high-quality ingredients from Okinawa and Gifu, the mochi takes a whopping 450 days to make, and can only be stored for two days! Talk about dedication to the craft of traditional dessert making.
The rich and dense kuzumochi also came with a special drink on the side, packed with probiotic bacteria which nourishes the digestive system and makes the dessert go down easier. Think of it as something like a Yakult drink!
2. Ujikintoki (宇治金時) – Matcha and Red Bean Shaved Ice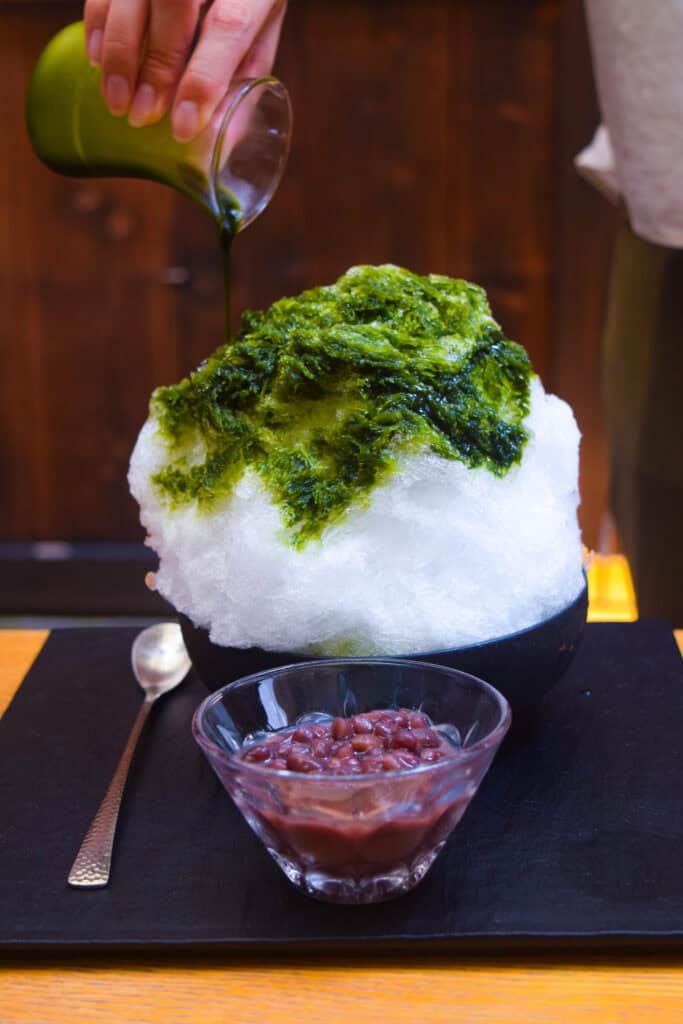 While a staple cold treat in the Japanese summer, Funabashiya's matcha shaved ice does not disappoint. Concentrated matcha syrup is poured over a huge mound of shaved ice, and is topped with heaps of red beans. The rich and sweetened matcha flavour took centre stage and was complemented by the mellower flavour of the red beans, so this dessert is definitely on the sweeter end – perfect for those with a sweet tooth!
3. Wisteria Shaved Ice (藤 (葡萄 ) こし餡入り)
Another signature dessert, this bright-red dish pays homage to the wisteria season in May, when the storefront of Funabashiya is blooming with wisteria flowers. This shaved ice has a similar composition to the Ujikintoki, but with a sweeter grape-flavoured syrup drizzled over instead. At the base of the shaved ice is Koshi-An (red bean) paste for a unique change of flavours. This vividly-coloured dessert tastes how it looks – bringing a sweet and refreshing taste to beat the heat!
4. Matcha Anmitsu (抹茶白玉あんみつ)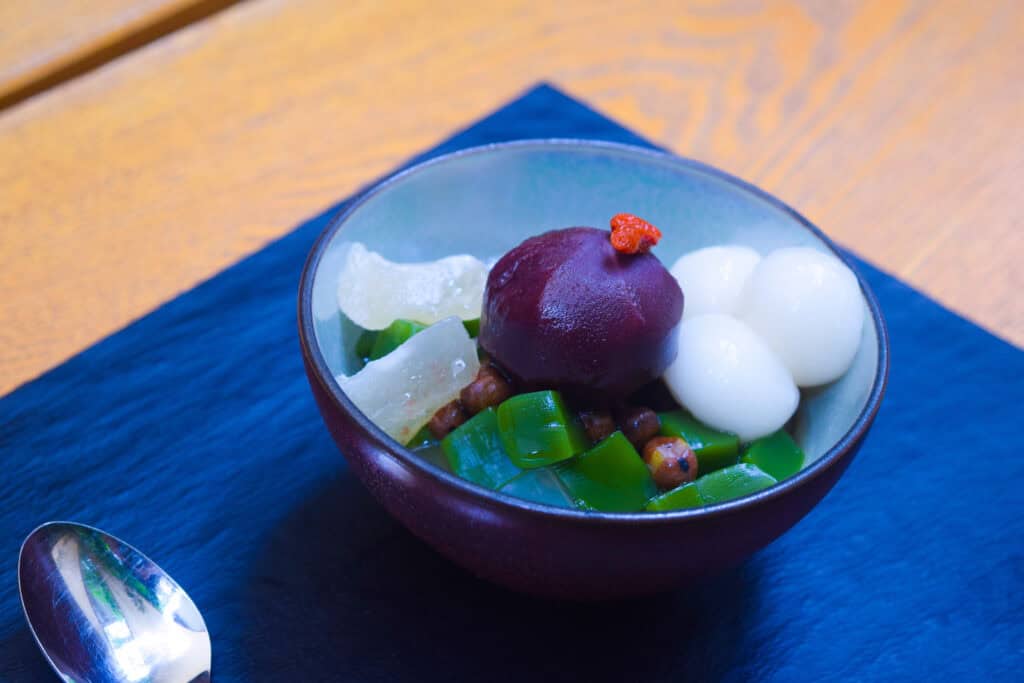 Anmitsu is a traditional Japanese dessert made of jelly cubes, red bean paste, mochi balls and other ingredients in a sweet syrup. The dish we got consisted of translucent and matcha-flavoured jelly cubes made of Kanten which is low in calories. The jelly cubes were served with other toppings including white fluffy mochi balls, boiled azuki red beans, wolfberries and a generous heap of red bean paste. It was a mix of textures and consistencies, and was much milder in flavour compared to the other desserts. The cold anmitsu had a refreshing yet healthy feel, which served as a palate cleanser in contrast to the other denser, richer dishes.
"冷たくてもおなかに優しい" Enjoying cold desserts while feeling good has always been Funabashiya's mantra. With its menu carefully crafted to provide desserts that are tummy-friendly, you'll leave the store feeling revitalised! Their desserts also cater to a wide spectrum of tastes: whether you like it more or less sweet, they've got a dish for you. Do check out their main store – more information is found below!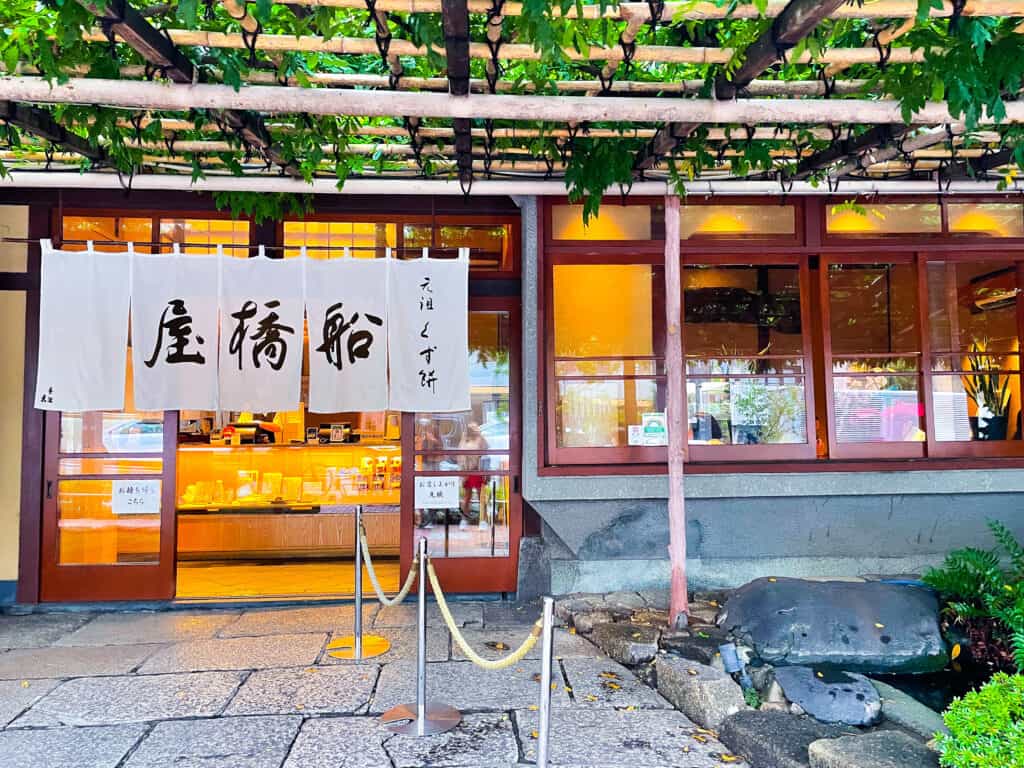 FUNABASHIYA – MAIN BRANCH (船橋屋 – 亀戸天神前本店)
Opening hours:
Dine-in: 11:00~17:00 (Last order)
Takeout: 9:00~18:00 (UberEats available)
Address: 3-2-14 Kameido, Koto-ku, Tokyo (東京都江東区亀戸3-2-14)
Getting here: 10-minute walk from Kameido Station (Sobu Line) or ~10-minute walk from Kinshichō Station (Sobu and Hanzomon Lines)
Telephone: 03-3681-2784
Website: https://www.funabashiya.co.jp/
Instagram: @funabashiya_kuzumochi
Twitter: @funabashiya_