If you are searching for an off-the-beaten-path destination to evade the restless city of Tokyo, then we have got just the right place for you 🌳🍃☁️ 🪵 🧘🏾‍♀️🌿🌙  Check out this Glampark review to see our experience staying at this glamping facility!
Combining all the glamour of a typical "ryokan" stay and camping adventures, let us introduce you to your perfect 2-day getaway in Keburikawa, Kyoto Prefecture of Japan: Glampark. Featuring a free, all-inclusive drink bar, you can enjoy the great outdoors from your dome tent, sipping on your favourite beverage while watching a breathtaking starry night sky in a relaxed environment.
Are you interested? Why not take a well-deserved break and experience this wonderful space for yourself? Continue reading to learn more about this hidden gem with a complete 2-day itinerary involving endless tranquillity and natural relaxation. 🌳🌏⛰️🏞️🌲🌿
Fear not; if you are far away from this place, one of the best aspects of Glampark is that you can find chain facilities in multiple locations in Japan, including Hiroshima, Nara, Gunma, Tochigi, Chiba Prefecture, and more!
Glampark Keburikawa is a glamorous camping (= glamping) facility that connects two infrastructures; a typical Japanese hotel and "glampark," which has a vast property surrounded by natural wonders of Yumagawa. Simply put, the local ryokan "Satoyama no Himitsu Kyoto/Yamagawa" and the recent trend of "glamping" are woven together to create an elegant and memorable experience for you to enjoy solo or with your loved ones.
Your 2-day itinerary
Considering that you can only check in at the glamping site at 2 pm, visit the Izumo Daijingu Shrine in the morning, a famous matchmaking spot in Japan. If you are searching for your ideal partner or perhaps even your one-and-only soulmate, then make sure to stop by this shrine.
🧳 Check-in
After your morning adventures and lunch at a local restaurant, head down to Glampark to check-in to your dome tents at 2 pm. Checking into the facility is easy with a QR code upon entrance, following/respecting non-contact COVID-19 policies to minimise infection rates. 😷
If the weather turns around, Glampark has thought about everything for a pleasant stay no matter the weather conditions. All dome tents are durable, double-layered, and possess top-notch heat and moisture retention as well as cold resistance. The models were inspired by accommodations used at ski resorts in Finland and Canada and glamping facilities in hot desert areas, all of which experience extreme weather patterns. What's more, Glampark has indoor establishments, so you can spend your time inside the building if the weather is unpleasant. In other words, you have nothing to worry about; a comfortable glamping experience awaits you even during the changing seasons in Japan 😉
One of the best things about Glampark is that it provides you with a fabulous camping experience but without all the stress and hassle of building tents, feeling too hot or cold due to the weather (imagine summertime with countless mosquitos trying to get you), and catching your own food for every meal. This is the perfect place to start if you are a beginner in the camping world. All dome tents are well-equipped with built-in air conditioning systems and a full range of amenities, including kitchen utensils, electric kettles, refrigerators, hair dryers, and toiletries. Not only that, but you can indulge in a BBQ feast with the best local ingredients that you can grill yourself and share this experience with your family and friends. They do say that shared moments can strengthen bonds, and glamping takes this saying to heart ❤️
BBQ o'clock 🔥
As the sun begins to set at 5 pm, order a luxurious barbecue set made with rich and flavourful local ingredients. 😍 It is recommended that you select the Royal BBQ plan that uses plenty of local ingredients, such as rare Tamba Black Chicken with a deep, unique flavour.
Vegetables are grown on-site and are grilled to perfection. Every bite is satisfying as the natural sweetness of the vegetables complements the different cuts of barbecued meat. The food that is prepared and served differs depending on the season, so you can enjoy glamping while feeling the atmosphere of each of the four seasons. Equally mesmerising is to see how the seasons are reflected in the colour palettes of the ingredients used in your meals.
The BBQ space is reserved exclusively for glamping guests so you can enjoy the outdoors in an elegant atmosphere in your own private space.
BBQ Menu Example
Hors d'oeuvre, Dutch-oven Tamba Black Chicken, seasonal salad, bucket, assorted desserts
*Menu items may vary depending on the season and harvest.
♨️ Open-air baths with a view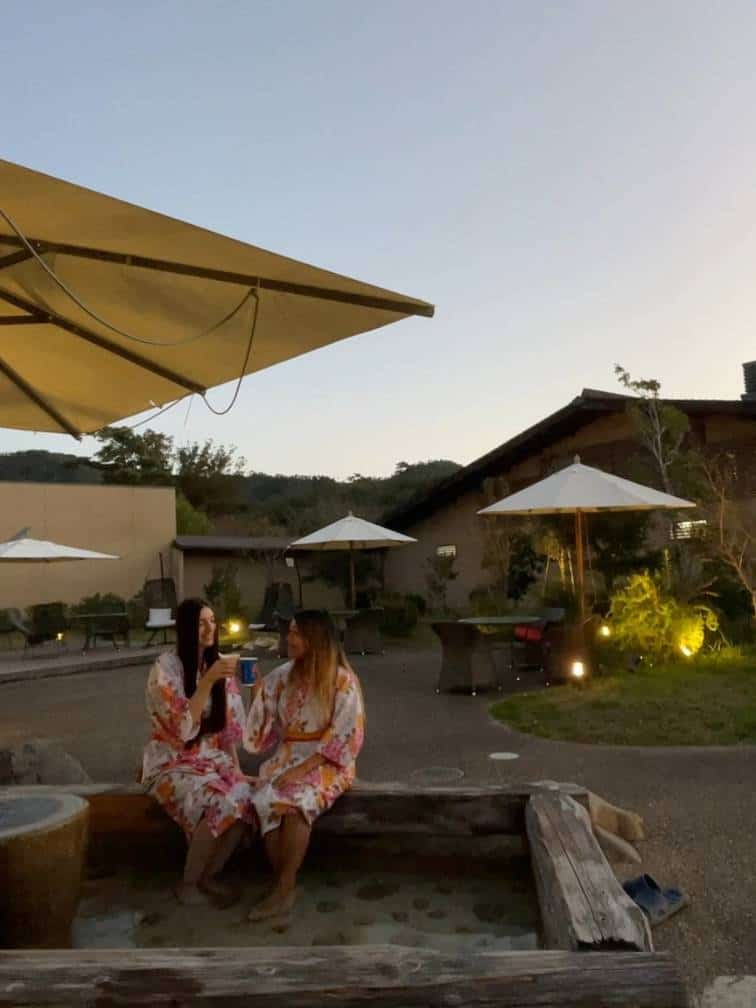 Before or after dinner, make your way to the 'Yunokawa Onsen' in Keburikawa, where you can have a blissful experience of a typical Japanese bath while gazing at incredible scenery and open-air space that transforms every season. This is a one-of-a-kind hot spring with an ancient history; legend says that significant figures such as Maruyama Ogo and Mitsuhide Akechi have once visited the area to cleanse their bodies and souls, feeling rejuvenated.
✨​​ Only at Glampark establishments can you relax in a natural hot spring while appreciating the hospitality of a hotel or ryokan. ✨
Kebukawa Night Bar 🥃
During the nighttime, or more precisely from 8:00 pm to 10:30 pm, the entrance lobby transforms into a stylish bar serving your favourite beverages, including premium malts, whiskey, soft drinks, coffee, and light snacks.
You can also hang out outside your dome to admire the beautiful night sky full of stars as a cool breeze caresses your hair, and the aroma of grilling ingredients fills the air.
🌅 Another day, another adventure!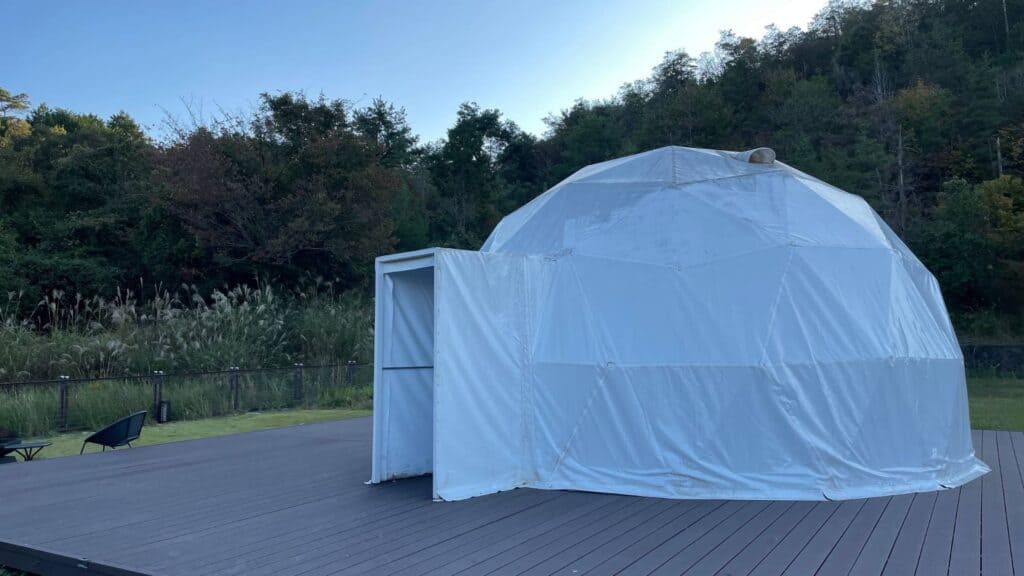 The only way to start your day is with an elegant, balanced breakfast. And Glampark does not disappoint. Serving colourful, body-friendly dishes made with seasonal, locally harvested ingredients, Glampark's delightful breakfast will have you going for seconds in no time. Taste native foods for the ultimate authentic experience, such as Koshihikari from Kameoka, Tanba black chicken, and sausage pot!
After checking out of your glamping site at 10 am, make the most of your remaining trip by visiting the sights you could not go to on the previous day.
Sagano Torokko Train 🚂
What other way to enjoy the scenery and nature's expressions than by a local train? Who doesn't love trains, right?
Catch your local train at noon and cruise around the area, soaking in the gorgeous views every different season offers. Whether it is the sight of pretty pastel-pink cherry blossoms in spring, cicadas chanting and refreshing river mist babbling in summer, sunset-colored foliage in autumn, or the enchanting snowy hills in winter, every season bestows a gift.
👋 Sayonara, Glampark!
After spending two days and one night with your beloved friends and/or relatives, it is time (unfortunately) to return home. Remember to treat yourself one last time and buy some souvenirs and local snacks for the road to look back on your superb mini holiday!
Address: 1-1 Hiramatsu Dekabuchi, Motoume-cho, Kameoka City, Kyoto Prefecture
Accessibility:
If you are travelling via car:
Access method 1: Kyoto – National Route 9 (about 30 minutes) – Kameoka City – National Route 372 (about 20 minutes) – GP Keburikawa
[Nearest IC] Kyoto Jukan Expressway Kameoka IC
Access method 2: Osaka – National Route 423 (about 40 minutes) – Kameoka City – National Route 372 (about 20 minutes) – GP Keburikawa
[Nearest IC] Hanshin Expressway No.4 Ikeda Line, Ikeda/Kibe IC
Those coming by train:
Kyoto Station – Kameoka Station (about 30 minutes on the Sagano Line on the Sanin Main Line) – Free shuttle bus or Keihan Kyoto Kotsu Bus (about 20 minutes) – GP Keburikawa