Home away from Home
It's easy to miss this tiny little bar and, believe me, I have, several times. Even when I'm looking for it. Glass Onion's entrance is just a narrow staircase into the basement floor, no bright fluorescent sign boards or menu boards to otherwise advertise its existence. It's a little gem that is known and frequented by just the people who live in the area, foreign and Japanese. There's a good chance there'll be a regular or two when you visit, strike up a conversation with them! The bartender and most regulars here all speak some amount of English.
The establishment itself is small but not uncomfortably so. It's just the right amount of intimate. The dim, warm lighting, wooden decor, and clutter of toys and memorabilia add to this cozy effect. It's like drinking in someone's living room. Come here enough times and it'll be like drinking in your own living room.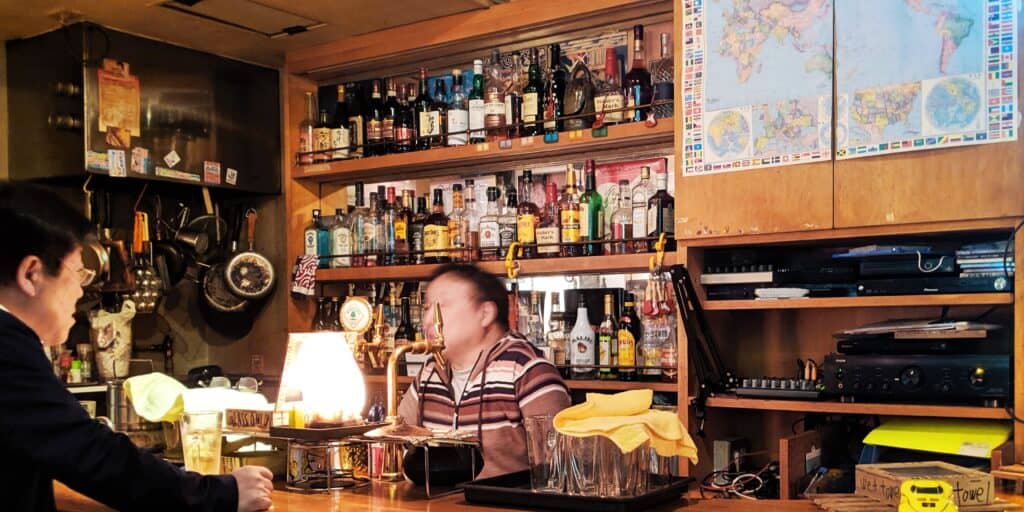 Right across from the counter is a projector screen playing music videos through YouTube. Feel free to request a song or music video so you can enjoy your drinks to a familiar beat. No song request is ever denied. Of course, just be conscious of the bar and its vibe and maybe refrain from requesting hard metal songs.
Glass Onion feels like home but remains just that bit exciting enough to keep it from becoming boring. There'll be music videos to dance to if you want, and little items that you can play with (there's a Matryoshka doll of all the members of Queen). Come here for a drink or two for a chill, relaxing night.