Tokyo is undoubtedly one of the most exciting cities in the world, chock full of hidden gems just waiting to be discovered. Many of these gems you can find in Shimokitazawa. And, Trouble Peach is definitely one of them.
Though it's got a flashy neon sign at its entrance, and though it's located on the first floor, Trouble Peach is easy to miss if you're not looking out for it. It might take a bit of looking around to find it, but it'll be worth the wait and effort.
As mentioned previously, Trouble Peach has a bright pink neon sign of its own name that's made even more prominent lined up against a gritty, dark stone wall. It looks like the wall of a cave. Step inside and you'll see that it's just as cosy as one: the bar isn't very large, the lights are warm and comforting, and the walls are actually shelves full of vinyl records.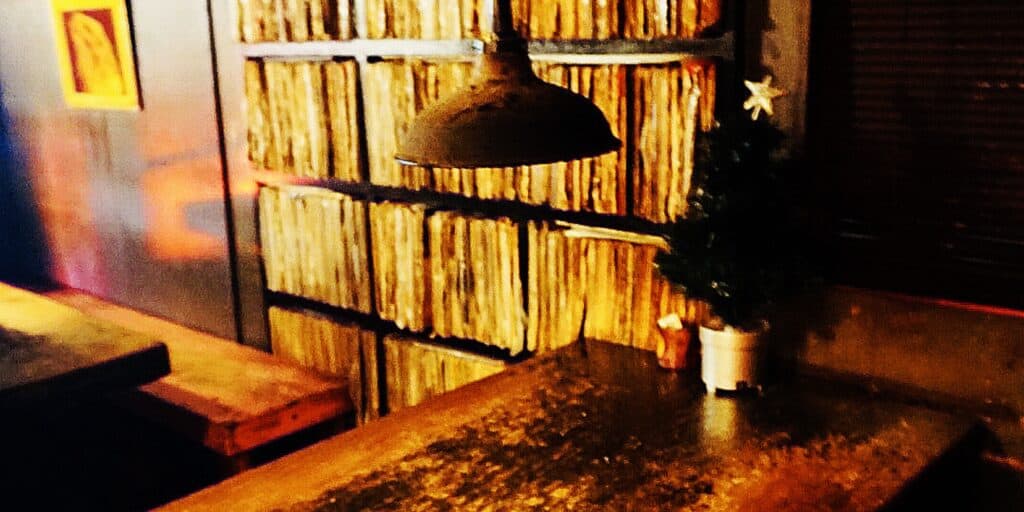 Though small, the owners have made good use of the space available, so much so that groups of seven to eight people could still fit into the bar, and comfortably, too. This is a lovely place for a friendly gathering that's made even better with the bar's wide selection of alcohol including Japanese sake (nihonshu), Japanese spirits (shochu), wines, cocktails and, of course, beer. The drinks cost anywhere between 600 to 900 yen which, if you've been around the block in Tokyo, will know is pretty much par for the course. However, do take note that there's a table charge.
If you're a large fan of music and you'd like to come and peruse their vinyl record collection, then the table charge might not be a deal breaker. But, even if you aren't a huge music fan, the bar is small, quiet and chill, and is a great place to spend your evening before maybe bouncing to other bars.